Allen County, Indiana Maps and Cemetery Locations
This page will redirect within 30 seconds to our new .html page as we replace our .asp pages. Please update your links!
Google maps are slow to load - wait for c

o

l

o

r

e

d

pins to show
View
Allen County, Indiana Cemeteries
in a larger map
The larger Google map will take you to a clickable list of all existing cemeteries
Click on the pin to see the name of the cemetery, zoom in or move around as needed
Townships are grouped by similar colored pins
All individuals indexed in the 1980's cemetery readings will appear in the results page using the search box at the top of any page or using the Name Only Index on the ACGSI site. The larger cemeteries like Lindenwood, Catholic, and others have separate cemetery indexes.
There are 20 townships in Allen County, Indiana. 190 known cemetery names, 127 cemetery locations, and some additional information may be listed. Cemeteries are organized by township. No cemeteries are known in Jackson Township. Indiana SHAARD - State Historic Architectural and Archaeological Research Database allows guest access and provides detailed information such as GPS coordinates and maps on locations of Indiana Historical Structures including 145 cemeteries.
The Mary Penrose Wayne Chapter National Society, Daughters of the American Revolution read most cemeteries in the 1930's, then ACGSI updated and transcribed tombstone names into books in the 1980's which they have been selling as fund raising for the society. The NSDAR recently started the Allen County Indiana Cemetery Project using Indiana DNR GPS coordinates, all previous ACGSI transcripts, with volunteers photographing tombstones in all Allen County cemeteries to be completed sometime in 2010. Some photos show chalk rubbings of old tombstones in one cemetery, which was discontinued. While generally not harmful to modern granite tombstones, chalk rubbing is not recommended on soft marble and sandstone because no one knows what long term effects may occur, plus the risk of too much pressure could crumble eroded stone. Your goal should always be "Do No Harm".
Mark Davis, owner of Stone Saver Cemetery Restoration gave a cemetery restoration presentation at the Allen County Public library in January 2009. Mark pointed out the possible damage to tombstones that can occur from chalk rubbings and other chemicals applied to old tombstones. I show on my personal web site that you can get much better tombstone photos by manipulating the angle of the sunlight based on the time of year and day the photos are taken. Mirrors and reflectors can be used when the sun does not provide the correct angle of lighting to create shadows as shown on Andrew W. Griffith's web page.
Grave Secrets is a 2009 newspaper article about local cemeteries.
The Second Correction Line passes through northern Allen County, Indiana which accounts for the offset of the northern townships and the tiny Scipio Township. It can be seen by zooming in on this 1866 General Land Office map in the Dave Ramsey Collection of antique maps.
Dick Eastman's Newsletter discusses converting addresses to Latitude and Longitude for easy GPS use.
Cemetery Preservation is a discussion by the Indiana DNR.
FamilyHistory101.com Indiana County Maps and Atlases has clickable years showing county formation
Click on Township Name to Go to Township Page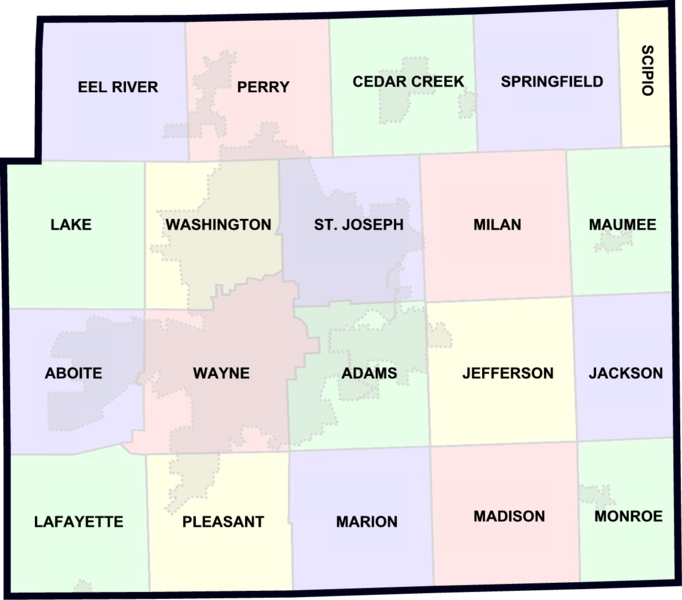 Locations of Allen County, Indiana Municipalities and Townships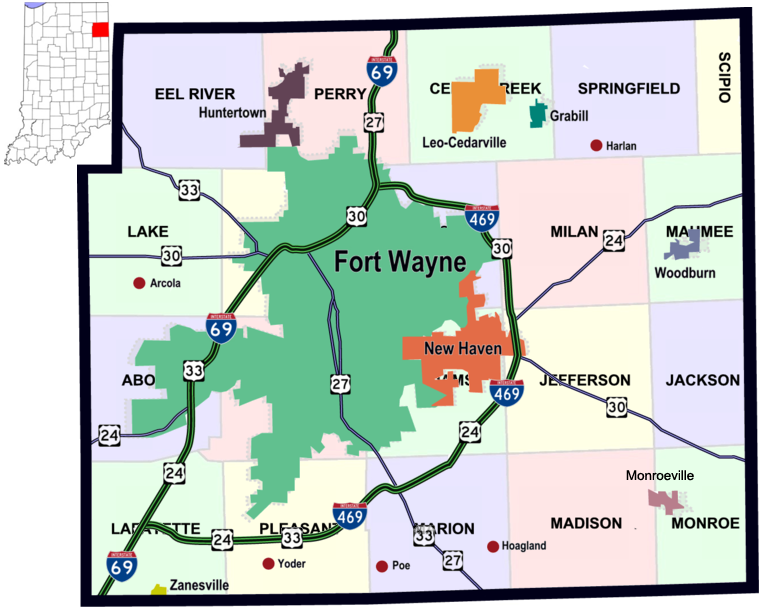 Google Map of Fort Wayne and Allen County, Indiana