Milan Township Cemeteries
Organized in March 1838
Google maps are slow to load - wait for c

o

l

o

r

e

d

pins to show
View
Allen County, Indiana Cemeteries
in a larger map
Click on the
aqua township pin
to see the name of the cemetery or click the link above to see all cemeteries.
Milan Township is a rural township with no sizeable towns.
The Allen County Genealogical Society has a name only index to all county cemeteries through the 1980's publishing date. Check the Allen County Lookup page for a volunteer willing to do lookups from the cemetery books, which are published and for sale by the Allen County Genealogical Society of Indiana.
The Mary Penrose Wayne Chapter NSDAR, (National Society Daughter's of the American Revolution) Allen County Indiana Cemetery Project contains transcribed names from the DAR readings in 1932 and ACGSI readings in the 1980's and will eventually have photographs of all tombstones in all Allen County, Indiana cemeteries.
Find-A-Grave may have names, dates, similar tombstone photos, some newspaper obituaries and occasionally additional family information. Obituaries can be found in the Genealogy Center Obituary Index where volunteers will find, photocopy and mail the copies when ordered for a small copying fee. Recent obituaries will often be found online on the Funeral Home web sites or within one year of publication on the local Fort Wayne newspapers Legacy.com site.
Some Google maps on main streets and roads will allow street level viewing if you View the Larger Map and click the little orange person icon. It opens in a new window which you close by clicking the X in the upper right of the window to Exit Street View and return to the map.
Township Trustees are responsible for cemetery maintenance. The Allen County, Indiana government web site has a list of Township Trustees and their contact information. Links to Indiana State laws related to county and township cemeteries are found on our Cemetery page.
Amish Cemetery
Rural cemetery located at 14702 Doty Road, behind the Amish School, about 3 miles east of Fort Wayne and I-469, about a half mile west of Milan Center Feed & Grain
Started in 1984. Fenced with a storage shed on the property. It is in good condition. Information on the burials in this cemetery was supplied by the cemetery caretaker in May 2010.
Barnett Chapel Cemetery
Rural cemetery located on the northwest corner of State Road 37 (Maysville Road) and Barnett Road next to a farm house
Lutheran. Earliest date 1875. No longer in use. IN DNR Latitude 41.1722 Longitude 84.9575 puts you slightly southwest in the cultivated field.
Gar Creek Union Cemetery
Rural cemetery located near 15700 Gar Creek Road, 0.3 mile east of Berthaud Road, next to a house
Earliest date December 23, 1884. Still in use. IN DNR Latitude 41.0942 Longitude 84.9383.
IRVING Family Cemetery
Rural cemetery located on the south bank of the Maumee River, north of the B. F. Goodrich Tire Plant, at 19000 U.S. 24, on Goodrich land
Earliest date 1847. No longer in use. Not seen on Google Street Level View photo. IN DNR Latitude 41.1386 Longitude 84.9042.
PLATTER Family Cemetery
Rural cemetery located 0.2 miles south of the Platter Bridge and Thimlar Road, on the northeast bank of the Maumee River near 16300 Platter Road
One tombstone: 1852. No longer in use. Not seen on Google map. IN DNR Latitude 41.1289 Longitude 84.9325.
Saint Paul's Lutheran Cemetery at Gar Creek
Rural cemetery north side of church near 1930 N. Berthaud Road, about 0.2 mile south of Bremer Road
Earliest date 1884. Still in use. IN DNR Latitude 41.0981 Longitude 84.9428. Grave Book has some general photos.
SCHWARTZ Family Cemetery - Milan Center Amish Cemetery
Rural cemetery located on the north side of Irving Road, 0.1 mile east of the Bruick Road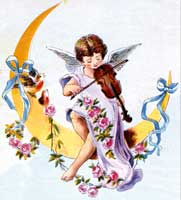 No Mary Penrose DAR photos
DAR says there are no markers in this Amish Cemetery. Find-A-Grave has 7 internments since 1967 including a 2008 obituary, and three 2011 burials. IN DNR Latitude 41.1367 Longitude 84.9622 puts near 14102 Irving Road. If you know the actual location of this cemetery please let us know.