185 Allen County Churches
Google maps are slow to load - wait for c

o

l

o

r

e

d

pins to show
Fort Wayne is often called the City of Churches even listed as such on Wikipedia. This page lists churches in Allen County prior to 1920. Some of these churches no longer exist, many have changed their names, and some have merged with other churches. There is a short history on each church, a list of what records the church keeps, and how you may obtain these records. Many churches records have been copied and are available at the Allen County Public Library Genealogy Center. Church Burial Records Index is at the ACPL Genealogy Center
Many of these churches had their histories included in the 2006 publication History of Fort Wayne & Allen County, Indiana 1700-2005 Volume 2 starting on page 122. You can request Lookups from our Volunteers or purchase the $124..95 two volume set.
You can click the name of the township on the map, or in the list to go to the Township page, or click the name of the church in the list to go directly to the church history. Some churches have web pages and the link is their denomination in the list or church name on their Township page.
The 1889 book by Brant and Fuller Valley of the Upper Maumee discusses township churches beginning on page 456 of this Google book.
Milan Township historically significant structures on Wikipedia.
Wayne Township contains the most older churches so will have some information on local church denominations such as the Fort Wayne - South Bend Catholic Diocese links.
Click the Township to Go to Township Churches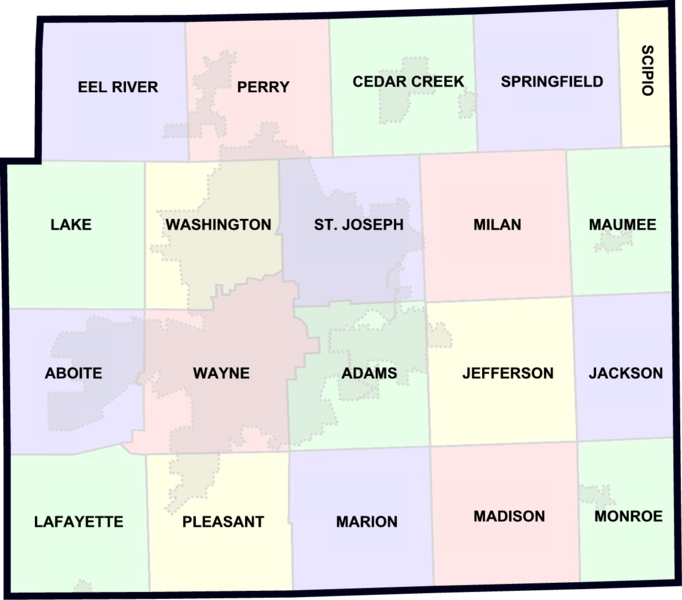 Locations of Allen County, Indiana Municipalities and Townships