History of Allen County INGenWeb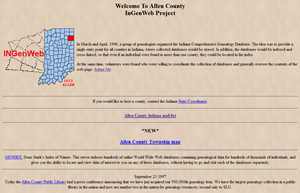 This obsolete page will redirect within 30 seconds to our new .html page as we replace our .asp pages. Please update your links!
In Spring 1996, a group of Indiana genealogists, in tandem with Kentucky genealogists organizing the Kentucky Seekers web site, organized a database project indexed and cross-linked while volunteers coordinated content into web pages. By June 1996 the USGenWeb Project was established and by October the plan was to organize by state and county.
By August 29, 1996 Indiana had 47 counties online with 14 more volunteered and under construction. Frederick Bonjour was the first webmaster and Allen County Coordinator followed by Pat Bogel, assisted by Fred Finkbiner, by July 1997.
Franklin County INGenWeb has a 1997 letter from Betty Sellers the first INGenWeb state coordinator, assisted by Fred Finkbiner, describing the "birth" of INGenWeb.
Gentech 98 was held January 23 and 24, 1998 at the Grand Wayne Center sponsored by the Allen County Public Library Foundation with Patricia Bogel as one of the GenWeb coordinators helping with the event. The Keynote Banquet Speaker was Tony Burroughs author, lecturer, genealogy teacher, former board member FGS and AAHS, past president of AAGHS of Chicago, president of Black Roots, NIGR and IGHR graduate and computer consultant. His presentation was "Will this Gizmo Help Me Trace My Tree?" A 126 page book on Gentech 98 is on the shelves at the Genealogy Center and Dick Eastman's Online Newsletter archive reviewed GenTech 98. Tony Burroughs was interviewed by Hackonomics TV Host Eric Hackley about what makes the Allen County Public Library Genealogy Department such a great facility for genealogical research for this You Tube video at The first International Black Genealogy Summit held October 29-31, 2009 at the Allen County Public Library.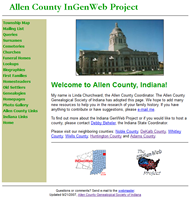 In early 2000, Linda Churchward took over webmaster duties from Pat Bogel. Linda put all the information on cemeteries, churches, and funeral homes on the site.
In 2009 the site web host changed from Rootsweb, when acquired by Ancestry.com, to their own domain at www.ingenweb.org due to concern the free genealogy of GenWeb would be compromised.
In April 2009, Stan Follis took over as webmaster. Pat Bogel passed away November 20. August 2009 the host server said INGenWeb had too many pages so a new web host was needed. The site was down several times so we moved Allen INGenWeb to the ACGSI. As new webmaster I created a common template, a header with drop down menus for navigation links and a footer. A search box was added that searches both Allen INGenWeb and the main ACGSI site totaling more than 10,000 pages on both sites. Long continuous pages for cemeteries and churches were separated into township history pages. A new page lists the names of all cemeteries and churches linking to the new township pages. Google maps were added to the cemeteries pages and links to the DAR Cemetery Project pages where 150,000 tombstone photos should be online by the end of 2010. Link pages were organized by genealogy, county, state and federal links. New pages for Ghost Towns and several pages for Allen County and Fort Wayne books found on Internet Archive were added. In April 2010 both ACGSI web sites combined passed 10,000 pages online.
In October 2009 ACGSI joined Facebook. Within a month we had 20 Fans viewing Announcements and Events. Member obituaries are on the Notes page. In May 2010 ACGSI passed 100 Fans. In September 2010 started adding photo albums of program meetings and Who Am I? photos needing identification. We currently have 154 Fans.
Internet Archives has two different Allen INGenWeb archives - April 17, 1999 to May 16, 2005 and  October 10, 1999 to June 10, 2008.
This history was possible due to contributions of several INGenWeb volunteer webmasters over the years such as former CC Linda Churchward; KySeeker: Betty Sellers in 1996; current INGenWeb County Coordinators: Judi Burns CC of Greene County, Mike Sweeney CC of Wabash County, Debby Beheler CC of IN State and Miami County, Tim Singleton CC of Randolph County, Gene Andert current and original CC of Kosciusko County and from 1996 Judy Murphy CC of Perry, Spencer and Crawford Counties.
Allen INGenWeb County Coordinator webmaster Stan Follis.