Welcome to Fort Wayne and Allen County, Indiana!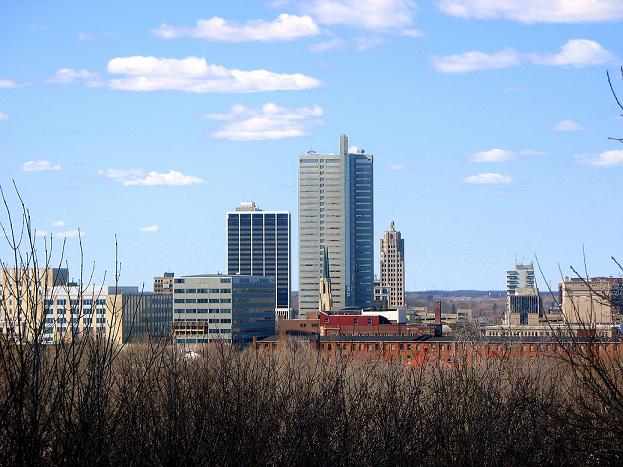 Allen County INGenWeb Project is hosted by the Allen County Genealogical Society of Indiana. We continually add new information to over 10,000 web pages to help research your family history online. ACGSI works in close cooperation with the Allen County Public Library and the million genealogy items stored in the Genealogy Center, the largest public genealogy collection in the United States. The Genealogy Center is working long term with Archives.org digitizing all their pre-1920 expired copyright books to their web site.
This .asp web site is slowly being changed to a mobile friendly web site. Our internal links are being changed to the new .html5 pages, so these .asp pages will all be removed by the end of 2017!. If you have links to our .asp pages they should be changed to their respective .html page or they will eventualy fail to 404 page not found!
The local Mary Penrose Wayne Chapter of the DAR - Daughters of the American Revolution has a growing web site with genealogical resources including their tombstone photograph project linked from our Cemetery Index page. If you find our information useful to your family history research please consider volunteering your time, contributing information to our web sites, and/or tax deductible donations to ACGSI and the Genealogy Center.
Allen County was created on December 17, 1823, from Delaware and Randolph counties and formed April 1, 1824. The county is named for Colonel John Allen, born in Rockbridge County, Virginia, an attorney and Kentucky state senator who was killed in the War of 1812 at the Battle of the River Raisin January 22, 1813 in Monroe County, Michigan. Allen County currently has a population over 350,000.
Fort Wayne, chosen the county seat in May 1824, was established in 1794 as a fort named for Army General "Mad" Anthony Wayne a veteran of the Revolutionary War who died in 1796. His wife Mary Penrose is the namesake for the local chapter Mary Penrose Chapter of the National Society of the Daughters of the American Revolution. Find-A-Grave has photos and the story of his burial and reburial and wife Mary Penrose Wayne. There were several Forts of Fort Wayne. The most famous is Whistler's 1816 fort. Many have heard of Whistler's mother, Anna McNeill Whistler, from the famous 1871 painting Arrangement in Grey and Black. Few know John Abbott McNeill Whistler's grandfather Major John Whistler helped build the 1816 Fort Wayne on what was then the western frontier and where John's father George Whistler was born May 19, 1800 in Fort Wayne. There is a book about Whistler's Father. A little known actor named Marion Robert Morrison was originally given the stage name Anthony Wayne, but Fox Studios change it to John Wayne who became a leading man in 142 of his 153 movies a Hollywood record. Comic book and movie character Batman, alter ego Bruce Wayne, is depicted as a direct descent to General Anthony Wayne.
Fort Wayne was built near the Miami Indian village Kekionga on the banks of 3 rivers. Three Rivers is a phrase commonly used in the greater Fort Wayne area referring to Fort Wayne's 3 rivers. The formation of the Maumee River flowing east to Lake Erie through Toldeo, Ohio, is from the confluence of the St. Joseph River flowing south from Michigan through Indiana and Ohio, and the St. Mary's River flowing northwest from western Ohio.
The state of Indiana was admitted by President James Madison as the 19th state of the union December 11, 1816. Allen County is located in northeast Indiana and is the largest of 92 Indiana counties. The Wabash & Erie Canal was completed in Fort Wayne to Huntington County July 3, 1835 and was replaced a couple of decades later by the growth of the railroads. The Links page contains a growing list of area attractions in addition to local genealogy related sites.
Fort Wayne is known as the "Summit City" since it is the highest point on the 3 rivers lying on the St. Lawrence River Continental Divide, which separates the Great Lakes Basin from the rest of the Atlantic Ocean watershed. It is known locally as the Little River Valley. This designation has been important since the canal era when the Wabash and Erie Canal ground breaking in 1832 passed through Fort Wayne in 1835.
John Chapman aka. Johnny Appleseed a colorful character of the Indiana frontier in the early 1800's is buried and celebrated each September with the free Johnny Appleseed Festival at Johnny Appleseed Park on the north east side of Fort Wayne.
Several members of the infamous bank robber John Dillinger, the FBI's Public Enemy #1, gang are also buried in Fort Wayne cemeteries.
My name is Stan Follis, the Allen County INGenWeb Coordinator since April 2009. All GenWeb site design and information is volunteer time, effort and knowledge. If you have any contributions of information or suggestions for this web site, please e-mail me.
Suggestions for Researching on Allen County, INGenWeb
Use the Search Box at the top right side of each page to search over 10,000 pages on our combined Allen INGenWeb and ACGSI web sites
Search and Post a Query on our Query Page which may take a while until someone reads your page and knows your answer - keep your email address up to date so they can contact you! These are searchable like other pages!
Search and Post a question on the Rootsweb Message Board which like a Query will take some time before someone reads and answers your question - Advantage is Rootsweb allows one easy method to update your email on all queries! Disadvantage is searches will not appear on our site Allen INGenWeb/ACGSI searches, but an Advantage is they will appear in Google-Bing-Yahoo internet searches.
Request assistance from one of our Lookup Volunteers like Linda Churchward with a specific question not answered on our sites. If you would like to add your name to the list of Lookup Volunteers, please e-mail me. ACGSI also has a list of local professional researchers for more extensive local and national research.
We have an ACGSI Facebook page so if you are one of the 800 million Facebook users perhaps one of our "Fans" will know the answer to your question. I post many general genealogy links and helpful tips in addition to Allen County, Indiana information.
If you wonder why more information online isn't free, read this article by Dick Eastman in his newsletter Why It Isn't Free!
INGenWeb Project 
To find out more contact: the volunteer INGenWeb Project, how to Become A County Volunteer, State Coordinator John Peck - email, Assistant State Coordinator Debby Beheler - email or Lena Harper - email.
History of INGenWeb Project
In March and April, 1996, a group of genealogists organized the INGenWeb Project. The idea was to provide a single entry point for all Indiana counties, where collected databases would be stored. In addition, the databases would be indexed and cross-linked, so that even if an individual were found in more than one county, they could be located in the index. At the same time, volunteers were found who were willing to coordinate the collection of databases and generally oversee the contents of the web page. Read more at Allen County INGenWeb History.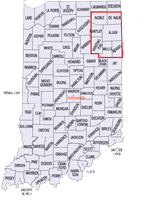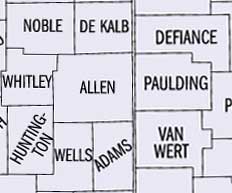 Families often visited neighboring counties, you can visit them too! INGenWeb counties: Adams County, DeKalb County, Huntington County, Noble County, Wells County and Whitley County. Our OHGenWeb county neighbors are: Defiance County, Paulding County and Van Wert County. You can also visit any Indiana GenWeb county or click the maps to either side or INGenWeb and USGenWeb logos at the top of any page.
Corrections, Donations, and Suggestions
INGenWeb welcomes corrections, donations of information, and helpful suggestions. We gladly accept submissions of births, deaths, deeds, photos, obituaries, marriages, divorces, military history and records, reunion announcements, and any other family information freely shared with everyone.