93 Allen County, Indiana Towns (Ghost) Past and Present
This obsolete page will redirect within 30 seconds to our new .html page as we replace our .asp pages. Please update your links!
(Original research by Linda Churchward, with 2012 corrections from CW Martin)
Google maps are slow to load - wait for
c
o
l
o
r
e
d
pins to show
Many towns came and went. Some were never more than a plan. Some changed their names. A couple merged into another town. Some remain as unincorporated towns, many became ghost towns. Some are visible on the colorful maps below. Some are only visible on the Dave Rumsey 1876 or HistoricMapWorks.com 1898 maps above the table. They allow zooming in for more detail. Some information summarized from "The Towns of Allen County" by Wendell C. Glass and "Paper Towns and Ghost Towns of  Allen County" by Roy M Bates. Existing towns with web sites or online information have links to their sites. Jump to town table below.
Click on Township Name to Go to Wikipedia Encyclopedia for current Township Information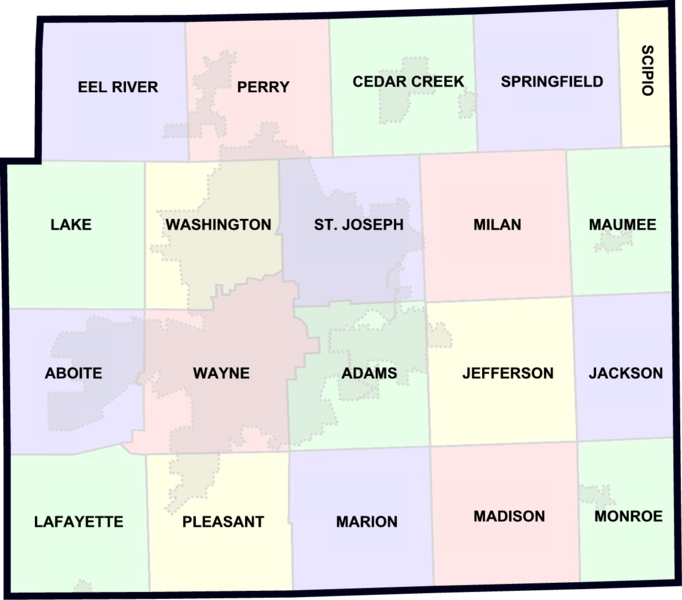 Locations of Allen County, Indiana Municipalities and Townships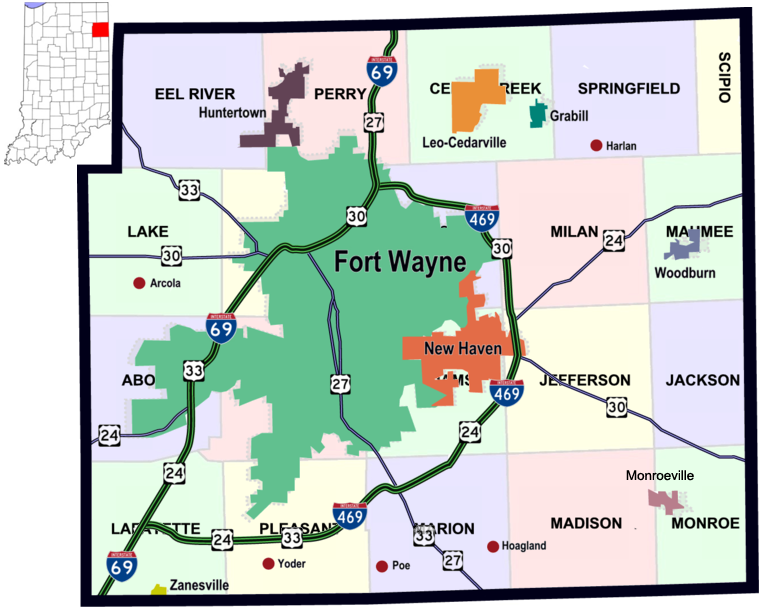 Interactive Google Map of Fort Wayne and Allen County, Indiana
Go to a Clickable Stats Indiana Township Map with Zip Codes
Dave Rumsey Zoomable map of 1876 Fort Wayne
You can zoom and drag here or click Go to Source to view in separate window.
1876 map of Fort Wayne above with Cedarville, Sheldon (currently known as Yoder), Arcola and New Haven from the David Rumsey Collection, can zoom in for more details, move the navigator, and go to original source of this Creative Commons License map.
Dave Rumsey Zoomable map of 1876 Allen County, unfortunately it is rotated 90° and if copied will have a lower resolution.
You can zoom and drag here or click Go to Source to view in separate window.
1898 George A. Ogle Atlas Maps - Overlay Views
1898 Stardard Atlas of Allen County, Indiana & Plat Map cover
Allen County Index
Aboite Township - Ellison Station, Hadley, Dunfee
Adams Township - New Haven, Maumee River
Cedar Creek Township - Decarville, Leo, Urbana Mills
Cedarville, Maysville, Harlan P.O., Arcola, Zanesville, Centerville
Eel River Township - Old Hellers Corner
Fort Wayne - middle, east
Fort Wayne - middle, west
Fort Wayne - north, east
Fort Wayne - north, west
Fort Wayne - south, east
Fort Wayne - south, west
Fort Wayne Outline Street and Ward map
Index to Maps, Plats, Additions and Subdivisions to the City of Fort Wayne
Indiana State Map
Jackson Township - Baldwin, Townley, Edgerton, Aboite, Hursh P.O., Dunfee
Jefferson Township - Besancon, Dawkins Station, Nail P.O., Zulu P.O., Maples
Lafayette - Zanesville
Lake Township - Arcola, Hull, Lake Everett
Madison Township - Centerville, Massillon, Hoagland
Marion Township - Hessen Cassel, Gorman Station, Soest P.O., Williamsport, Middleton, Poe P.O. - messed up
Maumee Township - Shirley City, Woodburn, East Liberty, Edgerton
Monroe Township - Monroeville, Massillon, Hessen Cassel, Baldwin, Culpa, East Liberty
Monroeville
New Haven, Wallen, Maples, Middleton
Perry Township, Huntertown, Willowcreek - messed up
Pleasant Township, Ninemile P.O., Ferguson Station, Sheldon
Scipio Township, Shirley City, Hoagland, Dixon P. O. - messed up
Sheldon, Huntertown, Leo
Springfield Township, Maysville, Harlan P.O., Cuba, Halls Corner
St. Joseph Township, Goeglein P.O., Thurman P.O.
Washington Township, Fort Wayne, Wallen, Academy
Wayne Township, Fort Wayne, St. Mary's River
1914 Allen County Towns - not all are listed below!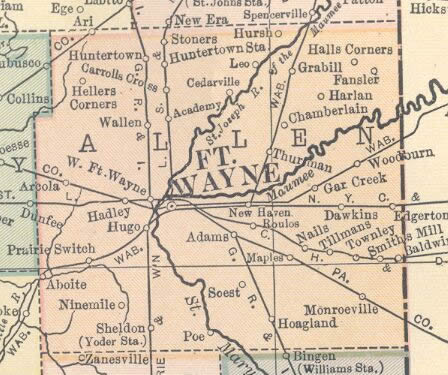 92 Allen County, Indiana Towns Past and Present
Colored text indicates links to other web pages
Town
Township
Section
Platted
Status
Features
1
Aboite
Lafayette
1891
village
Village founded on the Wabash Railroad seems to belong to Aboite Township, but is in Lafayette Township.  Has a drain tile plant, a farmer exchange, a grocery and a church.  Only a few houses remain today.  The church building is still there, but has been vacant for a few years.
2
Academie
Washington
1874
ghost town
Academie was located on the Lake Shore Railroad, but never developed.
3
Adams Station 
Adams
22
ghost town
Where  Wabash and Nickel Plate Railroads split
4
Arcola
Lake
1866
town
Second saw mill in the township was erected near the future site of Arcola. Building of the Pittsburgh, Fort Wayne and Chicago Railroad, the mill provided the impulse for the town. Name Arcola was adopted for the post office in 1858. The town of Arcola was platted in 1866. The Peabody Mill became the largest in the county and employed many people.  It furnished hard wood lumber to the Pennsylvania Railroad for car building, shipped lumber to the Pacific Coast and exported finer grades of lumber to Scotland. Other industries established there such as the Arcola Stove Co. and the Clay Products Co. Small town of Arcola still exists today. Best known for its volunteer fire department sponsored Arcola Tractor Pull occurring during the Fort Wayne Three Rivers Festival. December 18, 2009 oldest building burns
5
Ari
Eel River
4
community
Also known as Potter's Station – Ari is located at the DeKalb County line. Was a station on the Detroit and Eel River Railroad. Still a small community today.
6
Baldwin
Jackson
35
1890
ghost town
Platted by Timothy Baldwin on his land. The east line of plat was on Ohio-Indiana State line. Rise and decline of Baldwin occurred in little more than a quarter of a century. When the Findlay, Fort Wayne and Western Railroad was built from Findlay, OH westward, work stopped at Baldwin in the year 1889, and was not continued until following year. A "Y" track was built at Baldwin for turning locomotives. The first depot built at Baldwin was destroyed by fire and a story that the people of the community stole the station at Tillman on the same railroad, took it to Baldwin on flat cars and placed it on the Ohio side of the line. In its day, Baldwin was a very busy place. William Noble operated a large hoop mill. Besides hoops, he also manufactured hubs for buggy and wagon wheels. The Clifford Brothers operated two charcoal kilns, which were supplied from heavy timber in the vicinity. Nathan and Levy operated an elevator at Baldwin, and it was not an uncommon sight to see from fifty to a hundred wagons waiting to be served at the elevator. Three saloons operated in Baldwin in 1906. Noble hoop factory, for the benefit of their employees, operated a commissary.  Two general stores in operation and a hardware store owned by the Sorgan Brothers. A schoolhouse and a church were also located there. With the abandonment of the Findlay railroad in 1915 and the depletion of the timber supply in the vicinity, Baldwin soon went out of existence. Nothing on site today to indicate that a thriving community once existed there.
7
Beech Grove Corners
Lafayette
18
ghost town
Small community grew up around the Beech Grove Disciples Church and the Beech School. Nothing remains today.
8
Bengal
Maumee
9
March 1836
ghost town
Maumee Township leads all townships in number of proposed towns platted within it borders. Among these was Bengal, platted by Joseph Sinclair and Thomas Tigar. The site was situated on both sides of the Wabash and Erie Canal about one-half mile south of the Maumee River and two miles northeast of the town of Woodburn. The plat contained 273 lots. The site never developed.
9
Besancon
Jefferson
1840
village
Before there were any roads in Jefferson Township, a colony of French immigrants formed a settlement known as "New France".  When the St. Louis Catholic Church was founded in 1851, a little village grew up around the church called Besancon.
10
Boston
Madison
ghost town
Located four miles east of Hoagland on the Hoagland Road. Nothing remains of this community.
11
Bull Rapids
Maumee
7 & 8
changed name
See Indiana City
12
Carroll's Crossing
Perry
ghost town
Nothing known
13
Cedarville
Cedar Creek
28
1838
town
First town established in township, situated in forks of St. Joseph River and Cedar Creek, in Section 28. It's founders had provided a square in the center of the plat for the erection of the Allen County Court House with dreams of its becoming a city.  After the platting of Leo, Hamilton as it was called in 1849, Cedarville's attraction waned. Leo - Cedarville are new considered as one community.
14
Centerville
Madison
NW 4
1852
ghost town
Uriah Mitten owned 100 acres of land. The Ohio and Indiana Railroad was built through his tract in 1852. Seeing the possibilities of developing a trading center here, he entered a plat in January 1852, and offered the railroad a sizable piece of ground if they would build a spur track on his plat. The railroad failed to take advantage of his offer and his dream of a town at this place never materialized.
15
Chamberlain
Milan
1856
ghost town
A post office was located here.
16
Clabbertown
Lafayette
SW 9
1874
ghost town
Existed about a quarter of a century at the intersection of the Lower Huntington and Winters Roads. Dick McGinnia operated a blacksmith shop there about 1874. John Mills owned the general store and saloon. Some years before, a sawmill was built there, but the proprietor's name is not known. John Mills died in 1897, and the grocery and saloon were closed. McGinnis closed his shop and moved from the area about 1900. The sawmill had ceased operation before this time, so Clabbertown soon vanished. No trace of the settlement exists today. 
17
Collingwood
Perry
1
ghost town
Many years ago, the hollow that became the site of the church, school and Eli Garman's general store on the Auburn Road.  Today the Garman store is gone. The Dutch Ridge country acquired its name from the Pennsylvania Dutch settlers who came in when Indiana was opened for settlement in 1832. In early days, the community of Dutch Ridge revolved around the church, school, mill and post office.
18
Cuba
Springfield
SW 32
June 1855
ghost town
The Ridge Road, later known as the Hicksville Road, has always been a busy highway with the result that several towns have been platted along its course. Post offices were established and taverns and tollhouses sprang up along its route. This road is now designated as S. R. 37. Cuba was situated on the Ridge Road about one mile southwest of Harlan. The plat was surveyed and entered by Andrew Metzger. Considerable activity developed at Cuba. A saw mill was located here, also a school, a church, a store, and a tollhouse. First post office in Springfield Township was established here in 1849 before Cuba was platted. Office was moved to Harlan in 1854. A tollhouse and post office building was built in 1849. Tollhouse continued in operation until 1888 or 1890. Last toll collector was Eli Dial. Cuba declined with the development of Harlan and all trace of the village has disappeared.
19
Dawkins
Jefferson
12
ghost town
On the Nickel Place Railroad, was located about a mile west of S. R. 101. Had an elevator and general store.
20
Dixon
Monroe
village
On the state line, was once an active collection and shipping point for lumber and lumber products. Most of the residences in Dixon are on the Ohio side of the main street, which is directly on the line. An elevator and a few stores are on the Indiana side.
21
Dunfee
Aboite
6
1883
town
Shipping point on Nickel Plate Railroad, straddles  Whitley Allen County line
22
Dutch Ridge
Perry
changed name
See Collingwood
23
East Liberty
Monroe
29 32
1848
village
Was on the way to becoming a sizeable town, about two miles south of Monroeville on S. R. 101. The town had expected the Pennsylvania Railroad would pass through their town.  There had a tannery, three churches, a school and one of the largest general stores in the county. Remaining today are a church and several homes.
24
Edgerton
Jackson
1889
town
First town developed in Jackson Township. Established on the Nickel Plate Road, now S. R. 14 at the Ohio line. With its elevator, the town became a shipping center and a distribution depot on the Nickel Plate Railroad.
25
Edwardsburg
Maumee
NW 18
January 1871
ghost town
One of the proposed canal towns of Maumee Township. Situated between the Wabash and Erie Canal and the Maumee River. Located on U.S. 24 at the intersection of the Bull Rapids Road about two miles northwest of Woodburn. E. D. Ashley entered the plat, containing 9.43 acres. Platted shortly before the abandonment of the canal, with result that it had no opportunity to develop. Little is known of the village except that a post office was established here and a general store operated for a short period of time.
26
Ellison Station
Aboite
26
ghost town
1898 map on the Wabash Railroad - called Prairie Switch on 1914 map
27
Fairport
Milan
24
May 1837
ghost town
Apparently the proprietors of the proposed town of Fairport had intended giving the small town of Fort Wayne some competition, as this was the largest plat recorded up to that time and one of the largest ever recorded in Allen County. It is thought that James Weldon and John Jamison were backed by eastern capital when they entered their plat. The year following, two additional plats to Fairport Were recorded, making a total of 675 lots in all. The original plat was located on both sides of the Wabash and Erie Canal, in the west half of the northeast quarter of Section 24, Milan Township, on the Maumee River and about half way between the Gronauer and Saylor locks of the old canal. Shortly after the plat was entered, George Foxtater opened a tavern for the convenience of travelers on the River Road and the canal. A post office was opened and John Irwin became the first postmaster. He also operated a tavern and a general store. An unsuccessful effort was made to create a thriving canal town here. The post office eventually removed to Chamberland on the Ridge Road to the north, now S. R. 37, and with the decline of the canal's use, Fairport was soon forgotten. The Gronauer Lock was rediscovered during building of the I-469 bypass around Fort Wayne and was moved to the Indiana State Museum in Indianapolis.
28
Fansler
Scipio
ghost town
Was located at the intersection of Allen and Worden Roads and had a post office and general store. Nothing remains of this community today.
29
Ferguson Station
Pleasant
ghost town
Located on the Fort Wayne, Bluffton and Cincinnati Railroad.
30
Fort Wayne
Wayne
1794
city
3 different forts were built in late 1790's-1800's, largest city in northeast Indiana. The county seat and second largest city in Indiana now covers most of Wayne, Washington, St. Joseph, Adams, and Aboite townships and part of neighboring Perry and Pleasant townships. The Wabash and Erie Canal and various railroads were built in the 1850's through Fort Wayne. Home to the Allen County Public Library, whose Genealogy Center, is the largest public genealogy library in the United States. Best known for the Fort Wayne Three Rivers Festival the second largest outdoor event in Indiana to the Indianapolis 500.
31
Gar Creek
Milan
34
village
Once a shipping point on the Wabash and Toledo Railroad.  A small community of 500 souls built up around the station. History of Gar Creek Mennonite Church, now extinct, is online. A 3 page article appeared in the March 2011 Allen County Lines quartlery newsletter.
32
Geneva
Maumee
14
November 1836
ghost town
Third of the paper towns of Maumee Township. Located about two miles northeast of Woodburn and one-half mile west of the Ohio-Indiana State line. C. C. Waterhouse entered the plat, but no headway was ever made toward settlement.
33
Georgetown
Springfield
changed name
See Hall's Corner
34
Gloyds
Perry
14
ghost town
Was possibly the area around Gloyd's Grist Mill located where the Griffith Road intersects with the Auburn Road on Cedar Creek.
35
Goeglein
St. Joseph
26
1857
ghost town
Hardly large enough to be called a village, was the only trading spot in the township. Most know the area only by the popular Goeglein's Catering. Local resident Tim Goeglein was a Special Assistant to President George W. Bush from 2001 to 2008.
36
Gohrman
Marion
ghost town
Was a flag station on the Grand Rapids and Indiana railroad.
37
Grabill
Cedar Creek
S 24 N 25
1902
town
Came into being when Wabash Railroad was built from New Haven to Detroit. Located in southern part of Section 24 & northern part of Section 25. Llocally known for large Amish population which settled in early 1850's. Historic sign and a brief history.
38
Hadley
Aboite
1
ghost town
Shipping point on the Chicago & St. Louis Railroad
39
Hall's Corners
Springfield
on line 13 14
ghost town
Village was never formally platted. A post office was established here in 1851 and named for Isaac Hall, the owner of a large tract of land at the village site. A general store was operated at Hall's Corners for a number of years. A Methodist Church was built here and a number of dwellings erected. These have all vanished. Village was located on the old Ridge Road, now S. R. 37, about 3 ½ miles northwest of Harlan.
40
Hamilton
Cedar Creek
changed name
See Leo
41
Harlan
Springfield
28
December 1853
town
Harlan was platted by Mr. And Mrs. Lewis Reichelderfer. The unique incident of Springfield Township's main town came in 1859 when a second town was platted immediately adjoining Harlan, only separated from it by a section line, and given the name of Maysville. These apparently rival towns grew up side by side. The post office was in Harlan, but for a time Maysville was the more popular name. Then the tide of public favor turned back to Harlan. Situated on S. R. 37, one of the main traffic routes, Harlan is not served by a railroad. Today the two towns are one and the official name is Harlan.
42
Heller's Corners
and
Old Heller's Corner
Eel River
21
and
31
1830
ghost town
1898 map shows Heller's Corner in Section 21, with Old Heller's Corner in Section 31. Peter Heller settled in Section 31 about 1830 and shortly thereafter opened a general store and post office on the old Goshen Road near it's crossing of the Eel River. A small village soon developed, became a very active center of trade, remained so until about 1870, when the Detroit, Eel River and Illinois Railroad was built through Churubusco a few miles to the north in Whitley County. Heller's Corners soon passed out of existence.
43
Hessen Cassel
Marion
June 6, 1863
unincorporated town
The St. Joseph Roman Catholic Parish was organized in 1841 and a church building was erected the same year on the old Piqua Road. The church property is located on the east side of the highway which is now U.S. 27. Opposite the church property was 33 platted lots. Two streets were included in the plat known as St. Joseph and George Streets. No improvements were ever made on the plat. Many of the early settlers in the vicinity migrated from Hesse-Kassel, Germany, for which the town was named.
44
Hoagland
Madison
1872
town

Stephen Emenhiser platted the village of Hoagland upon land belonging to himself, adjacent to the right of way of the Grand Rapids and Indiana Raidroad. Joseph Harrod at the same time gave to the railroad a plot of ground for the depot, stipulating that the new town should be called "Harrodsburg." The gift was accepted, but the agreement was not carried out, the name of Hoagland being substituted, in honor of Pliny Hoagland, of Fort Wayne, who was a director of the railroad. The post office in Hoagland was established on March 7, 1872 with James English appointed the first postmaster. From History of Hoagland from "The Hoagland Centennial, 1872-1972, Author - Hoagland Area Advancement Assoc. Inc.

45
Huntertown
Perry
1869
town
On Lima Road and the only town in Perry Township, was a natural gathering place for settlers' homes. Known as the "opening" it was the only spot for miles around that was not covered by forest. It was situated on a slight rise of ground with muck land both on the north and the south. At some earlier date these prairies had burned out, destroying the trees. A number of settlers lived in houses at "the opening" while making clearings for their farms. There had been a village there for some time before the Grand Rapids and Indiana Railroad crystallized the settlement into an organized town. As many as forty-five town lots were sold in one day after the plat was opened and Huntertown grew rapidly as a shopping center. Today Huntertown has a population of about 1350.
46
Hurshtown
Cedar Creek
ghost town
Hurschtown – Urbana Mills was about three miles above Leo on the St. Joe River. A sawmill and gristmill were erected in 1871, a general store and school. A few homes were built in vicinity, but no town developed. The Hurschtown Bridge now spans the river at the site. Most know area only as the Hurshtown Reservoir built as an emergency water supply for the city of Fort Wayne, but has never been used.
47
Indiana City
Maumee
7 & 8
July 1836
ghost town
Second of the proposed towns of Maumee Township was Indiana City, platted by James Shirley. The site was located to the east of the present Bull Rapids Bridge, where the Bull Rapids Road crosses the Maumee River about one-quarter mile north of the Wabash and Erie Canal. Gregory Jackson opened a tavern and grog shop there in 1833, and a few homes were erected in the vicinity. The hardened crowd that frequented the Jackson barroom soon gained a bad reputation, his trade gradually fell sway, and the land was shortly afterward purchased by James Shirley, who platted a town there. The name of Indiana City could not disguise the former reputation of the locality, which has always been referred to as Bull Rapids. The source of the name Bull Rapids is shrouded in legend, the tradition being that an old hunter on reaching the Maumee rapids at this place encountered a bull buffalo browsing in the shallows of the river. The town never came into being, however in later years a Lutheran church was erected across the river from this site.
48
Jericho
Marion
33
March 13, 1837
ghost town
Several proposed towns were platted in the south half of Marion Twp., the first one being Jericho, which was surveyed March 13, 1837, by David Hoover on the left bank of the St. Mary's River about one and one-half miles west of the old Piqua Road, new US 27, and three-quarters of a mile east of Williamsport (Poe). Jericho never developed beyond the plat.
49
Kraco
Eel River
1835
ghost town
A village called "Kraco" or Cracon was platted in 1835 by Asa Miller, on land on both sides of Eel River and Lake Township lines at intersection of Felger Road and U.S. 33. The main thoroughfare was 132 feet wide. Two and one-half acres were set aside for a public square to be known as Miller Park.  Origin of name is uncertain, but was probably named to commemorate Krakow, the ancient capital of Poland.  Town never materialized.
50
Leo 
Cedar Creek
15 N 22
1849
town
Originally called Hamilton, about one mile father up the St. Joe River was more near the center of the township.  Located in Section 15 and north quarter of Section 22. Today Leo - Cedarville is considered one town.
51
Lewisburg
Wayne
June 1837
ghost town
First township to be settled was of course Wayne. The first town platted in Wayne Township outside the city limits of Fort Wayne was Lewisburg. Waynedale was platted many years later. The Lewisburg plat was entered by Lewis Mason, and contained 48 lots. It was situated a little to the west of the center of Section 33. The Lewisburg Road, connecting the Lower Huntington Road and State Road 3, was named for this proposed town, which like many of these early plats, never materialized.
52
Little River P.O.
Pleasant
ghost town
No additional information available
53
Maples
Jefferson
1852
village
On the Pittsburgh-Fort Wayne Railroad, enjoyed activity that went with the lumber industry.  Today it is quiet suburban village with its white church and a few homes.
54
Massilon
Madison
26
1851
ghost town
A small plat was entered by Adam Robinson in Sep 1851, which he designated as Massilon.  Only nine lots included in the plat, located on the south section line of Section 26, about four miles southeast of the village of Hoagland.  It was situated on what was then known as the Van Wert Road, and the only street included in the plat was named after the proprietor.  There was a Lutheran Church there, but nothing remains today.
55
Maysville
Springfield
merged
See Harlan
56
Middletown
Marion
NW 17
April 15, 1851
ghost town
The Piqua Road, now U.S. Highway 27, was one of the principal routes leading to Fort Wayne from the south. The road was planked in 1850, and several trading centers were built along this thoroughfare, the most important of which was Middletown, situated in the northwest quarter of Section 17 in Marion Township. The town became a very active community center, only to decline and eventually pass out of existence after the building of the Cincinnati, Richmond and Fort Wayne Railroad through Hoagland, three miles to the east of Middletown. 
57
Milan Center
Milan
15 & 16
Feed & Grain store
Was located at the intersection of the Milan Center Road and the Doty Road.  In 1880 there was a general store at the intersection.
58
Monroeville
Monroe
1852
town
For the first ten years was a mail station on the railroad. Platted by Jacob and John Barnhart.  After the civil war, three or four large stave plants established there. Manufacture of staves and heading for oil barrels, which were shipped to oil refineries in the Pennsylvania oil fields were the industries responsible for Monroeville's growth. Flouring mill of Dague and Brothers flourished with an output of one hundred barrels of flour a day and large quantities were shipped to Pittsburgh and Baltimore.  Town of Monroeville today has a population of about 1300. 
59
Mosier
Milan
NW 35
July 1854
ghost town
Joseph Mosier platted a village on his land, adjacent to the newly constructed Lake Erie, Wabash and St. Louis Railroad right-of-way.  The site of the plat was about one-half mile northeast of the village of Gar Creek in the southeast portion of the township.  The plat never developed.
60
Nail
Jefferson
NE 28
unknown
Seen on the 1898 map for Jefferson Township.
61
New Haven
Adams
1839
town
Shortly after  Wabash and Erie Canal opened to traffic town came into being.  Located at "Gundy's Deadening", eight miles east of Fort Wayne, hoped to profit from movement on  canal. Town platted by Eben & Henry Burgess.
62
Nine Mile
Pleasant
7
village
Where the Winters Road, Indianapolis Road (S. R. 3) and Coverdale Road cross.  This area at one time had three churches.
63
Nine-Mile House
Marion
changed name
See Root Post Office
64
Phelps Station
Maumee
20
changed name
See Woodburn
65
Pierson
Lake
16 & 17
1853
ghost town
Goshen Road, first road built through Township, was surveyed in 1830.  Samson Pierson who migrated from Ohio to Lake Township, in 1835 erected the first mill.  He settled a little to the west of the center of the township on the old plank road, known as the Leesburg Road.  Later, he moved to Iowa, but during his stay in Lake Township proved to be a very active and progressive citizen.  The Plank Road Company erected a steam mill near Pierson's land in 1849.  William Thorpe purchased the mill from the company in 1850 and operated it as a planning mill until sold by him to A. N. and O. D. Holt.  About this time, a general store was operated near the mill.  A plat of seven lots was entered by Samson Pierson in August 1853, and named after him.  The plat was located in Sections 16 & 17 on the south section line near the old mill.  The site of this plat is near the crossing of the Leesburg Road and U.S. 30 about two miles north of the town of Arcola.  No activity took place here other than the mill.
66
Poe
Marion
changed name
See Williamsport
67
Potter's Station
Eel River
4
changed name
See Ari
68
Preusse Six Mile
Adams
1828
ghost town
First primitive gristmill built in the county 
69
Randall P.O.
Lake
ghost town
Settlement details unknown
70
Root Post Office
Marion
changed name
Also known as Bubb's Nine Mile, At the intersection of U.S. 27 and the Flat Rock Road in Marion Twp. was formerly a tavern know as the Nine-Mile House. The Root Post Office was located there until removed to Middletown.
71
Saylor's Lock
Maumee
1841
tavern
Locks were built at intervals along the Wabash and Erie Canal.  One of the best known in the area was the Saylor Lock.  In 1841 Elrich Saylor, Sr. moved near the lock and cared for the lock.  He kept a tavern for travelers.
72
Sheldon
Pleasant
1869
changed name
See Yoder
73
Shirley City
Maumee
20
changed name
See Woodburn
74
Smith Mills
Jackson
on line 33 34
ghost town
A mile west of Baldwin, became active after the Findlay, Fort Wayne and Western Railroad extended its line westward through Jackson Township to Fort Wayne.  Surrounding country was heavily timbered, which combined with new transportation outlet, created ideal location for lumber fabricating plant.  William and Charles Smith operated steam sawmill, hoop and heading factory for a number of years until timber supply vanished and railroad was abandoned.  Mills employed forty to fifty men, with their families resided in the vicinity.  Was located on line between Sections 33 and 34, one mile west of the Ohio-Indiana State line.  All traces of the former settlement have vanished.
75
Soest
Marion
1861
ghost town
On Wayne Trace the village of Soest was a settlement of German Lutheran families. The Emanuel Lutheran Church and school are the center of activity there.
76
South Wayne
Wayne
1888
merged
The town no longer exists, yet it can hardly be classed as a ghost town, as it is now one of the beautiful residence sections of the city of Fort Wayne. The first effort to incorporate the community as a town was made in 1872, when a petition was signed and presented to the County Board of Commissioners by Judge R. S. Taylor, S. B. Bond, C. B. Bond, Judge John Morris, Dr. Isaac Knapp, G. E. Bursley, H. C. Hartman, Judge James A. Fay, Daniel Markey, Judge L. M. Ninde, and many others. However, many difficulties ensued and much litigation followed. Not until 1888 were efforts to incorporate successful. The town retained its corporate status until the year 1894, when it was annexed by the city of Fort Wayne. The town occupied that portion of Fort Wayne lying south of Creighton Ave. and west of Webster St. A Board of Town Trustees composed of William J. Vesey, Harry W. Ninde and Owen N. Heaton.
77
Stoners
Perry
4
ghost town
Could possibly have been the area around School #2 and a mill just east of Coldwater Road at Shoaff  Road
78
Summerset 
Milan
22
December 1834
ghost town
George Platter and Jacob Wendell platted the proposed town on the south bank of the Maumee River, near a point commonly referred to as Five Points, which is the intersection of the Webster Road and U.S. 24.  Nothing every developed here.
79
Taw-Taw (Tah-Tah)
Lake
NE 29
1840's
ghost town
The first post office in the 1840's township was established in John Crawford's house, at a place known as Tah-Tah or Taw-Taw, in honor of an Indian.
80
Thurman
Milan
19
ghost town
On the Detroit branch of the Wabash Railroad.
81
Tillman
Jefferson
1898
unincorporated town
On the Findlay and Fort Wayne Railroad.  Only Tillman remains today to mark the route of the railroad.
82
Townley
Jackson
31
1890
unincorporated town
Came into prominence after construction of Findlay, Fort Wayne and Western Railroad.  Village was never formally platted but developed into quite an active trade center.  A general store, grain elevator and a church existed, and a number of residences.  A severe tornado struck Townley in March 1920, completely wrecking the village, and killing four of its residents.  No rebuilding was ever done, for in the meantime, the railroad has been abandoned and there was little incentive for further activity.  Townley was located in the northeast quarter of Section 31 on the route of the present U.S. 30.
83
Urbana Mills
Cedar Creek
changed name
See Hurschtown
84
Vermilyea
Aboite
32
locality
First post office in township, located at the Vermilyea House, stop on the Wabash and Erie Canal
85
Wallen
Washington
1870

locality

Village of Wallen was platted after the construction of the Grand Rapids and Indiana Railroad. For several years some quite important industries flourished in the town. Most prominent being a large saw mill and tile yard. Today a church and Washington Center Elementary School stand as centers of activity. The considerable groupings of suburban homes in the area have been built along S. R. 3, the groceries and other businesses are now on the highway and what remains of the village stands little away from things, almost unnoticed.
86
Walnut Ridge 
Springfield
14
ghost town
Was a community surrounding the Walnut Ridge Lutheran Church on S. R. 37.
87
Waynedale
Wayne
1922
merged
1958 annexed into Fort Wayne, but maintains separate name. Has own local newspaper the Waynedale News.
88
Wesley Chapel 
Eel River
20
ghost town
New Heller's Corners – Wesley Chapel was located at what is today the Wesley Chapel Road and Watterson Road.  All that remains is the Wesley Chapel United Methodist Church.
89
Williamsport
Marion
1848
changed name
The town of Williamsport was established at Muldoon's Mill on the St. Mary's River in 1848 on land owned by William Essig from whom it derived its name. Click William Essig's link for more information. When the post office was established it was found that the name Williamsport was already on the map of Indiana so the post office was given the title of Poe. An addition was platted in 1874 and the town attained a population of about one hundred. 
90
Woodburn 
Maumee
20
1865
city (according to their web site - town by most visitors)

In August 1855 the Wabash and Saint Louis Railroad completed the construction of the section of railroad from the Indiana and Ohio state line to Fort Wayne.  The town was known as Phelps Station, when it was nothing more than a station on the railroad.  In 1865 Joseph K. Edgerton and Joseph Smith platted the town of Woodburn. In 1895 William Gernhardt platted an addition to the town and called it Shirley City, which was the name also used to incorporate the town.  In February 1956 a special meeting was called, and the official name of Shirley City was changed to Woodburn.  The town was slow to develop, probably because of the swampy condition of the land.  When the railroad cut through this woodland, it opened the way for men like Joseph K. Edgerton, who at one time owned more than one half of the land in Maumee Township to found the town at this location were there was plenty of timber, fertile soil, the railroad and the river.  The town has continued to grow and improve with the years.

Local resident Lloy Ball was on the winning 2008 USA Men's Olympic Volleyball Team in Beijing, China.

91
Yoder
Pleasant
1869
town
Sheldon came into being after the construction of the Fort Wayne and Muncie Railroad. Andrew J. Taylor made the original plat,  arranged with the railroad for siding facilities for his carriage business. The village was named Sheldon in honor of the superintendent of the railroad. The railroad in later years changed the name of the station to Yoder. The carriage business flourished and built an enviable reputation for their wares. The carriages were sold by action at the plant and sale day often brought as many as a thousand buyers to the town. The Taylor buggy was the popular conveyance of the period. Other industries were drawn to the town. In its heyday Sheldon had a tile plant with three large kilns, two saw mills, a cooperage plant, two grain elevators, a bank, two hotels, the stores and shops that go with such a town and an outstanding and notorious reputation for murderous fights and brawls.
92
Zanesville
Lafayette
town
Small town that straddles the Allen and Wells County line.  Zanesville still exists today, the major part of the town being in Wells County.
93
Zulu
Jefferson
SW 24 NW 25
1864
village
 Had a general store and steam saw mill, until recently Billy's Downtown Zulu which closed was about the only thing in Zulu
For Fun - Can You Name the 50 States?