It's Not Trash ... It's History, So Save It or Donate It!
This page will redirect within 30 seconds to our new .html page as we replace our .asp pages. Please update your links!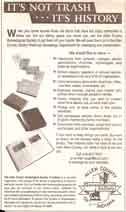 Think of when you come across those old items at the back of the closet that have too many memories to thow out, but are taking space you could use. Materials such as yearbooks from schools, colleges, alumni associations, churches, orphanages, and fraternal organizations; newsletters, school papers, quarterly or annual reports from any kind of organization; commemorative items from churches, cities, counties, states, businesses, etc.; business records, diaries (day books) wih entries which include people's names; family histories that you plan to publish when time allows - let us have them now; photos with at least some of the people identified; old newspapers articles - even those not in English - mentioning family members, directores from churches, small town phone exchanges, and other organizations. Maybe you'd like to keep the originals, but are willing to share - let the Allen County Public Library Genealogy Center make a copy. Email Marge Graham and she will pass materials on to the library to be catalogued and preserved.
Wanted Your Family Story
Your Allen County family is interesting to you, or you would not be into genealogy. Others with ties to Allen County might be interested in your family too. You may share common ancestors, or their family could have been your family's neighbors. Maybe the families had friends in common. They may even add to the completeness of your family history. Share your family stories, bible records, and pictures with us for quarterly publication in Allen County Lines. Email Marge Graham or send your story to:
Lines Editor, ACGSI
PO Box 12003
Fort Wayne, IN 46862
Your Family's History
For many decades, a long-standing service of the Allen County Public Library for individuals who have not had a desire to officially publish their genealogical work have sent an unbound "master copy" to the Historical Genealogy Department. In exchange for the privilege of allowing us to make one photocopy for our collection, we provide the compiler of the work with one complementary, bound photocopy for his or her collection in addition to returning the original master.
It is a great way to make sure your work is preserved and available for future generations of researchers. In addition, having a copy at our library ensures your work is secure from any disaster that might, heaven forbid, befall your personal library. What to do with the extra copy? How about a "draft" book to pass around at the next family reunion for others to comment upon and update? Or a little surprise gift for the relative or family friend who really helped you out?
If you are interested in taking advantage of this service, just mail your unbound "master copy" to Steve Myers, Assistant Manager, Historical Genealogy Department, P. O. Box 2270, Fort Wayne, IN 46801-2270. Include a note that simply reads, "Photocopy Exchange Program." You'll be glad you did — and we will certainly be glad you did! You can also email Marge Graham to let us know your plans.
Your Family's History on the Internet
If you want to use the internet for your family history you can add your data to the Allen County Public Library co-sponsored WeRelate Genealogy Wiki web site where users contribute their family information much like Wikipedia the online free encylcopedia that anyone can edit.