Broadway Cemetery
Fort Wayne, Indiana
Overview

The Broadway Cemetery was platted in 1838 by Hugh McCulloch as a public 'Grave Yard' or 'Burying Ground' in the west half of the the northwest quarter, Section 11, Wayne Twp., Allen County, Indiana. It was laid out into 622 lots 10' x 20' in size which, if divided into six graves each, might have had the capacity of over 3,700 graves. With the opening of Lindenwood Cemetery in 1860, the Broadway Cemetery became obsolete. The 1880 plat map of Fort Wayne identifies it as the 'Old Cem.' After many of the graves were removed, the cemetery became a city park in 1886. The only remaining marked grave is that of Gov. Samuel Bigger (1802-1846).
Cemetery Location

The cemetery is the present site of McCulloch Park in the 1700 block of Broadway, on the southwest side of downtown Fort Wayne.
Plat

The plat for the cemetery can be found on page 411 of Deed Book C, Allen County, Indiana. The "...lots are ten feet by twenty feet. All the alleys are 8 feet wide except those which bound the plat which are 11 feet and the main alley which is 26 feet wide." The entire area of the plat spanned 330' x 528', exactly four acres. The third image below is a rather rough attempt at superimposing the plat over a modern aerial image of the site. The plat in the deed book did not indicate its orientation with regard to the cardinal directions, so this layout is our best guess.
Example Lot Deed

The 1854 probate packet for Joseph Sinclair, filed with the Allen County Clerk in Box 371, contains an 1848 deed for "Lot No. 404 in the Burying Ground laid out by ...M'Culloch..."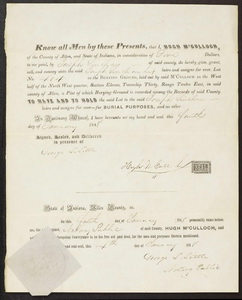 Example Lot Receipt

The 1840 probate packet for John Columbia, filed with the Allen County Clerk in Box 431, contains an 1841 receipt from H. McCulloch for "two lots in the new Burying Ground near Fort Wayne..." The cost was $10.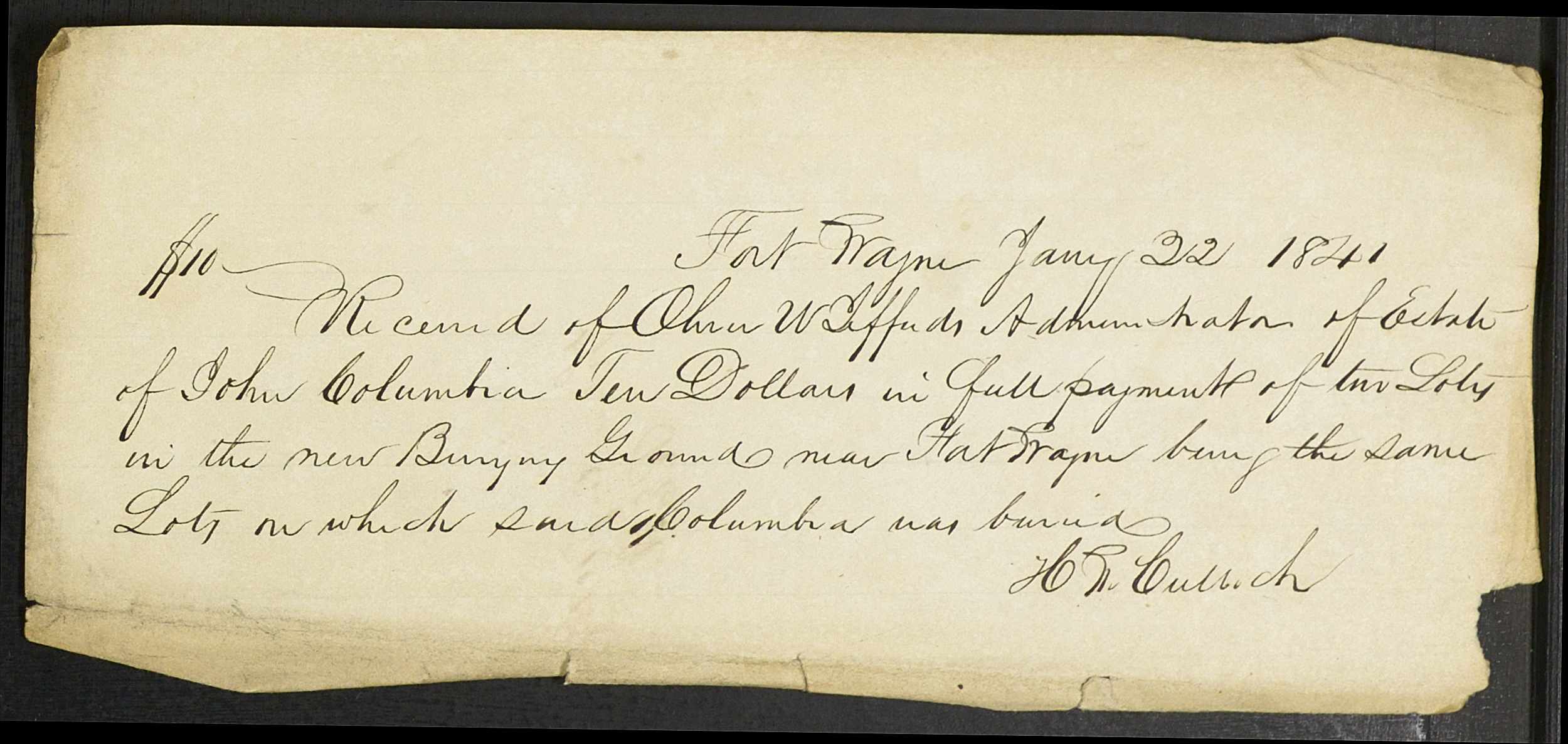 Sexton Invoices for Grave Digging

Some Allen County probate packets from the 1840s, 1850s, and 1860s include invoices from James Richey, the sexton of Broadway Cemetery, for his services digging graves. Because other records of burials at Broadway Cemetery are not available, we present these precious few invoices we found while indexing probate records:
Beecher, Lewis


Belamy, L. G.


Bigger, Samuel


Bouglett, A. G. [August Bobillier estate]


Butcher, John


Cheesman, Davidson


Coles, Margaret


Edsal, John [Edsall]


Ervin, Joseph



Ferry, Lucien


Fields, Andrew


Henderson, Sophia


Henderson, Z.


Hyatt, Ezra


Jansen, Conrad


Landis, Jacob aka Jacob Landes


Link, W. H. wife and child
* this is a receipt for opening the graves in 1865, presumably for removal to Lindenwood

McJunkin, Alexander


Orwig, John


Paramore, E. H.


Polk, William


Robinson, William


Rockhill, Edward


Ruch, Adam


Seyberlich, Charles [C. Sivelevely on receipt]


Stewart, James


Stewart, Newell D.


Tyler, F. H.


Wakefield, Andrew


Walpole, John


Waugh, John


Wehmer, John H. D.


Woodward, Nathaniel