Old Catholic Cemetery
Fort Wayne, Indiana
Overview

The old Catholic cemetery was in service from about 1849 until 1873. It has been difficult for genealogists to document burials there due to a gap in the Cathedral's burial records and the lack of gravestones at the site. When the cemetery became obsolete in 1873, families moved graves, but many were missed. We have no record of the gravestone inscriptions because the area was cleared and redeveloped before any county-wide effort to document inscriptions was made. We have collected evidence which sheds some light on the history of the cemetery. Our findings follow.
Cemetery Location
Section 10, Wayne Township, Allen County, 1860, 1878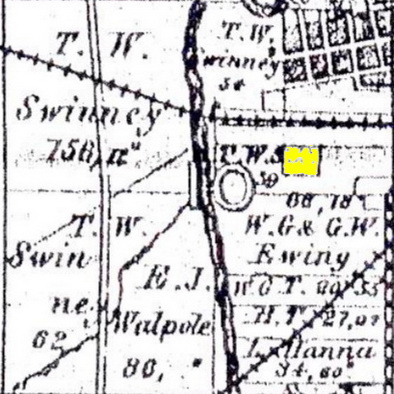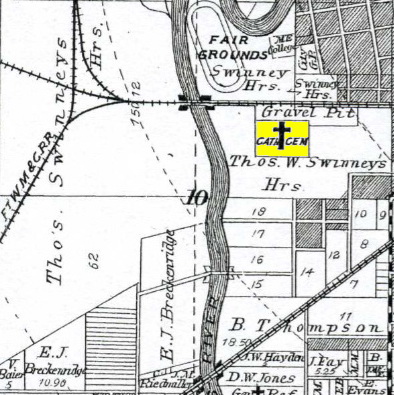 Swinney's Addition Plat, 1895
Lots sold by Bishop Alerding in 1901 are highlighted.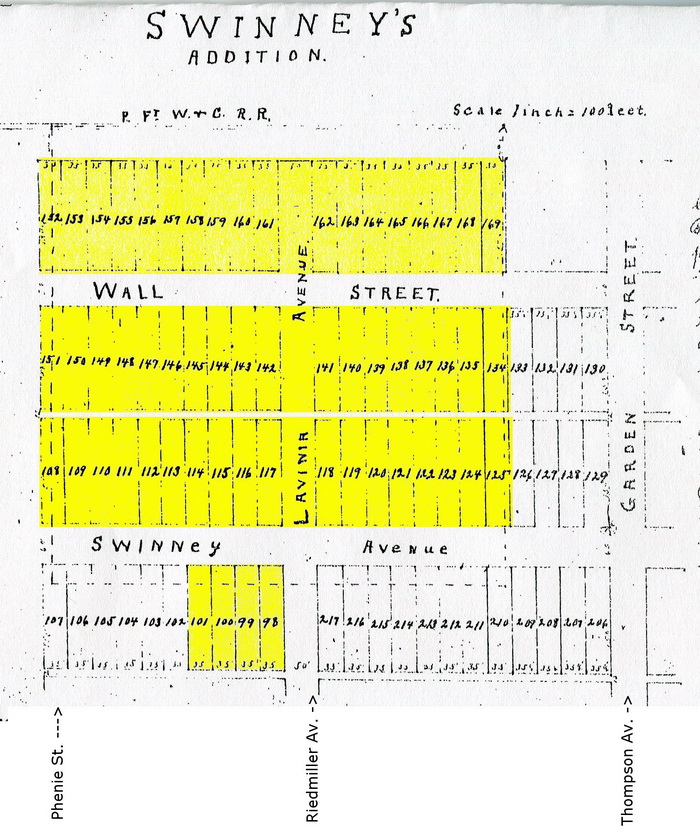 Modern Satellite Image
Lots sold by Bishop Alerding in 1901 are in color.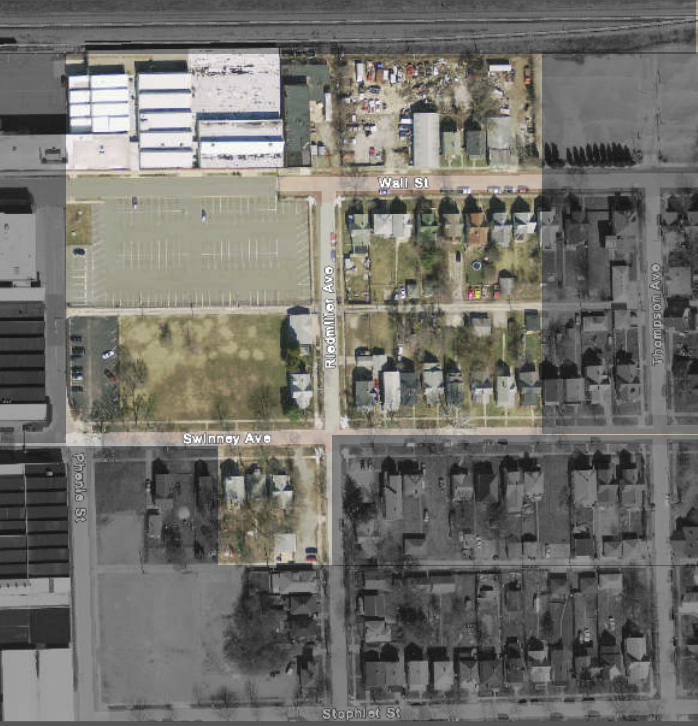 Timeline
1849

Land deeded from Reuben D. Turner and Harriet Jesup Turner to Julian Benoit

On Feb. 6, 1849, Reuben D. Turner and his wife, Harriet Jesup Turner, deeded 10 acres in the south half of Section 10, Wayne Twp., Allen County, to Rev. Fr. Julian Benoit, the Catholic priest serving Fort Wayne. The purchase price was $1000. (Allen County Deed Book I, pp. 617-618)





Burial statistics, Aug. 1849

Fifteen burials occurred at the Catholic ground during the month of August 1849. These included Mrs. Mary Fechtman and Elizabeth Schome. (Fort Wayne Sentinel, Sep. 1, 1849)


1872

Land for new cemetery purchased

Bishop Dwenger has purchased 150 acres of land about two miles east of the city for a new Catholic Cemetery which will prove very suitable for the purpose. The old cemetery grounds have been sold to the Pittsburg, Fort Wayne and Chicago Railway, for the gravel there is in and upon them, and those who have remains of relatives and friends interred there, are requested to have them removed to the New Cemetery. (Fort Wayne Weekly Sentinel, 13 Nov. 1872, pg. 3)

[The report of the sale of the cemetery to the Railway seems to be an error. The land remained property of the Bishop of Fort Wayne until 1901.]


1873

New cemetery to be dedicated

The new Catholic Cemetery will be dedicated with appropriate cemeteries at one o'clock p.m. today. The grounds are beautifully situated four miles northeast of the city. Forty acres are already cleared and the sale of lots will begin tomorrow; etc. (Fort Wayne Gazette, 2 Nov. 1873, pg. 4)

Postponed cemetery dedication to take place

Catholic Cemetery. The new Catholic Cemetery which would have been dedicated on last Sabbath but for the rain, will be dedicated with appropriate ceremonies at 1 o'clock p.m., Sunday. The grounds are beautifully situated one mile and a half northeast of the city. Forty acres are already cleared, and the sale of lots will begin Monday. The various Catholic societies will march to the cemetery, forming in front of the Cathedral at 9 o'clock. The members will appear in full regalia. The ceremonies will be conducted by Bishop Dwenger, assisted by the Catholic clergy of the city. There will be two sermons, one in English and the other in German, the former being the principal one. (Fort Wayne Gazette, 9 Nov. 1873)

Ad for relocating graves

In the work of transferring monuments and gravestones from the old cemetery to the new, our Catholic friends will need the assistance of prudent and skillful men. They will be likely to find this assistance in the firm of Underhill & Congdon, 185 Broadway. (Fort Wayne Gazette, 11 Nov. 1873, pg. 4)


1875

Reinterments

The remains in the old Catholic cemetery are being transferred to the new one. (Fort Wayne Daily Sentinel, 23 Apr. 1875)


1877

Disinterment and attempted sale of remains by intoxicated relative

Comical Yet Ghastly. An Attempted Sale of His Ancestor's Bones by a "Seed", Whose Cranium the Bump of Reverence Seems to be Entirely a Minus Quantity. This community has been horrified rather too frequently, during the past year, by seeing in the paper accounts of body snatchings, and yet no incident of that kind has caused so much disgust as the perpetration of a not dissimilar outrage in this city at noon of yesterday. A fellow, whose name is suppressed through consideration of the family, drove into town, stopped by Dr. Myer's office, and offered for sale the skeletons of his stepfather and grandfather. The bones of both subjects had been thrown together into a wooden box, and had become, by the jolting of the wagon, decidedly mixed, which whold have made articulation rather a difficult job, had the Doctor seen fit to make the purchase -- "but he didn't". The would-be seller of his ancestors was in a state of beastly intoxication, or he doubtless would never have treated a grave subject with such levity. It seems that he had been instructed by his mother to exhume these remains from the old Catholic cemetery, and place them in the new ground. In the performance of the transfer, that which inebriateth got the better of the boy. Whether he succeeded in interring the bones separately or not, "is one of those things no fellah can ever find out." (Fort Wayne Daily Gazette, 10 May 1877)


1895

Land was platted as Swinney's Addition

Rhesa Swinney, Frances E. Swinney, Caroline Swinney, and Bishop Joseph Rademacher platted land including the old Catholic Cemetery into city lots, streets, and alleys on Sep. 7, 1895.


1896

Dirt from old Catholic Cemetery used to fill gravel pit

Today Contractor Slaybacker put twenty teams to work on his contract of filling the Swinney gravel pit. The dirt is hauled from the old Catholic cemetery which is situated a few squares away on the opposite site of the railroad track. It is estimated that 5,000 loads of earth will be required and this is a conservative firgure. Twenty teams will haul about 600 loads a day. Mr. Slaybacker will receive about $500 for his contract as he is to be paid __ cents per load. (Fort Wayne Sentinel, 20 Nov. 1896)


1901

Plat of Swinney's Addition Recorded

The plat of Swinney's Addition to the City of Fort Wayne (which was made in 1895) was recorded Mar. 16, 1901.

Deal to sell old Catholic Cemetery

Curdes Buys Cemetery. A deal was closed Thursday afternoon between Bishop Alerding and Louis F. Curdes, whereby the latter becomes owner of the old Catholic cemetery, situated along the Pittsburg tracks near the St. Mary's river. The price paid was $19,000 and the deal was effected through the Rochell and Lennart & Zurbaugh agencies. The ground will be plated into lots and sold. The cemetery has not been used for more than twenty-five years. (Fort Wayne Weekly Sentinel, 20 Mar. 1901)

Cemetery Deeded to Curdes

On Apr. 2, 1901, Bishop Herman Alerding deeded 58 lots in Swinney's Addition to Louis Curdes for the sum of $15,000. (Allen County Deed Book 162, pp. 175-176)






2002

Bones discovered under Superior Essex parking lot

Bones likely left when cemetery was moved.

Two human bones found Tuesday just southwest of downtown Fort Wayne were likely from a late 1800s Catholic cemetery that was later moved to Lake Avenue on the city's near-northeast side, officials said Wednesday.

Historical maps reflect that the area near Swinney Avenue and Phenie St. was a cemetery from 1860 to 1870, Indiana conservation officer Justin Blake said.

Contractors were digging a trench in the Superior Essex visitor parking lot Tuesday to replace a waterline when they found the two femurs, or thigh bones. Allen County coroner chief investigator Dick Alfeld confirmed the bones were human, and a pathologist believed they were that of an adult male, Alfeld said.

Sparky, a cadaver-hunting dog, alerted officials to three additional areas in the trench with human bones believed to be at least 100 years old.

The search for the other bones is on hold until the Indiana Department of Natural Resources' Division of Historic Preservation can hire a certified archaeologist to oversee the dig, Blake said.

After Robert McCullough, a local archaeologist and director of Archaeological Survey at Indiana-Purdue University Fort Wayne, surveyed the trench Wednesday afternoon, contractors were asked to refill it with limestone to prevent accidental injury until the division decides its next step, Blake said.

The site at the National Serv-All landfill on MacBeth Road, where six piles of removed soil was dumped, is also being monitored, officials said.

Currently the dig team is working on a project in southern Indiana.

Contractors cannot continue working in the area until the division decides when to look for the remaining bones, Blake said.

According to a genealogy research Web site for Allen County, early maps of the county show a Catholic burial site near the St. Marys River around Wall Street, which is one block north of Swinney Avenue.

It was not clear exactly when the cemetery was relocated.

Several bones were discovered just north of Tuesday's find in the early 1970s, as well, officials said.

Attempts to reach a representative of the Division of Historic Preservation Wednesday for when the search for the remaining bones would resume was not successful. (Journal-Gazette, 8 Aug. 2002, pg. 1C)