Fort Wayne Electric Corporation Payroll Ledger, 1894-1896
Key to Ledger Notations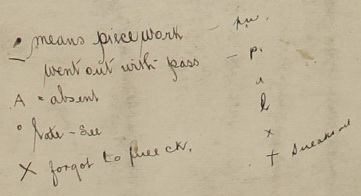 Overview
This ledger, which covers the period Aug. 1894-Sep. 1896, served as a record of time cards and monthly pay for approximately 570 factory employees of the Fort Wayne Electric Corporation. The factory was at the intersection of Broadway and the Pittsburgh, Fort Wayne & Chicago Railroad in Fort Wayne. The corporation was later acquired by the General Electric Company.
The ledger was offered for sale online by a bookseller in Olathe, Kansas, in 2015, and was purchased by ACGSI for inclusion on this site.
Because employment records are seldom available for genealogical research, this ledger is an important find. It is especially significant because the Fort Wayne Electric Corporation was a major employer in Fort Wayne.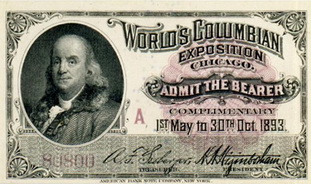 As you peruse these records of men and women working in the electrical industry, consider the tasks they performed with some historical perspective. In the 1890s, Thomas Edison, George Westinghouse, and Nikola Tesla were still wrestling with how best to adapt their electrical inventions for commerce and use by the general public. At the 1893 Columbian Exhibition in Chicago, Westinghouse, General Electric, and other exhibitors including the Fort Wayne Electric Co. put their work on display in spectatular fashion to the amazement of over 27 million visitors. Meanwhile, in Fort Wayne, the natural gas boom of the 1880s and 1890s had led to widespread use of gas lighting. Even by 1920, many thousands of local homes used gas lights instead of electric.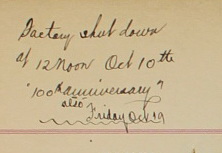 The ledger is 260 pages, representing 10 pages for each of 26 months. The first page for each month often contains notes about factory shutdowns, changes in shift length, and holidays. One note of interest, seen at right, appears on pg. 21. The factory closed at noon on Oct. 10th and 19th, 1894 for the centennial of Fort Wayne. The last page for each month includes a payroll summary. The Oct. 1895 pages contain notes about the type of work performed.
---
View Records by Name
A B C D E F G H I J K L M N O P Q R S T U V W X Y Z
---
Columbian Exhibition
Chicago, 1893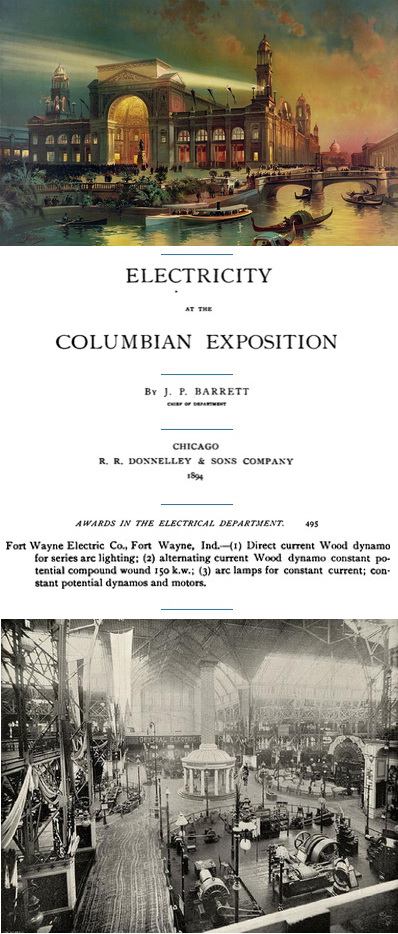 Browse Ledger Pages