Dr. Lewis G. Thompson estate debtors, 1825-1845, Fort Wayne, Indiana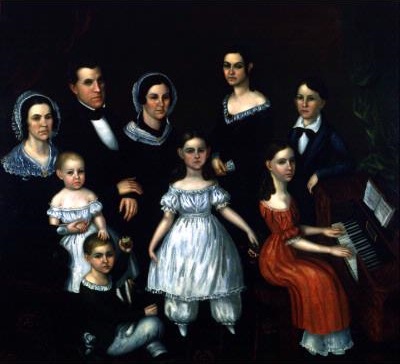 Dr. Lewis G. Thompson family
Fort Wayne, Ind., c. 1844
oil-on-canvas portrait
by Horace Rockwell
image from the Newark (NJ)
Museum catalog
Dr. Lewis G. Thompson (1803-1845) arrived in Fort Wayne in 1825 and graduated from the Ohio Medical College in 1837 according to A Medical History of the State of Indiana by G. W. H. Kemper. Thompson served on the Fort Wayne Board of Health and in the Indiana House of Representatives. As part of his medical and surgical practice with Dr. Sturgis on Columbia St. in Fort Wayne, he dispensed medication and extended credit to his patients.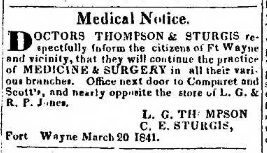 Fort Wayne Sentinel
, 16 Oct. 1841
Fort Wayne Sentinel
, 25 Mar. 1843
In the process of settling his estate in 1846, his administrators itemized the many outstanding debts they deemed collectible from his account books A-F. Later, in 1850, they listed insolvent debts, mostly accounts, this time providing the dates the debts were incurred. It is clear, from the magnitude of the debt lists, that Dr. Thompson served a substantial portion of the population of Fort Wayne and vicinity.
The sheer number of outstanding accounts was not lost on Dr. Thompson during his lifetime. In 1843, he advertised in the Fort Wayne Sentinel that he would accept payment of debts in pork, wheat, corn, or oats.
Also found in the estate papers was an inventory of drugs and medicines belonging to Thompson & Sturgis. The list adds perspective on the practice of medicine in this early time period. Some of the more familiar substances itemized: pulverized rhubarb, aloe, Irish moss, charcoal, tapioca, iodine, cream of tartar, extract of dandelion, belladonna, phosphorus, digitalis, myrrh, borax, Virginia snake root, Iceland moss, tincture of cloves, tumeric, oxalic acid, red wood, alcohol, turpentine, black varnish, ginger root, coriander seed, annatto, Japan varnish, muriatic [hydrochloric] acid, British oil, aniseed, Balsam Peru, oil of wintergreen, oil of juniper, oil of almond, oil of rosemary, oil of lavender, and brimstone [sulfur].
For an itemized example of an 1830s patient account, see this document contained in the estate packet of Aaron Blodgett.
We present this list of debtors to a physician as an important supplement to the 1830 & 1840 censuses and the 1842 Tax Duplicate of Fort Wayne. The image links refer you to Dr. Thompson's 493-page estate packet, digitized by FamilySearch, which is on file with the Allen County Clerk in Box 364.
---
View Records by Name
A B C D E F G H I J K L M N O P Q R S T U V W Y Unknown
---