Jump to sections on this page: Maumee Towns, 1794 Fort Wayne, French Forts 1 & 2, Last French Fort, Fort Wayne Forts 3, 4, & 5, Historic Fort Wayne, Historic Fort Wayne Markers, Old Fort Park, Old Fort Place, Replica Historic Fort Wayne.

1913, February 8 - Full page newspaper article shows map of three rivers and Some Historic Places in the City of Fort Wayne Over Which Flags of Four Nations Have Floated and continued on page 11 column 1 Some Historic Places in The City of Fort Wayne. Clipped from The Fort Wayne Sentinel 08 Feb 1913, Saturday, page 9. Clipped by StanFollisFW on 18 Feb 2022.
Kekionga, Miamitown, Three Rivers, The Portage and Fort Wayne are names given by the Indians, the French, the British, and finally the Americans. See our page Indians - Native Americans of Allen County, Indiana.
Five forts were built all located within a square mile of the center of the current city of Fort Wayne. The current fort is a replica of the 1815 "Whistler's Fort." The reason for the first fort was to protect the fur trade.
French Forts - 1 & 2
Fort Wayne's first fort was built as a dream of the French, and especially the renowned 17th century explorer Robert Sieur de La Salle, to create a wilderness empire that arced through the Great Lakes and the Mississippi River valley from Quebec to New Orleans. Is the first sentence of the First Fort of the Fort by Tom Castaldi, local historian posted October 9, 2014 on History Center Notes & Queries blog. Fort Miami (Indiana) at Wikipedia, The Free Encyclopedia.
Site of Fort Miamis Indiana. Fort Wayne
by Lincoln Financial Foundation Collection
Publication date 1963 on Archive.org
A Fort Miamis marker installed in 2000 by the Indiana Historical Bureau and Society of Colonial Wars in the State of Indiana at Guldin Park shown bottom right, near Van Buren Street Bridge, SW corner, and St. Mary's River boat ramp at Michaels Avenue. See also Google map Street View. This Marker replaces the First White Settlement Marker shown in the 1963 Monuments and Plaques Markers in City Parks book. The marker Site of Fort Miamis is no longer standing shown on left. It was installed in 1948 by the Indiana Historical Bureau and stated: First white settlement in Indiana; fortified by French by 1712. Located among the Miami Indians. Burned in 1747 and rebuilt on St. Joseph River from Indiana Historical Markers. There was also an 1983 DAR marker shown in a Google map photo.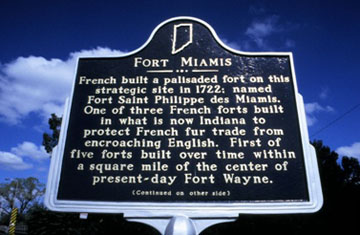 Indiana Historical Bureau photo
On Side one:
French built a palisaded fort on this strategic site in 1722; named Fort Saint Philippe des Miamis. One of three French forts built in what is now Indiana to protect French fur trade from encroaching English. First of five forts built over time within a square mile of the center of present-day Fort Wayne.
Side two:
Nearby confluence of St. Mary's and St. Joseph's rivers forms Maumee River, a strategic central part of the waterways system connecting Great Lakes regions with Mississippi River Valley. Using a portage between Maumee and Wabash rivers, travelers could journey nearly 2,500 miles by water from French Canada to Louisiana.
A December 14, 2019 post by the Indiana Division of Historic Preservation & Archaeology on Facebook stated: Check out these eighteenth century artifacts (including three trade beads in the top row) recovered from archaeological investigations regarding the first French fort (Fort St. Philippe des Miamis) in Fort Wayne. You can read more about this interesting project, which received federal financial assistance from the Historic Preservation Fund, in the 2009 Indiana Archaeology (Volume 4, Number 1) Journal article beginning on page 108 at Archaeology Publications at the Indiana Department of Natural Resources. The article on page 108 is titled: ARCHAEOLOGICAL INVESTIGATIONS OF FORT ST. PHILIPPE DES MIAMIS (1722) AND THE FIRST AMERICAN FORT (1794) IN FORT WAYNE, INDIANA Christopher R. Andres, Dorothea McCullough, Michael Strezewski, and Robert G. McCullough Indiana University-Purdue University Fort Wayne Archaeological Survey (IPFW-AS) Fort Wayne, IN.
Last French Fort
An October 16, 2022 post on True Fort Wayne Indiana History on Facebook shared an October 15, 2015 post by Hofer and Davis, Inc. Land Surveyors on Facebook showing a newspaper ad Do You Know That Fort Wayne Was Once a French Fort! with a map showing 1750 Post Miami stating: For Throwback Thursday, we thought you all might enjoy the first in a series run around late April of 1937 as advertising for Wolf and Dessauer (Iconic Fort Wayne Department Store) in the Fort Wayne Journal Gazette. As noted the information was gathered from author B.J. Griswold's "History of Fort Wayne". This is Number One in a 10 part series, so keep an eye out next Thursday for Number 2. As a sidebar, these were undated, so we researched dates from pieces of articles which appear on the flip side. Number 2 of the 10 part series was April 1937 on The Tragic History of Ensign Robert Holmes. posted October 22, 2015 by Hofer and Davis, Inc. Land Surveyors on Facebook and again October 22, 2022 on True Fort Wayne Indiana History on Facebook. It also says Wolf & Dessauer had the first delivery truck in Fort Wayne. The Murder of Holmes is discussed on page 60 of The pictorial history of Fort Wayne, Indiana : a review of two centuries of occupation of the region about the head of the Maumee River by Griswold, B. J. (Bert Joseph), 1873-1927; Taylor, Samuel R., Mrs, Publication date 1917 on Archive.org.
Maumee Towns
Miamis
,
Shawnees
, and
Delawares
camps shown in View of the Maumee Towns Destroyed by General Harmar
October 1790 Map of Kekionga
, before its destruction, drawn by Ebenezer Denny ,1761-1822, Osprey Publishing as
File:Map of Kekionga.jpg
from
Wikipedia
, The Free Encyclopedia. See our page
Indians - Native Americans of Allen County, Indiana
.
1795 Old Miami Town
is north across the Maumee River from
Fort Wayne
is shown in
File:Fort Wayne 1795.jpg
on
Wikipedia
, The Free Encyclopedia above. A larger zoomable
1795 map
is at
Indiana Fort Wayne : ms. map of Fort Wayne said to have been made on July 18, 1795, for General Anthony Wayne
at
The Library of Congress
. Notes states: "Fort Wayne ... the first American post, built in 1794 and named for Anthony Wayne after his victory at Fallen Timbers, was located across the St. Marys from the old Miami village of Kekionga and the remains of old Fort Miami, at the present intersection of Clay and Berry streets"--Ency. of Historic Forts, p. 281-282. Read
page 280: Encyclopedia of historic forts : the military, pioneer, and trading posts of the United States
by Roberts, Robert B Publication date 1988 on
Archive.org
. See our page
General "Mad" Anthony Wayne
.
Fort Wayne Fort
which includes the 1795 map on
Wikipedia
, The Free Encyclopedia.
Fort Wayne Forts 3, 4, & 5
1794 Fort Wayne
Anthony Wayne's fort by Tom Castaldi, local historianon ARCH ( Architecture and Community Heritage).
Whistler and the Last Two American Forts at the Three Rivers by Tom Castaldi, local historianpublished June 26, 2014 in the History Center Notes & Queries blog. Whistler's Mother… Actually, Grandfather by Tom Castaldi, local historianpublished May 19, 2016 on Indiana Historical Bureau blog.
The last fort built here was constructed in 1816 by Maj. John Whistler about where Cinema Center stands now on East Berry Street. Today's replica, built in 1976, is a copy of Whistler's design. From Nonprofit makes history at old fort Builds on revival begun 9 years ago March 3, 2013 by Dan Stockman of The Journal Gazette newspaper.
An October 22, 2018 post by Indiana Historical Bureau on Facebookincluded this image that shows "A Reproduction of the Only Existing Original Drawing of Old Fort Wayne Made by Major Whistler in 1816" on page 156 in Griswold's book shown above. Their post states: October 22, 1794 Fort Wayne was dedicated. Following General Anthony Wayne's victory at the Battle of Fallen Timbers, the Legion of the United States under Wayne's command moved into present-day Indiana. Wayne selected a site for a fort at the Miami town of Kekionga. The site was strategically and militarily located at the confluence of the St. Joseph, St. Marys, and Maumee rivers. Wayne sought to exert American influence and control in the region over the claims of indigenous peoples and the British. Major John F. Hamtramck was placed in command of 100 soldiers stationed at the fort.
A postcard labeled Contruction on Fort Wayne Officially Begins October 22, 1794 is shown in an October 22, 2015 post by Indiana Bicentennial Commission on Facebookon Facebook.
John Johnston - Letter from Fort Wayne, September 30, 1804 posted September 30, 2015 on Johnston Farm & Indian Agency on Facebook.
The Old Fort - 1816: Frontier Fort to Statehood at The Genealogy Center .

The History Center photo

An 1852 daguerreotype photograph of a blockhouse from the old 1816-era fort is shown and discussed in A Daguerreotype of the Fort by John Beatty posted October 28, 2010 on the History Center Notes & Queries blog. Is also shown as a drawing in the pictorial history book below.
Page 235 of Griswold's 1917 Pictorial describes the status of the fort in the 1830s.

See Fort Wayne Facts on City of Fort Wayne.
Gen. Anthony Wayne helped the nation grow west by Richard Battin published January 24, 1994 in archives of The News-Sentinel newspaper includes a reading list of books.
October 30, 2013 - Fort Wayne is the answer on the Jeopardy television show A log stockade made by a certain mad revolutionary war general in 1794 gave this city his name. See October 30, 2013 photo on Visit Fort Wayne Tweet on Twitter and Mitch Harper Tweet.

Cool! RT @EricDoot "What is Fort Wayne?" The Summit City hits true Daily Double status Wednesday night on @Jeopardy! pic.twitter.com/IVLbsUIaSN

— Visit Fort Wayne (@VisitFortWayne) October 31, 2013
Historic Fort Wayne Markers
Old Fort Wayne Well
Old Fort Wayne Well with photos is at The Historical Marker Datatbase HMdb.org situated on the site of the second and third military fortifications that were named Fort Wayne, a block north of the historical marker for the first Fort Wayne (Stop #10). The Old Fort Well was dedicated September 12, 1960 on what was the location of Old Fort Park.
Old Fort Park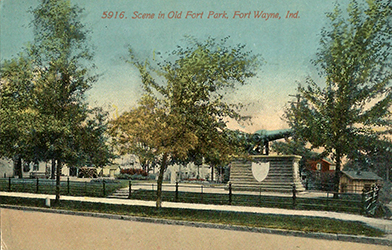 1913 postcard Scene in Old Fort Park
The first city park, Old Fort Park, was established in 1863 when the city purchased a fractional lot No. 40, Taber's addition from Harry Seymour for $800, and Henry Williams placed an iron fence around the lot and erected a flag pole. Photos and discussion about early parks in a May 17, 2022 post by The History Centeron Facebook. The Wabash & Erie Canal built in the 1830s, was replaced in the 1850s with railroad tracks that ran along the north side of the park. The downtown Main Street Firestation # 1 is just west of this location. Last remant is the wishing well at Fire Station # 1 on Main Street. Read Fort Wayne's First Park by Tom Castaldi published May 8, 2014 in History Center Notes & Queries blog. See photo and discussion of old cannon at the park posted November 28, 2017 on Fort Wayne Food Tours on Facebook whose dedication was in 1900 mentioned on page 542 of Griswold's 1917 Pictorial. In the 1875 September 8 Fort Wayne Weekly Sentinel is a short article hoping the city council will put the old fort property in good order by cleaning out the old well General Wayne ordered dug, as well as restoring a model of the fort, then landscaping and maintaing the property. No longer online, need to make a copy! Google map Street View shows current location on East Main Street at Clay Street. There are several photos at the Allen County Community Album such as the Old Fort Park, 1941, Spanish Cannon original site - Clay and Main (Old Fort Park), Spanish Cannon in Old Fort Park, Railroads, Fort Wayne IN: looking west from Old Fort Park, showing Union Pacific car, piles of culverts inside, Railroads, Fort WayneIN: looking west from Clay Street next ot Old Fort Park, showing tracks, cars, switch , and plaque of the old fort along the river on Old Fort Wayne on pedestal in Harman Park that held statue of Anthony Wayne - 1973 . Several recent photos of the wishing well were posted August 6, 2017 and the 1941 photo of the park was discussed March 31, 2019 on You are positively from Fort Wayne, if you remember... Archived group only visible to existing members on Facebook.
Old Fort Place
Was the block between Lafayette and Clay Street that began disappearing with the Nickel Plate Elevation in early 1950s. Photo and discussion November 19, 2017 on You are positively from Fort Wayne, if you remember... Archived group only visible to existing members on Facebook.
Historic Fort Wayne
Diary of Captain John Cooke, 1794 Allen County-Fort Wayne Historical Society, 1953, an Archive.org. The Foreword states: Primary source materials relating to General Wayne's sojourn at Fort Wayne are scarce. Extracts from the diary of one of his captains were published in the Fort Wayne Gazette eighty years ago.
Replica Historic Fort Wayne
The modern Historic Old Fort has a page with events, photos and information on the City of Fort Wayne Parks & Recreation website, their own website: http://www.oldfortwayne.org and Facebook page: https://www.facebook.com/HistoricFortWayne/. Their Facebook page states: The Old Fort is on public park grounds, so you can always wander around, into the parade grounds, etc. The buildings themselves are only open during events when we have volunteers on site. There is a brochure available outside some of the buildings and it has a map with information about the history of the fort and how each of the buildings would have been used. Historic Fort Wayne is a Non-Profit Organization that manages the Old Fort in Fort Wayne, IN. We are a 100% volunteer organization. All of our events are free to the public. All programing is funded by private and corporate donations.
November 9, 2022 post by Sky-Hye Aerial Photographyon Facebook:

Short aerial drone video of The Old Fort/Original Fort Wayne Originally Established by General Anthony Wayne in 1794, Thomas Hunt became commander of The Fort and built a new fort in 1800, Decommissioned in 1819 and the last building stood till 1852. The Fort we know today was designed from an 1816 painting and built in New York, then transported here in the 1970s, it would then open in 1976.
March 9, 2023 post by Hidden View Photography on Facebook:
Reconstructed fort on Spy Run Avenue near downtown Fort Wayne across the St. Marys River from Headwaters Park. The History page on their web site: oldfortwayne.org briefly describes the various forts built near the three rivers. The bottom section titled The Reconstructed Fort states: This project began in 1964 when Historic Fort Wayne Inc. was established and started planning a reconstruction of the Fort, using Major Whistler's 1814 drawings. After much fundraising, they purchased property in the late 1960's and sought a fort builder. Lok-N-Logs Inc., a log home company in Sherburne, New York, took on the unusual project, constructing the Fort first in New York, then transporting it to Indiana, where it was reassembled. It officially opened shortly before July 4, 1976, to celebrate the nation's Bicentennial, and remained open daily until the early 1990's. Historic Fort Wayne Inc. disbanded in 1989, and the current Historic Fort Wayne, Inc. was formed in 2004 as a volunteer effort to preserve the Fort. Though they share a name, the two groups are not connected. Construction of the fort re-creation began in the summer of 1975. Work on the replica was not finished for its dedication June 5, 1976, but several hundred people turned out for the festivities. See the articles Historic Fort Wayne and Old Fort Wayne – Learn History In Person! by Louisa D. published June 8, 2015 on Visit Fort Wayne. See photos on Throwback Thursday: Old Fort published August 31, 2017 on The Journal Gazette newspaper. See their Facebook page - INFortWayne.com YouTube Bicentennial Celebration at Historic Fort Wayne. See photos and discussion January 17, 2017 on You are positively from Fort Wayne, if you remember... Archived group only visible to existing members on Facebook. 360 virtual photo tour on vpix.net. Photos of Old Fort Wishing Well posted August 6, 2017 and 1896 Fort Wayne watch fob photo discussed August 7, 2017 on You are positively from Fort Wayne, if you remember... Archived group only visible to existing members on Facebook.
Merchant-Huxford House (520 Tennessee Ave.) is threatened with vacancy and decay. The house was the home of one of Fort Wayne's early mayors and legendarily contains timbers from the last fort in Fort Wayne. from Endangered structures, Archie winners named published November 15, 2012 in The Journal Gazette newspaper but no longer online.
At the headwaters of the Maumee : a history of the forts of Fort Wayne, by Paul Woehrmann ; with an introd. by Richard C. Knopf, Indianapolis, Indiana Historical Society, 1971
1981 photos posted March 19, 2017 on You are positively from Fort Wayne, if you remember... Archived group only visible to existing members on Facebook.
Indiana at 200 (5): Land of Three Rivers brief history of forts of Fort Wayne by Andrea Neal published August 12, 2013 on Indiana Policy.org.
2013, February 21 the old fort photos by Ashley Letourneau Photography blog
The early history of Fort Wayne SUMMIT CITY HISTORY NOTES by Richard Battin published October 19, 1993 in The News-Sentinel newspaper. See A view of Fort Wayne in 1816 sketch posted June 2, 2016 on Historic Fort Wayne on Fort Wayne.
The fort at the three rivers (1968) - Snow, Dorothea J., 1909-, "A project of Pi Chapter, Psi Iota Xi Sorority and the Allen County-Fort Wayne Historical Society in cooperation with the Public Library of Fort Wayne and Allen County."
Fort Wayne, the frontier post - Roberts, Bessie K, reprint of her Historical Fort Wayne, 1682-1933 (1933)
Outpost in the Wilderness: Fort Wayne, 1706-1828 by Charles Poinsatte, Allen County, Fort Wayne Historical Society, 1976 read online at the Gutenberg Project.
There is a book Five Forts by John Ankenbruck, 1972, The News Publishing Co., Fort Wayne, Indiana 48601.
March 23, 2017 a post by Historic Fort Wayne on Facebook posted a television screen shot: Big Bang Theory held their version of March Madness, with a 'Elite Eight' bracket for best Fort. Looks like we lost out to Fort Knox. Fort Cozy McBlanket won. How is your bracket doing?
Fort Wayne on Wikipedia, The Free Encyclopedia
Fort Wayne on FortWiki.com
City of Fort Wayne wins All America City in 2009 for 3rd time, is in Hall of Fame for 1982 and 1998 sponsored by the National Civic League
City of Fort Wayne celebrates April 12, 2008 as the million dollar winner in ABC's
Learn about the Past at Fort Wayne's Old Fort by Kayleen Reusser published April 11, 2015 on The Indiana Insider Blog.
Model in 1976 punch out and assemble. Photos posted April 20, 2017 on You are positively from Fort Wayne, if you remember... Archived group only visible to existing members on Facebook.
Test Your Knowledge of the Fort Wayne Old Fort! posted by Louisa D. on July 29, 2016 the Visit Fort Wayneblog.
The Old Council Housewas a large two-story log building built in 1804 for hosting the Native leaders by Tom Castaldi published January 30, 2014 and again June 12, 2014 in the History Center Notes & Queries blog.
Video posted April 9, 2017 by Tom Mauger on You are positively from Fort Wayne, if you remember... Archived group only visible to existing members on Facebook
Colonial America on the Frontier 1775 - 1783: Reenacting in Fort Wayne, Indiana by Historical Ken published August 7, 2017 on PassionForThePast blog.
July 30, 2022 discussion about the forts and General Anthony Wayne on Great Memories and History of Fort Wayne Private Facebook Group