General Anthony Wayne
Fort Wayne, Allen County, Indiana
Jump to Anthony Wayne Statue, Anthony Wayne Bible, Fort Wayne Information, General "Mad" Anthony Wayne Organization, Inc., General Anthony Wayne Day, Pennsylvania Information, Publications
Anthony Wayne Statue
January 17, 2023 post by The History Center on Facebook:

Sculpture is a visual art form that is presented in three dimensions. These works are created through the manipulation of materials such as metal, plaster, stone, wood, glass, plastic, and ceramic. A few methods used to shape these raw materials include carving, casting, welding, molding, shaping, or bonding. Sculpture is one of the longest-lived forms of art and craft, dating back to the prehistoric era of the Upper Paleolithic, over 35,000 years ago. Some of the earliest examples of sculpture work include crafted tools and figurines. Sculpture has been used as a method to document important people, to celebrate ideas, to create tools, or to replicate the natural world. Sculpture is often thought of as a grand work of stone or bronze, such as a monument or statue, because these objects are typically referenced as "sculptures." However, sculpture as an art form and crafting method also encompasses works such as pottery, jewelry, musical instruments, and weaponry. Various methods of craft and artistic expression that can fall under the large umbrella of sculpture also fall into their own specialized sub-category such as wood-carving, blacksmithing, or glass blowing. Visit the History Center to see our new temporary exhibit "Sculpture: Craftsmanship and Art in Three Dimensions." #sociallyhistory

The Working Model, Plaster model of Anthony Wayne statue executed by G.E. Gariere. Full-size statue is in Freimann Square. Compare to Anthony Wayne photo at Google maps.
THE ANTHONY WAYNE MONUMENT

After several years of preparation, the final plans for the erection of a bronze equestrian statue to the memory of General Anthony Wayne were decided upon in 1916. The commission, after viewing the models submitted by several of America's well-known sculptors, awarded the work to Charles E. Mulligan, of Chicago, but the sudden death of the sculptor revised the plans, and George E. Ganiere, of Chicago, was selected. The sum of $15,000 for the statue, in bronze, in addition to $900 for two separate tablets, was set aside. The monument commission was composed of J. Ross McCulloeh, William F. Ranke, Mrs. Frances Haberly-Robertson and Colonel D. N. Foster. The site chosen for the monument is the northwest corner of Hayden Park, facing the Lincoln Highway (Maumee avenue).

The agitation for the erection of a monument to General Wayne was begun previous to 1889, in which year the annual report of the chief engineer of the United States recommended that congress appropriate the sum of $5,000 for a statue to be placed on the site of old Fort Wayne. Congress failed to act. Then, in 1894, the board of county commissioners authorized a levy of one-fourth of one cent per year on each $100 of assessed property valuation for the creation of a fund to erect a monument to Wayne's memory. The money thus secured was used in payment for the present monument.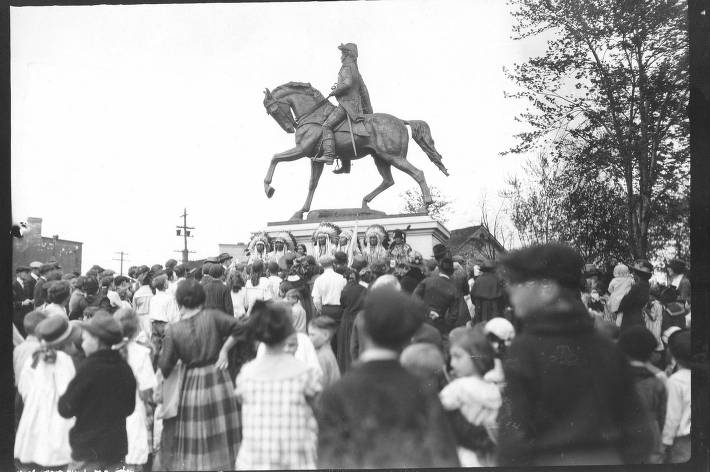 The General Anthony Wayne statue was dedicated in 1917, or 1918, in Hayden Park shown in several photos such as Crowd gathers for dedication of Anthony Wayne statue, Hayden Park, Fort Wayne, IN, 1917 and Dedication of Anthony Wayne staue in Hayden Park, Fort Wayne, IN, 1917 from an Anthony Wayne Statue and Anthony Wayne search in the Allen County Public Library Digital Collections at the Allen County Public Library.

Statue of Anthony Wayne in Hayden Park, Fort Wayne IN - ACPL Digital Collections image

Originally dedicated July 4, 1918 in Hayden Park it was moved to Freimann Square in 1973.

Here is an account of the dedication excerpted from a 2012 Old Fort News article by Walter Font: It was a day blessed by Providence, "a cloudless sky" with no rain in sight to mar the day's festivities.The people of Fort Wayne had planned a grand partyto celebrate Independence Day and the memory of Anthony Wayne, and they came by the thousands: "Interurban cars were crowded and all roads leading intothe city, from every direction, were alive with automobilesand buggies." Although there were numerous attendant activities throughout the community that day,the two primary events were the "monstrous" parade and the dedication of the Anthony Wayne monument in Hayden Park. Vice President Thomas Marshall arrived at the Pennsylvania Depot in the morning. Hundreds welcomed him at the station and at his reception in the Anthony Hotel where he stayed until the parade beganat 1 :40 in the afternoon. Huge crowds were on hand when Marshall and other dignitaries stepped into theircarriages and followed the military units on parade including current soldiers in the National Guard and veterans from the Civil War and Spanish-American War. Marching behind them were thousands of deferred classmen waving American flags with "colored boys scattered in their ranks." Four of the deferred-classmen were greeted with applause and laughter whenthey passed the crowd carrying "a coffin on which wasa German helmet and the inscription 'To Hel-met Der Kaiser.' Walking sadly along in the rear and kept in chains was his Satanic Majesty costumed in the lurid hue of Hades. The devil bore a sign which read 'I can see my finish.'" Third in line were those of foreign birth, or parentage, including groups representing the Romanians (with a banner "Citizens of the United States by Adoption"); the Italians with a band, lead by Joseph Tuso mounted on a horse and wearing an Italian uniform with a sword at his side; Americans of Scottish birth representing the Caledonian Society, some wearing"plaids and bonnets of Scottish fame and glory";the Irish; and Jewish citizens, "lovers of liberty in the new world and old." Bringing up the rear were various organizations including the labor unions as well as civic, social, religious and fraternal groups. The parade began on Harrison Street and ended at Hayden Park. A grandstand for 1,000 was built on Maumee Avenue, north of the speaker's stand, and from there schoolchildren opened the dedication ceremony with a chorus of patriotic songs. After an invocation and an address by Judge Walter Olds, the statue of Anthony Wayne was unveiled accompanied by "cheers and applause andsongs by the school children." D. N. Foster, as head of the monument commission, presented the statue to the city which was accepted in a brief address by Mayor W. Sherman Cutshall. Tom Marshall then rose to a"great welcome and demonstration" for his dedicatory address. George E. Ganiere [the artist who made the statue] sat with the dignitaries on the speaker's stand and after Marshall spoke, he was introduced to the spectators. The children's chorus provided the closing act of the ceremony by singing the Star Spangled Banner."

Copied from a Janaury 9, 2023 comment by Charlie Savage to a post on True Fort Wayne Indiana History on Facebook.
March 30, 2023 post by Genealogy Center on Facebook:

It's #waybackwednesday! Check out these then and now photos, Courtesy of the Daniel A. Baker Collection in our Community Album. The first photo, from 1973, shows George Ganiere's bronze General "Mad" Anthony Wayne which was relocated to Freimann Square that year. It was originally dedicated at Hayden Park on July 4, 1918.

The second photo provides a view Anthony Wayne statue in Freimann Square, dated 2017. Across Clinton Street is the Rousseau Centre, formerly the City-County Building.

Visit our Community Album to view these photos and thousands more: http://contentdm.acpl.lib.in.us/

First photo: Anthony Wayne Statue at Freimann Square, circa 1973

Second photo Anthony Wayne Statue at Freimann Square, 2017. in the Daniel A. Baker Photograph Collectionboth are in the

Allen County Public Library Digital Collections at the Allen County Public Library.

Anthony Wayne statue Stop #1 on the Central Downtown Trail 19 stops on the Heritage Trail by ARCH ( Architecture and Community Heritage)has audio: "Anthony Wayne's Statue" featuring Tom Castaldi. Courtesy of WBNI-Fort Wayne from ARCH ( Architecture and Community Heritage). Major General Anthony Wayne marker photos with Google maps Street View image, and more at The Historical Marker Datatbase HMdb.org.
Anthony Wayne Statue Search finds many discussions on The News-Sentinel newspaper.
Keep Anthony Wayne where he's star of show by Madelane Elston who is chairwoman of the Allen County Courthouse Preservation Trust published in the Journal Gazette newspaper December 30, 2012.
The Anthony Wayne Statue by Nancy McCammon-Hansen posted April 29, 2013 on the History Center Notes & Queries blog discusses the statue in Freimann Square and the facial plaques of Little Turtle and Tecumseh that used to be on the base of the statue. The graphic at the library states: These three bronze plaques, executed by George Ganiere, were originally part of the municipal equestrian statue of Major General Anthony Wayne, erected at Hayden Park (now renamed John Nuckols Park) in Fort Wayne, Indiana, in 1917. The plaques now reside in the Genealogy Center at the downtown Allen County Public Library. The full story was in the next issue of Old Fort News publication of the The History Center.
A general predicament: Wayne statue might move January 13, 2013 by Dan Stockman of The Journal Gazette newspaper. Dan also wrote 'Mad' Anthony staying put August 14, 2013.
Only half of the story Second statue would complete picture of general's conquest August 20, 2013 by Patrick J. Ashton of the The Journal Gazette newspaper.
You can't see him, but Anthony Wayne is getting a facelift Laser used to clean statue, remove coating applied in the 1990s by Kevin Leininger published August 14, 2014 in The News-Sentinel newspaper.
Anthony Wayne Statue Rededicated by Stephen Parker published November 13, 2014 in Around Fort Wayne blog.
List of memorials to Anthony Wayne at Wikipedia, The Free Encyclopedia.
January 9, 2023 post with photos and lots of comments on True Fort Wayne Indiana History on Facebook.
2013, October 30 - Fort Wayne is the answer on the Jeopardy television show A log stockade made by a certain mad revolutionary war general in 1794 gave this city his name. See October 30, 2013 photo on Visit Fort Wayne Tweet on Twitter and Mitch Harper Tweet.

Cool! RT @EricDoot "What is Fort Wayne?" The Summit City hits true Daily Double status Wednesday night on @Jeopardy! pic.twitter.com/IVLbsUIaSN

— Visit Fort Wayne (@VisitFortWayne) October 31, 2013
Anthony Wayne Bible
March 25, 2023 post by General "Mad" Anthony Wayne Organization, Inc on Facebook:

Today, we congratulate General "Mad" Anthony Wayne (1745-1796), and his bride, Mary "Polly" Penrose (1746-1793), on the occasion of the couple's 257th Anniversary of their wedding. The couple met at a military ball in Philadelphia, and they were married on March 25, 1776 at Christ's Church, Pennsylvania. The couple settled on Wayne's family estate in Eastown, located in Chester County, PA. They remained married for 17 years until Mary's death at the age of 47, three years before the General's death at the age of 51. The couple had two children, Margaretta Wayne Atlee (1770-1810); and, Isaac Wayne (1772-1852). The remains of both Anthony Wayne and Mary Penrose Wayne rest in peace at St. David's Episcopal Church, Radnor Township, Delaware County, PA.

Interestingly, the Allen County Public Library Genealogy Center has an artifact of that marriage, being the Anthony and Mary (Penrose) Wayne Family Bible. It was published in 1788, and presented by Wayne's wife, Mary, to their son, Isaac Wayne. It is believed that this occurred relatively soon after the book was published, and it contains Mary Wayne's inscription to Isaac. The family's events were recorded in the Bible, with more than sixty years of family information contained in it. The Bible was acquired approximately twenty years ago, at auction, to the chagrin of other Wayne fans around the country.

Our friend, Curt B. Witcher, Director of Special Collections at the Genealogy Center, Allen County Public Library, Fort Wayne, IN, showed General "Mad" Anthony Wayne (living historian David Rousculp) the Wayne Family Bible on Friday, March 24, 2023 at the library, and they're both seen in the photo on this post.

"We think that it is both notable and significant that the actual Wayne Family Bible, being such an important item in history, is located at the public library in the city named for General Wayne", Rousculp stated. "It creates a physical bond with the namesake of our city that cannot be denied."

Curt B. Witcher with General Wayne at the Allen County Public Library, Genealogy Center.
March 25, 2023 post by The Bones of Kekionga on Facebook:

Spent some time with mad Anthony Wayne today at the library where his wife's family Bible is located. It was printed in 1788. Given to son Isaac Wayne in the 1800s by Mary Penrose it is stored safely in a vault for preservation...at the Allen County Fort Wayne Public Library. You can view it by giving advance notification.

Message written by Mary to her son may be read also.

Curt Witcher the director of Special Collections kindly greeted Mad Anthony and myself.
DAR - Daughter's of the American Revolution
The Mary Penrose Wayne Chapter NSDAR (National Society Daughter's of the American Revolution) is named in honor of Mary Penrose the wife of General Anthony Wayne. It was organized December 18, 1901 as the eleventh chapter formed in the State of Indiana. You can read more on their History page.
Fort Wayne Information
There were several Forts of Fort Wayne. The most recent is Whistler's 1816 fort. Many have heard of Whistler's mother, Anna McNeill Whistler, from the famous 1871 painting Arrangement in Grey and Black No. 1 shown on Wikipedia, The Free Encyclopedia.
Map of Fort Wayne said to have been made on July 18, 1795, for General Anthony Wayne is at the Library of Congress. "Fort Wayne ... the first American post, built in 1794 and named for Anthony Wayne after his victory at Fallen Timbers, was located across the St. Marys from the old Miami village of Kekionga and the remains of old Fort Miami, at the present intersection of Clay and Berry streets"--Ency. of Historic Forts, p. 281-282.
Anthony Wayne's fort by Tom Castaldi, local historian published on the Heritage Trail on ARCH ( Architecture and Community Heritage).
September 17, 2019 post by The History Center on Facebook:

"Anthony Wayne Slept Here" could first be proclaimed at the Confluence of the Three Rivers 225 years ago today when General Wayne and his Legion of the United States occupied Kekionga on September 17, 1794. The Legion arrived that day on orders from President George Washington to construct a permanent military fortification that would one day bear the name Fort Wayne. Wayne used this folding camp bed, also known as a field bed, during the Revolutionary War and later during his campaigns in the Northwest Territory from 1792–1796. Camp beds of this type were commonly used by military officers such as Anthony Wayne and George Washington in the eighteenth century. The bed supported a canvas mattress and a canopy hung on the upper frame to keep out mosquitoes and drafts. The removable canopy structure and hinges on the legs and bed frame made it quite portable. The bed collapses to 42" x 23" x 11," which is about the size of a large suitcase, for easy transportation. When Wayne completed his work in the Northwest and was preparing to return home, he gave the bed to his friend and aid Ambrose Whitlock. It was borrowed from a descendant of Whitlock for the Fort Wayne Centennial celebration in October 1895, and again by the Mary Penrose Wayne Chapter of the Daughters of the American Revolution for the "Relic Room" display during the dedication of the Allen County Courthouse on September 23, 1902. It remained in possession of the DAR and was subsequently donated to the Historical Society in 1933. From the Relic Room to the Society's Swinney House and Old City Building Hall, General Anthony Wayne's field bed has remained an important feature of our organization's permanent exhibitions. More recently, the bed was used in 2013 as a model by Colonial Williamsburg to recreate a replica of George Washington's own field bed for a display entitled "The First Oval Office" and was also one of three exceptionally significant artifacts loaned to the Indiana State Museum during its "Indiana in 200 Objects" temporary exhibit during the state bicentennial celebrations of 2016. #sociallyhistory
General "Mad" Anthony Wayne Organization, Inc
Is a Charity Organization a nonprofit dedicated to enhancing area education about local history, and honoring the namesake of our wonderful city, Fort Wayne. Website: www.madanthonywayne.org and Facebook page: General "Mad" Anthony Wayne Organization, Inc. General "Mad" Anthony Wayne is connected with the 3d U.S. Infantry Regiment (The Old Guard) at the Arlington National Cemetery from a July 23, 2022 Facebook post to the YouTube video General 'Mad' Anthony Wayne Organization highlights local history ahead of Veterans Day.
July 10, 2023 post by the General "Mad" Anthony Wayne Organization, Inc on Facebook:

After the Revolutionary War, our nation organized a new military force known as the Legion of the United States, the precursor to the modern-day U.S. Army. Its first commander was Brig. General Anthony Wayne. In honor of General Wayne, and those who fought under his command, our Organization each year bestows the "Legion of the United States Award", primarily for community service. Previous Winners include Robert "Bob" Jones; and Dr. Jerome Adams. The 2023 winner will receive the award on Sunday, July 16, during a ceremony beginning at 3:00 p.m. at Freimann Square. Stay tuned for the announcement of the winner later today. (Pictured: GMAWO past-president Michael Skeens; 2022 recipient Dr. Jerome Adams; reenactor David "Mad Anthony Wayne" Rousculp.)
General Anthony Wayne Day
February 26, 2019 in a 6-3 vote, the Fort Wayne city council declared July 16 as General Anthony Wayne Day beginning July 16, 2020 to recognize the day General Wayne helped defeat the British in the Battle of Stony Point that took place on July 16, 1779, during the American Revolutionary War. See the Fort Wayne City resolution Bill No. R-19-02-12. See Battle of Stony Point discussed at George Washington's Mount Vernon website. Fort Wayne was named in 1794, Indiana became a state in 1816, and Allen County was formed in 1824. In November 2019 the City to recognize Native Americans Resolution in response to 'Mad' Anthony Day by Dave Gong was published November 20, 2019 in The Journal Gazette newspaper. See our Indians - Native Americans of Allen County, Indiana page.
Pennsylvania Information
So where, exactly, is General "Mad" Anthony Wayne buried? from a July 23, 2022 Facebook post by General "Mad" Anthony Wayne Organization, Inc:
Publications
.
Back to top