People of Allen County, Indiana
Indians - Native Americans
See also Anthony Wayne, Blue Jacket, Francis Godroy, Little Turtle, Logan Shawnee Chief, Chief Richardville, Tacumwah, Tecumseh, William Wells, and our Indian Burial Grounds page. The Waynedale News.com has over 25 Miami Nation articles on their Waynedale History pages. Many are reprints of a presention to the Fort Wayne Quest Club by William R. Clark in 1993.
Jump to:
Fort Wayne Indian Missionary School
National Native American Heritage Month
August 15, 2023 post by the Ohio Genealogical Society on Facebook:

Curious about what Indigenous people lived in Ohio (or elsewhere)? Visit the Native Land Digital Map of Indigenous territories, treaties, and languages. You can view it at their website https://native-land.ca/
Research by some scholars provides population estimates of the pre-contact Americas to be as high as 112 million in 1492, while others estimate the population to have been as low as eight million. In any case, the native population declined to less than six million by 1650. From The Native Population of the Americas in 1492 Second Revised Edition, Edited by William M. Denevan, With a Foreword by W. George Lovell, March 1992 at University of Wisconsin Press.

1823 Indiana Map
Allen County was created by legislative act on April 1, 1824. County officers were first elected May 22. The plat for the town of Fort Wayne accepted by the board of county commissioners designated a half square for use as a courthouse site and lots on which to locate "a seminary of learning", and "a church, to be of no particular denomination, but free to all". John T. Barr of Baltimore, Maryland, and John McCorkle of Piqua, Ohio gave lots to the county that were intended to be sold so that sale proceeds could be placed in the county treasury. These lots were part of a tract purchased by Barr and McCorkle from a government land sale. Copied from page 81 in texts Fort Wayne, gateway of the West, 1802-1813: Garrison orderly books, Indian Agency account book by Griswold, B. J. (Bert Joseph), 1873-1927, Publication date 1973 on Archive.org by way of the Allen County S1645, B66 1783-1882 collection at the Manuscripts & Rare Books Division Indiana State Library.
1824 photo of Original Plat at 200 @ 200 2016 Bicentennial items at The History Centerincludes photo of plat and land deed.

Description: In the Treaty of St. Mary's of 1818, the Miami Indians ceded their claim to a large amount of land to the United States and in 1823 the federal government agreed to open a land office in Fort Wayne and allow the city to be platted. This "Original Plat" of 118 lots over 109 acres became the basis of the emerging town. Bounded by the present streets of Barr, Washington, Superior, and the alley between Calhoun and Harrison, the streets were laid out parallel to Columbia Street-not in a true east-west compass direction. The plat also included a public square with Court Street as its eastern boundary. With the exception of Water Street, which has since been changed to Superior, the streets in the Original Plat retain the names given them in 1823.

The opening of the land office in 1823 had a significant effect on the town's pioneer settlement, al-lowing the public to buy the ceded Miami land. By May 1824, the Original Plat of the city was complete. The city's platting brought forward men who were adventurous entrepreneurs and developers. Sales at the land office boomed, especially after 1835, when there was a surge in land values. Fort Wayne began to grow as additions to the town adjoining the original plat were laid out by early land developers such as Cyrus Taber, Samuel Hanna, the Ewing Family, and William Rockhill.
1827 Indiana Map
National Native American Heritage Month
America is a vast land of many cultures dating back thousands of years to the original inhabitants of the land. The history and heritage of Native Americans, Alaska Natives, Native Hawaiians, and Island communities are part of all national parks today. Throughout the year, and especially during November during Native American Heritage Month, the National Park Service and our partners celebrate together the rich traditions, languages, and contributions of Indigenous people.

November 3, 2022 post by the U.S. Census Bureau on Facebook:

In 1990, President George H.W. Bush signed a joint resolution designating November as National American Indian Heritage Month.

Also known as American Indian and Alaska Native (AIAN) Heritage Month, the commemoration offers Americans an opportunity to better understand the culture and history of the AIAN population.

Check out our #CensusHistory page to learn more:

November 2021 U.S. Census Bureau History: American Indians and Alaska Natives

November 6, 2022 post by the Allen County Public Library on Facebook.

We are celebrating the achievements, stories, and cultural contributions of Native American and Indigenous people through the month of November as part of Native American Heritage Month! Checkout the book displays at our branches or browse through our recommended reads list, available at https://acpl.lib.in.us/images/Booklists/Indigenous_Voices_Sml2.pdf

November 7, 2022 post by the U.S. Census Bureau on Facebook:

American Indian Day was first celebrated in 1916. Several proclamations have been issued since then to recognize what is now known as American Indian and Alaska Native Heritage Month.

Visit our By the Numbers page to learn more about this November observance: American Indian and Alaska Native Heritage Month

Native American Heritage Month https://nativeamericanheritagemonth.gov/ a collaborative project of the Library of Congress and the National Endowment for the Humanities, National Gallery of Art, National Park Service, Smithsonian Institution, United States Holocaust Memorial Museum and U.S. National Archives and Records Administration.
Native American Heritage Month, or as it is commonly refered to, American Indian and Alaska Native Heritage Month at National Congress of American Indians.
American Indian Records in the National Archives from as early as 1774 through the mid 1990s is part of the Native American Heritage section at the The National Archives.
Cartographic Records Of The Bureau Of Indian Affairs Compiled by Lauro E. Kelsay, 1977, at archives.gov.

November 1, 2023 post by the US National Archives on Facebook:

In November, we celebrate Native American Heritage Month, honoring Native Americans' accomplishments and contributions. Numerous records documenting the lives of Native Americans, dating from as early as 1774, are preserved in the National Archives. The records include those from Indian schools, census rolls, the Bureau of Indian Affairs, and every treaty the United States Government made with Native Americans. [Record Group 75 - Records of the Bureau of Indian Affairs]

To learn more, visit our Native American History special topics page: Native American History.

Image: Treaty between the United States and the Creek Indians signed at Indian Springs, 1803.

https://catalog.archives.gov/id/121122216
Recent News
April 16, 2014 post by Hofer and Davis, Inc. Land Surveyors on Facebook:

You never know what you might find while out and about surveying! Money, jewelry, marbles, gun casings and if you are walking a farm field in Indiana, arrowheads! These are from the World Famous Hofer and Davis,Inc. LAND SURVEYORS "Wall of Fame" most can be attributed to the "keen eye" of William S. "Bill" Davis.

Early Peoples of Indiana is a 77 page document an Archaeology Publication by the Division of Historic Preservation and Archaeology (DHPA) of the Indiana Department of Natural Resources by James R. Jones III, Ph.D. and Amy L. Johnson revised in 2016. Discussed on their Indiana Department of Natural Resources on Facebook.

November 8, 2023 post by Indiana Division of Historic Preservation & Archaeology on Facebook:

During November's Native American Heritage Month we encourage you to check out Early Peoples of Indiana at https://www.in.gov/.../histor.../files/HP_earlypeoples-1.pdf. This booklet was first published by the DHPA in 1999 and has been revised and updated several times since. This is our most requested archaeology outreach product, and much has been discovered, and learned, since the original. This document is designed to provide an introduction to the rich, varied, and complex nature of the precontact cultures who once inhabited Indiana, as well as early historic peoples in our state. #INArchaeo #INDHPA

The Miami Tribe of Oklahoma wants the Fort Wayne City Council to rescind its decision to declare July 16 as Gen. "Mad" Anthony Wayne Day. The Fort Wayne City Council approved the creation of "Mad" Anthony Wayne Day last month in a 6-3 vote. During discussion, Councilman Glynn Hines, D-6th, opposed the resolution because of how Wayne and the U.S. government treated Native Americans. The resolution was sponsored by Councilman Jason Arp, R-4th. Hines was joined by Councilmen John Crawford, R-at large, and Russ Jehl, R-2nd, in opposition to the resolution. The Miami Tribe, which operates a cultural resources extension office in Fort Wayne, found Arp's presentation erroneous and inaccurate, according to Julie Olds, the tribe's cultural resources officer. "Lots of cities have founders' days, and that's understood," Olds said. "What was unnecessary was the attempt at history that was made, the errors that were presented, and that the presentation was not required to be fact-checked, from what we could tell." Copied from a longer article Tribe asks to void day for Wayne by Dave Gong published March 26, 2019 on APNews.com.
City to recognize Native Americans Resolution in response to 'Mad' Anthony Day by Dave Gong published November 20, 2019 in The Journal Gazette newspaper. For more information see Anthony Wayne Day.
When the Culture Wars Hit Fort Wayne A quiet Indiana city declared a holiday to celebrate its founder. In the age of Trump, nothing is ever that simple by Charlie Savage published July 31, 2020 on Politico.com online news magazine. The Fort Wayne Native is a Pulitzer Prize-winning journalist and Washington correspondent for The New York Times. He is also the author of Power Wars and Takeover.
Buried Concerns City's treatment of Miamis' grave sites, remains traces century of evolving thought by Charlie Savage published August 16, 2020 in The Journal Gazette newspaper. Charlie Savage is a Fort Wayne native and Pulitzer Prize-winning journalist discussing the 100s of Native Americans buried in the "Indian Burial Ground" located around the Little Turtle burial location now a small park surrounded by older homes built in the early 1900s. He has references to earlier newspaper articles that we hope to eventually add to this page and our Indian Burial Grounds page. This article was discussed on the ACGSI Facebook page August 16, 2020. Under Read More points to Some of the historical materials mentioned in this account can be viewed at Excerpts about a Miami burial ground in the Spy Run District from a 1903 Journal Gazette article and several other newspaper articles through 2016.
The Buried History of Fort Wayne and Culture War by Charlie Savage, a Fort Wayne native and one-time Journal Gazette intern, is a Pulitzer Prize-winning reporter for the New York Times, posted September 26, 2020 on his website CharlieSavage.com. His opening sentence was: Over the course of about 15 months in 2019-20, I developed a special side project: a deep look at a political and culture-war fight that broke out in my hometown of Fort Wayne, Indiana, last year, over creating a new honor for the town's namesake, who conquered the Native American tribes in the Midwest and opened it up for white settlement. See our Anthony Wayne page for more.
The 2020 newspaper article Buried Concerns above has links to the newspaper articles and more used as sources online titlesd Spy Run burial grounds Links within the online pdf go to: 1903 Journal Gazette article p. 1; 1910 Fort Wayne News article p. 3; 1912 (March) Fort Wayne Sentinel article p. 4; 1912 (August) Journal Gazette article p. 6; 1923 Fort Wayne News-Sentinel article p. 7; 1912 (Sept) Indiana Quarterly Review of History article p. 8; 1959 Jacob Stouder compendium p. 13; 1960 JG article on Little Turtle Memorial dedication p. 26; 2016 FW History Center inventory of Little Turtle grave items p. 27; 2016 Federal Register notice of FW History Center intent to give grave items to Miami Tribe p. 30.
How can Fort Wayne improve its remembrance of the Miami people? We ask a tribe representative by Joshua Schipper | Wednesday, December 22, 2021 in Input Fort Wayne.
Accuracy describes the problems with fair and balanced discussions of Fort Wayne history referring to the articles above, and on Anthony Wayne Day with 33 total references to her sources by Fort Wayne native Kara Hackett Managing Editor of Input Fort Wayne published February 22, 2022 on Input Fort Wayne. Also shared by Charlie Savage April 25, 2022 on True Fort Wayne Indiana History on Facebook.
A May 10, 2022 post by Charlie Savage on True Fort Wayne Indiana History on Facebook stated: A friendly acquaintance from the time I was an intern at The Journal Gazette 25 years ago gave me this old book about Allen County history [History of Allen County, Indiana 1880], saying he thought I would appreciate it because of the deep dives I have done on the late 18th and early 19th century periods. It just came in the mail. Lots to go through but I did a preliminary scan of a section about the remnants of the Mound Builders and the Miami Tribe and found a reference to the big burial ground under the Spy Run neighborhood that I am interested in. The last two paragraphs just after that, more or less celebrating as God-ordained the wiping out of native peoples and white supremacy, is over the top, but doubtless representative of its age. The section was written by R. S. Robertson who wrote a couple of early books about Allen County while the last two paragraphs are on page 46. The post generated many interesting comments.

State of Indiana Native American Indian Affairs Commission posted September 3, 2022 has many videos on Facebook. Page states: State agency supporting cultural awareness and opportunities for Native Americans in Indiana. Website: www.in.gov/inaiac/ states: The Indiana Native American Indian Affairs Commission studies and makes recommendations to appropriate federal, state and local governmental agencies in areas of Employment, Education, Health, Housing and Civil Rights.

November 2, 2023 post by the Smithsonian Magazine on Facebook:

The map first functioned as a "resource pointed at settlers and non-Indigenous people to, in a not-too-confrontational way, start thinking about Indigenous history."

This Interactive Map Shows Which Indigenous Lands You Live On The nonprofit behind the tool wants people to learn the history of the spaces they inhabit, Jacquelyne Germain, October 13, 2022 at Smithsonian Magazine.

13 Steps To Help Find Your Native American Ancestors November 4, 2022. Does your family have a story indicating that you have a Native American ancestor? Here's how you can use your DNA to help you determine your ancestry. Many families in North and South America have similar stories. However, some people whose families don't have those stories could receive a surprise when they discover through DNA testing that they, too, have Native American ancestry. Native American Resources To Help You Learn More. Roberta Estes writes at DNAeXplain and provides Native American resources. Her book, DNA for Native American Genealogy, includes tribes and geographical locations, both modern and ancient, associated with known haplogroups. And How to Use DNA Testing to Uncover Your Native American Ancestry by Janine Cloud posted November 22, 2022 in the Native American folder at FamilyTreeDNA blog. DNA for Native American Genealogy, by Roberta Estes, earns Strong Endorsement from National Genealogical Society Quarterly posted March 13, 2023 by Genealogical Publishing.

November 25, 2021 post by the Evangelical Lutheran Church in America on Facebook:

Today, as family and friends gather across the nation, it is important for us to remember that for many people this is a day of mourning. As you give thanks for the blessings in your life, take some time to better understand the truths about this holiday and the Wampanoag people, learn about the Indigenous people on whose land you are gathered (www.native-land.ca), and practice a land acknowledgement (https://elca.org/.../American-Indian-and-Alaska-Native).

We are a church that has repudiated the Doctrine of Discovery and these actions can serve as the first steps in your journey toward truth and healing for Indigenous people and our church.

November 17, 2022 post by Input Fort Wayne on Facebook:

As Thanksgiving approaches, some Americans might have mixed feelings about the holiday. While it can be an occasion to gather and reflect with family and friends, some find themselves grappling with inaccurate and harmful folklore of "pilgrims and Indians," masking the harsh reality of U.S. history.

Diane Hunter, pictured on the right, is a member of the Miami Tribe of Oklahoma, based in northeastern Oklahoma, who acts as its Historic Preservation Officer. She poses with fellow tribe members Dani Tippmann, center, and Claudia Hedeen, left, on Miami Tribal property in Fort Wayne.

The Miami people, originally native to the Fort Wayne area, were forcefully resettled by the U.S. government in northeastern Oklahoma, eastern Kansas, and northern Indiana. Several members, like Hunter, remain active in their communities and connected to their native lands.

Hunter does celebrate Thanksgiving, but prefers to fixate on shared values during the holiday, while also correcting fictional historic accounts. For Fort Wayne and all U.S. residents, Hunter says it's important to view the day through an objective lens, remembering that Thanksgiving, as a U.S. holiday, came out of an American Civil War-era effort to create unity in the country. It was during a more recent chapter in our country's history that we began to whitewash, or soften, some of the more uncomfortable parts of our nation's origin story.

"It was only in the mid-20th century that the focus turned to myths of pilgrims and Indians," she says. "It is long past time to stop telling that myth, especially around Thanksgiving. Instead, people should learn and tell the more accurate story of early Europeans on Native land."

We learn more about their perspective on the link our bio, along with ways to adopt a more regenerative, earth-honoring lifestyle. #fortwayne #fortwayneindiana

Rethinking Thanksgiving: Restorative ways to process a complicated holiday in Fort Wayne by Lauren Caggiano | Wednesday, November 16, 2022 in Input Fort Wayne.

November 24, 2022 post by Myaamia Center on Facebook:

nahi wiihsiniko pileewa akiišikomi, 'eat well on Turkey Day!' The staff at the Myaamia Center hopes everyone has a safe and enjoyable weekend. Check out this post on Aacimotaatiiyankwi to learn terms for talking about Turkey Day in Myaamiaataweenki, the 'Miami language' and access additional resources about the Thanksgiving holiday.

pileewa akiišikomi (Turkey's Day) posted by George Ironstrack on November 25, 2015 at Aacimotaatiiyankwi.

November 9, 2023 post by the U.S. Census Bureau  on Facebook:

American Indians and Alaska Natives were often overlooked by our nation's first enumerations. Efforts to make our data more inclusive began in the late 19th century.

Today, #CensusData and records tell the story of our nation's growing #AmericanIndian and #AlaskaNative population.

Learn more this American Indian and Alaska Native Heritage Month: U.S. Census Bureau History: American Indians and Alaska Natives

#WeTheData #CensusHistory #CensusData #AIAN #AmericanIndians #AlaskaNatives #NativeAmerican #NativeAmericanHeritageMonth #AIANHeritageMonth
History
Miamis
,
Shawnees
, and
Delawares
camps shown in View of the
Maumee Towns
Destroyed by
General Harmar
in
October 1790
. Map of
Kekionga
, before its destruction, drawn by Ebenezer Denny ,1761-1822, Osprey Publishing
File:Map of Kekionga.jpg
from
Wikipedia
, The Free Encyclopedia.
Old Miami Town north across the Maumee River from Fort Wayne is shown in File:Fort Wayne 1795.jpg on Wikipedia, The Free Encyclopedia above. A larger zoomable 1795 map is at Indiana Fort Wayne : ms. map of Fort Wayne said to have been made on July 18, 1795, for General Anthony Wayne at The Library of Congress. Notes states: "Fort Wayne ... the first American post, built in 1794 and named for Anthony Wayne after his victory at Fallen Timbers, was located across the St. Marys from the old Miami village of Kekionga and the remains of old Fort Miami, at the present intersection of Clay and Berry streets"--Ency. of Historic Forts, p. 281-282. Read page 280: Encyclopedia of historic forts : the military, pioneer, and trading posts of the United States by Roberts, Robert B Publication date 1988 on Archive.org. See our page General "Mad" Anthony Wayne.
Wikipedia photo

Map on Indian removals in Indiana on Wikipedia, The Free Encyclopedia which shows the dates of various Indian treaties in Indiana.
Indiana

Indian Territory map circa 1800

Posted by Mark Krebs July 7, 2012 on Facebook:

Picked up this map at Fort Vallonia along with some interesting stories on the War of 1812 era in that area.

Click map to zoom in on Facebook.
Other useful maps are on our Maps of Allen County, Indiana page.
Racial justice in 1820s Indiana: Slave trial and Fall Creek Massacre - encore posted July 4, 2020 on the Archives of Hoosier History Live podcast on Saturdays, noon to 1 p.m. ET on WICR 88.7 FM introduction starts with: With various aspects of racial justice in the headlines, Hoosier History Live will explore precedent-setting legal trials in early Indiana involving African Americans and Native Americans. We are drawing upon our rich archive for a special encore show focusing on two landmark cases of racial justice in early 19th century Indiana. The two trials: one in which an enslaved Indiana woman successfully sued for her freedom, and a second in which white men were found guilty and executed for slaughtering nine Native Americans, an infamous incident that history has dubbed the Fall Creek Massacre. The shows focusing on these milestone legal cases both originally aired in 2010.
A zoomable version of this map is Indian names of lakes, rivers, towns, forts & [?] of Indiana at Historic Indiana Maps at Indiana Memory digital library at IN.gov.

This small black and white map is packed with details. Originally published in the 1882 Indiana Geological Report of the State of Indiana, the map accompanied a short article entitled "Indian Names of Water Courses in the State of Indiana " by H.W. Beckwith, Esq., Danville, Illinois, under the section on Archaeology. Indian names of the waterways are provided in italics with common names in roman type. For example: Wabash R. Wah-bah-shih-ka. The article explains further by providing the origin of the names including tribe or nation. Copied from the Indiana Geological & Water Survey Indiana University website.
A Map of Indiana Showing its History, Points of Interest, and the Holdings of the Dept. Of Conservation. Lee Carter, Cartographer. 1932. by Carter, Lee, Publication date 1932 at Archive.org.

A zoomable version of A map of Indiana showing its history, points of interest, and the holdings of the Dept. of Conservation / Lee Carter, cartographer is in the American Geographical Society Library Digital Map Collection at the UWM Libraries at the University of Wisconsin.
A map The Indians in Indiana drawn by Clark Ray shows the approximate location of Native American tribes and villages at the beginning of Indiana's territorial period, ca. 1800 shown on page 28 of the pdf on page 9 of Chapter 1.1 Major Native American Groups in Indiana, 1700s-1830s in Native Americans in American History in the 360 page pdf Hoosiers and the American Story by James H. Madison and Lee Ann Sandweiss by the Indiana Historical Society.

A 26 page pdf of just Chapter 1 Native Americans in American History is also online.
War Department. Fort Wayne Indian Agency. 1802-1806, Organization Authority Record, Other names: War Department. Office of Indian Trade. Fort Wayne Indian Agency. 1806-1824War Department. Office of Indian Affairs. Fort Wayne Indian Agency. 1824-ca. 1828War Department. Office of Indian Affairs. Indiana Indian Agency. ca. 1828-1835. and 111 page Indiana SP de Richardville, Chief Jean-Baptiste, House National Register of Historic Places Registration Form in the Catalog at The National Archives.
Native American place names, treaty lines, trails and traces for Allen County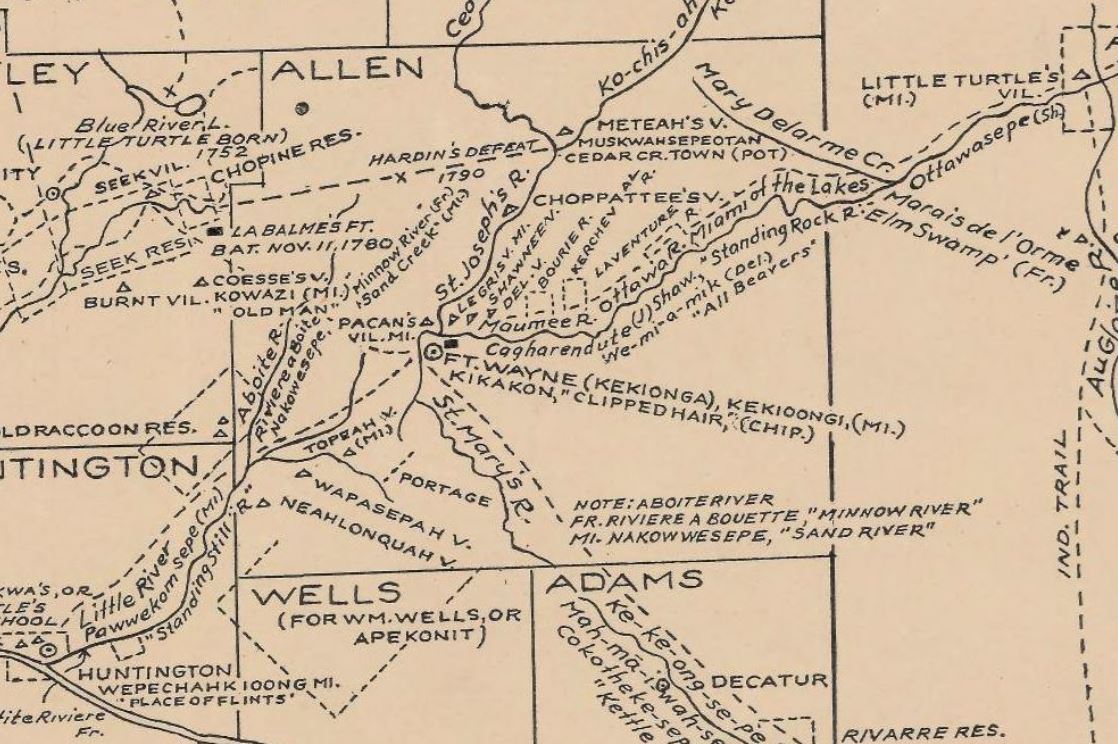 Zoomed in screenshot of the map: Indiana: The influence of the Indian upon its history at the Indiana Memory digital library at IN.gov. Description: Map of Indiana showing Native American place names, treaty lines, trails and traces. Creator: Guernsey, Elam Young; Publisher: Indiana. Department of Conservation; Date of Original: 1933 at the Indiana State Library Map Collection.
Indiana map shows native American villages by Rebecca Bayens, February 6, 2012, Special to the Times-Mail says the map was created in 1932.
Photo of the map was posted November 21, 2022 by IU Museum of Archaeology and Anthropology on Facebook
Posted again November 8, 2023 by the Indiana State Library on Facebook stating: This thematic map published by the Indiana Department of Conservation in 1933 shows place names and natural features names influenced by the first people on the land that became Indiana. It also shows treaty lines, villages, forts, old roads, trails and battlegrounds. Indiana: The influence of the Indian upon its history #NativeAmericanHeritageMonth #maps #Indiana.
Publications
The phrase "A dark and bloody ground…" a 2023 look one-hundred-ninety years after the 1833 event.

November 28, 2023 post by Cumberland Gap National Historical Park  on Facebook:

"A dark and bloody ground…"

These words, used by the Cherokee leader, Dragging Canoe, to describe Kentucky before the arrival of white settlers. It was falsely construed by many Americans to mean that the land was not settled at all until Daniel Boone came along.

This myth ignored the Shawnee Nation, who settled in the area and claimed the land south to the Cumberland River. In addition, the Cherokee Nation, a rival of the Shawnee, also lived in the area around the Cumberland Gap. Members of the Cherokee Nation contend that they had settlements in what is now Kentucky long before any Europeans arrived on the scene. By the 1600s, however, their populations had declined so severely from disease that they were forced to abandon these settlements. After moving south, the Cherokee continued to use the Gap and the Wilderness Road for hunting, trade, and war.

In 1775, a land speculator named Richard Henderson made an unauthorized treaty with Cherokee leaders—among them Chief Attakullakulla—at Sycamore Shoals. The treaty gave the Cherokee 10,000 pounds of trade goods in exchange for 20,000,000 acres of land between the Ohio, Cumberland, and Kentucky rivers. Attakullakulla's son, Tsiyu Gansini (Dragging Canoe), objected to the treaty, arguing it would lead to the end of the Cherokee people. He and many Cherokees resisted, waging a war against colonists that lasted until the 1790s. At the conclusion of this war, the Cherokee gave up Kentucky and much of Tennessee.

These events were just the beginning of the Cherokees' tumultuous struggle to remain in their ancestral lands until they were ultimately forced westward by the Indian Removal Act of 1830. #NativeAmericanHistoryMonth #Cherokee

Image: Oklahoma History Center
Genealogy Center Resources
November 13, 2023 post by the Genealogy Center on Facebook:

November is #NativeAmericanHeritageMonth! Dive into The Genealogy Center's wealth of materials for those exploring the history and culture of Native American and First Nations communities. With tens of thousands of print resources and essential online references at your fingertips, the Genealogy Center has got you covered!

To kickstart your journey, explore our 'Native American Gateway' to discover these invaluable materials and their helpful guides.

Explore more at: Native American Gateway"
November 24, 2023 post by the Genealogy Center on Facebook:

November is #NativeAmericanHeritageMonth! Have you had a chance to explore our Native American Gateway? This free database is a resource for those exploring First Nations family history. Information on how to begin such research, links to materials from the National Archives and links to popular data are complemented by a continually updated listing of resources held by The Genealogy Center.

Discover the database at this link: https://www.genealogycenter.info/nativeamerican/ #NativeAmericanHeritageMonth #FamilyHistory #TheGenealogyCenter
November 17, 2023 post by the Genealogy Center on Facebook:

Are you familiar with our quick search guides? These convenient compilations offer lists of selected research guides and record indexes, aiding your research in a variety of subjects. We also provide quick search guides for U.S. States and numerous international regions. In honor of #NativeAmericanHeritageMonth this November, we're highlighting our Native American/First Nations guide.

To explore these resources, visit our website and navigate to the 'Genealogy Services' section: https://www.genealogy.acpl.lib.in.us/
Beginning Native American October 10, 2019 post by the Genealogy Center on Facebook.
Back to top
Indigenous People's Day
Celebrated on the second Monday of October.
Indigenous Peoples Day is a holiday in the United States that celebrates and honors Native American peoples and commemorates their histories and cultures. On October 8, 2021, U.S. President Joe Biden became the first U.S. President to formally recognize the holiday, by signing a presidential proclamation declaring October 11, 2021, to be a national holiday. It is celebrated across the United States on the second Monday in October, and is an official city and state holiday in various localities. It began as a counter-celebration held on the same day as the U.S. federal holiday of Columbus Day, which honors Genovese-born explorer Christopher Columbus. Some people reject celebrating him, saying that he represents "the violent history of the colonization in the Western Hemisphere". Indigenous People's Day was instituted in Berkeley, California, in 1992, to coincide with the 500th anniversary of the arrival of Columbus in the Americas on October 12, 1492. Two years later, Santa Cruz, California, instituted the holiday. Starting in 2014, many other cities and states adopted the holiday. Copied from Indigenous Peoples' Day on Wikipedia, The Free Encyclopedia.
Miami Indians
July 5, 2023 post by the Myaamia Center on Facebook:

Each summer, Myaamia Center staff travel to both Noošonke Siipionki 'Miami, Oklahoma' and Kiihkayonki 'Fort Wayne, Indiana' to participate in the Miami Tribe's Eemamwicki educational programs. This year's program theme is kiikinaana 'Our Homes.' Over the course of a week, participants are led through a series of activities to learn about the places at the center of Myaamia life today and throughout history. To learn more about Myaamia homes, click here: niikinaana – Our Homes (FAQ)
April 21, 2023 post by the Myaamia Center on Facebook:

As many celebrate ašiihkiwi 'Earth' and its ecology tomorrow for Earth Day, we wanted to take a moment to reflect on the importance of Earth's changing ecology to Myaamiaki 'Myaamia people.' The Myaamia Kiilhswaakani 'Myaamia Lunar Calendar' reflects the ecological changes of the Myaamia traditional homelands. Each month is determined by the phases of the moon and focuses on a specific change in the ecology taking place during that time period. Myaamiaki 'Myaamia people' often rely on these specific changes to keep track of time and seasons.

You can learn more about the Lunar Calendar and its connections to ecology here: https://aacimotaatiiyankwi.org/ecology/
May 10, 2023 post by the Myaamia Center on Facebook:

Senior Spotlight:

Gretchen Spenn, a senior from Fort Wayne, Indiana, spent her senior year conducting research for her project, "Wiihsinitaawi, 'Let's Eat!' While studying nutrition and dietetics at Miami University, Gretchen wanted to explore the sovereignty and peoplehood of the Miami Tribe through Myaamia food and recipes. Gretchen compiled her research into a cookbook that she hopes to someday share with the Myaamia community with the goals of encouraging community members to use Myaamia foods and recipes in their everyday lives, as well as create and contribute their own culturally significant recipes to the book.

[Each year, seniors in the Myaamia Heritage Program spend the year working on an independent research project, encouraging them to use the knowledge they've gained from the Myaamia Heritage Program and their coursework at Miami University to give back to the Myaamia community.]
May 11, 2023 post by the Myaamia Center on Facebook:

Senior Spotlight: Peepinšihšia 'Abby Strack', a senior from Fort Wayne, Indiana, spent her senior year conducting research for her senior project, "Who are the Miami?" While studying primary education at Miami University, Abby was interested in exploring how to share her Myaamia identity with students in the classroom. She developed this project into an in-class activity, where students learn about her Myaamia identity, and then they highlight one of their identities to share with classmates. Abby hopes to use this curriculum in her future classrooms after graduation.

[Each year, seniors in the Myaamia Heritage Program spend the year working on an independent research project, encouraging them to use the knowledge they've gained from the Myaamia Heritage Program and their coursework at Miami University to give back to the Myaamia community.]
October 6, 2021 post by the Myaamia Center on Facebook:

On this date in 1846, 175 years ago, the forced removal of the Miami Tribe began in Peru, IN. Follow and read the Myaamia Community Blog to learn more about this forced removal and its ongoing impact on Myaamia people.
In October 1846, the Miami Nation, the last tribal nation in Indiana, was forcibly removed by the United States military to a new reservation west of the Mississippi River, in present-day eastern Kansas. However, not all Myaamia (Miami Indian) people were removed to the Miami Reservation.

As the Miami Nation prepared for their forced removal, Myaamia leaders had secured the exemption of four Myaamia bands (the Richardville, Godfroy, Meshingomesia, and Slocum/Bundy bands), numbering approximately 150 people. The Richardville Band was exempted in the Treaty of 1838 and the Godfroy and Meshingomesia bands were exempted in the subsequent Treaty of 1840, which authorized Myaamia removal. The Slocum/Bundy Band was exempt five years later, in 1845, through an Act of Congress.

In the four years after removal roughly 109 additional Myaamia people, most of whom had walked back from the Miami Reservation, received further exemptions from Congress. These 259 Myaamia people and their descendants became known as Indiana Myaamiaki or Indiana Miamies.

Copied from Survivance and Continued Existence of Native Peoples in Indiana on the IHS Blog of the Indiana Historical Society.

Telling Our Story: A Living History of the Myaamia has lots of Miami Indian history. The Home page states: Telling our Story: The Living History of the Myaamia provides teachers and home schooling families with a curriculum for teaching Myaamia (Miami Tribe) history to grades 3-12. The curriculum includes primary sources, images, videos, and lesson plans, which are all linked to the relevant content standards for Ohio, Indiana, and Oklahoma. As a whole, the six sections of this curriculum address Myaamia history beginning with the pre-contact period (pre-1600s) and concluding with contemporary issues. This curriculum is a living document and more lessons will be added over time. Be sure to check back regularly! Please email or call, with questions or comments, George Ironstrack at the Myaamia Center at Miami University – ironstgm@miamioh.edu, 513-529-5648.
Myaamia Center Facebook removal dates map
and October 6, 1846 Peru, Indiana blog
October 6, 1846 is the forced removal date of the Miami Tribe which began in Peru, Indiana. Read Removal – Day 1 October 6, 1846 Peru, Indiana posted by Diane Hunter on October 6, 2021 on Aacimotaatiiyankwi the Myaamia Community Blog to learn more about this forced removal and its ongoing impact on Myaamia people. Removal map on right is on the blog and linked from their October 6, 2021 post by Myaamia Center on Facebook.
The 1750 map below is linked from meehkweelintamankwi aanchsahaaciki 'Remembering Our Forced Removal' co-authored by Diane Hunter and Kristina Fox on their October 6, 2022 Aacimotaatiiyankwi blog which also has the 1846 removal map.
Myaamia villages throughout Myaamionki circa 1750 - Aacimotaatiiyankwi blog
Map showing Myaamia villages throughout Myaamionki circa 1750. Map by Joshua Sutterfield and annotations by George Ironstrack.
The Aacimotaatiiyankwi website has many interesting pages, one in particular with links to more articles is titled: Removal Commemoration Meehkweelintamankwi Aanchsahaaciki 'Remembering Our Forced Removal' the page states: October 2021 will mark 175 years since this momentous and tragic event began on October 6, 1846. The 1846 removal took nearly a month to complete, but the impacts of removal continue to be felt by all Myaamiaki no matter where we live today. Meehkweelintamankwi Aanchsahaaciki 'Remembering Our Forced Removal', a year of remembrance and commemoration, will begin during our Winter Gathering at Home event (February 12-13, 2021) and will continue with monthly activities through February 2022.
Miami Indian Heritage Days programs are held from 1-4 pm on the first Saturday of the month, May through November at the Chief Richardville House, 5705 Bluffton Road, Fort Wayne from History, Culture Intersect at Miami Indian Heritage Days on Fort Wayne Insider blog April 30, 2012 by Lauren.
Over 50 Miami Indians items in the History Center Digital Collection on the mDON mastodon Digital Object Network.
The Miami Indians of Indiana: A Persistent People, 1654–1994 by Stewart Rafert. Indianapolis: Indiana Historical Society, 1996. Biblio has copies for sale in various condition.
An American Indian tribe that was forced to relocate from Indiana in the mid-19th century has announced plans to open an extension office in Fort Wayne to provide historic preservation consulting and cultural programming in the tribe's ancestral homeland. Chief Douglas Lankford and other leaders of the Miami Tribe of Oklahoma are scheduled to visit Fort Wayne on Friday to welcome community members to the tribe's first cultural resources extension office, The News-Sentinel reported. Copied from Miami Indians opening extension office in Fort Wayne published January 19, 2015 on NativeTimes.
CREO Cultural Resources Extension Office has two staff members and more information on the Fort Wayne office and 10 acres of land purchased in November 2015. Their website states: The (CREO) promotes the knowledge of myaamia history, language, culture, and traditions. The office forwards community development in the myaamia ancestral homelands through serving local Miami Tribal citizens in Indiana, working with local governments and organizations to maintain and protect our Tribal sovereignty and our cultural identity. The CREO forwards the goals of the Miami Nation in Indiana.
The De Rome family by Wilkins, Cleo Goff Publication date 1972 on Archive.org has information on the Indiana-Purdue Regional Campus at Fort Wayne occuping a part of the DeRome Reserve, land granted by the government to Princess Maria Christina, a half breed Miami Indian, by the Miami Treaty of October 23, 1826. See our De Rome Family section.
Miami Nation of Indiana home of the CREO above has other links such as Miami Culture and History
Miami Nation of Indiana and Miami people on Wikipedia, The Free Encyclopedia.
Re-evaluating "The Fort-Wayne Manuscript": William Wells and the Manners and Customs of the Miami Nation a 31 page article by William Heath in Volume 106, Issue 2, June 2010 of the Indiana Magazine of History journal in the archives at Indiana University Scholarworks

"Miami Indians" Search gives 46 results, and another with just Miami Indian no "quotes" gives 615 results on Archive.org
Google Miami Indian Search results

April 7, 2023 post by Newspapers.com

on Facebook:

New Indian Territory and Oklahoma papers! Learn more on our blog!

New Indian Territory and Oklahoma Papers! March 28, 2023, Jenny Ashcraft on Fishwrap The official blog of Newspapers.com.

If you have ancestors from Indian Territory or Oklahoma or are interested in Oklahoma history, you are in for a treat. We've partnered with the Oklahoma Historical to digitize nearly 15 million new pages of Indian Territory and Oklahoma newspapers, bringing in more than 20 million pages! These papers date back to 1844 when Oklahoma was still Indian Territory.

In 1828, Congress passed the Indian Removal Act, which forcibly relocated thousands of Native Americans to reservation lands in Indian Territory (which later became Oklahoma). By 1880, more than 60 Tribal Nations inhabited the area.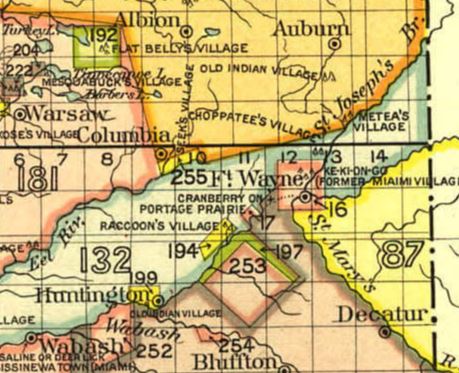 Zoomed image of Pl. CXXVI, Map 19 (Foldout, Map) shows Indian lands and names in Indiana on this map at the back of the book Annual report of the Bureau of American Ethnology to the Secretary of the Smithsonian Institution by Smithsonian Institution. Bureau of American Ethnology, Publication date 1895, on Archive.org.
Miami Nation
Miami Nation was presented to the "Fort Wayne Quest Club," by William R. Clark on October 19, 1993 and reprinted in several segments by the The Waynedale News.com.
Miami Nation of Indiana
September 30, 2022 post by the Miami Nation of Indians of Indiana on Facebook:

On this date in 1937, [September 30, 1937] The Miami Nation of Indians of Indiana officially became a 501(c)3 so we could operate as a charity since their Federal recognition was removed by the State of Indiana in 1898. Since that date and still to this day we continue to fight to regain our Federal recognition. We have to raise all of our own support with your help, which is tax deductible for you!
September 30, 2020post by Indiana Historical Bureau on Facebook:

On September 30, 1937, Miami descendants filed articles of incorporation for the "Miami Nation of Indians of the State of Indiana" with headquarters in Wabash. In 1846, U.S. officials forcibly removed most of the Miami people from Indiana to Kansas.

Several Miami families, including descendants of Jean Baptiste Richardville and Francis Godfroy, remained in Indiana due to land allotments previously granted to their ancestors by the federal government. An 1854 treaty recognized the 148 "Indiana Miamis remaining scattered along the Upper Wabash Valley of Indiana from Lafayette to Fort Wayne." However, federal recognition of the Miami of Indiana was terminated in 1897.

With the 1937 filing, these Miami descendants incorporated as a 501(c)(3) non-profit. Their repeated attempts to reclaim federal recognition have been unsuccessful.

Learn more about the Miami Nation of Indiana here: The Miami Nation Of Indiana

The image below is courtesy of the Miami Nation of Indiana website.
28 page Chief Francis Lafontaine and the Miami Emigration from Indiana by Bert Anson, starting on page 241 in Volume 60, Issue 3, September 1964 in Indiana Magazine of History journal in the archives at Indiana University Scholarworks.
Eleven page document: CHIEF FRANCIS LAFONTAINE and his family history by Craig Leonard, local historic preservation consultant, at Forks of the Wabash.org now on the Internet Archive Wayback Machine.
October 14, 2022 post by Native American on Facebook:

A member of the Miami tribe.

The Miami people, are a Native American nation, originally speaking one of the Algonquian languages. Among the peoples known as the Great Lakes tribes, it occupied territory, that is now identified as Indiana, southwest Michigan, and western Ohio.

By 1846, most of the Miami had been removed, to Indian Territory (now Oklahoma). The Miami Tribe of Oklahoma, is the only federally recognized tribe of Miami Indians, in the United States. The Miami Nation of Indiana, is an unrecognized tribe.
March 22, 2023 post by Myaamia Center on Facebook:

As we move into the spring season, the Myaamia Center is pleased to announce the launch of "Mahkihkiwa," a Myaamia Ethnobotanical Database. Mahkihkiwa means 'herb medicine' in the Myaamia language and was chosen to signify the important role plants play in the culture and lives of Myaamia people.

The database was developed to further the Myaamia Center's goals of cultural revitalization within the Miami Tribe of Oklahoma. Mahkihkiwa serves as a practical field guide for those looking to reestablish a relationship with the plants in their environment. Read more and check out Mahkihkiwa here:
Fort Wayne Indian Missionary School
the year 1820 brought marked advancement in the development of the village. The year brings to the pages of history the names of Rev. and Mrs. Isaac McCoy, the first Protestant missionaries to the Indians and the founders of the first school of the settlement. The McCoys, sent by the Baptist missionary convention, after a severe experience in the vicinity of the present city of Terre Haute, were induced to settle at Fort Wayne through the advice of Colonel John Johnston and of Dr. William Turner. With their family of seven children, and accompanied by an Indian boy, a hired attendant and Mr. Lykins, a teacher, they rode on horseback from Fort Harrison (near Terre Haute) to Fort Wayne. At one point in the wilderness a party of drink-crazed Indians attacked the missionary while he was separated from the other members of the party, but his life was saved by a half-breed, Louis Godfrey. Chief Richardville then met and conveyed the party to Fort Wayne in safety. The missionaries drove a herd of fifteen head of cattle and forty-three hogs the entire distance from Terre Haute to Fort Wayne.The goods of the family were brought on flatboats on the Wabash, and portaged across to the St. Mary's.

The interesting story of the experiences of the McCoys is given in the "History of Baptist Indian Missions," by Rev. Isaac McCoy. Unfortunately," the work is out of print and the only copy in Fort Wayne, as far as the, author is aware, is owned by Mrs. Laura G. Detzer, through whose kindness the references here given are made possible. [See ebook above]
Native American Residental Schools
This section was inspired by this article: Indiana DNR to investigate deaths at Native American residential schools While the U.S Department of the Interior plans to release a report on residential schools, DNR will look closer at how many lives were lost in Indiana. Published April 4, 2022 by Madison Stacey on WTHR.com. It discusses St. Joseph's Indian Normal School in Rensselaer opened in 1888 and closed in 1896 under the direction of an enthusiastic new director from Fort Wayne, Father Joseph A. Stephan and White's Indiana Manual Labor Institute in Wabash where Quaker missionaries established White's Indiana Manual Labor Institute in Wabash three years after the Carlisle, Pennsylvania Indian school was founded. The White Institute Board of Trustees purchased more than 600 acres of land directly from the Miami tribe upon which to build a school for poor children. The first classes began on the premises in 1862, but 20 years later, the school faced financial distress.
Quakers and Native Americans: Friends Record Groups at Earlham College Libraries in Richmond, Indiana. One collection is FRG 29: White's Institute Collection The White's Institute Papers have come to Earlham from three sources. The two ledgers of financial records were among the Indiana Yearly Meeting records transferred from Richmond First Friends in 1984. Two boxes of historical papers were transferred from White's in 1992. The minutes, financial records, and other records were the gift of Horace Smith of Hagerstown, Indiana, a former board member, in 1992.
Abstract: Two boarding schools existed in the state of Indiana to educate Native American children between the ages of six and eighteen. Both schools received a government contract to teach native students which provided the institutions with money for each student they enrolled. St. Joseph's Indian Normal School in Rensselaer operated from 1888 to 1896. White's Indiana Manual Labor Institute in Wabash educated Native American children as part of a government contract from 1882 until 1895. These two schools were not the only institutions to educate Native American students in Indiana. However, they are the only boarding schools referenced in the literature on native tribes in Indiana and the only institutions I have found referenced which participated in a government contract to educate native children. This thesis will study both institutions during the period of their government contracts from 1882 until 1896. Copied from Indiana school days: Native American education at St. Joseph's Indian Normal School and White's Manual Labor Institute by Zemanek, Alysha Danielle in IUPUI ScholarWorks.

About the Speaker:

Greg Salyer, Ph.D. is the President of the Philosophical Research Society. For twenty-five years, he has been an administrator and scholar in higher education institutions, but his highest calling has always been that of teacher. Trained in interdisciplinary studies, Dr. Salyer moves through the disciplines of literature, philosophy, and religious studies looking for and helping his students find practical and profound wisdom in the stories, texts, and ideas created all over the world and throughout history.

About the Series:

Voices of Wisdom from Native Cultures The continent of what would become North America was rich with languages, religions, governments, and infrastructure. It was also rich with wisdom, a wisdom that remains despite hundreds of years of genocide, exile, and cultural appropriation. Tribes and nations that were not outright destroyed by colonialism remained and continued their traditions with creative integrations with Christianity and underground sacred experiences. Eventually, they also began to write of their new experiences in "America" as "Indians" within the context of their tribal native wisdom. The result was a chorus of profound voices that provide the continuation of their own traditions in a hostile environment, a powerful critique of colonial ideologies based in respect for all life, and unique understandings of all humans and our place in the world. Join us as we listen carefully to some of these voices through their works and to how language and landscape combine to create a unique indigenous wisdom.

September 18, 2022 post by the Native American Community Center on Facebook:

Zitkala-Ša (Lakota/Lakȟótiyapi for "Red Bird")—also known as Gertrude Simmons—was born in 1876 on the Yankton Indian Reservation in South Dakota. At eight years old, she left the reservation to attend White's Indiana Manual Labor Institute, a missionary boarding school where her hair was cut against her will, she was forbidden to speak her Lakota/Lakȟótiyapi language, and she was forced to practice a religion she didn't believe in. This was a common experience for thousands of Indigenous children in the wake of the Civilization Fund Act of 1819, which provided funding for missionaries and religious groups to create a system of Indian boarding schools that would forcibly assimilate Indigenous children. While she took interest in some of the experiences in her new environment, such as learning the violin, she resisted the institutional efforts to assimilate her into European American culture—actions she protested through a lifetime of writing and political activism. When she returned home to her reservation, Zitkala-Ša chronicled an anthology of oral Dakota stories published as "Old Indian Legends" in 1901. The book was among the first works to bring traditional Indigenous American stories to a wider audience. Zitkala-Ša was also a gifted musician. In 1913, she wrote the text and songs for the first Indigenous American opera, The Sun Dance, based on one her peoples ceremonies."

A longer biography post August 8, 2022by Native American on Facebook.

December 13, 2022 post by the Wabash County Historian on Facebook:

One of the most successful Native Americans to attend White's Institute, at Treaty, was Zitkala-Sa translated Red Bird, English name Gertrude Simmons Bonnin (1876-1938). She was a Yankton Indian sent to Whites attending from 1884 to 1887 and in 1891 returned to White's. At one time she even taught music there. Went on to Earlham at Richmond, In. In 1899 taught at Carlislie Industrial School in Pennsylvania. Wrote for magazines and a book American Indian Stories. She became one of the most important native American reformers in the early pan-Indian movement, helping to form the National Council of American Indians. She wrote an interesting autobiography which left an account of her time in Wabash County. One book is The Flight of Red Bird the Life of Zitkala-sa by Doreen Rappaport, Dial Books NY, copyright 1997 ISBN 0-8037-1438-6. I'll bet you could find it on Amazon. Also available is Zitkala-sa American Indian Stories, Legends, and other Writings by Cathy Davidson and Ada Norris Penguin classics copyright 2003. Helen Shanks shares this note "Grandpa Gibney was Trustee. He would take Indian children to Whites In, after feeding , bathing and clean clothing for them" Mother told me this."

September 8, 2023 post by Native Lives Matter on Facebook.

in.gov marker photo

Ian Walls. "St. Joseph's Indian Normal School." Clio: Your Guide to History. May 7, 2017. Accessed April 11, 2022. https://theclio.com/entry/39168, has photos and map, 2022.
Indiana Division of Historic Preservation and Archaeology, "St. Joseph Indian Normal School," Discover Indiana, accessed April 11, https://publichistory.iupui.edu/items/show/362 has photo and map.
St. Joseph's Indian Normal School, 1888-1896 by Dominic B. Gerlach in Indiana Magazine of History, Vol. 69, No. 1 (MARCH 1973), pp. 1-42 (42 pages), Published By: Indiana University Press, Indiana Magazine of History, https://www.jstor.org/stable/27789868
Caught between Catholic and Government Traditions: Americanization and Assimilation at St. Joseph's Indian Normal School by Weber, Carolyn A., American Educational History Journal, v40 n1 p75-91 2013

An Indian School

How the little Redskins are Educated

The boys taught to be Blacksmiths,

Carpenters, and Farmers

and the girls to be Cooks,

and Housekeepers

Newspapers.com image

An Indian School - White's Indiana Manual Labor Institute - Coppock a Newspapers.com article clipped from The Weekly Record of Beaufort, North Carolina , published 11 May 1888, Fri on  Page 2, clipped by Marc_Snelling on 05 Mar 2016. Title: An Indian School How the Little Redskins are Educated. The boys are taught to be Blacksmiths, Carpenters, and Farmers, and the girls to be Cooks and Housekeepers. Shown on right.
White's Institute: A Glimpse into its Past and Present 25 page booklet in the Indiana State Library Digital Collections. The Description states: This booklet provides the history of Josiah White and his manual labor institutes for children. This focuses on the one in Wabash County, Indiana, founded in the early 1850s. It has general history of the institute, photographs, a list of the trustees for 1929, and a list of superintendents and matrons.
White's Institute Cemetery INGenWeb. An old burying ground no longer used located on the White's Institute grounds. White's at one time was an Indian Manual School. The burials are from this period of time. The cemetery is located within the boundaries of Whites Institute and are beautifully situated and well maintained. This listing was done by Ron Woodward and is included in his book "Noble township Cemeteries Wabash County Indiana", 2004. Besides using gravestone records, obituaries and Admissions and Dismissal Records of Whites Indian Manual Labor Institute were used.
Visitor Driven Research and White's Institute by TJ Honeycutt posted Aug 21, 2021 by the Wabash County Museum.
Old Indian Cemetery at White's Institute, Wabash, Indiana, 1958 photo record at the Wabash County Museum.
Josiah White and His White's Iowa Manual Labor Institute by Jean Leeper, was last updated November 5, 2013. This long page mentions Indiana as one of two locations for Quaker Josiah White's Indian schools on Rootsweb.com.
Indiana Seeks Records for Boarding School Deaths, Doesn't Tell Tribes by Jenna Kunze April 15, 2022 on Native News Onlilne.

Indian School sign

Indian School: Site of first Indian agricultural school in West, established 1804 by Philip Dennis for the Society of Friends, at the request of Chiefs Little Turtle and Five Medals. Destroyed 1812. Later site of Indian trade. Location: US 24, near Huntington / Wabash County line (Huntington County, Indiana). Marker No Longer Standing. Installed: Erected by Huntington County Rural Youth Club ID#: 35.1950.1, by Indiana Historical Bureau.
Report on industrial schools for Indians and half-breeds [microform] by Davin, Nicholas Flood, 1843-1901, Publication date 1879, on Archive.org.
TODAY: Native News Online Debuts "Indian Boarding School Discussions" on Nov. 22 BY NATIVE NEWS ONLINE STAFF NOVEMBER 17, 2021 on Native News Online. Also has a Native News Online Facebook page.
A 106-page report: Federal Indian Boarding School Initiative Investigative Report May 2022 Assistant Secretary – Indian Affairs Bryan Newland generated national stories like The Stories Behind the Names: Death at the Santa Fe Indian School, 1891–1909 posted May 11, 2022 by gschultz, posted in American Indian History, Archival Projects, Cultural and Ethnic Heritage, Interior/Environment at The National Archives. Today's post is by Cody White and Rose Buchanan, Subject Matter Experts for Native American Related Records. Warning: the following piece along with associated archival records discuss the death of minors. The names of students who died at Native American boarding schools should not be buried in government files; they should be known. For accountability, transparency, and healing, it is important that we confront the legacy of Native boarding schools—including, as discussed in this post, the legacy of the at least twenty-five children laid to rest at the Santa Fe Indian School. We also had local stories such as Government identifies more burial sites connected to Native American boarding schools, 500 children among the dead. More are likely to be found. by Brien McElhatten published: May. 11, 2022 on 21AliveNews.comshared May 12, 2022 on Facebook.
A 2002 movie Rabbit-Proof Fence is based on the book "Follow the Rabbit-Proof Fence". In 1931, three half-white, half-Aboriginal girls escape after being plucked from their houses to be trained as domestic staff, and set off on a journey across the Outback. Copied from imdb.com.
A 2012 documentary We Were Children documents Canadian Residental Schools: For over 130 years till 1996, more than 100,000 of Canada's First Nations children were legally required to attend government-funded schools run by various Christian faiths. There were 80 of these 'residential schools' across the country. Most children were sent to faraway schools that separated them from their families and traditional land. Copied from imdb.com.
Uncovering the brutal history of Native boarding schools in Indiana While the U.S Department of the Interior plans to release a report on residential schools, DNR will look closer at how many lives were lost in Indiana. Madison Stacey, April 4, 2022 on WTHR.com.

April 4, 2022 post by WTHR-TV on Facebook:

In the late 19th century, the federal government worked in tandem with religious organizations to send hundreds of Native American children to two off-reservation boarding schools in Indiana.

Now, the Indiana Department of Natural Resources is investigating whether there could be more victims who remain unaccounted for across the state.

Uncovering the brutal history of Native boarding schools in Indiana While the U.S Department of the Interior plans to release a report on residential schools, DNR will look closer at how many lives were lost in Indiana. Madison Stacey, April 4, 2022.

May 15, 2022 post by WTHR-TV  on Facebook:

The report details how the U.S. worked with churches to Christianize Native American boarding schools as part of a project to sever them from their culture, their identities and ultimately their land.

US report details church-state collusion on Native schools The report illustrates how the government funded religious boarding schools to an extent usually prohibited under rules of separation of church and state.

Children from at least 40 Native American tribes forced to attend residential school in Indiana An investigation into the property at White's Indiana Manual Labor Institute found children from dozens of tribes attended the institution. Long article posted January 31, 2023 on WTHR.com. Shared February 1, 2023 by Native American Indian News in Indiana on Facebook.

July 13, 2023 post by the National Historical Publications and Records Commission  on Facebook:

An NHPRC grant to the National Native American Boarding School Healing Coalition will support a project to digitize 20,000 pages of records (1852-1945) related to at least nine Quaker-operated boarding schools from six states held in the collections at Swarthmore College and Haverford College. This group of records are from Quaker-operated boarding schools and Quaker organizations include enrollment papers, financial information, correspondence, administrative records, and photographs.

The project is part of a larger national effort to document approximately 500 government-funded Indian day and boarding schools operated in the United States during the 19th and 20th centuries. The mission of the National Native American Boarding School Hearing Coalition is to lead in the pursuit of understanding and addressing the ongoing trauma created by the U.S. Indian Boarding School policy. For more information, go to https://boardingschoolhealing.org/

Shown here are Quaker teachers, families, and students at the Ottawa School, Indian Territory, 1872. Courtesy of the Quaker Collection at Haverford College.

August 24, 2023 post by Friends Committee on National Legislation - FCNL on Facebook:

From the early 1800s through the 1960s, Christian churches collaborated with the government to create hundreds of boarding schools for Native American children. #Quakers were both complicit and active participants in this horrific era.

As an important step toward getting the federal government to fully acknowledge and explore the long-overdue truths that must precede healing, the National Native American Boarding School Healing Coalition (NABS) [https://boardingschoolhealing.org/] is working with Friends Historical Library of Swarthmore College and Quaker & Special Collections at Haverford College to digitize 20,000 archival pages related to schools in that system that were operated by the Quakers.

FCNL enthusiastically supports these efforts, as they will only strengthen our collective advocacy for #Congress to pass the the Truth and Healing Commission on Indian Boarding School bill.

Via Associated Press and Religion News Service

Native American group to digitize 20,000 archival pages linked to Quaker-run Indian boarding schools For decades, documents related to Quaker-operated Indian boarding schools have been largely unstudied, as they exist in remote and dispersed collections with limited access.
Other Information
Indiana: The influence of the Indian upon its history Indiana State Library photo

December 26, 1862 the largest mass execution in American history, the U.S. government hanged 38 Santee men for their actions in Minnesota's so-called Dakota War. The relationship with the Civil War, war crimes, devolping the April 24, 1863 Lieber Code which led to the Hague Conventions establishing rules of war and more was briefly discussed December 26, 2022 by political historian Heather Cox Richardson who uses facts and history to put the news in context on Facebook.
7 Foods Developed by Native Americans These dietary staples were cultivated over thousands of years by Indigenous peoples of America. By Dave Roos Updated: Nov 11, 2021, Original: Nov 1, 2021 on History.com. Today, we join all Americans in honoring our continent's Indigenous People. We can thank them for cultivating and sharing many of the foods we enjoy today. What would pizza be without tomato sauce? Imagine a cheeseburger with no French fries! Purdue University's Emeritus Professor of Horticulture Jules Janick contributed to this article from the History Channel. Copied October 10, 2022 post by Allen County Master Gardener Association, Inc..
A New History of the First Peoples in the Americas The miracle of modern genetics has revolutionized the story anthropologists tell about how humans spread out across the Earth. By Adam Rutherford, October 3, 2017 on the Atlantic.com.
American Indians publications on the IN.govwebsite.
Blood on the Ohio Tales of the Frontier blog of Indian activities by Fritz Zimmerman. He had a comment to a July 30, 2022 post on Great Memories and History of Fort Wayne Private Facebook Group on Facebook stating: The Miami Indians had 3 torture grounds in Fort Wayne, one at the confluence of the rivers off of Edgewater, One at Swinney Park east and another near Waynedale where people were burned at the stake and in some cases cannibalized. He said more information would be in his new book to be released in December 2022.
Civilizing the Indians of the Old Northwest, 1800-1810 a 22 page article by Joseph A. Parsons, Jr. in Volume LVI, September 1860, Number 3 of Indiana Magazine of History journal in the archives at Indiana University Scholarworks.
Finding the First Americans Archaeology and genetics can't yet agree on when humans first arrived in the Americas. That's good science and here's why was posted December 23, 2022 by Purdue FW Anthropology on Facebook.
Historical Indians of Indiana for young readers at IN.gov.
Indiana: The influence of the Indian upon its history - with Indian and French Names for Natural and Cultural Locations is a high resolution zoomable map in the Indiana State Library Map Collection in their Digital Collections. Similar information is posted on Indiana Memory and WorldCat shows libraries where copies can be found. A cropped image of Allen County is shown on the right. This 1933 map details county-by-county the Native American place names, treaty lines, trails and traces in the state was posted January 29, 2019 by Indiana Archives and Records Administration on Facebook and Twitter. The map designed by Elam Young Guernsey (1883-1975) and its inaccuracies was mentioned in the Introduction page xxiii of the book Native American Place Names of Indiana by Michael McCafferty published in 2008 by University of Illinois Press. This map is Call number G4091.E1 1968 .G8 2000 in the Indiana Historic Maps in the Image Collections Online at Indiana University.
Indiana Native American Indian Affairs Commission webpage states: The Indiana Native American Indian Affairs Commission studies and makes recommendations to appropriate federal, state and local governmental agencies in areas of Employment, Education, Health, Housing and Civil Rights. State of Indiana Native American Indian Affairs Commission statement on Facebook says: State agency supporting cultural awareness and opportunities for Native Americans in Indiana.
Indiana Prehistory Collection About this collection This collection includes photographs created for Eli Lilly's book Prehistoric Antiquities of Indiana. The photographs include arrowheads, tools, pottery and other artifacts, as well as mound sites and other earthworks associated with prehistoric Indiana and Native Americans. At We Do History online digital collection by the Indiana Historical Society.
Indian Removal and the Transformation of Northern Indiana, by Thomas J. Campion, 2011, in Indiana Magazine of History, Volume 107, Issue 1, pp 32-62
Indigenous American Cylinder Recordings and the American Folklife Center by Stephanie Hall posted November 27, 2013 at the American Folklife Center at The Library of Congress. The archival collections of the Library include the largest body of early indigenous American music recordings in the U.S.: about 10,000 wax cylinders of songs and stories. Many of them are recordings made by Omaha ethnographer Francis La Flesche (pictured). La Flesche was the first professional Native American ethnologist and a member of the Omaha Nation. His recordings and others like them are used by both native and non-native researchers. Their greatest value lies in the cultures and languages they help preserve, allowing us to hear voices of the past. Click the link to learn more, and listen to an example of a digitized La Flesche wax recording below. Its title is "Funeral Song." Copied from an October 10, 2022 post on Facebook.
Indigenous Tribes of Indiana at ALA American Library Association.
A mission to the Indians, from the Indian committee of Baltimore Yearly Meeting, to Fort Wayne, in 1804 by Hopkins, Gerard T; Baltimore Yearly Meeting of the Religious Society of Friends; Tyson, Martha Ellicott, 1795-1873 published 1862 posted on the Internet Archive.
Native American on September 29, 2022 on Facebook posted: The ancestors of living Native Americans arrived in what is now the United States at least 15,000 years ago, possibly much earlier, from Asia via Beringia. A vast variety of peoples, societies and cultures subsequently developed. European colonization of the Americas, which began in 1492, resulted in a precipitous decline in Native American population because of new diseases, wars, ethnic cleansing, and enslavement. After its formation, the United States, as part of its policy of settler colonialism, continued to wage war and perpetrated massacres against many Native American peoples, removed them from their ancestral lands, and subjected them to one-sided treaties and to discriminatory government policies, later focused on forced assimilation, into the 20th century. Since the 1960s, Native American self-determination movements have resulted in positive changes to the lives of many Native Americans, though there are still many contemporary issues faced by them. Today, there are over five million Native Americans in the United States, 78% of whom live outside reservations: California, Arizona and Oklahoma have the largest populations of Native Americans in the United States. Most Native Americans live in small towns or rural areas.
Native American Genealogy Free Native American Resources from Family Tree Magazine at FamilyTreeMagazine.
Native Americans in the Division of Historic Preservation & Archaeology section at Indiana Department of Natural Resources.
Native Americans in American History a 26 page article in Hoosiers and the American Story at IndianaHistory.org. Includes biographies and a map of the Potawatomi Trail of Death 1838.
Native American Portraits from the Aboriginal Portfolio About this collection James Otto Lewis accompanied government treaty negotiators in the 1820s to make portraits of the Native Americans attending. In 1835 and 1836, Lewis published The Aboriginal Port Folio, with the first eight plates appearing in May 1835. These portraits were the first such images ever to be published. Subsequent parts appeared monthly, but the project bankrupted Lewis in 1836. The ninth and 10th parts were issued in much smaller press runs. IHS's set contains all 80 plates as well as the lithographed title leaf, a one-leaf "Advertisement," and one leaf of reviews. At We Do History online digital collection by the Indiana Historical Society.
Potawatomi Trail of Death in 1838 posted August 11, 2018 on the Archives of Hoosier History Live podcast on Saturdays, noon to 1 p.m. ET on WICR 88.7 FM introduction starts with: One of the most tragic episodes in Indiana history occurred during two months in 1838. The Potawatomi Trail of Death was the forced removal of more than 840 Potawatomi Indians from their villages in the Twin Lakes region of northern Indiana on a grueling march of more than 660 miles to Kansas. Soldiers initially under the command of Gen. John Tipton enforced the march, during which many Potawatomi - particularly the elderly and young children, including babies - died of illness and exhaustion.Beloved Potawatomi leader Chief Menominee and other tribal chiefs were caged in a "jail wagon" during the Trail of Death. The march began near the towns of Plymouth in Marshall County and Rochester in Fulton County.
Native Americans in Indiana at IndianaHistory.org.
Native American History Timeline As explorers sought to colonize their land, Native Americans responded in various stages, from cooperation to indignation to revolt. on History.com.
A Territorial Land Grab That Pushed Native Americans to the Breaking Point The 1809 treaty that fueled Tecumseh's war on whites at the Battle of Tippecanoe is on view at the American Indian Museum by Alicia Ault published October 9, 2017 on Smithsonian.com. TREATY WITH THE DELAWARES, ETC., 1809 on the INDIAN AFFAIRS: LAWS AND TREATIES Vol. II, Treaties page. Compiled and edited by Charles J. Kappler. Washington : Government Printing Office, 1904.
The Glorious Gate - The program brochure to the Glorious Gate pageant presented by the Anthony Wayne Anniversary Association at the Palace Theatre, September 18, 19, 20, 1934. Pageant was directed and written by Bessie K. Roberts. Per the program: 'A pageant in nine episodes, tracing the story of the Miami village which became Fort Wayne, from the days when it was a trading-post until modern times. Presented in narrative and picture, symbol and pageantry, so that the events of a glamorous past may live again.' Description from Indiana Memory referring to images on the History Center Digital Collection on the mDON mastodon Digital Object Network.
Great documents in American Indian history by Moquin, Wayne, Publication date 1973, on Archive.org.
Not the "Last of the Miamis" published September 27, 2013 discussed a historical photograph titled The Last of the Miamis 1810–1910 Kil-so-quah and son and other photographs taken in 1910 by L. M. Huffman published on NMAI The National Musuem of American Indian. She was the granddaughter of Miami Chief Little Turtle and was allowed stay with her son in Indiana because of a resolution passed by Congress in 1850 exempting Miami who held treaty reserves, and their descendants, from remova. The Miami—or Myaamia in their language, meaning Downstream People and are originally from the Great Lakes area. This blog mentioned the 1862 book above. On September 4, 1915, Kiilhsoohkwa died in Huntington County at the age of 105. From a September 4, 2017 post about this blog by Indiana Historical Bureau on Facebook.
Mound Builders in Fort Wayne (Allen County) Indiana includes photos, maps and19th century history articles published in October 2011 on MoundBuilder blog.
Kramer Iroquois Indian Earthen Fortification in Allen County, Indiana Near Fort Wayne - Kramer Iroquois Indian Earthen Fortification in Allen County, Indiana constructed on the St. Joe River near Fort Wayne and at the headwaters of the Eel River in Whitley County, Indiana published in December 2012 on MoundBuilder blog.
Mound builder (people) on Wikipedia, The Free Encyclopedia.
Language, culture being restored during Miami Tribe youth camp by Kevin Kilbane published July 16, 2015 in The News-Sentinel newspaper.
The Voice of the Miami published November 9, 2014 by The History Centeron the Visit Fort Wayne blog.
Map of Indian Lands of Federally Recognized Tribes of the United States at the U. S. Department of the Interior Indian Affairs.
NATIVE AMERICANS IN THE GREAT LAKES REGIONan older web page.
Miami Heritage Days - History Center sponsors annual Miami Indian Heritage Days at the 1827 Chief Richardville House. See Sacred drumming opens Miami Heritage Days by Keiara Carr published May 2, 2014 in The Journal Gazette newspaper. Teen shares Miami heritage through dance by Keiara Carr published July 6, 2014 in The Journal Gazette newspaper. Miami Indians celebrate major milestone 20th anniversry by Sara Wagner published August 9, 2015 on CBS WANE-TV NewsChannel 15.
Native Americans in Indiana by David G. Vanderstel, Phd. from the Conner Prairie Interpreter Resource Manual.
Return of Miami Tribe of Okla. generates excitement by Kevin Kilbane published January 17, 2015 in The News-Sentinel newspaper.
Eastern and Western Siouian Tribes and the White Buffalo Legend ... by Roberta Estes published May 27, 2012 on her Native Heritage Project.
20th century citizens about the Indian Citizenship Act of 1924, also known as the Snyder Act, was sponsored by Rep. Homer Snyder of New York, and signed into law by President Calvin Coolidge posted on June 3, 2014 by Judy G. Russell the Legal Genealogist.
Researching American Indians and Alaska Natives is a page on Facebook with some information and links to various sites at The National Archivespage above.
Native American Indian News in Indiana is a Facebook page. Their About page states: I have created this group for the Native American Indian population of Indiana. Share by posting news of your family,your groups and organizations, your events, and projects. This is for colleges groups, non profits, tribal information. What ever you would like to share with other native people around the state. As long as we are all respective to each other most anything can be posted.
AIM True People of Indiana and Kentucky Chapter is a Facebook page. The first paragraph of their About page states: The American Indian Movement The True People of Indiana and Kentucky (AIMTPIK) is a Spiritual Movement serving to protect our people, our cultures, and our traditions in a prayerful way throughout Indiana, Kentucky and nationwide.
Early History of the Maumee Valley by Hosmer, Hezekiah Lord (1814-1893), Publication date 1858, on Archive.org. This book's contents are also included at the front of the Toledo City Directory of 1858. It begins with General Anthony Wayne's decisive Battle of Fallen Timbers in 1794. It includes a speech given by General William Henry Harrison to the Miamis and other chiefs of their nation, as well as the replies of Lapussia and other chiefs of the Miami Nation. It also covers the Maumee Valley's involvement in the War of 1812 and formation of Lucas County.
Forty years among the Indians : a descriptive history of the long and busy life of Jeremiah Hubbard by Hubbard, J. (Jeremiah), 1837-1915, Publication date 1913, on Archive.org. The author was born 7 April 1837 in Henry County, Indiana.
The Myths of the Thanksgiving Story and the Lasting Damage They Imbue In truth, massacres, disease and American Indian tribal politics are what shaped the Pilgrim-Indian alliance at the root of the holiday by Claire Bugos Correspondent November 26, 2019 in Smithsonian Magazine.

November 11, 2022 post by State of Indiana Native American Indian Affairs Commission on Facebook:

Today we honor all Veterans and share our gratitude for all who have served. During this month we also are proud to share facts about Native American Veterans who have a long and distinguished history of serving in our armed forces and defending freedom. #VeteransDay #NativeAmericanHeritageMonth

The Remarkable and Complex Legacy of Native American Military Service Why do they serve? The answer is grounded in honor and love for their homeland by Alicia Ault Museums Correspondent on November 11, 2020 in Smithsonian Magazine from November 11, 2022 post by Smithsonian Magazine on Facebook.

January 16, 2023 post by Purdue FW Anthropology on Facebook:

PFW is NOT one of the Indiana universities that still hold the remains of indigenous people.

"Three decades after legislation pushed for the return of Native American remains to Indigenous communities, many of the nation's top museums and universities still have the remains of thousands of people in their collections."

The Repatriation Project Does Your Local Museum or University Still Have Native American Remains? Use this database to find out where Native American remains were taken from and which institutions report still having them. Check on institutions near you. by Ash Ngu and Andrea Suozzo Jan. 11, 2023 Data from Dec. 9, 2022 at Propublica.

Indiana University 2 subunits · Located in Indiana Indiana Univ. has the 5th largest collection of unrepatriated Native American remains in the U.S. The institution reported still having the remains of at least 4,800 Native Americans that it has not made available for return to tribes. The institution has made available for return 17% of the more than 5,800 Native American remains that it reported to the federal government.

March 10, 2023 post by Native American on Facbook:

American Indian Dog

It's not a wolf, and it's not a coyote; it's an American Indian dog. known for its long, pointy ears, thick coat, intense stare, and impressive build.

These working companion animals were almost lost to history after our American Indians were segregated onto reservations, and often left without the resources necessary to maintain the ancient breed.

According to the experts at Animal Corner, the Native American Indian Dog is believed to be up to 30,000 years old. Yes, it's possible that the breed shared parts of North America with some of the earliest Native Americans to inhabit the land. Some specialists have theorized that the Native American Indian Dog breed could even be the missing link between wolves and the modern dog as we know it today.

May 4, 2023 post by Miami Nation of Indians of Indiana on Facebook

October 21, 2023 post by the DAR Museum on Facebook:

During the 19th century, westward expansion brought increased interest in and conflict with Native Americans. American attitudes towards Native Americans were shaped by stories and art. In the 19th century, the US War Department commissioned portraits of Native American delegations to Washington. Interest in these paintings was so high that the original paintings were reproduced as prints for mass consumption in a book, History of the Indian Tribes of North America. Painted by Charles Bird King, these subjects were posed in ways that were familiar to Bird and his white audience. This portrait resembles the mother and child paintings so prevalent in European art. One contemporary reviewer of the book even called the portrait the "Indian Madonna." However, behind this pleasing portrait is a dark truth that reveals a gap between how Native Americans were portrayed and the violent exploitation they experienced in the 19th century.

The adult in this portrait is an Osage woman named Mohongo, also known as Sacred Sun. The Osages controlled a large region that included what is now Missouri, Arkansas, Kansas, and Oklahoma. After the Louisiana Purchase in 1803, the Osages were forced to cede most of their territory to the US through a series of treaties. In 1827, Mohongo and her husband were among a group of several Osages who were targeted by a con man named David Delauney, who claimed to be a representative of the US government and invited them on an official trip to Washington, D.C. The group boarded a ship in New Orleans and, to their surprise, landed in France, where Delauney planned to make them performers in his wild west show. At first, the group drew great interest in Europe and even met royalty. However, when their popularity waned, Delauney abandoned them in Paris. The Osages struggled to survive on their own and during this time, Mohongo gave birth to a child.

Eventually, the group caught the attention of the Marquis de Lafayette, who paid for them to travel back to America. On the trip, Mohongo's husband and several others died of smallpox. The group landed in Virginia, and soon after, Thomas McKenney, the US Superintendent of Indian Affairs, brought them to DC in 1830. There, Mohongo was given a peace medal by President Andrew Jackson and Charles Bird King painted this portrait of her before she returned to the Osage Nation. That very same year, President Jackson enacted the Indian Removal Act, which forced the Cherokee and other southeastern tribes to move onto land that had been taken from the Osages. The Osage Nation moved to its current reservation in Oklahoma in 1872. In the early twentieth century, oil was discovered on the reservation, leading to a series of murders that are investigated in David Grann's book, Killers of the Flower Moon, which is coming to theaters this month as a film adaptation by Martin Scorsese.

Almost 1,000 book titles such as History of the Indian Tribes of North America are at Archive.org


October 22, 2023 post by Native American Indians on Facebook:

The Indian culture such as the great warrior, Crazy Horse, believed in lying their deceased on scaffolds, wrapping them in buffalo blankets. There to be exposed to the elements and delivered over a year or two back to nature. Then to come back as buffalo grass, and eaten by the buffalos, which would be eaten by the Sioux, thus completing the cycle. Versus the Anglo belief of burial in a metal casket preventing breakdowns over a longer time. I got this from Stephen Ambrose book of Custer and Crazy Horse.

October 31, 2023 post by the Eiteljorg Museum of American Indians and Western Art on Facebook:

Have you seen the new Native-directed documentary series "Native America" on PBS stations? Last week's episode featured artist TahNibaa Naataanii (Navajo) and her fascinating weaving work. Many Eiteljorg visitors have met TahNibaa at her booth during Indian Market and Festival, or remember the exhibit about her home that previously appeared in the museum's R.B. Annis Western Family Experience. We are thrilled to see TahNibaa recognized on this national show. The next episode of "Native America" airs at 9 p.m. tonight, Tuesday Oct. 31, on WFYI-20, WTIU-30 and other PBS stations nationwide. Future episodes are Nov. 7 and Nov. 14. You can stream the documentary series at this link: https://www.pbs.org/show/native-america/. TahNibaa is in the first episode, titled "New Worlds."

November 22, 2023 post by Native American Indians on Facebook:

Why Do Native Ameircans Often Wear Long Hair?

Native Americans are famous for their long hair and there is a reason why they let it grow. To Native Americans, hair is of special spiritual significance.

Though the meaning of the hair varies among the tribes, it is nevertheless very important not to cut it. Hairstyles among the tribes can be different and hair can be loose, braided, or worn in a knot. Wearing long hair is much more than a tradition. Native Americans deeply believe hair is a source of strength and power. Hair is considered to be an extension of the soul and a way of having a union with the infinite. By cutting your hair, you lose a small part of your relationship with yourself.

Many cultures, not only native Americans see hair as something very precious. "hair has so often been thought of as containing the essence of individuality and personhood; a lock of hair can serve as a synecdoche for the body whence it came, possessing in the eye, or rather fingers, of the beholder stronger representational power than, for example, a painted portrait. It is for this reason not surprising that the growing, grooming, cutting, shaving or losing of hair – on the body and head – were often associated with transformative life experiences, with rites and rituals, and with the marking of cultural difference." 1

Tribes have different teachings about the value of hair, but children are taught they shouldn't cut their hair unless they have experienced a significant loss. This could be the death of a loved one, a traumatic event or something else that changed one's life dramatically.

When someone passed away, there is a custom to take a lock of the beloved dead, covering in pretty clothing, something it was supposed that he or she would like to wear if living.

"This "spirit bundle," as it was called, was suspended from a tripod, and occupied a place of honor in the lodge. At every meal time, a dish of food was placed under it, and some person of the same sex and age as the one who once was must afterward be invited in to partake of the food. At the end of a year from the time of death, the relatives made a public feast and gave away the clothing and other gifts, while the lock of hair was interred with appropriate ceremonies." 2

In modern times it happens far too often that Native Americans are bullied and discriminated for wearing long hair. According to L.G. Moses, a professor at Oklahoma State University government officials in the 1800s tried to force native Americans to be more like settlers. This was done by forcing youngsters and adults to cut their hair. The argument was that long hair was symbolizing a wild, uncivilized person.

This practice is still alive and there are many modern schools, prisons and some workplaces where Native Americans are not allowed to keep their long hair. They must simply cut it. Native Americans consider this discrimination, and some had the courage to resist the pressure to cut the hair. In many cases, natives were forced to take legal action to fight for their rights.

Source: Ancientpages
One of the most famous Indians was Geronimo of the southwestern Apache nation. He is remembered for several quotes, one is: We are vanishing from the earth, yet I cannot think we are useless or Usen [God] would not have created us. He created all tribes of men and certainly had a righteous purpose in creating each. from his autobiography shown below. Geronimo, Indian name Goyathlay ("One Who Yawns"), (born June 1829, No-Doyohn Canyon, Mex.—died Feb. 17, 1909, Fort Sill, Okla., U.S.), Bedonkohe Apache leader of the Chiricahua Apache, who led his people's defense of their homeland against the military might of the United States. For generations the Apaches had resisted white colonization of their homeland in the Southwest by both Spaniards and North Americans. Copied from Geronimo Apache leader on britannica.com.
Back to top