World War II Information for Allen County, Indiana
Allen County, Indiana Area Servicemen and Servicewomen, 20th Century is a searchable database is at The Genealogy Center at the Allen County Public Library in Fort Wayne, Indiana. It appears to be based on the book: Allen County (Indiana) area servicemen & servicewomen ; a selected listing from the files of the Allen County Public Library Historical Genealogy Department Author: Slater-Putt, Dawneat the Allen County Public Library.
Pearl Harbor

clipping image
Five servicemen from Fort Wayne died during the attack on Pearl Harbor. Aboard the battleship USS Oklahoma were Seaman Raymond Boynton, Machinist's Mate Arthur Glenn and Seaman Maurice Spangler. [Arthur Glenn's remains were identified in 2017 and reburied August 21, 2018. More than 2,400 people died in the attack on Pearl Harbor, and 18 ships were sunk or damaged, according to the Pearl Harbor Visitors Bureau. A government report said few crewmen from the Oklahoma were identified in the years after the attack and the remains of as many as 400 unknown sailors were buried together. At least 46 sailors remain unidentified, according to the report. Glenn is no longer among them. Copied from Pearl Harbor casualty identified City sailor to be buried with honors by Matthew LeBlanc published August 17, 2018 in The Journal Gazette newspaper.] Aboard the battleship USS Arizona, Fort Wayne men who died were Gunner's Mate Marshall Coffman and Seaman Harold Summers. None of the bodies of these sailors were ever recovered [until Glenn in 2017]. Dying amid the flaming chaos of the Pearl Harbor attack, these five men were just the first of many local residents to lose their lives during World War II. Copied from a letter to editor published December 13, 2013, but is no longer online at The Journal Gazette newspaper.
Pair of city submariners'final resting place found published December 7, 2019 in The Journal Gazette newspaper states: The Grayback, a U.S. submarine, left Pearl Harbor Jan. 28, 1944, on its final combat mission. Its whereabouts have been unknown for 75 years. Last month, the Navy confirmed a submarine found in June off the coast of Japan was the Grayback. It was the final resting place for 80 sailors, including two Fort Wayne men. The Journal Gazette reported the two men missing at sea on April 11, 1944. Lt. William Charles Roy Jr., 24, was an honor graduate of South Side High School's class of 1938. He joined the Navy after graduation and was admitted to the U.S. Naval Academy a year later, graduating on Dec. 19, 1941, less than two weeks after the Pearl Harbor attack that sent the nation to war. The son of William and Emma Roy of Wildwood Lane, he was married to Hilda May Roy. Machinist Mate Harold Xen Barbour, 22, was a 1940 graduate of Fort Wayne Central High School. He was the son of Harvey and Barbara Barbour of Maumee Avenue, according to the 1943 city directory. The "Lost 52 Project," a group of explorers whose mission is to find the 52 submarines unaccounted for after World War II, located the Grayback about 50 nautical miles south of Okinawa, but the find wasn't verified by the Navy until last month.
Milkweed Pods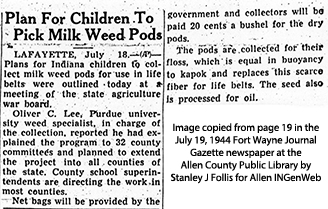 Old newspaper items and several articles found online such as the Christian Science Monitor article The heroic milkweed This common plant helped keep soldiers afloat and aloft in World War II. state: wartime pamphlets encouraged children to gather milkweed. A brochure produced by the Soil Conservation Service for War Hemp Industries urged: "School children of America! Help save your father's, brothers', and neighbors' lives by collecting milkweed pods."Canada and about 29 American states east of the Rockies were involved in the campaign, which furnished about 2 million pounds of milkweed floss to the armed services in one year. The slogan "Two bags save one life" summed up the main mission. The floss harvested from two bags of milkweed pods would fill one life jacket. Milkweed floss was also used to line flight suits. The pods were sent to the Petoskey Fairgrounds in Michigan to be dried and processed. A 1944 issue of National Geographic magazine shows 90,000 pounds of milkweed drying there, "to buoy up fighting men's life jackets." It's been estimated that more than 11 million pounds of milkweed were collected by the end of World War II.
Allen County Citizens Who Died During World War II list of names is from 1940-1949: IN THE SHADOW OF WAR II in the archives of The News-Sentinel newspaper.
World War II Ration Books On December 1, 1942, the U.S. began nationwide gas rationing to help the American war effort. Between 1942 and 1945, the federal government regulated purchases of goods like food and gas. War Ration Books were issued to everyone. Each stamp or coupon authorized the holder to purchase rationed goods in the quantities and at the times authorized by the Office of Price Administration. Without the stamps, you were unable to buy them. Women had to learn to juggle the stamps (and budget the money) efficiently in order to keep their families fed. Rationing was part of the War effort to conserve and "guarantee a fair share of goods made scarce by war." Rationing meant an enormous change in eating habits. Protein was in short supply and recipes were invented or adapted. Sources: Fold3 https://www.fold3.com/image/85518623... ; and The Children's Museum of Indianapolis. Copied from a December 2, 2022 post on True Fort Wayne Indiana History on Facebook. A similar post December 1, 2022 by Fold3 on Facebook.
Photo of War Ration Books were posted June 24, 2018 on You are positively from Fort Wayne, if you remember... Archived group on Facebook.
Casualties
World War II Veterans Information Center has a searchable World War II Veterans Databaseat IN.gov. It states: Our database includes all of the Hoosiers who lost their lives in the war. However, we only have a fraction of the names of the rest who served.
WWII Army Casualties: Indiana at The National Archiveshas images of lists of names by county on two pages for Allen County: Adams and Allen and Allen and Bartholomew counties.
World War II Memorial
Honor Flight Northeast Indiana raises money and arranges flights to Washington D.C. to see the World War II Memorial, then posts photos before, during and after on their Facebook page. Those unable to fly are now able to visit virtually as seen in these March 8, 2017 photos and Vets virtually see memorial For those unable to travel to DC, initiative brings it to them by Rosa Salter Rodriquez published March 9, 2017 in The Journal Gazette newspaper. Honorflight articles in The News-Sentinel newspaper.
World War II Legacies: Stories of Northeast Indiana Veterans
Kayleen Reusser Media photo
Search the various World War II Legacies and LEGACIES OF WWII, and Biweekly series about World War II veterans in The News-Sentinel newspaperby Kayleen Reusser, Bluffton author. See her website https://kayleenreusser.com/, Facebook page Kayleen Reusser and her three books of veterans' World War II stories: We Fought to Win, They Did It For Honor, and We Gave Our Best. See Local Author Publishes Third Book of Veterans' World War II Stories August 8, 2018 press release at LivingFortWayne.com. See World War II Legacies: Stories of Northeast Indiana Veterans for more stories.
LEGACIES OF WWII: Veteran Keith Moore of Fort Wayne tells stories of injuries, the ministry and his loathing of Spam - August 13, 2018 - After moving with his family to Fort Wayne, Keith worked as visitation pastor at Blackhawk Ministries from 1999-2014. During that time, he made 5,000 visits with people. He has also participated with Honor Flight of Northeast Indiana.
LEGACIES OF WWII: Veteran Bob Heiny maintains positive attitude through many near-death experiences - July 23, 2018 - Attached to the 9th Armored Division of the First Army, Robert Heiny of Fort Wayne helped obtain badly needed supplies for troops during what turned out to be one of the worst winters on record.
LEGACIES OF THE KOREAN WAR: Walter 'Bud' Mendenhall - July 9, 2018 - "We were scared all of the time," said Walter 'Bud' Mendenhall of Fort Wayne. During the Korean War, Mendenhall served as a gunner with the U.S. Navy, assigned to a destroyer minesweeper called the USS Carmick (DMS 33). "Many of our ships were hit by the enemy. We prayed a lot."
LEGACIES OF WWII: Robert E. Lee – Navy Corpsman - June 25, 2018 - born in Van Wert, Ohio, in 1917, one of 12 children, Lee moved with his family first to a farm near Fox Island, then Auburn. His father, a sharecropper, plowed with horses. Robert attended school through the eighth grade, then quit to work on the farms. In 1940, Robert began working at International Harvester.
LEGACIES OF WWII: Near-centenarian flew in World War II, Korea War - June 11, 2018 - Over 60 years ago, Fort Wayne native Ralph Reighter crash landed his damaged plane while serving in the Korean War, an incident that was caught on video. See the video here.
LEGACIES OF WORLD WAR II — Eugene Cogan's recount of D-Day - May 28, 2018 - Eugene Cogan of Avilla was leading troops through an orchard on a steep bluff in the Normandy region of France on June 6, 1944, when a bullet hit him in the back, knocking him out.
LEGACIES OF WWII: Gordon Smith –Army /Europe - May 14, 2018 - Gordon Smith was discharged in April 1946 from Camp Atterbury in southern Indiana, but chose to re-enlist in the Army until 1949.
LEGACIES OF WORLD WAR II: Frank Bever/95th Infantry Division - April 9, 2018 - North Manchester's Frank Bever was drafted into the U.S. Army in 1942 and served in the European Theater.
Legacies of World War II: Mel Arnold — Navy electrician - March 12, 2018
LEGACIES OF WWII: Bluffton resident Paul Young piloted 57 missions during World War II - February 26, 2018
LEGACIES OF WWII: Bernard James Havens – Coast Guard radio man/ Atlantic - January 22, 2018
LEGACIES OF WWII: Dr. Timothy Warner of Fort Wayne – 95th Infantry Division / chaplain's assistant - January 8, 2018 - Dr. Timothy Warner, a former member of the 95th Infantry Division / chaplain's assistant
LEGACIES OF WWII: Wilbur L. Seibold – Huntington – B17 top turret gunner - December 25, 2017 - After more than 73 years since his flight crew was captured by German troops during World War II, Wilbur Seibold still values his dog tags, a photo of his flight crew and a plaque containing a piece of his downed aircraft.
WWII legacies: Gus Nagy – Army machine gunner in Europe - December 11, 2017 - Gus Nagy was drafted in the U.S. Army in 1943. He was sent to Europe in 1944.
WWII LEGACIES: Fort Wayne's Wilbert Reinking- Navy - November 27, 2017 - Wilbert Reinking was at Great Lakes Naval Training Center near Chicago as a new recruit on December 7, 1941, when the alarming news arrived that the American naval base at Pearl Harbor had been bombed by the Japanese Imperial Navy.
MEMORIES OF WWII: Fort Wayne's Robert Voelker was a singer for the Navy - November 8, 2017 - the Navy Local News Nov 8, 2017 Kayleen Reusser for The News-Sentinel Robert Voelker served the American military for one year, one month and 24 days before being discharged in August 1946. He graduated with a degree in business from Indiana University in 1950 and worked several years for Lutheran Insurance (now Thrivent) before retiring in 1990. (Photo by Kayleen Reusser) Robert Voelker served the American military for one year, one month and 24 days before being discharged in August 1946. He graduated with a degree in business from Indiana University in 1950 and worked several years for Lutheran Insurance (now Thrivent) before retiring in 1990.
Author Kayleen Reusser greets World War II veterans at Fort Wayne book signing - November 5, 2017 - Wells County author Kayleen Reusser talks with World War II veteran Frank Garrison on Saturday at the Allen County Public Library.
Veterans to take part in downtown Fort Wayne book signing, public meet and greet on Saturday - November 3, 2017 - Local author Kayleen Reusser will hold a book signing and meet and greet open to the public on Saturday at the downtown branch of the Allen County Public Library.
Signing party for book featuring Bob Chase - October 30, 2017 - by Blake Sebring
Fort Wayne veteran's role in World War II was caring for the wounded - September 18, 2017 - William Rodney Abram's was a medic in Hawaii
A wartime tale of survival in the Battle of the Bulge - September 4, 2017 - Mark Flanagan's pre-med studies were interrupted for fighting on battlefield
Navy veteran witnessed Japanese surrender in Tokyo Harbor - August 25, 2017 - James Charles Wiegman of Fort Wayne He served on battleship USS New Mexico when bombs dropped.
Fort Wayne veteran gained an unparalleled education in France during World War II - August 7, 2017 - Myron Henderson later taught history and government at North Side High School
Rookie infantryman initiated in combat at the Battle of the Bulge Grueling, tedious training helped Dennis Butler of North Manchester survive last - July 24, 2017 - Grueling, tedious training helped Dennis Butler of North Manchester survive last massive German offensive
Decatur Navy vet saw much action in Pacific during World War II He served aboard cruiser USS Nashville - July 10, 2017 - Francis Lee Bushong looks back on his service in the U.S. Navy during World War II.
In World War II, Fort Wayne women served as nurses The military provided opportunities when options for women were much more limited - June 26, 2017
WWII vet in North Manchester recalls bloody trials of Iwo Jima Bart Corricelli survived 4 grinding battles in the South Pacific - June 12, 2017
These men survived the beaches of Normandy - June 6, 2017 - Leo Scheer and Eugene Dettmer, A sailor and a soldier, in Huntington and Fort Wayne, recall the invasion that began the end of World War II
Clarence F. Miller never came home from World War II - May 29, 2017 - Fort Wayne man went down with a B-25 bomber in South Pacific
Fort Wayne World War II veteran electrified the Pacific for war effort - May 15, 2017- Ivan Detwiler joined the Navy at age 16 in 1943
Fort Wayne Navy veteran recalls kamikaze attacks in Pacific - May 1, 2017 - Louis Bowman served aboard a destroyer escort during World War II
Marty Wyall kept WASPs' contributions, legacy alive She may have been the last living WASP originally from Indiana by Kevin Kilbane published April 27, 2017 in The News-Sentinel newspaper. For more see Marty Wyall.
Local veteran recalls his days on mighty World War II battleship He was assigned to the USS New Jersey - April 17, 2017 - Harry Neville recalls his days on mighty World War II battleship, launched a year after Pearl Harbor
Huntington veteran photographed A-bomb devastation from the air - March 20, 2017 - Only months after end of World War II, William E. Jones shot photos of Hiroshima, Nagasaki
Fort Wayne veteran helped keep coded messages flowing in World War II - March 6, 2017 - Fresh from college, she enlisted to aid war effort - Lt. Rosemary Russell Schmidt of Fort Wayne served as a female officer with the WAVES during World War II.
Fort Wayne vet was Navy corpsman He served on a hospital ship in the Pacific - February 20, 2017 - When Paul Bandelier of Fort Wayne sailed to New Caledonia in the South Pacific with the U.S. Navy in WWII, he was not on a ship filled with ammunition and guns but hospital beds – 500, to be exact.
Was Army Air Corps crew chief in Asia theater He was injured by shrapnel during invasion of North Africa - February 6, 2017 - The invasion of Port Lyautey in northern Africa in November 1942 was a surprise attack by the Allies on the Vichy French stationed there."They were Nazi sympathizers," said William Shull of Fort Wayne.
World War II veteran William Shull served as Army Air Corps crew chief in North Africa, India, Burma - January 30, 2017 - William Shull did maintenance on military aircraft during his World War II service.
New Haven Army vet remembers his ship's destruction in World War II attack - January 16, 2017 - No Americans aboard died, but Edward Dager and others were wounded
Columbia City man was a sailor aboard destroyer USS Bennion - January 2, 2017 - He was on deck when ship survived a kamikaze attack
Bob Chase served as a Navy cryptographer He marveled at sight of nuclear bomb testing; encourages youth to serve in the military - October 24, 2016 - He marveled at sight of nuclear bomb testing; encourages youth to serve in the military
Clarius Dew was part of the Army Air Corps during World War II The 100-year-old remembers Australians greeting troops with "The Yanks are here!" - October 10, 2016
Lorraine Hook Davis was a Coast Guard cryptographer But she couldn't tell anyone at the time. - September 26, 2016
WW II veteran went from Pistons to Pacific He saw grave markers of thousands who had died in Guadalcanal - September 13, 2016
Hamilton Hunter Jr. served as an Army Air Corps B-29 gunner in the Pacific After the war, he married, began a family and a business - August 29, 2016
Returning to WW II internment camp an emotional experience for retired teacher - August 20, 2016 - Nearly 75 years later, Dorothy Kittaka still finds it difficult to understand how it happened in America. In mid-1942, the U.S. government forced her family and about 120,000 other Japanese Americans – many of whom were U.S. citizens – to leave behind most possessions and move to internment camps in remote areas of the western United States because of fear they would support Japan in World War II.
David Roth – Navy officer from Fort Wayne survived Japanese kamikazes - August 15, 2016
Local vet was in Army's invasion of New Guinea Paul Rider served in 1st Cavalry Division in WWII - July 18, 2016
Harold Frasure was naval aviator when bomb dropped Three days later his ship was told to rescue prisoners at a Japanese POW camp - June 20, 2016 - While at sea during World War II, Harold Frasure said he saw kamikaze crashes on the USS Essex and USS Franklin.
Air Force pilot Donald Henry Wolfe A military balloon inspired him to enlist, though he had to train with a broomstick - May 30, 2016
Orval Haaff was part of Army campaign in mountains of Italy - May 9, 2016 - was part of the 350th Infantry Company in the Northern Apennines Campaign in Italy
Jim Joseph Meyer – Coast Guard He made dozens of trips across both Pacific and Atlantic oceans - April 25, 2016 - He made dozens of trips across both Pacific and Atlantic oceans
Sam Hayward experienced segregation as a Navy sailor He says 'colored people' were taught to set tables, serve food to officers - April 11, 2016 - Sam Hayward takes the discrimination he experienced while serving in the Navy during World War II in stride.
Oren Huffer – Fort Wayne glider radio operator His flights were silent, which kept them from being spotted by the enemy - March 28, 2016 - Oren Huffer wanted to fly and got his chance as a glider radio operator during World War II
Beckman Brown served her country as a Coast Guard SPAR In a family of four daughters and no sons, she felt it was her reponsibility to serve - February 29, 2016 - she accompanied the Honor Flight of Northeast Indiana to Washington DC in 2011
Navy minesweeper served in the Philippines He remembers once having to make a life-and-death decision for whole crew. - February 15, 2016 - Arthur Spirou of Fort Wayne studied sonar and radar detection while a member of the Navy at Stillwater, Oklahoma.
Army Signal Corps member found Iceland fascinating He enjoyed the 24 hours of daylight, but winters were difficult - February 3, 2016 - graduated from South Side High School in 1941 and worked for General Electric. When Arthur Wuttke arrived in the United States from Germany in 1910, it was for political reasons."Dad didn't want to serve the Kaiser in the Army," said Rudy Wuttke of Fort Wayne.
Army vet was among first to leave Decatur for the war He and fellow soldiers endured record cold temperatures in Battle of Bastogne - January 11, 2016 - Virgil Bixler of Decatur saw Battle of the Bulge, Normandy
Army Air Corps mechanic kept planes in top shape - December 28, 2015 - At 12:30 a.m. June 6, 1944 – D-Day – Lewis Harrison "Harry" Hull of Fort Wayne and other flight mechanics were awakened from their bunks at an air base in eastern England.
Navy electrician's ship assisted in Allied invasion of France While on USS Augusta, he helped serve a meal President Truman ate with the crew - December 14, 2015 - With his duties as an electrician aboard the USS Augusta, Richard Freygang of Fort Wayne was below deck when Germany fired on the ship as part of the Allied invasion of southern France in August 1944.
Pearl Harbor attack led woman to help She enlisted in the Army as a nurse. - November 30, 2015 - Doris Eileen Stuckey Zeissig served as a nurse during World War II.
Navy cook's ship last US vessel to sink World War II U-boat At just 16 years old, Conrad lied about his age to enlist in the Navy - November 9, 2015 - Charlie Conrad served in World War II as cook on a ship that had the mission to sink German subs across the Atlantic.
Patton's Third Army soldier Clarke recalled snow, prison camp He spent his 21st birthday fighting German forces in the Battle of the Bulge - October 26, 2015 - Beresford Clarke died Friday (October 23, 2015). This interview was conducted several weeks ago.
Dad's advice, hula skirt, asbestos helped make Navy life bearable LeFevra recalls good times in service - October 12, 2015 - Al LeFevra took his father's advice and decided the inside of a Navy ship - not a foxhole - was where he wanted to serve.
Navy vet Rosswurm serves his country once again He helped lay a wreath at the Tomb of the Unknown Soldier - September 30, 2015 - Bruce Rosswurm was never injured in battle during the Vietnam War, but he was exposed to Agent Orange. He is battling throat cancer for which treatment options have been stopped.
Late veteran handled communication during Battle of Okinawa When Japanese soldiers bombarded U.S. troops, he called others to ask for aid - September 28, 2015 - Battle on Japan's doorstep was bloody - Richard Block's ship handled radar communications during the Battle of Okinawa
Eager to help out in war, Eisenhart joined WAC She was assigned an office job for which she handled classified documents - September 14, 2015 - "Many male soldiers felt women didn't deserve to wear a military uniform," said Charlotte Eisenhart.
WWII veteran recalls horrors of Buchenwald His group found hundreds of bodies there. - August 31, 2015 - "I never knew people could live like that," said Calvin Schultz of Fort Wayne upon reflecting on scenes he witnessed during the liberation of Buchenwald, a German concentration camp during World War II.
Arata participated in big operation postwar In memoirs, doctor tells of his experience monitoring radiation during atomic bomb tests - August 17, 2015 - For Dr. Justin Arata of Fort Wayne, the most significant part of serving in the Navy during World War II may have occurred after Japan surrendered.
Edwards was in first wave of troops to hit Normandy Navy Rhino barge driver recalls vulnerability, grim sights at Omaha Beach - August 3, 2015 - "When our ship went across the ocean to England in spring 1944, we were not told what we would do," said U.S. Navy veteran Alfred Edwards of Fort Wayne.
Fort Wayne World War II veteran just 'did what I was trained to do' His crew flew 75 missions without injury to them or their plane- July 20, 2015 - "By the time I was 21 years old, I knew people who had been killed in the war," Robert Raymond Kiester of Fort Wayne said of serving in the Army Air Corps during World War II. "I was scared often, but did what I was trained to do."
WWII veteran lost foot but not goal of teaching Deal with Army allowed him to finish year of college if he enlisted at Baer Field - July 6, 2015 - In 1942, the U.S. Army had a deal for Dale M. Pence, an education student at Huntington College. "I had completed two years of schooling," he said. "Everyone believed the war was winding down. Army officials told me that if I enlisted at Baer Field, they would allow me to finish one year of college."
Seaman on support vessel helped tend submarines N.Y. native served in Pacific Theater, then landed in Fort Wayne after the war - May 18, 2015 - When Max Joseph Graf enlisted in the U.S. Navy in December 1942, he had dreams of becoming a pilot. The Tarrytown, N.Y., native had been born in 1924 and graduated from high school at age 17 in 1941.
Army nurse forced to meet with soldier husband in secret They married in England in 1945 before shipping out to Japan - 101-year-old veteran shares personal story about treating shell-shock patients in England - May 4, 2015 - Mary "Polly" Adelaide Woodhull was in Taunton, England, when she wrote these thoughts in a letter to her parents on Dec. 26, 1942. She was newly arrived in England as part of the Army Nurse Corps, having enlisted a few months before.
Air Force major served in 3 wars before work at Pentagon Willis Colburn was a WWII gunner, Korea radar man, Vietnam cryptographer - April 20, 2015 - Willis Colburn had begun an agriculture degree at Cornell University in fall 1939 when he was drafted into the US Army Air Corps, the predecessor to the Air Force.
Medic served in strategic but desolate Alaska outpost Site key to control of northern Pacific sea lanes, Bluffton's Bill Sawyer recalls - April 6, 2015
Fort Wayne soldier helped guard Manhattan Project Private Albert Silk earned $79 a month protecting world's deadliest weapon - March 23, 2015 - Albert Silk holds his honorable discharge papers that he received after his World War II service, which involved patrolling at a base in New Mexico where secret work was done on what is now known as the Manhattan Project.
Soldier in Patton's Army helped free camp detainees in Austria - March 9, 2015 - Drafted soon after Pearl Harbor, Fort Wayne's Stan Freet knew something very simple on the battlefield in North Africa and Europe.
Army engineer built bridges but took a bullet in Pacific Bluffton man earned Purple Heart serving in Japan, Philippines 1943-46 - February 23, 2015 - Kermit George, a native of Hoytville, Ohio, had only been enrolled at Ivy Tech College in Fort Wayne as an engineering student
New Haven man flew bombing missions in Europe Turrett gunner won Purple Heart for shrapnel injury aboard B-26 in 1944 - February 9, 2015 - On July 8, 1944, Hubert Pensinger of New Haven was flying in a B-26 as part of a bombing mission after the D-Day invasion over Normandy, France.
Local writer collects the stories of area World War II veterans - November 6, 2014 - Author Kayleen Reusser of Bluffton brings their stories to life and tries to share them with current generations through her new book, "World War II Legacies: Stories of Northeast Indiana Veterans."
WW II Materials About this collection World War II changed everything in Indiana, either temporarily,or permanently. Men and women joined the military to face the uncertainty of war. Those at home planted Victory Gardens, contributed to scrap drives, bought war bonds and worked in factories. This growing collection illustrates the Hoosier story of WWII. At We Do History online digital collection by the Indiana Historical Society.
Other Articles
Other Sources of Information
Know Your Records: WWII Army Unit Records on November 15, 2013 Today's post is written by Kylene Woods, a processing archivist at Archives II in College Park.
Civilian Defense in World War II posted by Nancy McCammon-Hansen November 26, 2013 on History Center Notes & Queries blog.
Pearl Harbor Attack Newsreel and Archival Footage PublicDomainFootage YouTube video
December 6, 2011 Exactly seven decades ago Wednesday, about lunchtime for people in Fort Wayne, Clarence Cook was relaxing. He was in the Navy, and it was a Sunday, his only day off. So after breakfast he had taken off his shoes and laid down in his tiny bunk below deck for a nap. Then, a fire alarm went off, so Cook, as a member of a fire and rescue party that morning, grabbed a fire extinguisher and went on deck to see what was going on. He needed more than a fire extinguisher. Clarence Cook was aboard the USS Aylwin when the Japanese began their attack on Pearl Harbor. Read the rest of the story Date of infamy slowly fades away by Frank Gray of the Journal Gazette newspaper.
Key jobs were frozen for duration of war where employee couldn't be drafted, couldn't quit and couldn't be fired. Was discussed May 11, 2017 on You are positively from Fort Wayne, if you remember... Archived group on Facebook.
World War II Records Digitized by Amanda R Pritchard, posted May 31, 2022 on The Unwritten Record blog at The National Archives. World War II records from the Adjutant General's Office of the War Department (Record Group 407) have been digitized and are available to view and download from the National Archives Catalog. This series consists of maps and charts, overlays, city plans, aerial photographs, photomaps, pencil sketches, and architectural drawings relating to the European, Mediterranean, and Pacific theaters of war during World War II. The records were prepared by Allied armies, corps, divisions, and subordinate engineer components and collected by the Adjutant General's Office. Typical records found in this series include terrain studies, maps showing defenses, maps relating to military operations, maps showing engineer activities, maps showing roads and bridges, and maps showing administrative boundaries.
Housing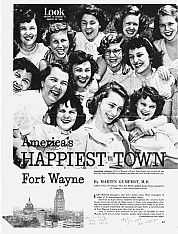 News-Sentinel file photo
Look magazine declared Fort Wayne
"America's Happiest Town" in 1949
To speed housing construction, many builders put up prefabricated homes, some of which could be assembled within a day. Most "prefab" homes came from General Industries' General Homes plant in Fort Wayne or the National Homes plant in Lafayette. General Homes' local plant, ironically, was built on the site of Camp Scott, which had held German prisoners during the war. "It was like a mission to house people," recalled Phillip H. Shirmeyer, whose father, the late Ralph Shirmeyer, became one of National Homes' highest-volume builders by constructing prefab homes in southeast subdivisions such as Mount Vernon Park. Prefabricated homes didn't offer much choice in size or style. National Homes' early models, for example, typically ranged from about 950 to 1,200 square feet, and cost about $6,000. "Today, couples with kids wouldn't even have a look at them," Phillip Shirmeyer said. "Back then, it was appreciated." The need for home lots stretched the city limits to the south and north. Subdivisions built during the late 1940s included Sherwood Heights, Mount Vernon Park, Harvester View, Anthony Wayne, Mauldin Amended and Woodhurst additions on Fort Wayne's south side. Building on the north side began with the North Highlands addition and exploded in the early 1950s. So great was the demand that the number of new homes built in Fort Wayne increased from 655 in 1946 to 1,003 by 1950. Copied from 1940-1949: IN THE SHADOW OF WAR Postwar era best, worst of times by KEVIN KILBANE of The News-Sentinel newspaper. Another article 1950-1959: DAYS OF CONFLICT, YEARS OF PROSPERITY North side boomed in postwar era has additional housing information. House + Home in November 1952 with house photos mentions Ralph Shirmeyer at least three times. This topic was discussed April 16, 2022 on Great Memories and History of Fort Wayne Private Facebook Group. BTW Fort Wayne has been called the Happiest Town at least three times!
Tin Village - Tiny Houses - McMillen Park Apartments
After the war, a Tin Village housing project of government troop barracks was constructed on Schele and McCormick Avenues near International Harvester for returning veterans. The empty barracks were burned down April 30, 1964 by the fire department. See January 2, 2017 "Tin Village" discussion with the 1964 newspaper article, May 8, 2017 "studio houses" discussion about possibly Sears house kits, "Tin Town" later again on May 8, 2017 and Pennsylvania Street 1940s housing January 4, 2018 on You are positively from Fort Wayne, if you remember... Archived group on Facebook. See also Tiny Houses near International Harvester. Similar small houses were built in the 1930s by the Fort Wayne Housing Authority and the McMillen Park Apartments in the 1940s for returning World War II veterans. Someone who lived in a Tin Village house in the 1950s started a discussion July 22, 2019 on You are positively from Fort Wayne, if you remember... Archived group on Facebook.
Rationing was discussed May 9, 2017 on You are positively from Fort Wayne, if you remember... Archived group on Facebook.
John Oscar Silvey, 96, died February 16, 2016, born May 5, 1919, grew up in Oak Hill, Ohio. He enlisted in the Army during World War II and was sent to study courses in advanced radar at MIT and Harvard. That information became invaluable when he was called upon to head up army communications for the assault on Iwo Jima. February 28, 2016 obituary.