People of Allen County, Indiana
H Surnames
Hagan, Molly
Born August 3, 1961, in Minneapolis, Minnesota, the daughter of Mary Elizabeth (née Henslee) and John Robert Hagan. She moved to Fort Wayne when she was 4 after her father, a commercial illustrator, accepted a job as art director for Eckrich. She attended Wayne then South Side High Schools, and attended Northwestern University. Was on television shows like "Murder, She Wrote," "The Golden Girls," "Diagnosis Murder," "Columbo" and "Grey's Anatomy" working with stars like Angela Lansbury, Dick Van Dyke, Peter Falk, William Shatner and Betty White. Read more  In good company 'Sully' actress honed her talent here by Michele DeVinney published November 25th, 2016 in Fort Wayne Magazine. She co-starred in films Code of Silence (1985), Some Kind of Wonderful (1987), The Dentist (1996) and Election (1999), and also known for her roles in television on Herman's Head (1991–1994) and Unfabulous (2004–2007). From Molly Hagan on Wikipedia, The Free Encyclopedia. The article Catching Up with Trek's First Vorta, Molly Hagan published April 7, 2017 on startrek.com was discussed with several people who went to school with her April 8, 2017 on You are positively from Fort Wayne, if you remember... Archived group only visible to existing members on Facebook.
Haley, Bill
Bill Haley on Wikipedia, The Free Encyclopedia, and His Comets, was an American rock and roll band that was founded in 1952 and continued until Haley's death in 1981. Many sources claim Haley played in 1946 with the Down Homers a country western band based in Fort Wayne. This is disputed on The Bill Haley Vogue Myth that claims Kenny Roberst the lead singer surprised everyone in 1999 when he stated Bill Haley was Not on the Vogue session according to The Association of Vogue Picture Record Collectors. This was mentioned in the PBS WFWA program "Buck Lake Ranch: Nashville of the North" opened in 1947. Mentioned January 10, 2023 on True Fort Wayne Indiana History on Facebook.
Hall, Dede
Passed away on June 25, 2012, her June 28, 2012 obituary at Legacy.com. Hall was married to Sam Hall, son of Don Hall, who founded the chain of local restaurants bearing his own name. They include Don Hall's Gas House Restaurant and Don Hall's drive-in restaurant. Former Fort Wayne councilwoman Dede Hall dies at 62 by Christian Scheckler published June 26, 2012 and slightly different version published June 27, 2012 on The News-Sentinel newspaper.
Hall, Donald
1915-1972, successful family meat market on South Calhoun Street led to 1946 restaurant in Quimby Village, added drive-in with carhops, then expanded into a dozen restaurants during the 1960s-70s. Discussed July 29, 2015 on You know you've lived in Fort Wayne too long when... Private Facebook group. 1946 Don Hall's Drive-In opened at 1502 Bluffton Road, the downtown Gas House Restaurant opened in 1955, now 11 Fort Wayne-area restaurants and one in Indianapolis from Hall's legacy endures Family, restaurants have prospered for 70 years by Steve Warden published June 12, 2016 in The Journal Gazette newspaper. Don Hall is Fort Wayne's Biggest Name in Dining posted on January 24, 2012 by Amy L. on Visit Fort Wayne blog.
Hall, Sam
Son of Don Hall, died April 8, 2017, co-owned the Hall's restaurant chain with his brothers Don "Bud" Hall II and Jeff Hall. Sam Hall of Hall's Restaurants remembered for humbleness, listening skills published April 9, 2017 in The News-Sentinel newspaperand discussed April 9, 2017 on Facebook. Photo of Halls brothers posted April 11, 2017 by The Wood Shack Architectural Antiques on Facebook. Bidding farewell to a member of 'old Fort Wayne' published April 15, 2017 on The Journal Gazette newspaper.
Hall, Thomas
A farmer was murdered in his Huntertown home by an intruder published in August 3, 1896 Fort Wayne News newspaper posted August 2, 2017 onthe original Great Memories and History of Fort Wayne, Indiana page on Facebook.
Hamilton Family
September 14, 2015 post by The History Center on Facebook:

You may be familiar with the statues of the Hamilton sisters in Headwaters Park but did you know the History Center is home to a collection of artwork by the Hamilton Family? Here are three pieces by Jessie Hamilton. Two are new to the collection as of this year and one has called the History Center home for many years. Enjoy!
Schlesinger Library on the History of Women in America
image
MC278-791-4
Four Hamilton sisters: Edith, Alice, Margaret and Norah, ca. 1890-1895.
on
flickr
.
Hamilton, Alice
January 12, 2016 post by The History Center on Facebook:

The name Alice Hamilton is widely known due to her involvement with movements such as the Jane Addams Hull House. However, Alice is just one of many highly accomplished Hamilton women. Fort Wayne owes much to this artistic, activist family. Learn more in 200@200 - Iconic Fort Wayne: The Extraordinary Hamilton Women [1910s Margaret Hamilton Print]
One of the Hamilton Sisters. Alice Hamilton - February 27, 1869 – September 22, 1970, second child of Montgomery Hamilton (1843–1909) and Gertrude (née Pond) Hamilton (1840–1917), was born on February 27, 1869, in Manhattan, New York City, New York. She spent a sheltered childhood among an extended family in Fort Wayne, Indiana, where her grandfather, Allen Hamilton, an Irish immigrant, had settled in 1823. He married Emerine Holman, the daughter of Indiana Supreme Court Justice Jesse Lynch Holman, in 1828 and became a successful Fort Wayne businessman and a land speculator. Much of the city of Fort Wayne was built on land that he once owned. Alice grew up on the Hamilton family's large estate that encompassed a three-block area of downtown Fort Wayne. The Hamilton family also spent many summers at Mackinac Island, Michigan. For the most part, the second and third generations of the extended Hamilton family, which included Alice's family, as well as her uncles, aunts, and cousins, lived on inherited wealth. Copied from Alice Hamilton on Wikipedia, The Free Encyclopedia.
Hamilton, Edith
One of the Hamilton Sisters. Edith Hamilton was born August 12, 1867, Dresden, Saxony [now in Germany]—died May 31, 1963, Washington, D.C., U.S. The eldest child of American parents Gertrude Pond (1840–1917) and Montgomery Hamilton (1843–1909). Shortly after her birth, the Hamilton family returned to the United States and made their home in Fort Wayne, Indiana, where Edith's grandfather, Allen Hamilton, had settled in the early 1820s. Edith spent her youth among her extended family in Fort Wayne.
August 12, 2023 post by Ray E. Boomhower on Facebook:

Happy birthday to Fort Wayne's own Edith Hamilton, born on this day in 1867. She earned fame as "the greatest woman Classicist" with her books, including "The Greek Way," which Robert Kennedy turned to for comfort after the death of his brother John Kennedy. "I came to the Greeks early," Hamilton told an interviewer when she was 91, "and I found answers in them. Greece's great men let all their acts turn on the immortality of the soul. We don't really act as if we believed in the soul's immortality and that's why we are where we are today."
Hamilton Sisters
Edith, Alice, and Agnes Hamilton shown in
These are the Hamilton Women of Fort Wayne
statues at
Headwaters Park
-
IMG_7739
by
Blackavar Lion
on
flickr
.
In 2000 the city of Fort Wayne, Indiana, erected statues of two Hamilton sisters, Edith and Alice, along with their cousin, Agnes, in the city's Headwaters Park. These are the Hamilton Women of Fort Wayne memorial in Headwaters Park is found at The Historical Marker Datatbase HMdb.org. Edith (seated), scholar of Greek and Roman mythology, wrote the classic text, The Greek Way. Alice, Edith's sister (standing) is Dr. Alice Hamilton who made history by being the first woman on the faculty of Harvard Medical School, influential industrial physician, advanced the reform of unsafe working conditions in our nation's factories. Agnes (with young child), their cousin, accomplished painter and child advocate, worked in settlement houses and founded Fort Wayne's YWCA. The Hamilton women have made lasting contributions to the well being of citizens on both local and national levels. Fort Wayne is proud of them.
Hamilton, Garry A.
February 27, 2019 post by the Fort Wayne Police Departmenton Facebook:

We finish our salute to black officers during Black History Month with Chief Garry Hamilton. He was the first black officer to be promoted to the rank of Chief of Police.Chief Hamilton began his career with the Fort Wayne Police Department when he was commissioned on August 26, 1994. During his career he served as a patrolman and a detective. He spent most of his time as a detective in the cold case unit. He was promoted to Sergeant in March 2006 and served in the Internal Affairs Division until his promotion to Captain. As Captain he served in the Southeast Division and as liaison to the Allen County Prosecutor's Office. He was promoted to Deputy Chief in December 2010. As Deputy Chief he served in both the Northeast and Southeast Divisions. He was promoted to Chief in January 2014 and served as Chief until 2016. During his tenure as Chief he rejuvenated the Community Relations Division to promote transparency with the community and reach out to all citizens of Fort Wayne. He stepped down as Chief in August 2016 and was re-appointed to Deputy Chief of the Northeast Division/Community Relations Division. As of March 2017 Deputy Chief Hamilton has served in the Investigative Division but still remains active in community affairs.

Photos of his retirement party were posted June 6, 2019 by the Fort Wayne Police Department on Facebook.

The first black chief in the Fort Wayne Police Department's 152-year history. See Chief works to build trust in city's police Says Ferguson changed perceptions by Jeff Wiehe published January 3, 2016 in The Journal Gazette newspaper and now on the Internet Archive Wayback Machine.
Hand Farm
150-year-old Hand farm receives Hoosier Sesquicentennial Award by Vivian Sade published September 22, 2015 in Churubusco News now on the Internet Archive Wayback Machine.

HUNTERTOWN — The Hand family was recently recognized by the Indiana State Department of Agriculture and other state officials for their northwest Allen County farm, which has been owned and operated by the family for 150 years.

Carroll and Shirley Hand stand next to a carved tree stump in their yard. When the tree was partially destroyed by storms, Carroll and Shirley decided preserve the stump.

The Hathaway Road farm, currently owned by Carroll and Shirley Hand, was established in 1853 by James Vandolah, the grandson of matriarch Phebe Hand, an early settler in Eel River Township.

Carroll and Shirley Hand are the sixth generation to take over the farm. Carroll just celebrated his 80th birthday.

Last month, Lt. Gov. Sue Ellspermann and Ted McKinney, director of the Indiana State Department of Agriculture, presented the Sesquicentennial Award in recognition of the Hand family's longtime commitment to agriculture. The awards are presented to farms owned by the same family for at least 150 consecutive years. The farms must consist of more than 20 acres or produce more than $1,000 of agricultural products per year.

In Carroll and Shirley Hand's dining room, the walls are adorned with photos and awards showcasing the family's rich agricultural roots.

Carroll and Shirley Hand (right center) hold their state certification, surrounded by their children and grandchildren, after receiving the Hoosier Homestead Sesquicentennial Award at the Indiana State Fair in August. The award was presented by Lt. Gov. Sue Ellspermann, far right, and Ted McKinney, director of the Indiana State Department of Agriculture, in back, next to the flag. Also on hand for the ceremony was Dennis Kruse, R-Auburn, third from right.

The couple lives in a new home built on the site of the original 1900 farmhouse which was torn down after sitting vacant for years and being deemed unsafe. The outbuildings are the original homestead outbuildings, but the original basement barn was destroyed by fire in 1949.

The farm, down a long lane and bordered by woods to the south, used to be considered very remote.

But development is rampant in northwest Allen County and the Hands are not immune.

"Notice right there where you can see through the woods? It was never like that before," Carroll said, pointing at a clearing in the midst of the trees. "That's Carroll Creek housing addition and they are in the second phase, getting ready to build more homes."

"That woods used to be very thick," he said." My grandfather Jesse Hand used to grade Hand Road with a plow and team of horses and Fort Wayne was eight miles away."

Fort Wayne's border is now less than a mile away.

Not far down the road is the fairly new Carroll Middle School and just beyond that is the site of the proposed wastewater treatment plant for the town of Huntertown. If the town gets final approval from the state, the discharge will be pumped down Hathaway Road, past Hand's farm, and into the Eel River off of Johnson Road. The Hands are part of the more than 50 people who have appealed the proposal.

"This place doesn't look anything like it used to. We used to be pretty far from everything," Carroll said. "Before the school was built, this was a gravel road," he said of Hathaway.

Hathaway Road is now so heavily traveled that a traffic light was installed at the S.R. 3 intersection.

Despite the development, off the road and in the midst of Hand's wooded property, time seems to have stood still.

In the yard, near the front door to the home is an old tree trunk that has been carved with the image of wildlife — owls and a squirrel — and an Indian. A story that has been passed down for decades in the Hand family is that one day Carroll's great-great grandfather, George Washington Hand, was up late one night and was startled to look out the window and see an Indian resting against the tree.

His grandfather went outside and offered the Native American a drink of water, which he accepted. He spoke a little English — enough that Carroll's great-great-grandfather knew that he was following the Eel River to join up with his tribe.

The tree was struck by lightening years ago and Carroll had secured it with a cable so that it would not fall on the house. But another severe storm destroyed most of the tree, and the Hands knew it had to come down.

They decided to save as much of the trunk as they could and hired a local artist to carve the image of an Indian and wildlife into the trunk.

Carroll is one of eight children and although he no longer farms his own property — it is farmed by Gregg Nelson — he often works on his brother-in-law's 2,000-acre farm in Wells County. Another brother farms in Huntington County.

Answering the question Carroll hears most often, he said, "Yes, Hand Road is named after our family. But no, I am not named after Carroll Road."

The Hands plan to place the new Hoosier Homestead Sesquicentennial Award in a place of honor next to the Centennial Award they received 50 years ago.

The Hoosier Homestead Award program was established in 1976 by the Indiana State Department of Agriculture to honor the state's rich agricultural heritage. Throughout the history of the award, more than 5,000 farms have received the honor.

The awards were presented on Aug. 15 at the Indiana Farm Bureau building during the Indiana State Fair. Lt. Gov. Sue Ellspermann and Ted McKinney, director of the Indiana State Department of Agriculture, presented the awards to 67 families including, in Allen County, a Sesquicentennial Award to the Hand family, a Centennial Award to the Ott farm and a Sesquicentennial Award to the Mooney-Grodrian farm.

Ellspermann, who is also the Secretary of Agriculture and Rural Affairs, said the Hands and other award winners are part of Indiana's prolific farming heritage. [Hoosier Families Honored at the Indiana State Fair Three families received award for 200+ consecutive years of ownership].

"For nearly 40 years, the Hoosier Homestead program has provided a wonderful opportunity for our state to recognize the rich heritage of farming in Indiana and how Hoosier family farms have been passed down from generation to generation," Ellspermann said in a statement.

"It's even more fitting that we are celebrating the Year of the Farmer at the Indiana State Fair as a way to honor and thank Hoosier farmers for being an integral part of our states legacy and future," she said.

Shirley Hand agreed. "It was really nice that we received the award during the Year of the Farmer at the Indiana State Fair," she said.

Carroll and Shirley have three sons, Greg, Bryan (Julie) and Darwin (Kelly) and one daughter, Susan (Mike) Stockel, and six grandchildren. In his spare time, Carroll enjoys competing in tractor pulls.

Although none of their children farm the land, the Hands are hopeful that the family will retain ownership of the farm and pick up another Hoosier Homestead recognition — this time a Bicentennial Award — in 50 years.
Hanna, Ruth (Budd, Carpenter)
March 10, 2023 post by Genealogy Center on Facebook:

March is Women's History Month! Each Friday this month, we are featuring stories to highlight the contributions and work of Fort Wayne women over the years! Today, we are featuring Ruth Hanna, a Fort Wayne singer and aerialist!

Ruth Budd was born Ruth Carpenter in 1895 to Wallace and Eva in Sandwich, Illinois. Ruth also had a younger brother, Giles. The family moved to Cleveland, Ohio and along the way, they changed their name from Carpenter to Budd, which they used as a stage name. Ruth and her brother, Giles were part of the family's vaudeville act, which they called the "Aerial Budds". She and her brother had a double trapeze act, singing and performing stunts while on the trapeze.

"The family then moved from Ohio to Aurora, IL. They family traveled around and the sibling duo performed in places like the Hammerstein Theater and the Hippodrome in New York. They performed overseas in Europe and aboard the ill-fated Lusitania".

In 1909, Ruth met Ray Hanna. He worked as an electrician at the Paramount Theatre in Fort Wayne. The two began a long-distance relationship.

In 1914, Ruth's brother Giles was injured when he missed Ruth's hands and broke his hip. He could no longer perform so Ruth continued solo, swapping out the trapeze for a "rings" act. In 1919, Ruth made her film debut - she starred in the 1919 silent film "A Scream in the Night". "She wore a monkey costume and swung on the trapeze. She broke three bones, dislocated her collarbone and a shoulder, and sprained her knee". That was her last film.

18 years after beginning a long-distance relationship with Ray Hanna, Ruth retired from performing and settled in Fort Wayne with him. She ran grocery stores and cigar stands in the city.

Ruth Hanna died December 11, 1968 at Parkview Hospital in Fort Wayne at the age of 73. She is buried in Greenlawn Memorial Park in Fort Wayne with her husband.

(1968, December 12). Ruth Hanna, Ex-Aerialist Dies at 73. Journal Gazette, p. 13.

(1992, March 4). Founding Mothers. Journal Gazette.American Association of University Women, Fort Wayne Branch. (1988). Memorable fort wayne women: A women's history project of american association of university women, Fort Wayne, Indiana branch.

Ancestry.com. U.S., Passport Applications, 1795-1925.
Hanna, Samuel
Born in Kentucky in 1797, he grew up around Dayton, Ohio and came to Fort Wayne in 1819.
June 13, 2022 post with photos by The History Center on Facebook:

By the middle of the 19th century, many of Fort Wayne's founding generation had passed away. On June 13, 1866, Hanna's funeral was held in Fort Wayne in the Hanna Homestead. The funeral was one of the largest ever seen in the region and was estimated by the Fort Wayne Daily Gazette to be attended by 4,000 people. Following the funeral, 1,200 people proceeded from the home to the family burial plot at Lindenwood Cemetery. The report in the newspaper the following day ended with these words: "May his memory ever be cherished fresh and fragrant, as the leaves of June, beneath which we lay him down to rest."
Allen County Public Library Digital Collections photo.

Photos of Hanna Homestead now Hanna Homestead Park located at the intersection of Gay Street and Lewis Street were posted August 9, 2017 on You are positively from Fort Wayne, if you remember... Archived group only visible to existing members on Facebookand The Hanna homestead by Kevin Leininger published September 19, 1982 in Cityscapes archives of The News-Sentinel newspaper. Hanna Homestead Park website states it is located at the intersection of Gay Street and Lewis Street. In 1962 the old Hanna Homestead house was torn down. The home, on what was originally a 10-acre tract, was built in 1839 by Samuel Hanna. Before the Homestead was torn down it was used as the home for crippled children. Efforts were unsuccessful to preserve the home as a historic landmark. The property was donated to the Fort Wayne Community Schools by Eliza Hanna Hayden, in memory of her father, Samuel Hanna. The Fort Wayne Community Schools gave Hanna Homestead to the Fort Wayne Parks and Recreation Department by Quit Claim deed on January 10, 1966. The property was then developed into a park. See article about the Hanna Family portrait Off the Cuff: Fort Wayne's Past in a Portrait by K Thompson published August 13, 2018 on Articulate From the Fort Wayne Museum of Art blog. The life and character of Hon. Samuel Hanna Google 51 page ebook. HANNA FAMILY COLLECTION, CA. 1880-1920S, Collection # P 0789 BV 5461-5462 at the Indiana Historical Society.
Hansen, James
Auburn University, is fielding interview requests from around the world, following last weekend's death of an American hero. As author of the only authorized biography of Neil Armstrong, the first man to walk on the moon, Hansen has been asked to share anecdotes with audiences in Australia, China, Chile and Turkey. The Fort Wayne native also was interviewed Tuesday evening at his sister's local home by a crew from the Discovery Channel, which is putting together an hourlong special on Armstrong that could air as early as tonight. From Historian, city native earned Armstrong's trust to pen bio August 30, 2012 Sherry Slater | The Journal Gazette. See James Hansen page on Wikipedia, The Free Encyclopedia. Movie based on the book Ryan Gosling to Portray Neil Armstrong in Universal Biopic 'First Man' by Robert Z. Pearlman published December 30, 2016 on Space.com. Simon & Schuster page.
Happy the Hobo
Happy's Place - local television clown on channel 55 WFFT had 4 different "hobos" - Happy the Hobo on Facebook. Former channel 55 WFFT television show, from 1981 to 1997 was a live program, so no recordings of Happy's Place were saved by WFFT, however there are some episodes on You Tube. See Mike Fry.
Happiest People
News-Sentinel file photo
Look magazine declared Fort Wayne
"America's Happiest Town" in 1949
Fort Wayne has been labeled the Happiest People several times over the years. In 1910, a short book with lots of photos Fort Wayne with might and main : Indiana's busiest, happiest city (1910) compiled and published by Ralph E. Avery now on Archive.org. Griswold-Phelps labeled Fort Wayne Indiana's Happiest City in their 1914 Handbook and Guide to Fort Wayne. And August 30, 1949 Look magazine called Fort Wayne America's Happiest Town.
Hardin, Colonel John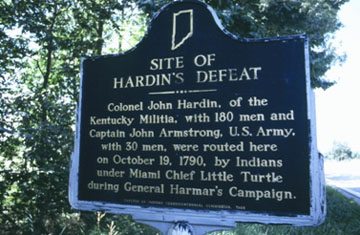 Site of Hardin's Defeat photo
A colonel with the Kentucky militia Marker gone, bridge going up at site of battle Militia colonel's dubious role in local history has been forgotten by Kevin Leininger published August 17, 2013 in The News-Sentinel newspaper. The marker used to say: Colonel John Hardin, of the Kentucky Militia, with 180 men and Captain John Armstrong, U.S. Army, with 30 men, were routed here on October 19, 1790, by Indians under Miami Chief Little Turtle during General Harmar's Campaign. Also known as the Battle of Eel River. American Survivors that retreated back to General Harmar's camp would have found him at an Indian village called Chillicothe. This location would have been south of the Catholic Cemetery on Lake Avenue on both sides of the Maumee River west of Coliseum Blvd., possibly where the retention ponds are now located. Copied from an October 18, 2022 post by The Bones of Kekionga post on Facebook which includes a map of the current Lakeside Neighborhood. The Site of Hardin's Defeat Reviewed in 2010. Location: This marker was damaged and removed. It will not be replaced due to text inaccuracies by the Indiana Historical Bureauon IN.gov. Erected by Indiana Sesquicentennial Commission, 1966 . Site of Hardin's Defeat marker on THE HISTORICAL MARKER DATABASE HMdb.org. See General Harmar and The Battle of Kekionga.
Hardy, James W. III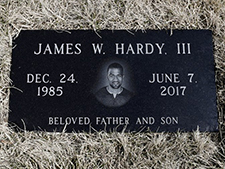 December 24, 1985- June 7, 2017, 31-years old. Two sport athlete at Elmhurst High School and Indiana University. Indiana Mr. Basketball runnerup. Three season NFL football player with the Buffalo Bills. Body found June 7, 2017 in the Maumee River. Remember the good – James Hardy leaves lasting impact Former Elmhurst, IU standout more than just an athlete by Pete DiPrimio published June 8, 2017 in The News-Sentinel newspaper. 'Sports Illustrated' article examines life and death of James Hardy posted November 14, 2018 on Fort Wayne's NBC Focused on the Fort originally WKJG. How Did We Let James Hardy Slip Through the Cracks? When the holder of every Indiana receiving record—the 41st pick in the 2008 NFL draft—turned up dead in a Fort Wayne river, friends and family faced some tough questions. By Brian Burnsed published November 14, 2018 on SportsIlustrated.com. James Hardy (American football) Wikipedia, The Free Encyclopedia. James Hardy, III on Find A Grave
Hardy, Vicki
Photo for Cooking Magic bags in April 1972 Woman's Day magazine photo and discussion posted April 24, 2017 on You are positively from Fort Wayne, if you remember... Archived group only visible to existing members on Facebook. James Hardy's last words to mom: 'If I don't go, I'm going to die tonight' by Angelica Robinson published June 12, 2017 on CBS WANE-TV NewsChannel 15. Hardy's family, friends give last goodbyes Life, 'beautiful smile' celebrated at services by Austin Candor published June 18, 2017 in The Journal Gazette newspaper. Hardy's death a suicide, coroner rules published July 19, 2017 in The Journal Gazette newspaper.
Hargan, Steve Lowell
Born September 8, 1942 in Fort Wayne, son of Lowell and Florence Hargan, excelled in basketball and football at South Side High School, professional baseball player signed with Cleveland Indiana in 1961. See Wikipedia. Discussed May 21, 2017 on You are positively from Fort Wayne, if you remember... Archived group only visible to existing members on Facebook.
Hargrave, Eugene Franklin Bubbles
Wikipedia, The Free Encyclopedia shows Eugene Franklin "Bubbles" Hargrave (July 15, 1892 – February 23, 1969) was an American catcher in Major League Baseball who played for the Chicago Cubs, Cincinnati Reds, and New York Yankees. He won the National League batting title in 1926 while playing for Cincinnati. Bubbles' younger brother, Pinky Hargrave, was also a major league catcher.
Harmar, General Josiah
Harmeyer, Ron
68, of Leo, Indiana. passed away on Friday, Sept. 28, 2012. Born September 18, 1944 in Fort Wayne, Indiana he was the son of the late Harvey and Bernice Rodermund Harmeyer. December 21, 1968 in Mansfield, Ohio he was married to the former Kathleen M. Ball. He was Chief Photographer at WANE TV in Fort Wayne where he worked for 48 years. Surviving are his wife, Kathy Harmeyer of Leo; two children, Joel Matthew (Andrea) Harmeyer of Fort Wayne; and Jenna (Adam) Shepard of Kansas City, Mo. Remembering Ron Harmeyer by Mark Mellinger published October 1, 2012 CBS WANE-TV NewsChannel 15 blog. See his September 30, 2012 obituary at Legacy.com. See his Memorial at Find A Grave.
Harper, Edward
March 17, 2019 post by Mitch Harper on Facebook:

Happy Saint Patrick's Day.

My great-grandfather, Edward (shown here), was born the son of Irish native William Harper.

William emigrated from County Tyrone, Ireland in 1831 and settled in Jefferson Township, Allen County, Indiana in 1836.

William was born in Ireland on March 10, 1810. His son, Edward, was born March 26. 1856. Edward's older brothers served in the Union Army during the Civil War.

See Harper's on page 643 of the book The pictorial history of Fort Wayne, Indiana : a review of two centuries of occupation of the region about the head of the Maumee River by Griswold, B. J. (Bert Joseph), 1873-1927; Taylor, Samuel R., Mrs on Archive.org.
Harrison, William Henry
See May 13, 1800 Timeline. "Harrison was the last president who was born a British subject but he grew up an American who fought the British in the War of 1812." Discover the Remarkable Story of William Henry Harrison From a February 25, 2025 post by National Society United States Daughters of 1812 on Facebook.
May 13, 2018 post by Indiana Historical Bureau on Facebook:

On May 13, 1800, President John Adams appointed William Henry Harrison as governor of the Indiana Territory, which at that time included parts or wholes of the future states of Illinois, Wisconsin, Michigan, and Minnesota. Harrison served in this role for twelve years, during which he sought local recommendations for appointees, encouraged the development of representative government in the new territory, and sought to extinguish American Indian claims and remove them from the territory. Harrison, a Virginia-born patrician, tried unsuccessfully to introduce slavery into the territory, despite the Northwest Ordinance's prohibition against it. In 1811, he led a military force against Tenkswatawa near Prophet's Town. Tactically, the battle is often viewed as a draw, but the outcome had significant geopolitical ramifications which affected the strength of the pan-Indian alliance, influenced the forthcoming War of 1812, and many years later led to Harrison's ascension to the presidency with the memorable campaign slogan, "Tippecanoe and Tyler Too."

Learn more about William Henry Harrison here: Indiana Territorial Governor William Henry Harrison (1773 - 1841) 
February 21, 2023 post by Indiana Historical Bureau on Facebook:

#OTD in 1841, William Henry Harrison, former Governor of the Indiana Territory, and his family visited a Washington D.C. studio to sit for this silhouette portrait, created by the famous French artist August Edouart. President-elect Harrison had arrived in the capital just over a week earlier to deliver his inaugural address to Congress in which he promised lawmakers not to impede their progress with his own agenda. He stated: "Indeed, I hold all the above principles subject to the will of the majority and shall conclude this partial development of my plan of government with the assurance that whatever measure a majority of your community may propose will receive my sanction, as I do not allow my oath to support the Constitution to lay me under any foolish scruples in opposition to the Legislative will." [Punctuation edited for clarity]. Harrison was the only president elected from the Whig Party and he promised to be a popular one, having won almost four times as many electoral votes as his opponent Martin Van Buren, as well as the popular vote in nineteen (out of twenty-six) states. President Harrison took office March 4, 1841 but served for only thirty-two days before his death from pneumonia. However, this was not the end of the Harrisons' presidential ambitions. Also pictured in the portrait here, second from left, was William Henry Harrison's seven-year-old grandson, Benjamin Harrison, who would become the 23rd President of the United States in 1889. Learn more about William Henry Harrison through the University of Virginia's Miller Center: https://millercenter.org/president/harrison.

Original Cut Silhouettes of William Henry Harrison and Family, February 20, 1841, courtesy of the Indiana Historical Society via Indiana Memory.
He was elected President of the United States in 1840. During the campaign, James P. Giffing published Hero of Tippecanoe; or the Story Life of William Henry Harrison the Archive.orgfrom the Lincoln Collection.
He died April 4, 1841 after serving only 31 days, historically claimed due to pneumonia. Funeral service was held April 7, 1841 in the East Room of the White House. He was the first Congressional delegate from the U.S. Northwest Territory, governor of the Indiana Territory, and a decorated brigadier general in the War of 1812.
Science Rewrites the Death of America's Shortest-Serving President William Henry Harrison may have died of typhoid fever by Colin Schultz published April 1, 2014
What Really Killed William Henry Harrison? by Jane McHugh and Philip A. MacKowiak published March 31, 2014 in The New York Times. Was one of only five Presidents to have a beard, and all were Republicans. Indiana claims two Hoosier presidents – William Henry Harrison and his grandson, Benjamin Harrison.
Indiana and the White House by William Kelly published by the White House Historical Association.
William Henry Harrison biography at whitehouse.gov posted April 4, 2018 on Indiana Historical Bureau on Facebook.
Harter, Randolph L.
Collector of local vintage postcards and history reference materials for over 35 years.
Hartman, Ruth "Rocky" Kramer
An original member of the Fort Wayne Daisy baseball tean in All-American Girls Professional Baseball League in the 1940s and a champion sheep breeder, died November 9, 2015 in Reading, Pennsylvania. She was 89. She was a member of the Major League Baseball Hall of Fame in Cooperstown, N.Y. Local story Former Fort Wayne Daisy dies at 89 by Associated Press published November 11, 2015 in The Journal Gazette newspaper. Longer story with photo Remembering Ruth Hartman: 'In a League of Her Own' publshed November 11, 2015 and updated story Ruth Hartman dies after weekend accident publshed November 12, 2015 both by Dan Kelly in the Reading Eagle newspaper
Hatch, Austin
Born October 18, 1994, survived two plane crashes, son of the late Dr. Stephen killed June 24, 2011 in Charlevoix, Michigan just two weeks after Austin, a 6-6 wing man at Fort Wayne (Ind.) Canterbury High School, had verbally committed to play basketball at Michigan, and late Julie (Siwik) Hatch who with children Lindsay Katherine and Ian Michael were killed in a 2003 plane crash. Austin Hatch keeps faith after plane crashes by David Leon Moore published November 21, 2013 in USA Today Sports. Austin Hatch Michigan Basketball page. Two-time plane crash survivor Austin Hatch scores first point for Michigan by Justin L. Abrotsky published December 23, 2014 on USA Today. See Austin Hatch surrounded by support Michigan basketball recruit who survived two fatal plane crashes makes progress by Elizabeth Merrill published October 10, 2011 on ESPN.com, Stephen James and Kimberly Dawn Hatch Legacy.com obituary Kimberly Dawn Hatch, January 23, 1967 - June 24, 2011, D.O. McComb and Sons obituary. See ESPN video SC Featured - Miraculous: The Austin Hatch Story published February 7, 2015. Hatch, Austin - in June 2011, just 10 days after verbally committing to play for the Michigan Wolverines basketball team, his father and stepmother were killed in a crash in Charlevoix, Michigan, that left him in a coma for roughly eight weeks with a traumatic brain injury. A former Canterbury High School basketball player, he survived two plane crashes. He moved from Fort Wayne to Los Angeles, California to live with an uncle and be near his grandparents. His mother, Julie, and siblings, Lindsay and Ian, were killed in a 2003 air plane crash in which he and his father survived. Austin survived a second plane crash that killed his father, Stephen, and stepmother, Kim, and nearly took his life in June 2011. Austin Hatch reveals strong character in news conference He talks about his long road back from plane-crash tragedy by Reggie Hayes published November 21, 2013 on The News-Sentinel newspaper. November 21, 2013 3:00 a.m. Hoops bring hope after tragedies by Greg Beacham of the Associated Press published November 21, 2013 in The Journal Gazette newspaper. Several videos on Austin Hatch breaks his silence by Greg Beacham, AP Sports Writer on CBS WANE-TV NewsChannel 15. Austin's first basket attempt in three years for his California high school team is a three pointer. When his team celebrates they recieve a technical foul. See Austin Hatch caps HS comeback January 9, 2014 on ABC News. Austin Hatch discusses father, faith, and future two part video by waneglennmarini published May 24, 2016 by CBS WANE-TV NewsChannel 15.
March 24, 2018 post by CBS Sports on Facebook:

He's a motivator. He's an inspiration. He's a Michigan Man.

You may have heard of Michigan Basketball's Austin Hatch, who survived two plane crashes. For Austin, his incredible story of perseverance is only just beginning.
September 21, 2023 post by WANE 15 on Facebook:

Motivational speaker Austin Hatch shared his story with high school students this morning.
Hatfield - McCoy Feud
Connection in nearby Columbia City, Whitley County, Indiana. Hazel Thompson of Columbia City has a photo showing Devil Anse Hatfield with Thompson's father, Isom Daniels and grandmother Allie Hatfield Norden in the newspaper article Offspring won't shy from infamous feud by Frank Gray of the Journal Gazett June 17, 2012.
Haudenschild, Mark A. II
Washington Township volunteer firefighter killed November 2012 in a fire truck crash. His line-of-duty death was the first in the Washington Township Fire Department's 67-year history. The last Fort Wayne-area firefighter killed in the line of duty was Harry Stapleton with the Wayne Township Fire Department in 1975. On Sunday night, Haudenschild was driving a tanker truck south on Hillegas Road on his way to a brush fire in the 4300 block of Butler Road. He tried to make a right turn to go west on Butler, but the truck rolled several times, hitting utility poles. The truck came to rest on its side, just off Hillegas, about 100 yards south of the intersection. Haudenschild, a 26-year-old husband and father of two young children, was ejected and pinned under the wreckage. He died at the scene. The crash remains under investigation. A Fort Wayne native, Haudenschild had been with the volunteer department for five years and held the rank of assistant chief engineer. From Services Saturday for volunteer firefighter November 14, 2012 by Archie Ingersoll The Journal Gazette newspaper. Mark A. Haudenschild II. Procession and Funeral Procession and Procession from The Chapel church to Riverview Cemetery — Mark A. Haudenschild II. Procession (44 photos) on D.O. McComb and Sons Funeral Home Facebook photo albums. See his D.O. McComb and Sons Funeral Home obituary and Legacy.com obituary. November 18, 2012 3:00 a.m. The third and final bell 1,000 people pay their respects to fallen volunteer firefighter by Jaclyn Youhana of The Journal Gazette newspaper.
Hawfield, Michael
Local historian wrote 23 articles for the 1994 Fort Wayne Bicentennial published in the I Remember History online tour of Summit City history from the archives of The News-Sentinel newspaper.