S Named Places in Allen County, Indiana
Saint Joseph Hospital
Building teardown began in 2022 for a parking lot for the new downtown Lutheran Hospital 702 Van Buren Street. St. Joseph Hospital Historical Timeline through 2008 from Wayback Machine site. Another timeline is St. Joseph Hospital has a long history of care a staff report with photos published September 21, 2017 and New downtown Fort Wayne hospital won't bring job cuts by Bob Caylor published September 21, 2017 in The News-Sentinel newspaper. www.stjoehospital.com on the Internet Archive Wayback Machine. Over 250 mentions in a St. Joseph Hospital search including an aerial postcard image St. Joseph Hospital and Nurses Home, Fort Wayne, IN in The Harter Postcard Collection at Allen County Public Library Digital Collections at the Allen County Public Library and posted November 6, 2022 on True Fort Wayne Indiana History on Facebook.
1838 - St. Joseph Hospital located in the former 65–room Rockhill Hotel begun in 1838 by William Rockhill, a famous Ft. Wayne politician. It was unsuccessful due to its distance from the business district and main railroad lines.
1867 - The Rockhill House is purchased by Bishop Luers for $52,000.
1869, May 4 - St. Joseph Hospital opened by The Poor Handmaids of Jesus Christ first hospital in America opened. Three Poor Handmaids of Jesus Christ came to Fort Wayne. Sisters Maria Henrica, Rosa and M. Matrona organized the hospital opening. See history on St. Joseph Medical Center on IndianaHistory.or, St. Joseph Medical Center & the Poor Handmaidens of Jesus Christ by Tom Castaldi, local historian published March 13, 2014 on the History Center Notes & Queries blog, and timeline on Lutheran Health Network St. Joseph Hospital History.
1869–1875 Fees for hospitalization are $3–5 per week.
1876 A doctor's clinic opens and the first resident physician, Dr. Friscus, begins practice at the hospital.
1894 An expansion to the hospital includes private and semi-private rooms, as well as elevators.
1899 An isolation hospital is built by St. Joe for tuberculosis patients.
Once considered the country hospital prior to its 1900 annexation into the city. It commemorated its 150th anniversary May 4, 2019 in an urban setting. Copied from St. Joseph Hospital to throw 150th birthday bash Saturday published May 3, 2019 in The News-Sentinel newspaper.
A 1910 photo was posted September 21, 2017 by Downtown Fort Wayneon Twitter.

1910 Downtown Fort Wayne Twitter photo

2017, September 20 - Lutheran Health Network today announced plans to build a replacement facility for the current St. Joseph Hospital, which has been in the same location since 1869. This will be the first time in more than a century a new hospital will be built in the central city. Copied from Lutheran Health will replace St. Joseph Hospital with new facility downtown published September 20, 2017, and a timeline through 2015 in St. Joseph Hospital has a long history of care published September 21, 2017 in The News-Sentinel newspaper. Photo from article posted on Twitter by Downtown Fort Wayne. With news September 20, 2017 that a new hospital will be built downtown, over 30 photos were posted September 21, 2017 on You are positively from Fort Wayne, if you remember... Archived group on Facebook.
A May 2, 1916 newspaper article about a pear tree planted in 1842 by Johnny Appleseed was still bearing fruit on the hospital property.
A January 5, 1928 photo of patient in hospital bed using book mobile was posted July 6, 2017 by Allen County Public Libraryon Facebook.
St. Joseph Hospital Fort Wayne, Indiana search results on Google images.
Hearing the Call: The Art of Nursing at St. Joseph School of Nursing by Erika Baker published April 1, 2013 on the History Center Notes & Queries blogdiscusses the early history of the nurses and origin of the hospital.
St. Joseph Medical Center & the Poor Handmaidens of Jesus Christ by Tom Castaldi, local historian posted March 13, 2014 on History Center Notes & Queries blog.
With Lutheran Health Network's St. Joseph Hospital closing Nov. 13 when the new Lutheran Downtown Hospital next door opens, the former facility will be demolished next year. The hospital, 700 Broadway, Fort Wayne, has a long history in the city. Copied from Nov. 12 - A brief history of St. Joseph Hospital by Mary Anne Gates For Business Weekly Nov 12, 2021.
November 13, 2021 a new Lutheran Downtown Hospital opened replacing the Saint Joseph Hospital which will be torn down and converted into parking spaces for the new hospital.
Ribbon cutting starts countdown to opening of new downtown hospital published November 12, 2021 by ABC WPTA21.com TV station.
The Spirit of St. Joe: Legacy of St. Joseph Hospital in Fort Wayne has three short videos St. Joseph Hospital: The Origins, The Poor Handmaids' Presence, and Continuing the Mission of the Poor Handmaids and a copy of the 10 page "Rockhill's Folly" Site now St. Joseph's Hospital by Sister Mary Aletha starting on page 19, May 1926 of the Progress edition of The News-Sentinel newspaper published November 12, 2021 by ABC WPTA21.com TV station.
Care still endures across the years with photos by Barbara Schoppman, hospital's former vice president of community and adult services, Gratitude spans generations memories by Mark GiaQuinta, an attorney with Haller Colvin,and Razing can't erase powerful memories Jessica Henry, executive director of Humane Fort Wayne, all published May 01, 2022 in The Journal Gazette newspaper.
St. Joe demolition to pave way for parking by Rosa Salter Rodriguez published June 6, 2019 in The Journal Gazette newspaper.
An informative article discussing the early history with photos Historic Catholic hospital lives on in memory, relics by Joshua Schipper published June 14, 2022 in Today's Catholic.
Adam Griebel Photography on various dates posted St. Joseph Hospital photos before and during demolition on Facebook.
The Demolition of Saint Joseph Hospital photo album at Christopher Crawford: Documentary Photography states: Founded in 1869, Saint Joseph Hospital was the oldest hospital in Fort Wayne, Indiana. It closed in November, 2021 and demolition began in 2022. Because of its location in a crowded area of the city, the hospital is being slowly broken apart with hydraulic excavators. This is a common method of demolishing houses and other small buildings, but it is rare to see excavators used on a ten story building that occupies an entire city block. Originally a Roman Catholic hospital, Saint Joseph was sold years ago to a big for-profit company that also owns Lutheran Hospital and Dupont Hospital in Fort Wayne. The company built a new, much smaller hospital one block over on the corner of Main Street and Van Buren Street to replace the aging Saint Joseph Hospital. The Saint Joseph name was not kept; the new hospital is called "Lutheran Downtown." The former Saint Joseph Hospital site will become a parking lot for the new hospital.
A 1966 photo and 2017 similar photo shot from the top of the hospital were posted October 29, 2022 by Randy Harter, Fort Wayne historian and authoron True Fort Wayne Indiana History on Facebook.
Saint Vincent Villa Catholic Orphanage
Was at 2000 Wells Street, cornerstone was laid September 27, 1886 by Rt. Rev. Bishop Dwenger lasting until the late 1970s. A September 10, 2022 post byHistoric 07 District - Fort Wayne on Facebookdiscussed Ernst Breimeier who made the bricks for the building and many others in late 19th century Fort Wayne. St. Vincent Villa Sources Online posted by ACPL Genealogy Center February 09, 2015 on their blog. St. Vincent Villa, Fort Wayne, Indiana resources at the The Genealogy Center at the Allen County Public Library in Fort Wayne, Indiana Has a Facebook page. "The Saint Vincent Villa Catholic Orphanage closed more than 30 years ago, so unless you're middle-aged, you probably know little or nothing about the place. For decades it housed children from families that couldn't afford to raise them; from families that abused them; or from families destroyed by crime. As many as 300 children were there at any given time. Every year, the people who were raised there get together for a reunion." Frank Gray wrote in Orphanage reunion finding the lost in the Journal Gazette newspaper published April 17, 2012. See History, searchable Scrapbook of photos, odds and ends, and 1941-1954 Newsletters at St. Vincent Villa, Fort Wayne, Indiana on The Genealogy Center web site. Byron Health Center move to old YWCA campus could boost sale of county land by Kevin Leininger published February 8, 2017 in The News-Sentinel newspaper. See old photo and long discussion February 14, 2015 on You are positively from Fort Wayne, if you remember... Archived group on Facebook. July 13, 1949: Fire at St. Vincent's Villa in Fort Wayne by Corey McMaken in The Journal Gazette newspaper.
See more information on Allen County Children's Home, Allen County Orphan's Home, Allen County Poor Farm, Fort Wayne Children's Home, and Fort Wayne Developmental Center.
This statement was posted May 17, 2019 by Saint Vincent Villa Catholic Orphanage of Fort Wayne Indiana on Facebook:

If you lived at the Saint Vincent Villa Orphanage and would like your records, here is where you can get them. They will send you what originals they received when you got there and any copies of your stay there. The cost was 25.00 a few years ago.
Catholic Charities
915 South Clinton
Fort Wayne, Indiana 46802
(260) 422-5625
(260) 422-5657 fax
General delivery e-mail: ccoffice@ccfwsb.org
Salomon Farm Park
Salomon Farm Park 817 W. Dupont Road is a 1930s period farm park launched in 1996 through the donation of land by Chris Salomon with the assistance of the Fort Wayne Board of Park Commissioners and City of Fort Wayne Parks & Recreation Department. . See also Salomon Farm Park is a Farm for the Future by Kayleen Reusser published May 10, 2019 on My Indiana Home. Celebrate Hoosier Heritage Barn Week from September 24th – 30th, 2022 on Day #6: Thursday, September 29, 2022 Salomon Farm Park located in Fort Wayne, Indiana, a beautiful historic working farm and park that offers walking paths, biking, camps, cooking classes, concerts, an event/wedding venue, the Fall Harvest Fest and more was recognized by the Indiana Barn Foundation on Facebook.
Sanborn Maps
A 1918 Sanborn Map showing the downtown Allen County Public Librarywas posted September 5, 2017 on You are positively from Fort Wayne, if you remember... Archived group on Facebook. More information about Sanborn maps can be found on our Maps of Allen County, Indiana page.
Sauder Feeds, Inc.
The Our History section of their website: https://www.sauderfeeds.com/ has a Sauder Feeds Historical Timeline starting with 1862 Original wooded property was purchased by Jerry H. Sauder's (JHS) grandparents, Daniel & Anna Shenbeck. Facebook: https://www.facebook.com/SauderFeeds/
Sauder Feeds, Inc. was officially organized as Sauders Leghorn Farm in 1920, but it began 10 years earlier when 11-year-old Jerry H. Sauder started hatching baby chicks in an incubator on his parent's dining room table. By 1938, Sauder had built his first feed mill and was shipping chickens throughout the Midwest. Carlton Sauder joined his father and expanded the feed operation and purchased the first semi-tractor for deliveries in 1960. Sauder Feeds exited the hatchery business in 1974 when a fire destroyed the hatchery. In 1975 Jerry I Sauder and his wife Kathy joined the company.

With an increasing demand for feed, the ensuing years saw growth in production, personnel and deliveries which required an increasing truck fleet. Josh Sauder, fourth generation, joined the firm in 2013 with an emphasis on quality control and updating technology. As Sauder Feeds enters its second century of service, they continue to grow and add new technology, quality, and efficiency to the business.

Copied from the 2022 Centennial Business Awards at We Do History digital collect by the Indiana Historical Society posted January 5, 2023 by the Indiana Historical Society on Facebook.
Schaab Metal Products
At least 100 years at Harrison and Second Streets since 1916. Discussed May 30, 2016 with 1916 advertisement and photos on the original Great Memories and History of Fort Wayne, Indiana page on Facebook.
William Scheele & Sons Bottling Company
Schlatter Hardware
1924 was at Clinton and Columbia Avenue, is currently Freimann Square. Was also in Georgetown Square from June 25, 2016 discussion with downtown photos on You know you've lived in Fort Wayne too long when... Private Facebook group.
Schmitz Block
926-930 S. Calhoun Street, on the northwest corner of Washington and Calhoun Streets, was erected by Henrietta Schmitz as a monument to her deceased husband Dr. Charles Schmitz. This is one of Fort Wayne's most widely-recognized historic buildings. The Schmitz Block was added to the National Historic Register, see the application, same application with map, in 1988 and to the Local Historic Register in 1989. Architectural features include a facade of rough-cut limestone and round, rock-faced piers extending the entire height of the building. The windows of each floor are given various design treatments, and the cornice has modillions carved with grotesques, chimeras, lion's heads and leaves. The first floor once had three storefronts along the Calhoun Street side. In 1912, the property was sold by the Schmitz children to William H. Noll, a prominent local businessman. Eventually was renamed the Noll Block. The Schmitz Block housed various offices and businesses over the years. In 1989, extensive rehabilitation began to turn the Schmitz Block into condominiums and office space known as Midtowne Crossing. The work revealed the stone block inscribed with "Schmitz Block." See Schmitz Block history with photos and timeline on midtowncrossing.netand is one of the many Historic Buildings and Structures of the West Central Neighborhood Association Fort Wayne, Indiana on WestCentralNeighborhood.org.
Schultz House
Built at the turn of the last century by a Dr. Schultz and now listed on the register of historic homes. It's now home to Potter's Wife Gallery by Dan and Christine Hudson. In the basement sisters Christine Hudson and Kate Fowler cut and sew and stuff new life into old furniture. This portion of the Schultz House is Delaney's Upholstery.
Science Central
1950 North Clinton Street. Explore 200+ permanent hands-on exhibits and national touring exhibitions. www.sciencecentral.org/, Facebook: www.facebook.com/ScienceCentral/ description: Spark your imagination at Science Central! Inside Fort Wayne's first public power plant, you'll find over 30,000 square feet of exciting hands-on learning opportunities in the areas of science, technology, engineering, and math.
Science Central on Visit Fort Wayne blog. Photo of 1930s City Light power plant with train tracks for coal cars was posted May 3, 2017 on the original Great Memories and History of Fort Wayne, Indiana page on Facebook.
A December 14, 2017 post by Hofer and Davis, Inc. Land Surveyors on Facebook shared December 14, 2022 on True Fort Wayne Indiana History on Facebook stated: For "Throwback Thursday" we share this article written for the PEOPLE SOUTHWEST through The Journal-Gazette by Tracy Warner on February 11, 1988. Tracy later became Journal-Gazette writer and Editorial Editor, and now works for Indiana and Michigan Power (AEP). We shared pictures before on the McCulloch House on Superior Street, when Tom and Kris Bireley had restored it and we surveyed for them. This article is on the flip side, and mentions one of our long-time clients Bud Hall. It also talks about the City Light property before it became Science Central. BTW....Hofer and Davis, Inc. provided the survey when Science Central took over! It shows an image of the PEOPLE SOUTHWEST a The Journal Gazette newspaper article by Tracy Warner on February 11, 1988 discussing six old buildings he wrote about four years earlier in 1983, four were vital to Fort Wayne heritage, that were wasting away. Two were still empty in 1988. They were the McCulloch House, the Centlivre Brewery site still standing in 1988 but later demolished, The Edsall House, the Baker Street Train Depot, the Hanna School built in 1905, closed in 1977, city bought in 1979, sold in 1984, bought again in 1986 then demolished in 1987 saving only the arched doorways, a gable, the cornerstone and balustrade; and City Light now Science Central. At the end he mentioned car phones a new technology in 1988!
Scott's grocery
Started by Don Scott, bought the iconic Eavy's fruit of plenty store at 5300 Decatur Road. In 1991 SuperValu Inc. bought the store keeping the name and in 2007 18 stores sold to Kroger Company. Local Scott's grocery era coming to a close Last store becoming Kroger, outreach remains by Sherry Slater published October 25, 2015 in The Journal Gazette newspaper
Scottish Rite Center
Designed by Marshall S. Mahurin. In 1924, construction began on the Mizpah Shrine Temple, promising to provide Northeast Indiana with a much-needed community meeting place to host speakers and theatrical productions as well as banquet facilities. The auditorium sat over 2,400 patrons, while the Banquet Hall could seat over 2,000. The auditorium was to be given to the public for use, with the Shriners requiring it for only four or five days a year. Copied from Historical Analysis of the Scottish Rite Center - University of Saint Francis buys Scottish Rite Center November 10, 2011 Statement issued Thursday by the University of Saint Francis and Saint Francis unveils plan for Scottish Rite November 11, 2011 by Dominic Adams. January 18, 2012 Scottish Rite History in Fort Wayne from History Center Notes & Queries blog. January 26, 2012 the University of St. Francis takes over Scottish Rite renaming it the USF Performing Arts Center. See 2 postcards and discussion August 13, 2017 on You are positively from Fort Wayne, if you remember... Archived group on Facebook. Consecration and dedication of the Scottish Rite Cathedral, Valley of Fort Wayne, Indiana, Tuesday, Wednesday, Thursday, November 16, 17, 18, 1909 Publication date 1909. Scottish Rite History in Fort Wayne by Nancy McCammon-Hansen posted January 18, 2012 on History Center Notes & Queries blog.
Scottish Highland Games
Started in 1986 at Zollner Stadium, then IPFW, and Concordia College, moved to Columbia City, but ended in 2012 according to Keeping Scottish heritage alive by Rosa Salter Rodriguez published December 1, 2015 in The Journal Gazette newspaper. Brochure photo discussed August 1, 2017 on You are positively from Fort Wayne, if you remember... Archived group on Facebook.
Sears, Roebuck & Company
Sears Archive online: www.searsarchives.com. Archive.org has over 150 Sears publications online. A store advertisement from 113-115 West Berry Street before the mega store opened on South Clinton Street was discussed September 2, 2017 , update with current and past photos on location remodeling to Aptera Web Design April 16, 2018 and general Sears Search on You are positively from Fort Wayne, if you remember... Archived group on Facebook. Discussion of photos at Clinton and Rudusill store posted October 20, 2017 on You are positively from Fort Wayne, if you remember... Archived group on Facebook.
Sears at Glenbrook Square among the latest 46 targeted for closure in November published August 23, 2018 in The News-Sentinel newspaper. Special Report: Cheers to Sears! video with Dave Stalter who worked at the store for forty years by Tom Powell published October 30, 2018 on Fort Wayne's NBC Focused on the Fort originally WKJG. Sears at Glenbrook Square Mall has announced it's closing. This week, the company told 46 unprofitable stores they'd be closing in November. Glenbrook's location was on the list. Sears Holdings' said in a statement the decision is part of "ongoing efforts to streamline Sears Holdings' operations, strengthen our capital position and focus on our best stores." Back in May, the company announced the closure of 72 stores nationwide. Copied from Sears at Glenbrook Mall to close in November posted Aug 22, 2018, updated: Aug 23, 2018 on CBS WANE-TV NewsChannel 15. See photos at Fort Wayne's Last Sears Store by Chris Crawford: Documentary Photography.
Atlas Obscura image
Image on the right is from an Atlas Obscura article that stated In 1906, the mega-company published a specialized 'Tombstones and Monuments' mailer, advertising it as a 'Catalogue of Memorial Art in Granite and Marble.' Sears' prices, which beat out traditional funeral parlors' significantly, allowed consumers to participate in the elite practice of custom-ordering grave markers. Copied from Sears Once Offered Mail-Order Tombstones Its beloved catalogue had a good run. by Evan Nicole Brown published October 30, 2018 on AtlasObscura.com.
See the 1906 Sears Tombstone catalog on our cemetery page or Using the Sears Catalog for Genealogy by Brenda Leyndyke posted January 3, 2020 on the Journey to the Past blog.
Sears Roebuck catalog and Sears kit homes: encore (original November 18, 2018) posted April 25, 2020 on the Archives of Hoosier History Live podcast on Saturdays, noon to 1 p.m. ET on WICR 88.7 FM introduction starts with: Although Sears Roebuck & Co. announced many department store closings across Indiana and filed for Chapter 11 bankruptcy in 2018, the retailer has a deep and storied history on many levels in the Hoosier state. In this encore show originally broadcast in November 2018, we turn back the pages of history to explore the enormous impact of the Sears Roebuck Catalog 100 years ago, particularly on small towns and rural areas. In addition to leafing through the catalog's significance in its heyday (with more than 500 pages, it has been called "the amazon.com of its era" by social historians), we also explore Sears kit homes that were built across Indiana beginning in 1908. The mail-order catalog began earlier, during the 1890s, and offered products ranging from household appliances to hats, shoes, undergarments, sleds, dolls and baseball mitts from Sears. Rival retailer Montgomery Ward had been selling goods by mail even before that, having been established in 1872. Nelson's studio guests are Paul Diebold of Indiana DNR's division of historic preservation and archaeology, an expert on Sears kit homes, and public historian Glory-June Greiff, who has researched the impact of the catalog.
Sears Home Kits
From 1908 to 1940, the Sears Modern Homes Program offered complete mail-order houses to the would-be homeowner — what would come to be called "kit homes." Customers could select from dozens of different models in Sears Modern Homes Catalog, order blue-prints, send in a check, and a few weeks later everything they needed would arrive in a train car, its door secured with a small red wax seal (just like the seal on the back of a letter). Paragraph copied from The House that Came in the Mail on 99% Invisible.com half-hour audio that includes a transcript of the audio with lots of images of houses and catalog pages. They described Production as Producer Joe Rosenberg spoke with Rosemary Thornton, an architectural historian and the author of The Houses That Sears Built: Everything You Ever Wanted to Know About Sears Catalog Homes; and Penniman: Virginia's Own Ghost City; Guy Parks, who lives in a Sears catalog home in Cairo, Illinois; and Rebecca Hunter, a Sears house hunter who lives in Elgin, Illinois and wrote Mail-Order Homes: Sears Homes and Other Kit Houses. This item was posted September 15, 2018 by ARCH ( Architecture and Community Heritage), who has local Sears homes addresses in their files, on You are positively from Fort Wayne, if you remember... Archived group on Facebook.
Dietrick F. Sieling House
Once on ARCH's Endangered List due to it having an uncertain future, it's now The Rose Home a transitional living facility for women. Mr. Sieling owned a dry goods store that was located adjacent to the house to the east, and the park across the street is named for him. Sieling donated the park land, once a part of the Wayne Trace Indian Route to Cincinnati in 1915. Copied from an August 7, 2018 post with photo by ARCH ( Architecture and Community Heritage) on Facebook. It is now The Rose Home a Christian not-for-profit transitional living home for women who choose to recover from drug and alcohol addictions. The Rose Home, Inc is also on Facebook.
Sieling Park
Sieling Block Park, 0.60 acres, since 1915. Sieling Block Park is located at Wayne Trace and New Haven Avenue on land donated in 1915 by Dietrick F. Sieling. Mr. Sieling donated his land as he wanted it to be a park for children to enjoy. This small but historical tract of land was once a part of the Wayne Trace Indian Route to Cincinnati. Copied from Sieling Block Park at City of Fort Wayne Parks & Recreation. Sieling Park had been misspelled as Seiling Park for around 60 years from a November 26, 2022 discussion on True Fort Wayne Indiana History on Facebook about the book Crossroads of History: Strolling through Fort Wayne's Parks Paperback – November 22, 2022 by Joshua Schipper. Several interesting comments including some by Sieling descendants. Schipper's research made an impact on one particular park well before the book's online release. After analyzing old newspaper clippings and the gravestones of the donors, he realized that Sieling Park had been misspelled as "Seiling" for around 60 years. After presenting his evidence to the Parks and Recreation Department, the park signage soon changed to reflect the correct spelling. Copied from Strolling Through Fort Wayne's Parks December 5, 2022 book review by The Waynedale News.com Staff.
Settlers
See more at Swinney Homestead. Since 1971, costumed Settler members have researched the early Americana domestic arts and crafts, their politics, history, folklore and mechanics involving the many skills needing to survive early America. Settlers have shared their knowledge with the community via their Speakers' Bureau and their programs at the Swinney Homestead. Copied from their website: http://www.settlersinc.org/
Seyferts Potato Chips
On August 20, 1934, potato chip company Seyfert's opened in Fort Wayne. According to the company, founder Charles Seyfert traveled from his Pennsylvania home to the World's Fair in Chicago in 1933 and on his way back stopped in Fort Wayne. He returned, liking "what he saw of the northeastern Indiana town," and established a pretzel business that ultimately failed. He then founded his potato chip business. The company noted that "the operation was much different than today's. Charles Seyfert did everything himself – from peeling potatoes to making chips to delivering the finished product. Today, miles and miles of conveyor belts carry the raw ingredients, cooked snacks and bags of goodies from one area of the plant to another." Troyer Potato Products acquired Seyfert Foods in 2001. In August, 2018, it was announced that the company would be ceasing operations, ending the 84 year snack food tradition. Copied from an August 20, 2019 post by the Indiana Historical Bureau on Facebook. Seyferts Company History on TroyerFarms.com states: In 1933, Charles Seyfert left his home in PA and drove his pretzel truck to Chicago for the World's Fair. On his way back home, he passed through Fort Wayne, Indiana, liked what he saw of the northeastern Indiana town and stopped there to begin a pretzel-making business. Although pretzels were Seyfert's dream, Fort Wayne wasn't ready for pretzels at that time and the businessman went broke. After a trip back home to PA to gather equipment, Seyfert returned to Fort Wayne and started a potato chip operation. This time, the snack food entrepreneur was successful. Seyfert opened its doors August 20, 1934, the operation was much different than today's. Charles Seyfert did everything himself – from peeling potatoes to making chips to delivering the finished product. Today, miles and miles of conveyor belts carry the raw ingredients, cooked snacks and bags of goodies from one area of the plant to another. In 1982, Borden Inc. acquired Seyfert. In October, 1994, Heath acquisition Corporation acquired the Seyfert Foods division from Borden Inc.. In 2001, Troyer Potato Products acquired Seyfert Foods. The Troyer organization acquired Seyfert Foods in March 2001 but the relationship between the two companies goes back to the 1960s. At that time, Troyer supplied Seyfert's with potatoes. At the time of the acquisition, Troyer sold its products in Pennsylvania, eastern and central Ohio, western New York, and parts of West Virginia and Indiana. A photo of the potato chip plant that closed June 17, 2010 was posted in THIS DAY IN HISTORY: June 17 in photos by Dan Vance published June 17, 2018 in The News-Sentinel newspaper. Great Memories and History of Fort Wayne photo. Discussed January 8, 2017, February 12, 2017 , photo of large can posted March 17, 2017, more discussions May 28, 2017, September 3, 2017, several photos posted October 22, 2017 and more can be found in a Seyfert Search on You are positively from Fort Wayne, if you remember... Archived group on Facebook. Employees notified snack-maker Seyfert's is shutting down by Jonathan Shelley, News Directo and Corinne Rose, Reporter published August 20, 2018 on ABC WPTA21.com TV station. Photo of a Seyferts potato chip was posted August 20, 2018 by Indiana Historical Bureau on Facebook. See comments posted August 20, 2018 by Fort Wayne's NBC Focused on the Fort originally WKJGon Facebook.
Sheridan Court Apartments
719 Union Street, Architect A.M. Strauss designed this Tudor Revival apartment complex in 1925. Opening in 1926 as the first ever large apartment building in Fort Wayne, from Sheridan Court Apartments on West Central Properties.
Shoaff Building
Across Berry Street from the Courthouse, later became the Gettel Building. Photos and discussion September 24, 2017 on You are positively from Fort Wayne, if you remember... Archived group on Facebook.
Smith Field Airport
Smith Field Timeline photo
Website: www.smdairport.com and Facebook page. The airport was dedicated and began operations in June 1925. Was the City of Fort Wayne's first municipal airport and was originally named Baer Field in honor of Paul Baer. Situated on 236 acres of land approximately 5 miles north of downtown Fort Wayne and less than two miles from Interstate 69. The first airmail flight left Fort Wayne on December 8, 1930. Airmail service continued until 1933 when it was dropped until 1937. In the early 1940's, Smith Field had scheduled airline service from TWA.
December 4, 2022 post by the Indiana Department of Natural Resources on Facebook stated: This week, the DNR Division of Historic Preservation & Archaeology is highlighting some of the places and buildings where advancements in science and technology occurred in Indiana. The first location is Smith Field in Allen County. Smith Field (NR-1720 Smith Field Airport) – Allen County: Located near Fort Wayne, Smith Field Airport is one of the oldest remaining airfields in the nation. Constructed in 1919, the airfield supported the beginnings of America's flight industry. The airport was dedicated as the Paul Baer Municipal Airport in 1925, after the WWI flying ace from Fort Wayne. Improvements to the airstrips were constructed in the 1930s, alongside a commercial airmail carrier, and more improvements to the airstrips and safety features came via the Works Progress Administration during the Great Depression. Following World War II, the airfield was renamed to Smith Field after Arthur "Art" Smith, a Fort Wayne aviation pioneer who was a barnstormer and exhibition flyer that is credited with the invention of the "loop-the-loop" and skywriting. Since then, Smith Field has been used for general aviation purposes and flight schools. You can see more by looking at the property's National Register nomination form in DNR-DHPA's online database (SHAARD): on.IN.gov/shaard.
Smith Field Airport at Airport History on AIRPORT AUTHORITY FORT WAYNE INTERNATIONAL website.
The story of Smith Field Fort Wayne : PBS 39 WFWA, 2002 Fort Wayne's oldest municipal airfield was re-named Smith Field in honor of aviation pioneer Art Smith, 'The Bird Boy of Fort Wayne.' It served the community as a hub of commercial, corporate and industrial endeavors for over 75 years. Learn about Smith Field's history and watch as local policy makers, citizens and community activists debate this historic airport's future in this exclusive documentary presentation from PBS-39. VHS at Allen County Public Library.
Smith Field Historic Photos at EAA Chapter 2 Experimental Aircraft Association Chapter Two Encourages and Promotes Sport Aviation and Aeronautical Education in Northeast Indiana. See 29 page National Airmail Museum proposal.
Smith Field by Aviation: From Sand Dunes to Sonic Booms at the National Park Service NPS.gov.
National Park Services: A National Register of Historic Places Travel Iternary - "a rare surviving example of an early 20th-century airport, is historically significant for its association with air-related transportation and commerce in Fort Wayne and Allen County, Indiana. In 1919, the city of Fort Wayne inspected the site that eventually became Smith Field for its suitability as a municipal airport." Slated for closure in 2003 but pardoned through the influence of pilots, nearby residents and historians, the future of Smith Field -- Fort Wayne's "other" airport -- is not only secure, but bright.
Once down and nearly out, the sky's the limit for Fort Wayne's first airport by Kevin Leininger was published December 30, 2015 in The News-Sentinel newspaper.
Smith Field (Indiana) at Wikipedia, The Free Encyclopedia.
An August 28, 2022 post on True Fort Wayne Indiana History on Facebook shows a 1925 to 2001 Smith Field Timeline from the March 26, 2002 The News-Sentinel newspaper for Baer Field at Smith Field.
Smoky's Records & Tours
Wells Street Smoky Montgomery was well known around the area. Discussed March 4, 2017 and July 10, 2017 August 5, 2017 on You are positively from Fort Wayne, if you remember... Archived group on Facebook. See Charles Lee "Smoky" Montgomery September 20, 2006 obituary on Find A Grave. A January 18, 2023 post on True Fort Wayne Indiana History on Facebook promoting interview Refurbished Smoky's Records back on the market by Dirk Rowley, posted: Jan 18, 2023 on CBS WANE-TV NewsChannel 15.
Snyderman House
Was built in 1972 by Michael Graves for Sanford and Joy Snyderman. Click pink house on right of link to see photos of unique archetecture of Snyderman House (1972-1977) architect Michael Graves on WTTW PBS. Snyderman's left the house in 1998 and sold it in December 1999 to developers Joseph Sullivan and William Swift who planned to tear it down and develop homes on the property. Their daughter Nancy Snyderman is a medical doctor and national television personality. Snyderman Houseon Wikipedia, The Free Encyclopedia, The Snyderman House discussion published August 15, 2011 on nancynall.com 2002, IUPUI.edu photo, August 7, 2002 story with photo on Architectural Record.com. Ian Stallings Design photos on Facebook. Photos and discussion March 29, 2017 on You are positively from Fort Wayne, if you remember... Archived group on Facebook.
Soap Box Derby
Photo of a car in 1947 posted May 1, 2017 onthe original Great Memories and History of Fort Wayne, Indiana page on Facebook.
SoundWalk
South Anthony Speedway
Discussion and several videos posted in Comments October 22, 2017 and general Speedway search on You are positively from Fort Wayne, if you remember... Archived group on Facebook. South Anthony Speedway Memorabilia has copies of programs. Several photos posted November 19, 2018 on Great Memories and History of Fort Wayne Private Facebook Group. See search results for South Anthony Speedway including videos on Facebook.
Southside Market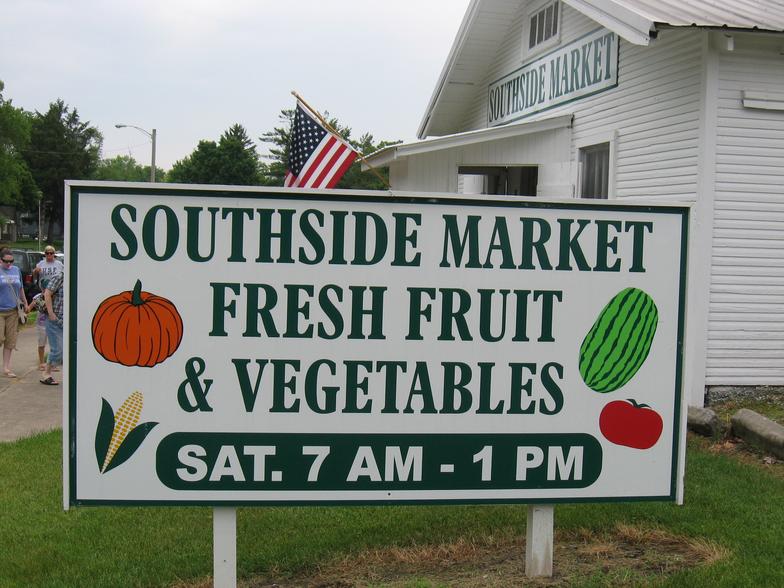 South Side Farmers Market photo
Historic Southside Farmers Market is on Facebook and website: http://www.southsidefarmersmarket.com/. Located at 3300 Warsaw Street, serving Fort Wayne and surrounding areas since 1926, is open Saturdays 8-1, and has been a local historic district since 2001. Open every Saturday from Easter through mid-December. It is an indoor market, and is open from 7 am – 1 pm. At the South Side Farmers Market rural life and agriculture, as well as fresh meat, produce, and flowers, can be found in the midst of urban Fort Wayne. The market began in 1926 and is owned and operated by the Allen County Producers Association. The market structures are unlike any others in Fort Wayne, representing the only location in the city with the feel of a historic fairground. See also Barr Street Market, YLNI Farmers Market, Fort Wayne Farmers Market, and Fort Wayne's Farmers Markets at Visit Fort Wayne.
Southtown Mall
Torn down and replaced with a Walmart. The March 16, 1967 groundbreaking photo in The News-Sentinel newspaperwas posted June 30, 2018 showing Al Zacher developer, mentioned Wolf & Dessauer and Montgomery Ward among other stores would be there, then over 60 photos, lengthy discusison January 3, 2017 , more photos and discussion February 13, 2017and again February 13, 2017-2 on You are positively from Fort Wayne, if you remember... Archived group on Facebook. Southtown Mall with photos remembered on Labelscar - The Retail History blog.
YouTube video Circa 1992. A 6 and a 1/2 min walk through the now demolished Southtown Mall in Fort Wayne, IN. The video goes from L. S. Ayres to Sears, the Kohls wing is not included.
South Wayne
Fort Wayne was considerably enlarged on August 14, 1894, when the City Council declared the annexation of South Wayne. This was a territory which extended south of Creighton Ave. between Hoagland Ave. and the St. Mary's River. The wooded area had long been a favorite ground for the Miami Indians who remained in the precincts during early town days. The reservations of Richardville, LaFontaine and Beabien were all along the St. Mary's just south of the South Wayne community. A stream through the area, known as Shawnee Run, disappeared with drainage work. A stone bridge over Shawnee Run had existed along Fairfield Ave., just north of Pontiac Street. The bridge work was still visible under the street, according the Peter Certia who went down the sewer in 1952 to have a look at it. The stream had meandered through what later became Beechwood Circle and environs east and west. Copied from a longer article called Oakdale History: South Wayne A History of South Wayne Community on Historic Oakdale Neighborhood Association.
---

By MICHAEL HAWFIELD
from the archives of The News-Sentinel in Cityscapes - People & Places series of articles from the archives of The News-Sentinel newspaper.

The square half-mile known as South Wayne is one of Fort Wayne's most familiar districts.

Once a favored hunting ground of the Miamis, South Wayne today is a residential district characterized by a rich mix of architectural styles and a strong sense of unity in the neighborhoods. Indeed, almost a century ago South Wayne was, for a brief time, a fully incorporated town separate from Fort Wayne.

South Wayne is the area south of Creighton Avenue, north of Rudisill, and west of Hoagland Avenue to the St. Marys River.

The streets that crisscross the district, such as Fairfield, Nuttman, Packard and Wildwood, recall some of the more notable settlers and developers of Fort Wayne.

For these and other early settlers, the area was a byword for good hunting, beautiful woods and - for youngsters - adventure. Exciting tales were told of the Indians who lived, hunted, and sometimes fought there. A stream that ran northwest through South Wayne from Rudisill to empty into the St. Marys River just west of the old Wells Street Bridge was known as Shawnee Run. Noted for its many plum trees, it got its name from the Shawnee bands of Indians that lived along the St. Marys in the 1820s.

More excitingly, the stream was also called Bloody Run. Several stories tell of a Miami Indian who stabbed a Shawnee brave (or was it an Ottawa brave?) to death on the steep banks of the creek in 1824. Enraged kinsmen of the murdered man armed themselves for revenge, and the whites in the region of Fort Wayne feared an uprising would put them in danger as well.

At this point, the stories continue, Jean Baptiste Richardville, chief of the Miamis, stepped in and mediated a settlement, persuading the wronged family to accept a retribution payment from the Miamis.

Richardville was the first owner of the lands that became South Wayne. Born about 1761, he was the son of Chief Little Turtle's brilliant sister, Tacumwah, and a French trader named Joseph Drouet De Richardville. Given the Miami name Pechewa, Richardville preferred to use his French name, and he became the symbol of the American Indian who adapted to the new culture that replaced his own.

A peaceful, even timid man by nature, Richardville rose to become civil chief of the Miamis (Little Turtle was war chief). If Richardville's fame rested on his reputation as a mediator and businessman, his success rested on the very capable shoulders of his mother, who not only engineered his rise to civil chief, but also managed to gain control of the lands along the ancient portage trail, which became the basis of the Richardville fortune.

Through extensive land dealings, Richardville took advantage of peace settlements after the War of 1812 and the huge increase in pioneer immigration that followed Indiana's admission to statehood in 1816.

Destined to be known as "the wealthiest Indian in North America," Richardville was branded by some as a hypocrite and a traitor to his people. Yet to others, like the old Indian agent, Sen. John Tipton, who had found it easy to negotiate with the accommodating chief, Richardville was "the ablest diplomat of whom I have knowledge. If he had been born and educated in France, he would have been the equal (of the best diplomat in Europe)."

In exchange for supporting the American cause in the Indian treaty negotiations of 1818 at Marysville, Ohio, Richardville was given vast tracts of land south of the old fort, on both sides of the St. Marys River. Much of South Wayne was included in this grant, but in 1828 he gave this portion back to the U.S. government, which began to sell its lots to new settlers.

Among the first investors in South Wayne was James Barnett, the partner and brother-in-law of Samuel Hanna. An amiable man, known as "Uncle Jimmy," Barnett had first visited Fort Wayne in 1797, and he was with Gen. William Henry Harrison's relief expedition when the fort was beseiged by Indians in 1812. In 1818 he settled permanently in Fort Wayne and built the first brick house in town, on East Columbia Street.

In 1827 Barnett and Hanna built a small dam in the St. Marys and downstream erected a mill just south of the over the river (near today's Sears Pavilion). Old Mill Road was later named after this mill, and the bridge that carried the Indianapolis State Road (Broadway, today) across the river to the Little River Turnpike, or Bluffton Road, was the principle southern route out of Fort Wayne. During the 1840s and 1850s South Wayne remained wild. Game was plentiful. One old-timer remembered that pigeons roosted in such numbers in the sycamore trees along the St. Marys that he was awakened in the middle of the night by the noise of the breaking limbs, brought down by the weight of the birds. Wolves became such a menace because of the abundant game that bounties were offered, and farmers competed with one another in the number of wolf traps they could set. Malaria was common. One settler recalled that "quinine was a necessity and as regular an item as the staples of diet." It was not until the 1870s that the area was drained and the disease brought under control.

Among the important developments which occurred in the 1850s, the Barton family sold its extensive acreage to Wayne Township, and the homestead was turned into the first county poor farm, or asylum (at the northern corner of Broadway and Savilla Avenue). It was used as a "pest house," or isolation ward, in 1849 when a cholera epidemic struck. This deadly disease hit again in 1852 and 1854, and one doctor estimated that as many as 600 people died in those three attacks. Many victims were the poor quarantined at the county asylum.

The pace of growth in South Wayne is best illustrated by the appearance in 1871 of the Fort Wayne Organ Company on Fairfield Avenue (where Packard Park is today). Isaac T. Packard came to South Wayne from Chicago in 1871, his organ company there having been destroyed by the Great Fire of Oct. 8-11 . Although Packard himself died only two years after establishing his new organ business in South Wayne, the company was taken over by Stephen Bond, a banker who made the business one of the finest of its kind in the country.

Prosperity was such in the 1870s and 1880s that there was considerable agitation to incorporate South Wayne as an independent town. In large measure this movement began in order to prevent Fort Wayne from annexing the area for its tax revenue. The first petition for incorporation, filed in 1872, stirred a bitter court fight with the Fort Wayne City Council. In the end, the city failed to annex the area, but South Wayne also failed to win independence.

Fifteen years later, the movement for incorporation was taken up again, this time led by William J. Vesey and Henry Ninde. By 1889 the Allen County Commissioners agreed to order a general referendum of South Wayne residents to decide the issue. An overwhelming vote for incorporation as a town was returned, and South Wayne was declared by the commissioners an independent town of Allen County.

Independence lasted until 1894. By that year the costs of sidewalks, sewers, waterworks , and Jenney Electric lights at the intersections had become so costly that the town board was forced to levy a stiff property tax - the very thing the citizens had originally sought to avoid by fighting annexation by the city.

Many residents now saw benefits in becoming part of Fort Wayne. But because the majority still voted for continued independence from Fort Wayne, the issue went to the highest courts. Fort Wayne attorney James Barrett finally won for the city, and South Wayne was annexed in 1894.

After the turn of the century, South Wayne's community centers began to assume their identity. South Wayne school was established, and Pastor Philip Wambeganes founded the Emmaus Evangelical Lutheran Church and school. The old "Wildwood" estate of the Ninde family was sold to the Lutheran Hospital Association in 1904, marking the beginning of Lutheran Hospital.

The old Fort Wayne Organ Co. fared well only until the Great Depression of the 1930s. After the death of Stephen Bond in 1907, his son, Albert, had taken over the business and made it a model of management-labor relations in the early 20th century.

The name of the company had been changed to the Packard Organ Co. in 1899, and after abandoning the faltering organ business, became the Packard Piano Co. in 1915. A productive and proud company, it even lent its skills in woodworking to the war effort in 1918 by making propellors for Army warplanes. After the stock market crash of Oct. 29 , 1929, the company went into receivership and collapsed in 1930. This was the first, last and only industry in the primarily residential district of South Wayne.

--Feb. 21, 1994

---
Speedway
Photos and more on Some History About Former Fort Wayne Speedway "A place called Fort Wayne Speedway operated on the north side of Fort Wayne just north of what is now Coliseum Boulevard and Glenbrook Square mall. It's now a place adjacent to a Putt Putt where little kids go to drive (very) small vehicles. The track was built in 1928 by Frank Funk, who also built other racetracks, including the former Jungle Park at Rockville and the Winchester Speedway, still operating. When the Fort Wayne Speedway was built in 1928, the area was farmland; it remained so for most of the track's existence. Coliseum Boulevard was California Road -- a dirt road then -- and neighboring farmers probably constituted what little traffic there was. From 1951 to 1964, another race track broke the silence on the south side of town. South Anthony Speedway ran two nights a week on a 3/8-mile asphalt oval. The homes in Victoria Park are in that spot now. Race tracks may come and go, but people's memories of them do not fade. The Fort Wayne Speedway especially is remembered for its track, which was said to be the highest-banked and fastest 5/8-mile track in the world."
"On This Day"... forgotten Fort Wayne Speedway lives on by Don Radebaugh published October 2, 2015 on ARA Racing Series.
Similar photos were posted and discussed December 7, 2017 and 1957 aerial photos were posted December 10, 2017 with a 1938 map thru present maps timelapse video by Scott Krumwiede in Comments to Randy Harter, Fort Wayne historian and author
Speedway name Search on You are positively from Fort Wayne, if you remember... Archived group on Facebook.
Spy Run
Standish Photo Studio
Was at Robison Park, photo was posted April 20, 2017 on the original Great Memories and History of Fort Wayne, Indiana page on Facebook.
State Historical Markers
State Historical Markers in Allen County by Tom Castaldi, local historian published February 23, 2016 on the History Center Notes & Queries blog. See Indiana Historical Markers by County on IN.gov or individually: 02.1948.1 Site of Fort Miamis; 02.1963.1 Camp Allen 1861-64; 02.1966.1 Site of Hardin's Defeat; 02.1992.1 Home of Philo T. Farnsworth ; 02.1992.2 Wabash and Erie Canal Groundbreaking ; 02.2000.1 Fort Miamis; 02.2003.1 Gronauer Lock No. 2
State School
See Indiana School for Feeble Minded Youth.
Ream Steckbeck Paint Company
Started in 1923 by Walker Steckbeck, the family owned it for 90 years when it was closed in December 2012. Longtime local paint company Ream Steckbeck closes Was founded in 1923 by Kevin Leininger was published December 20, 2012 in The News-Sentinel newspaper. Closed sign March 3, 2013 onthe original Great Memories and History of Fort Wayne, Indiana page on Facebook.
Stellhorn Hardware
Opened in 1883 on Fairfield Avenue, was started by J. H. Stellhorn (Stellhorn Avenue is named for him) and there are still some hints to the store's age, like the 1915 Master Rule scale. Fort Wayne's oldest hardware store is on the market by Bob Caylor was published January 19, 2016 in The News-Sentinel newspaperwhen the store closed and building was sold.
Stockbridge House
The Nathaniel P. & Sophia Stockbridge house on West Wayne Street is our topic for this week's Throwback Thursday. Mr. Stockbridge was a native of Freeport, Maine and came to Fort Wayne in 1843. Mr. Stockbridge served as the manager of the H. Durrie & Company hardware store. According to Bert Griswold's The Pictorial History of Fort Wayne Indiana, Stockbridge bought a bookstore and stationary business in 1853 and grew it to be the "largest retail and wholesale enterprises of the time." The house was built in 1845 in the Italianate style. Gone is the four-sided tower with arched windows and a pyramidal roof. The way to detect that this was the Stockbridge house was to look at the semicircular window in the front gable and the pitch of the gables. Looking at Google Earth, one can side the outline on the roof where the tower rested. Mrs. Stockbridge died in 1866. Mr. Stockbridge retired from his business three years before his death in 1896. Historic house photo courtesy of Fort Wayne Historic Houses and Nathaniel Stockbridge photo courtesy of the Allen County Public Library Community Album. Copied from a November 10, 2022 post on Facebook with photos by ARCH ( Architecture and Community Heritage). A comment by Randy Harter, Fort Wayne historian and authorstated: The local chapter of the Audubon Society is named after Nathaniel's son Charles Stockbridge who was a taxidermist and operated out of the family store on Columbia Street. Here's one of the business postcards that Charles used. Courtesy Harter Postcard Collection/ACPL. www.stockbridgeaudubon.org/
Stockyards
Union Stockyards fire May 2, 1952, a few minutes of video is shown by Access Fort Wayne public television at the Allen County Public Library. A dozen stockyard photos are in the Fire Fighter Photographs collection at the Allen County Public Library Digital Collections at the Allen County Public Library. Fort Wayne, IN: Union Stockyards 1952 Fire with photo on the Towns and Nature blog. Was discussed July 31, 2017 and Name Search on You are positively from Fort Wayne, if you remember... Archived group on Facebookincluding May 2, 1952 Union Stockyards Fire East Washington Blvd. Union Stockyards fire 1952 photo posted by CBS WANE-TV NewsChannel 15. It was a total loss on the Fire Police City County Federal Credit Union online 2016-2017 calendar and the Hall's Stockyards Cafe 3005 Maumee Ave. Also discussed September 2, 2009 on Fort Wayne Railfan suggesting Sanborn maps show the locations of other stockyards. Stockyard is mentioned several times on Great Memories and History of Fort Wayne Private Facebook Group
Stone Quarry
Formerly May's now Hanson Stone Quarry on Ardmore Avenue photos and discussion February 7, 2017 on You are positively from Fort Wayne, if you remember... Archived group on Facebook
Stoner's Fun Store
712 S. Harrison St., since 1949, stoners.com. Stoner's Funstores: Your Source for April Fool's Pranks! by Lauren C. was published March 14, 2012 on Visit Fort Wayneblog.
Strand Theatre
Southwest corner of E. Wayne Street and South Clinton Street, opened as the Empress Theatre in the fall of 1912. By 1917 it was renamed the Strand Theatre. It was a moving picture theater as late as 1927. Today is part of the grassy open plaza fronting One Summit Square. Comments and Information from cinema Treasures. Joe Vogel said: design of the Empress Theatre was by one of the town's leading architects of the period, John M. E. Riedel. He also designed the Lyric Theatre. In its early years, the Empress presented Sullivan & Considine vaudeville. Photos and discussion of it's original name Empress Theater posted June 23, 2019 on You are positively from Fort Wayne, if you remember... Archived group on Facebook.
Strauss Building
Constructed in 1890 at 821 S. Calhoun Street, it. is one of downtown Fort Wayne's oldest and most recognizable structures. It was one of the first locations in Fort Wayne to have early telegraph lines, the conduits for which can still be seen in the building's basement. It hosted a Western Union and various financial institutions such as the first office for Lincoln Financial Group, a Fortune 250 company that still has a large office location and prominent community presence in Fort Wayne. Copied from The past and present of the historic Strauss Building by Jenn Kunkle published December 13, 2018 on Living Fort Wayne.com.
Strunz-Sponhauer House
Built in 1886-1887 for Christian G. Strunz, his wife, Lisette, and their daughter, Henrietta, is an outstanding example of Italianate and eclectic architecture designed by the renowned Fort Wayne architecture firm of Wing & Mahurin. It was individually listed in the National Register of Historic Places in 1979. In 1980 was moved by ARCH ( Architecture and Community Heritage) from 333 E. Berry Street (across from the McCulloch-Weatherhogg House/United Way building) to prevent its demolition for a parking lot for GTE. It now sits at 1017 W. Berry Street in the West Central Neighborhood alongside two other relocated homes to fill the large expanse of land once occupied by the Fleming house (torn down for a parking lot). Copied from a July 12, 2018 Facebook post with photo of the home being moved by ARCH ( Architecture and Community Heritage). See September 4, 1979 National Register of Historic Places Inventory - Nomination Form 79000030. The house was built in 1886-1887 for Christian G. Strunz, his wife, Lisette, and their daughter, Henrietta. Christian operated a grocery from about 1860 until his retirement in 1900. Henrietta's daughter Helen married Roy Sponhauer in 1922, and lived in the house with Henrietta until her death in 1945. Helen continued to live in the house until 1976, the year she died. That same year, GTE bought the house to use the lot for parking. Copied from the 2002 Home and Garden Tour by the West Central Neighborhood Association. There is a photo on the Christian G. Strunz House Facebook Landmark & Historical Place.
Stucky Brothers
In 1914 brothers Joe, Christian and Elmer Stucky purchased the Rich General Store and Hardware in Woodburn Indiana. One of the oldest family owned and operated appliance and electronic retailers in the United States. See their About Us page.
Summit City
Fort Wayne was the highest point above sea level on the Wabash & Erie Canal, which ran from Lake Erie to the Ohio River. The canal was the longest in the Western Hemisphere, and it started in Fort Wayne on February 22, 1832, the anniversary of George Washington's birthday.
The Summit
Is the old Taylor University campus on West Rudisill Blvd. Closed in 2009, the Ambassadors Enterprises bought the campus in 2011 and it began as a community resource for Fort Wayne and its nonprofits. http://thesummitfw.com
Sundown Towns
"Sundown Towns are towns that were for decades all white on purpose, and some of them still are. It turns out that they're all across the midwest." Some towns had signs that made their intentions clear. One that says 'Whites only within city limits after dark' covers the front of [James W.] Loewen's book. Others used more crass language, racial slurs or threats of violence to get their point across. ... "But, across the Midwest it turns out, all kinds of towns - hundreds of them in Indiana, even more hundreds in Illinois." Between the 1890s and the 1940s, Sundown Towns became a popular trend in Northern states. In his book, Loewen profiles three Indiana towns; Elwood, Huntington and Martinsville. Dr. John Aden is the Executive Director of the African American Historical Society Museum in Fort Wayne. He remembers Martinsville, Indiana as an unfriendly place. "You could not be caught in that county or anywhere near that town, even during the day, let alone at night." Copied from Legacy of 'Whites-Only' Towns Rose and Continues to Affect Today by Ella Abbott published September 17, 2020 on 89.1 WBOI Northeast Indiana Public Radio. Search Results for: Sundown Towns/ , List of Indiana Sundown Towns, Confirmation Status map of Sundown Towns on History & Social Justice justice.tougaloo.edu Inspired by James W. Lowen (1941-2021), socialogist, historian, citizen.
Sunny Schick
407 W. Washington Blvd, downtown camera shop. See January 10, 2017 discussion on You are positively from Fort Wayne, if you remember... Archived group on Facebook. Sunny Schick Camera Shop closing after about 90 years of business by Kevin Kilbane was published June 20, 2017 in The News-Sentinel newspaper. Closing in 2017 Shutter Down video published July 10, 2017 by Eric Olson, 21Country Featured Reporter. Downtown camera shop closing after more than 90 years by Kelly Roberts published June 20, 2017 on CBS WANE-TV NewsChannel 15. See photos and discussion August 13, 2017 on You are positively from Fort Wayne, if you remember... Archived group on Facebook.
Sunset Drive-in Movie Theater
Was located on Lima Road where Don Ayres autodealership is located in 2019. Although another comment said it was where Crazy Pins is now located. A picture of the area with the drive in theatre and the Speedway was said to be in the Halls restaurant at Lima Road and Coliseum Blvd. Was discussed May 12, 2019 on You are positively from Fort Wayne, if you remember... Archived group on Facebook
Sweetwater Sound
5501 U.S. Hwy 30 W., www.sweetwater.com, employs 800 with around 400 million dollars in sales. Started in 1979 in a VW microbus. Is the third largest United States dealer in musical equipment for musicians, recording studios, schools, houses of worship, concert sound companies and broadcasters. Sweetwater sells digital recording systems, keyboards, guitars, microphones, mixers, loudspeakers, signal processors, and drums. Sweetwater Sound, along with All Pro Sound, installed the new sound system in Indiana University's Assembly Hall in November. Assembly Hall is the home court for the IU Hoosier basketball team. From Sweetwater Sound installs sound system in Assembly Hall published January 27, 2013. Read more in Your Story. Made Here: Sweetwater by Melissa Long published November 19, 2014 on ABC WPTA21.com TV station. Sweetwater: Sounds Like a Great Place! posted December 3, 2014 by Louisa onFort Wayne Insider official blog of Visit Fort Wayne.
Swinney Homestead
The Library of Congress photo
Original construction of the house was begun in 1844 with a second story, wing, and rear portion added in 1885. Thomas Swinney gave to the city of Fort Wayne the eastern portions of his property. In 1847, the Allen County Fair was established on these grounds, with a half-mile racetrack as well as the usual display pens and corrals. The annual September Fair was held here for many years afterward. More than a decade later, in 1889, the first local Labor Day celebration was held on the Swinney grounds, and labor leaders long viewed the area as special for laboring people. ... Here at the Swinney property on July 4, 1843, hundreds of people of Fort Wayne and the surrounding region gathered to celebrate the grand opening of the Wabash and Erie Canal, the longest canal ever built in North America. Its ground-breaking had been held here in 1832, and in this presidential election year of 1843, candidate Lewis Cass appeared in town to make laudatory speeches along with other state and local notables. Copied from Swinney Home by Tom Castaldi, local historian published April 3, 2014 on History Center Notes & Queries blog.
Swinney Homestead Log Cabin
A log cabin is now the home of Settlers, Inc on the west side of Fort Wayne. The Swinney house was built by Thomas and Lucy Swinney in 1844. At his death on January 20, 1875, Thomas's will provided that when his direct line of issue expired, the homestead tract of 614 acres of land was to be used for a public park with the provision that his remaining children have lifetime occupancy of the house. The Swinney family occupied the Homestead until 1922. After that time, the Swinney's house became the Museum of the Allen County-Fort Wayne Historical Society. In 1980, after the Museum was relocated to the Old City Hall at Barr and Berry streets, Settlers leased and moved into the Swinney House and began teaching classes in a historical, elegant setting. As part of their mission they also initiated the restoration of the house which is owned by the City of Fort Wayne. Copied from the Settlers website: http://www.settlersinc.org/
Swinney Park
Originally part of the Swinney Homestead, East Swinney Park since 1869 is 46 acres, and West Swinney since 1918 is 48 acres. Swinney Park at City of Fort Wayne Parks & Recreation.
Sycamore Hills Golf Club
www.sycamorehillsgolfclub.com - Jack Nicklaus designed golf course.