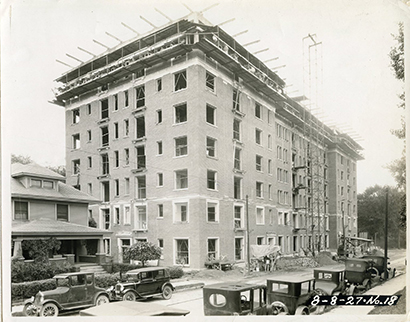 Fairfield Manor Image 1927.
This article was written for and is courtesy of Fort Wayne Reader newspaper.
Olaf Nikolaus Guldlin, the president of the Fairfield Manor Realty Co., had been the founder in 1888 of the successful Western Gas Construction Company on Winter Street in Fort Wayne. Western Gas manufactured and constructed large gas producing plants for cities throughout the country that did not yet have natural gas piped to them. Guldlin and his investors sold Western Gas to the Koppers Corp. of Pittsburgh, PA in January of 1921.
Eleven months later, in December of 1921, his announcement of the proposed construction of the city's first suburban high-rise luxury apartment building, at a cost of $750,000., was heralded in The Fort Wayne Sentinel. However, it would be another seven years before the building at 2301 Fairfield at Creighton Avenues would actually be completed in January of 1928. Part of the reason for this was that the area surrounding the project was an upper class neighborhood of opulent homes and there was significant opposition from nearby residents to the building. Interestingly, the Guldlin's own grand residence was across the street (southwest corner) at 2306 Fairfield. A Speedway gas station now sits on part of the property that was his former home.
Utilizing a combination of Craftsman and Classic elements, Fairfield Manor was designed by at that time, the city's most prominent architect, Charles R. Weatherhogg. Today, nearly 90 years later, the well maintained seven story building remains much the same and has 70 studio, one, two bedroom and larger custom apartments. At the time the building was completed, the rents were as follows: three-room apartment, $77.50; four-room, $105.00; and five-room at $124.00 per month. The apartments included gas ranges, electric refrigerators, and each was furnished with a "Murphy" bed that pivoted out of the wall.
The ground floor included a ladies reception room, lounge and card room, café-tea room, banquet room, large main kitchen, and a beauty shop. The building was originally to have a roof-top garden, and a putting green south of the parking lot, however in the end neither were incorporated. The building's primary entrance still today features the original elaborate bronze and glass portico, and the interior public area showcases 1928's marble baseboards, mixed mosaic and terrazzo floors, walnut wood panels and trim.
For most in Fort Wayne today, the name Guldlin isn't associated with Olaf Guldlin, Western Gas Construction Co., or even the Fairfield Manor, but rather his wife Addie Guldlin. Mrs. Guldlin was an early civic activist and an advocate of safe playgrounds for children. Addie raised funds for the city's first public playground, which under her direction was elaborately constructed with separate boys' and girls' swings, see-saws, sandboxes and wading pools on a six-acre site on Van Buren at the St. Mary's River. Dedicated in 1911, the park was named in her honor. Sadly, two years later during Fort Wayne's infamous 1913 Flood, much of the playground was washed away and is today an empty field, still called Guldlin Park.
(Image courtesy of ARCH)
Randy Harter is a Fort Wayne historian, author, and the history/architectural guide for Fort Wayne Food Tours. Posted November 19, 2017 on You are positively from Fort Wayne, if you remember... Archived group only visible to existing members on Facebookand used with permisison.