People of Allen County, Indiana
L Surnames
LaBalme, Lt. Col Augustin Mottin de
Revolutionary War Colonel defeated in the Fort Wayne area.
Aboite name origin in LaBalme Visit to Fort Wayne by Tom Castaldi, local historianpublished April 12, 2016 in History Center Notes & Queries blog.
La Balme's Defeat on Wikipedia, The Free Encyclopedia
Reexamining the LaBalme Massacre Reexamining the LaBalme Massacre by Keith Layman on page 32 in the Summer 2017 Old Fort Palisade newsletter.
November 12, 2020 post with several photos by the Mary Penrose Wayne Chapter Daughters of the American Revolution on Facebook:

The annual ceremony to honor Colonel De La Balme, a French Calvary officer who served during the American Revolution, was held in Whitley County at the site of the battle between his company of men and Chief Little Turtle and his Miami Warriors. This battle occurred around November, 1780.

Charlotte Blain, Indiana State Regent, introduced and thanked DAR, SAR, and C.A.R. members that were in attendance.

Mary Penrose Wayne Regent, Linda Stafford, placed a wreath for the Chapter.
A 1911 newspaper article references a monmuent for the "LaBalm Massacre."
July 15, 2019 post by Military History of Fort Wayne on Facebook:

The Aboite area of Fort Wayne draws its name from a massacre of French soldiers by Miami Indians southwest of present day Fort Wayne in 1780.

"103 men were massacred west of Fort Wayne, Indiana at a place called Aboite. The Miami Indians left the mutilated bodies to rot, which resulted in the French calling the site, "The Slaughterhouse" - alternately known as LaBalme's Defeat.

A slaughterhouse, also called by the French word abattoir. Today the site is still called the "Slaughterhouse" in the name of a small town and township in Allen County, Indiana called, Aboite".

The battle itself took place on the grounds of the Vermilyea House off of Redding Road.

Aboite, Indiana Named For Indian Massacre and French Word For Slaughterhouse posted by Fritz Zimmerman September 11, 2013 on Blood on the Ohio Tales of the Frontier blog.
November 4, 2023 post by the SAR - Anthony Halberstadt Chapter on Facebook:

Col de la Balme annual Revolutionary War Commemoration in Columbia City, IN on Nov 4, 2023. Pictured are members of the IN State SAR Colorguard, along with two guardsmen performing a rifle salute. The IN State DAR are also pictured below.
Ladies Society of Lutheran Hospital
Started in the fall of 1904 when the Lutheran Hospital opened. After 111 years with fewer active members and lack of new younger members it ended in 2015. See Hospital society to end with new year by Frank Gray published in The Journal Gazette newspaper.
Lahey, Eric
18-year fire department veteran sworn in June 2, 2014 as Fort Wayne's 22nd Fire Chief. A Fort Wayne native and Concordia Lutheran High School graduate. 18-year department vet sworn in as fire chief by Dan Stockman published June 3, 2014 in The Journal Gazette newspaper.
Landon, Daniel
Lane, Chester T.
Chester was principal of the Fort Wayne High School, 1879-1915, he is remembered today with Chester T. Lane Junior High School opened in 1965 on Reed Road, now a Middle School, across from both Glenwood Park Elementary School and R. Nelson Snider High School also built in the 1960s. The following information is copied from pages 1 and 2 of the book above:
Mr. Lane was born in Jackson County, Michigan, October 31, 1851, the son of David and Minerva J. (Crawford) Lane, both natives of New York. He remained on the family farm until he was fifteen years old. He then entered the public schools of Jackson, Michigan, to which city his parents had moved. He was graduated from the Jackson High School in 1869. In the fall of 1870, he matriculated in the University of Michigan. Completing a full classical course, he was graduated in June, 1874. Mr. Lane's excellent scholarship was recognized by his teachers. At the time of his graduation no Phi Beta Kappa existed at Michigan. Many years later a chapter of that scholarship fraternity was established; and on graduation Winthrop Lane, son of Chester T., received his key in the first class so honored. Simultaneously his father was belatedly recognized. For five years (1874-1879) Chester T. Lane served as high school principal at Ypsilanti, Michigan. Chester T. Lane thereafter served as principal of the Fort Wayne High School for the ensuing thirty six years, terminating his professional career here in 1915. he period of Mr. Lane's tenure at the Fort Wayne High School, 1879-1915, saw much that was formative in the American nation. Some of the landmarks of the period were the disappearance of the western frontier, the last of the Indian wars, Custer's defeat, the early stirrings of Union labor, the annexation of Hawaii, the Spanish-American War, the beginning of the World War, the last twenty-four years of Queen Victoria's reign, the flight of Wright's plane at Kitty Hawk, the sinking of the TITANIC and the invention of wireless telegraphy.
June 25, 2023 post byHistoric 07 District - Fort Wayne on Facebook:

The Chester Lane home is for sale on Maple Avenue. This home, known as the Cottage House, was built in 1889 in South Wayne. This beautiful Queen Anne was in a countryside neighborhood with larger lots to give it that country in a city setting. While the home is gorgeous, Chester Lane was one of Fort Wayne's most incredible educators. Read on to learn more!

Lane Middle School was named after Chester, who was considered an expert in classical education. Chester, born on a farm in Michigan, didn't have formal education until high school. Excelling, he attended the University of Michigan, receiving a full classical education. Upon graduation, he spent a few years in Michigan but eventually arrived in Fort Wayne in 1879 to lead the development of Fort Wayne High School for the next 36 years.

Lane built the school curriculum based on the Boston Latin School and recruited teachers to provide the best classical education available. Chester's wife, Caroline, passed away in 1906. Chester and Caroline had six children. Eventually, Lane remarried Vera, who was an English teacher. In 1917 Chester passed away, but his story serves as the foundation for public school education in Fort Wayne.

Broad River Neighborhood Association - Fort Wayne

https://www.zillow.com/.../1309-Maple-Ave.../73117594_zpid/?
Lantz, Joanne
A Defiance, Ohio, native, Lantz graduated from Fort Wayne's Central High School. She earned a doctorate from Michigan State University.  "All the presidents worked hard, but she set the bar. You could talk to her and work with her. She loved Fort Wayne and (the) university." said Win Moses, who was mayor of Fort Wayne during part of Lantz's 1988 to 1994 tenure as IPFW's fourth chancellor. Copied from  Retired IPFW chancellor Joanne Lantz dies by Lisa Esquivel Long published December 9, 2017 in The News-Sentinel newspaper .
Lapp, Sharon
May 1, 1985 murder of community activist at her home on Rudisill Boulevard. Lapp, known for her outspoken criticism of Mayor Win Moses and other city officials, was the publisher of "The Messenger," an occasional newsletter that passed on gossip and other material that usually held city officials in a bad light. Copied from Grisly crimes sent chills through city by Mike Dooley published in 1980-1989: HOT POLITICS, COLD CRIMES of The News-Sentinel newspaper. Her 1941-1985 tombstone on Find A Grave.
LaSalle, General Hyacinth
Born 1777, died 1843 - the first white baby born in Fort Wayne, was a War of 1812 General. Cass County Genealogical Society has a picture of him. Established the first official newspaper in Logansport, Cass County, Indiana and was part owner of the Logansport Canal Telegraph. From Firsts in Early Logansport, Indiana History.
Lattimore, James Harlan
91, May 9, 1921, Knoxville, Tennessee - January 2, 2013, served in the elite all black Tuskegee 301st Fighter Squadron. He was employed by Wayne Pump Company; where he developed a device that was used to detect the presence of water in gasoline. This device was submitted to the Department of Defense in Washington D.C. and became a part of the Army and Navy standard specifications for fueling installations at all U.S. Air Bases. A patent was issued in honor of James name. From his Carmichael Funeral Service obituary. See his Legacy.com obituary.
Latz, G. Irving
1889-1947, first general manager in 1919 of the local legand Wolf & Dessauer store. See Legendary Locals of Fort Wayne, by Randolph L. Harter, Craig S. Leonard discussion August 22, 2015 on You know you've lived in Fort Wayne too long when... Private Facebook group.
Lauer, Kenneth Lawrence
February 27, 1926 to December 27, 2013, fifth child of Paul Anthony Lauer and Florence Elizabeth Becker. Siblings Margaret Ann (Lauer) Sherlock, Richard Paul Lauer, Mary Alice (Lauer) Burns, Phyllis Mae (Lauer) Traylor, and Lawrence James Lauer. January 27, 1951, he married Mary Joan "Jo" Piatt in the rectory of Saint John the Baptist Catholic Church. Ken died one month before his 63rd wedding anniversary. Their children were Beth Ann Lauer, Linda Sue Lauer, and Philip Gregory Lauer. Greg's wife was Joletta Charun, and their children were Austin Charun Lauer, Braden Charun Lauer, and Audrey Charun Lauer. Fred Reynolds, head Allen County Public Library librarian, persuaded Ken to change careers by working at ACPL and going to library school for three summers. During this time, he made 52 trips to Newberry Library in Chicago to help ACPL build its now famous genealogy collection. Ken eventually became a library manager. See his lengthy Legacy.com obituary or Elzey-Patterson-Rodak Home obituary.
Lawton, General Henry "Hank" Ware
Page 456 - MAJOR GENERAL HENRY W. LAWTON. A word at this point with reference to Fort Wayne's greatest military leader, Major General Henry W. Lawton. is entirely fitting. The father of Henry W. Lawton came to Fort Wayne during the building of the Wabash and Erie canal, but the family did not locate here permanently until 1858, at which time Henry, who was born at Manhattan, Ohio, in 1843, entered the Methodist college as a student. He enlisted as a private in the company organized by W. P. Segur, which became a part of the Ninth Indiana regiment,
Page 457 - In 1876 he was prominent in the campaigns against the Sioux and the Ute Indians. General Nelson A. Miles chose him in 1886 to lead a picked body of men to capture the bloodthirsty Indian chief, Geronimo. Within three months, on scant, unwholesome ra- tions, the little command traversed 1,396 miles of Mexican soil before the chief and his band were captured. At the beginning of the Spanish-American war General Lawton, then a lieutenant-col- onel, was promoted to the office of major-general of volunteers. He was in command of the Second division of the Fifth army corps before Santiago, and became "the hero of El Caney." At the close of the war he was transferred to the Philippines and placed in com- mand of Manila. Here he began an active campaign against the
Page 458 - native insurgents. On December 19, 1899, a bullet from the rifle of a Filipino sharpshooter at San Mateo brought to him almost instant death. The body of General Lawtou, conveyed to America for burial at Arlington cemetery, lay in state in the Allen county court- house while thousands viewed the closed casket. (See Chapter XLVI.) That Governor James A. Mount failed to recognize Law- ton's standing in the estimation of the Indiana veterans in 1898 is shown by his words in reply to the proposition to honor him with the appointment of brigadier general at tlie outbreak of the Spanish- American war. "Lawton is an absolutely unknown quantity in Indiana," said he. "His selection would disgust and disrupt the National Guard. I protest vigorously against his appointment. It must not be. He has no identity with Lidiana. If the powers that be insist on his preference, we may as well abandon the camp and
Page 458 - disband the troops." The failure to appoint Lawton at this time prevented the service of the Indiana troops beyond the border of the United States.
Born on March 17, 1843, near Toledo, in the town of Manhattan, Ohio. His millwright father George came to Fort Wayne to build mills in Allen County accompanied by his brothers Daniel and Charles. He joined the first Indiana regiment in 1861 when the Civil War erupted. During his military career he rose to General rank and was killed December 19, 1899 during the Phillipine Insurection. He was buried at Arlington National Cemetery. May 30, 1907, President Theodore Roosevelt was in Indianapolis to dedicate the statue of General Henry Lawton at Garfield Park in Indianapollis. He also placed a wreath on the grave of President Benjamin Harrison at Crown Hill Funeral Home & Cemetery.
August 2, 2023 post by the Indiana Historical Bureau on Facebook:

#OTD in 1864, Civil War Major General Henry Ware Lawton commanded Company A of the 30th Indiana Infantry during the Battle of Atlanta. He was awarded a Medal of Honor for leading a "charge of skirmishers against enemy rifle pits and… successfully resisted two determined attacks of the enemy to retake the works." After the Civil War, Lawton continued serving in the US military until his death in 1899 during the Philippine-American War.

Read more about General Lawton here: Henry Ware Lawton Flawed Giant and Hero of Four Wars by Steven L. Ossad

Pictured below is General Lawton, courtesy of the Congressional Medal of Honor Society.
Lebamoff, Jordan
Fort Wayne Community Schools board member and local attorney. The son of former Fort Wayne Mayor Ivan Lebamoff, Jordan Lebamoff was a 1984 graduate of South Side High School. He was first elected to the school board in 2010 and joined the board in 2011. He was last elected in 2018, and his term runs through 2022. He chose to raise his two sons, Sebastien and Julien, with his wife, Nicole, within view of South Side in the house his grandfather built and where he and his father were raised. He was committed to improving the neighborhood around South Side as a property owner and landlord. Copied from Jordan Lebamoff, FWCS board member, attorney, dies at 54 by Jim Chapman published March 10, 2020 in The Journal Gazette newspaper.
Lebamoff, Thomas Christ
1932 - December 1, 2012, was a Fort Wayne restaurateur for over 40 years owning Ted and Tom's North and South, Yankee Drummer, Lambro's, and The Elegant Farmer Restaurant, retiring in 2001. For more read his obituary.
Leeward, James Kent
74, a 1955 Central Catholic High School graduate who grew up in Fort Wayne, was the pilot at an air show tragedy where 9 spectators were killed September 16, 2011 in Reno, Nevada. See Jimmy Leeward: Pilot killed in Nevada crash remembered as skilled, modest by Anika Myers Palm published September 17, 2011 on Orlando Sentinel, 2011 Reno Air Races crashon Wikipedia, The Free Encyclopedia, owner of Leeward Air Ranch in Ocala, Florida. There was also Air show crash pilot from city published September 18, 2011 in The Journal Gazette newspaper.
Lehman, Jack
1931 to November 2, 2013 - Berne native, Korean War Army veteran, received degrees from Bluffton University in Ohio and Indiana University, former president of the Fort Wayne National who helped found the English, Bonter, Mitchell charity foundation and was involved in a lengthy list of charitable organizations, 52 year member of the Plymouth Congregational Church and instrumental in bringing a minor league baseball team to Fort Wayne. Wife Carol Sprunger, four children Reverand Janet (Jeffrey) Funk, Ray Lehman, Susan (Dr. Steven) Hoagburg and Rober (Denise Daniels) Lehman, 7 grandchildren and 3 great-grandchildren. From Bank chief, civic leader Lehman dies Started charity foundation, oversaw Coliseum projects by Ron Shawgo November 5, 2013 on The Journal Gazette newspaper and D.O. McComb and Sons obituary. Editorial 'Visionary' Lehman poured his all into Fort Wayne's improvement November 7, 2013 on The Journal Gazette newspaper.
Leininger, Kevin
Attended New Haven High School. He was one of the staffers during the 1982 flood when The News-Sentinel won the Pulitzer Prize for its coverage of the flood when President Ronald Reagan posed holding a sandbag on the levee.
Lemmon, Alihana
9 year old girl gruesome murder in December 2011 and dismembement at a trailer park on the north side of Fort Wayne made national news as a search for a missing child. June 4, 2012 a garden was dedicated in her honor as a student at Holland Elementary School. Memorial garden in honor of Aliahna by Sarah Janssen published June 5, 2012 in The News-Sentinel newspaper. December 23, 2012 Remembering Aliahna Candles lighted at 1-year vigil for slain girl by Jeff Wiehe of The Journal Gazette newspaper. June 18, 2012 Michael L. Plumadore was sentenced to life plus 36 years in prison for killing 9-year-old Aliahna Lemmon. Plumadore, a family friend was baby-sitting Lemmon and her sisters when Aliahna went missing days before Christmas 2011. Babysitter Kept Aliahna Lemmon's Head in His Freezer with video by Olivia Katrandjian published December 27, 2011 on ABC News.com.
Leonard, Craig
A native of Fort Wayne, historic preservation consultant, and three degrees in architecture. Forty years specializing in restoration and adaptive reuse of historic buildings. He is both a Sagamore of The Wabash and a Kentucky Colonel. Involved in restoration of the John Bass Mansion "Brookside," the Allen County Courthouse, and other local landmarks. He has done extensive research of local history, and past volunteer work for ARCH and The History Center. The book Legendary Locals of Fort Wayne by Randolph L. Harter, Craig S. Leonard - 2015. Available at Amazon.com, Arcadian Publishing, Museum Shop at The History Center, and Visit Fort Wayne Store at Visit Fort Wayne.
Leonard, Jay
Preferred Auto dealer website: https://preferredautogroup.com/, Facebook: https://www.facebook.com/preferredauto. Jay A. Leonard May 3, 2023 (age 61) Divine Mercy Funeral Home Obituary Jay Alan Herbert Leonard, 61, passed away peacefully on Wednesday, May 3rd, 2023. He was surrounded & filled with the love of his wife, two children & their spouses, both of his brothers, niece & nephew, and life-long best friend. Jay was raised in New Haven, Indiana. He was the middle of three sons of James (Jim) & Janet Leonard. His brother James (Jim Jr.), 67, who currently resides in Los Angeles, California and younger brother Jon, 57, who currently resides in Chicago, Illinois have been continual supporters of Jay's ambitions since the earliest days here with him. He has been happily married to & survived by his wife Ann for 34 years. Together, they had two children Alexandria (Khorshid) & Jacob. He is also survived by his son-in-law, Daniel Khorshid, and daughter-in-law, Ashley Leonard. Along came three grandchildren as well, Lincoln & Leo Khorshid and Penelope Leonard - best known as "Papa" to them. He continues to be survived by his brothers James (Linda) Leonard Jr. and Jon (Betsy) Leonard; several nieces and nephews and additional family members. Jay was preceded in death by his father, James J Leonard, and mother, L. Janet Leonard.
Jay Leonard, founder of Preferred Auto, passes away after cancer battle Evan Harris May. 4, 2023 21AliveNews.com.
Jay Leonard, founder of Preferred Auto Group, dies at 61 Sherry Slater May 4, 2023 The Journal Gazette newspaper.
Levine, Joseph
Joseph Levine was born in Molodechno, Belarus on July 7, 1907. He was one of nine children of Zalman and Sylvia Levine. In 1915, he left Molodechno with his mother, two of his brothers, and one sister. The family traveled in boxcars across Russia and Siberia, arriving at Angel Island, California in February 1915. He graduated from Hillhouse High School in 1926 and from Franklin & Marshall College in 1930. After some graduate studies at Columbia University School of Social Work, he began his career with the Jewish Board of Guardians in New York City. He later became a parole officer with the New York state parole office and was soon selected the number two person in the department of Executive Case Supervisor, after finishing first in a civil service exam. During WWII he was in the electric supply business with one of his brothers in Stanford, Connecticut. Following WWII, he worked in Germany for a year for the "JOINT" Distribution Committee, resettling Holocaust survivors. Joe wrote a story for the Indiana Jewish Historical Society on his work with the Jewish survivors of WWII, and it is still available. In the summer of 1947, he became the Executive Director of the Fort Wayne Jewish Federation. When he retired in 1972, he founded the Indiana Jewish Historical Society and was its director until he retired in 1992. Governor Evan Bayh awarded the Sagamore of the Wabash to him for all his contributions to Indiana. He married Edna Price of Staten Island, New York and they had two children, Lois (deceased) and Stanley. Joe passed away in August 7, 1996 at the age of 89. The Fort Wayne newspaper hailed him as the "conscience of the community." Additional publications by Joe Levine are: The First Known Jewish Resident of Fort Wayne John Jacob Hays; The Boruchovicz Siddur; Peddlers To Merchants; My Work in Germany with Jewish Survivors of WWII; A Little Known American Jewish Hero; Minsk 1915: The "Rabbi Wept"; Jewish Transients in Fort Wayne; The American Heritage-Roots of Greatness; Changes In Fort Wayne. Copied from Joseph Levine at the Indiana Jewish Historical Society website: ijhs.org.
Lewis, Belinda
After 29 years, Belinda Lewis, executive director of Fort Wayne Animal Care and Control, to retire in January by Belinda Bogue published August 27, 2015 in The News-Sentinel newspaper. MAYOR HENRY PRESENTS BELINDA LEWIS WITH "KEY TO THE FORT published January 27, 2016 by City of Fort Wayne.
Ley, Elizabeth Renier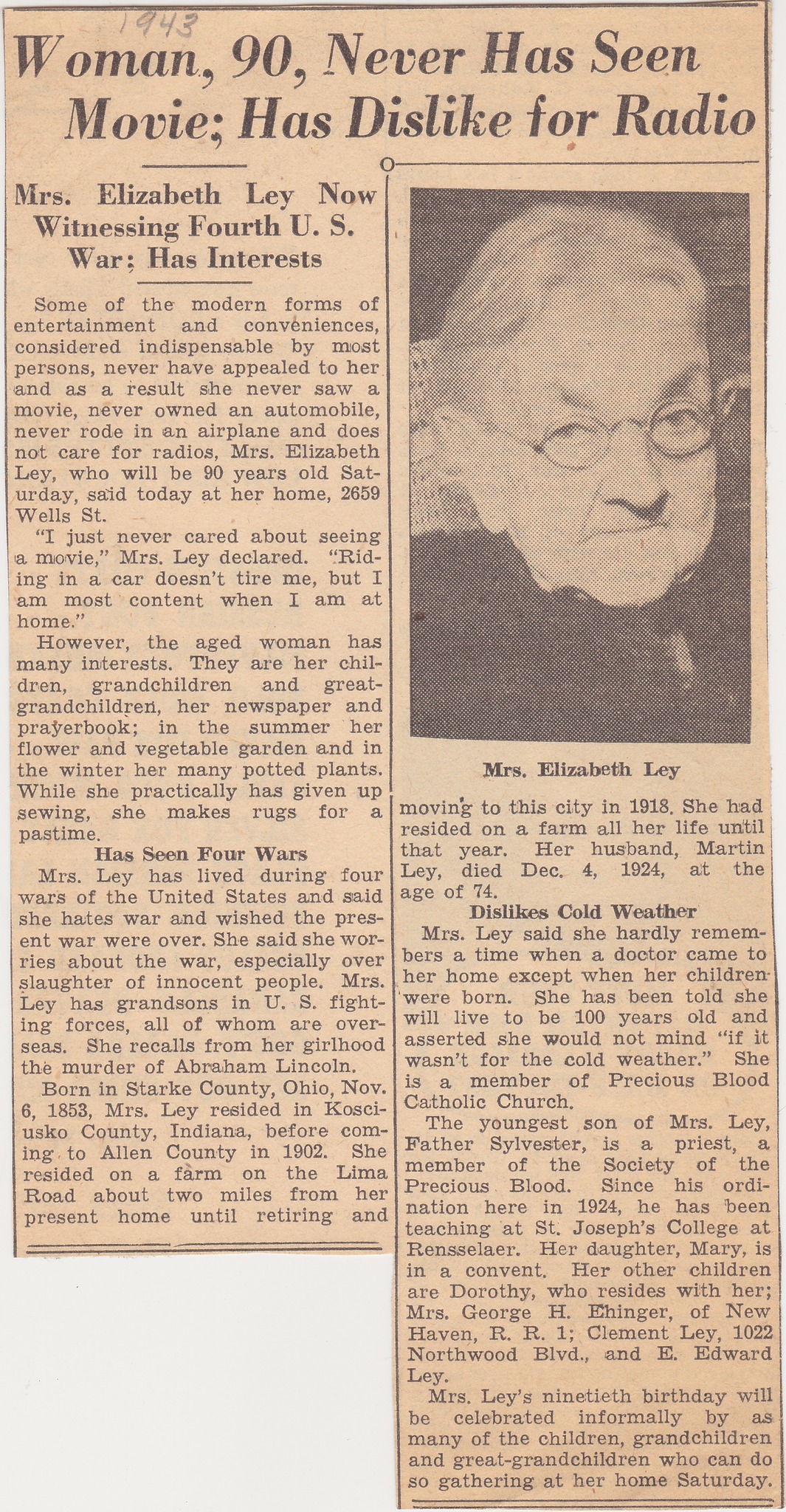 Michael Vorndran image
1943 newspaper article Woman, 90, Never Has Seen Movie: Has Dislike for Radio posted January 19, 2023 on True Fort Wayne Indiana History on Facebook. "She recalls from her girlhood the murder of Abraham Lincoln." Elizabeth Ley in Catholic Cemetery on Find A Grave.
Libii, Kobi
Mother Louise Magoon and father Josue Njock Libii. He graduated from Snider High School in 2003 where he was active in drama and speech. Kobi helped take the Snider speech team to eight national competitions. The Snider High School grad starred in CBS' 2017 legal drama, Doubt, alongside Katherine Heigl of Grey's Anatomy fame. See Snider Grad starring in primetime CBS show by Kaitor Kposowa published Febraury 13, 2017 on CBS WANE-TV NewsChannel 15.
Liddell, Stan
February 4, 2013, 76, in 1984 he bought the Marketplace of Canterbury. He also owned Piere's Entertainment Center with 5 different clubs featuring various musical genres and is billed as "Fourth in the World for Clubs 21+.", a variety of other businesses, including the north-end Trolley Steaks & Seafood, also known as the Trolley Bar, and a car parts company. A 1994 profile of the man published in The News-Sentinel called the nightclub business a "brass-knuckle arena" where "Liddell is the reigning champ in Fort Wayne." A 1996 article in the northeast Indiana publication Business People, referred to Mr. Liddell by his well-known moniker, "Prince of Piere's." Read more of his story in Fallen Piere's founder 'really cared' February 6, 2013 by Jeff Wiehe of The Journal Gazette newspaper. Survivors include his daughters, Buff (Lloyd) Sergent of Chicago; Jill (Chad) Conley of Sugar Grove, Ill. and Tish Liddell of Allen County; sons, Herbert Liddell III (Sheraea Deckard) and Nicholas Liddell, both of Fort Wayne; grandchildren, Caleb, Camri and Chloe Conley, Joelle (Elle) Liddell and Herbert Liddell IV and Hannah Scarlett Liddell; sisters, Charlotte Beatty of Auburn, Judy Liddell Farrington of Fort Meyers, Fla. and Deborah Liddell of Raleigh, N.C.; brother, David (Sunny) Liddell of Auburn; and 15 nieces and nephews. He was preceded in death by his parents, Herbert Liddell Sr. and Lee Liddell. From his February 6, 2013 Fort Wayne Newspapers Legacy.com obituary and Feller & Clark Funeral Homes Auburn, Indiana obituary.
Liebowitz, Fawn
A fictional movie character in the 1978 National Lampoon's Animal House movie starring John Belushi. Origin of character Fawn is discussed in newspaper article Fawning attention Fort Wayne frequently played for laughs - and what's wrong with that? published April 12, 2015 in The Journal Gazette newspaper. There are even fake obituaries such as Fawn Liebowitz Dies on cuppacafe.com.
Lillie, Samuel, Jr.
Samuel Lillie Jr. (1830-1869) operated a brick, tile and pottery/earthenware business in Fort Wayne back in the mid/late 1800s. His brick yard was located at the corner of Maumee and Walton Ave. (now Anthony Boulevard). His brick yard continued to operate (at this location) after his death until it finally ceased operations in around 1887. Mr. Lillie also held a patent that made improvements to machines that molded and pressed bricks. Copied from a December 5, 2023 photos and discussion on True Fort Wayne Indiana History on Facebook.
Lincoln, Abraham
President of the USA - February 23, 1860 made a brief stop at the Pennsylvania Railroad station in Fort Wayne. While he was making his way to New York to deliver his famous Cooper Union Address - the speech that assured his nomination as the Republican candidate - Lincoln stopped in Fort Wayne in the dead of night to change trains. There is no evidence that he ever left the station - it was 1 a.m. - and only a brief notice in Dawson's Daily News of Fort Wayne noted his passing: "The Hon. Abe Lincoln and wife came from the west this morning at 1 o'clock, on the Toledo, Wabash and Western Railroad, and changing cars at this city, went east." From 'Ole Abe' rides the rails Old train stations sadly reflect Fort Wayne's past by Michael Hawfield from the archives of The News-Sentinel newspaper. Lincoln came through a few days later for a second visit changing trains on his way back to Illinois. A statue of the young Abraham Lincoln in Fort Wayne represents the president-to-be as more of a "dreamer and poet… than…rail-splitter." from Fort Wayne's Lincoln Mystery By Yael Ksander posted May 30, 2011 at indiana publicmedia.com.
Lindahl, David M.L.
Mr. Lindahl was born August 6, 1944, in Fort Wayne, and graduated from Indiana University (B.S., 1967) and Western Michigan University (M.A., 1968). He is married, has two children, and currently resides in Fairfax Station, VA. Copied from November 13, 1985 his Nomination of David M.L. Lindahi To Be Director of the Office of Alcohol Fuelsby Ronald Reagan 40th President of the United States: 1981 ‐ 1989 at The American Presidency Project. October 19, 1989 was Continuation of David M.L. Lindahl as Director of the Office of Alcohol Fuels at the Department of Energy by George Bush 41st President of the United States: 1989 ‐ 1993, at The American Presidency Project.
Lindbergh, Charles
The famous pilot flew over Fort Wayne on August 10, 1927. The History Center's April exhibit focuses on transportation: Here's a special look at a letter from American Aviator Charles Lindbergh that he dropped in the Summit City in 1927 by the Associated Press published April 2, 2016 on CBS WANE-TV NewsChannel 15.
April 6, 2016 post by The History Center on Facebook:

This 1930 aerial view of Fort Wayne would have been very similar to what Charles Lindbergh saw when he flew over the city in 1927 with one major exception. Can you guess what would have been different?

Learn more about Charles Lindbergh's flight over Fort Wayne in 200@200 - Traveling the Crossroads: - 1927 Charles Lindbergh Air Sock

October 3, 2020 post by The History Center on Facebook:

After the end of World War I, large portions of society worked to keep America out of and from intervening in any European conflicts. In order to accomplish this, the America First Committee (AFC) was established in September 1940. As the foremost non-interventionist group in the United States they supported isolationism. Membership peaked at 800,000 paying members in 450 chapters, located mostly in a 300-mile radius of Chicago, making the AFC one of the largest antiwar organizations in the history of the United States. Well-known aviator and accused Nazi sympathizer, Charles A. Lindbergh was the group's major spokesman and appeared all over the country promoting isolationism. On October 3, 1941, exactly 79 years ago today, Lindbergh spoke at the America First rally in Fort Wayne held at the Gospel Temple. His address, entitled "On Free Speech," was delivered to an overflow crowd and the event was broadcasted over national radio. AFC disbanded several months later, in December 1941, after the Japanese attack on Pearl Harbor. Today the History Center takes a look back on one of the days that Charles Lindbergh visited Fort Wayne. #sociallyhistory

The image Lindbergh speaks again Fort Wayne, Ind. - Backed by a large portrait of George Washington, Charles A. Lindbergh addresses some 3,000 persons at an America First rally in Fort Wayne's Gospel Temple. Speech marked his first appearance since his controversial address at Des Moines. at The Library of Congress.
No America First Committee chapter was without its organizational or leadership problems. But among the better chapters in terms of leadership, size, and effectiveness of organization were the chapters in St. Louis, Missouri; Pittsburgh, Pennsylvania; Denver, Colorado; Fort Wayne, Indiana; from page 31 and However,/without referring to the Des Moines speech or the Jews, he did attempt to defend him self at an America First rally at Fort Wayne, Indiana, on October 3, 1941page 153 in the book AMERICA FIRST THE BATTLE AGAINST INTERVENTION 1940-1941 by WAYNE S.COLE, Publication date 1953, Publisher THE UNIVERSITY OF WISCONSIN PRESS
December 3, 2023 images of October 3, 1941 Fort Wayne ticket and more posted on True Fort Wayne Indiana History on Facebook
Link, Col. William Hardy
Col. William Hardy Link, born 2 March 1821Rockbridge County, Virginia, died 20 September 1862,Richmond, Madison County, Kentucky from Find A Grave. While serving as Commander of the 12th Indiana Infantry, Col. Link was wounded at the Battle of Richmond, Kentucky on August 30, 1862. He was struck in the leg by a minie-ball (a muzzle-loaded, spin-stabilizing rifle bullet) which shattered the bone. He remained in a military hospital with an infection for three weeks before dying on Sept. 20, 1862. His body was returned to Fort Wayne for burial on Sept. 24th at Lindenwood Cemetery, Section B, Lot 46. Sources: News-Sentinel, Ancestry, Battle of Richmond Association on Facebook; and staff at Lindenwood Cemetery. Copied from March 10, 2023 post on True Fort Wayne Indiana History on Facebook.
Lipscomb, Mary Polly
101, died June 4, 2015, 10 days shy of her 102nd birthday. Was born Ann Arbor, Michigan, was US Army Nurse Corp during WWII. Oldest to fly Honor Flight of Northeast Indiana to Washington D.C. May 20, 2015. See June 4, 2015 D.O. McComb and Sons obituary. WWII Army nurse veteran Polly Lipscomb dies at 101 by Jaclyn Goldsborough published June 5, 2015 and 101-year-old WWII veteran Polly Lipscomb takes her first flight with the Honor Flight of Northeast Indiana Honor Flight 16 marks the 1,000th WWII veteran to visit Washington, D.C. published May 25, 2015 by The News-Sentinel newspaper. See also World War II Veteran Series: Army nurse Mary 'Polly' Adelaide Woodhull Lipscomb 101-year-old veteran shares personal story about treating shell-shock patients in England by Kayleen Reusser published May 4, 2015 by The News-Sentinel newspaper. Her WWII letters were discussed in 'Nobody writes like that anymore' In a digital world, cursive fades further from favor by Jeff Wiehe published July 5, 2015 in The Journal Gazette newspaper.
Little Turtle
July 4, 2023 post by Miami Nation of Indians of Indiana on Facebook:

On this date in 1912, Chief Little Turtle's grave was discovered in present day Fort Wayne Indiana almost 100 years to the day of his death (July 14, 1812). A contractor building a house on what is present day Lawton Place near downtown, discovered a Miami grave that would be identified as the Chiefs (part of the identification came from the dress sword buried with the remains which was the dress sword President George Washington had given the Chief). That area of Fort Wayne was originally burial grounds for the city of Kekionga and eventually would become the farm of William Wells. Because William Wells was killed at Fort Dearborn (present day Chicago) in August of 1812 and his farm along with everything around fort Wayne would be burned in the Siege of Fort Wayne in August of 1812, Little Turtle's grave would be lost to history until this day.
A July 14, 2020 post by Indiana Historical Bureau on Facebook:

On July 14, 1812, Miami leader Little Turtle, or Mihšihkinaahkwa, died near Fort Wayne. Born near the Eel (Kenapocomoco) River, Little Turtle led the Western Confederacy against American troops who wanted to push them out of the Northwest Territory in the 1780s and 1790s in order to acquire land. While Little Turtle led many military victories, he was eventually defeated at the Battle of Fallen Timbers in 1794 by General Anthony Wayne's troops.

According to the Myaamia Project of the Miami Tribe of Oklahoma, "Mihšihkinaahkwa (ca. 1752-1812) has long been characterized by historians as both a great leader - praised for his military defeats of Generals Harmer (1790) and St. Clair (1791) - and a traitor to his people for his willingness to work with the United States government after signing the Treaty of Greeneville in 1795. Absent from these superficial descriptions is an understanding of Myaamia leadership and the cultural, political and social environment of his time. . . . His story depicts a struggle to maintain an impossible balance between the wellbeing of his own people and a strategic resistance against those who gave little value to his existence as an indigenous person."

Learn more about the history of the Miami here: https://bit.ly/31WmqtJ

The image below, showing Little Turtle, is courtesy of the New York Public Library Digital Collections.
Mishikinakwa on Wikipedia, The Free Encyclopedia, also Me-She-Kin-No-Quah, last Chief of the Miami Indians, some say was born in 1747 near Devil's Lake, northwest of Churubusco in Whitley county, Indiana, Otho Winger says "Little Turtle was born at his father's village on Eel River in 1751... five miles east of Columbia City." He led the Miamis to military defeats of Generals Harmer in 1790 and St. Clair in 1791. He died July 14, 1812 near Fort Wayne. His grave location is shown on the Map of Kekionga and Little Turtle Burial Site information is on our Cemetery page.
Page 81 TWO "TURTLE" RELICS. in The pictorial history of Fort Wayne, Indiana : a review of two centuries of occupation of the region about the head of the Maumee River by Griswold, B. J. (Bert Joseph), 1873-1927; Taylor, Samuel R., Mrs, Publication date 1917 on Archive.org.
Herewith are shown two curious Indian relics found at different times on the site of the city of Fort Wayne. The ladle is of a hard, flne-grained white wood, measuring about five inches in length. It is now in the private collection of Leslie W. Hills. It was found by boys who were assisting In some excavation work on the land platted by George Jaap In Spy Run. between Spy Run avenue and the St. Joseph river, where the Miami burying ground was located, and in the vicinity of the grave of Chief Little Turtle. The ladle was enclosed in a copper kettle. The Iron handle of the kettle was rusted away, but the contents, thoroughly sealed, were in perfect condition. A turtle is carved in relief on the handle of the ladle. The second specimen is carved from bone and was found Page 81 by the late J. W. Stockbridge in the neighborhood of Rockhlll, Wayne and Berry streets. It now forms a part of the collection of Charles A. Stockbridge, a brother. The design of the turtle according to students of Indian life and customs, was of common use. Jacob P. Dunn says: "The Miamis have specific names for the most common turtles — at-che-pong for the snapping turtle, ah-koot-yah for the soft-shell turtle, we-neet-chah for the box turtle or tortoise, kach-ki-yot for the map turtle, and mi-shl-kln-noq-kwa, spelled by many writers me-che-can-noch-qua, for the painted terrapin." The name of the latter, the commonest of the turtles of this region, was the Indian title of Chief Little Turtle. "When it came to translation," adds Mr. Dunn, "the Interpreters knew no specific English name for the painted terrapin, and. as it is a little turtle, never growing more than six or eight inches across, they conveyed the idea as well as they could by saying. 'The Little Turtle." (Dunn's "True Indian Series.")
Locke, Victor
1983-2004 various responsibilities at Fort Wayne's 21AliveNews.com, was the number one ranked morning show for 20 years, now Victor Locke Productions in Durango, Colorado who still does many voice over commercials around the area.
Logan, Lot A.
1832-1898, 66 years old, born in 1832 Kentucky, came with his parents in 1836 age 4 to Fort Wayne, was a conductor on the Wabash railroad, had four children John C. a conductor on G.R. & I. RR, William H., Mary Cantrell of Hartford City, and Jennie Lones of Warsaw wife of a Pennsylvania RR agent. See his Fort Wayne News obituary February 5, 1898.
Logan, Shawnee Chief
Lombard, Carole - born Jane Alice Peters
Hollywood movie actress was born Jane Alice Peters October 6, 1908 in Fort Wayne, Indiana to Fred Peters, son of John Claus Peters. One of three children, her parents separated and with her mother she moved to California.
March 23, 2019 post by Indiana Historical Bureau on Facebook:

On March 23, 1913, the Great Flood devastated much of Indiana, as the Ohio and Wabash rivers and their tributaries spilled over banks and levees across the state. For days, the flood swept through Indiana and proved to be one of the worst weather disasters in Midwest history, causing hundreds to lose their lives and thousands their homes. Film star Carole Lombard was one of thousands impacted and her Fort Wayne childhood home became a rescue center.

Learn more and see more images of the Great Flood here: Indianapolis Collected: Postcards from the Great Flood of 1913 
Her first film role was at age 12 in A Perfect Crime. Carole Lombard and her husband Clark Gable honeymooned at Lake BarBee near Warsaw, Indiana. Her last visit to Indiana was January 15, 1942 for a war bond rally, see photo posted March 8, 2018 by the Indiana Historical Society on Facebook.
January 16, 2019 post by the Indiana Historical Bureau on Facebook:

On January 16, 1942, Jane Alice Peters, better known as silver screen actress Carole Lombard, died in a plane crash the day after a visit to Indianapolis for a war bond rally. Approximately 12,000 turned out to see the Fort Wayne native's return to Indiana; millions others viewed the rally through newsreels. While in the city, Lombard attended tea at the governor's mansion, a flag-raising ceremony at the Statehouse, and ribbon-cutting at an army recruiting office.

Learn more about Lombard on the #IndianaHistoryBlog: Carole Lombard: From Fort Wayne Flood to the Silver Screen

The image below shows Lombard with Governor Henry Schricker at the bond rally just before her death, courtesy of the Hammond Times. 
Jane Alice Peters aka Carole Lombard April 18, 2013 by Tom Castaldi on the History Center Notes & Queries blog.
Carole Lombard: From Fort Wayne Flood to the Silver Screen by Tom Castaldi, local historianpublished June 16, 2016 on the Indiana Historical Bureaublog.
Carole Lombard video at Indiana Bicentennial Minute by the Indiana Historical Society and the law firm of Krieg Devault with transcript of Jane Pauley narration.
Photo on Five Fort Wayne Actresses Who Made it on the Big Screen by the The News-Sentinel newspaper now on the Internet Archive Wayback Machine.
Third wife of Clark Gable whose biography is on Find A Grave.
Carole Lombard and also mother's photoon Find A Grave.
Her father Frederick C. Peters died February 20, 1935 and is buried in Lindenwood Cemetery Fort Wayne, Indiana on Find A Grave.
A September 6, 2009 Journal Gazette newspaper article West Central block party salutes arts shows her home at 704 Rockhill St.
Carole Lombard on Wikipedia, The Free Encyclopedia.
GenDisaster web site discusses her tragic death January 16, 1942 Near Las Vegas, NV Carole Lombard, 21 More Dead In Airline Crash, Jan 1942 "
Several local landmarks are show in Carole Lombard album on Great Memories and History of Fort Wayne.
IMBd biography lists her many film credits.
British Newspaper Archives has the Evening Telegraph – Saturday 17 January 1942 newspaper clipping.
city icon Carole Lombard back to life Civic Theatre opens playwright festival with one-woman show about the famous actress, a Fort Wayne native by Sheryl Krieg published May 30, 2013, New book examines plane crash that killed Hollywood star, Fort Wayne native Carole Lombard by Kevin Kilbane published January 13, 2014, and a new book Fireball: Carole Lombard & the Mystery of Flight 3 by author Robert Matzen published January 16, 2014 by GoodKnight Books, discussed in  Fort Wayne native and acting legend Carole Lombard's life, death topic of first Mather Series lecture by Kevin Kilbane published September 30, 2014 were all in the former The News-Sentinel newspaper.
2014 book by author Robert Matzen in a video: Writer discusses book on Fort Wayne native, Hollywood star by WANE Staff Reports published October 5, 2014 on CBS WANE-TV NewsChannel 15 now on the Internet Archive Wayback Machine.
Author Robert Matzen wrote WOODSTOCK ON THE MAUMEE about his visit to the Peters/Lombard family homes including photos before his presentation on his Robert Matzen blog.
Carole Lombard by Susan King published November 25, 2003 in the Los Angeles Times newspaper.
July 30, 2022 photos of the Carole Lombard Bridge were posted on True Fort Wayne Indiana History on Facebook. Carole Lombard Memorial Bridge at HistoricBridges.com. Main Street Bridge at BridgeHunter.com.
Carole Lombard: Hoosier Actress by Ray E. Boomhower posted October 6, 2022

November 30, 2023 post by the Indiana Historical Bureau on Facebook:

Actress Carole Lombard selling Defense War Bonds on January 15, 1942. Lombard, a popular actress born Jane Alice Peters in Fort Wayne, was stationed at a table in the Indiana Statehouse corridor, where pledgers received receipts adorned with her printed autograph and photograph. (Here is a great view of the event: https://tinyurl.com/33yvkez7). Lombard's eventful day included attending flag-raising ceremonies at the Statehouse and in the Claypool Hotel (where she dined and was provided a suite for rest and wardrobe changes), a ribbon-cutting at a new army recruiting office, a surprise visit to a Sahara Grotto dance at the Indiana Roof Ballroom, tea at the Governor's Mansion, and finally a patriotic concert and war bond rally at the Cadle Tabernacle, promoted as the nation's first state-wide defence bond rally. The beautiful blond actress known for her screwball comedies sold more than $2 million worth of war bonds that day.

During her one-day visit, Lombard was accompanied by her mother and the press agent of her famous husband, Clark Gable. Both preferred to return to California by train, but Lombard, eager to fly home, suggested flipping a coin to decide. Unfortunately, she won the toss. The next day, all three, along with the crew and 15 U.S. Army soldiers, perished in a TWA plane crash. The cause was attributed to a blackout of safety beacons placed to assist pilots over the mountains near Las Vegas; they were dimmed due to fears of a Japanese attack (this was just weeks after the attack at Pearl Harbor).

Color footage of Lombard in Indianapolis: Carole Lombard final bond rally speech colour film footage

Questions:

-Did your family attend this event? Please share stories.

-Do you own a an original Lombard bond receipt that we can scan?

-Who are the men on either side of her?

Source - The Indiana Album: Ray Hinz Collection
Long, Edwin J. Eddie
Edwin J. "Eddie" Long June 11, 1933 – July 28, 2023 at Dignity Memorial online obituary. Listed at just 5-foot-8, 170 pounds, "Tiny Mite" became the Komet's first star, and after playing, 1952-1964, for 14 seasons he retired as "Mr. Komet." He was named the IHL's Most Valuable Player in 1963 after putting up a career-high 56 goals and 102 points. During that season he scored 48 goals in the Komets' first 48 games. Copied Fort Wayne Sports History Eddie Long gave Komets their 1st star by Blake Sebring published March 27, 2020 in The Journal Gazette newspaper now on the Internet Archive Wayback Machine.
March 26, 2023 post by Fort Wayne Sports History on Facebook:

March 27

In 1964, the Komets hold ``Eddie Long Night.''

When the Fort Wayne Komets first came to town in 1952, they held a free exhibition two nights before their first game to introduce the sport to the fans.

Then-News-Sentinel Sports Editor Ben Tenny wrote, ``It didn't take me long to see that the young short skater who was wearing No. 16 on his white jersey had that desire to win and get ahead that makes some athletes outstanding. If the play of this youngster is typical of the play fans will see in the International Hockey League, hockey will make it in Fort Wayne.''

Hockey made it, and so did Eddie Long. Long played 14 seasons for the Komets, and his No. 16 became the first Komets' jersey to be retired on March 27, 1965. The Komets shocked Long by sneaking his mother into town for the event.

During his playing days, Long scored 459 goals, 465 assists and 924 points while earning 845 penalty minutes in 858 games. He retired as the IHL's all-time leading scorer.

He ranks second in games played, goals, assists and points and is ninth in penalty minutes on the Komets' all-time lists.

``But Eddie Long is more than a statistic – he's a spirit, the spirit of competition,'' former News-Sentinel Sports Editor Bud Gallmeier wrote at Long's retirement in 1965. ``He only knew one way to play the game – as hard as he could. Eddie would burn more energy during one shift on the ice than many players do in an entire game.''

During his career, ``Tiny Mite'' as he was first known, became ``Mr. Komet.''

Long was part of two Turner Cup championship teams, played in four IHL All-Star games, was the league's MVP in 1963 and was named all-league three times.
July 29, 2023 post by on Fort Wayne Komets on Facebook:

We are saddened to share the Mr. Komet Eddie Long has passed away at the age of 90.

Full Story
Long, Mason
Long, Melissa
1976 Elmhurst High School graduate and cheerleader captain. Melissa Hunter began her career reading afternoon news on WGL Radio in 1980. A fixture on local television news for three decades and wife of Indiana Senate President Pro Tem David Long from Melissa Long Local anchor plans her post-career life by Bonnie Blackburn published August 28th, 2015 in Fort Wayne Magazine. Nearing her final sign-off Melissa Long, enduring face of local TV news, looks to Dec. 17 and beyond by Steve Warden published November 3, 2015 in The Journal Gazette newspaper. 21Alive flash mob honors Melissa Long by Eric Dutkiewicz and Kayla Crandall published December 15, 2015 on 21AliveNews.com. Indiana Gov. Mike Pence honored Melissa Long with the state's highest honor, the Sagamore of the Wabash, during her final newscast. After 30 years, several videos when 21Alive's Melissa Long signs off for the last time Thursday by Kayla Crandall published December 17, 2015 on 21AliveNews.com.
Long, Shelley Lee
Born August 23, 1949 in Fort Wayne, daughter of Ivadine Wiliams, a school teacher, and Leland Long, who worked in the rubber industry before becoming a teacher. She attended Kekionga Junior High and was active on her South Side high school speech team. She competed in the Indiana High School Forensic Association, and in 1967 she won the National Forensic League National Championship in Original Oratory. She studied drama at Northwestern University, but left before graduating to pursue a career in acting and modelling. She became a member of the celebrated Second City troupe in Chicago. She starred in 142 episodes on the TV sitcom Cheers (1982-1993) for five years, winning the Emmy Award for Outstanding Lead Actress (1983) and two Golden Globe Awards in 1983 & 1985. She went on to star in several movies such as Money Pit (1986). She appears periodically in the ABC television show Modern Family. She married second husband Bruce Tyson in October 1981 and daughter Juliana was born March 27, 1985. Paraphrased from The History Center,Wikipedia, IMDb biography and her profile with photos posted March 21, 2016 on Only Indiana on Facebook. See her photo in 1967 South Side year book. See photo on Five Fort Wayne Actresses Who Made it on the Big Screen by the The News-Sentinel newspaper and a September 30, 2018 post and again April 30, 2020 with photos from Long's time as a student at South Side and articles from local newspapers by The History Center on Facebook.
Long, Willie
1967 Indiana's Mr. Basketball while at South Side High School with a school-record 1,606 points, 24-4 record and the state finals in his senior season. Inducted in 1999 to the Indiana Basketball Hall of Fame. He scored 1,542 points at New Mexico, holding the school record for 17 years. He averaged 11.5 points and 6.8 rebounds in one season with the Floridians in the ABA, and 9 points and 5.2 rebounds and 12.6 points and 5.7 rebounds in each of his two seasons with the Rockets. In 2016, was a substitute teacher and high school volleyball referee. A new life for an Indiana Mr. Basketball He had it all. Prestige. Stardom. Glory. But all that fizzled out for Willie Long, until he received an unexpected letter. published May 2, 2016 on IndyStar newspaper. See 1967 yearbook photo - Great Memories and History of Fort Wayne. Help comes at long last for former hoops star by Greg Jones published May 15, 2016 in The Journal Gazette newspaper.
March 31, 2023 post by Fort Wayne Sports Historyon Facebook:

April 1

In 1967, South Side's Willie Long is named Mr. Basketball.

The Archers' senior averaged 25.6 points and 16 rebounds per game, leading South Side to the 1967 Final Four in Indianapolis when the Archers lost 79-70 in the semifinals to Lafayette Jeff. The Archers finished 24-4.

Long was the second player from Fort Wayne and South Side to earn Mr. Basketball honors, following Mike McCoy in 1958.

The 6-foot-7 forward averaged 23.2 points per game as a junior and 25.6 as a senior to earn Mr. Basketball honors and finish his high school career with 1,606 points. His single-game high was 44 points.

Then he went to the University of New Mexico and established almost every scoring record the school had. He averaged 23.8 points per game as a junior and 23.9 as a senior, earning All-Western Athletic Conference honors both years. As a senior, he led the WAC in scoring and earned All-America honors as the Lobos climbed as high as No. 5 in the national rankings.

His 1,542 points was the New Mexico career scoring record for 17 years. He was the second Lobo ever to score at least 1,500 points and grab 800 rebounds. Long finished with a 19.8 scoring average and 10.3 rebounds for his college career.

Long was a second-round draft choice of the NBA's Cleveland Cavaliers (35th overall) but played three years in the American Basketball Association. With Florida as a rookie, he averaged 11.7 points and then he scored 9.0 and 12.6 points per game in two seasons with Denver. His career totals were 11.4 points and 6 rebounds per game as a pro.

A restaurant executive with Taco Bell Inc., Long rarely visits Fort Wayne and currently lives in Atlanta.

Long was inducted into the Indiana Basketball Hall of Fame in 1999.

Also, in 1988, the Flames drop the final game of the playoffs to Canton 5-4 before 8,032 at Memorial Coliseum.
Loomis, Jim
Ex-Magnavox CEO, 85, dies January 15, 2012 by Archie Ingersoll of The Journal Gazette newspaper. Obituary James R. Loomis, a former chairman and CEO of Magnavox Electronic Systems Co., died Friday at the age of 85. Loomis spent 30 years with the defense contractor that was based in Fort Wayne. He started with the firm in 1962 as controller of its research lab in Torrance, Calif., and took charge of developing an electronic facsimile program. He climbed through the ranks of Magnavox, becoming CEO in 1990 and retiring from the post in 1992."
Lopshire, Gerald Stephen
August 10, 2015 - inherited the family business Lopshire Flowers when it was a greenhouse and small retail flower shop in the family home on Pennsylvania Street. wife of 55 years, Judith Ann; his four children, Dawn (Rhett Bratt), of Walnut Creek, Calif.; Katheryn, Dr. John (Therese), and Sara Reifenberg (Dr. Rick) all of Indianapolis; eight grandchildren, Andrew, Elizabeth, Rachael, Hans, Joey, Callahan, Addison, and Kate; and numerous nieces and nephews. He was preceded in death by his parents, John and Grace Edna; brothers, John and James; and his sisters, Helen (Barry) and Grace (Griffiths). See his August 16, 2015D.O. McComb and Sons obituary.
Luers, Right Reverand John Henry
The Rt. Rev. John Henry Luers, D. D., was born on September 29, 1819, near the city of Munster, in Westphalia, a province of Germany. His parents were devoted Catholics. Poor in the goods of this world, and desirous of bettering their condition in life, the family emigrated in 1833, landing in New York on June 7th. Piqua, Ohio, located on the Miami river, and being the terminus of the Miami canal, connected Cincinnati on the Ohio river with Toledo on the Lakes. It was here, on a farm in the neighborhood of Piqua, that the Luers family settled down. He is remembered with Bishop Luers High School.
Lupkin, William
Stained glass artist studio William L. Lupkin Designs 1012 Broadway. See newspaper article Fort Wayne artist's stained-glass windows win national Lutheran Church award by Kevin Kilbane published November 29, 2013 in The News-Sentinel newspaperand a video at his studio Stained Glass Maker Immersed in the Medieval by Eric Olson published October 28, 2013 on Indiana NewsCenter.
Lutes, Melvin
Family from Near and Far Brothers reunite after being separated as toddlers by Pat Randle published July 1, 1995 in The Journal Gazette newspaper. Newspaper article with photos shows brothers Melvin Lutes of Fort Wayne, raised in South Bend (born James Melvin Lane), met Homer Kapua (born Harmon Arthur Brown) the brother he never knew 68 years after being put up for adoption.
Lynch, Dan
Died August 10, 2014, 67, born in Fort Wayne, graduate of Bishop Noll High School in Hammond, an award-winning editorial cartoonist at The Journal Gazette for more than 20 years. Son, Kelly; daughter, Anna, spouse, Janet; mother Theodora Jean Boyer; four half-brothers, Keith Winters, Steven Winters, Jim Winters and Don Winters; half-sister, Donna Lee McCrea. Served as director of the Fort Wayne Railroad Historical Society, was interested in trains throughout his life. Requested memorials to the Fort Wayne Railroad Historical Society Inc., P.O. Box 11017, Fort Wayne, IN 46855 or at fortwaynerailroad.org. From Dan Lynch, longtime JG cartoonist, dies at 67 published August 11, 2014, and same title, different content, Dan Lynch, long time JG cartoonist, dies at 67 published August 12, 2014, and Former JG cartoonist Dan Lynch dies Rebecca S. Green published August 12, 2014 in The Journal Gazette newspaper. The work of former JG cartoonist Dan Lynch posted August 12, 2014 by The Journal Gazette newspaperon Facebook. See photos and discussion January 10, 2017 on You are positively from Fort Wayne, if you remember... Archived group only visible to existing members on Facebook. Facebook page is still online.
Lynn, Lillian
1889 to 1985 tombstone photo on Find-A-Grave.the original Great Memories and History of Fort Wayne, Indiana page on Facebookreferenced her March 29, 2013 as involved in the film industry in the 1930s with famous actors like John Barrymore and Jimmy Stewart copied from the comments on Ghost Stories - Fort Wayne Indiana. See connection with Devil's Hollow discussed April 3, 2017 onthe original Great Memories and History of Fort Wayne, Indiana page on Facebook.
Lyons, Preston Allen
February 24, 2023 post by the Genealogy Center on Facebook:

February is Black History Month - each Friday this month, we have featured stories to recognize and highlight Fort Wayne's American heritage. Today, we are featuring Preston A. Lyons Sr.

Preston Allen Lyons Sr. was born in McKinney, Texas in 1891 to Henry and Belle Lyons. He married Jessie Lindsey and the couple moved their two sons, Herbert and Preston Jr. from Texas to Fort Wayne around 1920. They had three more children: Joseph, Anne, and Hilda.

Mr. Lyons was an entrepreneur - he owned the Lyons Trucking Company, retiring from there at age 84 after 55 years. He also owned the Lyons Fish Market in the 1950s.

He was active in the community. A member of the Union Baptist Church, he served as a deacon, a trustee, a choir member, and Superintendent of the Sunday School for 35 years. Mr. Lyons also served as President of the Fort Wayne chapter of the NAACP, was Justice of the Peace during 1953-1954, a member of the Retired Men's Club, and served in several other organizations.

Preston Allen Lyons passed away at the age of 95 on November 5, 1986 at Parkview Memorial Hospital. He was survived by his wife of 73 years, Jessie, their children, 20 grandchildren, 48 great-grandchildren, and 9 great-great grandchildren. He is buried in Lindenwood Cemetery.

African/African-American Historical Museum. (2005). Miscellaneous biographical articles about African Americans in Fort Wayne, Indiana.

Memorial Card from the Marsha Smiley Collection. View them here: https://www.genealogycenter.info/results_smileymemorials.php