People of Allen County, Indiana
B Surnames
Baack, Tom
Fort Wayne Concordia Lutheran High School 1964 College, inducted 2012 All-City & all-conference three years, twice Allen County Player of the Year, leading scorer in Fort Wayne three years, helped lead Concordia to first ever sectional championship junior year (1963)and finished high school career with 1,623 points and 22.9 career scoring average that lasted as Fort Wayne's and Allen County's scoring record for 40 years. Copied from Tom Baack in Indiana Basketball Hall of Fame.
Baals, Clinton
July 7, 2023 post by the Genealogy Center on Facebook:

It's #FirefighterFriday! Each Friday in July, we will be featuring photos and historical bios from our firefighter collection (Collection courtesy of Donald A. Weber). Today, we are featuring Clinton J. (Clint) Baals, former Fort Wayne Fire Department Chief.

Clinton J. Baals was born on April 13, 1900 in Chicago, Illinois to Robert and Sophie. By the time Clinton was 10, the family moved to Fort Wayne. When he was a young man, Clinton apprenticed at the electric company. On July 2, 1921, he married Edna Greiser and the couple had two children.

In 1929, Clint joined the fire department. His skills led to his promotion as captain in 1940. In 1941, he assumed the position of district chief and fire training instructor. By 1952, Clint's hard work paid off as he became the fire chief. Under his leadership, notable improvements were made to the department, including the addition of two new firehouses, three pumpers, a 100-foot aerial ladder truck, and a rescue unit. Additionally, a firehouse was rebuilt during his tenure.

Following a distinguished career spanning over 30 years, Clint chose to retire in 1959, marking the end of his devoted service. Tragically, several years passed, and in 1966, Clint's wife, Edna, succumbed to cancer.

Clinton J. Baals died on December 14, 1988. Former chief Walter Roemke remembered Clint as a "good administrator and throughout his career gave everyone a good shake, however, when there was a problem, it was solved immediately". Baals remained loyal to the firefighters as chief and often ate meals with them.

Clinton J. Baals is buried in Lindenwood Cemetery in Fort Wayne.

View these photos and hundreds more in the Fire Fighter collection in our Community Album: http://contentdm.acpl.lib.in.us/digital/collection/coll3

(1988, December 16). Baals, Former Fort Wayne Fire Department Chief, dies at 88. The Fort Wayne News Sentinel, 24.
Baals, Franklin S.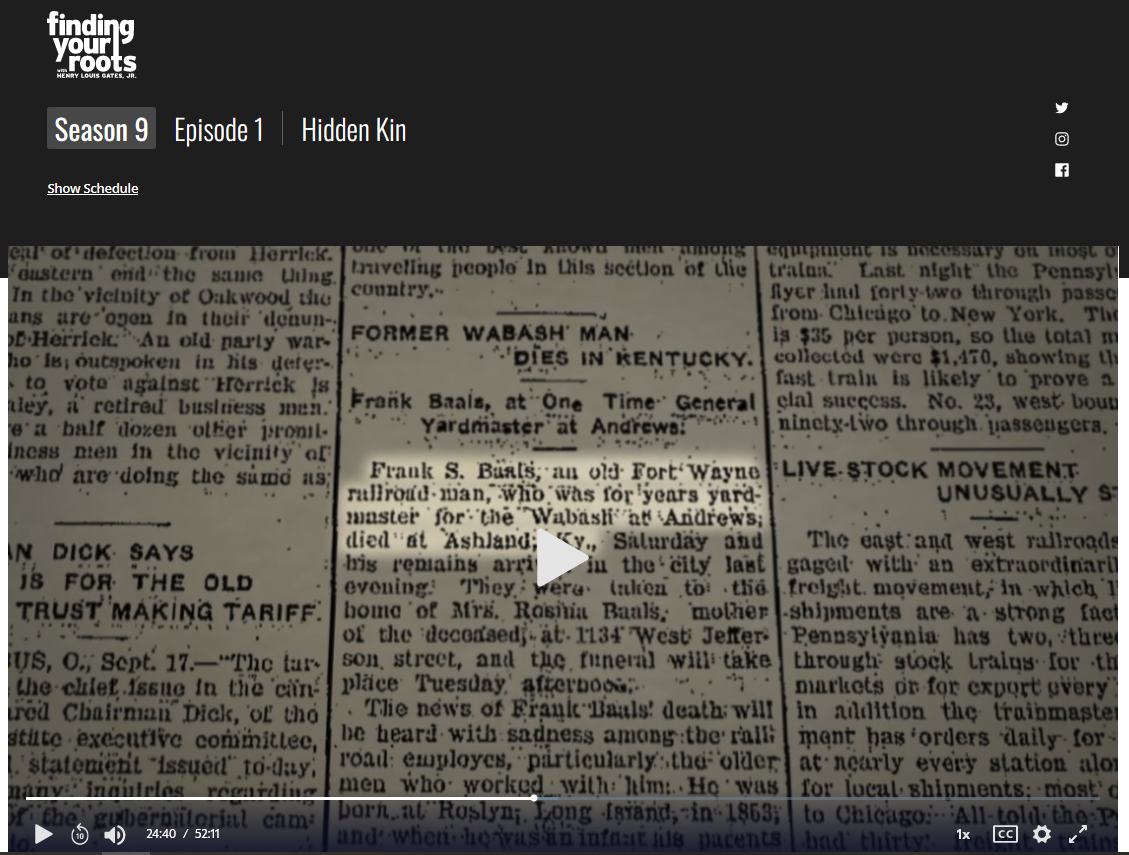 Season 9 Episode 1 Hidden Kin of Finding Your Roots with Henry Lewis Gates, Jr. on PBS around the 24:30 mark shows Frank S. Baals an old Fort Wayne railroad man in a newspaper article
In Season 9 Episode 1 Hidden Kin of finding your roots with Henry Louis Gates, Jr on PBS in discussing the family history of actor Edward Norton one of his great-great grandfathers is Frank S. Baals, who was a railroadman in the Fort Wayne. Around the 24:30 mark the video shows a newspaper clipping: Former Wabash Man Dies in Kentucky. Frank Baals, at One Time General Yardmaster at Andrews. Frank S. Baals, an old Fort Wayne railroad man, who was for years yardmaster for the "Wabash" at Andrews; died at Ashland, Ky., Saturday and his remains arrived in the city last evening. They were taken to the home of Mrs. Rosina Baals; mother of the deceased, at 1134 West Jeffeson street, and the funeral will take place Tuesday afteroon. This is from his obituary in the Journal-Gazette, Allen County, Indiana September 18, 1905 shown on his Find A Grave page listed below:
Franklin S. "Frank" Baals Birth: 1854 New York, USA; Death: 1905 (aged 50–51), Indiana, USA; Burial: Lindenwood Cemetery, Fort Wayne, Allen County, Indiana, USA at Find A Grave.
Is Franklin S. Baals related to infamous Mayor Harry W. Baals? There are several Baals buried in Lindenwood Cemetery including Mayor Harry W. Baals and Baals in Concordia Lutheran and other Fort Wayne cemeteries.
Discussed January 3, 2023 on Allen County Genealogical Society of Indiana on Facebook.
Two different January 3, 2023 and January 3, 2023 posts discussed this on True Fort Wayne Indiana History on Facebook.
Edward Norton movie actor family tree is outlined on the Famous Kin website showing his Baals ancestors.
Baals, Harry William
November 16, 1886 – May 9, 1954 was the Republican Mayor of Fort Wayne, Indiana, from 1934–1947 and from 1951 until his death in 1954" from Harry Baals on Wikipedia, The Free Encyclopedia. He became postmaster in 1922, and elected mayor in 1934. Some claim he pronounced his name balls while family descendants say it is bails or bales. Because of his name, Harry has been a running joke around Fort Wayne for years. There is a road named H. W. Baals Drive in Johnny Appleseed Park along the St. Joseph River. Harry Baals Drive was ultimately changed to "H. W. Baals Drive" because people kept stealing the street sign. He gained worldwide recognition in early February 2011. Local newspapers discussed how mayor Harry Baals was successful in getting the Nickel Plate Railroad to elevate the railroad tracks credited with encouraging growth north of the railroad tracks and rivers almost 60 years after his death. Long delays at the railroad tracks in the 1940's and 1950's was a serious factor in preventing northern growth of Fort Wayne. Growth north of the railroad tracks started in the late 1950's as housing subdivisions, schools, shopping centers continue moving north and east.
Baer, Paul Frank
Born 29 January 1894 in Fort Wayne, Allen County, Indiana, died 9 December 1930 (aged 36) in Shanghai, Shanghai Municipality, China. Burial in Lindenwood Cemetery, Fort Wayne, Allen County, Indiana, Plot: Section H, Plot 13, from Paul Frank Baer on Find A Grave
This 1931 photo below was discussed February 4, 2023 on Great Memories and History of Fort Wayne Private Facebook Group.
The photo is titled Paul F. Baer Funeral Procession down West Main, 1931 in the Allen County Public Library Digital Collections at the Allen County Public Library . It shows the January 3, 1931 Funeral procession for World War I veteran Paul Baer, America's first ace. His body laid in state in the Allen County Courthouse rotunda; the service was held at the Gospel Temple on Rudisill and the procession afterwards went through downtown to Lindenwood Cemetery. Notice the trolley tracks in the brick street.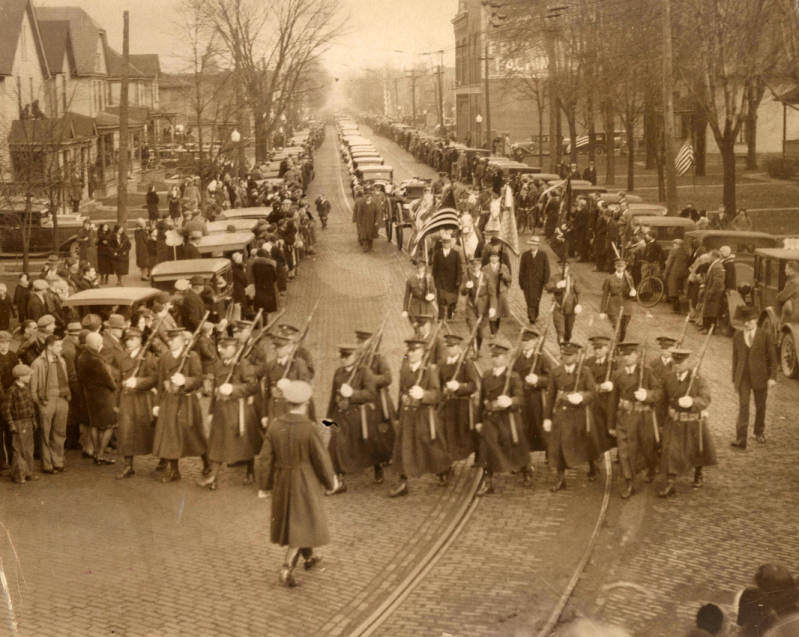 Daniel A. Baker Photograph Collection Allen County Public Library image
Baer Field Airport is named for Paul Baer. WWI ACE he was awarded the Distinguished Service Cross, the Legion of Honor, and the Croix de Guerre. Paul Baer's dream was to become an aviator. As a youngster he grew up in Fort Wayne where he attended Clay, Jefferson, and Nebraska schools. Baer, eager to serve as a fighter pilot in World War I over France, Belgium and Germany, enlisted in the Franco American Flying Corps in January, 1917. Copied from the Fort Wayne Allen County Airport Authority Indiana Aviation Pioneers which includes a section on Art Smith now on the Internet Archive Wayback Machine. The airport now known as Fort Wayne International Airport was originally named 'Baer Field' as a World War II military base. ... The City renamed the airport 'Fort Wayne Municipal Airport' in 1946. Copied from the Airport History page.
An April 23, 2019 post by Indiana Historical Bureau on Facebook

On April 23, 1918, Fort Wayne native 1st Lt. Paul Frank Baer of the U.S. Army Air Service got a fifth kill of an enemy pilot in World War I, which qualified him as the second American flying ace. He became the first Hoosier to do so.

He would record four more aerial victories before the end of the war. An enemy flyer succeeded in shooting down Baer in his final air battle on May 22, 1918. He survived the crash but the Germans captured and imprisoned him for the remainder of the war. In addition to being recognized as a flying ace, Baer's other military honors included the Distinguished Service Cross, the DSC Bronze Oak Leaf Cluster, and the French Chevalier de la Légion d'Honneur, and the Croix de Guerre.

Learn more about Baer here: https://www.thisdayinaviation.com/23-april-1918/ on ThisDayInAviation.com.
October 19, 2017 post by General Douglas MacArthur Memorial on Facebook.

TBT: Paul F. Baer was born in Fort Wayne, Indiana in 1894. Fascinated with the development of the automobile, in 1912 Baer moved to Detroit to work for the Cadillac Automobile Company. Trained as an engine mechanic, Baer's interests drifted from an engine's capability to power ground vehicles to those that could traverse the skies. Subsequently, in 1916, Baer volunteered for service in the Lafayette Escadrille, the American flying squadron serving in support of France prior to US involvement in the First World War. Following the US entrance into the war, Baer transferred to the US Army Air Service 103rd Aero Squadron. Flying in support of the French 6th Army, Baer became the first ace in the US Army Air Service, scoring his fifth aerial kill on 23 April 1918. Baer scored four more kills before being shot down and becoming a POW on 22 May 1918. For his extraordinary service, Baer received the Distinguished Service Cross, the French Legion of Honor and the French Croix de Guerre.
Weir Cook and Paul Baer, WWI aviators and former airport namesakes: encore (original August 18, 2018) posted March 20, 2021 on the Archives of Hoosier History Live podcast on Saturdays, noon to 1 p.m. ET on WICR 88.7 FM introduction states: Both were pioneer aviators and heroic World War I fighter pilots from Indiana, and both were killed while flying aircraft overseas. And Weir Cook and Paul Baer once were the namesakes of the airports in the two largest cities in their home state. Today, although those airports are officially called Indianapolis International Airport and Fort Wayne International Airport, the terminal buildings at each still carry the name of these two great airmen. To explore the lives of the aviators who earned national acclaim for their valor during what once was known as the Great War, Nelson is joined by two guests in this encore of a show originally broadcast in 2018. The guests are: William Bell, an Indianapolis-based writer and retired law enforcement officer who has researched Hancock County native Weir Cook (1892-1943), recipient of the Distinguished Service Cross in World War I. Cook also was hailed as a hero during World War II even though he was well into his 40s when he returned to the Army Air Corp and flew combat missions over the Pacific. And Tony Garel-Frantzen of Fort Myers, Fla., the author of Hoosier Aviator Paul Baer: America's First Combat Ace (The History Press, 2017). In his biography of Baer (1894-1930), Tony contends the Fort Wayne native became the first American to shoot down an enemy plane in combat and the first to earn the title of "combat ace." Tony writes that Baer's historic achievements often have been overlooked because he flew for a French squadron prior to the United States' entry into World War I.
Baker, Daniel A.
Daniel A. Baker Photograph Collection About this collection in the Allen County Public Library Digital Collections at the Allen County Public Library. This collection consists of hundreds of images of Fort Wayne taken and donated by photographer, Daniel A. Baker. Many of the photographs are from Baker's collaboration with local historian Randolph L. Harter for the 2018 book, Fort Wayne Through Time, where they were arranged in a "then and now" format with the "then" images dating as far back as the 1890's. Additional image comparisons come from Baker's "Rephotography" project in which vintage images are blended with their modern day counterparts. Further, the collection includes photographs of Fort Wayne and Northeast Indiana, which were not part of either project, but are important records of the area's changing landscape.
Over 1,400 photos in flickr.com albums most are Fort Wayne area places.
He coauthored a book Fort Wayne Through Time released in the fall of 2018 by Randolph L. Harter and Daniel A. Baker published by Arcadia Publishing available at Visit Fort Wayne.
Then and now, side by side Pair goes to great heights for updates of historic photos with photos by Rod King published January 6, 2019 in The Journal Gazette newspaper.
Then and now, side by side by Rod King for The Journal Gazette newspaper published January 7, 2019 on apnews.com.
Fort Wayne companies call historic buildings home by Dan Vance published January 16, 2019 on kpcmedia.com.
Baker Family
There appears to be several Baker families in the area. David Curling of Canterbury Kent England has been posting on True Fort Wayne Indiana History on Facebook on Facebook that he has local Allen County Baker family connections. A September 23, 2022 post lists his Baker's arriving in New York then moving to Fort Wayne.
Baker, Fred
During World War II he had a security clearance but he couldn't tell anyone what he did. ... In 1960, Baker went to work for Magnavox and was responsible for setting up a new plant in Fort Wayne. ... In 1976, Baker finally retired as vice president of manufacturing for Magnavox, and then spent 15 years working for SCORE, the Service Corps of Retired Executives, which gives free advice to budding business owners. His story Top secret no more: Sub tracker surfaces was published April 15, 2014 in The Journal Gazette newspaper.
Ball, Arnie
IPFW Volleyball Coach National Hall of Fame. Ball in 32 seasons as IPFW's head coach has guided the Mastodons to six Final Four appearances and five conference championships. In addition, Ball in 2011 became the second coach in the Midwestern Intercollegiate Volleyball Association's 53-year conference history to accumulate 500 career wins. One of the coach's most successful season came in 2007 when IPFW upset Ohio State to win the MIVA championship and then reached the NCAA championship match for the first time in program history. Ball that season also was named the AVCA Division I-II National Coach of the Year and the Asics/Volleyball Magazine Coach of the Year. From IPFW's Ball to be inducted into national volleyball coaches Hall of Fame by News-Sentinel staff reports published June 14, 2012. See also his son Lloy and Arnie Ball on Wikipedia, The Free Encyclopedia. Retires after 35 years at IPFW with a full house unveiling Arnie Ball Court before final 3-0 victory against Ball State. IPFW family pulls together for Ball, Volleydons Retiring coach honored by school, alumni by Blake Sebring published April 6, 2015 in The News-Sentinel newspaper. A fond farewell to Arnie Ball by Aubree Reichel published April 28, 2015 in The Journal Gazette newspaper.
Ball, Lloy James
Olympic Gold Medal 2008 in Volleyball. Woodburn native Lloy Ball was a four-time Olympian and won the gold medal in his final Games in 2008. Born Lloy James Ball on Feb. 17, 1972 in Fort Wayne. Parents are Arnie and Sandy Ball. Wife Sarah, they have a son, Dyer, born in 2001, and a daughter, Mya, born in August of 2006. Lloy was recruited to play basketball at the University of Indiana for Coach Bobby Knight. Played volleyball for his father, Arnie, at IPFW, where he also got a communications degree. Began playing volleyball before the age of five. Ranked No. 9 Ball trades basketball for volleyball Youngest player on national team prospers of the TOP 50 Northeast Indiana's Top 50 Athletes of the 20th Century by The News-Sentinel newspaper. For more see USA Volleyball biography. The Volleywood Wall of Fame #3 published November 24, 2011 has photos and videos. Lloy and his father Arnie have their biographies on Lloy Ball Team Pineapple archived on the Internet Archive Wayback Machine. Wikipedia site. Also see newspaper articles Olympics conjure up memories Woodburn native won gold in volleyball in his final Games by Ben Smith published July 22, 2012 in The Journal Gazette newspaperand Ball enjoying Olympics from afar Gold Medal winner hoping volleyball team plays well by Blake Sebring published August 02, 2012 in The News-Sentinel newspaper. See five part The Lloy Ball Story Set it Off Part 01 by 101LakesNetwork YouTube. Ball selected for International Volleyball Hall of Fame by Blake Sebring published July 10, 2015 in The News-Sentinel newspaper. Ball Elected to International Volleyball Hall of Fame by International Volleyball Hall of Fame July 10, 2015.
Balliet, Captain Eric
Dedicated To A Local Fort Wayne Fire Fighter ERIC BALLIET Of The Fort Wayne Fire Department by Jesse Gordon published October 4, 2017 on YouTube
Also posted October 4, 2017 by Fort Wayne Professional Firefighters on Facebook.
Fort Wayne firefighter, died September 2017 during a training exercise. See video by Linda Jackson News on Facebook posted September 29, 2017. City firefighter dies in exercise by James Duffy published September 29, 2017 in The Journal Gazette newspaper. Fallen Fort Wayne fire captain laid to rest with videos by WANE Staff Reports published September 29, 2017, then updated October 4, 2017 CBS WANE-TV NewsChannel 15. REMEMBERING CAPTAIN BALLIET: published October 4, 2017 on Fort Wayne's NBC on Facebook.
Barnes, Roosevelt
Was a three-sport superstar in Fort Wayne and played for the NFL's Detroit Lions. Was No. 45 All Rosy from TOP 50 Northeast Indiana's Top 50 Athletes of the 20th Century by The News-Sentinel newspaper. From Roosevelt Barnes (American football) on Wikipedia, The Free Encyclopedia. Roosevelt Barnes, Jr. (born August 3, 1958 in Fort Wayne, Indiana) is a former American football linebacker for the Detroit Lions of the National Football League. He played college football at Purdue University. After retiring from professional football, in 1987 Barnes became a partner and contract advisor with Maximum Sports Management. Over the years, Barnes has become one of the top contract negotiators in the industry. ... Barnes attended Wayne High School in Fort Wayne. As a junior, he led his team to the SAC conference title, and the Generals also won their first sectional championship. As a senior, the team repeated, winning the school's second sectional title. ... After his success in high school, Barnes attended Purdue University on a basketball scholarship. At Purdue, Barnes demonstrated his athletic diversity by playing on the varsity basketball (4 years), football (1 year) and baseball (1 year) teams. After Purdue, Barnes continued his football career as a 10th round draft pick of the Detroit Lions. When he retired he became a prominent sports agent and returned to Fort Wayne. In 2011, he adopted a 13-year-old Caleb Biggie Swanigan, born April 18, 1997 in Indianapolis son of Tanya and Carl Swanigan, Sr.. Caleb weighted 360 pound and was living in a troubled home in Utah who came to Fort Wayne and became a local high school basketball star, then played two years at Purdue University before he entered the NBA draft in 2017. Caleb was drafted as No. 26 in the first round by the Portland Trail Blazers, Caleb Swanigan ESPN player profile. See Purdue's Caleb Swanigan has changed his body and his life by Myron Medcalf published March 18, 2017 on ESPN.com and the video From Homelessness To Basketball Star published May 3, 2017 on Steve HarveyTV.com.
Barr, Julia
Born Julia Rose Buchheit on February 8, 1949. Barr's acting career began at age 13 in "Peter Pan." She attended Central Catholic High School then transfered to South Side because they had a drama department. She graduated from Indiana University-Purdue University Fort Wayne. She is most famous for her role on the soap opera All My Children, playing the character of Brooke English. She played the role from 1976 to 1981 and from 1982 to December 20, 2006 and Barr made a special appearance as Brooke on January 5, 2010 as part of the series' 40th anniversary, and returned on February 23, 2010 for a three-month stint until April 23, 2010. Eight Daytime Emmy-winning actress. Was discussed as Fort Wayne native Julia Barr credits soap's endurance by Keiara Carr published July 16, 2013 in The Journal Gazette newspaper. See her bio Julia Barr on Wikipedia, The Free Encyclopedia, on IMDb.com and 10 Fun Facts About AMC Legend Julia Barr by Christine Chagaris published May 9, 2017 on SoapCities.com. See photo on Five Fort Wayne Actresses Who Made it on the Big Screen by the The News-Sentinel newspaper. Discussed June 10, 2018 on You are positively from Fort Wayne, if you remember... Archived group only visible to existing members on Facebook.
Barrett, James Madison
In March 1876 James Madison Barrett moved to Fort Wayne to practice law. The son of Protestant emigrants from northern Ireland, Barrett was born in LaSalle County, Illinois, in 1852. See 4 page history of Barrett & McNagny at IndianaHistory.org.
Barto, John E.
OBITUARY John E. Barto January 28, 1933 – July 17, 2022 Obituary of John E. Barto IN THE CARE OF Crown Hill Funeral Home & Cemetery July 17, 2022, Zionsville, IN; John Eugene Barto 89, died peacefully. He was formerly a resident in The Oaks at Hoosier Village. John was born on January 28, 1933, in Fort Wayne, Indiana to John H. and Kathryn Maxwell Barto. Growing up, John was always a hard worker. His first job was a paper route. He also sold fishworms and rabbits. In high school, John worked for the family business, Barto's Lubricated Gasoline. He graduated from New Haven H.S.in 1951. Drafted into the U.S. Army, John served his tour of duty at Goose Bay, Labrador. Following his discharge, he enrolled at Indiana University Fort Wayne Regional Campus. There he met the love of his life, Jane Alice Weckesser. They were married on August 26, 1956. John earned the B.S. degree from Indiana University School of Business in June 1958. He accepted a Management in Training position with General Telephone Electric (GTE) of Indiana and retired 38 years later from Verizon (formerly GTE). During the first 10 years of marriage, John and Jane were transferred/moved 14 times. They renovated many houses. Consequently, John became quite adept at remodeling and handy-man projects to fulfill their needs. After retirement, John and Jane enjoyed traveling, working in their gardens, playing bridge and golfing. John scored two Hole-in-One's at the River Glen Golf Club. Their family was the most important part of their lives. Celebrations with both immediate, as well as extended, families were frequently held in their home. The grandchildren hold special places in their hearts. John is survived by his loving wife, Jane Alice, of nearly 66 years; son John N. Barto (Julie), daughters Janette M. Milborn (Chris McKay), and Jennifer S. Barto (Heidi Routh). Grandchildren Molly Milborn Brewer (Clark), Allie Milborn (Christian Leonakis), Emily J. Barto, Johnathan Barto and great granddaughter Josephine Weslie Brewer. Celebration of Life will be held on Friday, July 22, 2022 at Second Presbyterian Church, 7800 North Meridian Street, Indianapolis, IN. Calling will be at 10:00 am followed by the Service at 11:00 am in the Chapel. Contributions may be made to Tunnel To Towers, or Samaritan's Purse. Copied from John E. Barto January 28, 1933 – July 17, 2022 obituary at Dignity Memorial.
Bass, John Henry
Foundry owner was Born in Salem, Ky., in 1835, John Bass was the son of Ohio valley settlers from Virginia and North Carolina who had strong sympathies for the South. In 1852, at age 17, Bass followed his older brother, Sion, to Fort Wayne ... in 1862 founded the Bass Foundry and Machine Works, locating the first plant on the southern side of the Pittsburgh, Fort Wayne and Chicago Railroad tracks (the Pennsy Line). Copied from Bass home built on industries by Michael Hawfield published August 1, 1994 in the archives of The News-Sentinel newspaper. In 1944, the site of John Bass' old mansion, Brookside, was converted into what is now the campus of University of Saint Francis. PBS39 has a 2010 video Brookside: The Bass Mansion Restoration discussed in the Bass Mansion - University of Saint Francis article by Conrad Schmitt Studios restoration about the period conservation and replication of the ornate decorative painting and stencil work. See vintage J.H. Bass Mansion photos posted in 2011 on the original Great Memories and History of Fort Wayne, Indiana page on Facebook. The Granite Ridge Builders video at the University of Saint Francis discusses John Bass and the railroad saying: that at the time one of every four people in Fort Wayne worked at the Bass Foundry and another saying: Trains keep America rolling, and Fort Wayne keeps the trains rolling. A photo titled: RESIDENCE OF J. H. BASS, FROM FORT WAYNE (1889), PUBLISHED BY PAGE. SHOWING FIRE HYDRANT, HITCHING POST, MOUNTING BLOCK, WROUGHT IRON FENCE, GARDEN STATUARY. THIS IS NOT BROOKSIDE, BUT AN EARLIER BASS RESIDENCE IN TOWN, AT BERRY AND FAIRFIELD. is at Allen County Public Library Digital Collections at the Allen County Public Library.
Bass, Sion
Foundry owner and Civil War veteran was born in 1827 near Salem, Kentucky. See his house at 509 W. Washington Blvd. (Colonel Sion Bass House) on WestCentralNeighborhood.org website.  He came to Fort Wayne in 1848 or 1849, and first worked as a clerk for fur traders Ewing, Chute and Company. In 1853, he formed a successful iron works firm called Jones, Bass and Company with W.H. Jones and John Hough, Jr. The foundry and machine shops were located near the new Pittsburgh, Fort Wayne, and Chicago Railroad line. Read his story along with Eliza George and Henry W. Lawton in the Three of City's Bravest Won't Be Forgotten published April 14, 2011 in The News-Sentinel newspaper. His home is now the Sion Bass House Spa Bed & Breakfast a part of the Lasalle Bed and Breakfast Rooms and Suites. Mission to save graves Reenactors aim to fix Civil War heroes' markers by Blake Sebring published November 26, 2019 and Local Civil War officer honored Bass died after wounded at Shiloh by Rosa Salter Rodriguez published June 14, 2020 in The Journal Gazette newspaper. COL Sion St. Clair Bass on Find A Grave.
Fort Wayne Bed and Breakfast - Sion Bass House & Spa (The Lincoln Room) published Nov 1, 2011 by LaSalle BB on YouTube.
Home to Civil War hero Sion Bass, the historic Sion Bass House & Spa is the premier bed and breakfast in downtown Fort Wayne. The establishment's owner, Clark Butler, gives a brief history of the house along with a quick tour of the Lincoln Room.
Bates, Roy M.
County and city historian, Roy Bates was born in Fort Wayne on March 24, 1895. He is the son of Henry L. and Georgia Monroe Bates. His mother, a direct descendant of President Monroe, makes her home with Roy's family. His father was co-owner of the Bates and Carr Monument Company formerly located at Broadway and Washington Boulevard. An alumnus of the Bloomingdale School, Roy much later met and married Miss Euda Ramsey. They are the parents of two daughters, Martha, (Mrs. Denver Davis) and Joan (Mrs. Donald Goette) and a son, Newton R. Bates.
Having a lifetime interest in history, Roy M. Bates has voluminous files containing records of Indiana's various means of transportation. From his files he has prepared this material for publication. Mr. Bates's library contains a section of over four hundred volumes he compiled dealing with the area of the North¬ west Territory. An active member of the Allen County-Fort Wayne Historical Society for many years, Mr. Bates serves on the Board of Directors and conducts the "Batesway" tours. He is the author of such Historical Society publications as: Ghost Towns and Paper Towns of Allen County; Water Powered Mills of Allen County; His¬ tory of St. Joseph Township, Allen County; and Robison Park. Copied from Interurban railways of Allen County, Indiana by Bates, Roy M.
on Archive.org.
Baum, Minette
Born in 1879 Russia, social worker, first secretary of the Jewish Federation, died in 1956 and is buried in Lindenwood Cemetery.
In Celebration of Women's History Month: Fort Wayne Women remembered at Lindenwood Cemetery by Nancy McCammon-Hansen published March 12, 2014 in History Center Notes & Queries blog.
52 page The Biography of Minnette Baum by Harriet Miller in July 1975 is online in theIndiana Jewish Historical Society Publications and Collections at the We Do History digital collection by the Indiana Historical Society.
December 12, 2022 post by Indiana Jewish Historical Society on Facebook:

As a Jewish immigrant from Czarist Russia, Minette Baum changed how Fort Wayne addressed basic needs in the early 20th Century. Drawing on her experiences at Jane Addams' Hull House in Chicago. Baum established a settlement house at her own home at 1313 W. Wayne Street in Fort Wayne. Many of today's significant local human service agencies can trace their origins to her efforts. Minette Baum served as president of the Fort Wayne Zionist District from 1919 to 1935, one of the first women in America to occupy such a position. Baum was also a leader in Hadassah. Her close friend, The late president of Israel, Yitzhak Ben Zvi, called her "the Henrietta Szold of America.
March 3, 2023 post by the Genealogy Center on Facebook:

March is Women's History Month! Each Friday this month, we are featuring stories to highlight the contributions and work of Fort Wayne women over the years! Today, we are featuring Minette Baum.

Minnette Baum was born in 1879 in Russia. She came to America as a young girl, around 1881, and the family settled in Fort Wayne. Not much is known about Minette's early life. She graduated from the University of Chicago and studied at the Sorbonne in Paris and at the University of Heidelberg in Germany.

Miss Baum became a prominent figure, championing causes related to social work at a time when there were limited established social services available. She became the first Juvenile Probation Officer in Fort Wayne, serving in this role without pay. Minnette and her sister, Toba lived in a home on Wayne St. Because there was not adequate housing for delinquent girls, Minnette and Toba opened their home to many of them.

Minnette was instrumental in establishing several organizations in Fort Wayne. This included helping to create the Allen Co. Children's home, the Wheatley Center, Fort Wayne Women's Club, the League for the Blind, and others. She was also known internationally in the Jewish community for her humanitarian work - Minnette and her sister Toba, made two trips to Palestine to assist with welfare causes. Minnette and Toba also founded the local Hadassah chapter in Fort Wayne and were members of the B'Nai Jacob Congregation. In addition to this, Miss Baum was also one of the early founders and the first secretary of the Fort Wayne Jewish Federation.

Minette Baum died on September 19, 1956 at the age of 77 at St. Joseph Hospital. She is buried in Lindenwood Cemetery.

(1956, September 20). Minette Baum, 77, Dies; Leader in Social Work Here. Journal Gazette, p. 1-2. American Association of University Women, Fort Wayne Branch. (1988). Memorable fort wayne women: A women's history project of american association of university women, Fort Wayne, Indiana branch.
Baumgartner, Mary "Wimp"
Born September 13, 1930 to Leslie and Bernice (Danner) Baumgartner in Fort Wayne. Mary graduated from Central High School. She died Saturday June 2, 2018 at Lutheran Life Villages in Kendallville. She was preceded in death by four sisters, Betty Simon, Marjorie Markley, Mildred Baumgartner, and Delores Baumgarter. Miss Baumgartner was a teacher at Jimtown High School in Elkhart and Leo High School in Leo and retired in 1985, after 28 years. She attended the Rome City United Methodist Church. See her June 3, 2018 obituary at the Young Family Funeral Home. She grew up as a fan of the Zollner Pistons fastpitch softball team, Baumgartner played in the All-American Girls Professional Baseball League with the Peoria Red Wings, Kalamazoo Lassies and mostly with the South Bend Blue Sox where she played for five seasons. The highlights of her career were being named to the 1953 all-star team and helping the Blue Sox win league titles in 1951 and 1952. A catcher, Baumgartner was known for her excellent glove, committing only 59 errors in 1,228 fielding chances during her career. She struggled as a hitter with a .177 batting average. She served as president of the AAGPBL Players Association from 1993 to 1998 and appeared briefly in the movie A League of Their Own. Copied from Women's sports trailblazer Mary "Wimp" Baumgartner has passed by Blake Sebring published June 3, 2018 in The News-Sentinel newspaper. Mary Baumgartner on Wikipedia, The Free Encyclopedia. See Fort Wayne Daisies.
June 2, 2018post by All American Girls Professional Baseball League Players Association on Facebook:

We just learned that Mary "Wimp" Baumgartner passed away this morning at the age of 87. Wimp was a catcher for the South Bend Blue Sox and made the All-Star team in 1954. After the League folded she became a Physical Education teacher for 28 years and would later serve as a charter member of the Indiana High School Athletic Association's first board for women. Mary also served as President of the Players Association from 1993-1998. The University of Indianapolis dedicated a softball field in her name. Please keep her family in your thoughts and prayers at this time.

Mary Baumgartner page at AAGPBL
Bayless, Sol D.
Was born in Butler County, Ohio on December 5, 1814. Lawyer, Postmaster and Mason and former mayor of Troy, Ohio. Moved to Fort Wayne where he was a lawyer and postmaster. See his long May 31, 1875 Fort Wayne Daily Times newspaper obituary on the Bayless Message Board. His 1876 home is on David Rumsey Map Collection. He was Grand Master to the Grand Lodge of Indiana at Indianapolis, May 23, 1859title of a Google ebook. The "Masonic Lodge #359 was formed in 1866 in the city of Fort Wayne. It is named in honor of a man who had achieved great things within our noble fraternity. He served multiple terms in the highest offices of several Masonic bodies. He died in his home in 1875 and is buried here in the city. ... One of our most famous brothers is the late Dave Thomas, of Wendy's Hamburger fame. He was initiated as a Freemason in the Temple and was a member of our lodge until he passed away in 2002." from the Sol D. Bayless Lodge # 359 About Page.
Beasley, DaMarcus
Born May 24, 1982 in Fort Wayne, South Side High School graduate, is a 3rd time member of the 2010 U.S. National Soccer Team. He began his professional career with the Chicago Fire while still in high school and is one of the most decorated players in American soccer history and one of only three U.S. men to play in four FIFA World Cups.
May 1, 2023 post by Fort Wayne Sports History on Facebook:

May 2

In 2006, DaMarcus Beasley is named to his second World Cup team.

Many Fort Wayne athletes have been trailblazers such as Johnny Bright, Lloy Ball, Nel Fettig, Bobbi Widmann-Foust and the Fort Wayne Daisies, but Beasley is another who has had a huge impact on the world stage.

After being named a Parade all-American and the national co-player of the year in 1999, the South Side product left Fort Wayne after his junior year to attend IMG Academy in Bradenton, Fla., and later became the youngest player ever to sign a Major

League Soccer contract.

Beasley first broke onto the international scene in 1999 at the Under-17 World Cup in New Zealand where he was named the tournament's second-best player. He played his first game with the U.S. National team on Jan. 27, 2001 before playing on the under-20 team at the 2001 World Youth Championships. That led to his first World Cup team assignment in 2002 and return trips in 2006 and 2010.

His professional league career has had better success. He played four seasons with the Chicago Fire of the MLS, scoring 14 goals and 20 assists, and then the Dutch team PSV Eindhoven bought his rights for $2.5 million. Beasley helped PSV win its league title and scored a key goal in the Dutch Amstel Cup.

He also became the first American player to play in the semifinal stages of the UEFA Champions League, scoring four goals in 12 games. His European career concluded with stints with the Glasgow (Scotland) Rangers and the Hannover (Germany) 96. In 2011 he signed to play with the Mexican team Puebla F.C.

"At this point in my career, I'm not getting any younger," he told The News-Sentinel's Tom Davis in 20011. "I just want to play. The Mexican teams saw my desire and my effort to show I'm still the player (people) saw three years ago. Give me a chance and I'm going to perform."

A February 1, 2023 post by Fort Wayne FC on Facebook.

Celebrate Black History Month

Throughout this month, Fort Wayne FC salutes community business leaders and reflects on the moments that defined their futures and helped to inspire others.

DaMarcus Beasley's name is synonymous with inspiration. As a talented young soccer player from Fort Wayne, Beasley has become a role model for many while helping pave the way for aspiring African American players and leaving his mark on the sport in this country. Beasley made history as the first American male to play in four FIFA World Cups. His accomplishments include 126 caps and 5 CONCACAF Gold Cup victories, and now he adds a 2023 National Hall of Fame recipient to his accolades. Under his role as director of football operations and an owner of Fort Wayne FC, Beasley continues to break barriers both on and off the field while giving back to his hometown, which he believes has given him so much in return.

DaMarcus Beasley on Wikipedia, The Free Encyclopedia.
World Cup soccer player in 2014 had a 15-year career in the national team program and playing for top clubs in Europe, Mexico and the United States. Where do Beasley's 4 World Cup appearances rank in Fort Wayne sports history? by Blake Sebring published June 14, 2014 in The News-Sentinel newspaper.
Fort Wayne native and US soccer player DaMarcus Beasley photo gallery at The News-Sentinel newspaper.
July 18, 2014 Mayor Tom Henry proclaimed today "DaMarcus Beasley Day" in the City of Fort Wayne. Damarcus Beasley retires from US national team published December 15, 2014 in The Journal Gazette newspaper.
Beasley made city a soccer town Former South Side standout retiring from US team in a Ben Smith Special December 16, 2014 in The Journal Gazette newspaper.
Discussed July 19, 2015 on You know you've lived in Fort Wayne too long when... Private Facebook group
A statue of Fort Wayne native DaMarcus Beasley was unveiled along with those of 15 other sports legends at The Children's Museum of Indianapolis on Friday. Bronze statue of DaMarcus Beasley unveiled in Indianapolis published July 27, 2018 by CBS WANE-TV NewsChannel 15.

February 16, 2023 post by National Soccer Hall of Fame on Facebook:

Celebrating Black History: DaMarcus Beasley

A pioneer for American players at home and abroad, 'Tricky Beas' is headed to the Hall of Fame in May!

May 6, 2023 post by WANE 15 on Facebook:

Fort Wayne native DaMarcus Beasley is officially one of the best to ever play the beautiful game!

WANE 15 Sports Director Glenn Marini speaks with Beasley moments after being inducted to the National Soccer Hall of Fame in Frisco, Texas.

May 6, 2023 post by Fort Wayne FC on Facebook:

The National Soccer Hall of Fame Class of 2023.
Beaver, Montgomery and Edith
April 1, 2023 post byHistoric 07 District - Fort Wayne on Facebook:

The Montgomery and Edith Beaver house is for sale. Built in 1915, this beautiful home is part of the Beechwood Historic District and the Creighton-Home Neighborhood Association. The Beaver family is about as rooted in Fort Wayne as a family can be, but many individuals might not know the whole story. It begins with a 100-mile walk from Ohio in a cold February in 1844 but ends with building one of the biggest lumber companies in Northeast Indiana. Read on for more.

The story begins with Augustus Beaver, Montgomery's father.Born in Maryland in 1822, his family immigrated to the Pennsylvania Colony in the 1740s.Augustus' parents lived in Ohio near Dayton, but he decided to trek to Fort Wayne to seek better opportunities.He walked the entire 100-mile distance from his home to Fort Wayne.It gives you some respect for the then 22-year-old.

In Fort Wayne, Augustus worked as a carpenter and a builder but eventually turned his sight to the lumber business.In 1866, the opportunity presented itself to buy large portions of the 68 acres of land formerly owned by William Ewing.These 68 acres formed the basis for parts of and were surrounded by what would eventually become the Historic Oakdale Neighborhood, Fairfield Neighborhood, and Illsley Place neighborhoods.His purchase, though, was for the timber, and once done, much of the holdings were sold to developers to build these very neighborhoods.

Montgomery and his father purchased land at the corner of Broadway and Taylor Streets, near Electric Works, to have their lumber yard and offices.Under Montgomery Beaver's direction, the lumber company became one of this city's larger retail lumber and millwork yards. Eventually, the business included the Waynedale Lumber Company as well.Montgomery passed away in 1954, but his family's legacy is likely infused in the very wood of our homes and city buildings.
Becker, August
On December 3, 1854, August E.C. Becker was born in Halle, Hanover, Germany, to parents Henry and Sophie (Theye) Becker. Arriving in Fort Wayne at the age of 18, August worked for two years hauling stone from the Wabash and Erie Canal, and then worked as a baker's apprentice for about five years. In about 1880, he opened his own grocery and bakery business, and in October of that year, he married Sophie Gerke, the daughter of Louis Gerke, with whom he had children Emma, Theodore,and Louis. Four years later, August purchased lot 21 in the Hoagland and Williams Addition, and the following year, purchased the neighboring lot 20. It is on these lots that he built the Becker House in 1886.
Sadly, Sophie Becker did not live in the house long as she died at the age of 36 in May 1892. The following year, August married Sophie Wiebke, who was born in Allen County to Frederick Wiebke. She died of complications of cancer at age 49 in 1910. On September 14, 1911, August married Minnie Laible Dreibelbiss, who was born in Fort Wayne in 1868 to Christian and Catherine (Hahn) Laible. Possibly, one of these early tragic events spurred the owners to alter the house's exterior by adding a blond brick veneer and different porch.
August continued to run a successful grocery and bakery business, and retired in 1914. At age 84, he passed away on March 19, 1939, while still residing in the Becker House. During his lifetime, he held prominent positions with several financial and business institutions in the city including as a director in the Old National Bank, the Tri-State Loan and Trust Company, the First Joint Stock Land Bank, the Fort Wayne Drug Company, the Van Arnam Manufacturing Company, and the Corrugated Paper Company. He also served as senior vice-president of the Peoples Trust and Savings Company and vice-president of the Home Telephone and Telegraph Company. He was described as being "universally respected in the city of Fort Wayne – a man of highest integrity and sterling honesty. His success in his business affairs and his broad common sense have made him a man of high standing in the community, whose advice is greatly sought by many on business matters." He was survived by Minnie, Emma, and Theodore. Minnie continued living in the Becker House until her death at age 93 on October 20, 1961. She was survived by August's daughter, Emma. Copied from Section 8 page 17 and 18 of the 34 page NPS Form 10-900 OMB No. 1024-0018 United States Department of the Interior National Park Service National Register of Historic Places Registration Form for Becker House 425 West Williams Street.
Beecher, Charles
Born October 7, 1815, died April 21, 1900, served as pastor of the Second Presbyterian Church in Fort Wayne, Indiana from 1844 until 1850. He was an elder brother of Harriet Beecher Stowe, the famous author of Uncle Tom's Cabin written before the Civil War and remembered with the Harriet Beecher Stowe Center. Read A Charles Beecher Christmas by Peggy Seigel posted December 10, 2010 on the History Center Notes & Queries blog. He is buried in Harmony Cemetery, Georgetown, Massachusetts shown on Find A Grave. See A Passionate Missionary to the West Charles Beecher in Fort Wayne, Indiana, 1844-1850 by Peggy Seigel published in the December 2010 Volume 106, Issue 4 of Indiana Magazine of History.
Beerman Kelley, Jody
Inducted 2010 Indiana Basketball Hall of Fame. Heritage High School won state championship in 1982 and semi-finalist in 1983, selected Miss Basketball in 1983 and Mental Attitude Award winner...played for Central Michigan University, holds single season scoring record with 20.8 ppg, 3rd all-time scoring leader, holds career record in free throws made and free throw percentage, at one time made 57 consecutive free throws, First Team Academic All-American 1987, received a NCAA Post-Graduate Scholarship...inducted into Central Michigan University Hall of Fame in 1997...2008 Silver Anniversary Team.
Beerman, Tom
Arnie Ball said the Hoagland native was "The best volleyball player ever from Indiana." In 1970 he was named a first-team U.S. Volleyball Association All-American. Beerman played baseball and basketball at Indiana Tech before transferring to Ball State in 1960. He was named the Midwest Intercollegiate Volleyball Association's Most Valuable Player in 1963. He later played with the U.S. National Team in 1966, 1969 and 1970. He was also part of an AAU national championship team in 1974, and was a member of a national runner-up Golden-Masters team in 1988. He went on to coach volleyball at Wayne, Bishop Luers, and Snider High Schools. Copied from No. 38 Totally Terrific of the TOP 50 Northeast Indiana's Top 50 Athletes of the 20th Century by The News-Sentinel newspaper.
Bell, Joseph N.
Died Thanksgiving Day November 28, 2013, at the age of 92, born in Bluffton, graduated from South Side High School in 1938. He moved to California in the 1950s, where he wrote for some of the nation's most recognizable publications. Copied from Magazine writer, South Side grad dies by Rebecca S. Green published December 3, 2013 in The Journal Gazette newspaper.
Bell, Robert C.
Robert C. Bell (1844 - 1901) page on Ancestry.com says: Born in Clarksburg, Decatur, Indiana, USA on 13 Jul 1844 to Hiram Bell and Mary Jane Clark. Robert C. Bell married Clara Estelle Wolfe and had 1 child. He passed away on 21 Jan 1901 in Fort Wayne, Allen, Indiana. While his Robert C. Bell page on Find A Grave says he was born 1843, died 21 Jan 1901 (aged 57–58), buried Beech Grove Cemetery. Wife Clara E. Wolfe Bell born 1851, died 11 Oct 1906 (aged 54–55), buried Beech Grove Cemetery from her Clara E. Bellpage on Find A Grave. Her Clara Estelle Wolfe page on Ancestry.com states: Clara Estelle Wolfe born Jan 1851 - Morrow County, Ohio, died 11 Oct 1906 - Fort Wayne, Allen, Indiana, mother: Elizabeth Elliott - Morrow County, Ohio, father: Adam Wolfe - Fort Wayne, Allen, Indiana. A January 8, 2023 post by The Bell Mansion LLC on Facebook stated: Happy birthday beautiful Mrs Clara Bell! Their home was the Klaehn, Fahl & Melton Funeral Home from 1926 to 2018 and is now the Bell Mansion LLC.
Bench, William
Brother of Johnny Bench, a catcher for the famous Cincinnati Reds baseball Big Red Machine in the 1970s, owned William Bench's Fort Wayne AMC-Jeep dealership from November 1, 1978 until around 1981. See an October 28, 2013 discussion on the original Great Memories and History of Fort Wayne, Indiana page on Facebook and September 7, 2017 discussion on You are positively from Fort Wayne, if you remember... Archived group only visible to existing members on Facebook.
Benedict, Zachary
Zach Benedict An architect with a vision for the city by Bonnie Blackburn, Tuesday, May 12th, 2015 in Fort Wayne Magazine. Citizen of the Year: Zachary Benedict January 1, 2023 in The Journal Gazette newspaper. Zachary Benedict AIA, LEED AP, President at MKM architecture + design. See previous Citizens of the Year.
January 1, 2023 post by The Journal Gazette on Facebook:

Zachary Benedict is The Journal Gazette's Citizen of the Year for 2022. The Editorial Board says he is a community leader who sees the importance of creating a sense of belonging and inclusivity. His life intersects vocation, spirit, family, and fidelity toward the concept of The Greater Good.

Read more of what the Editorial Board and members of the community have to say about him: https://www.journalgazette.net/e3001f14-87bd-11ed-9e19...
Bennett, Carl
97, born December 7, 1915 in Rockford, Indiana, died May 15, 2013. The basketball Pistons, now the Detroit Pistons, won National Basketball League championships in 1944, 1945 and 1946. The fastball team won world titles in 1945, 1946 and 1947. .... In 2007 the Basketball Hall of Fame acknowledged Fort Wayne the birthplace of the NBA in an 2007 exhibit with Bennett in attendance. That same year he received a Red Coat from the Mad Anthonys. ... Bennett is listed as the Pistons' first coach in a pro league as Fort Wayne started the 1948-49 season in the BBA. ... The National Basketball Association was born in Bennett's living room in 1948. He helped start the Ladies Professional Golf Association Championship tournament in 1955. He was there when the Mad Anthonys golf tournament began in 1957. Copied from his story Carl Bennett built part of Fort Wayne history May 17, 2013 by Blake Sebring of The News-Sentinel newspaper. See also Carl Bennett, city sports icon, dies Helped develop Zollner Pistons, Mad Anthonys May 17, 2013 and By keeping past alive, Bennett will never die May 17, 2013 by Ben Smith of The Journal Gazette newspaper. See his D.O. McComb and Sons obituary.
Benoit, Julian
Born in France in 1808, entered the seminary at age 17, came to Fort Wayne in 1840 and is best known for building the Cathedral of the Immaculate Conception. Fr. Benoit contributed in other ways to the history of Catholicism in Fort Wayne. ... Fr. Benoit died in January 1885, after serving Fort Wayne for 44 years, and was buried in the Cathedral in the diocese that he had helped to found and grow. Read his story Julian Benoit by Carmen Doyle pulished May 1, 2013 in the History Center Notes & Queries blog.
Berghoff, Herman Joseph
Berghoff left his native Dortmund, Germany, at age 17 and landed penniless in Brooklyn in 1870. Barely 12 years later, he founded his namesake brewery in Fort Wayne, IN. Berghoff's Dortmunder-style beer was so well received that he was inspired to open a café in Chicago to showcase it – selling at a nickel a glass and a dime for a stein with sandwiches offered for free.The bar remained open even through Prohibition by selling near-beer and Bergo soda pop and became a full-service restaurant that still carries the Berghoff name. When Prohibition was repealed in 1933, the City of Chicago issued liquor license No. 1 to The Berghoff and has done so each year ever since. Copied from About The Berghoff web site. Photos of Berghoff beer information was posted April 8.2022 on True Fort Wayne Indiana History on Facebook.
April 8, 2019 post by The History Center on Facebook:

A most German town is an apt description of Fort Wayne during the late 19th century and along with that heritage came the demand for German beer. One German family to answer this demand was the Berghoff family. The Berghoff Brewery was established in April 1887 by the Berghoff brothers: Gustav, Henry, Hubert and Herman. They brewed German beers with the names, Dortmunder, Salvator and Bock, that reflected their Germanic homeland. Berghoff survived the era of Prohibition by making soft drinks, but by the time beer production resumed in 1933, the Berghoff family had sold most of their interests in the business. The Falstaff Brewing Corporation of St. Louis purchased the brewery in 1954; in December 1988 it was acquired by the S&P Company of California. In January 1990, the brewery closed its doors for the final time. The closure of the former Berghoff plant, Fort Wayne's last major brewery, brought an end to the tradition of large-scale beer production in our city. #sociallyhistory
Beyer Family
Photo in August 24, 1913 Fort Wayne Gazette page 4. Photo shows George M., 71, Rev. John F. G., 49, Adolph, 23, and baby William Beyer, thirteen months. George expected to live to see the fifth generation!
Bigger, Samuel
March 20, 1802 – September 9, 1845, 7th Indiana Governor. Samuel Bigger was a Whig governor of the U.S. state of Indiana from December 9, 1840 to December 6, 1843. He was born in Franklin, Ohio, the son of John Bigger, the Ohio House of Representatives Speaker of the House. Samuel Bigger was a student at Ohio University in Athens, Ohio in the 1820s where he received both A.B. and A.M. degrees. Samuel Bigger later moved to Liberty, Indiana in 1829. His governorship was beset from the state's debts, resulting from the failure of the Internal Improvements Program. He died in 1845 in Fort Wayne, Indiana, aged 43, and was buried in Broadway Cemetery now McCulloch Park from Gravesite of Samuel Bigger.
Biggs, Amy
First Female Fort Wayne Fire Chief. Chief Biggs joined the Fort Wayne Fire Department as a firefighter in 1995. In 1999, she was promoted to Captain of the Fire Prevention Bureau and became Captain of the Operations Division in 2001, where she served for seven years, until being appointed to the position of Assistant Chief. Chief Biggs has had specialty training as a certified diver as a member of the water rescue team and as a technician for the hazardous materials team... A 17-year veteran of the Fire Department, Biggs currently serves as Assistant Chief, a position she was promoted to in 2008. Copied from Mayor Henry Names Fire Department Veteran to Highest Post Fire Chief Amy Biggs Ready for New Tasks June 13, 2012 from City of Fort Wayne. She resigned June 1, 2014 and was replaced when Mayor Henry along with City Clerk Sandy Kennedy and Public Safety Director Rusty York swore in Eric Lahey the 22nd Fort Wayne Fire Department Chief on June 2, 2014.
BigJohny, Alina
Born August 4, 1988, killed August 13, 2011 when a severe thunderstorm blew through the Indiana State Fair grounds in Indianapolis. The Indiana State Fair stage collapsed one month after she was hired to teach seventh-graders at a Muncie school when classes resumed that fall. Scholarship fundraiser keeps memories alive by Chris Meyers published August 1, 2014 in the The Journal Gazette newspaper. See photos, newspaper story and obituary on Find A Grave memorial.
Bir, Herman
Herman Bir and Oliva Stein met in Fort Wayne around 1916. Herman, recently widowed, heard Olivia singing in the choir loft at Precious Blood Catholic Church. They were married during the Spanish flu epidemic of 1918, when public gatherings were not allowed due to spreading the sickness. Joseph Collins put together this video documentary with his cousin, Joe Bir, about that time in history and posted it February 24, 2019 on You are positively from Fort Wayne, if you remember... Archived group only visible to existing members on Facebook.
Bird, Ochmig
Born March 19, 1813 in Wyoming County, Pennsylvania. He moved to Logansport, Indiana in 1834, married four years later to Anne Suttenfield. Two children, James Ochmig, 1841-1906, and Eliza Jane, 1851-1911. He made his way to Fort Wayne and was involved in developing the Wabash and Erie Canal. In 1842 he was elected surveyor for Fort  Wayne. He served as a city councilman 1851-1852, and Allen County treasurer 1856-1860. He also served in the Indiana House of Representatives from 1849-1851, 1863 and 1865. In 1871, he won a seat in the state senate, reelected in 1873 until 1875. Bird died January 21, 1878 and was buried in Lindenwood Cemetery. His wife Anne died in October 1879 at age 58. For more see Megan's Mystery Monday - Falling in Love with Ochmig by Emily Royer published November 30, 2015 in History Center Notes & Queries blogand Ochmig Bird (1813-1878) by Andy Osterdahl published December 11, 2011 in The Strangest Names In American Politcal History.
Bireley, Roger
Roger Bireley spends his free time photographing the remains of Fort Wayne's past: old buildings, abandoned tracks, and rusting signs, and he posts them on a Facebook page, 'True Fort Wayne Indiana History,' dedicated to just what it says, Fort Wayne history, and viewers, then, fill out the story. Copied from 21Country: Photographing the past with a two-minute video by Eric Olson, 21Country Featured Reporter and Evan Harris, August 1, 2023 on ABC WPTA21.com TV station and a 21Country: Photographing the past copy on the Internet Archive Wayback Machine. See Roger Bireley posts on True Fort Wayne Indiana History on Facebook.
Black People
See our African-Americans page.
Blackledge, Helen
107, daughter of the late Estella E. Shinabarger VanCuren and Leroy E. VanCuren, died October 11, 2014. Two sons, David William (Diana Wiley) Blackledge and Robert Donald (Sally McCollum) Blackledge. Graduated with a teaching degree during the Great Depression when Indiana passed a law saying that married women couldn't be teachers. With her husband and young child moved to the Philippines. Her husband was in a prisoner of war camp during World War II and died in 1945. She and her children came back to Fort Wayne where she taught school for 28 years, eventually becoming a principal at Price and Southern Heights elementary schools. Read her story Law, war no bar to longtime educator by Frank Gray published October 16, 2014 in The Journal Gazette newspaper. And her October 14, 2014 Fort Wayne Newspapers Legacy.com obituary.
Blass, William Bill Ralph
June 22, 1922 to June 12, 2002. Graduated from South Side High School in 1939. A famous fashion designer, he received the Coty award five times - in 1961, 1963, 1968, 1970 and 1971. Born William Ralph Blass [June 22] in 1922, was the only son of Ralph Aldrich Blass, a traveling hardware salesman who committed suicide when his son was five years old, and his wife, the former Ethyl Easter Keyser (died 1952), a dressmaker. He had one sister, Virginia Mae (born 1920). In his autobiography Blass wrote that the margins in his school books were filled with sketches of Hollywood-inspired fashions instead of notes. At fifteen, he began sewing, selling evening gowns for $25 each to a New York manufacturer. At 17 he had saved up enough money to move to Manhattan and study fashion. He excelled in his fashion studies immediately and at 18 was the first male to win Mademoiselle's Design for Living award. He spent his salary of $30 a week on clothing, shoes, and elegant meals. In 1942 Blass enlisted in the army. He was assigned to the 603rd Camouflage Battalion with a group of writers, artists, sound engineers, theater technicians, and other creative professionals. Their mission was to fool the German Army into believing the Allies were positioned in fake locations. They did this by using recordings, dummy tanks, and other false materials. Copied from Bill Blass (designer) on Wikipedia. In the early '70s, fashion designer Bill Blass returned to his hometown for the first time in 25 years. On September 29, 1971, Bill Blass returned to Fort Wayne ahead of a local fashion show that included his latest looks. See newspaper article.
Bloch, Ethel Strike
94, husband William died in 2002. Daughter, Pamela (Mike) Malicoat of Marinette, Wisc.; son, Willson Bloch of Mancos, Colo.; six grandchildren; and five great-grandchildren. Preceded in death by her infant son, Andy in 1952; and three younger sisters, Mary Ann Schwartz, Janet Martin, and Katherine Mayland. See her obituary. She was an early environmentalist in the 1950s was an early founding member of ACRES. An enduring environmental influence published March 5, 2014 in The Journal Gazette newspaper.
Blue Jacket - Chief Weyapiersenwah
Weyapiersenwah Weyapiersenwah (ca. 1743-1810), also spelled Wehyehpiherhsehnwah and commonly referred to by his English name Blue Jacket, was a prominent military leader of the Shawnee. During the Northwest Indian Wars (1785-1795), Blue Jacket and Miami Chief Little Turtle led an American Indian alliance against United States military forces in the Ohio Country, which included members of many tribes with villages in Ohio, including the Shawnee, Miami (Myaamia), Wyandotte, Delaware (Lenape), Ottawa, Potawatomis, Ojibwes, and small numbers of Cherokee and Seneca-Cayuga Tribes. Copied from Ohio History Central. For more information see our pages Indians - Native Americans of Allen County, Indiana and General Anthony Wayne.
July 15, 2023 post by Historic 07 District - Fort Wayne on Facebook:

Waweyapiersenwaw, also known as Blue Jacket, was a prominent Native American war chief of the Shawnee tribe during the late 18th century. Blue Jacket, Inc. is celebrating Chief Blue Jacket Day | Block Party in Fort Wayne by inviting friends and neighbors of Blue Jacket to attend a FREE block party TODAY at 2826 Calhoun St. from 3 PM - 7 PM on July 15th! This event will include family-friendly activities, food trucks, and music. Now back to some history!

In the 1600s, significant rivalries and territorial disputes existed between the Iroquois Confederacy and the Shawnee and other tribes in the Ohio River Valley region. Conflicts between the Iroquois and Shawnee stemmed from competing territorial claims and control over resources, resulting in many Shawnee being displaced from Ohio for 100+ years. Fortunately, the Shawnee allied with the Miami and regained control over Ohio.

The Shawnee encountered European explorers and settlers, particularly the French and British, during the colonial period. They allied with the French against the British during the French and Indian War (1754-1763). When the French lost the war, there were conflicts with the British, including the Shawnee and Blue Jacket's participation in Lord Dunmore's War. Later, the Shawnee sided with the British during the American Revolutionary War (1775-1783).

As the newly formed United States won the American Revolutionary War, the Northwest War began as there were disputes about who owned the Ohio, Indiana, Michigan, and Wisconsin territories ceded from the French in 1763 to the British. As a British ally, the Shawnee and Blue Jacket were now in an adversarial position with the newly formed United States.

Blue Jacket played a significant role in the Northwest War against the Americans. As the war began, Chief Blue Jacket led some of the most decisive victories for tribes then. For example, in 1790, Harmar's defeat in downtown Fort Wayne resulted in large casualties for the United States. The tribes called this the Battle of the Pumpkin Fields because of the brutal nature of this battle (Google it).

Throughout the rest of the war, Blue Jacket led war parties against American forces and played a crucial role in the Native American confederacy that fought against General Anthony Wayne in the Battle of Fallen Timbers in 1794. The battle ended in a victory for the United States, leading to the signing of the Treaty of Greenville in 1795, which ceded significant Native American lands to the U.S. government.

After the defeat at Fallen Timbers, Blue Jacket settled on a reservation near Wapakoneta, Ohio. He passed away in 1810. His legacy remains significant in history and should be remembered. Looks like the weather will clear by 3 PM, so go out and enjoy celebrating Chief Blue Jacket and all of the great work Blue Jacket does.

The final picture is of Sayaka Ganz, the artist who created the statue, and Lee Bluejacket, a descendant of Chief Bluejacket.
July 15, 2022 post by Clyde Theatre on Facebook:

It was our pleasure welcoming the Descendants of Chief Blue Jacket to The Clyde Theatre and Club Room at the Clyde in advance of tomorrow's unveiling of the statue on Calhoun Street honoring him. If you are in the neighborhood check out this wonderful event:
July 15, 2022 post by Blue Jacket, Inc. on Facebook:

What an amazing day! Thank you to everyone who joined us to make this event so special and memorable - especially the many descendants of Chief Blue Jacket who traveled from Oklahoma to be here with us. We were also honored to be recognized with official proclamations from both the Allen County Commissioners and Mayor Tom Henry.

We are beyond thrilled to share Sayaka Ganz's amazing vision and work with the community - and to demonstrate how Chief Blue Jacket's tenacity, wisdom and leadership continue to inspire our organization to this day.

Both Fort Wayne Mayor Tom Henry and Allen County Commissioner Richard Beck read declarations for the day in honor of Chief Blue Jacket. It's the only known statue of Blue Jacket, who unified competing tribes along the Wabash River from southern Ohio to northeast Indiana, said Lee Bluejacket, a descendant of the war chief, from Bluejacket, Oklahoma which was founded by the chief's grandson. The statue was created by local artist Sayaka Ganz, who specializes in using reclaimed metal and plastic in her work.
July 12, 2022 post by Blue Jacket, Inc. on Facebook:

Artist Sayaka Ganz connects with the subject matter and mission of Blue Jacket. Come visit us Friday 7/15 at noon. RSVP in comments.

One of her sculptures, of Abraham Lincoln, is in the Lincoln Financial building. Blue Jacket is the largest she's done.
A 4-minute video Blue Jacket discusses the nonprofit and statue with Tony Hudson Executive Director of Blue Jacket, Inc. on Insight by Francisca Wood published July 13, 2022 and many other Blue Jacket stories at ABC WPTA21.com TV station. Blue Jacket is a 501c3 Nonprofit Organization located in Fort Wayne providing training and opportunities to any adult with a barrier desiring to earn a chance at gainful employment. Their About Shawnee Chief Blue Jacket page explains the name of the non-profit. Website: http://www.bluejacketinc.org/, Facebook: Blue Jacket, Inc., Chief Blue Jacket Sculpture Ribbon Cutting Facebook Event. Blue Jacket's Fantasy of Lights on Facebook statement: Fantasy of Lights is one of Indiana's favorite winter holiday events. This drive-thru event is held at Franke Park in Fort Wayne, Ind. and transforms the local park into a spectacular winter wonderland. With over 140 larger-than-life displays and 500,000 LED lights, the experience is better than ever! It is also the leading fundraiser for Blue Jacket. Learn more about the event at https://www.bluejacketinc.org/events/fantasy-of-lights.
Blume, Nathaniel
The 1999 Homestead High School graduate, 31, is building a career in Los Angeles as a composer for films and TV series. Read his story Fort Wayne native Nathaniel Blume making a mark as film and TV series music composer He wrote the music for a documentary showing Thursday night at Cinema Center by Kevin Kilbane published December 26, 2012 in The News-Sentinel newspaper.
Blumenherst, Amanda
LPGA Tour golfer, LPGA pro sees better days ahead Struggling Blumenherst shares tips at McMillen Park clinic by Sean Morrison published July 6, 2013 in The Journal Gazette newspaper. She left the LPGA Tour in 2013 about six months after marrying Oakland A's first baseman Nate Freiman in December 2012. Expecting first child according to Retired series: Blumenherst is making relationship work The left LPGA Tour to be with Major League husband by Blake Sebring published July 14, 2014 in The News-Sentinel newspaper.
Bobay, Joseph
November 12, 2017 post on the original Great Memories and History of Fort Wayne, Indiana page on Facebook:

Anna Lina Baatz Bobay and Joseph Baptiste Bobay with their children (standing Clara and Alma) Anna is holding Marie. At right is hired hand. Taken at their farm on St. Joe Center Road, Allen County, Indiana about 1901
Bobick, Donna Jean
Died in 2014, a community leader and longtime owner and operator of the Fort Wayne location of Bobick's Golf.
Bobilya, David Andre
He passed away April 9, 2018, he was the son of Donald and Velma (Klausing) Bobilya. He was survived by his wife of 29 years, Annie; their four children: Carrie (Kevin) Collins; Daniel (Rachel) Bobilya; Mark Bobilya; Lesley Ann (Marc) Pfleging: daughters-in-law, Tina Bobilya and Leigh Bobilya; grandchildren Alix, Hannah, Jagger, Donovan, Mallory, Davis, Joseph, Elizabeth, Ella, Lilly, and Addison; Also surviving are brothers Dean (Lori) Bobilya; Dennis Bobilya; sister Sandra (Tom) Sorgani; brother-in-law Michael (Karen) Johnson; and eight nieces and nephews. He was proceeded in death by his parents. For more see his April 12, 2018 D.O. McComb and Sons obituary. He attended IPFW in 1975 studying accounting and passed the CPA exam in 1975. Bobilya worked at Maloley's Fine Foods as a carry-out boy while in high school and later served as controller of Maloley's from 1976 to 1981. He began his employment with Pizza Hut of Fort Wayne in 1981 as controller when the company had 13 Pizza Huts. As president and CEO of the company, Bobilya was overseeing 47 Pizza Huts and four KFC restaurants. Bobilya was on the board of directors for Parkview Hospital and national board of the Pizza Hut Restaurant Supply Chain Solutions Co-op. He also served as chairman of the board for Turnstone Center for Disabled Children and Adults and the Foellinger Foundation. Other affiliations include the Convention and Visitors Bureau board of directors, including as president from 1994 to 1996, and Fort Wayne Country Club board of directors and president from 2010 to 2011. Copied from President of Pizza Hut of Fort Wayne dies at 65 by Mathew LeBlanc and Lisa Green published April 9, 2018 in The Journal Gazette newspaper.
Boedeker, William
North Side class of 1942. Several Fort Wayne athletes were champions in the All-American Football Conference (1946-1949) with the Cleveland Browns discussed April 26, 2018 with his biography posted by The History Centeron Facebook.
Bolyard, Tom
Fort Wayne South Side High School 1959, Indiana University 1963, inducted 1992 into Indiana Basketball Hall of Fame.
Bond, Jessie Maria
Daughter of Jesse Vermilyea, born in 1844 in the family mansion in Aboite township. Helped develop the Hope Hospital, Visiting Nurses League and the Allen County Children's Home. She died in 1914. Read more in In Celebration of Women's History Month: Fort Wayne Women remembered at Lindenwood Cemetery by Nancy McCammon-Hansen published March 12, 2014 in History Center Notes & Queries blog.
Bonjour, Celestine
Mrs. Celestine Bonjour, aged 84, a lifelong resident of Jackson Township, succumbed to senility and complications this morning about 6:30 o'clock at the home of a son, Eugene Bonjour, in Jackson Township. The son lives on the old Bonjour homestead where Mrs. Bonjour had resided for many years. Surviving besides the son are a daughter, Mrs. Ernestine Coonrod, 23 grandchildren and two great-grandchildren, and many nieces and nephews. The body was removed to the Harper Funeral Parlors at New Haven and will be returned to the home of the son Tuesday morning. Funeral services will be held Wednesday morning at 8:30 o'clock at the St. Louis Catholic Church at Besancon. The Rev. L. Nicholas Allgeir will officiate. Burial in the church cemetery. July 21, 1930 obituary in The News-Sentinel newspaper.
Bonjour, Danny Wayne
The Rev. A. Hunter Colpitts will officiate at funeral services for Danny Wayne Bonjour, four-month-old son of Mr. and Mrs. Virgil Bonjour, 1151 South Lafayette Street, at 11:15 a.m. Wednesday. The services will be held at the D. O. McComb & Sons Funeral Home. The child died at 1:28 a.m. Monday at the Methodist Hospital. Survivors include the parents; a brother, Roland, at home, and three grandparents, Mr. and Mrs. Earl Hart, Fort Wayne, and Mrs. Nellie Bonjour, Montpelier. Friends may call at the funeral home after noon today. Burial will be in Scipio Cemetery. Tuesday, March 15, 1949 article in The Journal Gazette newspaper.
Bonjour, Frederick
INSTANTLY KILLED. FREDERICK BONJOUR MEETS DEATH BY ACCIDENT SATURDAY. Loaded Shot Gun in the Hands of His Brother, Eugene, Severs the Jugular Vein-His Parents in This City at the Time. Frederick Bonjour, the son of Mr. and Mrs. Louis Bonjour, of near Zulu, was shot and instantly killed at his home Saturday morning, about 6:30 by the accidental discharge of a shot gun in the hands of his brother, Eugene. His death was instantaneous, as he uttered no sound after the terrible accident, the only sign of life manifested afterward being the opening and shutting of his eyes as he lay weltering in his own blood. Mr. and Mrs. Bonjour had risen early in the morning and came to this city to market. About 6 o'clock the sons arose, the sisters being still in bed. Upon the porch stood two guns, both of which were supposed to be empty, as they had not been used in a long time, and no one knows when or by whom one of them was loaded. One of the boys made the proposition that the guns be carried up stairs, and in compliance with this, Eugene went to the porch, picked up the two guns, and putting both under one arm, with the muzzles pointing in front oh him, started to carry them up stairs. As he passed through the door into the kitchen, In some manner the hammer of one of them struck against the door jamb, or caught upon something, and was discharged. It so happened that the brother Frederick, was in range of the weapon, and the entire charge of buck shot entered his neck, shattering it and severing the jugular vein, and then lodged in the wall. The injured man fell to the floor without a groan, and was dead before the terrified members of his family could realize what had happened. The parents were informed by telegraph of what had happened, and hastened home. The family is one of the most highly respected of Allen county, and the entire neighborhood greatly deplores the tragedy by which the young man was brought to an untimely end. Coroner Barnett was notified of the accident and went at once to the scene. The brother in whose hand the gun was discharged was almost crazed with sorrow, but no possible blame can attach to him, as the discharge was manifestly accidental. Tuesday, November 4, 1901 article in The Journal Gazette newspaper.
Bonjour, Louis
Eugene Bonjour, of Fort Wayne, received news of the death of his father, Lewis (sic) Bonjour, which occurred Monday at Chesasing, Mich. Until three years ago the deceased was a resident of this city having come here many years ago from Germany. He was 73 years of age. The following children survive: Louis, Ernest, Eugene and the Misses Sarah, Martha and Ernestine Bonjour. Louis Bonjour, by his last will and testament, left all his property to his wife, she to keep same in repair and reap all rents and income therefrom. After her death, the property goes to his children - an Allen county farm to his son, Eugene, who is named executor, provided he pays $200 to each of two other sons whose whereabouts are unknown, and $3,000 to a daughter, Mrs. Martha M. Morgan: an Allen county farm to a daughter, Ernestine, who is to pay Mrs. Morgan $1,000, and a Saginaw Michigan, farm to a son, Seraphine, who is to pay Mrs. Morgan $500. October 6, 1911 article in The Journal Gazette newspaper
Bonjour, Virgil R.
Virgil R. Bonjour, 74, died at 1:45 p.m. Tuesday at Lawton Nursing Home. A lifelong Allen County resident, he formerly owned the Bonjour Garbage Service. Surviving are three sons, Rolland L. and Earl E., both of Fort Wayne, and Virgil R. jr., of Cincinatti; three daughters, Barbara Wyme, of Harrison Ohio, Diana Wymer, of Fayetteville, N.C., and Karen Creager, of Windham, Ohio; four brothers, Maurice and Louis, both of Fort Wayne, Howard, of Montpelier, and James, of Tucson, Ariz.; four sisters, Opal Tenny and Doris Evans, both of Avilla, and Viola Drabenspott, of Warsaw; and 14 grandchildren. Services pending for Friday at Tom Mungovan Funeral Home, 2221 S.Calhoun St.; calling 6 to 8 p.m. today. Thursday, November 19, 1987 article in The Journal Gazette newspaper.
Bonsib, Louis William
Artist and advertising executive, born in Vincennes, Indiana, in March 1892. In 1923 came to Fort Wayne, in 1926 organized the Fort Wayne Advertising Club, eventually formed Bonsib Advertising. See Louis William Bonsib by Tom Castaldi posted February 9, 2016 on History Center Notes & Queries blog. See his painting "Jail Flats" posted January 27, 2017 and discussion on You are positively from Fort Wayne, if you remember... Archived group only visible to existing members on Facebook.
Boone, Joseph
Joseph was the son of Daniel Boone's younger brother Edward "Ned" Boone. He  enlisted in early October 1790 as a private in the Kentucky Militia, nicknamed the "Limestone Volunteers". On October 22, 1790 Private Joseph Boone's detachment was ordered to swing around the junction of the St. Joseph and St. Mary's rivers, where Harmar Street now ends at the river, and attack the Maumee Indian village at present-day Fort Wayne, Indiana. During the battle, which would become known as "Harmar's Defeat", Indians overran the inexperienced Americans. Most of the militiamen fled without firing a shot. Read his story in Saving Private Boone Joseph Boone at "Harmar's Defeat" by Jeffery L. Johnson, 5th great grandson of Joseph & Rebecca Fry Boone, (Copied from Compass, October 2004) published by The Boone Society. Discussed May 9, 2017 on You are positively from Fort Wayne, if you remember... Archived group only visible to existing members on Facebook.
Borkenstein, Robert Frank
Born in Fort Wayne, Indiana on August 31, 1912, he graduated from South Side High School. He revolutionized enforcement of drunken driving laws by inventing the Breathalyzer to measure alcohol in the blood, died Saturday August 10, 2002, he was. An Indiana University Professor Robert F. Borkenstein began his career with the Indiana State Police in 1936. He invented the Breathalyzer® in 1954 and retired in 1958 as captain in charge of Laboratory Services. His academic career began in 1958 when he received an A.B. degree from Indiana University. Also in 1958, he became a professor at Indiana University's Department of Forensic Studies. Indiana University Archives maintains the "Robert F. Borkenstein papers, 1928-2002, bulk 1940-2002." The National Safety Council issues an annual Robert F. Borkenstien award also recognized by I.A.C.T. the International Association for Chemical Testing. A 2002 Indiana University display was called the "Borkenstein and His Monster: The Man Behind the Breathalyzer" — A New Exhibit at the IU Archives." He is buried in Lindenwood Cemetery with tombstone shown on Find-A-Grave. Breath of Fresh Air by Tom Castaldi, local historianpublished June 14, 2016 on History Center Notes & Queries blog. From Drunkometer to Breathalyzer: How Indiana Scientists Crusaded Against Drunk Driving by Tom Castaldi, local historianpublished August 3, 2016 on Indiana Historical Bureaublog. A Man Who Made a Difference with video interview of his niece by Eric Olson, 21Country Featured Reporter.
Borne, Tim
Co-founder with his brother Tom of the Asher Agency, founded in 1974 with one client. He helped grow the agency to its current size in 2017 of 65 employees and over $55 million in annual sales, with offices in Fort Wayne and Indianapolis, IN; Atlanta, GA; Cary, NC; Oklahoma City, OK; Dallas, TX; Lexington, KY; Charleston, WV and Washington, D.C. Recipient of the Sagamore of the Wabash, presented by Governor Evan Bayh and the Silver Medal Award, Presented by American Advertising Federation of Fort Wayne. Copied from We Remember Tim published October 28, 2017 at AsherAgency.com. Local business community loses a leader with passing of Tim Borne by Jonathon Shelley, News Director published October 27, 2017 on ABC WPTA21.com TV station.
Bowser, Sylvanus Freelove
Born on August 8, 1854, in Allen County on a farm eight miles north of Fort Wayne, Bowser received just over three months of formal schooling. In 1885, Bowser conceived of pump that aided in the moving of water from a well without the aid of a rope and bucket. Since most grocers sold kerosene, he believed that there would be a ready market for his new pump. The first pump was installed on September 5, 1885 in the store of Fort Wayne grocer Joseph Gumper. Following the expanded demand for his pumps, Bowser founded S.F. Bowser and Company in July of 1888, on Creighton Avenue. After two fires, in 1894 and 1897, the S.F. Bowser Company, Inc. became one of the largest gas pump manufacturers in the world. Known for being paternalistic towards his employees, Bowser provided all workers with sick, accident and death benefits. In 1917, the Bowser Company began construction on a new office building, this building stood on Creighton Avenue until the spring of 2018. The S.F. Bowser and Company, Inc. closed its Fort Wayne facility in 1961. S.F. Bowser, once one of the wealthiest men in Allen County, died from complications of diabetes on October 3, 1938. Copied from photos and history posted August 8, 2018 on his 164th birthday by The History Centeron Facebook. The first gas filling station in Fort Wayne opened in 1915 from a 1921 newspaper article.
Bowstrom, Marjorie E.
CEO of Zollner Corporation, Bowstrom took over the iconic Fort Wayne company in 1982 when she was elected chairwoman of the board and chief executive officer, succeeding Fred Zollner. She became assistant to the chairman of the board in 1967, when Zollner was elected chairman of the board, and then was elected herself to the board of directors in 1978. 'She was very capable and handled it very well,' Combs said. But she started out as Zollner's executive secretary, having applied for the job in the 1950s in a desire to move back to her home state. From Zollner CEO Bowstrom dies at age 93 Took control in 1982, started as secretary in '50s by Rebecca S. Green published April 10, 2012 in The Journal Gazette newspaper.
Bolyard, Tom
A February 4, 2023 post by Fort Wayne Sports History on Facebook stated:

February 4

In 1963, Tom Bolyard scores 35 points for Indiana against No. 4 Illinois.

It would be amazing to see what Tom Bolyard could do on a basketball court today because he'd be a superstar. Bolyard was a standout player at South Side, helping the Archers to the 1958 state title and to the 1959 semistate after the other four starters had graduated.

A 6-foot-4 forward, Boylard scored 1,420 points in his three years at South Side High School and then 1,299 points at IU. He was the Hoosiers' Most Valuable Player in 1963.

As a high school senior, Bolyard was named to the Parade All-America team and was the Most Valuable Player in the Indiana-Ohio All-Star game. He had a high game of 48 points against Gary Froebel, and averaged nearly 30 points for his senior season to end with 17 points per game for his high school career.

``In my senior year (1959) I thought we would be just average,'' said Bolyard in 1991 when he was inducted into the Indiana Basketball Hall of Fame, ``but things went together very well and we made it to the semistate, where we lost on a last-second long bomb by Kokomo's Jimmy Rayl. But then, if I had not missed a free throw a bit earlier, we would have won.''

Bolyard wasn't a one-sport athlete at South Side. He anchored the state championship mile relay team, finished second in the state in the half-mile and played football.

At Indiana, he was a three-year starter, averaging 18 points per game. When he graduated he was Indiana's No. 10 all-time scorer, earning All-Big Ten honors in 1963, averaging 18 points per game for his career. After graduating from IU, Bolyard signed with the Baltimore Bullets, then decided instead to return to graduate school. He was an assistant at North Side High School for one year and an assistant for five years at IU.

See Blake Sebring.
Boyer, Nancy Eshcoff
The county's first female judge was appointed by Governor Evan Bayh in 1991, and retired June 15, 2020. She handled the court's civil division involving businesses, medical malpractice and personal injury. Copied from Trailblazing Superior judge plans to retire by Matthew Leblanc published January 17, 2020 in The Journal Gazette newspaper.
Boyle, Roland J.
Family finally learns fate of roving son by Gary Nichols published in the Sunday, December 25, 1988 The Journal Gazette newspaperin the Allen County Community AlbumWho is a Hoosier collection. A sad story of the fourth child of a large German-Catholic family who along with his brothers served in the Civilian Conservation Corps who then took a strange path in life with a sad ending.
Brady, Samuel
Samuel Brady, frontiersman by Public Library of Fort Wayne and Allen County, 1954, on Archive.org.
Brase Brothers
Five brothers, sons of Clarence T. Brase, 1916 South Barr Street, Cpl. Robert W. enlisted in the Army July 1941; Clarece M. Brase, seaman first class enlisted in the Navy in November, 1943; Pfc. William A. Brase enlisted in the Army in March 1943; James J. Brase pharmacists mate enlisted in September 1942 in the Navy/ and Richard H. Brase seaman were shown in newspaper article with photos posed June 7, 2019 by John Brase on You are positively from Fort Wayne, if you remember... Archived group only visible to existing members on Facebook.
Brantley, Terra
Terra Brantley began her career in 1986, at WPDE-TV in South Carolina, then in 1993, moved to Fort Wayne to work at WKJG-TV, before joining the team at WANE-TV. Prior to anchoring evenings, Brantley led WANE 15's number one morning and noon newscasts for more than 20 years. She has served regional viewers for more than 26 years, and is the longest serving African-American news anchor in the state. Copied from a February 4, 2019 Facebook post with photos by The History Centeron their newest display.
Breimeier, Ernst
As you drive down West Creighton, you might notice an old brick home facing north just past South Wayne. While many of the homes on Creighton are pre-1900, this home, built in the 1880s, is one of the older ones. It is the Ernst Breimeier House. Ernst, or Ernest, was born in Germany in 1837. At 17, he came to Fort Wayne and studied the bricklayer's trade. Eventually, he teamed up with Henry Hessemeier to form a contracting company responsible for many of the brick structures in Fort Wayne. Often, his buildings were precursors to what we see today. Here is a couple of those. In 1886, Ernst won the contract for what was going to be a big project. It was a project that would, in total, require 1,300,000 bricks and serve as a foundation for today's beautiful campus. This project was to build an orphan asylum on the city's north side. This site eventually became the St. Vincent's Orphan Asylum. Next, in 1890, Ernst & Sons were tapped for another big project. Father Delaney from the Saint Patrick Catholic Church wanted to expand. This meant building an entirely new church and school. Ernst was responsible for the school portion, which sat at the Northwest corner of Dewald and Webster. While this building no longer exists, his work lives on through the much larger school building on the campus today. In the drawing, you can see the outline of the school behind the church. Copied from a September 10, 2022 post byHistoric 07 District - Fort Wayne on Facebook.
Brenton, Samuel
1810-1857, Gallatin County, Kentucky native, ordained as a Methodist minister at the age of twenty, and began his career as a circuit rider in southern Indiana. Reverend Brenton came to Fort Wayne after accepting an appointment of pastor of the Berry Street Church and the following year was named presiding elder of the Fort Wayne district. Samuel Brenton declared his candidacy for Congress as representative from the Tenth Congressional District in 1851. He died in Fort Wayne on March 29, 1857, at the age of forty six, and is buried in Lindenwood Cemetery. Read more of his story Congressman Samuel Brenton of Fort Wayne by Tom Castaldi posted January 8, 2015 on the History Center Notes & Queries blog.
Briggs, William L.
Died March 28, 2017, an Allen County Superior Judge retired in 1998, he was Allen County's first black judge. Ex-judge devoted to family court dies, 80 by Dave Gong published April 4, 2017 in The Journal Gazette newspaper.
Bright, John Johnny Dee
Born in Fort Wayne June 11, 1930, he died December 14, 1983 in Edmonton, Alberta, Canada. Johnny was a three-sport football, basketball, track and field star at Central High School. He graduated in 1947, accepted a track and field scholarship from Drake University in Des Moines, Iowa allowing him to play football. His senior year he was the pre-season favorite for the Heisman Trophy, but was the victim of the mostly forgotten Johnny Bright Incident.
Johnny Bright, Central High School, Fort Wayne, Indiana page of information within the Central High School collection at The Genealogy Center at the Allen County Public Library in Fort Wayne, Indiana.

April 26, 2018 post by The History Center on Facebook.

Central High Class of 1948. Several Fort Wayne athletes were champions in the All-American Football Conference (1946-1949) with the Cleveland Browns discussed

Archive images of Drake University football star Johnny Bright at the Des Moines Register newspaper.
Johnny Bright at Wikipedia, The Free Encyclopedia states he was a professional Canadian football player, member of the Canadian Football Hall of Fame, the National Football Foundation's College Football Hall of Fame, the Missouri Valley Conference Hall of Fame, the Edmonton Eskimos Wall of Honour, the Alberta Sports Hall of Fame, and the Des Moines Register's Iowa Sports Hall of Fame.
Johnny Bright incident at Wikipedia, The Free Encyclopedia:


Drake Heritage Collection has numerous photos, articles, and audio.
JOHNNY BRIGHT - AMERICA'S LOSS by coach Hugh Wyatt was also published with additional photos on page 43 December 2003 Allen County Lines quarterly publication of the Allen County Genealogical Society of Indiana
Author to Sign Book on Drake Legend Johnny Bright Before Home Football Game by Mike Chapman published September 29, 2010.
Go, Johnny, Go by Blake Sebring has Bright as No. 2 of the local TOP 50 Northeast Indiana's Top 50 Athletes of the 20th Century by The News-Sentinel newspaper.
Find-A-Grave has his burial information in Edmonton, Alberta, Canada.
From the archives: How the 'Johnny Bright Incident' changed college football forever by Bill Bryson in the Des Moines Register newspaper.
Johnny Bright is discussed in Moments of Impact: Injury, Racialized Memory, and Reconciliation in College Football. Jaime Schultz, Lincoln: University of Nebraska Press, 2016
The Edmonton Journal first presented the John Bright Memorial Award in 1984 to recognize exceptional high school students who excelled in three integral areas of John Bright's life: academics, athletics, and citizenship. Discussed September 23, 2017 on the original Great Memories and History of Fort Wayne, Indiana page on Facebook.
A dirty hit, a broken jaw and the day Drake and Oklahoma A&M changed college football forever Drake football great Johnny Bright made the most of life after dirty play broke his jaw in 1951 by Daniel P. Finney The Des Moines Register, published October 18, 2019, updated December. 16, 2019.

September 1, 2020 post by Drake University  on Facebook:

NEWS: Today Drake University announced the founding of a new college that will make the exceptional Drake University education more accessible to more students. The John Dee Bright College at Drake University will grant two-year associate's degrees in the integrated arts, sciences, and humanities, as well as in business, organization, and professional studies. The college will welcome its first students in the fall 2021 semester.

Craig Owens, a Drake University English professor and director of the University's Center for Teaching Excellence, will serve as dean of John Dee Bright College.

Students in the John Dee Bright College will take classes as part of a learning cohort. We created this college for students that share Bright's qualities: Grit. Resilience. Dedication. Drive. Passion for civic and professional engagement.

Read more here: http://bit.ly/BrightatDrake

The Bright Path - The Johnny Bright Story on IMDbPro. The Bright Path: The Johnny Bright Story chronicles the life of Johnny Bright a record-breaking trailblazer who changed College football forever.

October 20, 2022 post byFort Wayne Sports History on Facebook.

October 20

In 1951, while playing for Drake, Johnny Bright is knocked out by a dirty play against Oklahoma A&M.

A product of Central High School, Bright took a scholarship at Drake University, located in Des Moines, Iowa, to run track, with the condition that he could try out for the football and basketball teams. After sitting out the mandatory year of freshman ineligibility, Bright tried out for the football team and made the squad after two days. A few days after that, he became the focus of the offense.

As a sophomore, Bright rushed for 975 yards and threw for 975 yards to lead the nation in total offense as the Bulldogs went 6-2-1. He followed that with 1,232 yards rushing and 1,168 yards passing as a junior to set an NCAA record for total offense. The next season he was leading the nation in rushing and total offense with 821 and 1,349 yards, respectively when the Bulldogs played at Oklahoma A&M on Oct. 20, 1951.

As a sophomore in 1949, Bright became the first African-American player to play at Stillwater, but this game would be much rougher. After taking two late hits early in the game, Bright was well away from the play when he was blasted by Aggies defensive lineman Wilbanks Smith, who hit Bright so hard he was lifted off his feet. Despite suffering a broken jaw, Bright picked himself off the turf and came back the next play to throw a touchdown pass, but another hit knocked him out of the game a few plays later.

Immediately after the game, Drake officials accused Oklahoma A&M of dirty play and being out to "get" Bright, but the Oklahoma A&M president said he saw nothing unusual with the play. Photos from the game by John Robinson and Don Ultang of the Des Moines Register showed the severity and won a Pulitzer Prize.

Bright came back to play one more game two weeks later, rushing for 204 yards against Great Lakes Naval Station, to finish with more than 6,000 yards in career total offense. He averaged 236 yards per game and scored 384 points in 25 games. He finished fifth in the Heisman voting.

But the incident scarred Bright and Drake. When the Missouri Valley Conference took no action against Oklahoma A&M, Drake eventually left the league.

Also, in 1997, South Side's Derek Carpenter wins the state tennis championship.

The South Side senior succeeded in reaching his goal when he beat Dalton Albertin of Lawrence Central 5-7, 6-2, 6-2 to win the IHSAA state singles title in Indianapolis. Carpenter finished his season 26-2 and his career 99-13 before continuing his career at Ball State.

A white player shattered his jaw, ending Fort Wayne Johnny Bright's Heisman Trophy dreams by Dana Hunsinger Benbow February 7, 2023 on IndyStar.
Amazing number of internet hits for Johnny Bright Google search results


January 27, 2023 post by BLK & Bold on Facebook:

Johnny Bright holds a legacy of changing a culture not only in football, but in education, starting at Drake University. We were proud to partner with McGill Junge Wealth Management to pay an ode to Bright's legacy as well as how his values reflect community betterment. We strive to do so as well. This commercial will air during a special about Johnny Bright's incredible story on CBS Sports Network. Thank you for watching!

Fort Wayne native Johnny Bright featured in documentary about his life by Emilia Miles published February 7, 2023 on ABC WPTA21.com TV station.
February 8, 2023

Fort Wayne's Johnny Bright story to reach national audience by Dirk Rowley, posted: Feb 8, 2023, updated: Feb 8, 2023, on CBS WANE-TV NewsChannel 15.

Brincefield, Kyle
A 2005 graduate of Homestead High School, creates wardrobe pieces for Miley Cyrus, Beyonce', Carmen Electra and his designs were in Vogue magazine and others. In 2014, he lived in New York's East Village, on East 14th Street in a ridiculously expensive two-bedroom apartments and studio From Homestead to Vogue Went to NYC with $800; now, stars wear his clothes by Steve Warden published December 30, 2014 in The Journal Gazette newspaper.
Brown, Dorcas
Widow of John Brown one of the pioneer blacksmiths of Fort Wayne. April 1, 1908 Fort Wayne Journal Gazette newspaper obituary posted April 1, 2017 on the original Great Memories and History of Fort Wayne, Indiana page on Facebook.
Brown, Louis Henry Happy Jack Nelson
Louis Henry "Happy Jack Nelson" Brown memorial on Find A Grave states: son of Frank Brown, mother unknown and includes Journal-Gazette, Fort Wayne, Indiana, Wednesday, May 25, 1960, front page newspaper headline with story shown below and a Monroeville News, Thursday May 26, 1960. Ex-clown shot in the Linton Daily Citizen, Linton, Indiana, Wednesday, May 25, 1960, page 1 story shown on Newspapers.com.
May 25, 2023 post by Hofer and Davis, Inc. Land Surveyors on Facebook:

People can get very passionate on what they own, and property line disputes can spiral out of control! It was 57 years ago today that the Journal-Gazette headline read 'Happy Jack' Nelson Killed By Monroeville Policeman In Gunfight Property Line Dispute Triggers Clown's Attack! I know a little boy that used to make his dad tell this "bedtime story" over and over again in the early 1960's. That is our "Throwback Thursday" for this week!
Bruggeman, Patrick
66, May 7, 2015, graduate of Central Catholic High School, lawyer, real estate developer and investor who was instrumental in helping Fort Wayne rebound after International Harvester ceased production here. Had a daughter, Bridget, and son, Anthony. Read more in Investor in city projects dies Helped transform Harvester plant by Frank Gray and Sherry Slater published May 19, 2015 in The Journal Gazette newspaperand his D.O. McComb and Sons obituary.
Buckner, - Dr. Suzanne Knoebel
Was the first female president of the American College of Cardiology, in 1983, was named one of the 100 Most Important Women in America by Ladies' Home Journal, one of eight U.S. heart specialists selected to visit China at the invitation of the Chinese government. She was a daughter of Dr. Doster and Marie Buckner, her uncle and brother were physicians, and her mother was a nurse. The Buckner Farm is now Buckner Park a city owned park discussed in City parks get $500,000 estate gift Famed cardiologist part, of Buckner family, died July 2 by Vivian Sade published August 13, 2014 in The News-Sentinel newspaper.
Budd, Ruth
Famous local aerialist and vaudeville performer photos and clothing shown July 22, 2015 on The History CenterFacebook page.
Bueter, Paul, Rev
Born in Fort Wayne, fluent in Spanish, buried at the Catholic Cemetery, 3500 Lake Ave. See Priest who focused on Hispanics dies by Rosa Salter Rodrigue published December 9, 2014 in The Journal Gazette newspaper.
Burmese
Refugees from Southeast Asia. Burma Soldier - Fort Wayne resident and activist Myo Myint Cho is the subject of a new HBO documentary by Michael Summerson Fort Wayne Reader. Documentary details city man's torturous past in Burma Myo Myint Cho's story spanning 30 years to air May 18 on HBO2 by Ellie Bogue published May 11, 2011 in The News-Sentinel newspaper. Discover Fort Wayne's Burmese Heritage by Lauren C. posted December 14, 2011 on Visit Fort Wayneblog. Burma, officially known as the Republic of the Union of Myanmar, is a country in Southeast Asia. The first Burmese immigrants came to Fort Wayne in the early 1990s to escape political turmoil. Since then, the Summit City has become home to approximately 5,000 Burmese, the largest group in the country. Refugee program gets official's praise Burmese receiving community support, visit to city reveals by Brian Francisco Washington editor published June 16, 2013 in The Journal Gazette newspaper. Little Burma -getting bigger After 25 years, city cements reputation as magnet for immigrants by Ye Win Latt published April 22, 2016 in The Journal Gazette newspaper .
Burns, M.D., Major Frank
A fictional character from Fort Wayne in the M*A*S*H film and television show played by Larry Linville. His character was born April 13th, and was married to Louise and had 3 daughters. He was president of his school stamp club and wrote for the school newspaper. See Wikipedia.
Burton, Jim
Died January 6, 2015 in Evans, Georgia and was survived by his wife Sandy and sons Kelby and Ryan. In 545 games over seven seasons with the Komets, Burton scored 117 goals and 426 assists for 543 points. He ranks seventh in assists and 12th in points on the franchise's all-time career lists. Copied from Komets great Jim Burton passes away All-time defenseman, 53, dies from heart attack by Blake Sebring published January 6, 2015 in The News-Sentinel newspaper.
Bush, Rev. Crystal
Possibly the first woman bishop in Fort Wayne. pastor of New Zion Tabernacle Church, 1835 Spring Street. Bush served in FWCS as principal at Scott Academy except for 2003-2005, when she was principal at then-Geyer Middle School from New Fort Wayne woman bishop enjoys roles as pastor, educator by Kevin Kilbane published April 28, 2014 in The News-Sentinel newspaper.
Bush, President George H. W.
Became friends with Tom Kelley, owner of several local car dealerships. Played golf many times at Sycamore Hills.
Bushnell, Scott M.
Born in Poughkeepsie, New York on February 12, 1947 to John and Alice Bushnell, he died September 10, 2017, age 70, of St. Joe. A Fort Wayne historian, he wrote several books including Hard News, Hardfelt Opinions: A History of the Fort Wayne Journal Gazette, Historic Photos of Fort Wayne, Historic Photos of Indiana.
Buskirk, Roy
Cancer claims Allen County Council President Roy Buskirk at age 72 by Jonathan Robison and Kevin Leininger published November 5, 2016 in The News-Sentinel newspaper.
Busse, Keith
Steel Dynamics, Inc. Founder, born April 19, 1943 in Fort Wayne, Indiana, a North Side High School graduate, earned a degree in finance from University of Saint Francis and an MBA from IPFW. He spent 21 years with steelmaker Nucor. In 1993 he founded and eventually retired as CEO of Steel Dynamics, Inc. See Forbes.com information. The nation's fifth-largest producer of carbon steel products. SDI operates five electric-furnace mini-mills and employs about 3,500. In 2006, its annual revenue was $3.2 billion and its annual shipments were 4.7 million tons. Busse was named Steel Man of the Year in 2004 and Steel Maker of the Year in 2006. In 2008, he was honored with the Willy Korf/Ken Iverson Steel Vision Award, which is presented to those who have made major commitments to the steel industry and promote the goodwill and integrity of the industry. From Busse donating alumni center IPFW graduate, SDI boss to build 'lodge' near hotel published October 14, 2009 in The Journal Gazette newspaper. Man of steel: Keith Busse and the growth of SDI in July 23, 2010 in the Greater Fort Wayne Business Weekly. Namesake for the Keith Busse School of Business and Entrepreneurial Leadership at University of Saint Francis. Was a Legendary Locals of Fort Wayne, by Randolph L. Harter, Craig S. Leonard discussion August 30, 2015 on You know you've lived in Fort Wayne too long when... Private Facebook group.
Business People Magazine
Has published an annual In Memoriampage on their website Business People listing the Business people we lost since 2015.
Butcher, Charly
Died August 15, 2018, was the husband of elementary school teacher, Sarah Butcher, and the father of three wonderful kids. Was awell known media icon, a radio personality for more than three decades. On WOWO 1190 AM and 107.5 FM, he was the host of "Fort Wayne's Morning News."
Many listeners also remember him as co-host of "Those Two Guys in the Morning" on WMEE in the 1980s.
Butler, Dan
Actor played Bob Bulldog Briscoe on the television show Frasier. November 16, 2013 visited the Rialto Theatre helping bring awareness to Reclamation Project efforts to restore the theater. See also Hollywood Star Comes Home to Direct At IPFWvideo by Eric Olson November 29, 2013 on Indiana NewsCenter.
Byron, Patricia Irene
Born Patricia Irene on October 10, 1878, into a Catholic family of 14 children in Butler, Pa., she came to Fort Wayne in 1904 after living for a time with her sister in Montpelier, Ind. She entered nurses training at Hope (forerunner of Methodist Hospital, now Parkview Memorial), and from then on was on her own as a single, working woman. She lived at 1204 Lewis Street. She became a respected and beloved figure in the community.  She also was known around the state and the country for her anti-TB work.  She was such a strong local leader that the Fort Wayne league sold more TB Christmas Seals per capita than any other in the nation. When the United States entered World War I, the American Red Cross appealed for nurses to serve in military hospitals. Byron answered the call and relinquished her duties as executive secretary of the Anti-Tuberculosis League. In late September 1917, she departed for Camp McArthur outside Waco, Texas. While on active duty at the base hospital, she became ill February 13, 1918.  When she grew worse, she was hospitalized and underwent surgery, but she continued to worsen and died of peritonitis on March 28, 1918.  When it was learned that her body was to be shipped to California for burial, nurses, and friends here sent telegrams asking that the plan be reconsidered so the city could pay tribute to her. Nothing came of their plea and Byron was buried in Fullerton, California, where one of her sisters resided. From The Real Irene Byron, Compassionate, cheerful, dedicated to caring for others by Nancy Vendrely published March 12, 1966 in The Journal Gazette newspaper. She is remembered with the Byron Health Center.