Infamous Burials in Allen County, Indiana
In 1933, John Dillinger, the infamous bank robber of the 1930s was declared "Public Enemy #1" by J. Edgar Hoover and the FBI. See A Public Enemy's Life in the Fast Lane  The National Archives Prologue: Pieces of History blog with John Dillinger $10,000 FBI Wanted poster. Dillinger was born and is buried in Indianapolis, his biography is on the FBI Famous Cases & Criminals page and also John Dillinger on Wikipedia. DILLINGER SHOT TO DEATH BY FEDERAL AGENTS AFTER HUNT on The National Archives Today's Document includes part of a 1934 newsreel highlight from a more graphic video version Universal News, Volume 6, Release 269, Story #1, July 23, 1934 on the US National Archives YouTubechannel.  10 Things You May Not Know About John Dillinger by Evan Andrews published August 4, 2014 on History.com. Stories have Dillinger in local places such as a Monroeville restaurant Comment March 3, 2017 on Allen County Genealogical Society of Indiana on Facebook.
Dillinger was locked up in the Lima, Allen County, Ohio jail, when 3 members of his gang broke him out while killing the sheriff. They also stole a machine gun and a small arsenal of guns in 1933 from the Auburn, DeKalb County, Indiana police department north of Fort Wayne. The machine gun might have been responsible for the deaths of some of the 13 police officers killed by Dillinger and his gang. March 6, 2014, the gun was returned to Auburn. Read more in Dillinger legend finds its mark Gun stolen from Auburn police in 1933 finally makes it home by Frank Gray published March 7, 2014 in The Journal Gazette newspaper. View Piece of History with Violent Past Returns to Auburn video by Eric Olson published March 7, 2014 by the Indiana NewsCenter. March 3, 1934, John Dillinger escaped from the Crown Point Jail, the "inescapable" jail, stole Sheriff Lillian Holley's car, and headed for Chicago. Posted March 3, 2017 by Indiana Bicentennial Commission on Facebook.
July 22, 1934 John Dillinger was gunned down after seeing a show at Chicago's Biograph Theater, betrayed by the "woman in red" who tipped off the FBI. Read more in Dillinger's Jailor, Sheriff Lillian Holley posted by Juliana Smith July 22, 2014 on Ancestry.com blog.
Dillinger gang members buried in Fort Wayne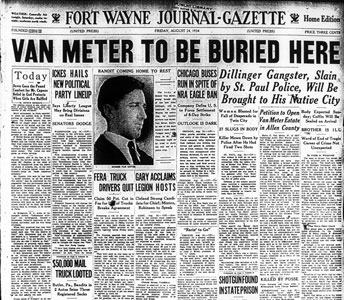 Homer Van Meter was born December 3, 1906 in Fort Wayne to Cary B. Van Meter and his wife Julia Miller. Homer was a get-away driver for John Dillinger. He was gunned down August 23, 1934 in St. Paul, Minnesota and is buried in Lindenwood Cemetery Section 4, Block 4, Row 2, Space 10 shown on Find-A-Grave. Dillinger cohort lures curious to local digs is a newspaper article about his grave site by Jeff Wiehe published July 3, 2009 in The Journal Gazette newspaper. Homer Van Meter on Wikipedia, the free encyclopedia has a photo and more. Family information is from Scott Van Metre on his Homer V. Van Meter page from his Van Metre Family website. A newspaper article Dillinger cohort lures curious to local digs by Jeff Wiehe published July 3, 2009 in The Journal Gazette newspaper discussed Homer Van Meter. Homer was discussed January 1, 2018 on You are positively from Fort Wayne, if you remember... Closed group on Facebook.
The front page of the August 24, 1934 The Journal Gazette newspaper on the right was used with permission of The Journal Gazette newspaper.
See photos with FBI information posted August 23, 2019 by The History Center on Facebook.
Coins and flowers have been placed on Homer Van Meter's gravestone for many years. Some sources claim coins on gravestones are intended as a memorial to veterans. His stone was empty when I first photographed it in 2003. A newspaper article Tombstones tell tales Mementos of all types dot landscape of city cemeteries by Terri Richardson published October 22, 2019 in The Journal Gazette newspaper discusses leaving coins and objects on tombstones.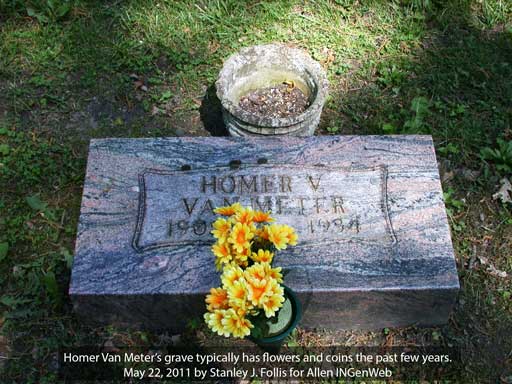 The Google ebook Dillinger: The Untold Story shows Clifford "Whitey" Mohler (1903-1968) an early accomplice died August 25, 1968 and is buried in Prairie Grove Cemetery and Samuel Goldstine (1890-1975) died May 19, 1975 on same page 280 buried in Section Y, Lot 50 in Lindenwood Cemetery in Fort Wayne. Apparently neither has a tombstone since none are shown on Find-A-Grave nor local DAR cemetery pages. Another Samuel Goldstein was mistakenly thought to be Dillinger's gang member dying in jail July 22, 1939 in Lima, Allen County, Ohio on the 5th anniversary of Dillinger's death.
Local Dillinger Connections
Charles Markley Was Framed is a web site that looks at a Dillinger cohort who may have been involved in a bank robbery in Sheldon now Yoder, Indiana
Some information on John Dillinger Gang's Fort Wayne, IN Connection on CherryTeaTime blog has some interesting reader comments on Van Meter's Fort Wayne activities.
I need to find a link to a the original Great Memories and History of Fort Wayne, Indiana page on Facebookdiscussion about Dillinger's hideout at the old brick building at U.S. 27 and Hoagland Road. If you find it Contact Allen INGenWeb.
A Broadway Bank location at Broadway and Taylor robbed by the Dillinger gang is shown in 1947 as a drug store on the original Great Memories and History of Fort Wayne, Indiana page on Facebook.
Other Dillinger Information
Find-A-Grave shows John Dillinger is buried in Crown Hill Cemetery Indianapolis, Wikipedia says it is the third largest cemetery in the United States.
Hammond, Indiana has the John Dillinger Museum Crime Doesn't Pay.
The state of Indiana lists John Dillinger Resources
John Dillinger Hulu.com has the 1973 movie Dillinger
Public Enemies movie stared Johnny Depp shown on Wikipedia
Infamous Former Residents
City native, dead at 89, found fame as bigot Report: Request made for burial at Arlington Willis Allison Carto a native of Fort Wayne once called "the most important professional anti-Semite in the U.S." by the Anti-Defamation League died Oct. 26 at 89. by Rosa Salter Rodriguez published November 5, 2015 in The Journal Gazette newspaper
Back to top