1980-1989 Timeline for Allen County, Indiana
1980-1989: Era of Economic Turmoilvarious newspaper articles include a 1980-1989: Timeline from the Fort Wayne History archives of The News-Sentinel newspaper.
1981 - 1982 - 1983 - 1984 - 1985 - 1986 - 1987 - 1988 - 1989
1980
1980 - Knight-Ridder purchases The News-Sentinel newspaper. Copied from the 1980-1989: Timeline of The News-Sentinel newspaper.
1980, 22 February - the US Olympic hockey team upset the team from the Soviet Union, 4– 3, at the Lake Placid Winter Games to earn a victory often called the "Miracle on Ice." Led by coach Herb Brooks, the Americans went on to defeat Finland two days later and win the gold medal.
May 18, 1980 - 8:32 Sunday morning, Mount St. Helens in Skamania County, Washington state erupted and blew down or scorched 230 square miles of forest with an earthquake measuring 5.1 on the Richter scale. The deadliest and most economically destructive volcanic event in the history of the United States. Fifty-seven people were killed; 250 homes, 47 bridges, 15 miles (24 km) of railways, and 185 miles (298 km) of highway were destroyed. From Wikipedia.
June 1, 1980 CNN, Cable Network News, goes live on the air at 6:00 pm for the very first time and the shooting of Vernon Jordan in Fort Wayne was one of their first national stories at 6:22 pm.
1981
1981 - Miscellaneous files (1981) - Barr Street Irregulars - collection of photocopied pages. Some have good print quality while others have very poor print quality. Page 49 has 3 obituaries - Freda C. Withers, Louise I. Miller, and Miriam E. Elston. Archive.org ebook
1981, April 12 - Space Shuttle Columbia launches as the first of the Space Shuttle program, it completed 27 missions before disintegrating during re-entry on February 1, 2003 near the end of its 28th mission, STS-107, resulting in the deaths of all crew members aboard.
1982
1982 - The proposed Equal Rights Amendment dies. Citizens for Decency through Law group begins picketing adult theaters in Fort Wayne. International Harvester announces it will close its Fort Wayne plant. Copied from a 1980-1989: Timeline of The News-Sentinel newspaper.
1982, February 10 - a low of -18°.  At one point that day, the Associated Press reported, Fort Wayne was the coldest spot in the United States – including Alaska. Meanwhile, snow was piling up on the frigid ground – until a fast thaw in early March led to the Flood of 1982. Copied from The cold old days published February 2, 2019 in The Journal Gazette newspaper.
1982 March 11 - second highest flood stage of the Maumee River was 25.9 feet from Fort Wayne Indiana Climate at the National Weather Service.
National Archives photo posted by
Indiana Historical Bureau on Facebook
1982, March 16 - Tuesday, during the flood, President Ronald Reagan met with volunteer sandbaggers at Herman and Sherman Blvd. Shown briefly in the video above around the 50 second mark. Photo on the right was captioned According to the Fort Wayne News-Sentinel, the flood caused approximately 9,000 residents to flee their homes and resulted in about $56 million in damages. Reportedly, the intensive efforts of volunteer sandbaggers earned Fort Wayne the moniker The City That Saved Itself. Copied from a March 16, 2019 post by Indiana Historical Bureau on Facebook.You can see photograph of President Ronald Reagan throwing sandbags on the Permberton Dike from Downtown Fort Wayne on Facebook. A tornado funnel cloud was sighted at Baer Field Airport - see photo posted May 29, 2013 on the original Great Memories and History of Fort Wayne, Indiana page on Facebook. April 28, 2016 former Mayor Win Moses posted on Facebook a photo on Air Force One with President Ronald Reagan, Chief of Staff James Baker, and Ohio Governor Jim Rhodes and recalled how President Reagan had come to Fort Wayne to encourage the 11,000 high school students who were filling sand bags to continue to fight the flood of 1982. Discussed March 10, 2017 on You are positively from Fort Wayne, if you remember... Closed group on Facebook. March 30, 1982 radiocaster Paul Harvey addressed the flood broadcast on History of WOWO radio. March 12, 1983 newspaper article As flood rose, we sent in the marines posted October 27, 20717 on You are positively from Fort Wayne, if you remember... Closed group on Facebook. See President Reagan, having helped stack the sandbags in Ft.... published March 20, 1982 now on the UPI ARCHIVES.
1982, March 26 - Groundbreaking ceremonies take place in Washington, D.C., for the Vietnam Veterans Memorial.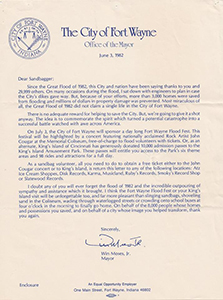 1982, March 30 - Paul Harvey visited Fort Wayne after the massive Flood of 1982. The next day, he shared his thoughts on the spirit of Fort Wayne on his national noontime broadcast. That evening, Robb Westaby re-broadcast the segment. Aircheck courtesy of Chris Witting. Listen to 5 minute audio from the History of WOWO Airchecks page.
1982, June 2 - Mother Teresa visits Fort Wayne and June 6, 1982 speaks to a crowd of 3,000 at Bishop Dwenger High School. Remembering Mother Teresa's 1982 Fort Wayne visit by Kaitor Kposowa updated: Septempber 04, 2016 on WANE-TV NewsChannel 15.
1982, June 3 - the City of Fort Wayne mailed a letter to the sandbaggers inviting them to the July 3 Fort Wayne Flood Fest 82. A copy was posted June 3, 2018 on You are positively from Fort Wayne, if you remember... Closed group on Facebook.
1982 July 3 - Seymour, Indiana rock singer John Mellencamp plays free Fort Wayne Flood Fest '82 for 20,000 Fort Wayne flood sandbagging volunteers. Radio station WMEE-FM promoted the concert with the city.
1982, September 24 - the Center for Disease Control uses the term "AIDS" for the first time. From the The National Museum of American HistorySeptember 24, 2014 Twitter tweet.
1982, September 28 - on the front page of The Journal Gazette newspaper Harvester announces it would shut the Fort Wayne plant laying off 2,100 workers. Early in 1979, 10,600 people worked for Harvester. The engineering and parts distribution center would remain with about 2,000 employed in 1984. The city assembled a $31 million aid package for the 60-year-old local plant compared to the $27.6 million package offered for the 17-year-old successful Springfield, Ohio facility.
1982, November 11 - Vietnam Veterans Memorial, with 58,220 names on 140 black granite panels, welcomes its first visitors and is dedicated November 13, 1982.
1983
1983 - In its 150th year, The News-Sentinel wins a Pulitzer Prize for its coverage of the Flood of '82. Copied from the 1980-1989: Timeline of The News-Sentinel newspaper.
1983, April - groundbreaking for the Grand Wayne Center.
1983, May 2 - Microsoft introduces a mouse for their personal computer. See photo on Micosoft on Facebook.
1983, June 19 - Sally Ride, is the first female American astronaut to go into space.
1983, September 18 - Osborne Family Murder. The News-Sentinel's editorial page editor Dan Osborne and his wife, Jane, and their 11-year-old son, Ben, were found beaten to death as their 2-year-old daughter and sister Caroline sat in the Harrison Hill area home for more than two days before the bodies were found. New police technology could offer insight into infamous 30-year-old Osborne family murder case by Jaclyn Goldsborough published September 18, 2013 in The News-Sentinel newspaper.
1983, October 19 - around 10 am two explosions rock the Gladieux Refinery on the northeast side of town injuring 38 people.
1983, November 2 - President Ronald Reagan signs the Martin Luther King Holiday legislation - see photo on U.S. National Archives tumblr.
1983, December 23-26 - a record 66 hours of continuous below-zero readings was logged at the airport. Copied from The cold old days published February 2, 2019 in The Journal Gazette newspaper.
1984
1984 -
The U.S. Office of Civil Rights cites Fort Wayne for deliberately maintaining segregated schools and orders the problem corrected.
General Motors confirms that it will build a $500 million truck plant in southwest Allen County, employing 3,000 workers.
Mayor Win Moses Jr. is indicted by a grand jury on charges of election report fraud.
Fort Wayne Community Schools releases a desegregation plan.
Copied from the 1980-1989: Timeline of The News-Sentinel newspaper.
1984 - the English language is adopted as the official language of the state of Indiana. See Indiana State Language (Indiana Code: IC 1-2-10-1) by the Indiana Historical Bureau.
1984, January 22 - Apple Macintosh introduced during Super Bowl with "1984" commercial. See Apple "Classic" Macintosh Personal Computeron The National Museum of American History.
1984, March 28 - Baltimore Colts football team owner Robert Irsay moves his NFL team under the cover of darkness out of Baltimore, Maryland to Indianapolis, Indiana. See History Highlights on Colts.com. Thirty years later, remembering how Colts' move went down Phillip B. Wilson published March 29, 2014 in USA Today Sports.
1984, December - the Grand Wayne Center opened.
1985
1985 -
Lutheran Hospital begins performing heart-transplant surgery.
The city wades through its second major flood in four years.
The Rev. John D'Arcy is named bishop of the Roman Catholic Diocese of Fort Wayne-South Bend.
Homemaker and community activist Sharon Lapp, 43, is found murdered in a bedroom of her West Rudisill Boulevard home.
Mayor Win Moses Jr. resigns as part of a plea bargain in his campaign finance case. He is back in office two weeks later, winning a landslide vote in a special Democratic caucus.
The $12.2 million Fort Wayne Hilton checks in its first guests.
Copied from the 1980-1989: Timeline of The News-Sentinel newspaper.
1985, January 20 - the record low high temperature for a day was -11°. Copied from The cold old days published February 2, 2019 in The Journal Gazette newspaper.
1985, January - first conference held at the Grand Wayne Center.
1985, August 25 - Dr. Jack C. Copeland surgically implanted the first Jarvik-7 artificial heart into a patient awaiting a heart transplant in Tucson, Arizona. From History Wired by the Smithsonian Institution.
Georgia State University Library photo
1985, August 26 - Ryan White of Kokomo, Fulton County, Indiana began to gain national attention as he was forced to leave school and enroll in online classes. Ryan, a teenager who contracted AIDS through medication for his hemophilia had a new disease called AIDS (Acquired Immune Deficiency Syndrome) that terrified the nation. In spite of facts about how AIDS is spread, fear and misinformation caused his expellusion from school. Publicity about his story made him famous around the world. He died April 8, 1990. See the Ryan White Files From the Kokomo Tribune on Howard County, Indiana Memory Project, Ryan White on Wikipedia, the free encyclopedia, and The unusual, unforgettable way Indy buried Ryan White by Will Higgins published April 9, 2015 on IndyStar.com. Link to over 5,000 Ryan White letters on Indiana Memory were posted with his photo on an April 8, 2019 post by Indiana Historical Bureau on Facebook.
1986
1986, January 28 - NASA and the world suffered the loss of the brave pioneers aboard Space Shuttle Challenger. President Ronald Reagan statement: The crew of the space shuttle Challenger honored us by the manner in which they lived their lives. We will never forget them, nor the last time we saw them — this morning, as they prepared for their journey, and waved good-bye, and 'slipped the surly bonds of earth' to 'touch the face of God.' watch PublicDomainFootage.com video. After the Challenger explosion, President Ronald Reagan spoke to the public on January 28, 1986. See Primary Resources: The Challenger Disaster on American Experience | PBS . Challenger: President Reagan's Challenger Disaster Speech - 1/28/86 by ReaganFoundation on YouTube.
1986, June 2 - Majority Leader Bob Dole and Democratic Leader Robert C. Byrd engineered the vote that started the United States Senate Live Television from the Senate Chamber.
1986, September - 3,000 residents and Glenbrook Square shoppers are evacuated after a sodium chloride leak at I.J. Recycling on North Clinton Street. Copied from the 1980-1989: Timeline from the archives of The News-Sentinel newspaper.
1986, November 10 - the movie Hoosiers premiered at the Circle Theatre in Indianapolis. One of the most popular sports movies of all time, it is loosely based on the 1954 Milan High School basketball championship. Here are some of the few differences between the Milan Miracle and the 1986 movie it inspired: Milan Miracle That Inspired Hoosiers Film Turns 60 Five distinctions of the famous game and the movie that came of it. via Indianapolis Monthly. Posted November 10, 2017 by Indiana Historical Bureau on Facebook.
1987
1987 -
Helene Foellinger, longtime philanthropist and former publisher of The News-Sentinel, dies at age 76.
An earthquake rumbles through Indiana. There are no serious injuries or damage.
Lutheran Hospital announces it will build a hospital on West Jefferson Boulevard near Interstate 69.
Black Monday on Wall Street: Oct. 19, the Dow Jones average plummets a record 508 points on the New York Stock Exchange, panicking world markets.
Hoosier movie legend James Dean's original gravestone, missing for almost four years from his Fairmount resting place, is found behind a Fort Wayne firehouse.
Copied from the 1980-1989: Timeline of The News-Sentinel newspaper.
1987: beginning of Catholic Vincent House in Fort Wayne, now an ecumenical agency, to develop housing for the homeless and low-income
1987 - Democrat Presidential candidate Gary Hart stops in Fort Wayne
1987 - John Hancock Oak according to Waymarking.com is a 200+ year old bicentennial year tree with a marker just south of Parkview Field on Baker Street between Fairfield and Harrison Streets by the Baker Street train station parking lot. The marker states: 1787-1987 The National Arborists Association and The International Society of Arboriculture jointly recognize this significant tree in this bicentennial year as having lived here at the time of the signing of our constitution Presented by: Maxwell Tree Expert Company. Photo and discussion March 28, 2017 on You are positively from Fort Wayne, if you remember... Closed group on Facebook.
1987, June 12 - Mr. Gorbachev, tear down this wall! President Ronald Reagan challenges Soviet leader Mikhail S. Gorbachev in Berlin. See Berlin Wall Pieces on Smithsonian National Museum of American History blog and YouTube video from the Regan Foundation.
1987, December 10 - 25 year old police officer Omega Graham was killed by accidental gunfire during training exercises, the third police office killed while serving with the Fort Wayne police department. From Fallen officer added to national memorial by Rod Hissong published May 14, 2013 formerly on WANE-TV NewsChannel 15.
1988
1988 - The Midwest bakes during a summer plagued by record high temperatures. Indiana's corn and oat crops are nearly decimated. Copied from the 1980-1989: Timeline of The News-Sentinel newspaper.
1988, April 4 - April Marie Tinsley was abducted on Good Friday as she walked from a friend's house. Her body was discovered in DeKalb County three days later. Investigators are asking for the assistance of the public on the Fort Wayne Police Department April Tinsley Investigation web page.
1988, June 25 - Fort Wayne matched the all time recorded high temperature of 106° first recorded July 22, 1934. From Fort Wayne Indiana Climate at the National Weather Service.
1988 - Northwest Ordinance Day, July 13 adopted by the 1988 Indiana General Assembly (IC 1-1-14) to celebrate the adoption by the U.S. Congress in 1787 of this ordinance which established the Northwest Territory. See Special Days of Celebration by the Indiana Historical Bureau.
1989
1989 - Amtrak officials announce passenger train service in Fort Wayne will be diverted to routes north of the city. Copied from the 1980-1989: Timeline of The News-Sentinel newspaper. Service is currently available in Waterloo, Steuben County, Indiana. See Amtrak or The Waterloo train depot.
1989, May 3 - the Indiana legislature ratified the Lottery Act. It was signed a week later by Governor Evan Bayh. Hoosier Lottery scratch-off ticket sales began in October. See May 3, 2017 post by Indiana Bicentennial Commission on Facebook and Lottery History on Hoosier Lotter.com.
1989, September 12 - 41 year old Sgt. Kenneth Hayden died by accidental gunfire that 11 years later caused metastatic cancer after 16 years of service, the fourth police office killed while serving with the Fort Wayne police department. From Fallen officer added to national memorial May 14, 2013 by Rod Hissong of WANE-TV NewsChannel 15. Has photo on the National Law Enforcement Officers Memorial in Washington, D.C.
1989, November 9 - the Berlin Wall falls. It was erected in 1961 to separate East and West Germany, during the Cold War with Russia after World War II. October 4, 1990 was Unity Day when East and West Germany came together. See President Reagan at Brandenburg Gate Berlin Wall "Tear Down this Wall" archival footage sound bite from U.S. President Ronald Reagan on June 12, 1987 on PublicDomainFootage published November 3, 2013 on YouTube.