1860-1869 Timeline of Allen County, Indiana
Fort Wayne city directories start in 1858 with business and city resident addresses. Public domain copies before 1923 are listed on the City Directories page and embeded within the Timeline pages.
1861 - 1862 - 1863 - 1864 - 1865 - 1866 - 1867 - 1868 - 1869
1860
1860, February 23 - Abraham Lincoln made a brief stop at the Pennsylvania Railroad station. While he was making his way to New York to deliver his famous Cooper Union Address - the speech that assured his nomination as the Republican candidate - Lincoln stopped in Fort Wayne in the dead of night to change trains. There is no evidence that he ever left the station - it was 1 a.m. - and only a brief notice in Dawson's Daily Times of Fort Wayne noted his passing: "Hon. Abe Lincoln and wife came from the west this morning at 1 o'clock, on the Toledo, Wabash and Western Railroad, and changing cars at this city, went east." From 'Ole Abe' rides the rails Old train stations sadly reflect Fort Wayne's past by Michael Hawfield from the archives of The News-Sentinel newspaper. Lincoln came through a few days later for a second visit on his way back to Illinois. From Abe Lincoln's enduring Hoosier legacy at 150 years published April 14, 2015 in The Journal Gazette newspaper.
1860, April 3 - the first Pony Express riders left St. Joseph, Missouri, bound for California.
1860, June 1 - the census enumerator, started recording the 8th U.S. Federal Census in Washington Township.
1860, October 2 - Presidential candidate Stephen A. Douglas running against Abraham Lincoln came to Fort Wayne. Formerly found on From 148 Years Ago Today… by Stephen Parker posted on October 2, 2008 on the Around Fort Wayne blog.
1861-1865 - the Civil War with the massive loss of 750,000 lives, whether killed in battle or death from disease were often buried in unknown locations, was the stimulus for realizing the need for government veteran cemeteries and keeping better government records.
1860-1865: Despite deep disagreements over slavery and the Civil War, Allen County sends 4,103 men to the Union Army, losing 489. Soldiers are mustered and trained at Camp Allen, on the northwest bank of the St. Marys River just south of Main Street. Copied from 1000 TO 1900 Millennium milestones in Fort Wayne in the archives of The News-Sentinel newspaper.
1860, October 30 - The relations of the federal government to slavery. Speech of Joseph K. Edgerton. Delivered at Fort Wayne, Ind., October 30th 1860 .. - Edgerton, Joseph Ketchum, 1818-1893, Birney Anti-Slavery Collection Archive.org ebook.
1860, December 20 - South Carolina becomes the first state to secede from the Union. See posters posted December 20, 2016 on National Museum of American History on Facebook.
1861
1861: Construction begins on another brick courthouse, the county's third courthouse. Copied from 1000 TO 1900 Millennium milestones in Fort Wayne in the archives of The News-Sentinel newspaper
1861, April 12 - Confederate troops fired on Fort Sumter in South Carolina starting the Civil War. Read more Fort Sumter: The Civil War Begins on the Smithsonian National Museum of American History blog.
1861, April 15 - Governor Oliver P. Morton called for volunteers to join the Union Army. In a telegram to President Lincoln Governor Oliver offered to send 10,000 Indiana soldiers to help enforce the laws of the United States at the beginning of the Civil War. Posted April 15, 2016 on Twitter by Indiana Bicentennial Commission.
1861, May 7 - Thomas Hubler, born in Fort Wayne, a Civil War Union Soldier was the youngest Civil War soldier to serve the longest amount of time in the Union army. He enlisted, at the age of 9, on as a drummer in the 12th Indiana Volunteer Infantry. He later re-enlisted for three more years. At the end of his service young Tommy was not yet 14 years old. 
1861, July 21 - First Battle of Bull Run, also known as First Manassas in Prince William County, Virginia near the city of Manassas was the first major battle of the Civil War.
1862
No separate city directory is a combined 1861-1862 volume.
1862 military taps written for funerals - need more information.
1862 - the Bureau of Internal Revenue, later renamed the Internal Revenue Service, was created to record tax assessments.
1862, February 22 - the first group of Confederate soldiers arrived at Camp Morton prison in Indianapolis. See February 22, 2016 Facebook post by Indiana Bicentennial Commission.
1862, February 25 - Congress passed the Legal Tender Act making paper money the means of paying the government's considerable Civil War bills with something other than gold or silver. Greenbacks then became a means of exchange for all private transactions. Since 1690 paper money was promissory notes from some governing body to repay the value promised.
1862, March 10 - first issue of U.S. government paper money with $5, $10, and $20 bills. From March 10, 2015 Tweet by Ancestry.com.
1862, April 6 - the Battle of Shiloh began. The 44th Indiana Volunteer Infantry, comprised of soldiers from Steuben, Allen, Kosciusko, Noble, Whitley, DeKalb, LaGrange, and Elkhart counties, suffered the highest number of casualties among Indiana regiments in the two day battle. Of 478 men engaged, the regiment suffered 212 casualties including thirty-four killed, 177 wounded, and one missing. The regiment earned the nickname the "Iron Forty-four" as it engaged Confederates in some of the deadliest areas of the battlefield, including the Hornet's Nest, the Peach Orchard, and the Bloody Pond. Read more about the Battle of Shiloh at Hoosier State Chronicles newspapers. Read more about the "Iron Forty-Four" at the Historical Marker Database. Copied April 7, 2018 from Indiana Historical Bureau on Facebook.
1862, April 22 - Congress establishes the U.S. Mint in Denver, Colorado. Why Denver? That's where private companies already were minting gold coins and ingots out of the gold dust brought by miners during the Pikes Peak Gold Rush. From WhatWasThere April 22, 2013 on Facebook.
1862, May 6 - poet Henry David Thoreau died at the age of 44.
1862, May 20 - President Abraham Lincoln signed the Homestead Act which provided settlers with 160 acres of surveyed public land after payment of a filing fee and five years of continuous residence. Designed to spur Western migration, the Homestead Act culminated a twenty-year battle to distribute public lands to citizens willing to farm. Copied May 20, 2013 from Accessible Archives on Facebook. See page 392 of 1443 A Century of Lawmaking for a New Nation: U.S. Congressional Documents and Debates, 1774 - 1875 Statutes at Large, 37th Congress, 2nd Session on the The Library of Congress American Memory page.
1862, June 19 - Slavery is outlawed in U.S. territories.
1862, July 17 - Act US Congress allowed Union army veterans to become naturalized citizens after living in the United States for only 1 year, instead of the usual seven years before naturalizing. In Indiana, white men 18 to 45 years of age were subjected to the draft, however, those who could afford to pay a $200 commutation fee could get out of service. According to the Indiana Magazine of History, drafted men would be considered physically unfit for service under the following circumstances: "Loss or imperfect vision of the right eye. Loss of all the front teeth and enough of the molars to render mastication imperfect. Large or frequent attacks of hemorrhoids [sic]; or chronic diarrhea. Deformitites [sic] which impair free motion of the limbs. Loss of more than one finger of the right or more than two fingers of the left hand. Large varicose veins above the knee. Large or irreducible hernia. All organic or functional diseases causing marked debility - heart disease, or organic diseases of the lungs." In 3 drafts between 1862 and 1865, 44,161 Hoosiers were drafted into the army. After all exemptions, deserters, and substitutes, 10,822 men were sent to the war front as a result of these drafts. In comparison, the total number of Hoosiers who served in the Civil War was 208,348, meaning that 91.5 percent of Hoosiers who served volunteered for service. Learn more about conscription and the draft in Indiana during the Civil War with the Indiana Magazine of History: CONSCRIPTION AND DRAFT IN INUIANA DURING THE CIVIL WAR Copied from an October 3, 2018 post by Indiana Historical Bureau on Facebook. Which included an image showing a certificate of exemption from the Civil War and is courtesy of the Smithsonian Institute.
1862, July 18 - Confederate Brigadier General Adam R. "Stovepipe" Johnson led a band of men across the Ohio River from Kentucky to Newburgh, Indiana. The raid, resulting in the seizure of Union weapons and the release of Confederate POWs, shocked Hoosiers. Disappointed with the performance of his militia, Governor Oliver Morton returned to Indianapolis and devoted much time to improving militia equipment and training, and extending the telegraph network along the exposed Ohio River.  Learn more in  Adam Johnson's Raid On Newburgh by George Geib published July 18, 2018 on the Indiana Historical Bureau blog. Copied from July 18, 2018 Indiana Historical Bureau on Facebook.
1862, September 22 - President Abraham Lincoln issues Emancipation Proclamation.
1862, November 4 - Dr. Richard Jordan Gatling a medical doctor patented his Gatling gun. He was living in Indianapolis and was better known for inventing planting machines which greatly increased crop yields. His first practical machine gun was built in 1861. It was based on his wheat drill. Read more in the November 4, 2015 Facebook post by the Indiana Bicentennial Commission.
1862, December 31 - President Lincoln officially signed the bill into law that West Virginia was to be created as a state. 
1863
No 1863 Fort Wayne city directory
1863, on January 1 -the Emancipation Proclamation brought freedom to the slaves in the Confederacy. 
Despite the expansive wording of the proclamation, which stated "that all persons held as slaves" within the rebellious areas "are, and henceforward shall be free," the Emancipation Proclamation was limited. It applied only to states that had seceded from the Union and it excused parts of the Confederacy that had already come under Northern control. Most importantly, the freedom it promised depended upon a Union military victory.

The Emancipation Proclamation also failed to apply to the slave-holding border states that had remained loyal to the Union, such as Maryland. ...

The following year, however, the 13th Amendment finished the work of freeing the slaves by abolishing slavery.

From the U.S. National Archives on Facebook and their Prologue blog.

Read more at About The Emancipation Proclamation at the National Archives and The Emancipation Proclamation An Act of Justice and an essay by John Hope Franklin in the Summer of 1993 in The Prologue.
1863 - The peace party and its policy. Speech of Isaac Jenkinson, at Fort Wayne, Indiana, March 16, 1863 - Jenkinson, Isaac. [from old catalog] Archive.org ebook.
1863: The city's first police force and first labor unions are organized. Copied from 1000 TO 1900 Millennium milestones in Fort Wayne in the archives of The News-Sentinel newspaper
1863, May 2 - The Journal Gazette newspaper was founded to support Abraham Lincoln and oppose slavery. 150 years later in 2013 The Journal Gazette newspaper celebrated 150 Years of News with historic front pages and a special pull-out section of the newspaper.
1863, June 20 - West Virginia is admitted to the Union as the 35th state after splitting off from Virginia during the Civil War.
1863, July 1 - the Battle of Gettysburg commenced and lasted 3 days. More than 165,000 Union and Confederate troops fought on that ground, and by July 3rd more than 50,000 of them were casualties, including as many as 9,000 dead. The Union victory at Gettysburg reinvigorated the North's war effort, and the Confederate defeat demoralized the South. Copied from July 2, 2013 Lincoln Colection on Facebook.
1863, July 9 - over 2,000 Confederate soldiers under command of John Hunt Morgan attacked about 400 Indiana militia and citizen volunteers outside Corydon, Indiana. The "Battle of Corydon" was the only Civil War clash on Indiana soil. Morgan and his raiders were captured July 26 near Salineville, Ohio. Held in the Ohio Penitentiary, Morgan and six of his officers escaped in late November, and he was killed by Union troops in 1864 in Tennessee. See newspaper article posted July 9, 2017 and following days on Indiana Historical Bureau on Facebook with links to July 11, 1863 Jasper Weekly Courier newspaper in Hoosier State Chronicles  and Margrette Boyer's article Morgan's Raid in Indiana in Volume 8 Issue 4 of the December 1912  Indiana Magazine of History. July 10, 1863 raid through Salem as reported by the Evansville Daily Journal in Hoosier State Chronicles. July 11, 1863 the Jasper Weekly Courier newspaper in Hoosier State Chronicles about a raid at Vernon. July 12, 1863 300 militamen were captured at Vincennes reported in the Indiana Daily State Sentinel in Hoosier State Chronicles.
1863, July 16 - woman was almost tarred and feathered near Leo from Dawson's Daily Times and Union newspaper.
1863 October 3 - President Lincoln Proclaimed Thanksgiving a National Holiday on October 3rd, 1863. The proclamation stated that the fourth Thursday in November "set apart and observe the last Thursday of November next, as a day of "Thanksgiving." From November 22, 2012 post by The National Civil War Museum on Facebook. See also Library of Congress Happy Thanksgiving November 25, 2012 blog by Kelly Buchanan. 74 years earlier, in 1789, President George Washington issued a proclamation designating November 26 of that year as a national day of thanksgiving to recognize the role of providence in creating the new United States and the new federal Constitution. From Thanksgiving on George Washington's Mount Vernon. Read more on Thanksgiving in the News- Periodically Speaking by Jennifer Harbster published November 25, 2014 at the The Library of Congress.
1863, November 19 - Abraham Lincoln delivers the Gettysburg Addressat the dedication of the Soldiers National Cemetery in Gettysburg, Pennsylvania.
1863, December 12 - beginning of the Fort Wayne Police Department. Fort Wayne's police force was first organized when Conrad Penn was appointed over a night watch of three men. They patrolled from sundown to dawn. At this time the population was 12,000. The The Fort Wayne Daily Sentinel commended the Night Watch on December 12, 1863 when it stated, "Well done thou good and faithful servants for their fine work in the community." From Department History - Fort Wayne Police Department.
1864
1864 newspaper ad for Orphans Home and Fort Wayne Hospital northwest corner Wayne and Webster - Bernard Rekers proprietor from Great Memories and History of Fort Wayne, Indiana.
1864, April 22 - Congress passed The Coinage Act of 1864, a United States federal law, changing the composition of coins and adding the phrase In God We Trust. Read the story Liberty – In God We Trust on Coins on the Accessible Archives blog April 22, 2013 by JD THOMAS.
1864, September 19 - President Lincoln wrote a letter to Gen. William T. Sherman requesting the temporary release of Indiana soldiers so that the men could return home to vote in the upcoming state election on the 11th of October, which Lincoln believed was crucial to the war effort. See the letter posted September 19, 2018 by Lincoln Collection on Facebook.
1865
No separate city directory was a combined 1864-1865 directory
1865: The Kekiongas baseball team is organized. By 1871, it has become state champion and begun playing in the National League. City residents are said to have gone baseball crazy. Copied from 1000 TO 1900 Millennium milestones in Fort Wayne in the archives of The News-Sentinel newspaper.
1865: Three blocks on Columbia Street and three on Calhoun become the city's first paved streets. Copied from 1000 TO 1900 Millennium milestones in Fort Wayne in the archives of The News-Sentinel newspaper.
1865 - The Indiana State Fair was held on the north bank of the St. Marys in Lawton Park, and for many years, the Allen County Fair was also held on this river just west of downtown in what is now Swinney Park. Copied from September 24, 2018 Tweet by Riverfront Fort Wayne. After the Civil War ended in 1865 into the 1870's Fort Wayne was home to sixty saloons which thought to be the root of the growth of a criminal underworld in the city. One big player in that criminal underworld was Ed Ryan. Ryan and his gang set up shop at a saloon situated on Railroad Street. From this saloon, the gang members would prey upon the unsuspecting travelers who were new to the city. Read the rest of the story copied from an April 25, 2017 post by Indiana Historical Bureau on Facebook. Read more in Crime and Crinoline by Bessie K. Roberts published in Volume 41, Issue 4, December 1945 Indiana Magazine of History published online by the Indiana University Department of History.
1865 - Our national and financial future (1865) - McCulloch, Hugh, 1808-1895, U.S. Secretary of the Treasury, Address at Fort Wayne, Indiana October 11, 1865 Archive.org ebook.
1865, January 31 - the 13th Amendment to the Constitution formally abolished slavery in the United States.
1865, March 5 - Indiana accepted the provisions of the Morrill Land Act, which turned public lands over to any state that agreed to use the land sale proceeds to maintain a college teaching agriculture and the "mechanic arts." Read more posted March 5, 2015 on Indiana Bicentennial Commission on Facebook.
1865, March 6 - President Abraham Lincoln nominated Hugh McCulloch of Fort Wayne to become secretary of the Treasury. He continued to serve in the cabinet after Lincoln's assassination and throughout President Andrew Johnson's administration. As secretary, McCulloch "maintained a policy of reducing the federal war debt and the careful reintroduction of federal taxation in the South" (according to the U.S. Treasury Dept.). McCulloch also fought a losing battle to conquer Reconstruction era inflation by returning U.S. currency to the gold standard. In 1884, President Chester Arthur tapped McCulloch again to serve as secretary for the final four months of his administration. Copied from the March 6, 2018 post by Indiana Historical Bureau on Facebook
1865, April 9 - Robert E. Lee surrenders the Army of Northern Virginia to Ulysses S. Grant at Appomattox Courthouse, effectively ending the American Civil War. See Ulysses S. Grant's chair from Appomattox at Smithsonian National Museum of American History blog
1865, April 14 - Good Friday - President Abraham Lincoln and his wife were enjoying a performance at Ford's Theatre when prominent Southern actor John Wilkes Booth entered the President's box and shot him in the back of the head. Lincoln was brought across the street to a house owned by the Petersen family, where he lay unconscious in a back room until passing away at 7:22 a.m. the following morning. From Biography of Abraham Lincoln on FordsTheatre.org. Abraham Lincoln was the 16th President of the United States. Read more in Life and Death in the White House on Smithsonian National Museum of American History blog. Today in History - April 14 wanted poster and more at The Library of Congress.
1865, April 15 - Fort Wayne Mayor Franklin P. Randall and city leaders gathered together to draft a series of resolutions and plans to honor President Lincoln and his family. Photos April 15, 2015, 150 years after the date, posted on Facebook by The History Center.
1865, April 26 - John Wilkes Booth was killed when Union soldiers track him down at the Garrett farm in Virginia, 12 days after he assassinated President Abraham Lincoln at Ford's Theater, Washington, DC. and a 12 day manhunt for Linoln's assassin came to an end when John Wilkes Booth refused to surrender and was shot by Sgt. Boston Corbett. Booth didn't die immediately from his wound and suffered an agonizing death. Davey Herold surrendered to authorities a moment before Booth was shot. See drawing and some of this information at Northern Neck of Virginia Historical Society on Facebook.
1865, April 30 - the Lincoln funeral train arrived in Indianapolis. His body lay in state in the rotunda of the old Capitol. An estimated 100,000 people passed by the funeral bier. See more at The Lincoln Funeral Train at the Indiana Historical Bureau.
1865, May 9 - Civil War nurse Eliza "Mother" George, of Fort Wayne, died from a typhoid outbreak scarcely a month after the war ended.
1865, June 19 - Union troops under General Granger arrived in Galveston, Texas and announced that the war was over and that slaves were free. Is celebrated as Juneteenth. See History of Juneteenth on Juneteenth.com.
1865, December 6 - the 13th Amendment that formally abolished slavery in the United States was passed by the Congress on January 31, 1865, and ratified by the states on December 6, 1865. See 13th Amendment to the U.S. Constitution web guide at The Library of Congress . neither slavery nor involuntary servitude, except as a punishment for crime whereof the party shall have been duly convicted, shall exist within the United States, or any place subject to their jurisdiction. From Constitution (archives.gov) on Facebook and seen on OurDocuments.gov or 13th Amendment to the U.S. Constitution: Abolition of Slavery at the The National Archives. Is also Article 1, Section 37 of the Indiana Constitution which originated from Article 6 of the Northwest Ordinance of 1787. From Forth by Northwest Legacy of state's founding document in evidence today published March 17, 2017 in Democracy's Primer The Journal Gazette newspaper and How the Northwest Ordinance Shaped Indiana both by Susan L. Firestone published March 16, 2017 by the Indiana Bar Foundation. See Current Indiana Constitution as amended 2016 on IN.gov.
1866
1866, May 16 - Congress authorized minting of the nickel coin. Read A Brief History of the Nickel In honor of the coin's 150th anniversary, read up on how the nickel came to be minted by Daniel A. Gross published April 28, 2016 on Smithsonian.com.
1867
1867, January 23 - Indiana ratifies the 14th Amendment, granting citizenship to "all persons born or naturalized in the United States," including former slaves recently freed. It passed Congress June 13, 1866, and was ratified July 9, 1868. See 14th Amendment to the U.S. Constitution a Library of Congress Web Guide and read XIV Amendment on Archive.gov. Stephen Neal of Boone County, Indiana is given credit for writing the original draft of the document. Read  Stephen Neal AUTHOR OF THE ORIGINAL DRAFT OF THE 14TH AMENDMENT by Indiana Department of Administration on in.gov.
1867: A disastrous spring flood inundates the city, covering the Nebraska neighborhood and going all the way north and east to Spy Run Creek. Copied from 1000 TO 1900 Millennium milestones in Fort Wayne in the archives of The News-Sentinel newspaper.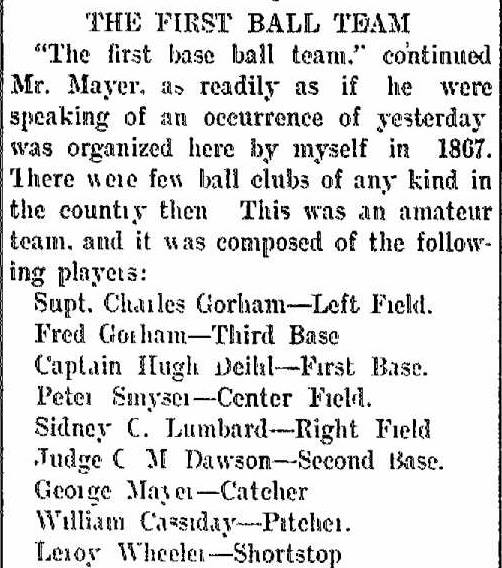 1867 - the first baseball team played in Fort Wayne told by George Mayer in the July 17, 1899 Fort Wayne News newspaper posted July 16, 2013 on the original Great Memories and History of Fort Wayne, Indiana page on Facebook.
1876, March 30 - the U.S. signed a treaty with Russis to buy Alaska for $7 million
1867, June 3 - House Committee on the Judiciary, by a vote of 5 to 4, refused to send impeachment articles against President Andrew Johnson to the full House. Radical Republicans in the 40th Congress (1867–1869) were pitted in a power struggle with President Johnson over the shape of Reconstruction policy in the South. Copied from Impeachment efforts against President Andrew Johnson Historical Highlights on History, Art & Archives United States House of Representatives blog.
1867, March 30 - Secretary of State William Seward signed the Alaska Treaty buying Alaska for $7.2 million or 2 cents per acres. The 3rd of three big land grabs by the young United States, following the Louisiana Purchase (1803) and the Adams–Onís Treaty (1819). See Purchase of Alaska at U.S. Department of State, Office of the Historian.
1868
1868-69: The city's first three hospitals, Hope, St. Joseph and Lutheran, are organized. Copied from 1000 TO 1900 Millennium milestones in Fort Wayne in the archives of The News-Sentinel newspaper.
1868, July 9 - the 14th Amendment passed, giving full citizenship to African Americans. See African American Odyssey at The Library of Congress.
1868, May 30 - first observance of Memorial Day, originally known as Decoration Day. Commander in Chief John A. Logan of the Grand Army of the Republic issued General Order Number 11 designating May 30 as a memorial day "for the purpose of strewing with flowers or otherwise decorating the graves of comrades who died in defense of their country during the late rebellion, and whose bodies now lie in almost every city, village, and hamlet churchyard in the land." The first national celebration of the holiday took place May 30, 1868, at Arlington National Cemetery, where both Confederate and Union soldiers were buried. See Today in History - May 30 at The Library of Congress.
1868, June 23 - the typewriter was patented, by Christopher Sholes in Milwaukee, Wisconsin. In 1873, he sold the patent to the Remington Arms Co., a famous gun maker, for $12,000. The first commercial typewriter based on Sholes' design went on the market in 1874. For more information read Treasures of American History Industrial Change (page 2 of 2) on the Smithsonian National Museum of American History blog.
1868 July 9 or July 28 - 14th amendment to the U.S. Constitution is ratfied extending equal protection to all citizens including full citizenship to African Americans. See Wikipedia
1868, August 1 - the United States buys Alaska from Russia.
1869
There was no 1869 directory, it was a combined 1868-1869 directory
1869: The city's first African Methodist Episcopal Church is organized. Copied from 1000 TO 1900 Millennium milestones in Fort Wayne in the archives of The News-Sentinel newspaper.
1869, May 6 - the Indiana General Assembly, under the Morrill Land-Grant Act of 1862 for the creation of land-grant colleges accepted land and money from John Purdue to establish a school for the study of science, technology, and agriculture now known as Purdue University.
1869, May 10 - completion of the Transcontinental Railroad - four ceremonial gold and silver spikes were driven into a laurel wood railroad tie at Promontory Summit, northwest of Salt Lake City, Utah. See History of the Transcontinental Railroad This act joined 1,776 miles of rail belonging to the Union and Central Pacific railroads from The Golden Spike in the Transcontinental Railroad by Stephanie published June 20, 2013 on the The National Archives blog.
1869, May 11 - Six years after the Emancipation Proclamation (1863), Governor Conrad Baker ... approved a law proclaiming all children of proper age, without regard to race or color, could attend segregated public schools. Laws of Indiana (special session), 1869, 41. from page 4 of African-American Education in Indiana State of Indiana by Researcher: John Taylor. Originally from a May 11, 2014 post by Indiana Historical Bureau on Facebook.
1869, May 13 - at a special session called by Governor Conrad Baker, and after much deliberation the Indiana General Assembly approved a law that admitted African American children to public schools. In a 1912 article for the Indiana Magazine of History, Professor Abram C. Shortridge noted that around 1862 the Indiana State Teachers' Association began to lobby for "colored schools," but lawmakers failed to take on the issue until 1867. Shortridge lamented that until the 1869 special session it looked as if "the black children were doomed to run the streets for another term of two years while their fathers and mothers continued to pay their taxes, by the aid of which the children of the more favored race were kept in school ten months of the year." He noted that shortly after the amendment passed, Indianapolis prepared to accommodate these students and reported, "[S]ome of the buildings already abandoned were repaired and refurnished; others were rented, properly seated and made quite comfortable. By the first of September we were ready for all who might apply." Posted May 13, 2019 by Indiana Historical Bureau on Facebook.
Indiana Historical Bureau photo
1869, May 14 - Indiana ratified the 15th Amendment of the United States Constitution, which prohibits the denial of voting rights based upon race or color of skin. It became law in 1870. See The Controversial Fifteenth Amendment by the staff of the Indiana Magazine of History posted August 8, 2011. See May 14, 2019 post by the Indiana Historical Bureau on Facebook.
1869, June 7 - Ives McGaffey patents the vacuum cleaner, a "sweeping machine." Sales of vacuum cleaners did not take off until the economic boom that followed the decade after the First World War (1914-1918). Read more and see a photo of a Hoover vacuum model 700A 1927 model at Vacuum on the Smithsonian National Museum of American History blog.