G Named Places in Allen County, Indiana
Gardner's Restaurant
May 10, 2021 post by The History Center on Facebook:

National Hamburger Month in May kicks off some of the busiest grilling and barbecuing season of the year. Americans love their burgers and restaurants dedicated to making them just right have been in business for generations. Almost every town in the country has a favorite local hamburger restaurant, either currently open or only in the mists of yesteryear. In Fort Wayne, one of the most notable hamburger restaurants was Gardner's Drive-In Sandwich Stand. Gardner's was the brainchild of Francis (Frank) & Ilah Gardner and his parents Willis & Josephine Gardner. In 1935, Gardner's was opened and stood on the northwest corner of Jefferson and Webster. In 1954, a new brick building replaced the original building and was a popular downtown hangout for high school students. The Gardner family remained in the restaurant business until 1967, when bankruptcy forced the closure of their restaurants. The downtown building was demolished and soon replaced by a Penguin Point restaurant from 1967 until 1994, when it was replaced by the current Rally's and King Gyro chains. To learn more about Gardner's history, the History Center's gift shop offers a robust Old Fort News issue from 2004 dedicated to this juicy topic. #sociallyhistory



Local legend at Jefferson Blvd. and Webster Street was started by Frank Gardner in 1935. Torn down in 1973. Article and photo from March 7, 1973 The News-Sentinel newspaper was discussed February 10, 2017, former carhop discussion March 11, 2017 and July 7, 2017 another Comment says closed in 1967 with more photos October 22, 2017 , then the one that sat at the corner of Parnell and Coliseum Blvd and was both a Gardner's Drive-In, and later Char-King's Farm Fare Cafeteria also started by Frank Gardner was discussed June 9, 2018 on You are positively from Fort Wayne, if you remember... Archived group only visible to existing members on Facebook. A photo with a short article stating: A Gardner's drive-in restaurant was prepared to open later that week across from Memorial Coliseum. The new eatery had seating for 162 guests – including 22 at the counter – and curbside service was also available. More than 2,000 guests had been invited to dine there on Sept. 29 before the official opening the following morning. Copied from `Sept. 27, 1960: A day in photos of Fort Wayne by Corey McMaken posted August 25, 2022 in the History Journal features and stories of historical interest from the archives of The Journal Gazette.
Gas House Restaurant
Hall's Gas House restaurant on Superior Street of the local Don Hall's restaurant chain was named for the old gas works started in the 1850s that were located there. Photo of the actual gas house from Allen County Public Library Digital Collections at the Allen County Public Librarybefore it became a restaurant was posted May 27, 2017 on You are positively from Fort Wayne, if you remember... Archived group only visible to existing members on Facebook. See Under the Gas Lights by Tom Castaldi published May 23, 2013 in the History Center Notes & Queries blog. Back in 2007 the Gas House was closed for 3 months to clean up 2.4 million gallons of coal tar from its days as the original manufactured gas plant that produced "town gas" by heating coal, coke, and/or oil in a closed vessel. The gas was captured and cleaned of impurities before being stored in large round structures known as gas holders. Town gas was distributed first for lighting streets, homes and businesses, and then for heating and cooking. But the process typically created byproducts such as coal tar, a dense, oily liquid. ... Other clean ups have followed since because, as NIPSCO spokesman Larry Graham said at the time, "It's impossible to get it all." Copied from St. Mary's River near Gas House Restaurant set for another environmental clean up by Kevin Leininger published September 7, 2018 in The News-Sentinel newspaper.
Gas Filling Stations
The first pump for dispensing kerosene was invented by Sylvanus Freelove Bowser here in Fort Wayne then sold September 5, 1885 to a grocery store in Fort Wayne. From First Gas Pump and Service Station by the American Oil & Gas Historical Society. The first gas filling station in Fort Wayne was erected around 1915-16 from an August 21, 1921 The Journal Gazette newspaperarticle. One of the oldest in the city Barto's filling station 1201 Creighton Avenue, opened in 1930 and closed 84 years later in 2014. The world's first purpose-built gas station was constructed in St. Louis, Missouri, in 1905 at 420 South Theresa Avenue, from Filling station on Wikipedia, The Free Encyclopedia. The first purpose-built, drive-up gas station opened in 1913. At the time, there were approximately 500,000 vehicles navigating almost exclusively dirt or gravel roads. Today, there are more than 270 million vehicles traveling on the nation's 3.94 million miles of paved roadways, with approximately 38 million vehicles fueling up every day. Copied from The History of Fuel Retailing published February 23, 2022 on convienence.org.
G.C. Murphy Co.
Designed by Alvin M. Strauss. Store at Calhoun and Wayne streets is recalled in the newspaper article The last downtown department store June 26, 1982 by Kevin Leininger from the archives of The News-Sentinel.
Geary's World Museum
A 19th century dime museum, a dime was the admission price, offered all sorts of attractions. Read about Geary's World Museum by Carmen Doyle posted January 31, 2014 in the History Center Notes & Queries blog.
Genealogy Center
See more on our Libraries page. To contribute your research papers, books, and disks of data go to Share Your Research - on Make a Donation page.
General Electric
Started as Jenney Electric in 1881, eventually became Fort Wayne Electric Corporation and in January 1899 was bought by General Electric.
The Story of General Electric in Fort Wayne: Documentary Trailer from PBS39 on Vimeo.
Electric Legacy: The Story of General Electric in Fort Wayne will take you on a journey 140+ years in the making. at PBS39 WFWA Fort Wayne
See Jenney Electric or Electric Works for more information.
ElectricWorks Facebook  page or website: fortwayneelectricworks.com has the latest news on redeveloping and modernizing the former GE campus.
Fort Wayne Works news over 55 volumes of General Electric News Fort Wayne Works publications at Archive.org
General Electric Collection at The Genealogy Center at the Allen County Public Library in Fort Wayne, Indiana has hundreds of photos.
General Electric Photos in the Allen County Public Library Digital Collections at the Allen County Public Library.
Fort Wayne, IN: General Electric (GE) Buildings at Towns and Nature blog has many interesting historical photos from various sources.
Fort Wayne: General Electric Broadway Campus Documenting the last years of GE's presence in Fort Wayne. Daniel Baker photos on flickr.
In 1944 GE employed 20,000 workers, they had a General Electric Company Quarter Century Club and Elex Club for women with files on ACGSI.org.
General Electric Documentary Research and General Electric Documentary Research History Fort Wayne Photos by Rob Rhodes on Pinterest has lots of images that can lead to more information.
Employees were beneficiaries of an exemplary corporate social welfare program. This included voluntary employee clubs, family outings, athletic organizations, open houses, special-interest newsletter columns, and vacation opportunities with high rates of participation, and active democratic participation led by elected officers was encouraged. GE offered a Relief Union and insurance plan, deduction-oriented savings plans, home ownership aid, retirement and disability pensions, a company credit union, an employee pricing discount store, profit sharing, discounted education, and company-provided medical services. Condensed from a July 2, 2018 Facebook announcement with photos by The History Centeron their new interactive display on GE Employee organizations. 
General Electric— Powering Fort Wayne displays at The History Center.
General Electric at Fort Wayne a 110 year history was written in 1994 by Clovis E. Linkus
Pioneering GE group fades Elex Club, once home to 2,500 women, plans sendoff by Sherry Slater published November 2, 2011 in The Journal Gazette newspaper.
Fort Wayne Electric Works on Vintage Machinery.org discusses its history from Jenney Electric based on information from The pictorial history of Fort Wayne, Indiana 1917 pgs 509-510.
A FORT WAYNE ICON – THE GENERAL ELECTRIC COMPANY posted December 10, 2003 by The Waynedale News Staff on The Waynedale News.com.
RCH's Throwback Thursday is in tribute to a huge influence in Fort Wayne for more than a century: General Electric, Throwback Thursday: GE, Part 2 of 4, Throwback Thursday: GE, Part 3 of 4, and Throwback Thursday: GE, part 4 of 4 posted April 10, 2014 on Facebook.
GE looking to demolish some of old Broadway campus 'Endangered' iconic sign is spared -- for now by Kevin Leininger was published May 6, 2014 in The News-Sentinel newspaper.
GE holds a key in city's transformation Preserving Broadway campus helps position city for growth by David B. Lupke published March 15, 2015 in The Journal Gazette newspaper.
Future unsure for GE's crowded campus New use might require more buildings to come down by Paul Wyche was published March 29, 2015 in the The Journal Gazette newspaper.
After 88 years, future of General Electric sign hangs in the balance by Justin Kenny published April 8, 2016 in The News-Sentinel newspaper.
Save Our Fort Wayne General Electric Campus on Facebook.
Developer plans $300M upgrade of GE campus by Kevin Leininger published February 13, 2017 in The News-Sentinel newspaper.
Timeline of significant events from 1878 to 2017 posted with GE campus finds its buyer by Sherry Slater published February 14, 2017 in The Journal Gazette newspaper.
Photo of drafting book discussion February 20, 2017 and the accounting department GE around 1943 posted April 14, 2017 on You are positively from Fort Wayne, if you remember... Archived group only visible to existing members on Facebook.
60 photos of 1942 company picnic posted August 7, 2017 on You are positively from Fort Wayne, if you remember... Archived group only visible to existing members on Facebookfrom August 7, 2014 post onthe original Great Memories and History of Fort Wayne, Indiana page on Facebookthen 1916 building construction photo August 31, 2017 .
The historic General Electric campus on Broadway will get new life! Developers purchased the property from GE on Sept. 21, and expect the first tenants to move into the reinvented Electric Works facility sometime in 2019. So much history on these 30+ acres! Copied caption for 20 photos posted September 26, 2017 by Greater Fort Wayne, Inc. on Facebook.
It has been decades since the General Electric campus along Broadway generated the frenetic buzz that comes from nearly 10,000 employees working on the site. ... General Electric has been there since it bought the former Jenney Electric Light Co. in 1911, and Ewing Street and Fairfield Avenue were made one-way to facilitate the traffic generated by thousands of employees flowing in and out of the plant at shift change. But now, the future is uncertain. - read the rest of the story Iconic GE site's future: Blight or a new light? Company, city officials discuss likely uses by Dan Stockman of The Journal Gazette November 18, 2012 newspaper.
An Abandoned Factory In Fort Wayne Will Give You Both Nostalgia And The Spooks Does your job have a bowling alley? by Rowaida Abdelaziz published November 9, 2017 in the Huffington Post.
See photos of detailed Sanborn Fire Insurance Maps discussed July 8, 2018 on Saving Our GE Campus - "Innovation Lighting the Way" on Facebook.
Photos of Robert E. Smith and his Gerstner tool chest contents from from his GE working years 1928-1974 was posted December 30, 2018 by his grandson Jeff Smith on You are positively from Fort Wayne, if you remember... Archived group only visible to existing members on Facebook.

A January 28, 2019 post by IAM Lodge Local 912 of Cincinnati, Ohio on Facebook stated:

For those people that moved from closed and downsized GE plants, this will hold special value. This is the sign that was atop one of the Broadway buildings in Fort Wayne. For many years, our union brothers took care of the sign, changing bulbs for the Christmas season, to red and green. It was a familiar sight for people in the city for many years. The GE portion of the sign has been brought to Evendale, where IAM 912 members are painstakingly restoring it. Thank you for your hard work. It will bring a smile to as many people here as it did there.

A May 12, 2019 post by Electric Works on Facebook stated: Mothers give life in different ways. Today, we celebrate the women of Electric Works' past, and specifically the founders of the ELEX, a GE "Girls" Club. Started in 1915, the purpose of the club was: "to promote social and educational activities, to foster the spirit of friendly service and to stand for the highest ideals of womanhood."

While examples of "the highest ideals of womanhood" may be different in this day and age, the legacy of their efforts is a building block in the social innovation strategy for Electric Works' innovation center.

Examples of their activities include welcoming new "girls" to the GE team; ensuring proper working conditions; visiting absent men and women employees to offer assistance as needed, providing counseling services to women and men having personal problems at home; sending 10,000 boxes of "goodies" to the GE service men and women serving during World World II; organizing trips outside of northeast Indiana including Niagara Falls in 1935, and Europe in 1953; and offering evening classes on sewing, business English, basketry, gymnastics and music.

By 1992, the club had over 1,500 members, including 42 men.

We salute the founders of ELEX: Joy Elder, Velma Ranking, Flossie Davis, Bertha Buecker, Faith Small, Harriet Droegmeyer, Edith Lee, Nina Rose Offerle, Emil Fuhrman, Florence Ranking, Thelma Campbell, Gilda Hassinger and Sophia Ranking, and Mina Blue and Cora Blue.

Source: General Electric at Fort Wayne, A 110 Year History by Clovis E. Linkous.

The General Electric Collection at The Genealogy Center at the Allen County Public Library in Fort Wayne, Indiana has links to several categories of ELEX "stuff."

A November 6, 2022 post by Electric Works on Facebook stated: On this day in 1916 [November 6], the Elex Club was founded by plant superintendent E.A. Barnes for a group of women employed by General Electric. Today, there's a bench memorial dedicated to the Elex Club and its trailblazers next to our campus in McCulloch Park.




A January 23, 2023 post by the Genealogy Center on Facebook stated:

Did you know that the Genealogy Center has a digital collection related to General Electric? The collection includes GE scrapbooks, photographs, publications, memorabilia, and many other records. To browse our General Electric collection, click the link here: https://www.genealogycenter.info/generalelectric/

The photograph on the top shows the General Electric complex with street cars while the photo on the bottom shows GE employees celebrating the end of WWI. The celebration was on Broadway near building 17.
GE Voltmen
Baseball team - the 1948 squad would go on to claim a national semi-pro championship, boasting a roster that included many members of the Northeast Indiana Baseball Assocation (NEIBA) Hall of Fame, from Chad Gramling in Baseball in Fort Wayne. Listed with other local baseball teams in April 15, 2009 Park tips cap to baseball lore newspaper article. Mentioned in Fort Wayne Area Semi-Pro Baseball Collection of Photos, Programs, Clippings.
General Motors
Friday, August 31, 1984 headline announces $100 million payroll with 3,000 jobs coming to Fort Wayne on front cover of The News-Sentinel newspaperposted December 14, 2017 on You are positively from Fort Wayne, if you remember... Archived group only visible to existing members on Facebook.
General Hosiery
Became Gotham Hosiery from 1948 article of the Industrial Fort Wayne series in The News-Sentinel newspaperposted September 18, 2017 and photo of Gotham Hosiery September 18, 2017 on You are positively from Fort Wayne, if you remember... Archived group only visible to existing members on Facebook.
George's International Market
Facebook image
George Rongos February 15, 1935-October 16, 2022. George's International Market was founded by George Rongos in 1985. George moved to the United States from Kastoria Greece in 1954. Upon his arrival into the United States George worked a series of odd jobs until landing a job at Slater Steele where he retired following 32 years of employment. Throughout his years at Slater Steele George had a dream, a dream of providing Fort Wayne shoppers with a better, more diverse selection of ethnic foods from around the globe. This dream became a reality with the purchase or a local grocery store which became the first George's location at 2041 Taylor. In the following years George began making weekly trips to Chicago and other markets to hand pick the best meats, cheeses and produce. George lived his dream for twelve years until he passed it along to his son's Chris and Jerry when they purchased the store in 1997. In 2001 George's was moved from its original location to a much larger property right up the street at 2021 Broadway. Today George's International is an amazing cultural event in and of itself. Come down and take a look at everything we have to offer from fresh produce, meats, cheeses, a full bakery as well as our restaurant which serves up some of the best Mexican food in town. Come experience the passion the Rongos family has brought to the shopping experience, we guarantee you will be back for more! Copied from their History page. An October 17, 2022 post by George's International Market on Facebook stated: Our hearts are heavy as we share that George Rongos, Founder of George's International Market, passed away peacefully on October 16, 2022 in his home with his loving wife and family by his side. George touched so many and we would like to thank you all for the love and support all the years of his life. We will always remember George in all the ways we knew him.
Georgetown Square Shopping Center
Photo of first phase of shopping center ground breaking for Lincoln National Bank & Trust Company and 9th Rogers Market November 2, 1967 at 6300 East State Blvd. was shown in a photo from a November 3, 1967 article in The Journal Gazette newspaper posted on You are positively from Fort Wayne, if you remember... Archived group only visible to existing members on Facebook. Otis McFadden president of the Allen County Plan Commission; Jack Sutter, Allen County Plan Commission; W.W. Rogers, board chairman of Rogers Market; Tom Jehl, President of Jehl Brothers, developers of the center; and Carl Gunkler, jr. vice-president of Lincoln Bank were shown in the photo.
"In 1968, Maplecrest Road was a dirt road that ended at two-lane East State Boulevard and the land where Georgetown sits was a cornfield," Jehl said in an email. "There were very few homes at all east of Reed Road. Today, Maplecrest is extended all the way to New Haven, and Georgetown Square is a thriving shopping center serving several thousand households in the northeast area of Fort Wayne." "I remember going to the site … when they had just stakes in the ground and strings and ropes trying to mark the site," Partee said. "My dad had built Lake Forest Subdivision that's right behind (the square) and had two Parade of Homes back there." Copied from Georgetown Square celebrates 50 years by Garth Snow gsnow@kpcmedia.com May 30, 2018 at KPC.news.com.
Georgetown Square to open time capsule to celebrate 50th year in Fort Wayne posted May 15, 2018 on The News-Sentinel newspaper
Gerding Drug Store
This little architectural gem is our subject of this week's Throwback Thursday post. Gerding's Drug Store occupied the building for many years. This c. 1923 building did not originally have an Art Deco appearance. A c. 1940 remodeling project created the Art Deco look. This retail building is flanked with by chamfered bays of display windows. Fluted inset pilasters are on the northeast and southeast corners of the building. The façade has a veneer of limestone panels, with an aluminum covered marquee in the center that held a blade style sign. The Fairfield Avenue store was remodeled in 1940s. It previously had a craftsman-inspired design. Herbert H. Gerding ran this location of Gerding's Drug Store. He owned the drugstore until his death in 1962. His son, Paul joined the family business, and owned it until his death in 1991. Historic Photos Courtesy the Wisconsin Historical Society. Copied from a November 17, 2022 post with photos by ARCH ( Architecture and Community Heritage) on Facebook. A comment had a photo showing the original 1923 brick appearence.
Photo of a 1930s medicine bottle with Wm. G. Gerding The Prescription Store Corner Pontiac Street and Anthony Boulevard on it was discussed August 19, 2018 on You are positively from Fort Wayne, if you remember... Archived group only visible to existing members on Facebook.
German American National Bank
German-American National Bank Publication date 1906. In 1918 during World War I became Lincoln National Bank, in 1990's became part of Norwest Bank, then in 1998 merged to become Wells Fargo Bank from Wikipedia, The Free Encyclopedia. In 2018 acquired by Flagstar Bank, then in 2021 announced a merger with New York Community Bancorp while retaining the name Flagstar.
Germania Park
See Germania Park on our German Heritage page.
Gerding Medical and Pharmacy
Building photos and history discussed June 4, 2015 on the original Great Memories and History of Fort Wayne, Indiana page on Facebook.
Gerke Electric
Prompt repair since 1916
Gladieux Refinery
1983, October 19 around 10 am two explosions rock the Gladieux Refinery on the northeast side of town injuring 38 people. Discussed August 8, 2017 and January 15, 2018 on You are positively from Fort Wayne, if you remember... Archived group only visible to existing members on Facebook. New Haven, Adams Township and the Fort Wayne Fire Department responded according to the Fire Police City County Federal Credit Union calendar on the Wayback Machine.
Glenbrook Dodge Giant American Flag
July 3, 2018 post by The News-Sentinel on Facebook:

We have all seen it. What's the story behind the giant American flag on Coliseum Boulevard?

The flag as large as a high school basketball court was first raised on October 13, 2001. For the 20th anniversary in 1999, they had the idea of flying one huge flag, but there were lots of requirements to be taken care of which pushed the official ceremony past the commemoration date. It took about 15 months to get the permits, find U.S. Flag and Flagpole in Plano, Tex. to build the pole and then to figure out all the logistics. Reaching 232 feet into the Fort Wayne sky, the pole is 43 inches in diameter and weighs 35,600 pounds. For comparison purposes, the highest point of the Allen County Courthouse is 238 feet, Lincoln Bank Tower stretches 312 feet, Fort Wayne National Bank Building hits 339 feet and One Summit Square touches 442 feet. The Glenbrook Dodge flag can be seen from all of them. The flags cost $4,000 each, are made in Marion, Indiana and two are purchased each year. There are always at least three on hand, one flying, one in reserve and the other usually being repaired. Copied from Glenbrook Dodge American flag is a true Fort Wayne landmark by Blake Sebring published July 3, 2018 in The News-Sentinel newspaper.
See their page Our Flag on their website: www.glenbrookdodgechryslerjeep.com.
Glenbrook Square
4201 Coldwater Road, Glenbrook Square www.glenbrooksquare.com.
July 23, 2015 post by Hofer and Davis, Inc. Land Surveyors on Facebook:

For Throwback Thursday we present this article from The Journal Gazette on May 16, 1966 from the H & D Scrapbook. By the way... Hofer and Davis provided the survey for Glenbrook over 50 years ago, and many others since. July 23, 2022 Facebook post stated:: Glenbrook was built on several lots of Rahdert's Subdivision which my grandfather, A.K. Hofer platted in 1941. We surveyed Glenbrook from then to the present.

May 16, 1966 The Journal Gazette newspaper article Giant Glenbrook Center Takes Shape On North Side shows groundbreaking on June 23, 1965 on the north edge of the city at U.S. 27 and U.S. 30 Bypass.

Was the former Christian and Sophia Rosebruck Rahdert Farm shown in a 7 September 1957 photo published November 29, 2014 on the original Great Memories and History of Fort Wayne, Indiana page on Facebook.
1965 to 1966: Construction of Glenbrook Square in Fort Wayne by Corey McMaken with 8 photographs published July 28, 2022 lists some of the original 70 stores including several newspaper articles published at the time in the History Journal archives of the Journal Gazette newspaper.
A June 24, 1965 photo in The Journal Gazette newspaper of the previous day's ground breaking for the $7 million 70-store shopping center complex at the corner U.S. 30 Bypass and and U.S. 27 was posted June 27, 2018, then the October 10, 1966 The Journal Gazette newspaper photo of the previous evenings press preview of the shopping center was posted June 27, 2018 and October 13, 1966 photo from The News-Sentinel newspaper posted June 30, 2018 on You are positively from Fort Wayne, if you remember... Archived group only visible to existing members on Facebook.
Photo of November 1966 Spotlite on Fort Wayne magazine article on opening discussed November 2, 2016 on You are positively from Fort Wayne, if you remember... Archived group only visible to existing members on Facebook.
Aerial photos comparing now on Google map with 1938: Coldwater Road and North Clinton Street by Corey McMaken published May 2, 2019 in The Journal Gazette newspaper.
Glenbrook Square information on Wikipedia, The Free Encyclopedia
Glorious Gateway to the West
Northeast Indiana: "That Glorious Gate" by Tom Castaldi, local historian published July 8, 2016 in the Indiana History Blog by the Indiana Historical Bureau of the Indiana State Library.
Goeglein Catering and Homestead Hall
7311 Maysville Road, tel: 260.749.5192, see Goeglein's catering, Goeglein's Catering and Homestead Hall on Visit Fort Wayne, Goeglein Homestead (Banquet Hall & Reception Hall) Fort Wayne, IN YouTubeuploaded December 13, 2009 by goegleinscatering, and A Company of Heritage Goeglein's operates on three principles: Serve God. Serve people. Serve food. by Tammy Davis published December 9, 2011 on Business People magazine. See their Facebook pageand Goeglein people.
Gospel Temple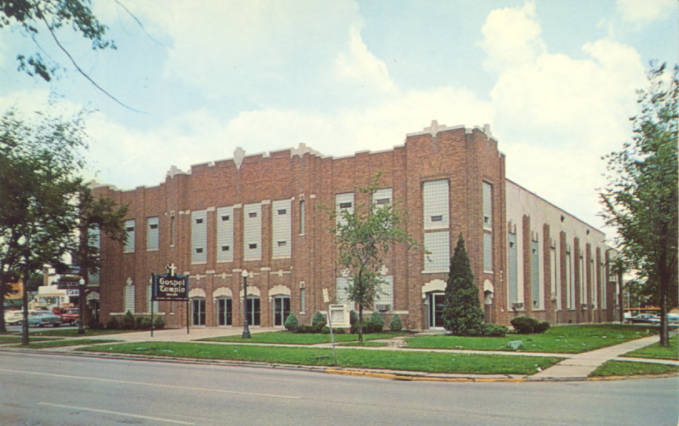 117 East Rudisill Boulevard, ca. 1945 Gospel Temple, Fort Wayne, IN. Harter Postcard Collection at ACPL
Before 1930 was at 2329 Winter Street. Current Street View from Google maps.
After 1930 was at 117 East Rudisill Boulevard east of Calhoun Street. Current Street View photo from Google maps shows Hollywood Beauty Shop is located at this address.
The Old Fort Wayne Gospel Tabernacle
2329 Winter Street
Eight Thousand Attend Services
November 24, 1930 News-Sentinel
The New Fort Wayne Gospel Tabernacle
117 East Rudisill Boulevard
Dedicated November 30, 1930
Daniel Baker "The Temple That Radio Built" Uploaded on January 25, 2015 on flickr

"Faith healer" Reverend B.E. Rediger came to Fort Wayne in 1926. He struggled to get his message of faith out to the people, so he ventured into self-publishing his own magazine with some success. It wasn't until he used his oratory prowess over WOWO radio that his vision of a full church came to be realized. His little church, The Fort Wayne Gospel Tabernacle (now the Craftsman Club pictured), at 2329 Winter Street went from mostly empty on Sunday following his first broadcast to overflowing the next.

It was quickly apparent that a new and bigger church was needed. With the Great Depression in its early years, Rediger moved forward cautiously to build The Fort Wayne Gospel Temple at the NE corner of Rudisill Boulevard and S. Calhoun Street. Large enough to sit 3,000 people (for reference, the Embassy Theatre sits 2,471), the Temple was the second largest church of its kind in the world. At its dedication, nearly 10,000 people were in attendance. A year later when the 38 year-old Rediger died from complications of Appendicitis, 18,000 paid their respects. The Gospel Temple lived on to about 1990. The building has since been demolished, but its image is forever engraved on the reverend's tombstone.

11.9.2014
Gouty's Service Center
71th anniversary on January 1, 2013 - www.Goutys.com
Grand Leader Department Store
Designed by Alvin M. Strauss. Built in 1928, was on the southeast corner of Calhoun and Wayne Streets, now the present-day site of the plaza on the north side of the Summit Bank/I&M building.  Designed by A.M. Strauss in the Art Deco style. The store became Stillman's in the 1950s, closing in 1974. Today the site is the Indiana-Michigan Power Company's plaza. 
See 1950s photo in Downtown celebrated last glory days by Connie Haas Zuber in the 1950-1959: DAYS OF CONFLICT, YEARS OF PROSPERITY in the archives of The News-Sentinel newspaper.
Daniel Baker Uploaded on January 22, 2019 on flickr.

Grand Leader: Circa 1929 & 2017 We have a view of the year-old Grand Leader department store at the southeast corner of Wayne and Calhoun Streets. Designed by A.M. Strauss in the Art Deco style, it is somewhat reminiscent of another of his buildings, the Lincoln Bank Tower. The store continued under the name Stillman's in the 1950s until finally closing in 1974. Today the site is the Indiana-Michigan Power Company's plaza.

This rephotograph and several others were commissioned by the Downtown Improvement District. They are currently on display at NOLA on 13.

The Grand Leader along with the entire block was razed to build the One Summit Square (now Indiana-Michigan Power Center) which was begun in 1978 and finished in 1982. The space where the Grand Leader was is now a plaza--popular for food trucks in the warmer seasons. In addition, the entire block to the south of this was also demolished for an enormous parking garage to supplement the development and downtown businesses
A February 1, 2023 post by Genealogy Center on Facebook:

It's #waybackwednesday! At the southeast corner of W. Wayne and S. Calhoun Streets sat the Grand Leader Department Store. The prior Grand Leader department store at this location had burned to the ground on December 30, 1927. This new store opened on the same site eleven months later in November of 1928. The store was later renamed as Stillman's for its owner John Stillman and closed in 1974. Prior to the Grand Leader/Stillmans the White Fruit House sat at this corner and just south of it was the Alt Heidelberg Hotel and resturant. Alvin M. Strauss was the architect of this building, which has since been razed.

These images come from our Community Album. View them and thousands more here: Allen County Public Library Digital Collections at the Allen County Public Library.
A September 13 2018 post by ARCH, Inc.

on Facebook:

You may be familiar with architect A.M. Strauss' work in the Lincoln Bank Tower or Embassy Theatre/Indiana Hotel. Among his many commercial and residential designs was the Grand Leader department store, built in 1928, which once stood on the southeast corner of Wayne and Calhoun streets in downtown Fort Wayne (present-day site of the plaza on the north side of the Summit Bank/I&M building).

For more on the Grand Leader story below: visit http://www.fortwaynereader.com/story.php?u…
Grand Leader/Stillman's circa 1929, by  Randy Harter, Fort Wayne historian and author, in Fort Wayne Reader posted March 2, 2018.

John Stillman, of Saginaw, MI, opened his first Fort Wayne Grand Leader department store in rented space on Calhoun across from the Cathedral in 1913. This, the seventh store in his chain of Michigan and Indiana stores, was so successful that the next year he moved it to the southeast corner of Calhoun and Wayne into the large building that had previously been home to the White Fruit House.

Five years later, he had the Alt Heidelberg Hotel (next door to the south on Calhoun), razed and a new structure built in its place to expand the existing store taking him from the corner with Wayne up to the north edge of Peoples Trust Bank. This building — now joined together White Fruit building and the new three-story structure — was destroyed in a fire on December 30, 1927 at a loss of $300,000. Stillman hired local architect A. M. Strauss to design its replacement, the pictured beautiful white terra cotta seven-story Zig Zag style Art Deco building that opened on the same site eleven months later in November 1928.

Prior to this time John Stillman, enamored with Fort Wayne, had moved his company's operations here and in 1917 built a home for him and his family just north of the Noll Mansion, at the northwest corner of Fairfield and Beechwood. Operating under the corporate name of Stillman Dry Goods Company, in 1928 he merged his chain with the (Leo) Federman Department Store chain headquartered in Akron, OH and together they became Interstate Department Stores, Inc. At that point, he and his family moved from Fort Wayne to New York to be closer to the wholesale buying centers.

Interestingly, through the years Interstate Stores both built new stores and purchased other department, discount and variety store retail chains throughout the United States including two toy store chains, one called Children's Supermart out of Washington, D.C., and another out of Chicago called Children's Bargain Town. They merged the two together, and today these toy store chains are the only remnants of John Stillman and Leo Federman's once retail juggernaut, and go by the name of Toys "R" Us.

As for the Fort Wayne store, in the 1950's its name was changed from Grand Leader to Stillman's. When the retail flight to the suburbs first arrived here with the opening of Southgate in 1955, they became one of the dozens of retailers bracketing the new locally unheard of 2,500-space parking lot. Stillman's closed their downtown and Southgate stores in 1974, and the downtown location is now the site of the Indiana & Michigan Power Plaza. (Image courtesy of ARCH)

A tip of the hat to Craig Leonard and Creager Smith for their insights on this piece.

Randy Harter is a Fort Wayne historian, author and the history/architecture guide for FortWayneFoodTours.com

Was discussed March 3, 2018 on You are positively from Fort Wayne, if you remember... Archived group only visible to existing members on Facebook.
Grand Wayne Center
Ground breaking was in April 1983 at the former site of the Jefferson Theater at 120 W. Jefferson Blvd. The economy had 20 percent interest rates and the 8,000-employee International Harvester truck plant was about to close. It opened in December 1984, with first convention in January 1985. It now attracts 200,000 visitors each year, at least half of them from out of town, 90 percent of the Grand Wayne's events are private. In 2005 the facility was enlarged from 95,000 to 221,000 square feet. A Hilton hotel opened shortly after the convention center did in 1985. A second hotel a 250-room Courtyard by Marriott hotel opened in August 2010. Grand Wayne 30 years old Downtown icon controversial in the beginning by Sherry Slater published February 8, 2015 in The Journal Gazette newspaper. It's been grand for 'father' of Fort Wayne convention industry by Kevin Leininger was published January 17, 2013 in The News-Sentinel newspaper. See June 15, 1984 newspaper article post March 28, 2019 by the Grand Wayne Center on Facebook.
Granite Ridge Builders
Granite Ridge Builders is a custom home builder serving northern Indiana, northwestern Ohio, and southern Michigan. Website: https://graniteridgebuilders.com/, Videos, Photos, & Blog, Facebook: https://www.facebook.com/GraniteRidgeBuilders/.They have almost 200 Videos on YouTube which often give interesting local history during some episodes shown on local television. We have imbeded several of those videos in our pages such as:
Episode 6: Water (Part 1) shown on our Filtration Plant and Promenade Park sections, and Three Rivers page.
Episode 7: Water (Part 2) shown on our Filtration Plant and Promenade Park sections, and Three Rivers page
Episode 78: Roofs and Architectural Styles Dec 13, 2018 On this week's Between the Studs, we're hanging out in the beautiful Lakeside Park neighborhood, and talking exterior styling! Join in and get some design inspiration for your next home also shown on our Neighborhoods page.
Episode 114: Architectural Styles 2019 around a dozen styles shown on our Neighborhoods page.
Episode 118: Modern Styles shown on our Neighborhoods page.
Episode 125: Drinking Water shown on our Filtration Plant and Promenade Park sections, and Three Rivers page.
Episode 126: Water Management shown on our Filtration Plant and Promenade Park sections, and Three Rivers page.
Episode 130: 2020 Trends shown on our 1920s Timeline page revisits the 1920s.
Episode 139: Showers and Tubs on our Peoples page.
Episode 144: Concordia Seminary explores the Concordia Seminary.
Episode 157: American Architectural Styles is talking American architectural styles! This episode is a crash course on the storied history of architecture in the United States shown on our Neighborhoods page.
Episode 160: Sweetwater Sound The BTS crew is at Sweetwater's amazing Fort Wayne headquarters, checking out instruments, music, and how they relate to architecture!
Episode 164: Cathedral of the Immaculate Conception the first five minutes shows various archetectural style buildings around town and some of the early history. It then focuses on the architecture and history of the Catholic Cathedral of The Immaculate Conception also shown on our Places page.
Episode 166: Bass Mansion looks at one of Fort Wayne's hidden architectural gems: the Bass Mansion now known as Brookside, located on the campus of the University of Saint Francis explores the ornate styles of the mansion, plus a bit of football action with Johnny the Saint Francis Cougar!
Episode 174: Electricity around the 50-second mark it mentions Marmaduke Slattery as inventing an electric car showing an image labeled 1880 on a tricycle and around the 13-minute mark discusses local Places in the History of Electricity in Fort Wayne manufacturing of Dudlo, Phelps Dodge, Rea Magnet Wire, Farnsworth, Magnavox electronics and more!
Episode 175: Leo and Grabill with history and current events for Leo-Cedarville and Grabill.
Episode 182: Downtown Fort Wayne discusses baseball, Parkview Field, churches, parks and more in downtown Fort Wayne.
Episode 183: Architecture and Music with a couple of local musicians shown on our Neighborhoods page.
Episode 186: Embassy Theatre shown on our Embassy Theatre page. In the video, Lonnie Norris mentioned his movie Pursuit of Freedom Original title: Pulled from Darkness The real life story of a Ukrainian woman who was separated from her three children and sold into trafficking by Russian gangsters. Defying all odds, she survived to be reunited with her children. See 4-minute trailer: Director George A. Johnson & Producer Lonnie Norris share the story behind PURSUIT OF FREEDOM below:


Episode 189: 2023 Trends shown on our Neighborhoods page.
Celebrating 200 Episodes February 3, 2023, Two hundred episodes of trends, construction processes, and Lonnie bloopers! We're celebrating this milestone with a walk down memory lane, highlighting some of the best episodes of Between the Studs.

Celebrating 200 Episodes: Part 2 February 15, 2023, We continue on our journey through 200 episodes of Between The Studs! Fair warning: you may be exposed to Izzy's cheesy magic act.
Great Black Swamp
Wikipedia, The Free Encyclopedia image
Stretched roughly from Fort Wayne, Indiana in the west, to Sandusky, Ohio on the east, and from the Maumee River valley south to near Findlay, Ohio and North Star, Ohio. Near its southern edge at the southwestern corner of present-day Auglaize County, the swamp was so impervious to travel that wheeled transportation was impossible during most of the year, and local residents thought the rigors of travel to be unsuitable for anyone except adult men. Read the rest of the article on Great Black Swamp on Wikipedia, The Free Encyclopedia.
A massive quagmire once seeped across the landscape of northeast Indiana and northwest Ohio, where towering oaks and sycamores loomed above murky pools of tannin-stained water—tangled, disorienting, dark. Fifteen hundred square miles of mud and mosquitos from Fort Wayne to Findlay to Toledo. "An absolute terrifying wilderness," according to a local historian, one that swallowed horses and whole wagons. ... It was the Toledo War of 1835—a quick and bloodless boundary dispute between Ohio and Michigan—that eventually led to the swamp's demise. On their way to a battle that never happened, the Ohio militia was waylaid by the mire, and the governor took note. The state poured hundreds of thousands of dollars into fixing the Maumee and Western Reserve Road, proving that with enough money, manpower, and ditches, the swamp could be tamed. In 1859, the state passed its first "Ditch Law," and the people of Northwest Ohio got to work on bleeding the Great Black Swamp dry. Copied from The Death and Life of the Great Black Swamp Draining Ohio's Great Black Swamp was a feat of human effort and engineering. Restoring it will be even harder. By Ashley Stimpson, published May 27, 2022 on Belt Magazine.com.
February 23, 2023 post by the The History Center on Facebook:

Traveling around Allen County and Northeastern Indiana in the early 19th century was difficult. One of the major reasons was that our portion of the state was at the western edge of the Great Black Swamp, which made roads virtually impassable. One of the solutions was the construction of plank roads. In 1847, the Fort Wayne and Lima Plank Road Company, headed by Samuel Hanna, developed Lima Road into the first plank road in northern Indiana. A plank road is constructed of a series of wooden planks laid next to each other, providing a surface over which wagons could travel in all weather conditions. When it was completed, the Lima Plank Road reached Sturgis, Michigan, a distance of 60 miles. The planks for the road were three inches thick and eight feet long. These pieces of oak are from a plank on the original Lima Plank Road, which went from Fort Wayne to Lima, now Howe, Indiana in LaGrange County. The oak plank was excavated north of LaOtto during road construction. #sociallyhistory
The wetland in the 1820 map of Indiana shown below shows the Great Black Swamp where Fort Wayne and now Allen County are located.
July 14, 2023 post by the Hoosier Environmental Council on Facebook:

Indiana's environment is profoundly influenced by industrial agriculture. Indiana lost 73% of its original forests and wetlands from 1820 to 2001 to development and agriculture. Industrial #agriculture is the driver.

Industrial agriculture refers to this intensive system of #farming that grows massive amounts of cash crops, also known as monocultures, and confines #livestock animals in crowded conditions. Read more about this issue in our Ag E-news at: https://conta.cc/3CPQl83

Don't receive our Ag e-news? Sign-up on our website at https://www.hecweb.org/enews/
The swamp is a part of the current St. Joseph River Watershed Initiative. In 1803 when Ohio became a state, the Maumee Valley area was virtually untouched. It was known only to local Native Americans, and a few trappers and explorers. Development of this corner of Northwest Ohio was delayed nearly 100 years behind other parts of the state due to the Great Black Swamp. Read the rest of the article on The Great Black Swamp originally on IPFW.edu now on the Internet Archive Wayback Machine.
The Besancon Historical Society newsletter the Chronicles mentions the swamp in some of their periodicals such as Issue 1 November 1994 and Issue 38 Summer 2008. Most of the swamp was in Northwest Ohio as shown in a map in History of the Great Black Swamp by Kaycee Hallett published April 14, 2011 on The Black Swamp Journal. Northwest Ohio has several places named for the swamp such as the Black Swamp Preserve in Bowling Green, Ohio and Black Swamp Conservancy in Perrysburg Ohio.
The Wabash and Erie Canal was built in the mid to late 1800s to drain and travel thru the swamp from Toledo, Ohio on Lake Erie thru Fort Wayne southwest to the Wabash River enabling many canal towns to grow along the way. Great Black Swamp: Drained centuries ago, DNR and Ohio organizations look to bring some of it back published October 28, 2019 on GreatLakesNow.org.
Living in the former Great Black Swamp applies to mundane things like maintaining lawns and gardens shown when the former horticulture educator with the Purdue Cooperative Extension service writes an article Rolling lawn can backfire due to local clay subsoil by Ricky Kemery published April 26, 2022 in The Journal Gazette newspaper. Question: What can you tell me about rolling the lawn? Some people I know say it is bad, and others say they do it every year. Answer: Obsessively and continuously rolling the lawn with a heavy lawn roller on wet heavy clay soils will result in a compacted lawn that will be less healthy as a result. We have a large percentage of clay in soils in our area. This is because our soils are formed from limestone/shale bedrock. Our area was also once a part of a huge lake that covered our area at the time of the glaciers. Many parts of northern Indiana were once poorly drained swamps that were eventually drained for farming use.
Swamps Can Protect Against Climate Change, If We Only Let Them Wetlands absorb carbon dioxide and buffer the excesses of drought and flood, yet we've drained much of this land. Can we learn to love our swamps? has a long section about the draining of the Great Black Swamp from a July 13, 2022 post on True Fort Wayne Indiana History on Facebook.
Great Marsh
See our Eagle Marsh Nature Preserve, established in 2005, a wetland southwest of Fort Wayne in a valley near the St. Lawrence Divide that drains into the Great Lakes and the Mississippi River Basin. The Miami Indians called the area "the Glorious Gate," and Indiana pioneers called it "the Great Marsh." It was the portage between two water systems, the Wabash and Maumee rivers, both vital to transportation and trade. In 2015, the U.S. Army Corps of Engineers built an earthern berm 80 feet wide and 8 to 10 feet high to prevent mixing the river waters from a 100 year flood that might allow invasive Asian carp, that grow to 100 pounds, from crossing the marsh into the Maumee River that will allow their entry into Lake Erie and the Great Lakes. Read more in Eagle Marsh project proving complicated by Brian Francisco published September 28, 2014 in The Journal Gazette newspaper now on the Internet Archive Wayback Machine.
Greyhound Bus Terminal
The 10,500 sq. ft. iconic building built in 1938 at 233 W. Jefferson with Greyhound Blue steel enameled panels with glass blocks and the running Greyhound logo was quietly razed on Saturday, May 9, 1992 and turned into a parking lot. Photos and discussion January 10, 2017, photo Child of the Fort blog January 11, 2017 and April 3, 2017 photo and February 24, 2018 discussion with many comments on the Greyhound Bus Depot 1953 article by Randy Harter, Fort Wayne historian and author in the Fort Wayne Reader and posted on You are positively from Fort Wayne, if you remember... Archived group only visible to existing members on Facebook. April 4, 2019 post of a postcard by Hofer and Davis, Inc. Land Surveyors on Facebook similar to the one below.
By Randy Harter

Fort Wayne Reader 2018-02-15


Daniel A. Baker Photograph Collection at ACPL

Streamline Moderne is the term for describing the style of Art Deco in which our white neon-trimmed Greyhound Bus Depot was designed , one of over 50 depots around the United States created by renowned Louisville, KY architect William S. Arrasmith. Fort Wayne's was an outstanding example of this genre of transportation architecture, which exhibits aerodynamics and a sense of speed.

This iconic building — located at 233 W. Jefferson and clad in "Greyhound Blue" steel enameled panels, as well as utilizing glass block and the sleek stylized running Greyhound logo — was completed in 1938. Its construction, featuring a rounded wing-wall to partially shield the buses from Jefferson Blvd., was to replace the old bus station at 123 E. Berry at Court St. that had only allowed for on-street loading of the passengers and their luggage.

After having sat empty and sealed-up for over 15 years, the owners of this architectural treasure — local attorney Joseph Christoff and his family — had the 10,500 sq. ft. building quietly razed on Saturday, May 9, 1992 and turned into a parking lot. This was despite a News-Sentinel article less than four months earlier on January 20th in which it was reported that Director Ron Fletcher of the Redevelopment Commission was "casting about" for a new urban venture that could include the former Greyhound bus station; according to the Assessors Office, for tax purposes the property was valued at less than $42,000, including the land.

Besides its gorgeous exterior, many recall the terminal's second floor restaurant, its shoe-shine stand, photo-booth, pinball machines and the individual pay-to-watch coin operated TV-Chairs in the lobby. Construction is expected to start soon at this site of the former Greyhound Bus Depot for a 125-room Hampton Inn & Suites. Just beyond the depot in this view at the southwest corner of Jefferson and Harrison is the English Terrace restaurant, which over the years was also called Mrs. Millers English Tea Room, and finally simply the Terrace Room. This building was razed in the 1970's, became a parking lot for Belmont Beverage and is now the site of the Marriott Courtyard. Across the intersection is the 1928 Indiana Hotel, which was still in operation at the time this photo was taken, but would later close in 1971. (Courtesy HPC/ACPL)

A tip of the hat to Creager Smith, Don Orban and Craig Leonard for their insights on this piece.

Randy Harter is a Fort Wayne historian, author and the history/architecture guide for FortWayneFoodTours.com
July 5, 2020 post by Society for Commercial Archeology on Facebook:

DR. PATRICK'S POSTCARD ROADSIDE: A quick message scribbled on this 1940 postcard and mailed off to family in Ohio depicts what to the transient sender was just the Greyhound bus station in Fort Wayne, Indiana. To us of the future, it is a Streamline Moderne gem, one of more than 50 "Greyhound blue" porcelain enamel bus terminals designed by William Arrasmith and scattered across the line's nationwide system. The Fort Wayne depot opened in 1938 replacing a Berry Street bus stop that required passengers to load and unload at the curb. The new station had a second story restaurant and loading stalls for buses screened from the street by a glass block pierced wing wall. The station closed in 1977, survived the 1980s in a neglected state of abandonment, and despite hopeful ideas for adaptive reuse was demolished in 1992. A Marriott Courtyard now stands on the site adjacent to Parkview Field built in 2009 for the Ft. Wayne Tin Caps, farm team for the San Diego Padres.
Grocery Stores
A May 23, 2022 post by The History Centeron Facebook:

One of the top priorities of humans is to find a food supply. For most of the people of Fort Wayne, this is accomplished at a grocery store. In the first city directory, there were a total of 49 individual grocers with in Fort Wayne city limits. A grocery store is a store that primarily retails a general range of food products, which may be fresh or packaged. Larger types of stores that sell groceries, which are known as supermarkets, usually stock significant amounts of non-food products, such as clothing and household items. Small grocery stores that sell mainly fruit and vegetables are known produce markets, and small grocery stores that predominantly sell prepared food, such as candy and snacks, are known as convenience shops or delicatessens. Fort Wayne has had a multitude of grocers ranging from the small family run stores to large chains, both local and national. Today we honor some of the past grocery stores that have served the people of Fort Wayne.

The post had over a dozen photographs of early grocery stores such as Andrew Deitschel Grocery, HL Cline Groceries, Dry Goods and Notions 1402 E Creighton in January 1915, Egg Carton used by Wayne Grocery located 926-930 Broadway, c. 1912 and 1915, Kelsey Bros Grocery and Meat Market, 1895, 2508 Broadway, Scott Food bag, c1995, Vegetable scoop made by hand and used in George Knoll Grocery, c1843, Maloley Bros, c1950, Egg Carton from Wayne Grocery, c1915, Oddou Grocery, c1900, Cap from milk bottle sold at Redding's Market.
Fort Wayne, IN chain grocery/supermarket locations, 1925-87 post by Andrew T. 04 Aug 2018 on Groceteria.ca.
The Andrew Deitschel grocery store from their post is shown on the right. It was at 1027 Third Street with his house at 1023 third shown on page 337 of the 1914 City Directory listing his wife and children, some who may be shown in the photo. Notice the brick sidewalk and horse-drawn wagons on the right side of the building. Google map shows the building and house are still there in a 2019 image. For some genealogy information Andrew and Catherine Deistschel are found in the Genealogical Records of German Families of Allen County, Indiana, 1918 on page 29 with more information on our German Heritage page.
Dozens of early markets and grocery stores are listed in early city directories that can be found on our City Directory page or our Timeline pages. A photo of a building used by Azar and Kroger groceries was posted September 24, 2017 and general discussion October 21, 2017 with over 100 comments mentioning several local grocery stores on You are positively from Fort Wayne, if you remember... Archived group only visible to existing members on Facebook.
A February 9, 2023 post with photo generated over 150 comments by the second day on True Fort Wayne Indiana History on Facebook stated: Heiny's Fish Market, late 1970's. Now a parking lot between Fairfield Manor and the Family Dollar in the 400 block of West Creighton Avenue, Fort Wayne Indiana. A February 9, 2023 post by a Heiny descendant shows a 1983 newspaper article stating the Heiny Market started in 1898. Page 294 in the 1898 Fort Wayne directory shows the Heiny's as clerks at other stores or Nicholas as an insurance agent, then page 319 in the 1890 city directory shows Nicholas Heiny has a dry goods store at 73 Wells Street with Edith and Lawrence as clerks.
Gronauer Lock
Workers unearthed the nearly intact Gronauer Lock in 1991 during construction of the U.S. 24 Interstate 469 interchange east of New Haven. It was 155 feet long and about 40 feet wide built in the mid-1800s as one of more than 70 locks on the 468-mile Wabash and Erie Canal that connected Lake Erie near Toledo with the Ohio River near Evansville. Some of the timbers are tulip poplar up to about 32 feet long, 2 feet wide and 1 foot thick. Read more on the Gronauer Lock section of our Wabash & Erie Canal page.
Guldlin Park
Guldlin Park The First French Fort by The Bicentennial Heritage Trail Committee, On the Heritage Trail: A Walking Guidebook to the Fort Wayne Heritage Trail (Fort Wayne: ARCH, Inc., 1994), 108-112 is on the West Central Trail 17 stops on the Heritage Trail by ARCH ( Architecture and Community Heritage).
The park is named for Addie Bleekman Guldlin, who moved to Fort Wayne in the 1890s with her parents and husband, Olaf Guldlin, who became wealthy investing in Indiana's then-booming natural gas industry. She was a supporter of the city's then-new Park Commission and believed that central-city children had no safe place to play. So she persuaded the city to build a large playground off Van Buren Street near the site of the French Fort Miami (erected in either 1722 or 1680) and a deadly skirmish between Indians and American soldiers in 1813. Copied from Riverfront improvements at Guldlin Park are only a hint of what could come later by Kevin Leininger posted March 14, 2019 in The News-Sentinel newspaper and on the Wayback Machine.
Back to top