1970-1979 Timeline for Allen County, Indiana
1971 - 1972 - 1973 - 1974 - 1975 - 1976 - 1977 - 1978 - 1979
1970 to 1979: Era of Crises various newspaper articles include a 1970-1979: Timeline from the Fort Wayne History Stories about time periods in the archives of The News-Sentinel newspaper.
1970
Fort Wayne National Bank building opens. Copied from 1970-1979: Timeline from the Fort Wayne History Stories about time periods in the archives of The News-Sentinel newspaper.
1970, February 8 - "United Air Lines Plane Crash. Plane went off end of runway at Baer Field Airport and crashed thru a fence into a cornfield west of highway 3. Date 02/08/1970." - Donald Allen Weber in the Allen County Public Library Digital Collections at the Allen County Public Library and February 14, 2023 discussion with several photos in comments on True Fort Wayne Indiana History on Facebook. Boeing 737 overshot Baer Field Runway - from page 4 in the Fire Police City County Federal Credit Union 2016-2017 calendar now on Internet Archive Wayback Machine.
ACPL Digital Collections photo
1970, June 12 - The News-Sentinel newspaper census numbers photo from the ACPL Digital Collections. Some information is at 1970 Census: Users' Guide at the United States Census Bureau and Statistics from 1970 Census of Population and Housing at The National Archives.
1970, April 22 - Twenty million people nationwide participated in the first Earth Day. Its roots go back to the 1962 publication of Rachel Carson's landmark book exposing the effects of pesticides and other chemical pollution on the environment. Troubled by the lack of attention pollution was receiving on the national stage, Wisconsin senator Gaylord Nelson began going on speaking tours, trying to educate people and politicians about environmental issues. During the late 1960s, Senator Nelson had the idea to harness the energy and methods of the student protests against the Vietnam War to organize a grassroots conservation movement. At a press conference in 1969, he announced plans for a nationwide demonstration, to take place the following spring in April 1970. Eventually the government took notice, forming the Environmental Protection Agency and passing the Clean Air, the Clean Water, and the Endangered Species Acts. From History Center April 22, 2013 post from Writers Almanac on Facebook. See The History of Earth Day on earthday.org.
1970, October 20 - Remarks in Fort Wayne, Indiana. by The American Presidency Project. Statement in Support of the Republican Candidate for the United States Senate in Indiana October 20, 1975 - Page 374/375/915 from a really slow to load page Richard Nixon: 1970 : containing the public messages, speeches, and statements of the president. Nixon, Richard M. (Richard Milhous), 1913-, United States. President (1969-1974 : Nixon), United States. Office of the Federal Register. at The Public Papers of the Presidents of the United States at UMich.edu. He also visited Fort Wayne in 1957 as Vice-President and September 21, 1960 shown in photos at the History Center Digital Collection on the mDON mastodon Digital Object Network.
1971
Central High School closes and the City-County Building Opens. Copied from 1970-1979: Timeline from the Fort Wayne History Stories about time periods in the archives of The News-Sentinel newspaper.
1971 - Memorial Day became a federal holiday. For background read You asked, we answered: Why do we celebrate Memorial Day? by Ryan Lintelman published May 24, 2014 on The National Museum of American Historyand History and Headstones: Celebrating Memorial Day published May 22, 2012 on the History Center Notes & Queries blog. See also Memorial Day on History.com
1971, June 30 - the Twenty-sixth Amendment (Amendment XXVI) to the United States Constitution is ratified barring the states or federal government from setting a voting age higher than eighteen adding approximately 11 million new voters for the 1972 presidential election. Until the 26th amendment, a person had to be 21 years of age in order to vote. Indiana was the 18th state to ratify the 26th Amendment on April 8, 1971. See Wikipedia discussion and Punch Card Democracy onSmithsonian National Museum of American History blog.
1971, July 5 - President Richard Nixon signed the Twenty-sixth Amendment. The 26th Amendment Lowers the Voting Age to 18 on The National ArchivesPresidental Libraries. Indiana Senator Birch Bayh authored the ammendment and served in the Senate from 1963 to 1981. See March 14, 2019 post the day Birch Bayh died by Indiana Historical Society on Facebook. Bayh authored the failed Equal Rights Amendment and was considered the Father of Title IX. Copied from Birch Bayh, former Indiana senator, Title IX author, dies at 91 by John Tuohy, Maureen Groppe, Shari Rudavsky and Vic Ryckaert, published March 14, 2019 in the Indianapolis Star newspaper. IU alumnus Birch Bayh was the author of two constitutional amendments — the only lawmaker to do so since the Founding Fathers. Copied from a March 14, 2019 post by Inside IU on Facebook.
1971, August 26 - Women's Equality Day joint resolution passed the U.S. Congress promoted by Rep. Bella Abzug (D-NY). See What is Women's Equality Day? at National Women's History Project.
1971 September 29 - New York fashion designer, Fort Wayne native Bill Blass returned to his hometown for the first time in 25 years ahead of a local fashion show that included his latest looks.
1972
Embassy Theatre Foundation forms to save the historic structure. Copied from 1970-1979: Timeline from the Fort Wayne History Stories about time periods in the archives of The News-Sentinel newspaper.
1972 - President Richard Nixon made Father's Day a permanent national holiday.
1972, February 28 - Indiana U.S. Senator Birch Bayh introduced amendments to the Higher Education Act of 1965 to ban gender discrimination among higher education institutions that received federal aid. President Richard Nixon signed Title IX, co-sponsored by Bayh and Representative Edith Green, into law on June 23, 1972, affording women and girls at public educational institutions more scholarship and sports opportunities. Copied from a post with a photo of Senator Bayh exercising with Title IX athletes at Purdue and a link to Equal Access to Education: Forty Years of Title IX in a February 28, 2018 post by Indiana Historical Bureau on Facebook.
1972, June 12 - Elvis Presley rocked the Memorial Coliseum. Check out some of the footage from that event below. Discussed June 12, 2018 on ABC WPTA21.com TV station on Facebook.
1972, June 21 - President Richard Nixon signs the Higher Education Act, including the Title IX gender discrimination ban which requires equal access to sports for women in schools comparable to men sports programs. This lead to a media frenzy when Billie Jean King played former men's champion Bobby Riggs at the Houston Astrodome on September 20, 1973. See More Than Champions on theSmithsonian National Museum of American History blog.
1972, June 23 - TitleIX was signed An Act of June 23, 1972, Public Law 92-318, 86 STAT 235, to Amend the Higher Education Act of 1965, the Vocational Educational Act of 1963, the General Education Provisions Act (Creating a National Foundation for Postsecondary Education and a National Institute of Education), the Elementary and Secondary Education Act of 1965, Public Law 874, Eighty-First Congress, and Related Acts, and for Other Purposes in The National Archives Catalog copied from a June 23, 2022 post by Today's Documenton Facebook..
1972, August 11 - US ground troops leave South Vietnam.
1972, September - the Magnavox Odyssey went on sale, a milestone in video game history. The Odyssey was the first console that could be played at home with your television.
1973
The Performing Arts Center, designed by architect Louis Kahn, opens in Fort Wayne. Copied from 1970-1979: Timeline from the Fort Wayne History Stories about time periods in the archives of The News-Sentinel newspaper.
1973 - OPEC oil embargo marked the end of America's energy dominance as Texas oil well production declined and Middle East oil production stopped demanding higher prices.
1973, January 22 - the U.S. Supreme Court decriminalizes abortion by handing down their decision in the case of Roe v. Wade. 
1973, January 27 - Paris Peace Accord signing ends the Vietnam War.
1973, March 29 - two months after signing the Vietnam peace treaty, the last U.S. combat troops leave South Vietnam as Hanoi frees the remaining American prisoners of war held in Viet Nam. For more information see U.S. withdraws from Vietnam on History.com.
1973, April 3 - the first cell phone call is made by Motorola. Business Week reports on Motorola's portable cell phone invention – April, 1973 Posted by Dyna on Apr 3, 1973 on dynallc.com.
1973, May 10 - Four funnel clouds were seen in the skies over Fort Wayne on May 10, 1973, with at least one hanging stationary several minutes near downtown before it moved away. At least two tornadoes touched down, and one New Haven family bore the brunt of the damage in the area about 3 p.m. Clifford A. Wirick told The Journal Gazette that day that he had just come in from the fields and was standing on his front porch when he saw a tornado coming. He had just enough time to run into the basement and hide under a stack of insulation before his home was ripped apart and his barn was shattered into pieces. His pickup, which had been in the garage, was blown into the backyard. Wirick was not injured and his wife was not home, but their 14-year-old Beagle, Peanuts, was crushed by a falling beam. Copied from Tornado destroys New Haven home Throwback Thursday May 10, 1973 by Corey McMaken published November 29, 2018 in The Journal Gazette newspaper.
1973, May 14 - America's first space station-Skylab was successfully launched into orbit around the earth.
1973, July 10 - a fire swept throught the top floor of the National Personnel Records Center in St. Louis, Missouri where military records are stored. The fire burned uncontrolled for more than 22 hours, and took five days to finally be put out. At its peak, 42 fire districts were fighting it. About 73 to 80 percent of the approximately 22 million individual Official Military Personnel Files (OMPFs) stored in the building were destroyed. The records lost were those of former members of the Army, the Army Air Force, and the Air Force who served between 1912 and 1963. Today, National Archives staff are still working to reconstruct these records. Learn more about the fire and ongoing efforts at Burnt in memory: Looking back at the 1973 St. Louis fireand to see the chronology of events at One fire, 5 days, and 381 men on The National Archives Prologue: Pieces of History blog. The 1973 Fire, National Personnel Records Center last reviewed September 8, 2016 at the National Archives at St. Louis.
1973, September 20 - a highly publicized "Battle of the Sexes" tennis match, top women's player Billie Jean King, 29, beats Bobby Riggs, 55, a former No. 1 ranked men's player. witnessed by over 30,000 spectators at the Houston Astrodome and another 50 million TV viewers worldwide. For more see King triumphs in Battle of Sexes on History.com.
1973, September 27 - Freimann Square was dedicated on Sept. 27, 1973, when several hundred people turned out in downtown Fort Wayne to see the fountains in action. The park was funded by the Freimann Charitable Trust, which was created by the late Frank Freimann who was president and chief executive officer of Magnavox Co. . Copied from 1973: Construction and opening of Freimann Square by Corey McMaken Jun 6, 2019 in the History Journal archives of the Journal Gazette newspaper.
1973, October through March 1974 gasoline was being rationed as a result of the OPEC oil embargo. See 1973 oil crisis on Wikipedia, The Free Encyclopedia. See ON JANUARY 31, 1974, AN ODD-NUMBERED DAY, MOTORISTS WITH ODD-NUMBERED LICENSE PLATES COULD OBTAIN GASOLINE AT THIS STATION THE LIMIT WAS 15 GALLONS at Today's Document by The National Archives.
1974
1974, January 2 - 55-MPH SPEED LIMIT: ANNIVERSARY. President Richard Nixon signed a bill requiring states to limit highway speeds to a maximum of 55 mph. This measure was meant to conserve energy during the crisis precipitated by the embargo imposed by the Arab oil-producing countries. A plan, used by some states, limited sale of gasoline to odd-numbered days for cars whose plates ended in odd numbers and even-numbered days for even-numbered plates. Some states limited purchases to $2–$3 per auto, and lines as long as six miles resulted in some locations. National Maximum Speed Law on Wikipedia, The Free Encyclopedia. FEDERAL SPEED LIMIT, SET IN 1974, REPEALED by Don Phillips November 29, 1995 on The Washington Post.
1974, January 13 - 1974: Explosive demolitions of Van Orman, Keenan hotels by Corey McMaken published July 25, 2019 in The Journal Gazette newspaper. See Keenan and Van Orman Hotels.
1974, February 13 -
February 13, 2023 post by Indiana Historical Bureau on Facebook:

Governor Otis R. Bowen approved Public Law No. 60, which repealed all laws concerning sterilization of the mentally ill in Indiana. In the late 1800s, Indiana legislators enacted laws based on the belief that criminality, mental problems, and pauperism were hereditary. In 1907, Governor J. Frank Hanly approved the first state eugenics law, which made sterilization mandatory for certain individuals in state custody. Governor Thomas R. Marshall halted sterilizations in 1909 and the Indiana Supreme Court ruled the 1907 law unconstitutional in 1921. A 1927 law reinstated sterilization and added court appeals. Approximately 2,500 in state custody were sterilized under state law. Learn more about Eugenics Laws in Indiana with the Indiana state historical marker: 1907 INDIANA EUGENICS LAW.

A similar February 13, 2018 post showed a photo of Governor Otis R. Bowen.
See also We Cannot Make a Silk Purse Out of a Sow's Ear Eugenics in the Hoosier Heartland by Alexandria Minna Stern published in the March 2007, Volume 103, Issue 1 of Indiana Magazine of History. The February 13, 2019 post by Indiana Historical Bureau on Facebookadded an image with this information: The image below shows a "Sample Pedigree Chart," illustrating the way in which eugenics proponents attempted to trace traits such as "medium attainment in vocal music" or "successful leaders in politics" through the generations of a family. Other charts included symbols for traits or characterizations like wanderlust, "feebleminded," and alcoholic. This chart is courtesy of West Virginia University. For more on eugenics on our site, see March 9, 1907, 1915, September 11, 1920, February 13, 1974, and Indiana at 200 (72): Sadly, Indiana Pioneered Eugenics posted March 7, 2016.
1974, March 23- Fort Wayne Northrup High School, only 3 years old, wins its first state basketball tournament. See team photo and infomation at the IHSAA Indiana High School Athletic Association page on ihigh.com. Walter Jordan is likely the best known member of this team.
1974, April 3rd - Super Tornado Outbreak - the 2nd largest tornado outbreak, second to the  April 25–28, 2011 tornado outbreak. None in Allen County, Indiana. 30 F4/F5 tornadoes reported, the most violent tornado outbreak ever recorded. 148 tornadoes from April 3 to April 4, 1974. Paraphrased from Anniversary of the April 3rd, 1974 Super Outbreak with maps April 3rd, 2013 by Jonathan Conder. See April 3, 2016 discussion on Indiana Bicentennial Commission on Facebook.on Facebook. To learn more visit the National Weather Service website Super Tornado Outbreak April 3, 1974 and April 3, 1974 Super Outbreak.
1974, August 8 - President Richard Nixon resigns
1974, September 8 - President Gerald Ford officially pardoned Richard Nixon, a decision that would define his presidency. See The Pardonby Barry Werth published February 2007 in the Smithsonian Magazine.
1975
1975 - George Rogers Clark Day, February 25 was adopted by the 1975 Indiana General Assembly (IC 1-1-13) to celebrate the accomplishments of Clark in the American Revolution. George Rogers Clark captured Fort Sackville at Vincennes, Indiana, when the British surrendered at Vincennes, Indiana, marking the beginning of the end of British influence in America's western frontier. See Special Days of Celebration by the Indiana Historical Bureau.
1975, February 3 - The Rosemarie Hotel, one of the last "grand hotels" on Columbia Avenue, The Landing, in downtown Fort Wayne burned. Second of three fires from arson  including Protective Electrical Supply, Old Fort Draperies and Third Presbyterian Church on Harrison. The Diehm Memorial Museum of National History at Franke Park was also destroyed by arson less that 2 weeks later. See February 3, 2017 photo and discussion on Allen County Public LibraryFacebook page, shared February 3, 2017 on You are positively from Fort Wayne, if you remember... Archived group only visible to existing members on Facebookand February 5, 1975 newspaper clippingat Allen County Public Library.
1975, September 5 - Lynette Fromme tried to shoot President Gerald Ford in Sacramento, California.
1975, September 22 - The second assassination attempt in 17 days on President Gerald Ford outside of the Francis Drake Hotel in San Francisco, California by Sara Jane Moore. See Assassination Attempts on President Fordvia the Gerald R. Ford Presidential Library.
1976
Concordia Theological Seminary moves to Fort Wayne from Springfield, Illinois and the Historic Fort Wayne opens the gates to the Old Fort. Copied from 1970-1979: Timeline from the Fort Wayne History Stories about time periods in the archives of The News-Sentinel newspaper.
1976 - as part of the Bi-Centennial Celebration Takaoka, Japan became a sister city.
1976, January 21 - two supersonic Concordes jet planes took off simultaneously from Heathrow Airport near London and Orly Airport near Paris with their first paying passengers. Read When Concorde First Flew 40 Years Ago, It Was a Supersonic Sight to Behold The aircraft was a technological masterpiece, but at one ton of fuel per passenger, it had a devastating ecological footprint. By Owen Edwards published January 21, 2016 on Smithsonian.com.
1976, February 19 - President Gerald R. Ford signed the proclamation "An American Promise." It formally announced the termination of Executive Order 9066, signed February 19, 1942 by President Franklin Roosevelt the measure that resulted in uprooting Japanese Americans and their detainment in camps during World War II. See The Formal End of Japanese American Relocation on The National Archives tumblr page.
1976, May 2 - Gerald R. Ford 38th President of the United States: 1974 ‐ 1977 Exchange With Reporters on Arrival at Fort Wayne, Indiana., Remarks and a Question-and-Answer Session at a Public Forum in Fort Wayne, and Remarks at a President Ford Committee and Friends for Ford Reception in Fort Wayne at The American Presidency Project.
1976, July 7 - For the first time in history, women enrolled into the United States Military Academy at West Point. On May 28, 1980, 62 of these female cadets graduated and were commissioned as second lieutenants. Copied from a July 7, 2022 post by HISTORY on Facebook. Female cadets enrolled at West Point
1977
1977, January 18 - Indiana became the 35th, and last, state to ratify the Equal Rights Amendment.
A January 18, 2023 post by Indiana Historical Bureau on Facebook stated: #OTD in 1977, the Indiana General Assembly ratified the Equal Rights Amendment (ERA), making Indiana the 35th state to do so. The U.S. constitutional amendment, introduced in 1923 by suffragist Alice Paul, would make it illegal to deny equal rights on account of sex and would end "the legal distinctions between men and women in terms of divorce, property, employment, and other matters."

On January 18, the Indiana Statehouse was packed with supporters and opponents of the amendment, which was ratified by the House of Representatives (53-45) and the Senate (26-24). However, Indiana was the last state to ratify the ERA, and the amendment ultimately failed to get ratification from three-fourths of the states, or 38 total, by the deadline set by Congress. In 2020, Virginia became the requisite 38th state to ratify the amendment.

In 2021, the U.S. House of Representatives voted to remove the 7-year deadline which Congress set for ratification. As of 2022, the U.S. Senate has not voted on the measure.

Learn more about the ERA here: ERA History

The image below shows activists packing the gallery of the Indiana Statehouse, courtesy of IndyStar (Photo credit: William Oates).
1977, January 21 - U.S. President Jimmy Carter grants an unconditional pardon to hundreds of thousands of men who evaded the draft during the Vietnam War.
1977, May 4 - Governor Otis R. Bowen approved Public Law 303, which amended the Indiana Code, eliminating the clause that forbade the issuance of marriage licenses to "imbeciles." This followed a series of repeals in the 1970s of laws related to the sterilization and marriage restrictions on individuals with intellectual disabilities and mental illnesses, all of which originated with the Eugenics Movement of the early 1900s. Learn more about eugenics in Indiana with the Indiana state historical marker: 1907 INDIANA EUGENICS LAW. Copied from the Indiana Historical Bureau on Facebook post that included the logo from the Second International Eugenics Convention, held in 1921.
1978
1978, January 1 - more than 60 people joined the Polar Bear Club's 39th annual New Year's Day dip in the St. Joseph River near the Tennessee Avenue Bridge on Jan. 1, 1978. Temperatures were in the upper 20s and the river was full of ice that had to be broken up. About 200 people gathered to cheer them on. Copied from Looking Back: Polar Bear Club's 1978 New Year's Day swim by Corey McMaken published December 31, 2018 in The Journal Gazette newspaper
1978, January 21 - Peter Eckrich fire - $1.5 millon loss - Fire Police City County Federal Credit Union calendar.
1978, January 25 - the Blizzard of '78 was followed by a 1978 Flood in March as the record amount of snowfall melted.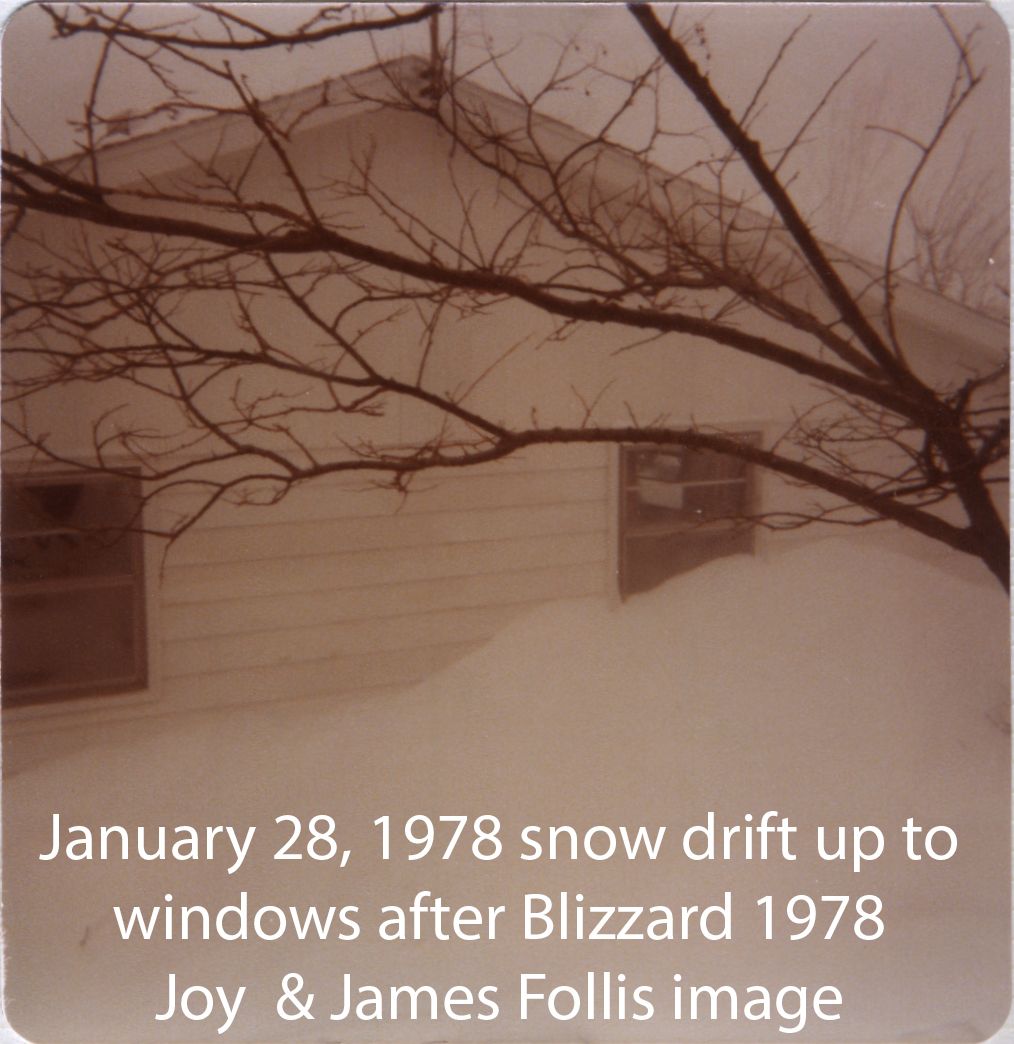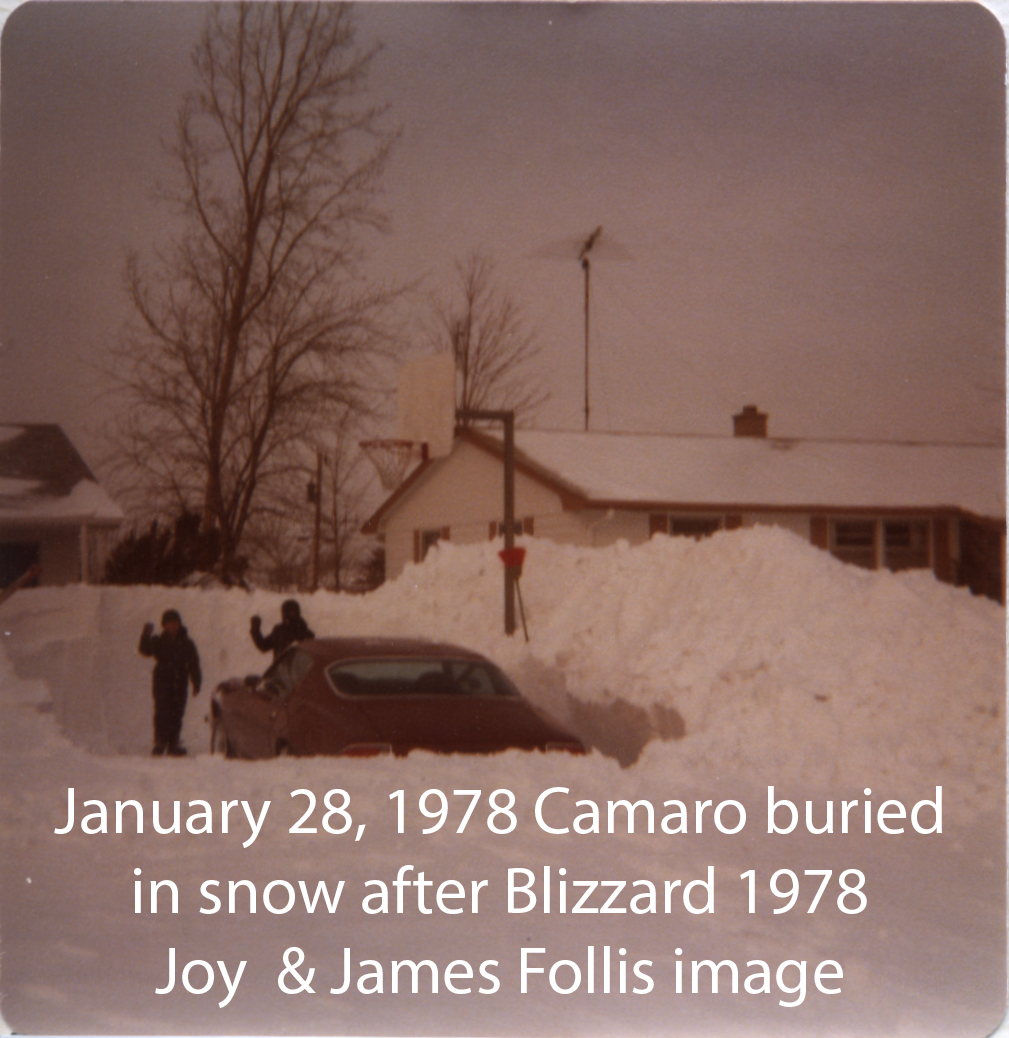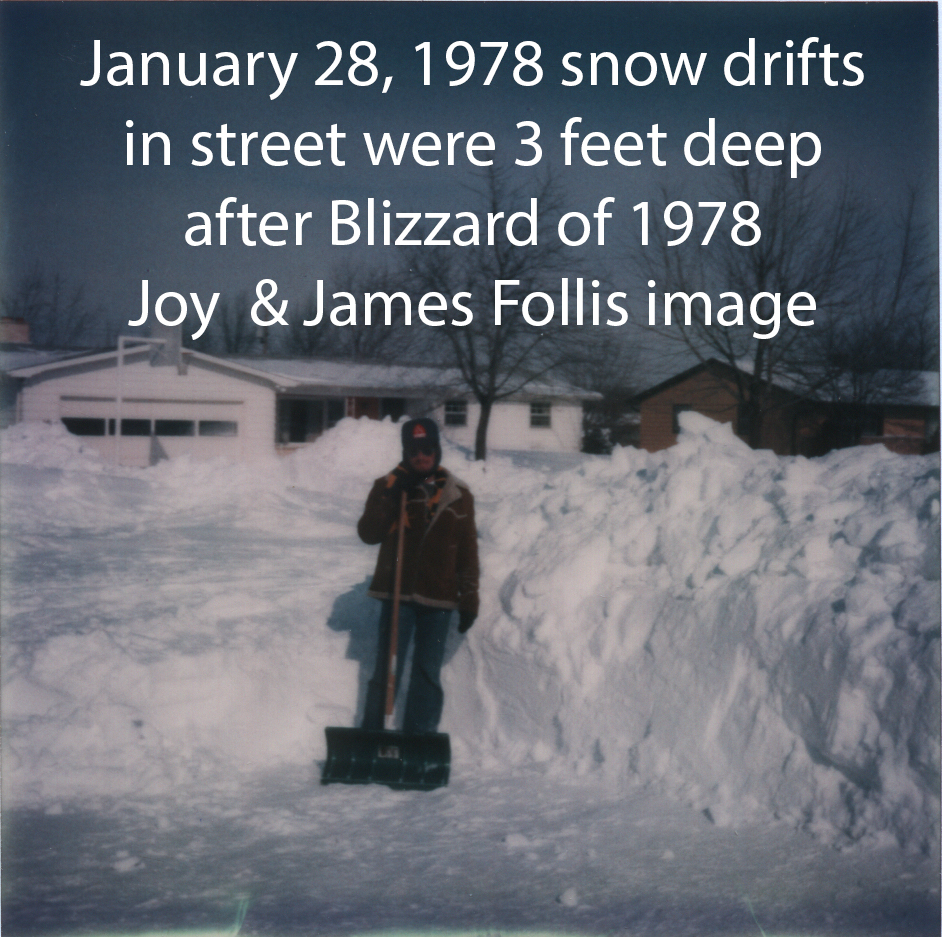 Beginning Wednesday January 25, 1978, Indiana was paralyzed by a snow storm that came to be known as the Blizzard of 78, the worst blizzard on record for the Hoosier state. according to the National Weather Service Weather Forecast Office of Indianapolis, IN. More than ten inches of snow fell the first day and seven more followed over the next two days. ... Snow fell at a rate of 1 to 2 inches per hour with sustained winds of 35 to 45 mph. Visibilities were brought down to one sixteenth of a mile. Northern Indiana Blizzard of 1978, 40th Anniversary of the Blizzard of '78 at Northern Indiana Weather Forecast Office at the National Weather Sevice.
1978, February 17 - Lindenwood Cemetery was enrolled on the National Register of Historic Places. See photo from July 15, 2013 Dearly Departed 2013 tour on The History Center on Facebook page.
1978, March 25 - #5 Worst Fort Wayne Flood: Estimated $55 Million in damages, 25 miles of streets closed, FW declared a disaster as area rivers crested at 23.76 feet from Chronological Flood History at City of Fort WayneFlood Leaves 1,000 Homeless in Fort Wayne, Ind. March 25, 1978 in The New York Times archive. Floods of March 1978, in the Maumee River basin, northeastern Indiana Open-File Report 81-695 By: Richard Earl Hoggatt at USGS Publications Warehouse. There are almost three dozen Flood of 1978 photos with over two dozen Flood of 1978 of those photos in the Fire Fighter Photographs collection at the Allen County Public Library Digital Collections at the Allen County Public Library.
See the Floods section of our Rivers of Fort Wayne page.
1978, July 25 - World's first test tube baby born, Louise Joy Brown, conceived via in vitro fertilization (IVF), is born in Manchester England.
1978, July 25 - Parkview Hospital's 100th year was celebrated in a circular of the The Journal Gazette newspaper shared in a September 17, 2017 post by Hofer and Davis, Inc. Land Surveyors on Facebook and shared again September 21, 2022 on True Fort Wayne Indiana History on Facebook.
1978, October 5 - 92 Stat. 915; Public Law 95-416 known as the "72-Year Rule" for the U. S. Census became law. This law restricts access to decennial census records to everyone except the individual named on the record or their legal heir for 72 years from the date of the census. For more information see The "72-Year Rule" at the United States Census Bureau. Copied from October 5, 2022 post by the United States Census Bureau on Facebook.
1978, November 18 - Jonestown Massacre in Guyana when Jim Jones self-proclaimed messiah of the Peoples Temple cult led more than 900 men, women and children to their deaths in a mass suicide via cyanide-laced punch (spawning the metaphor "Don't Drink the Kool-Aid"). Jim Jones was born May 13, 1931, in Crete, Randolph County, Indiana 3 counties south of Allen County near the Ohio line. From Jim Jones Biography (1931–1978) on biography.com.
1979
1979/1980 Wolf & Dessauer Santa Claus with reindeers and Christmas Wreath restored for annual lighting ceremonies. Need to confrim with newspaper articles.
1979, March 28 - Three Mile Island nuclear accident near meltdown of uranium core on Susquehanna River about 10 miles southeast of Harrisburg, Pennsylvania forces reevaluation of the safety of nuclear power industry. See 1979 Nuclear accident at Three Mile Island on History.com.
1979, June 11 - Hollywood legend John Wayne dies. Originally a little known actor named Marion Robert Morrison. He was given the stage name Anthony Wayne, but Fox Studios change it to John Wayne and he became a leading man in 142 of his 153 movies a Hollywood record.
1979, December 9 - World Health Organization declares eradication of smallpox.