1920-1929 Timeline of Allen County, Indiana
1921 - 1922 - 1923 - 1924 - 1925 - 1926 - 1927 - 1928 - 1929
1920 to 1929: Roaring 20s various newspaper articles include a Timeline from the Fort Wayne History Stories about time periods in the archives of The News-Sentinel newspaper.
1920'S: WHAT WAS IT LIKE TO GROW UP A CENTURY AGO? posted January 17, 2020 by Camille Garrison at The Waynedale News.com from their Waynedale History collection.
1920
Fort Wayne's two breweries -- Centlivre Brewing and Berghoff Brewing -- try to stay afloat by making low-alcohol "near beer."
Fort Wayne's Bill Wambsganss completes unassisted triple play in World Series for Cleveland Indians. Copied from 1920-1929: THE ROARING 20s Timeline from 1920 to 1929: Roaring 20s from theFort Wayne History Stories About Time Periods in I Remember History online tour of Summit City history from the archives of The News-Sentinel newspaper.
1920s - City native's triple play put decade on sports map by Blake Sebring in 1920-1929: THE ROARING 20s of The News-Sentinel newspaper.
1920s - toothbrushes become more common. Toothbrushes were available to the wealthy as early as 1808 as shown in many photos on Opening up the Tooth Fairy File: Exploring our dental history collection on the February 15, 2013 Smithsonian National Museum American History blog.
1920s - the Ku Klux Klan grip on big cities and small towns alike led to its near-domination of Indiana state politics in the 1920s. See links to newspaper articles in the November 30, 2016 post by the Indiana Historical Bureau on Facebook.
1920s - Read all about the bob haircut and the issues it caused in the 1920s in Indiana. Indiana's bobbed menaceposted November 10, 2022 on November 14, 2022 post by Indiana State Library on Facebook.
1920s -
March 14, 2023 post by The History Center on Facebook:

One of the most popular objects on display in the second-floor hallway at the History Center is our permanent wave machine. Women began waving their hair and cutting it into a short bob in the 1920s. Allen County followed the trend. This fashion movement was not only a political statement, but a practical one as women began taking on more and more factory jobs. In the early twentieth century, hairdressers discovered that by applying chemicals and heat to a woman's hair, they could create waves and curls that would last for days, weeks, or months. Because these machines were in salons, not in homes, going to the "Beauty Parlor" became a social event. Women would sit underneath this permanent wave machine while their hair was attached to the various curler attachments. #sociallyhistory
1920, January 2 - Nettie M. Smith, the census enumerator, started recording the 14th U.S. Federal Census in Wayne Township.
1920, January 16 - Indiana ratified the 19th Amendment to the US Constitution, giving women the right to vote. After Hoosier suffragists convinced two-thirds of both chambers to debate the issue, Governor James P. Goodrich called a special session, during which legislators approved women's suffrage in Indiana. Learn more about Women in Indiana politics here: A Woman's Place: Women of the Indiana General Assembly, Past and Present by Nicholas Flores published May 31, 2010 on IN.gov. Learn more about the long journey to passing the 19th Amendment here: 19th Amendment on Crusade for the vote.com. Copied from January 16, 2018 and January 16, 2019 posts by Indiana Historical Bureau on Facebook. Indiana formally ratified the 19th Am. on Jan 16, 1920 & it was ratified by Congress on August 18, 1920. Among the many heroes of women's suffrage, Hoosiers such as Amanda Way, May Wright Sewall, & Grace Julian Clarke fought tirelessly for the right to vote. Copied from a March 8, 2019 post by the Indiana Archives on Twitter.
1920, January 16 - Prohibition took effect nationally Jan. 16, 1920, after ratification of the 18th Amendment to the U.S. Constitution. But Indiana's General Assembly, mindful of the temperance movement's strong support here, had made the state "dry" almost two years earlier on April 2, 1918. Copied from Dry and dangerous Prohibition of alcohol set the tone for a modern age of change in the decade after World War I. By Kevin Kilbane published in 1920-1929: THE ROARING 20s by The News-Sentinel newspaper. Prohibition would end December 5, 1933 when the passage of the 21st Amendment was ratified. The 21st Amendment repealed the18th Amendment ending the increasingly unpopular nationwide prohibition of alcohol.
1920, March 28
March 28, 2019 post by The History Center on Facebook:

As warmer weather approaches, the threat of severe storms and tornadoes are commonplace to the citizens of Allen County. One of the strongest and deadliest tornadoes to strike our county took place, exactly 99 years ago today, on Palm Sunday, March 28, 1920. On that fateful Sunday, throughout the day there were signs that a big storm was approaching. These included high humidity, warm temperatures, and strong winds. At approximately 5 PM the fury reached Allen County and left destruction in its wake. The strongest hit communities were Townley and Edgerton, located in Jackson Township. All of the schools, churches, businesses and residences in both towns were either damaged or destroyed. The community of Townley was never rebuilt and is today almost forgotten. In total 12 Allen County residents, ranging from 3 to 73 years of age, died from injuries sustained during the tornado. Today we remember the events of Palm Sunday of 1920 and celebrate the resilience of the people of Allen County. #sociallyhistory

One of northeast Indiana's deadliest tornadoes tore across northeast Wells County, northwest Adams County, and southeast Allen County killing 13 people as it smashed through the community of Townley. Edgerton, [Jackson Township, Allen County,] Indiana was badly damaged. From National Weather Service Weather Forecast Office Northern Indiana On Mar 28 in weather history... The village of Townley, Jackson Township was completely wrecked and four residents were killed. It was never rebuilt.
1920, June 13 - the U.S. Post Office Department rules that children may not be sent by parcel post which started January 1, 1913. From On-This-Day.com and the National Postal Department and the Smithsonian.
1920, August - NFL football started with 14 teams
1920 August 18 - the 19th Amendment to the United States Constitution was ratified giving women the right to vote as a result of the Women's Suffrage Movement. Indiana was the 26th state to ratify it on January 16, 1920. Some additional information is on the Charters of Freedom page. Read a short history of voting from The History Center. On March 8, 1884, Susan B. Anthony addressed the U.S. House Judiciary Committee arguing for an amendment to the U.S. Constitution granting women the right to vote. Not until June 4, 1919, did Congress approve what was nicknamed the Anthony Amendment. 1920 was therefore the first election where women could vote. See 1915 Woman Suffrage Postcard at The National Museum of American History.
1920, September 11
September 11, 2022 post by Indiana Historical Bureau on Facebook:

On September 11, 1920 at the Indiana State Fair, first prizes were awarded in the Better Baby Contest, which was overseen by the Board of Health and managed by Dr. Ada Schweitzer. Rather than being judged on their temperament and personalities, babies were meticulously scored based on health and hygiene criteria. Judges deducted points for "physical defects," such as scaly skin, delayed teething, and abnormal ear size.

On the surface, Dr. Schweitzer and the Indiana State Board of Health had admirable goals: to "lower infant and maternal death rates and to convince Indianans of the importance of scientific motherhood and child rearing." However, Dr. Schweitzer's hope to "breed" a better generation of Hoosiers came directly from the eugenics movement, which was popular across America in the early 20th century. The exclusion of Black and immigrant babies from the contests furthered the widespread nativist and xenophobic ideas of the time.

The assumption that socioeconomic standing was determined by genetics, and not environment, was central to sterilization laws implemented in the state. While Better Baby Contests ended in 1933, the eugenics movement persisted in the state for decades and Indiana's last compulsory sterilization law was not repealed until 1974.

Learn more here: Making Better Babies: Public Health and Race Betterment in Indiana, 1920–1935 by Alexandra Minna Stern, PhD posted in Am J Public Health. 2002 May; 92(5): 742–752 at the National Library of Medicine National Center for Biotechnology Information.

For more on eugenics on our site, see March 9, 1907, 1915, September 11, 1920, February 13, 1974, and Indiana at 200 (72): Sadly, Indiana Pioneered Eugenics posted March 7, 2016.
1920, October 1 - Scientific American reported that the rapidly developing medium of radio would soon be used to broadcast music. Tweeted October 1, 2014 byValley of the upper Maumee River, with historical account of Allen County and the city of Fort Wayne, Indiana published in 1889on Twitter.
1920, October 5 - most people did not have electricity as shown in an ad from the New York Tribune on People Had To Be Convinced of the Usefulness of Electricity by Rose Eveleth published August 1, 2013 at smithsonianmagazine.com.
1921
Trees of Indiana (1921) Archive.org by Charles C. Deam, Indiana Department of Conservation, Division of Forestry, Fort Wayne Printing Company. This giant sycamore tree near Worthington, Indiana was the largest broadleaf tree in the U.S. There is a man standing to the left side of the tree. At five feet above ground it was 42 feet 3 inches in circumference, or roughly 13.5 feet in diameter. Sycamores are the tallest trees in Indiana discussed on page 170-171. On page 159 are tulip trees the second tallest Indiana trees. Tulip trees were found up to 120 feet tall, 38 feet in circumference, or 12 feet in diameter. These trees give some idea how big trees were when our pioneer ancestors came to Indiana and cut down the primeval forest. Trees of Indiana is a good read for what Indiana native trees were here when the pioneers started clearing the forests for settlement. There may also be clues about areas before 1921 that were still in pristine native conditions. Other Books on Indiana Native Plants are on the INPAWS - Indiana Native Plant And Wildflower Society web site.
Fort Wayne's Carole Lombard, the queen of screwball comedy, makes her film debut as a tomboy in "A Perfect Crime."
William Hosey is elected to his third term as Fort Wayne mayor. Copied from 1920-1929: THE ROARING 20s Timeline from 1920 to 1929: Roaring 20s from the archives of The News-Sentinel newspaper.
1921, January 10 - a fire in the basement of the U.S. Department of Commerce building in Washington, DC, destroyed or severely damaged most of the 1890 Census records. Some 1890 records survive, including parts of counties in 10 states and portions of Washington, DC. Additionally, some records from the 1890 Veterans Census are available at the National Archives and Records Administration. The 1890 Veterans Census collected additional data from Union veterans and widows. Copied from January 21, 2016 U.S. Census Bureau Facebook post.
1921, February 15 - Waynedale is founded when Abner Elzey purchased the land for Waynedale. The original boundary of Waynedale was McArthur Drive on the south, Old Trail Road on the east, Lower Huntington Road on the north and Beaty Avenue on the west. The only residence was the Cunnison farm. This was located where Umber's Do It Best is in 2015. Copied from a February 15, 2015post by The Waynedale News on Facebook.
1921, February 12 - the Allen County-Fort Wayne Historical Society was founded by 141 community leaders and history enthusiasts. Before that time, the first objects in the Historical Society's artifact collection were assembled beginning in 1901 by the Mary Penrose Wayne Chapter of the Daughters of the American Revolution. Artifacts from the early historical collection were on display in the county's first museum, the "Relic Room" at the Allen County Courthouse from 1902 to 1926. In 1927, the museum was opened in the Old Swinney Homestead and remained there until 1980 when the Historical Society relocated to the Old City Hall Historical Museum, which was renamed the History Center in 2002. The History Center continues its dedication to teaching others about the history of our community and preserving the multitude of stories and artifacts that make Fort Wayne and Allen County fascinating places. The museum's historical collection, which now includes over 28,000 artifacts, 20,000 photographs and over 750 linear feet of archival material, is one of the largest anthologies of locally relevant historic materials in the Midwest and reflects our heritage from the glacial period to the early twenty-first century. More important than merely collecting, these symbols of the past are shared with the public through exhibits, programs and publications. Storytelling is mankind's oldest art form and, as the leading historical agency in northeast Indiana, the History Center is one of the state's foremost storytellers. Every artifact, image and document in the museum's collection has a history and preserving those stories is as critical as preserving the objects themselves. This Accession Register book, from the tenure of Curator Frances Rawles (1947-1956), includes information about all of the donations and loans made to the Historical Society between 1947 and 1955. A sampling of objects from its first few pages illustrates the array of topics from the organization's early efforts to collect, preserve and share our community's unique history and vibrant heritage. Copied from a November 1, 2022 post by The History Centeron Facebook.
1921, May 19 - Emergency Quota Act added two new features to American immigration law: numerical limits on immigration and the use of a quota system for establishing those limits from Wikipedia, The Free Encyclopedia.
1921, June 30 - President Harding appoints former-President Taft Chief Justice of the Supreme Court. He is the only U.S. President to hold this position. 
1921, July 15 - the Indiana legislature created the Indiana Motor Vehicle Police that evolved into the Indiana State Police. Read How We Began for more information on IN.gov.
Newspapers.com
photo
1921, August 21 - The Journal Gazette newspaper had a newspaper article Four Gas Filling Stations are Being Erected Here This Summer City Now has Total of Thirteen in Operation With Distribution of About 1,000 Gallons Daily - Public Attitude Has Changed--Considered Asset to Residential Section. The article states: Five or six years ago, the first gasoline filling station was erected in Fort Wayne, in the face of more or less opposition on the part of the people of the city who are understood to have feared that the location of these stations in a neighborhood would detract from the value of nearby property.
1921, September 1 - construction began on South Side High School which opened to the first students on September 11, 1922.
1921, October 22 - Fort Wayne erected a bronze statue dedicated to General Lawton in Lakeside Park South.
1921, November 9 - after the Indiana General Assembly ratified the 19th Amendment to the U.S. Constitution in January 1920, which granted women the right to vote." Catherine Dinklage was elected to the Fort Wayne City Council, becoming the 1st woman elected to ANY office in Indiana! See front page of the November 9, 1921 The Journal Gazette newspaper. Discussed November 9, 2018 on You are positively from Fort Wayne, if you remember... Archived group only visible to existing members on Facebook. See Winning the Vote in Fort Wayne, Indiana: The Long, Cautious Journey in a German American City by Peggy Seigel in the Indiana Magazine of History journal in the archives at Indiana University ScholarworksVol. 102, No. 3 (SEPTEMBER 2006), pages 220-257. See timeline 1922-1923 Our 175th Year - 1833-2008 at The News-Sentinel newspaperand TIMELINE OF WOMEN'S "FIRSTS" at IN.gov.
1922
South Side High School is built.
Construction starts in Fort Wayne for a truck factory for the International Harvester Company. Truck production begins the next year. Copied from 1920-1929: THE ROARING 20s Timeline from 1920 to 1929: Roaring 20s from the archives of The News-Sentinel newspaper.
1922, February 27 - the Supreme Court upholds the 19th Amendment to the United States Constitution guaranteeing the right of women to vote.
1922, May 14 - The bronze sculpture of David N. Foster at Swinney Park was dedicated. It stands at the West Washington Boulevard entrance to Swinney Park. The statue, designed by Chicago sculptor Frederick Hibbard, was unveiled to a crowd of several thousand people.
1922, June 22 - Designer Bill Blass is born in Fort Wayne. See his 1938 sketch of a summer evening dress at the Indianapolis Museum of Art and 1972 Dress, 2-Piece on theSmithsonian National Museum of American History blog.
1922, July 4 - a photo of Elwood Haynes, who was the inventor of America's first car, is shown standing with the car in Kokomo, Howard County, Indiana, where a historical marker was erected on July 4, 1922. July 24, 2022 post by Indiana Department of Natural Resources on Facebook.
1922, August 22 - dedication of the Lincoln Cabin replica in Foster Park from page 16 in Fort Wayne Monuments Plaques and Markers in City Parks.
1922, September 11 - the first students attended South Side High School.
1922, September 22 - Public Law 67-346: An Act Relative to the Naturalization and Citizenship of Married Women ("Cable Act"), 9/22/1922. Under this Act, American women who married foreign citizens were no longer required to take the nationality of their husbands. Copied from a longer post September 22, 2022 by Today's Document on Facebook.
1922, October 11 - The Ft. Wayne Union Railway is incorporated to serve the International Harvester plant on the east side of Ft. Wayne. It is jointly owned by the Nickel Plate, New York Central, Pennsylvania, and Wabash railroads, each with a 25% share in the new company. Copied from October 11 in NYC History and October 11 in RR History a Google.io group.
1923
1923, part 1 photocopy of the original
1923, part 2 is the second half of a photocopy of the original
1923, part 3 photocopy of the original
1923, 2nd and 3rd of May - John Arthur Macready and Oakley G. Kelly flew non-stop from New York to San Diego in California, becoming the first people to fly across the United States without stopping. See photos on earlyaviators.com.
1923, June 14 - the words of the 1892 Pledge of Allegience were changed from my flag to the Flag of the United States of America.
See our September 8, 1892 Pledge of Allegience timeline.
on June 14, 1923, the first National Flag Conference was held in Washington, D.C., to establish a set of rules for civilian flag use. The U.S. Flag Code, first published in 1923 and adopted by Congress in 1942, is based on the belief that the American flag "represents a living country and is itself considered a living thing." It proscribes any use of the flag that could be construed as disrespectful, including using it for advertising and to decorate clothing and other goods. While the U.S. Supreme Court struck down flag-protection laws as violations of free speech in 1989, the Flag Code is still maintained as a code of etiquette, enforced not by law but by tradition. Copied from Flag Rules and Rituals at Smithsonian National Museum of American History.
The U.S. Flag Code set forth prohibitions on what were deemed disrespectful uses of the flag and included official rules on proper conduct during flag ceremonies, flag display, and flag maintenance. Copied from Pointers from the Flag Code, just in time for Flag Day published June 10, 2014 in The National Museum of American History blog.
Page 13 shows the Pledge of Allegiance with the words my flag changed to the Flag of the United States of America in The code of the flag / as adopted by the National Flag Conference, Washington, D.C. June 14-15, 1923 published in 1913 at Yale University Library Digital Collections . Interesting to note the title page of the booklet on page 1 says of the booklet states: Women of the Ku Klux Klan, Inc. Supreme Headquarters, Little Rock, Ark. This could use some explanation if anyone knows. The Code of the Flag as Adopted by the National Flag Conference, Washington, D.C., June 14-15, 1923 (Parke-Harper Pub. Co., Little Rock), ca 1923-1929 at University Libraries ArchivesSpace at the University of Arkansas Collections Subjects Names may have some explanation?
The pledge is on page 5 of The Flag Code. Adopted at the National Flag Conference Washington, D.C., June 14-15, 1923 as revised and endorsed at The Second National Flag Conference Washington, May 15, 1924 Published by National Society Daughters of the American Revolution, 1924 at AbeBooks.com.
Page 27 of the Official Bulletin of the National Society of the Sons of the American Revolution Volume 18, Issues 1-2, 1923has some information.
1924
Bob Juday of Fort Wayne competes in Paris Olympics as a high jumper.
WHBJ -- which later became WGL -- is the first radio station in Fort Wayne. Copied from 1920-1929: THE ROARING 20s Timeline from 1920 to 1929: Roaring 20s from the archives of The News-Sentinel newspaper.
1924 - National Origins Act of 1924, barred Asian immigrants, limited Latin American immigrants, and established rigid immigration quotas for European countries. See Fifty Year Later: A Brief History of the Immigration Act of 1965 by Jessie Kratz post September 17, 2015 on The National Archives Prologue: Pieces of History blog. The quotas were abolished on October 3, 1965 when President Lyndon Johnson signed the Immigration Act of 1965.
1924, May 26 - Immigration Act of 1924 limited the annual number of immigrants who could be admitted from any country to 2% of the number of people from that country who were already living in the United States as of the 1890 census, down from the 3% cap set by the Emergency Quota Act of 1921, which used the Census of 1910. From Wikipedia, The Free Encyclopedia.
The Library of Congress photo, LC-USZ62-111409
1924, June 2 - President Calvin Coolidge signed the Indian Citizenship Act into law after Congress enacted the Indian Citizenship Act.  It granted national citizenship to all indigenous people living in the United States — an estimated 125,000 to 300,000 people who had not previously been recognized as citizens. Copied from June 2, 2019 post by American Experience | PBS on Facebook. The right to vote, however, was governed by state law; until 1957, some states barred Native Americans from voting. Copied from Indian Citizenship Act on Library of Congress American Memory Today In History blog. The act authorized the Secretary of the Interior to issue certificates of citizenship to Indians from Featured Story: Late In Coming from The National Archives Documented rights on the U.S. National Archives and Records Administration. See a copy at Today's Document at the The National Archives. What is the Snyder Act of 1924 gives citizenship to Native Americans? In 1927, North Side High School was formed with their school mascot called Redskins. In 2014 the Washington Redskins professional football team was being pressured to change their name. An opinion newspaper article Make Miami connection more meaningful 'Redskin' debate offers a unique opportunity to also educate by Doug Peconge, a Miami Indian from the Meshingomesia band, was published August 24, 2014 in The Journal Gazette newspaper.
1924, October 10 - No longer to be feared in this New York Times article about Adolf Hitler's release from prison. From Historical Pictures on Twitter.
1924, November 11 - a World War I Memorial was installed at GE (General Electric) plant on the west side of Broadway. November 24, 2013 it was moved to McCulloch Park, a World War I Memorial installed on the grounds of General Electric had been located behind a fence for the last 89 years [2013]. It has hundreds of names on it, all GE employees who served in World War I. Included are the names of six GE employees who died in the war. Copied from City honors World War I monument May 25, 2013 in The Journal Gazette newspaper.
1925
Paul Baer Field (today's Smith Field), named after the World War I ace, opens.
WOWO begins radio broadcasts in Fort Wayne.
William Geake is elected mayor of Fort Wayne. Copied from 1920-1929: THE ROARING 20s Timeline from 1920 to 1929: Roaring 20s from the archives of The News-Sentinel newspaper.
1925 - the National Geographic Society called Indianapolis the Crossroads of America.
1925, July 10 - William Jennings Bryan and Clarence Darrow clashed over the teaching of evolution in Dayton, Tennessee, the Scopes trial was depicted in newspapers across the country as a titanic struggle. From Evolution on Trial Eighty years after a Dayton, Tennessee, jury found John Scopes guilty of teaching evolution, the citizens of "Monkeytown" still say Darwin's for the birds. on theSmithsonian National Museum of American History blog.
1925, July 21 - the Scopes Trial concludes with high school biology teacher John T. Scopes found guilty of teaching evolution in class and fined $100. The Scopes Trial Redefined Science Journalism and Shaped It to What It Is Today by Kimbra Cutlip posted July 10, 2015 on Smithsonian.com.
1925, November 14 - D. C. St ephenson head of the Indiana KKK was sent to prison to serve 25 years for rape and murder. David Curtis Stephenson was the most powerful man in Indiana. He owned politicians, up to and including the governor. He could send hundreds of hooded klansmen marching through the streets. He could have a man beaten up or make him disappear. He raped women and got away with it. Read his story RetroIndy: D.C. Stephenson KKK leader was the most powerful man in Indiana, but went to prison for murder by Michael Jesse published October 28, 2013 in the Indy Star newspaper. See 1910 photo of Madge Oberholtzer a white girl in her 20s savagely beaten by D. C. Stephenson posted October 16, 2014 by Indiana Historical Societyon Facebook.
1925, December 11 - Indiana General Assembly provided for the designation of December 11 as Indiana Day to commemorate the admission of Indiana to the Union in 1816 as the nineteenth state. By law (Indiana Code 1-1-10) The governor shall issue a proclamation annually designating the eleventh day of December as Indiana Day and citizens are urged to celebrate in appropriate and patriotic observance of the anniversary of the admission of the state of Indiana into the Union. From Indiana Statehood in the September 1999 The Indiana Historian periodical. See Special Days of Celebration by the Indiana Historical Bureau.
1926
Fort Wayne residents are told to boil tap water because of the threat of typhoid fever.
Fort Wayne aviation pioneer Art Smith is killed in a plane crash while delivering airmail. Copied from 1920-1929: THE ROARING 20s Timeline from 1920 to 1929: Roaring 20s from the archives of The News-Sentinel newspaper.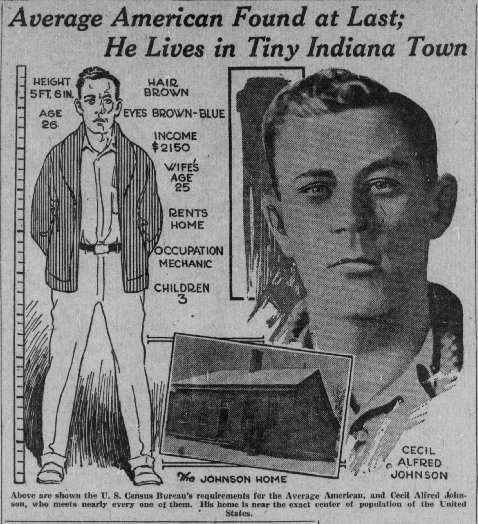 1926, January 15 - the #IndianapolisTimes featured the "Average American", Cecil Alfred Johnson, from White Hall, Indiana. These specifications were based on the @uscensusbureau stated averages for America, and located near the center of the American population at the time. Copied from a January 15, 2019 Tweet by Hoosier State Chronicles Indiana's Digital Historic Newspaper Programon Twitter.
1926, March 10 - 36 year old police officer Matthew Gebhardt was killed by gunfire while attempting an arrest during his second year of service, the first police office killed while serving with the Fort Wayne police department. From Officer Matthew C. Gebhardt on the Officer Down Memoriall Page. He is on the National Law Enforcement Officers Memorial in Washington, D.C.
1926, July 2 - the U.S. Army Air Corps is created, forerunner to U.S. Air Force.
1926, October 26 - George "Babe" Ruth graced Fort Wayne with his presence at League Park. During the visit, he joined the local semi-professional team the Lincoln Lifers, where he played every position except for catcher. Posted October 26, 2017 by Indiana Historical Bureau on Facebook. Babe Ruth: A Big Hit in Fort Wayne by Tom Castaldi, local historianpublished August 24, 2016 on the Indiana Historical Bureaublog.
1927
North Side High School is built.
1927 - Fort Wayne Sport Club was founded by a group of soccer players who had come to Fort Wayne, Indiana from Germany. Their goal was "The Promotion of Soccer Football and German Culture." It has since established itself as one of the most successful Soccer Clubs in the Midwest. Read more on their About page.
1927, February 10 - the first telephone call made between Fort Wayne, Indiana, and London, England, by means of wire land lines and radio over the Atlantic ocean (sic). The call was made by Mr. Frank E. Bohn, Vice President and General Manager of The Home Telephone and Telegraph Company of Fort Wayne, who talked with Sir Alexander Roger, Chairman of the Telephone Development Association of Great Britain. Read more in Calling London in the February 27, 2012 History Center Notes & Queries blogby Nancy McCammon-Hansen.
1927, April 7 - The first city-to-city television broadcast when Secretary of Commerce Herbert Hoover was in a studio in Washington, D.C., and an audience sat in an auditorium in New York City. 
1927, May 6 - baseball legend Babe Ruth and his New York Yankees played an exhibition game in Fort Wayne against the city's Lifers at League Park (now Headwaters Park). The teams played the regulation nine innings. The Lifers held the Yankees to a 3–3 tie in the 10th, with two outs and a runner on first when "The Sultan of Swat" came to the plate. He took two strikes and then in classic style belted the next pitch over the center field wall, landing on the roof of one of the city utility barns across Clinton Street. The hit enabled the Yankees to defeat the Lifers 5-3. Copied from May 6, 2018, May 6, 2020, May 6, 2022 posts by Indiana Historical Bureau on FacebookIncludes a photo from the May 11, 1927 issue of the Muncie Evening Press.
1927, May 21 - Charles Lindbergh landed his plane in Paris after completing the first solo flight over the Atlantic Ocean. See British Newspaper Archive blog.
1927, July 11 - the Indianapolis Times began publishing exact copies of papers that proved the Ku Klux Klan's ties to Indiana politicians. They began by printing a check from Grand Dragon D.C. Stephenson to Governor Ed Jackson before the latter became governor. For the remainder of July and August, the Times filled its pages with reprints of letters and checks from Stephenson's papers, detailing how much money had been spent to help get Jackson elected. On July 21, the Times revealed that Indianapolis Mayor John Duvall had also reportedly sought Stephenson's aid when he was a candidate for Republican nomination for mayor in 1924. The Times wrote on July 27, that it had turned over Stephenson's documents to the Marion County grand jury for examination. According to a May 1928 Times article, Mayor Duval was eventually convicted of violation of the Corrupt Practices Act and forced to resign. The newspaper won the Pulitzer Prize for Public Service in Journalism in 1928 "for its work in exposing political corruption in Indiana, prosecuting the guilty and bringing about a more wholesome state of affairs in civil government." Learn more about the Times' crusade against the Klan on Talking Hoosier History: Talking Hoosier History S01 E05: The KKK, Political Corruption, and the Indianapolis Times . Copied from a July 11, 2018 post by the Indiana Historical Bureau on Facebook. From our 1930 timeline: 1930, August 7 - two young African-American men Abram Smith and Thomas Shipp were lynched in Marion, Indiana when a white mob somewhere between 10,000 and 20,000 people took them from their jail cells. Read more on August 7, 2017 on Indiana Historical Bureau on Facebook. See photo on Strange Fruit: Anniversary Of A Lynching published August 6, 2010 on NPR.org.

1927, August 10 - Charles Lindbergh the famous pilot flew over Fort Wayne since There were way too many air planes in the air and he didn't think it would be a safe landing. For more see April 6, 2016 Facebook post by The History Center. See also The History Center's April exhibit focuses on transportation: Here's a special look at a letter from American Aviator Charles Lindbergh that he dropped in the Summit City in 1927 by the Associated Press published April 2, 2016 on CBS WANE-TV NewsChannel 15. On Aug. 10, 1927, Charles Lindbergh circled downtown Fort Wayne in his Spirit of St. Louis monoplane and dropped a greeting to the city before heading off toward Detroit without landing. Read the origininal newspaper article and more in Aug. 10, 1927: Charles Lindbergh flies over city by Corey McMaken published January 23, 2020 in The Journal Gazette newspaper.
1927, September 18 - WOWO radio became one of the pioneer stations for CBS in 1925. It remains one of the dominant IN broadcasters. From Indiana 2016 September 18, 2014 on Twitter.
1928
Homer Capehart starts the Capehart Company in Fort Wayne to build phonographs.
Fort Wayne's first luxury apartment building, Fairfield Manor, is constructed. Copied from 1920-1929: THE ROARING 20s Timeline from 1920 to 1929: Roaring 20s from the archives of The News-Sentinel newspaper.
1928 - rose gardens at Lakeside Park become part of national rose garden trial gardens.
1928 - Bob Hope made his first appearance as an emcee at the Emboyd Theatre known now as the Embassy, from 90 Fun Facts at The History Center.
1928
October 12, 2018 Tweet by the Indiana Historical Bureau on Twitter.

The American Soybean Association recognized Adrian A. Parsons as the pioneer of all soybean growers in Indiana. Parsons started growing soybeans in the 1890s and demonstrated Asian soybean use as a practical crop for the average farmer. Soybeans were not widely grown in U.S. agriculture until the 1930s. When Parsons died in 1929, Indiana farmers planted 326,000 acres of soybeans. By 1939, over 1.3 million acres were planted, ranking Indiana second in nation.

On June 10, 2017 the Indiana Historical Bureau and Town of Avon installed the ADRIAN A. PARSONS, 1846-1929 / INDIANA'S SOYBEAN PIONEER marker in Avon, Hendricks County, Indiana.

For more information on the the Quaker Civil War veteran see page 3255 in the book History of U.S. Federal and State Governments' Work with Soybeans (1862-2017) at soyinfocenter.com.

March 16, 2023 post by USDA Agricultural Research Service on Facebook: The health benefits of #soybeans are crucial to both animal and human health. Unfortunately, some of the sugar compounds that make up the carbohydrates in soybeans can be difficult to digest. Learn how ARS scientists are making soybeans healthier and more digestible. Building a Better Bean How ARS Scientists are Making Soybeans Healthier and More Digestible.
1928, July 7
July 7, 2022 post by Newspapers.com on Facebook:

"The idea of sliced bread may be startling to some people," according to this newspaper article published the day before pre-sliced bread was sold to the American public for the first time on July 7, 1928. The article promoting the new product by the Chillicothe Baking Company described the "power-driven" slicing process and how the sliced loaves would be held together by pins. It then answered pressing questions like "Will the loaf remain fresh?" "How thick are the slices?" and "Does this sound the death knell of the bread knife?"

Read the full article in the Chillicothe Constitution-Tribune on our site: page 1 in the Chillicothe Constitution Trubune (Missouri) of the first effective bread-slicing machine invented by Iowa-born Otto Frederick Rohwedder for the Chillicothe (Missouri) Baking Company.

The best loan since sliced bread published August 22, 2013 on Smithsonian National Museum of American History blog.

How the Phrase 'The Best Thing Since Sliced Bread' Originated by Art Molella published February 8, 2012 on TheAtlantic.com.

In 1928, a machine to slice a full loaf of bread first became widely available to companies, thus giving everyone afterwards a handy thing to compare all other new and awesome things to! We love this ad we just ran across from 1929. It's the best thing since.... posted with newspaper image March 15, 2019 on Clark County Historical Society at the Heritage Center  on Facebook.
1928, May 14 - see opening day crowd photo on Facebook at the Emboyd Theatre, now the Embassy Theatre. See also CinemaTreasures.org.
1928, June 17 - Amelia Earhart began her transatlantic flight. Watch A Final Takeoff video on the Smithsonian National Museum of American History blog.
1928, August 13 - dedication of the Art Smith aviation pioneer monument at Memorial Park.
1928, September 1 - photo showing Boy Scouts placing a 1928 [Lincoln Highway] concrete marker in Allen County, Indiana. Likely somewhere between Besancon and the Ohio state line was shared March 4, 2022 by Mike Weigler on Lincoln Highway on Facebook then discussed March 5, 2022 on Allen County Genealogical Society of Indiana , March 5, 2022 on True Fort Wayne Indiana History on Facebook on Facebook. A dedication of a 1928 marker was placed downtown one of around 3,000 markers that were placed along the highway with only about a dozen still known from the video shown on the October 30, 2022 Timeline. The Lincoln Highway opened September 10, 1913 and was celebrated October 31, 1913 in Fort Wayne newspapers and dedicated June 22, 1915 in Fort Wayne.
1928, November 1 - World War I Memorial Dedication in Memorial Park lists 106 names. 80 Years Ago This Week… on Around Fort Wayne 2.0 blog.
1929
1929, January -
February 6, 2023 post by Genealogy Center on Facebook:

Check out this map of Fort Wayne's central business district in 1929! 📜 Do you recognize any of these businesses? View our digital map collection here: https://www.genealogycenter.info/fwacdb.php This map showing ground floor occupancy was prepared by Hilgeman and Schaaf Realtors, January 1929.
1929, March 29 - President Herbert Hoover had the first telephone installed in the Oval Office. Telephones had been used in the White House since 1878, but as this newspaper clipping points out, this was the "first time in history a telephone has been placed on the President's desk in the executive offices." Prior to this, the president had to leave his office to talk on the phone. Read a newspaper article President Herbert Hoover puts a telephone in the Oval Office, 1929 published in The Canonsburg, Pennsylvania Daily Notes, 29 March 1929, Friday on page 13, from a March 29, 2019 post by Newspapers.com on Facebook.
1929, April - second Friday in April declared Arbor Day in Indiana. Originally, April 11, 1884 was declared the first Arbor Day in Indiana. Between 1884 and 1912, Arbor Day was observed on various dates at the discretion of the governor. The most common date was the last Friday of October. It is not known why a fall date was chosen over a spring day. On March 10, 1913, the Indiana legislature passed a bill setting the third Friday of April as Arbor Day. In 1929, an amendment was passed in the legislature changing the date to the second Friday in April. Due to frequent conflicts with school spring vacations and the fact that Arbor Day occasionally fell on Good Friday, the date was again changed in 1991 to the last Friday of April, corresponding to the official date of the National Arbor Day. Copied from Learn more about Indiana Arbor Day on the Indiana DNR - Indiana Department of Natural Resources web site.
1929, July 4 - the building housing WOWO and WGL caught fire. No casualties were reported, and operations were moved to a nearby location; amazingly enough, the station's large pipe organ, a familiar sound on the station, was not damaged in the blaze.[7-6-1929 JG article] Operations were resumed the following day, [7-5-1929 JG article] and the WOWO pipe organ was later relocated to Gospel Temple in Fort Wayne copied from WOWO on Wikipedia, The Free Encyclopedia.
1929, October - Construction of the Lincoln Tower began and was completed in November 1930. At 22 stories and 312 feet tall, it was Indiana's tallest building for many years.
1929, October 24 - Crash of 1929, Black Thursday, the Dow Jones Industrial Average plunged 11%, starting the stock-market crash that signaled the Great Depression.
1929, October 29 - panicked investors sold over 16 million shares of stock on the New York Stock Exchange, causing stock prices to collapse later known as Black Tuesday. The Great Depression of the 1930s begins. For more information see Timeline: A Selected Wall Street Chronology on American Experience | PBS .
Fort Wayne and the Great Depression: The Early Years, 1929–1933 by Iwan Morgan published June 2, 1984, in Volume 8 Issue 2, in Indiana Magazine of History at Indiana University on IU.edu.