1913 Flood in Fort Wayne, Allen County, Indiana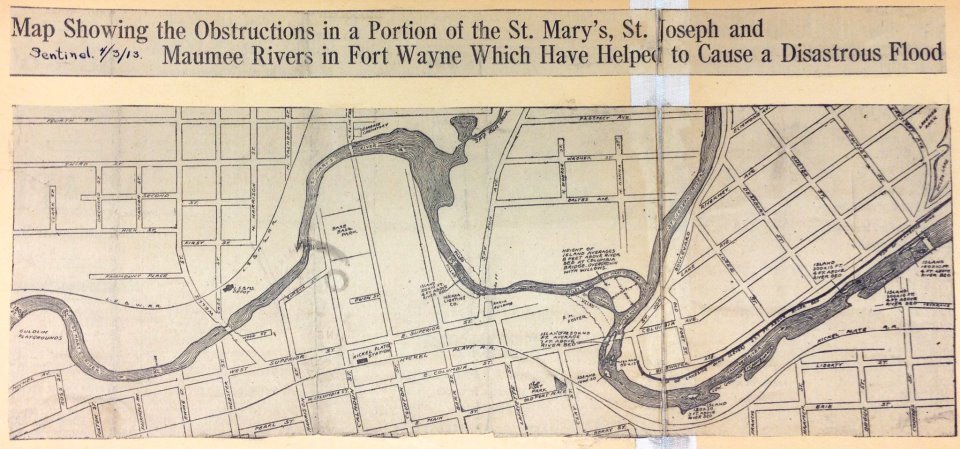 Several flood videos from The News-Sentinel newspaper
Back to top
Back to top
Flood of the Century A Look Back At The Flood of 1913 And How It Changed Fort Wayne - from The News-Sentinel newspaper has links from their 2 day series of 2013 stories providing the following highlights:
Good Friday, March 21, 1913 - it started as a storm with winds clocked at 60 mph tearing up Fort Wayne.
Easter Sunday, March 23, 1913 - a steady rain prevented women from turning out in their Easter bonnets, and the Easter parade was canceled.
Monday, March 24, 1913 - wind reached speeds up to 52 mph, was over in a matter of minutes. 2.76 inches of rainfall over 24 hours caused the rivers to rise 12 feet in one day. By Monday evening, water surrounded 42 houses on Wagner Street, Baltes Avenue and Prospect Avenue.
Tuesday, March 25, 1913 - water began flowing into Lakeside at 8 a.m., at the foot of the Tennessee Avenue Bridge. Floodwaters seeped into water-pumping stations, overflowing rivers, flooded streets, now the city faced a water shortage. The south-side reservoir didn't contain enough water to sustain the city for even a day.
Wednesday, March 26, 1913 - the Allen County Orphan's Home, situated in a bend of the St. Marys River west of Foster Park with about 60 children and their caretakers had moved to the second floor of the building. Four girls drowned during rescue attempts. Three more city people would drown before it was over.
Thursday, March 27, 1913 - a rumor that the big dam at St. Mary's, Ohio, had given way sent residents of Fort Wayne into a fresh panic. Meanwhile, the Maumee River dropped 3 inches, and all parts of the city that had flooded saw substantial drops in the water level.
Friday, March 28, 1913 - floodwaters had dropped about 18 inches, and the city felt a collective sense of relief that the worst was over.
Saturday, March 29, 1913 - as conditions grew steadily better throughout the city, the 1913 flood claimed one last life.
It wasn't until the next great flood, in 1982, that government really got serious about creating comprehensive solutions. Condensed from 6 deadly days: How the Flood of 1913 devastated Fort Wayne City's worst deluge left thousands homeless, caused millions in damage and killed 7 by Cindy Larson of The News-Sentinel newspaper March 20, 2013.
High-water mark Flood fears temper push to develop city's riverfronts March 17, 2013 - This week marks the 100th anniversary of the Great Flood of 1913 that destroyed large swaths of Indiana and Ohio and remains one of the worst floods in Fort Wayne's history. That flood resulted in more than $110 million worth of damage in today's dollars and at least seven deaths.
Flood of the century A Look Back At The Flood of 1913 And How It Changed Fort Wayne - Part 1 by Cindy Larson of The News-Sentinel newspaper.
Flood of the century How the Flood Shaped Fort Wayne - Part 2 by Bob Caylor of The News-Sentinel newspaper. Covers the flood control projects along the 3 rivers up to 2008.
From the archives: Headstone, service memorialize orphans Latest News The girls died in the flood of 1913 by Darnell J. Compton of The News-Sentinel newspaper March 20, 2013. Originally published July 12, 1999 the story is about Girl Scout Cadet Troop 199 conducting a memorial service at Lindenwood Cemetery and dedicating a headstone at the graves of Alice Mannen and Kittie Wise, two girls who died trying to flee the Allen County Orphan's Home during Fort Wayne's flood of 1913.
Readers share family stories, photos from Flood of 1913 Compiled by Sheryl Krieg of The News-Sentinel newspaper March 20, 2013.
From the archives: Current owner of house damaged in 1913 glad for city's flood control by Emma Dawson of The News-Sentinel Wednesday, March 20, 2013, originally published July 11, 2003.
News-Sentinel Flood of 1913 photos They state: Since 1833, we've covered every major event in Fort Wayne's history. For several days in 1913, stories about the flood and photos filled the front pages of The Daily News and The Daily Sentinel. These photos are from the archives of The News-Sentinel. They also have archived photos from Reader-submitted Flood of 1913 photos and The Fort Wayne History Center.
Flood of 1913 Few changes followed flood of century March 25, 2013 by Dan Stockman of The Journal Gazette newspaper
From the archives: Headwaters Park rises from mud An old idea blooms flood-prone city acreage into life March 21, 2013 by Susan Fernandez of The News-Sentinel newspaper This story was originally published October 21, 1994.
From the archives: Fort Wayne embraces its rivers with new park March 21, 2013 by Andrea Muirragui Davis of The News-Sentinel newspaper about the opening of Headwaters Park.
A flood so terrible Devastation and death in 1913 by Bonnie Blackburn in Fort Wayne Magazine.
Allen County, Indiana Flood Information Site - Allen County, Indiana government page
Hoosier Recollections' buddy icon Indiana The Great Flood of 1913 photos on flickr
The Superstorm That Flooded America by Christopher Klein published March 25, 2013 on History.com.
July 15, 2017 photos and discussion on You are positively from Fort Wayne, if you remember... Closed group on Facebook
Remembering the Flood of 1913 posted by ACPL Genealogy Center March 22, 2013 on their blog.