People of Allen County, Indiana
Q Surnames
Charles H. Quimby
October 7, 2023 post byHistoric 07 District - Fort Wayne on Facebook:

The Historic 07 is a massive fan of the south side of Fort Wayne. It has more to offer from our schools, neighborhoods, churches, parks, and history than any other place in Northeast Indiana. One of those special places is the Clyde. Today is the story of the Lincoln Assassination and what eventually became the Clyde Theater.

The assassination of President Abraham Lincoln occurred on April 14, 1865, when Confederate sympathizer John Wilkes Booth shot him at Ford's Theatre in Washington, D.C. Lincoln, the 16th President of the United States, was attending a play when Booth entered the presidential box. In the audience that evening was a 21-year-old Union Army soldier named Charles. Charles was born in Steubenville but found himself witnessing the first American President to be assassinated.

During the play Our American Cousin, Booth fired a single shot into the back of Lincoln's head with a .44 Derringer pistol. Lincoln was immediately taken to a nearby boarding house, where he died the following day, making him the first American President to be assassinated. The assassination shocked the nation just days after General Robert E. Lee's surrender, effectively ending the American Civil War.

Charles eventually returned to Steubenville, Ohio, where he became a lifelong firefighter. Although his career was in Ohio, at 88, Charles lived in Fort Wayne with his son on Fairfield Avenue. Unfortunately, Charles passed away on a November evening in 1932 during the height of the Great Depression. He was one of the last surviving witnesses of the assassination of President Abraham Lincoln. His son, Clyde Quimby, was a Fort Wayne veteran theatre owner and operator. His wife, Helen, would be responsible for what eventually became the Clyde Theatre.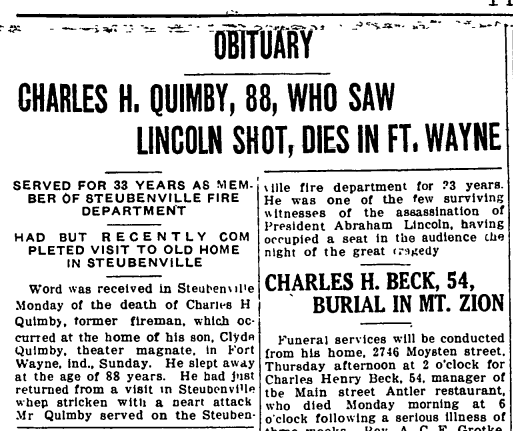 July 28, 1844-November 3, 1932 with newspaper obituary is found on Find A Grave with burial in plot G-19 Lindenwood Cemetery. His December 10, 1932 death record shows he died at 1124 N. Washington from the Allen County Death Records page at ACGSI.org.
Quimby, Clyde
A builder opened many early Fort Wayne theaters. The Clyde Theatre opened April 19, 1951 in Quimby Village. It was later renamed Quimby Theater. December 12, 1880-January 14, 1935 Clyde was buried in plot G-19 Lindenwood Cemetery from Find A Grave.
Back to top