People of Allen County, Indiana
M Surnames
Maahs, Mike
25 years in local sports broadcasting almost 1,200 Fort Wayne Wizards/TinCaps games and more than 800 IPFW athletic events. Determination led to successful career for TinCaps, IPFW broadcaster by Blake Sebring published July 19, 2015 in The News-Sentinel newspaper.
Macedonians
In 1922 Macedonian delegates met in Fort Wayne and formed the International Macedonian Political Organization, later renamed the Macedonian Patriotic Organization (MPO) in 1956. Learn more in 200@200 - Peopling the Community at 200 @ 200 2016 Bicentennial items at The History Center.
Mad Ants Basketball Team
Pro basketball back in Fort Wayne, Nov. 23, 2007: The team plays its first game, a 94-86 loss to the Tulsa 66ers. It's the first time Fort Wayne has had its own pro basketball team since the Continental Basketball Association went under in February 2001. Only championship, April 26, 2014: After a 34-16 regular season, Fort Wayne, led by coach Conner Henry, sweeps six playoff games and beats Santa Cruz to win the D-League title at Memorial Coliseum, where they won 17 straight games to close the season. Bought by Pacers, Sept. 9, 2015: The Pacers buy the team from Fort Wayne Basketball Group LLC, led by John Zeglis, which had owned the Mad Ants since their inception in 2007. "When it came right down to it, we wanted this franchise," Pacers president of basketball operations Larry Bird said. Three highlights copied from 12 Highlights of Fort Wayne Mad Ants history by Dylan Sinn May 9, 2023 in The Journal Gazette newspaper.
May 9, 2023 post by Mayor Tom Henry on Facebook:

My statement on the Fort Wayne Mad Ants relocating to Noblesville.
Mahurin, Guy M.
Guy M. Mahurin was an American architect and nephew of the well-known architect, Marshall Stimson Mahurin. He was born in Fort Wayne, Indiana August 14th, 1877 to Melville B. and Alice Mahurin. His father was a merchant and manufacturer and because of his job the Mahurin's moved to several cities throughout Guy's childhood including Columbus, Ohio and Indianapolis, Indiana. Guy graduated from Short Ridge High School in Indianapolis and proceeded to attend the University of Illinois to study architecture until his studies were interrupted for an opportunity to work as the Chief Draftsmen of the United States Bureau of Architecture in the Philippines Island. Guy Mahurin married his wife Myrtle Walker on October 17th, 1911 in Benton Harbor, Michigan. They would go on to have two children, Margaret Ann and Walker Melville. Their family formerly resided at 2537 Maple Place c. 1919, and then later 927 West Wildwood Avenue Fort Wayne, Indiana. Copied from Guy M. Mahurin at ARCH ( Architecture and Community Heritage).
Notable Structures Designed by Guy M. Mahurin copied from Guy M. Mahurin at ARCH ( Architecture and Community Heritage).
Fort Wayne Scottish Rite Cathedral
Summit City Soap Work's Factory
Fort Wayne City Market Way
Sherman White & Co., Produce and Cold Storage Warehouse
South Wayne Baptist Church
Fort Wayne Chamber of Commerce
Adair Federal Building
Mahurin, Marshall Stimson
Marshall was born in Indiana in 1857, died in 1939. October 2, 1888 he married Cora A. Diggins, and they had three children. His nephew Guy Mahurin would later become his partner at the firm of Mahurin & Mahurin, his first partnership was with John F. Wing at Wing & Mahurin. The partnership of Wing & Mahurin was one of the most successful local architecture firms of the late 19th and early 20th century, designing dozens of commercial buildings, public works buildings, and residential housing. By 1907, the partnership between the two had come to an end, Mahurin leaving John Wing to form a new partnership with his nephew Guy Mahurin as Mahurin & Mahurin. Guy had been a draftsman and minor partner of Wing & Mahurin. A vast number of the structures designed by Marshall and his partners over the years are now listed on the U.S. National Register of Historic Places. See Marshall S. Mahurin with photo slideshow of his projects at ARCH ( Architecture and Community Heritage). Drawing showing the home of Marshall S. and Cora (Diggins) Mahurin at 2902 Fairfield Avenue in Fort Wayne was posted August 1, 2015 on The Indiana Albumon Facebook. The home is gone and the Lutheran Foundation is located on its former site on the SW corner of Fairfield and Home Avenues.
Mahurin is mentioned 32 times beginning on page 9-32 with many photos of Mahurin & Mahurin projects in The Ohio Architecture Engineer and Builder Volume XXVII May, 1916 Number 5 titled Honest Architecture by Marshall S. Mahurin, Fellow A.I.A. a Google ebook.
List of Fort Wayne Notable Structures Designed by Marshall S. Mahurin, and his collaborations with John F. Wing and Guy Mahurin copied from Marshall S. Mahurin at ARCH ( Architecture and Community Heritage).
Hon. R. C. Bell Residence
Dr. D. S. Brown Residence
Central Fire Station
The McDonald & Taylor Fire-Proof Building
US Post Office and Courthouse, 1300 W. Harrison St.
Mordhurst Oriental Drug Store Building, 812 S. Calhoun St; c 1886
J.C. Peltier House, 435 E. Berry St; c. 1886
Fort Wayne City Hall, c.1893, Fort Wayne City Hall at ARCH ( Architecture and Community Heritage)
The Fort Wayne Saengerbund Building, 1896
Marshall S. Mahuin Residence
Engine House No. 3, 1900, 226 W. Washington Blvd.
Saint Paul's Evangelical Lutheran Church, 1126 S. Barr St.; c. 1900, Saint Paul's Evangelical Lutheran Church at ARCH ( Architecture and Community Heritage)
John H. Bass Mansion. NRHP-listed; c. 1902
B. Paul Mossman House, 1202 W. Wayne St; c. 1905
Mahurin, Walker Bud
1918-2014, he was born in Dowagiac, Michigan, then lived in Ann Arbor until he was adopted by a family from Fort Wayne, Indiana from Walker Bud Mahurin on Air Zoo.. South Side High School graduate, ace fighter pilot and war hero, was shot down twice – once over France and later in Korea – and escaped both times, responsible for 21 kills from the cockpit of his P-47 Thunderbolt in the European Theater of World War II and in the Pacific. Later, in Korea, he downed four Communist MiG fighter jets. See Bud Mahurin, Fighter Pilot in 2 Wars, Dies at 91 by Richard Goldstein published May 15, 2010 on The New York Times newspaper and Walker M. "Bud" Mahurin, A Top Flying Ace, 91, Washington Post by T. Rees Shapiro Washington Post Staff Writer posted on Google Groups. See Bud Mahurin on Wikipedia, The Free Encyclopedia.
Maloley, Al
100, May 24, 1913 was born in Fort Wayne to Lebanese imigrant parents and died March 20, 2014 from his ALFRED MALOLEY OBITUARY at Fort Wayne Newspapers Legacy.com obituary also posted to his Alfred "Al" Maloley page at Find A Grave. In 1939 he married Julia Ann Ellis of Grand Rapids, Michigan who, at age 93, died August 25, 2006. They had two daughters, Nancy (deceased), who served in the Nixon, Reagan and Bush 41 White House Administrations, and Pamela Morris, formerly of Washington D.C., now of Durham, North Carolina, one grandson Alfred Morris. One brother Edmone and son Michael Maloley, nieces Ginny and Nellie Maloley of Fort Wayne survived. Nieces Judy Elsworth of West Bloomfield, Michigan; nephews David Jospeh of Williamston, Michigan and Mark Newall of Los Angeles, California. With his brother Mike, they founded Maloley's Fine Foods which at their peak employed 1,200 people in 18 supermarkets in northeast Indiana, a bakery and two M&M stamp stores. He was an active community leader discussed in his March 20, 2014 D.O. McComb and Sons obituary. Store photos and his obituary post discussion December 19, 2016 on You are positively from Fort Wayne, if you remember... Archived group only visible to existing members on Facebook.
Maloley, Mary
Born in 1881 Syria died, December 20, 1944 according to her Mary H. "Dago Mary" Maloley page on Find A Grave. 1908 Lebanese immigrant Mary Maloley moved to Fort Wayne to become a landlord and real estate investor with money she had made dealing in diamonds and gems. She gave money to her nephews, Al and Mike Maloley, to start their grocery business Maloley's Fine Foods from Mary Maloley heading in Strangers Among Us by Louise Clamme and Sinuard Castelo published in 2011 available on Google Play. Her funeral service was well attended and she was buried at Lindenwood Cemetery.
March 7, 2016 post by The History Center on Facebook:

In 1908, Mary Maloley became a real estate investor. Learn more: http://ow.ly/ZbaDg #indiana200 #fwhistory

Mary Maloley Funeral Register one of

200 @ 200 2016 Bicentennial items at The History Center.

St. Mary's Flat was on Eureka Street the Red Light District of the early 1900s in Sin in the Summit City by Heyde Mitchell on February 20, 2014 on LivingFortWayne.com. Her bawdy house was on Eureka Street shown September 17, 2017 on the League Park post on You are positively from Fort Wayne, if you remember... Archived group only visible to existing members on Facebook.
She made her money dealing jewels and diamonds in Hartford City. This was right at the turn of the century, and Mary Maloley was successful. So much so she was able to scratch together enough money at the age of 22 to travel back to her native Syria — solo — to bring her niece in tow back to the states. In 1908, she moved to Fort Wayne. Here, she bought up property, took girls in and became one of the most famous — or infamous, depending on how you look at it — brothel operators in this city's history, even gaining influence among the male movers and shakers during that time. There has always been something about the notorious that tends to tingle our senses, and for Allen County Prosecutor Karen Richards, that with a mix of history can provide everyone with a unique sense of where we came from and who we are. This Saturday, Richards will give a free lecture titled "Notable and Notorious Fort Wayne Women" at the downtown library for ARCH, Inc. copied from A little notoriety, a lot of history Local prosecutor's free lecture to focus on the notable — and notorious — women of our city Monday, January 23rd, 2017 on FortWayne.com about the Notable and Notorious Fort Wayne Women lecture at the downtown library. She is discussed around the 58 minute mark of the video ARCH Sin in the Summit City posted Jan 18, 2016 by Access Fort Wayne on YouTube shown below. Karen Richards discusses the colorful history of Fort Wayne at the Allen County Public Library. Filmed and edited by Dan Allen for Access Fort Wayne.

September 12, 2020 post by The History Center on Facebook:
Mary Maloley c 1920 in a longer post about immigration
Mann, Susan
With her friend Alida Hubbell were teachers who arrived with Sam Hanna. Alida's brother Woolsey was employed at the State Bank of Fort Wayne. They started a school in the basement of the Allen County courthouse. She married in Hugh McCulloch. There home is on West Superior street. They moved to Washington D.C. when Hugh was appointed Sectretary of the Treasure by Abraham Lincoln. Read more In Celebration of Women's History Month: Fort Wayne Women by Nancy McCammon-Hansen published March 11, 2014 in the History Center Notes & Queries blog. Learn more about Hugh McCulloch and see a picture of Susan at The Father of Modern Banking Hailed from Fort Wayne .
Marshall, Thomas
Vice President 1913, 1917. From Columbia City, Whitley County, Indiana. Lived in Fort Wayne as a teenager.
Martin, Mary Ann Hassett
Mary Ann Hassett was born in Ireland's Tipperary County on May 1, 1842, and at the age of four emigrated to Cincinnati, Ohio. Her husband to be, Patrick Henry Martin, was born in 1840 in Cincinnati and in 1858 the two were joined in marriage at Franklin, Ohio. He was a canaller between Dayton, Ohio, running on the Miami & Erie Canal to its connection with the Wabash & Erie at Junction, Ohio on the Wabash & Erie. Eventually, he operated two boats, landing at ports between Toledo, Ohio, Lafayette, Indiana, and below. After Patrick died in 1871, his wife Mary Ann operated the boats during the last years of the old waterway. After a career as a canal boat master, Mary Ann Hassett Martin died in September 1914 at the age of seventy-two and was laid to rest beside her husband Patrick in the Catholic Cemetery at Logansport, Indiana. Copied from her story Mary Ann Martin: A Northern Indiana Boat Master by Tom Castaldi, local historianpublished March 1, 2017 on Indiana Historical Bureaublog.
Martin, William
A native of Germany, came to American when he was 21 years old, house mover - moved over 700 houses. See his July 9, 1913 Fort Wayne News newspaper obituary
Martone, Anthony Tony
Born December 13, 1932, died April 8, 2014, 81, husband of Patty Martone, a Fort Wayne sports legend, was quarterback for Central Catholic's 1950 state championship team, Commissioner of the PAL Football League for 52 years, in 1967 he was elected president of the Fort Wayne Little League serving five years, and was inducted into the Northeast Indiana Baseball Hall of Fame in 1998. He was survived by sons Michael Anthony (Theresa Pappas) Martone of Tuscaloosa, Ala., and former Northrop football coach Timothy James (Amy) Martone of Fort Wayne and three grandsons, Anthony "Sam" Martone, Nicholas V. Pappas and Benjamin James Martone. Copied from his April 8, 2014 D.O. McComb and Sons obituary and Fort Wayne sports legend Tony Martone passes Was a great baseball and football player, coach and organizer by Blake Sebring published April 9, 2014 in The News-Sentinel newspaper.
Martone, Michael
This One's (Four) You, Michael Martone by B.J. Hollars published April 13, 2016 on Indiana University Press blog. Former Fort Wayne resident Michael Martone wins prestigious writing award by Cindy Larson published June 3, 2016 in The News-Sentinel newspaper. His book Fort Wayne is Seventh on Hitlers List was discussed February 5, 2017 on You are positively from Fort Wayne, if you remember... Archived group only visible to existing members on Facebook. He has 12 books listed on Amazon.com.
Martone, Patti
Former guest columnist for the News-Sentinel newspaper wrote her last COMMUNITY VOICE column July 11, 2012, a recall of her Spring 1989 North Side Alumni Association article, North Side, State Street endure the years of change in my 'State of Mind'. Several newspaper articles about her life: COMMUNITY VOICE As an actress, I got to walk in Patty Martone' shoes, if only briefly by Deborah Dambra published July 2, 2012 in The News-Sentinel newspaper, Local educator, leader Patty Martone dies at 81 by Jeff Wiehe published July 10, 2012 in, and Bettering city was her workpublished July 11, 2012 in The Journal Gazette newspaper. See also Legacy.com obituary and Klaehn, Fahl, Melton Funeral Home obituary with photo gallery. Legendary Locals of Fort Wayne, by Randolph L. Harter, Craig S. Leonard discussion July 31, 2015 on You know you've lived in Fort Wayne too long when... Private Facebook group. Patty Martone, a longtime fixture of Fort Wayne Community Schools, died early Monday morning, her family said. She was 81. Martone served as Fort Wayne Community Schools' assistant superintendent from 1982 to 1986, when she retired after being diagnosed with colon cancer. Martone was a fixture in the FWCS serving as an English teacher at Central High School on Lewis Street for 12 years, dean of girls for Central and Northrop high schools for nine years and holding various administrative roles in the district's central office. "I left my heart on Lewis Street," Martone once said of Central, now Anthis Career Center. "From the day she started, way back at Central, she just loved kids," said Tony Martone, her husband of nearly 60 years. Martone was an avid writer and long-time guest columnist for The News-Sentinel. She wrote Northrop High School's fight song and named the school's newspaper and yearbook. From Longtime educator, guest columnist Patty Martone passes away published July 09, 2012 in The News-Sentinel newspaper.
Mason family
Mason Family History - And A View of the Past by Cindy Cornwell published August 31, 2005 on The Waynedale News.com.
Matteson

, Bradley W.

A police officer killed in line of duty October 5, 2000. Officer Matteson (age 43), a 19-year-veteran with the Fort Wayne Police Department, was pronounced dead at 6:30 a.m. at Parkview Hospital with massive head injuries after his patrol car collided with a tractor-trailer rig. Officer Matteson was survived by a wife and three children.
Maxwell, Marvel Marilyn
August 3, 1921 – March 20, 1972, the other Marilyn, attended Central High School, was an usher at the Rialto Theater in the mid-1930s, and dropped out of school in her sophomore year to join an Indianapolis band as a singer. ... still a teenager when she signed with MGM, whose owner Louis B. Mayer convinced her to drop her first name. In more than 30 movies beginning in 1942, she played opposite legends like Clark Gable, Mickey Rooney, Gene Kelly, and Kirk Douglas. Maxwell is remembered for singing the Christmas carol classic "Silver Bells" which debuted in the movie "The Lemon Drop Kid" with Bob Hope. She and Hope traveled widely doing USO Tours during World War II and the Korean Conflict and had a longstanding relationship. Copied from page 101 of Legendary Locals of Fort Wayne, by Randolph L. Harter, Craig S. Leonard and discussion August 15, 2015 by Randy Harter, Fort Wayne historian and authoron You know you've lived in Fort Wayne too long when... Private Facebook group. Also February 20, 2018 and April 12, 2019 discussions on You are positively from Fort Wayne, if you remember... Archived group only visible to existing members on Facebook. See Marilyn Maxwell on Wikipedia, The Free Encyclopedia.
McBride, James Joseph
James Joseph McBride (1923 - 1980) was active/lived in Indiana.  James McBride is known for Landscape, seascape and portrait painting, illustration. Copied from James McBride on askART.
McCaulay, Timothy
Fort Wayne head attorney and Allen County prosecutor's office and a number of other entities during a long legal career spanning decades. As health fades, McCaulay gets Sagamore by Jeff Wiehe published February 3, 2016 in The Journal Gazette newspaper. Attorney who served city, county dies at 66 by Rebecca S. Green published February 5, 2016 in The Journal Gazette newspaper. His first wife, Janet, died from cancer in August 1999. Survived by his second wife of nearly 15 years, Sharon, son Phillip; two stepsons, Michael Milholland and Mark Milholland; an infant granddaughter; two step-grandchildren; his mother, Beth Ann McCaulay, and four brothers and two sisters. He was preceded in death by his father, John Francis McCaulay. February 7, 2016 obituary at Dignity Klaehn, Fahl, Melton Funeral Home.
McChessney, Maureen
"1948 when McChessney was born. Her mother, who wasn't married, raised her until she was 2 and then put her up for adoption. McChessney's birth mother remained in her life, though. McChessney knew her as her aunt, an awfully devoted aunt. ... McChessney saw her father only three times, but in one of those meetings, he told her she had a sister, and he even told her where she worked, but he instructed McChessney not to talk to her." Read how two British half-sisters are reunited in 2012 Fort Wayne, Indiana in the newspaper article Half sisters finally united by Frank Gray of the Journal Gazette newspaper September 13, 2012.
McConahey, Isabel
Born November 28, 1824 to John McConahey in County Antrim, Ireland. See Isabel McConahey.
McConahey, John
Born March 18, 1815 to John McConahey in County Antrim, Ireland 1818. Immigrated from Ireland to US with parents. See John McConahey.
McConahey, Nancy
Born February 15 1817 to John McConahey in County Antrim, Ireland, October 15, 1842 married Hugh Kerr in Ireland 1846 Apr 29 . See Nancy McConahey.
McCoy, Mike
Mike McCoy, Fort Wayne's first Mr. Basketball and the first 7-footer to play Indiana high school basketball, died Feb. 15 in Battle Creek, Michigan. McCoy, who led South Side to the 1958 state championship, was 81. South Side finished 28-2 and was ranked No. 1 for most of the 1957-58 season with McCoy leading the way with 17 points and 14 rebounds per game. The Archers also won the city title when four of the five Fort Wayne teams were ranked among the state's top 15. He is survived by his wife, Helen, children Deb and Bill and four grandchildren. Copied from Archers' basketball icon dies at age 81 by Blake Sebring in The Journal Gazette newspaper.
McCulloch, Hugh
Namesake of McCulloch Park, formerly Broadway Cemetery the city burying grounds in the early 1800s where his wife Eunice who died at age 26 on February 29, 1836 was buried, then moved when Lindenwood Cemetery opened in 1860. His McCulloch House is still standing.
President Lincoln appointed Hugh McCulloch as U.S. Secretary of the Treasury in March, 1865. McCulloch was a business man from Fort Wayne, Indiana, who, before his appointment, was Comptroller of the Currency, responsible for chartering, regulating, and supervising national banks. Upon Lincoln's death, Secretary McCulloch issued an order from the Treasury Department ordering that all department employees wear black crape on their left arms for six months in mourning for the President.

Hugh McCulloch: https://www.lincolncollection.org/search/results/item/... Treasury Department order following Abraham Lincoln's death: https://www.lincolncollection.org/search/results/item/...

Copied from a March 15, 2002 post by the Lincoln Collection at the Allen County Public Libraryon Facebook .
McCulloch was buried in Rock Creek Cemetery in Washington. His grave is marked: "Hugh McCulloch Dec. 7 1808-May 24, 1895 Comptroller of the Currency 1863 Secretary of the Treasury 1865 to 1869, and in 1884 'Justice and Judgment are the habitation of Thy Throne. Mercy and Truth shall go before Thy face.'" His second wife, Susan lived until July 25, 1898, devoting her remaining years to writing her autobiography "The Recollections of Susan Man McCulloch". In 1981, they were presented to the Allen County-Fort Wayne Historical Society. Copied from The Father of Modern Banking Hailed from Fort Wayne by Nancy McChamon published July 26, 2012, and Hugh McCulloch: Lincoln's Choice published August 21, 2014 and his son John Ross McCulloch published August 29, 2013 both by Tom Castaldi on the History Center Notes & Queries blog. Hugh McCulloch: Father of Modern Banking book is available from The History Center.
McDonald, Ranald Trevor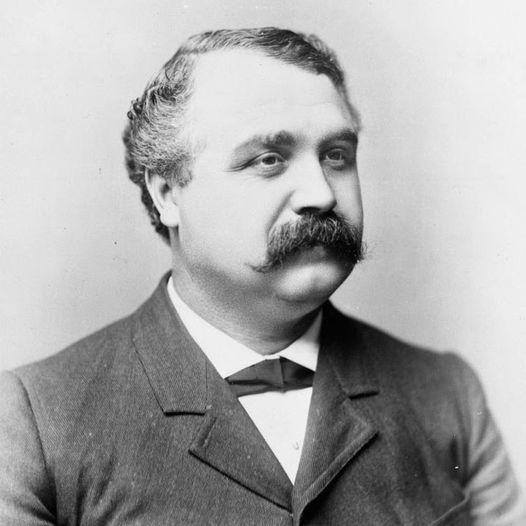 Electric Works Facebook photo
24 Jun 1849 Allegheny County, Pennsylvania to Christmas Eve 24 Dec 1898 from Ranald Trevor McDonald memorial at Find A Grave. On Christmas Eve in 1898, Ranald T. McDonald, business magnate and general manager of the Fort Wayne Jenney Electric Light Company, died on a trip to Texas. JELC was put into receivership until the next year, when the General Electric Company of Schenectady, New York, acquired the plant and kept its story alive. Copied from a December 24, 2022 post by Electric Works on Facebook. See Ranald T. McDonald House.
Back to top
McGauley, John
John McGauley takes lots of amazing photographs including drone photos of local sites posting on flickr as John McGauley. Some of his photos are posted on our Allen County Courthouse, Fort Wayne Resources, General Electric, MLK Martin Luther King bridge, Parkview Field, and Three Rivers page.
McKeeman, Alexander
Born April 7, 1867 to David & Margaret (McConahey) McKeeman, Allen County. See Alexander McKeeman
McKeeman, David
Born May 21, 1821 in Ballyoglaugh by Mosside, County Antrim, Ireland to William McKeeman. See David McKeeman.
McKeeman, David
Born February 8, 1871 to David & Margaret (McConahey) McKeeman, Allen County. See David McKeeman.
McKeeman, Donald Harry Cook M.D.
Born January 12, 1904 Fort Wayne to Robert B. McKeeman and Susie M. (Hocker) McKeeman. See Donald Harry Cook McKeeman.
McKeeman, Ellen
Born March 15, 1869 to David & Margaret (McConahey) McKeeman, Allen County. See Ellen McKeeman.
McKeeman, Isobel
Born December 19, 1864 to David and Margaret (McConahey) McKeeman, Allen County. See Isobel McKeeman.
McKeeman, James
Born November 30, 1860 to David & Margaret (McConahey) McKeeman, Allen County. See James McKeeman.
McKeeman, Jennie
Born January 24, 1856 to David & Margaret (McConahey) McKeeman in New York. See Jennie McKeeman.
McKeeman, John
Born March 29, 1851 to David & Margaret McConahey McKeeman in New York. See John McKeeman.
McKeeman, Leland Stanford M.D.
Born November 28, 1898 Monroe, Adams County, IN to Robert B. McKeeman and Susie May (Hocker) McKeeman
McKeeman, Lillian Theodosia
Born July 11, 1901 in Fort Wayne to Robert B. & Susie May (Hocker) McKeeman. See Lillian Theodosia McKeeman.
McKeeman, Margaret
Born Feb 8 1855 to David & Margaret McConahey McKeeman in New York. See Margaret McKeeman.
McKeeman, Maria Catherine
Born July 20, 1853 to David & Margaret (McConahey) McKeeman in New York. See Maria Catherine McKeeman.
McKeeman, Nancy
Born 1862 in Allen County to David & Margaret (McConahey) McKeeman. See Nancy McKeeman.
McKeeman, Robert Benjamin
Born February, 27 1874 in Hoagland, Allen County, Madison Township to David & Margaret (McConahey). See Robert Benjamin McKeeman.
McKeeman, Ruth Beatrice
Born April 18, 1907 to Robert Benjamin and Susie May (Hocker) McKeeman at Fort Wayne. See Ruth Beatrice McKeeman.
McKeeman, William
Born March 27, 1863 to David & Margaret (McConahey) McKeeman Allen County. See William McKeeman.
McMahan, Dr. Deborah
2017 Citizen of the Year: Dr. Deborah McMahan , Fort Wayne-Allen County health commissioner, published December 31, 2017 in The Journal Gazette newspaper. See previous Citizens of the Year.
Meek, Julia
Hosts Northeast Indiana Public Radio's Folk Tales and Meet the Music for many years, and participates in live events such as the Allen County Public Library's Cherry Blossom Festival. Julia Meek page at 89.1 WBOI Northeast Indiana Public Radio. Some Things Never Get Old Lutheran Life Villages Mural at ArtThisWayFW.com. 5 minutes with Julia Meek: 'Meet the Music' legend reflects on 40 years of Fort Wayne art-centricity video at Arts United | Wednesday, May 4, 2022 at Input Fort Wayne. See photos and discussion February 13, 2017 on You are positively from Fort Wayne, if you remember... Archived group only visible to existing members on Facebook.
Meier, Naomi "Sally" 
Naomi Meier was born in Fort Wayne November 17, 1926 and died July 15, 1989. She was an outfielder who batted and threw right-handed when she played with the Fort Wayne Daisies for four years and several other ALL-AMERICAN GIRLS PROFESSIONAL BASEBALL LEAGUE teams from 1946-1953. Her information was posted November 17, 2021 by All American Girls Professional Baseball League Players Association on Facebook and Wikipedia below. For more see Naomi Meier at AAGPBL or Naomi Meier at Find A Grave.
Naomi Meier at Wikipedia, The Free Encyclopedia on November 12, 2022 states:

Naomi Meier″Sally″ (November 17, 1926 – July 15, 1989) was an outfielder who played from 1946 through 1953 in the All-American Girls Professional Baseball League. Listed at 5 ft 5 in (1.65 m), 115 lb., Meier batted and threw right-handed. She was born in Fort Wayne, Indiana.

Well-traveled Naomi Meier moved around for a while, as the AAGPBL shifted players as needed to help teams stay afloat. Basically a line drive hitter and speedy base runner, she collected over 25 stolen bases in five of her eight seasons in the league. An instinctive player with good hands and a strong throwing arm, she also was capable of playing well all three outfield positions. But her best attribute may have been able to adapt and perform well for nine teams and thirteen different rosters in a span of eight years.

Meier entered the league in 1946 with the Rockford Peaches, playing for them one and a half years before joining the Fort Wayne Daisies (1947). Then she found herself on the move again, this time to the Peoria Redwings (1948) and Chicago Colleens (1948), and then the Muskegon Lassies (1949), Racine Belles (1949), Kalamazoo Lassies (1950), followed by a new trip to Fort Wayne (1950–1952). She later was part of the Battle Creek Belles (1952) and played her last season for the Muskegon Belles (1953).

In her rookie year, Meier appeared in 103 games and hit a .249 batting average with a career-high 49 runs batted in while scoring 44 times. Her most productive season came in 1948, when she posted career numbers in hits (100), at-bats (450), runs scored (54), stolen bases (55) and games played (127), adding a .222 average and 47 RBI. She raised her average to a career-high .261 in 1950, while collecting a second-best 34 stolen bases in 99 games.

In 1951, Meier suffered a season-ending compound fracture of her right ankle while sliding into second base. Used sparingly in 1952, she hit .229 and stole 25 bases in 111 games during the 1953 season, her last in the league. A .258 career hitter, she reached the postseason with the Peaches (1946), Lassies (1949) and Daisies, collecting a .208 average (21-for-201) with one double, seven runs, seven RBI and six stolen bases in 27 games. In 690 games at outfield, she committed only 73 errors in 1226 chances for a .941 fielding average.

In 1988 she became part of Women in Baseball, a permanent display based at the Baseball Hall of Fame and Museum in Cooperstown, New York, which was unveiled to honor the entire All-American Girls Professional Baseball League. It was not really a well known fact until filmmaker Penny Marshall premiered her 1992 film A League of Their Own, which was a fictionalized account of activities in the AAGPBL. Starring Geena Davis, Tom Hanks, Madonna, Lori Petty and Rosie O'Donnell, this film brought many of the real AAGPBL former players a rebirth of celebrity.

Naomi Meier died in Fort Wayne, Indiana, at the age of 62.
Mendenhall, Murray Joseph - Sr., Jr. and III
Murray Joseph Mendenhall, Jr., 88, died Friday, Feb. 7, 2014, born October 22, 1925 in Fort Wayne, a son of Murray and Alice Mendenhall. He graduated from Central High School in 1944, was a member of the 1943 State Basketball Championship team, and a member of Branch McCracken's Indiana Universtiy basketball team. He taught mathematics and coached basketball at Beech Grove and Greensburg, Ind., and at Central, Snider, and South Side in Fort Wayne. Wife was Miriam of 63 years; son, Murray III (Cindy) of Fort Wayne; daughter, Susan (Ken) Nickels of Iowa City, Iowa; son, Tom (Beth) of Indianapolis; and a brother, Keith (Mary Lou) of Harlan; sister, Barbara (John) Campbell. See his February 9, 2014 Legacy obituary or D.O. McComb and Sons obituary.
Mercer, David
Born December 13, 1878 in Allen County, Madison Township to Robert & Nancy (McKeeman) Mercer. See David Mercer.
Mercer, Robert
Born May, 31 1854 in Hancock County, OH to Jacob & Harriet (Whitcomb) Mercer. See Robert Mercer.
Merillat, August
Born June 1836 in Switzerland, 1847 immigrated to America. See August Merillat.
Merillat, Emily
Born February 1874 in Indiana. See Emily Merillat.
Merryman, Shane
A Carroll High School graduate, while on the Huntington University basketball team made the ESPN #1 play of the day HU's Merryman: Buzzer beater the "shot of a lifetime" by Glenn Marini November 27, 2013 on CBS WANE-TV NewsChannel 15.
Mesing, Charles
1916, May 9 - Rusty Nail Causes Death - Charles Mesing Dies After Illness of One Week - Was Well Known Farmer of Allen County - Struck Hand on Nail Last Tuesday. Clipped from The Fort Wayne News09 May 1916, Tuesday, page 14. Clipped by sdswogger on 19 Sep 2021.
Metcalfe, Edwin C.
96, died October 23, 2014 in Oro Valley, Arizona, former vice president and general manager of WPTA-TV, Channel 21, and an active volunteer in Fort Wayne. Survived by a daughter, Judy Hampton, of Houston; a son, Duane Metcalfe of Dallas; his wife, Betty Murphy Metcalfe; four granddaughters and six great-grandchildren. He was preceded in death by his first wife of more than 50 years, Margaret "Tootie," in 2000. Read more in Retired WPTA boss, Chamber leader, big band singer dies by Frank Gray published November 15, 2014 in The Journal Gazette newspaper.
A January 7, 2023 post on Fort Wayne Community Memories on Facebook stated: My Grandpa Fred Myers was born 100 years ago today. Fred Myers Piano put pianos, organs, clocks in Fort Wayne homes, churches, and schools for many decades. included link to the video above.
Meyer, John Christoph
Map of his land purchases 1820-1853 on a portion of the Beaubien Indian Resevation was posted January 31, 2017 on the original Great Memories and History of Fort Wayne, Indiana page on Facebook.
Meyer, J. F. W.
Born in Westphalia, Germany arrived at New Orleans October 3, 1847, founded Meyers Drug Stores in 1860s. He was discussed in March 17, 1901 on page 4 of The Journal Gazette newspaper and reprinted on page 86 in the March 2017 Allen County Lines quarterly publication in the Membership section of the Allen County Genealogical Society of Indiana websiteVolume 41 Number 3.
Miami Indians
See our Indians of Allen County page.
Micheaux, Ellis
February 10, 2023 post by Genealogy Center on Facebook:

February is Black History Month - each Friday this month, we will be featuring stories to recognize and highlight Fort Wayne's African American heritage.

Ellis Micheaux was born in Marshall, Texas on March 19, 1896 to Ellis Micheaux Sr. and Ella Rose Josey Micheaux. Ellis' father supported the family by working as a Preacher.

Ellis attended the Worsham College of Mortuary Science in Chicago. Not able to find work in Chicago, he moved to Danville, IL. Mr. Micheaux returned to Fort Wayne in 1923 and established his first funeral home on Brackenridge St. This business did not get any customers for funerals. The next year, he moved to Marion, Indiana but his business did not succeed there.

In 1925, Ellis returned to Fort Wayne and opened the Micheaux Funeral Home. This time, the business was a success! The funeral home was located at 1338 Eliza Street and was the only African American funeral home in Fort Wayne.

Josie Bryant graduated from South Side High School in 1928. After earning a degree in biology from Wilberforce University, she returned to Fort Wayne and worked as a maid in the China department at Wolf & Dessauer. In 1936, Ellis Micheaux married Josie Bryant and two children were born: Ellis and Judith. Mr. and Mrs. Micheaux operated the funeral home together and she obtained her funeral director's license.

Along with operating the funeral home, Mr. Micheaux was a member of Turner Chapel AME Church and its board of trustees where he served as treasurer. He was active in civic affairs and served on various boards over the years.

Mr. Micheaux operated his funeral home from 1925 until his death in 1952 from leukemia. Following his death, Ellis' wife, Josie, continued to operate the business until 2002. The couple is buried at Lindenwood Cemetery. The Micheaux Funeral Home was the longest continually operating black business in the history of Fort Wayne.

This picture of Ellis is from our Community Album. Memorial cards courtesy of Marsha Smiley Collection: https://www.genealogycenter.info/results_smileymemorials.php

(1952, November 17) "Mortician Ellis Micheaux Dies; Active in Club, Civic Affairs". Fort Wayne News Sentinel,

Leininger, Kevin (2007, February 15) "Black Community Leader Dies". Fort Wayne News Sentinel.

Stith, Hana L. (2005). Illuminating an Ignored Legacy: African American History. The African & African American Society Museum.
Michell, Greg
Has an amazing collection of historic photos, postcards, newspaper articles and more posted on You are positively from Fort Wayne, if you remember... Archived group only visible to existing members on Facebook which is only visible to those members before it was archived which hides from new members. Greg Michell had just a few photos on the original Great Memories and History of Fort Wayne, Indiana page on Facebook. >Greg Michell on Facebook.
William Gregory "Greg" Michell left us on Saturday, February 19, 2022. Greg had a 24-year career in the United States Air Force, spending approximately 17 years overseas, including Vietnam. After retirement, he had several career moves, including stints with J. C. Penney and the Chicago Motor Club here in Fort Wayne. Greg spent over nine years with the Community Transportation Network (CTN) as operations manager, retiring from there in 2015. Greg graduated from Texas Lutheran College with a degree in history, the Community College of the Air Force, and Fort Wayne's International Business College. Greg had a long-time passion for genealogy, spending a lot of his free time researching his family tree. Traveling and walking were close seconds in which he regularly participated. Also, he was a Fort Wayne History Buff. Surviving are his spouse, Corazon "Cora" Yabut (Magtoto) Michell; sons, Nickholas "Nick" Preston, and Mark Bryan Michell, both of Fort Wayne; sister, Darlene (Rick) Lessing of Fort Wayne; brother, James K. (Dora) Michell of Ossian; and several nieces and nephews. He was preceded in death by his parents, William K and Gertrude C. (Rohland) Michell; and sister, Mitzi Kuntz. A memorial service will be held at 10:00 a.m. on Saturday, February 26, 2022 at Klaehn, Fahl & Melton Funeral Home, 6424 Winchester Road, Fort Wayne, Indiana 46819 with visitation one hour prior. Visitation will also be from 4:00 p.m. to 8:00 p.m. on Friday, February 25, 2022 at the funeral home. Burial will be in Lindenwood Cemetery. In lieu of flowers, the family asks you to consider sharing your generosity with the Community Transportation Network (CTN), Catholic Charities, The History Center, or The Genealogy Center (Allen County Public Library). Fond memories and expressions of sympathy may be shared at www.klaehnfahlmeltonfunerals.com for the Michell family. Copied from his Klaehn Fahl Melton Funeral Home obituary.
Miller, Charles
Went to Central High School, a unique groundbreaker as Tula from Tulisa's, Up The Street, Katy's Kapers, and Show Director at After Dark Nightclub 112 E. Masterson Avenue.
Miller, Jeanne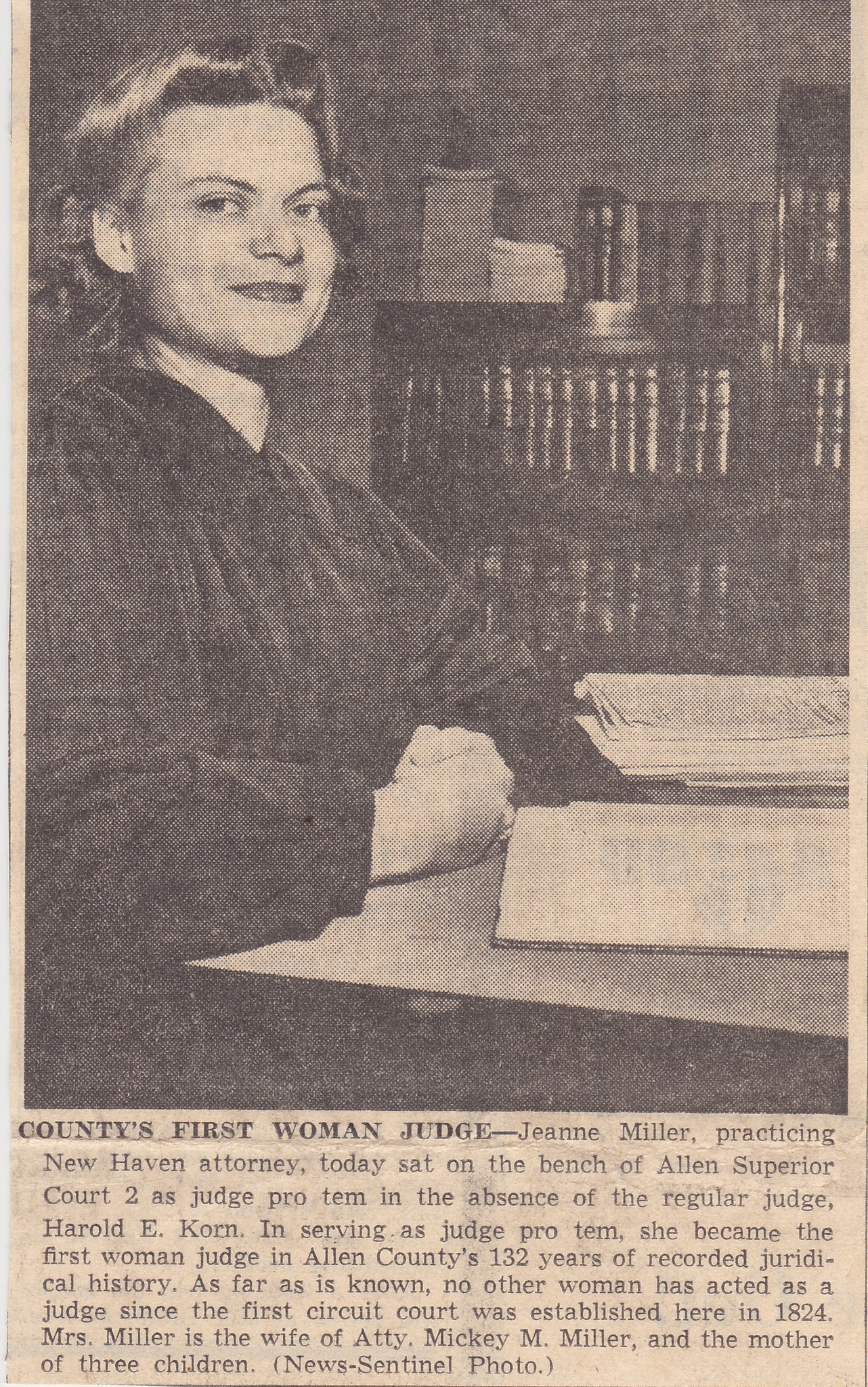 newspaper clipping
First woman judge in 1956 newspaper article:
Miller, Milton
ACGSI newspaper image

July 30, 1951 The News-Sentinel photo:

A Five-Generation Family- five generations are represented in the above family group. Eighty-four-year-old Mrs. Milton Miller, of Fort Wayne, is shown, seated left holding her great-great granddaughter, three-month-old Jerri Ellen Snowball, also of Fort Wayne. Mrs. Miller's daughter, Mrs. William Hartman, of Columbia City, is seated right. Mrs. James Snoweball, Mrs. Miller's granddaughter, is standing rear with her son Robert Snowball, Mrs. Miller's great-granson. Both are from Fort Wayne.

Posted February 3, 2023 by Allen County Genealogical Society of Indiana on Facebook.
Miller, Private Nelson
From the Smithsonian National Air and Space Museum Boeing B-29 Superfortress "Enola Gay" "Colonel Paul Tibbets,...the Group Commander...named the B-29 that he flew on 6 August 1945 Enola Gay after his mother. In the early morning hours, just prior to the August 6th mission, Tibbets had a young Army Air Forces maintenance man, Private Nelson Miller, a graphic artist from Fort Wayne, Indiana, paint the name just under the pilot's window." Flickr photo. Originial comment was posted on the History Center on Facebook. Also mentioned in World War II Museum in Auburn published August 22, 2010 on TourFortWayne blog.
Miller, Richard Ewing
Born March 2, 1916, Fort Wayne, Indiana, a 1933 Central High School graduate, a captain in the Army Air Corps and a bombardier. He was killed in Action, January 22, 1943 from wounds received in action over North Africa from Richard Ewing Miller, 0-432352, Captain Bombardier Crew 2posted on DoolittleRaider.com. Originally titled Star honoring local Doolittle Raider rises in mystery about his copper memorial star found in 2008 North Dakota by Frank Gray published March 16, 2008 in The Journal Gazette newspaper. See Doolittle Raid on Wikipedia, The Free Encyclopedia.
Miller, Roger
Longtime umpire leaving his legacy by Jeff Wiehe published January 26, 2015 in The Journal Gazette newspaper.
Millett, Mark
A co-founder of Steel Dynamics Inc., is now its president and CEO. ...the youngest of three children in a family living in "very humble" circumstances in Plymouth, England. His father, who was a prisoner of war for 3 1/2 years during World War II, worked on a shoe factory assembly line for 44 years. His mother helped support the family by pumping gas in a petrol station and ringing up groceries in a supermarket. Read the rest of his story Out of the shadows to take reins at SDI by Sherry Slater of The Journal Gazette newspaper published: September 9, 2012.
Milnor, Cliff
Wrote a gossip column in The Journal Gazette newspapercalled "Lines and Angles".A book Lines And Angles By Cliff Milnor As Excerpted From The Fort Wayne Journal-Gazette Paperback – 1982 by Compiled by Dorothy Conner (Author), Cartoons by Jerry Stewart (Illustrator), Chris Schenkel (Foreword) was discussed March 14, 2018 on You are positively from Fort Wayne, if you remember... Archived group only visible to existing members on Facebook.
Minahan, Lillian M.
Made it aboard a (Titanic) lifeboat, but her husband did not. Lillian M. Minahan was one of the lucky ones. When the majestic ship Titanic smashed into an iceberg about 11:40 p.m. on April 14, 1912, Minihan, who always described herself as being born in Fort Wayne, was among the mostly women and children ushered into lifeboats when the ship started sinking." From A Titanic survivor's Fort Wayne roots by Kevin Kilbane published April 11, 2012 in The News-Sentinel newspaper.
Miner, Charles Winslow
Born January 26, 1866 to Simon P. and Melissa Miner both originally from Ohio who had moved to Columbia City in the mid 1800s. He died in November 1911. He was an early Fort Wayne photographer with a studio at 121 W. Wayne street. Read his story Charles W. Miner, Fort Wayne Photographer by Tom Castaldi, local historianposted March 29, 2016 on History Center Notes & Queries blog. See a large photo Interior of Charles Miner's photographic studio in Fort Wayne, Indiana on the Digital Image Collections of the Indiana Historical Society.
Milton, Bobby
1928-2007, the statement Likely the greatest basketball player ever to come out of the city, the six-foot, one-inch Central High School forward joined the Harlem Globetrotters in 1949 as a player and later became its coach and manager. With the Globetrotters for 34 years, he played over 8,000 exhibition games in more than 100 nations, as well as on the deck of the aircraft carrier USS Enterprise. on a Legendary Locals of Fort Wayne, by Randolph L. Harter, Craig S. Leonard discussion August 16, 2015 on You know you've lived in Fort Wayne too long when... Private Facebook group.
Moellering, Alfred W.
Superior Court Judge Alfred - 86, born December 13, 1926, died June 2, 2013, son of the late William and Hilda Moellering, he was raised in Fort Wayne. He graduated from South Side High School in 1945, Indiana School of Business in 1951, and Indiana University School of Law in 1953. He was a World War II Army veteran. A member of St. Paul's Lutheran Church. He was appointed U.S. Attorney for Northeast Indiana District by President Kennedy in 1962, serving until 1970. Elected Superior Court Judge in 1971, he retired in 1991. Active in the Allen County Democratic Party, he ran for mayor of Fort Wayne in 1955. He was survived by his wife, Carol; daughter Caroline Moellering of Chicago; son, David (Linda) Moellering of Fort Wayne; grandchildren: Fiona Gallagher, Fintan Gallagher and Sadie Gallagher; and step-granddaughter, Jill Norris; and step-great-granddaughter, Emilia Norris. Information from an email from his daughter Caroline, his June 5, 2013 obituary and newspaper article Moellering was respected mentor, colleague, father by Sarah Janssen published June 5, 2013 in The Journal Gazette newspaper. A May 7, 2023 post with photos discussed a home built by H. Edward Moellering on True Fort Wayne Indiana History on Facebook
Mollberg, Erik
July 14, 2017 the assistant manager for Access Fort Wayne at the Allen County Public Library and the manager of the library's low-power, community radio station, WELT, 95.7-FM, died Friday after being seriously injured about 8:30 a.m. that morning in a traffic accident at Leesburg and Rapp roads near the Allen-Whitley County line. Died after being injured in a traffic accident Friday morning. Copied from Late local public-access TV, radio staff member inspired many by Kevin Kilbane published July 15, 2017 in The News-Sentinel newspaper. See his obituary posted July 19, 2017 on WELT 95.7 FM - Fort Wayne Community Radio on Facebook and obituary at Swem Chapel Starks Family Funeral Homes & Cremation Services.
Montgomery, Charles L. Smoky
84, of Fort Wayne, died September 16, 2006. Surviving were his wife, Eva Gae Montgomery; sons, Charles L. Jr. (Linda) of Atlanta, Ga. and Roger (Joanne) of Albion; brother, Joe (Janice) Montgomery of Austin, Texas; granddaughter, Angela Eva-Marie Montgomery Budd (Tim) of Downingtown, Pa.; and great-grandson, Roman Peter Charles Budd. See his September 20, 2016 obituary in Fort Wayne Newspapers , or Find A Gravepage and former Wells Street store location posted March 9, 2016 and August 5, 2017 on You are positively from Fort Wayne, if you remember... Archived group only visible to existing members on Facebook.
Moritz, Aloyse Weezie C.
91, born December 20, 1923, daughter of Madeline and Ongle Moritz, died March 22, 2015. During WWII decoded Japanese communications in Washington D.C., in Fort Wayne became editor of the society newspaper page, taught history and anthropology, retiring in 1984 at Elmhurst, volunteered for the Red Cross and Mathew 25. She visited all seven continents, including the Soviet Union in 1964 and Antarctica in her 70s. Read more in Moritz, editor, teacher, dies at 91 by Frank Gray published March 24, 2015 in The Journal Gazette newspaperand her D.O. McComb and Sons obituary.
Moore, John
Worked for the CIA as an analyst from 1963 to 1970. He was awarded the medal for Civilian Service for his time spent in Vietnam, as well as, the CIA Certificate of Exceptional Service. Mr. Moore grew up in southeast Fort Wayne, graduating from South Side High School in 1954, immediately enlisting in the Army, where he served for three years. Copied from JOHN MOORE, LONGTIME SUPPORTER - Community Spotlight by Camille Garrison published April 22, 2016 in The Waynedale News.com.
Moores, Richard Arnold
Nine week story in 1975 about saving the Embassy Theatre in his comic strip "Gasoline Alley". December 12, 1909 – April 22, 1986 was an American cartoonist whose best known work was the comic strip Gasoline Alley, which he worked on for nearly three decades. ... Moores was born in Lincoln, Nebraska on December 12, 1909. After graduating from high school in Fort Wayne, Indiana, he attended Fort Wayne Art School. He also received a year of training at the Chicago Academy of Fine Arts before spending five years working for Chester Gould on Dick Tracy. While working for Gould in Chicago, he met and married Gretchen, a musician. ... Moores introduced local events into the comic strip. At the same point that Fort Wayne residents were trying to raise money to save a grand old theatre, the Embassy, from the wrecker's ball, and to restore it, the characters in Gasoline Alley were trying to do the same with their Emboyd Theatre. Even many Fort Wayne residents were unaware that their theatre had been originally called the Emboyd, named after Emma Boyd, daughter of the owner. (For that matter, neither of the Fort Wayne newspapers carried the syndicated Gasoline Alley strip. Read the rest of his biography on Wikipedia and his cartoon biography.
Moring, Laura Grace Bradley
May 22, 2023 post by the Genealogy Center on Facebook:

It's Mortarboard Monday! In honor of graduation season, we're sharing biographies from the 1894 Central Grammar School class in Fort Wayne to see where their paths took them after graduation.

Did you know our yearbook collection is searchable in our catalog? Start exploring here: https://acpl.lib.in.us/explore-genealogy/our-resources. . Some are available to view digitally!

Laura Grace Bradley was born in Adrian, Michigan in 1876 and was a graduate of the Central Grammar School class of 1894. Laura attended Indiana University at a time when very few women were going to college. She played tournament basketball and was a member of the Phi Beta Phi sorority. After completing her education, Laura worked as a teacher in the English department at the old Fort Wayne High School.

On June 30 1910, Laura married John Edwin Moring. The couple had one son, John Bradley Moring, who was born in 1914, when Laura was 37.

Throughout her life, Laura was active in the community. She served as founder and the first President of the Fort Wayne Woman's Club, and as a trustee and board member of the Fort Wayne Art Institute. She was also active for many years with the YWCA and was a charter member of Community Concerts Inc. and was named honorary Director upon her retirement in commemoration of her service to the organization.

Laura died on November 21, 1977 at the age of 101. Services were held in the McMillen Chapel of the First Presbyterian Church in Fort Wayne and Mrs. Moring was buried in Lindenwood Cemetery in Fort Wayne.

(1977, November 22). Laura Moring's services Friday. Journal Gazette, 3C.
Morris, Bob
A Fort Wayne state representative in 2012 generated worldwide newstory controversy when he was the only Indiana state legislator to not sign a declaration celebrating the 100th birthday of the Girl Scouts of America.
Morris, Mary
A Holly Grove, Arkansas native lived in Fort Wayne for 44 years, died December 18, 2014. She worked to improve local neighborhoods in the Oxford Community Association area on the city's southeast side. Remembered with the  Mary L. Morris Memorial Parkway a portion of Rudisill Boulevard dedicated by Mayor Tom Henry July 25, 2015 discussed in Parkway street designation to honor late, longtime local neighborhood champion by Kevin Kilbane published July 23, 2015 in The News-Sentinel newspaper.
Morris, Samuel (Prince Kaboo)
Prince Kaboo was born in 1873 to a tribal chieftain of the Kru Tribe in Liberia Africa. Imprisoned after a war with another tribe he escaped to Monrovia and where he met Miss Knolls at a church who was a missionary and graduate of Fort Wayne College, now Taylor University formerly of Fort Wayne, now Upland, Indiana. He attended Fort Wayne Bible College after learning English from Miss Knoll. His name was changed by Miss Knoll to honor her benefactor, a banker from Fort Wayne. In December 1891, Morris arrived on the Fort Wayne campus. He died on May 12, 1893 from a severe cold at Saint Joseph Hospital, he was buried in Section 14 Jordan Crossing in Lindenwood Cemetery..
Taylor University has several pages on their web site: Samuel Kaboo Morris , Samuel Morris' Impact The continuing story, Samuel Morris StoryThe Search for Samuel Morris, and Buildings and Monuments Samuel Morris residence halls.
SCAA & Taylor University Take Sammy Morris Back Home about taking his statue back to Samuel Morris Educational Resource Center in Farmersville, Sinoe County, Monrovia, Liberia, Africa.
Sammy Morris' Gravesite memorial page at Taylor University has a photo of his original gravesite at Lindenwood Cemetery. Although the original burial location is no longer known, it was moved and he was rememebered with a large memorial stone.
Find A Grave memorial page.
Samuel Morris at The Malachi Project.
Prince Kaboo (Samuel Morris) Makes His Mark in Fort Wayne History posted March 9, 2015 by Visit Fort Wayneblog.
Samuel Morris & the march of faith by Baldwin, Lindley J - Class of 1886 - Taylor University; publication date 1942, a 14 day book loan at Internet Archive.
The Samuel Morris Faith Fund was started by a Sunday School Class in New York. Jorge Masa, a member of Taylor University Class of 1928, directed a movie about Samuel Morris called "Angel in Ebony".
Samuel Morris also know as Prince Kaboo by Brother James of Knoxville, Tennessee
Samuel Kaboo Morris on Wikipedia, The Free Encyclopedia.
The Story of Samuel Morris -Torchlighters a 32 minute cartoon movie by Ramiro published Dececmber 30, 2017 YouTube
Thoughts on Samuel Morris by metamorpheus posted January 4, 2012 on 35 Years in the Cockpit From the mind and heart of Bob Elrod blog.
Samuel Morris: A Spirit-filled Life, Issue 33 by Stephin Merritt, Thaddeus; Constantine Reade; Golden Rule Publishing Company, 1908 on Google books.
Prince Kaboo by Nancy McCammon-Hansen published November 12, 2013 on History Center Notes & Queries blog.
In 1928, his simple gravestone at Lindenwood Cemetery was replaced with a larger marker by that year's graduating class. From a May 12, 2022 The History Centerpost with several photos and more information on Facebook.
Morrow, Denver C.
86, formerly of Ossian, died November 9, 2017 at the home of his daughter, Pam (Mike) Halley in Elkhart. Survived by son, Dennis; five grandchildren; 14 great-grandchildren; one great-great-grandchild; sister, Jeanne Draper; and special friend, Lou Turner. His wife Irma died in 1999 and son, Randy. Denver was one of Joe Taylor's Red Birds, legendary local country group. Burial at Grand Prairie Cemetery, Marion, Ohio. Obituary was published in Fort Wayne Newspapers on November 12, 2017.
Moses, Win
Winfield "Win" C. Moses Jr., born February 20, 1943 and graduated from South Side High School in Fort Wayne in 1960. He then went on to Indiana University, where he graduated in 1964 with BA degrees in Economics and Philosophy and an MBA in 1966. He also received an honorary PhD in Political Science from the Indiana Institute of Technology in 1998. City Councilman from 1972 to 1979, City Council President in 1973 and 1979, was elected Mayor, serving from 1980-1987, was defeated in the 1987 election by Paul Helmke. He then served as the State Representative of Indiana House District 81, a position he held from 1992 to until his 2012 defeat for re-election by Martin Carbaugh (R-Fort Wayne) on November 6, 2012. Copied from Winfield Moses on Wikipedia, The Free Encyclopedia. Civil rights leader Vernon Jordan was shot by a sniper at the Marriott Hotel on Coldwater Road in 1980. The city won an "All America City" designation, gained a reputation as the City that Saved Itself for the 1982 efforts of thousands of flood-fighting volunteers, and saw its downtown rejuvenated with numerous construction projects. 1983 International Harvester decided to close its local plant and move the operations with thousands of good paying jobs to Springfield, Ohio. Standing behind the meat counter at Pio Market on East State Boulevard one day in late October 1987, butcher Jack Didier offered an insightful observation on local politics. You can say what you want to about Win Moses, he said as he wiped his hands on his apron, but you can't say he's been dull. Copied from The rise and fall – and rise – of Win Moses by Mike Dooley published in 1980-1989: HOT POLITICS, COLD CRIMES in The News-Sentinel newspaper. Mayor Of Ft. Wayne Resigns In Plea Deal, But Plans Return by Eileen Ogintz published July 09, 1985 in the Chicago Tribune. FORT WAYNE MAYOR IS OUT, THEN IN by E. R. SHIPP published in 1986 in SPECIAL TO THE NEW YORK TIMES.
Mossman, William and Lois
Photos of the William & Lois Mossman House were posted June 17, 2022 by ARCH ( Architecture and Community Heritage) on Facebook. They posted: This c. 1888 Queen Anne house on West Washington Boulevard has original fish scale slate shingles on the roof, decorative interior chimneys, decorative wood trim and a trio of arched windows in the front gable. It looks like there was a later addition to the house on the southeastern corner. Perhaps there was a wraparound porch at time. The double front doors are still intact. On the east side of the house, there are three metal fence posts that look like they may have been part of an old fence. One of the early residents of the house were William & Lois Mossman. Mr. Mossman was a partner in Mossman-Yarnelle Company on Pearl Street. The Mossmans were active in Plymouth Congregational Church (The church had previous locations before the 1924 church was built on West Berry Street.) Mrs. Mossman died in 1915. As a memorial to her, Mr. Mossman donated $20,000 to the church for the purchase of its pipe organ. Mr. Mossman died in 1929.
Motter, Thomas A.

Motter was one of seven children and the only one who went to college. His parents divorced when he was a boy and his mother worked hard to provide enough for the family. The Motter family was full of athletes. One sister, Betty, was considered the greatest female athlete in school history. An older brother, Parker, was a four-time Fort Wayne city golf champ. Tom was the starting center (averaging about 10 points a game) for Central High School teams that reached the state finals in 1936 and '37 under coach Murray Mendenhall. Copied from Hoosier pleasure – basketball glory days remembered Motter last surviving player of first IU title team by Pete DiPrimio published January 25, 2013 in The News-Sentinel newspaper.
Movies
See Movies on our videos page.
Muhler, Joseph Charles
Born December 23, 1923 in Fort Wayne, aged 73, he died December 24, 1996 at St. Joseph Medical Center in Fort Wayne. He was survived by his wife of 47 years, Majetta Stewart Muhler; two sons, Dr. Joseph Jr. and James P., both of Fort Wayne, and five grandchildren. See his Memorial on Find A Grave for his obituary and more information. A biochemist, he led the team that came up with the original formula for Crest, a Procter & Gamble best seller, in the 1950's. He started its development in 1945 when the Navy, which had sent him to the Indiana Dental School, stopped supporting him. Muhler with Dr. Harry G. Day, his biochemistry teacher, Dr. Grant Van Huysen of the dental school, and William H. Nebergall, an associate, developed a popular source of stannous (tin) fluoride. Procter & Gamble, underwrote their work in 1949, test-marketed Crest in 1955, and it went on sale nationally the next year as Crest toothpaste. Copied from Joseph Muhler, 73, Dies; Made Crest Formula by Wolfgang Saxonjan published January 5, 1997 in the New York Times newspaper and Fort Wayne native instrumental in pioneering use of fluoride by Rebecca R. Bibbs published July 22, 2017 in The News-Sentinel newspaper. He came to IPFW in 1972 and retired as research professor emeritus and professor emeritus of dental auxiliary education. See Muhler, Joseph C. at the University Archives. See the Joseph Charles Muhler papers, 1919-1997, bulk 1955-1977 A Guide to his Papers at the Indiana University Archives. Joseph Muhler and William Nebergall will be inducted into the National Inventors Hall of Fame on May 2, 2019 in Washington from 2 Fluoride Toothpaste Inventors From IU Win Posthumous Fame by the Associated Press posted January 22, 2019 by Indiana Public Media.org. The Crest toothpaste slogan was look mom, no cavities one of the 20th Century's greatest leaps forward in public health shown in Look Ma! a video by Eric Olson, 21Country Featured Reporterpublished January 25, 2019 on ABC WPTA21.com TV station.
Muhn, John Roland
He was born June 24, 1891, in Auburn and died in September 1985, age 94. He was Santa Claus, and his wife Ann was Mrs. Claus, for over 50 years starting in 1926 for St. Vincent Villa Catholic Orphanage orphans. He owned several contracting businesses employing over 140 employees building 40 homes a year. Read more below:
J. Roland Muhn Collection in the William H. Willennar Genealogy Center at the Eckhart Public Library in Auburn, DeKalb County, Indiana.
John Roland Muhn Find A Grave page.
KEVIN LEININGER: Longtime Fort Wayne Santa has been inducted into the Hall of Fame — and his name may surprise you published December 6, 2018 in The News-Sentinel newspaper.
Muller, Gertrude
Born June 9, 1887 in Leo, third child of Victor and Catherine (Baker) Muller, Allen County pioneer residents. Her father, a son of one of Leo's founders, died when Muller and her brother and sisters were children, so the family moved to Fort Wayne. Her mother's parents were Henry J. and Mary Baker. Henry was superintendent of the Old Canal, and Baker Street is named in his honor. He was one of the founders of St. Joseph Hospital and the Cathedral of the Immaculate Conception. Muller's brother, Harry, became a judge. Gertrude Muller died October 31, 1954. Gertrude developed a folding childs toilet seat and started "The Toidey Company" on Taylor Street. Read her story In celebration of Women's History Month: Gertrude Muller by Nancy McCammon-Hansen published March 4, 2014 in History Center Notes & Queries blog.
Musicians
Discussion appear and disappear on various social media and blog sites. Here are just a few.
Myers, Fred