Wikipedia list: https://en.wikipedia.org/wiki/List_of_mayors_of_Fort_Wayne,_Indiana
List of Fort Wayne Mayors since 1840 on the City of Fort Wayne web site and photo of most of those mayors posted July 5, 2018 on Facebook and Twitter. Mayors and Postmasters of Fort Wayne, Indiana on PoliticalGraveyard.com.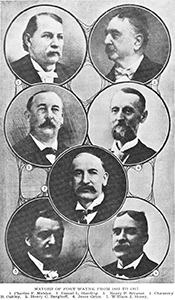 Allen County Community Album photo
See photo Mayors of Fort Wayne 1885 to 1917: composite of portrait photographs of Charles F. Muhler, Daniel L. Harding, Henry P. Scherer, Chauncey B. Oakley, Henry C. Berghoff, Jesse Grice, William J. Hosey. Reproduced from a printed source. Original rather dark. at the Allen County Community Album.
George W. Wood 1840 photo March 22, 2014 on the original Great Memories and History of Fort Wayne, Indiana page on Facebook. Photo of burial site discussed September 14, 2018 on You are positively from Fort Wayne, if you remember... Closed group on Facebook.
Joseph Morgan 1841 & 1942
Henry Lotz 1843
John M. Wallace 1844
Dr. Merchant W. Huxford 1845 - 1849
William Stewart 1849 - 1852, 1855 - 1857
Dr. Philip G. Jones 1852
Charles Whitmore 1853 & 1854
Samuel S. Morss 1857 - 1859
Franklin P. Randall 1859 - 1864, 1869 - 1873
Judge James L. Worden 1865
Benjamin Saunders 1866
Henry Sharp 1867 & 1868
Col. Charles Zollinger 1873 - 1885, 1893, a democrat was elected to six successive two-year terms. In 1891, after being out of office for six years, he was elected mayor for a seventh time. Zollinger's seventh term was for three years, but he died in office in late December of 1893. At the time of his death, Zollinger had served as Fort Wayne's mayor for more than 14 years. Copied from Media, Henry wrong on mayoral facts by G. Stanley Hood in Letters published Janaury 16, 2015 in The Journal Gazette newspaper. See also Colonel Charles A. Zollinger: seven-time mayor of Fort Wayne (1956) Archive.org ebook
Charles F. Muhler 1885 - 1889
Daniel L. Harding 1889 - 1893
Henry F. Scherer 1894, 1897 - 1901
Chauncey B. Oakley 1894 - 1897
Annual message of ... , mayor of Fort Wayne, Ind. with annual reports of heads of departments of the city government for the fiscal year ending .. (Volume yr.1895) - Fort Wayne (Ind.) Archive.org ebook
Annual message of ... , mayor of Fort Wayne, Ind. with annual reports of heads of departments of the city government for the fiscal year ending ...(1896) - Fort Wayne (Ind.) Archive.org ebook
Henry F. Scherer 1894, 1897 - 1901
Annual message of ... , mayor of Fort Wayne, Ind. with annual reports of heads of departments of the city government for the fiscal year ending .. (Volume yr.1898) - Fort Wayne (Ind.) and a second copy Archive.org ebook
Henry C. Berghoff 1901 - 1905
Annual message of ... , mayor of Fort Wayne, Ind. with annual reports of heads of departments of the city government for the fiscal year ending .. (Volume yr.1901) - Fort Wayne (Ind.) Archive.org ebook
Annual message of ... [the] Mayor of Fort Wayne, Indiana: with annual ...(1902) - Fort Wayne (Ind.) Archive.org ebook
Annual message of ... , mayor of Fort Wayne, Ind. with annual reports of heads of departments of the city government for the fiscal year ending (1905) Archive.org ebook
William J. Hosey 1906 - 1910
Annual message of ... , mayor of Fort Wayne, Ind. with annual reports of heads of departments of the city government for the fiscal year ending .. by Fort Wayne (Ind.) Publication date 1906
Jesse Grice 1910-1914 Jesse A. Grice; sheriff and mayor, 1852-1915 - Public Library of Fort Wayne and Allen County, sheriff 1904-1908, mayor 1910-1914 Archive.org ebook
William J. Hosey 1914 - 1918
Sherman Cutshall 1918-1922
William J. Hosey 1922-1926
William C. Geake 1926 - 1930
William J. Hosey 1930-1934
Harry W. Baals 1934 - 1947, frequently and erroneously accredited as Fort Wayne's longest-serving mayor, he served 15 years when he died in office in May of 1954.
Henry Branning 1948 - 1951
Harry W. Baals 1952-5/9/1954
Robert Meyers 1954 - 1959
Paul Mike Burns 1960 - 1963
Harold S. Zeis 1964 - 1971
Ivan Lebamoff 1972 - 1975
Robert Armstrong 1976 - 1979
Winfield Moses 1980 - 1985
Cosette Simon 7/8/1985-7/19/1985
Winfield Moses 7/20/1985 1987
Paul Helmke 1988 - 1999
Graham Richard 2000 -2007
Tom Henry 2008 - 2011, 2012 - 2015, 2016 - present, The last mayor to win three straight terms was Paul Helmke, a Republican who served from 1988 through 1999. Henry is the first Democrat to win a third straight term as mayor and first Democrat to serve a third term as mayor since Charles Zollinger 1873 to 1885. Read more Henry wins 3rd straight term by Dave Gong published November 4, 2015 in The Journal Gazette newspaper.
Meet the Mayor web page