Home > Fort Wayne > Railroad History of Fort Wayne, Allen County, Indiana
Railroad History of Fort Wayne, Allen County, Indiana
Jump to Craigville Depot, ebooks, Events, Findlay Fort Wayne & Western, Fort Wayne & Southern, Grand Rapids & Indiana, Headwaters Junction, Information, Interurban, New York Central, Nickel Plate Railroad, Pennsylvania Railroad, Photos, Records, Public Transportation, Social Media. See also Baker Street Station, and Walter Sassmannshausen.
Six railroad lines served Fort Wayne: New York Central, Wabash, Nickel Plate Road, Pennsylvania Railroad, Grand Rapids & Indiana, and Fort Wayne Union Railway.
Map of the city of Fort Wayne, Indiana - Indiana State Library Map Collection

1889 - Map of the city of Fort Wayne, Indiana - Description: This is a 1889 blueprint map of Fort Wayne, Indiana. It has a list and length of the railroad line, population, and largest businesses and their number of employees within the the city. at the Indiana State Library Map Collection at the Indiana State Library Digital Collection .




1889 Fort Wayne Rail Transport Richard M. Simpson, III, 1 May 2020 at Indiana Transportation History.

Railroads in Fort Wayne, 1880 Richard M. Simpson, III, 5 February 2020 at Indiana Transportation History.

1896 Railroad map of Indiana a Library of Congress map

Allen County from the 1896 Railroad map of Indiana at The Library of Congress is shown on the right.

Our Maps page has more Allen County, Indiana maps that show locations of railroad tracks and train stations and more. See Baker Street Station.
January 10, 2023 post by HistoricAerials.com on Facebook:

Track your favorite railways through time with Historic Aerials, the most comprehensive collection of past and present US aerial imagery. PLUS, use the "Topographical Map" feature to determine where old defunct railways once existed! View now for FREE!

The Largest Database of United States Historic Aerial Imagery

Take A Ride In Our Time Machine

All imagery painstakingly orthorectified for searchable and precise geo-locatable data Resolution up to one meter

Search for any parcel of U.S. land and easily toggle through available years (just like a time machine!)
By Michael Hawfield from the archives of The News-Sentinel in the I Remember History online tour of Summit City history from the archives of The News-Sentinel newspaper.

Today, the great arched profile of the former Penn Central Railroad Station on Baker Street, between Harrison and Webster streets, only sadly reflects the pride and excitement the building stirred when it was opened in 1914 - a time when nearly 100 trains from seven railroads arrived or departed Fort Wayne each day.

Many of these trains came from the old Pennsylvania Railroad and the Grand Rapids and Indiana Railroad. The new "Pennsy Station," as it was called, became the principal gateway to the booming industrial city.

Scarcely 30 years after the station was opened, however, many were concerned about the blighted appearance around the building. By 1946, there was a movement to rebuild the Pennsy station as a "Union Station" for all the major railroads serving Fort Wayne. It was to have a public plaza across the street to fill the block between Baker and Brackenridge streets.

Promoters of this plan preferred to see the Nickel Plate (today's Norfolk & Western) rerouted to the already-elevated Pennsylvania tracks. They opposed another railroad improvement idea that called for the elevation of the Nickel Plate tracks that ran through the middle of the city parallel to Main Street. In the end, the decision was made to elevate the Nickel Plate tracks, and that work was completed in 1955. This was hailed as the greatest improvement to the city in half a century, and it opened the entire north side of Fort Wayne to widespread suburban and industrial growth.

To the south, the old Pennsy Station was left unimproved, and development in the southern suburbs slowed dramatically. Today, no passenger trains stop at the station.

Our first train station

The very first railroad depot in Fort Wayne was built in 1851 at the northwest corner of Lafayette and Columbia streets, at the edge of the Wabash- Erie Canal and at the end of a set of tracks that ran down the middle of Lafayette Street.

There, at the canal landing in 1854, the first locomotive to come to Fort Wayne was unloaded from a canal barge that had brought the engine - in pieces - from the port of Toledo.

Assembled in Francis Comparet's nearby warehouse, this locomotive appeared to the thrill of everyone and loudly chugged and smoked its way down Lafayette to the newly formed Ohio & Indiana Railway line south of town. The engine was put to work as the railroad was completed to Chicago (by 1856), and Fort Wayne was ushered into a new age of transportation.

The original Pennsy

In 1856, the Ohio & Indiana became a part of the larger Pittsburgh, Chicago & Fort Wayne Railroad, the predecessor of the great Pennsylvania Railroad. Two years later, local railroad promoters Samuel Hanna and Allen Hamilton built a train station on a section of Hamilton's land along the tracks. (Hanna donated the adjacent five acres for railroad repair shops, later known as the Pennsy Shops.) This station, located between Calhoun and Clinton streets north of the railroad, was the first passenger station built in Fort Wayne - a very pleasant neo-classical building of red brick with white trim.

On the lower level of that first station was a restaurant, and on the second floor was a hotel called the McKennie House between 1863 and 1903.

'Ole Abe' rides the rails

Fort Wayne's first passenger station had the singular distinction of being the only building in Fort Wayne directly connected to Abraham Lincoln.

On Feb. 23, 1860, while he was making his way to New York to deliver his famous Cooper Union Address - the speech that assured his nomination as the Republican candidate - Lincoln stopped in Fort Wayne in the dead of night to change trains.

There is no evidence that he ever left the station - it was 1 a.m. - and only a brief notice in Dawson's Daily News of Fort Wayne noted his passing: "The Hon. Abe Lincoln and wife came from the west this morning at 1 o'clock, on the Toledo, Wabash and Western Railroad, and changing cars at this city, went east."

"Ole Abe" passed through again, on his way back to Springfield, Ill., on March 13, 1860, but again he did not leave the station. In later years, many stories were told around Fort Wayne about how one person or another had seen Lincoln and even spoke to him at the original Pennsy Station. But by then, the martyred president was the stuff of legend.

Thieves and fair-goers

Not all was fine foods and comfortable hotel accommodations in the area around the first Pennsy Station: After the Civil War, pickpockets and other ne'er-do-wells plagued travelers.

One band of "gamblers, confidence men and pickpockets" in particular descended on Fort Wayne in the 1860s. And it was quite a well-organized gang. One incident especially raised the ire of area residents. In 1865, the Indiana State Fair was held in Fort Wayne (for the first and only time), and 20,000 visitors came to the city, mostly by rail. When a train arrived, the thieves would climb into the cars and begin to pick pockets. As soon as they had picked the pocket clean, they marked the back of the victim's coat with chalk so fellow thieves would not waste their time.

All this criminal behavior, it was believed, centered around Carey's Saloon, one block north of the McKennie House and the rail station. "Captain" Carey was a Canadian who set up his saloon after leaving the Union army in 1865.

Things began to get bad around the train station soon after his arrival, but Ed Ryan, a "notorious confidence man and a suspected murderer," was the leader, according to the railroad authorities.

The situation came to a head when Ryan, to his horror, learned that the pocket he was picking belonged to the sheriff of Whitley County, who was trying to board a train.

Ryan was shot while trying to escape and never fully recovered from his gunshot wounds.

The railroad workers had had enough, also. Four hundred railroad men stormed Carey's Saloon and ordered the bartender and his family out. No one could say how a fire got started that night, and the saloon burned to the ground amid the cheers of the crowd.

A "committee" remained behind to make sure all the gang from Carey's understood the new state of affairs and moved on.

--April 18, 1994
The Granite Ridge Builders video At the University of Saint Francis discussing John Bass and the railroads said at the time one of every four people in Fort Wayne worked at the Bass Foundry and there was a saying: Trains keep America rolling, and Fort Wayne keeps the trains rolling.
See Earliest Rails in Fort Wayne by Tom Castaldi published January 23, 2014 on History Center Notes & Queries blog.
See The Fort Wayne Railfan for a comprehensive guide with many photos of Fort Wayne and surrounding area railroads.
Video Facebook post by The Journal Gazette Back to top
"…railroad carriages are pulled at the enormous speed of fifteen miles per hour by 'engines' which, in addition to endangering life and limb of passengers, roar and snort their way through the countryside. The almighty certainly never intended that people should travel at such breakneck speed." — New York Governor Martin Van Buren, 1829.
the railroads amassed numerous yards, shops, and engine facilities, and employed thousands of local residents as engineers, firemen, conductors, brakemen, stations agents, and locomotive and car shop laborers to maintain the railroad's extensive network of freight and passenger trains and the locomotives that powered them. From page 7 of the History section of slick glossy photo filled informative Headwaters Junction proposal. From page 33 Though touted as a modern innovation, high speed rail got its start in the early 19 th Century and Fort Wayne's location in the flatlands of Indiana allowed railroads to operate trains over 100 miles an hour. This was true during the operation of the Broadway Limited, which would reach a sustained 120MPH outside the city.
Headwaters Junction - Nickel Plate No. 765
September 8, 2023 post by the Fort Wayne Railroad Historical Society on Facebook:

79 years old? Doesn't look a day over 30.

Nickel Plate Road steam locomotive No. 765 departed the Lima Locomotive Works seven decades ago to handle the critical demands of wartime railroad traffic and would eventually become a dual-purpose machine operating fast freight and passenger trains across the Midwest. As we've observed, old habits die hard...
September 23, 2023 post by Northern Indiana Passenger Rail - NIPRA on Facebook:

FULL STEAM AHEAD

Kelly Lynch for the Journal Gazette 9/23/23

More than 10 years ago, the promise of a new regional attraction was lobbed into the conversation around redeveloping Fort Wayne's riverfront.

Through a series of studies, community input sessions, donor support and consistent public bolstering, the concept would be described by placemakers and developers as "catalytic" and hailed in The Journal Gazette as "authentic," "iconic" and "family-friendly." It was recommended by consultants and profiled in the city's conceptual riverfront plan. Renderings were drawn up, endorsements were won, and feasibility studies yielded promising results on the economy and tourist offerings.

There was even some property acquired, but there were lingering and often prosaic complications, such as the potential moving of a levee that would delay construction or competing commercial interests for taxable real estate. Those elements kept this grassroots enterprise paused for fairer seas.

Despite the momentum, the project did not materialize as intended in downtown Fort Wayne. Instead, it has moved 38 miles north into Steuben, DeKalb and LaGrange counties. After its first year of operation, it was named Indiana's Best New Experience by the state tourism association.

The push for locating downtown was nevertheless a rewarding dress rehearsal for this brand-new stage.

The region's railroad attractions, operating under the banner of the Indiana Rail Experience, are now the state's best new attraction. Some 51 years ago, the founders of the Fort Wayne Railroad Historical Society took a derelict 1940s steam locomotive monument out of Lawton Park and have since turned it into an international icon.

Like a rewarding day spent at the zoo, the beguiling atmosphere of a concert at the Embassy or the energy of an evening at Parkview Field, Fort Wayne's very own train has a proven worldwide magnetism that endures five decades after it was restored.

The famous train is part of a package of offerings that include wine and chocolate trains, ice cream trains, fall color trains, cigar trains, Christmas trains, festivals, field trips, living history reenactments (and even trains for dogs and their owners!), proving we can take something special or beloved and put it on a train to make it magical.

Amid these community events and a growing fleet of these midcentury time machines, lifelong memories are made, connections are forged, communities are grown and, ultimately, our unique culture and character are saved.

This is not a theme park attraction, but a place where children take their first train ride, generations converge, and high schoolers learn new trade skills, all against the backdrop of these colorful vintage trains that inspire waves and joy among total strangers.

It's no wonder these train trips are near constant sellouts.

These preserved and celebrated icons from our region's industrial heritage contribute directly and meaningfully to our quality of life.

Trails, waterways, towns, shops, restaurants and schools around western Ohio, Angola, Pleasant Lake and southeastern Michigan are now connected by the only tourist railroad in North America to serve three states.

According to the Steuben County Tourism Bureau, the train spurred more than $300,000 in economic activity in the region in just 10 days last year, and city officials from Hillsdale, Michigan, have commented that the trains are "a significant boost to our local economy."

Northeast Indiana, and by extension the tristate area, is now part of the billion-dollar rail tourism industry. The predictions made so many years ago about a regional rail attraction are coming true.

To meet this great, transformational opportunity, the Fort Wayne Railroad is kicking off a $2 million capital campaign this year to increase its programs and capacity.

If you're a business or individual looking to invest in our region, we'd welcome you to join the ranks of supporters such as Steel Dynamics, Progress Rail, Indiana Historical Society, Cameron Hospital, JICI Construction, Trine University, Indiana Northeastern Railroad Company and our great local foundations like Dekko, Steuben, DeKalb and AWS.

These and others are helping us double the size of this freshly cultivated field of dreams and will triple the impact this humble historic train can have.

In the past few weeks, the rail tourism effort has announced the acquisition of a historic station and eight vintage passenger cars from the golden era of rail travel in America.

The Fort Wayne Railroad and its dedicated volunteers from around the country are stacking the bench to eventually create a one-of-a-kind linear cultural heritage experience right in our own backyard.

In an email received this summer, a passenger told how their family had traveled from Anderson, Indiana, to catch one of our train rides in Angola. They described it as a pleasant experience replete with creature comforts that had their children engaged the entire trip. They decided to make a day of it and stopped at a TinCaps game at Parkview Field on their way home, and committed to returning to ride another train later in the year.

While once upon a time we hoped that these attractions would live within a few blocks of each other to create a vibrant downtown adventure, their ability to serve in the tapestry of northeast Indiana's experiences fulfills the promise these ideas made more than a decade ago.

Instead of railroad tracks leading to just one particular downtown or city, all tracks lead to Indiana now.

For more information, visit indianarailexperience.org and fortwaynerailroad.org. Elements of the original downtown railyard park proposal are now part of the newly formed Pufferbelly Junction at 1010 Cass St, Fort Wayne, IN 46808.
PrimeTime39 - Headwaters Junction - March 13, 2020 Season 2020 Episode 11 | 27m 33s Headwaters Junction. Guests - Don Steininger and Kelley Lynch. This area's only in-depth, live, weekly news, analysis and cultural update forum, PrimeTime 39 airs Fridays at 7:30pm. This program is hosted by PBS39's President/General Manager Bruce Haines.
Headwaters Junction looks to combine the appeal of Nickel Plate Railroad coal fired steam locomotive 765 representing our railroading past with the future possibilities of the 21st century utilizing our 3 rivers creating a North River development north of Headwaters Park at the confluence of the 3 rivers in downtown Fort Wayne. Their Tumblr page states: in 2009, 30,000 people bought a ticket in 4 days with a total of 50,000 tickets sold in 16 days of operating the train. Represented in those numbers are people from all 50 states and from 7 countries. Can you imagine the economical impactHeadwaters Junction could have on downtown Fort Wayne? Their About page states: Funding for a feasibility study was approved by City Council in December, 2012 as part of the Legacy Riverfront Development Study.
NKP 765 to be on Let's Talk Trains - Kelly Lynch gave a history of the locomotive as well as discussing its life as an excursion engine on this 120 minute audio for LetsTalkTrains.com on BlogTalkRadio - Saturday March 30, 2013.
Craigville Depot
Project to restore the Craigville Depot brings back a railroad gem by Rosa Salter Rodriguez December 4, 2022 in The Journal Gazette newspaper.
Craigville Depot on Wikipedia, The Free Encyclopedia includes a link to the October 1979 "National Register of Historic Places Inventory Nomination Form: Craigville Depot" at the Indiana Department of Natural Resources.
Northeast Indiana Passenger Rail Association has a blog.
"The Engine That Still Does" – Fort Wayne Locomotive a Tourism Draw Wherever it Goes from Headwaters Junction blog September 17, 2012.
Back to top
Findlay, Fort Wayne & Western
The FFtW&W started life as the New York, Mahoning & Western. The construction of the road began in 1887. It was, at first, designed to take advantage of the natural gas boom of the late 19th century. That boom saw manufacturing ramp up to very high levels due to the availability of cheap fuel in the form of natural gas. By 1895, the railroad had finally reached Fort Wayne. But it also had legal problems at the same time. As reported in the Fort Wayne News of 10 April 1895, a suit was filed in United States Court in Toledo by several small bond holders. They were seeking the court to foreclosure of first mortgage bonds and to have a receiver appointed for the road. The incidents that led to this suit started back in 1890. Copied from longer article Findlay, Fort Wayne & Western Richard M. Simpson, III Uncategorized 22 May 2020 at Indiana Transportation History.
Fort Wayne and Southern
The plan was to build the road from Fort Wayne, through Bluffton, Hartford City, Muncie, New Castle, Rushville, Greensburg, Vernon and Charleston to finally end at Jeffersonville. The plan sounded rather extravagant, but it made sense in the grand scheme of things. ... The Fort Wayne & Southern, like many railroads in Indiana, fell into receivership. The company found itself in a situation where they were still spending money on a route that wasn't completed, in any section, enough to allow traffic to offset the losses. The entire route was sold at foreclosure on 19 January, 1866. But that sale was set aside, and the company continued to flounder until the route was conveyed to new owners on 7 November 1868. Copied from Fort Wayne And Southern Railroad Richard M. Simpson, III Cities/Towns, Companies, Government, Maps, People, Railroads 21 January 2021 on Indiana Transportation History.
Grand Rapids & Indiana
January 2, 2023 photos of abandoned Grand Rapids & Indiana railroad tracks were discussed on True Fort Wayne Indiana History on Facebook. Some of the abandoned tracks are now the Pufferbelly Trail at City of Fort Wayne Parks & Recreation shown at TrailLink by Rails-to-Trails Conservancy in the Fort Wayne Trails system at Trails by City of Fort Wayne Parks & Recreation. Fort Wayne Trails on Facebook, Pufferbelly Run, Walk, and Stroll event, Pufferbelly Trail on Twitter. Lots of Pufferbelly search posts on Facebook.
A History of the Grand Rapids & Indiana Railroad

By Graydon M. Meints

Published by: Michigan State University Press

Description:

With roots in Fort Wayne, Indiana, the Grand Rapids & Indiana Railroad—nicknamed "The Fishing Line" for its connections to attractive Michigan tourist areas—was organized in the mid–nineteenth century to take advantage of the lucrative logging business of the vast forests of the northern Lower Peninsula of Michigan and other potential freight traffic. Once built into northern Michigan, it had an important role in developing the region's tourist industry. Financed and built by officials of the mighty Pennsylvania Railroad system, the GR&I eventually was merged into that company. Using a plethora of newspapers, public documents, and other primary source materials, Meints has crafted an engaging narrative that is easily accessible to the lay reader as well as specialists in railroad and local history. Tracing a thorough corporate history of a fascinating but little-known regional line from its beginning through the early twentieth century, The Fishing Line: A History of the Grand Rapids & Indiana Railroad is a must-read.
December 6, 2022 post by Fort Wayne Trails on Facebook:

A cool look at the W. State Blvd Trail Crossing! 1942 vs 2022.

The 1942 photo was shared February 24, 2023 on True Fort Wayne Indiana History on Facebook.

Street View photo on Google maps shows the current view and location as part of the Pufferbelly Trail. The current bridge was built in 2019. Google has photos showing no bridge back to 2007.

On the surface, the State Boulevard Realignment Project is a story about a failing bridge built more than 90 years ago, a bridge on a significant City street that often flooded because it was built too low, and the realignment of a road with a sharp curve that resulted in numerous accidents near the bridge. ... A ribbon cutting ceremony was held on October 29, 2020. Copied from State Boulevard Realignment Project: Preserving And Protecting A Neighborhood at City of Fort Wayne

Some additional State Boulevard information on our Streets of Fort Wayne page.
February 25, 2023 post by Allen County INfo on Facebook:

See Pufferbelly Search results.

This week the Allen County Board of Commissioners attended the groundbreaking for the next section of Pufferbelly Trail. "This project is many years in the making and we're glad that several people are here today who made this community resource possible," shared Allen County Commissioner Therese Brown. "We're excited to announce that construction has begun on this long-awaited section of trail and thank the Allen County Highway Department for their work on this project."

Many trail partners were in attendance:
Indiana Department of Natural Resources
Fort Wayne Trails
VS Engineering, Inc.
City of Fort Wayne Government Greenways Representatives
Town of Huntertown officials
Allen County Sheriff's Department EV bike unit representative
Neighborhood Association members
trail enthusiasts
and more

February 25, 2023 post by the Indiana State Parks on Facebook: The Pufferbelly Trail had a groundbreaking ceremony this past Tuesday (2/21/23) to celebrate an upcoming 4.3-mile extension. The project was a round one awardee from the Next Level Trails (NLT) grant program. Together with a round three NLT, a 1.78-mile extension project, the Pufferbelly Trail will soon extend from the Northern edge of Allen County and tie into the Rivergreenway in downtown Fort Wayne. https://www.in.gov/.../recreation/grants/next-level-trails/ Read the full story at https://www.21alivenews.com/.../groundbreaking-held.../.
Nickel Plate Railroad
There are over 130 photos in the Nickel Plate Road Collection in the Allen County Public Library Digital Collections at the Allen County Public Library .
Nickel Plate Railroad Marker

Nickel Plate Railroad Marker on Barr Street south of Superior Street from Waymarks.

The full text of the sign reads as follows:

In 1880, the New York, Chicago and St. Louis Railroad, known commonly as the Nickel Plate Road", purchased from the Wabash & Erie Canal the right-of-way through central Fort Wayne. The construction of the railroad on the site of the old canal took place from 1881 to 1882, when William H. Vanderbilt purchased the system.

While the Nickel Plate put Fort Wayne on another major east-west trunk line, the railroad also divided the city, discouraging growth on the north side. The call to "Elevate the Nickel Plate" became a community issue throughout the first half of the twentieth century. In 1947, Mayor Harry Baals signed an agreement with the railroad to elevate the track, but it was not until 1953 that ground was broken for the project. Temporary tracks were laid and construction of the elevation itself began on August 27, 1954; the project was completed on July 29, 1956, inaugurating an era of expansion to the north of the city.

Presented by the Journal Gazette Foundation
July 17, 2023 post by the Genealogy Center on Facebook:

These photos are from our Nickel Plate Road Collection in our Community Album. They contain pictures of the elevation of the Nickel Plate Road (now the Norfolk & Southern) from the opening of the bids and groundbreaking (December 15, 1953) to the dedication (October 4, 1955). All photographs were taken by Sgt. Ellsworth Crick, photographer for the Fort Wayne Police Department, and were the official recording of the progress of the project.

Take a look here: http://contentdm.acpl.lib.in.us/.../collection/p16089coll8
By Randy Harter

2018-08-04

To the delight of those on the south side of Fort Wayne, the side by side Wabash and Pennsylvania railroad tracks running parallel to Baker Street through downtown were elevated during 1911 - 1913. This eliminated the street level bottlenecks on a number of thoroughfares from Hanna Street to Fairfield Avenue. While this opened the south part of town to ease of access and increased development, the Nickel Plate tracks situated between Columbia and Superior streets would continue to create a hindrance to north side development for another 40+ years.

By the 1940's reportedly 51 trains every day came through downtown at street level on the Nickel Plate tracks, resulting in delaying an unbelievable 50,000 vehicles daily. For years, one mayor to the next heard from the constituents the cry "No More Wait – Let's Elevate The Nickel Plate!"

While it had been in the works for a number of years, it was during the administration of Mayor Harold W. Baals that the final agreement was made. This precipitated a grand speaker's platform and groundbreaking at Ewing Street (which crossed the tracks in those days) on December 14, 1953 with the mayor turning the first shovel of dirt for the $8 million project.

Construction didn't actually began until the next year (1954) and while the dedication for its completion was held on October 4, 1955, in actuality, at that point only one of the two tracks on the new elevation had been laid and total completion wouldn't occur until 1956. For the dedication, about 350 officials and invited guests boarded the 12-coach train led by the old No. 767 steam engine at the Fulton Street Crossing (behind Henry's restaurant). The "dedication" train then made the trip east to the new elevated Calhoun Street passenger loading platform where they disembarked for the speeches and a ribbon breaking by forward movement of the train's engine.

The $8 million elevation ended up costing about $9 million and entailed building overhead train crossings at seven downtown streets from Coombs Street to Fairfield Avenue. In 1964 the Nickel Plate merged with several other Midwestern railroads and became the Norfolk & Western. That combine then merged with the Southern Railway in 1982 becoming Norfolk Southern Railway. Today the Norfolk Southern has over 19,000 miles of track connecting 22 states and its Fort Wayne Division employs over 400 people.

This wonderful image was captured in December 1954 by Sgt. Ellsworth Crick, photographer for the Fort Wayne Police Department. Crick took the image from an elevated position at Harrison Street and is looking east. At lower center is the temporary track (later removed) that was laid next to the new concrete piers so that the Nickel Plate trains could still traverse Fort Wayne during construction.

At extreme upper left is part of the Wayne Paper Box Co. at Superior and Calhoun, currently being converted to the Superior Lofts apartment project. Across the intersection to its east now stands the Allen County Justice Center and County Jail. On the southeast corner of this intersection and facing us is the original Trolly (British spelling was used) Bar restaurant, now a vacant lot. Behind and above the restaurant can be seen the gas holder in what is now Don Hall's Old Gas House parking lot. The large dark building at upper right of center is the grocery wholesaler G. E. Bursley at the southeast corner of Superior and Clinton. The Bursley building is still standing and is now home to A Party Apart party and tent rentals.

(Image [in original post] courtesy of ACPL) [Image is titled: Looking east from Harrison toward Calhoun. in the Nickel Plate Road Collection of the Allen County Public Library Digital Collections at the Allen County Public Library .]

A tip of the hat for use of research by Walter Sassmannshausen, and photo enhancement by Daniel Baker.

Randy Harter is a Fort Wayne historian, author of three books on local history, and the history/architecture guide for FortWayneFoodTours.com

This article was discussed August 7, 2018 on You are positively from Fort Wayne, if you remember... Archived group only visible to existing members on Facebook.
Back to top
Fort Wayne Railroad Historical Society has a Fort Wayne Railroad Historical Society YouTube channel.
Back to top
Railroad Events
Fort Wayne's Worst Train Wreck was when a speeding Pennsylvania Railroad passenger train crashed into a freight train in Swinney Park within the city limits on August 13, 1911 by Nancy McCammon-Hansen published April 16, 2014 in the History Center Notes & Queries blog.
October 7, 1947 Grand Rapids & Indiana Railroad passenger train hit an earth mover at crossing on California Road, north of city, at 12:17 p.m. 3 died and 14 hurt.

July 20, 1973 post by The History Center on Facebook:

Exactly 50 years ago today, on July 20, 1973 the calm afternoon was interrupted at 3:40 pm by a train derailment on the Penn Central Line near Thomas Road. 13 of the 110 cars were derailed and a chemical fire ensued. Upon learning that water would be of no use against the chemicals, local firefighters kept watch as the fire was allowed to resolve itself. At 7:20 pm, a red ball of fire brightened the skyline as one of the tankers carrying vinyl chloride exploded. Since vinyl chloride is a toxic substance, nearly 3,000 people were evacuated in a two-mile radius from the site. The following morning most of the residents were allowed to return to their homes. The few that were not allowed lived in the still cordoned off area around the vinyl chloride tanker that was still burning. While most of the damage was confined to broken windows, there was a place of major destruction. The home of Hamer Mann on Lagro Drive was destroyed when a portion of the exploded vinyl chloride tanker hit the dwelling. Today we remember the worst train derailment and explosion to happen in Allen County. #sociallyhistory
Library of Congress American Memory has several 19th century railroad maps
Railroad Photos
A History Center Artifact a Window on the Past video by WISE Web News June 18, 2010 no longer online stated: What you see being rolled out is a map..a blueprint…37 feet long, drawn up in 1925 by the New York, Chicago and St. Louis railroad, showing the railroad right of way along the north side of downtown Fort Wayne…the tracks that were built over the old Wabash and Erie canal bed. This is a planning map, similar to maps used by citys and utilities, showing adjacent properties and businesses, local topography and landmarks…used by the railroad to plan expansion, construction and maintenance work. the detail is remarkable. it shows all the homes and businesses that existed along the old canal nearly 90 years ago…like the rub no more soap factory..the old national handle company factory at Berry and Hanover Steets..and lots of surprises.
Wabash Railroad
2012, December 7 New Haven dedication of a restored 1880's Wabash Railroad depot.

Wikimedia File:Wabash Railroad Depot in New Haven.jpg

New Havenites, both young and old, took a step back in time Friday evening for a look into the city's transportation history at the long awaited opening of the restored Wabash Railroad depot on State Street. ... Inside, the depot looks pretty much as it did when it was built in the 1880s. The freight area was left rough, while the waiting room and station master's office have been painted a yellow similar to its original color. The main exception, of course, is that the depot now has insulation, ceiling fans, heating and air conditioning, a handicap-accessible ramp and guard rail. A unisex restroom has replaced the old "indoor outhouse."

Designed to handle passengers and freight, the west end served passengers, the east was for freight with a station master's office separating the two areas. The depot last served New Haven rail travelers going east to Toledo and west through Fort Wayne to St. Louis in 1964. It was shuttered and left to endure weather extremes, natural deterioration and vandalism until 1988 when NHAHA acquired the deed from Norfolk & Western Railroad, thus saving it from demolition.

Copied from Ribbon cut on refurbished 1880s Wabash Railroad depot in New Haven by Rod King of The News-Sentinel Saturday, December 8, 2012.

Photo above was taken on 4 May 2012 of the southern side of the Wabash Railroad Depot, located at 616 W. Superior Street in New Haven, Indiana, United States. Built in 1890, it is listed on the National Register of Historic Places from File:Wabash Railroad Depot in New Haven.jpg at Wikimedia Commons.org.

Discussed in Indiana Division of Historic Preservation and Archaeology, "Wabash Railroad Depot," Discover Indiana, accessed December 17, 2022, https://publichistory.iupui.edu/items/show/268.

Photo and long discussion on Wabash Railroad Depot, New Haven Indiana posted December 15, 2022 to Historic Structures.
Fort Wayne Public Transportation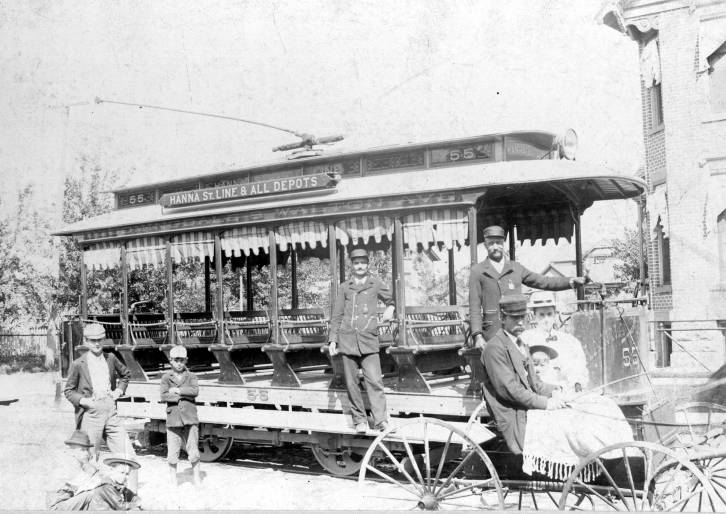 Open electric trolley on Fort Wayne street, possibly 1896. Signs on side of trolley say (top) Hanna Street Line; (middle) Hanna St. Line & All Depots; (bottom) Bloomingdale & Walton Ave. The family in front are sitting in a small buggy (horse not visible). Original has inscription on back 'James W. Bell motor Bowser switch.' This may refer to George Bowser, fireman at Pennsylvania & Fort Wayne Railroad.
This is one
Trolley search
result at the
Allen County Public Library Digital Collections
at the
Allen County Public Library
.
September 6, 2022 post by The History Center on Facebook:

Getting around Fort Wayne was extremely difficult and time intensive in the first 100 years of our existence. The populace either relied on horses and wagons or just their two feet. 1872 saw the introduction of Fort Wayne's public transportation company, the Citizen's Street Railway. This company relied on horse drawn street cars and the first route went north along Calhoun Street from the Pennsylvania Railroad to the Aveline Hotel on the corner of Main and Calhoun. In 1887, the company was in foreclosure and its property was sold to the Fort Wayne Street Railroad Company. During the operation of this streetcar provider, two other companies were established in Fort Wayne, the C.L. Centlivre Street Railway Company and the Lakeside Street Railway Company. The Centlivre line ran from the corner of Superior and Calhoun to the brewery and the other company serviced the Lakeside neighborhood. In 1892 the Fort Wayne Electric Railway Company was established to take over the Fort Wayne Street Railroad Company and convert it to an electrically run system. By 1894, the company had acquired the Centlivre line and was succeeded by the Fort Wayne Consolidated Railway, which in 1899 gave way to the Fort Wayne Traction Company. In 1900, the Lakeside line was brought into the company and in 1904 became the Fort Wayne and Wabash Valley Traction Company and eventually the Fort Wayne and Northern Indiana Traction Company in 1911. Starting in 1901, the Fort Wayne Traction Company and its successors began interurban service to Huntington and in 1906 to Bluffton. By the end of the decade, the company had lines to Ohio and Decatur, all emanating from Fort Wayne. In 1920, the company was sold to the Indiana Service Corporation, who replaced the trolleys with electric trolley buses. During this time at Transfer Corner (Calhoun & Main) one could take a bus to any part of the city. The Indiana Service Corporation continued interurban service that shuttled people between different communities until the service was discontinued in 1942.
September 8, 2022 post by The History Center on Facebook:

Part two: Today we share the final part in the story of Fort Wayne's Public Transit System. Getting around Fort Wayne was extremely difficult and time intensive in the first 100 years of our existence. The populace either relied on horses and wagons or just their two feet. 1872 saw the introduction of Fort Wayne's public transportation company, the Citizen's Street Railway. Through several mergers and purchases it eventually became the Fort Wayne and Northern Indiana Traction Company in 1911. In 1920, the company was sold to the Indiana Service Corporation, who replaced the trolleys with electric trolley buses. During this time at Transfer Corner (Calhoun & Main) one could take a bus to any part of the city. In 1948, the Indiana Service Corporation sold the service to Fort Wayne Transit and by 1960 the last trolley bus was replaced with motor buses. The City of Fort Wayne established the Fort Wayne Public Transit Corporation (today it does business as Citilink) as a public utility and purchased the assets of the private Fort Wayne Transit company in 1968.

Tooting Their Own Horn: Fort Wayne and Northern Indiana Traction Company by Richard M. Simpson, III, Cities/Towns, Interurban 19 January 2021 on Indiana Transportation History blog references a longer article: What has the Traction Company Done for Fort Wayne? 18 Dec 1915, Page 3 – The Fort Wayne News at Newspapers.com. 
Lots of photos for Indiana at NewDavesRailPix.com.
Indiana Historical Society image

Parlor Car No. 504 and Staff, 1905 Description This photograph is of the Fort Wayne and Wabash parlor car, its conductor, and staff. For longer trips, many of the interurbans included a dining section, such as this line to Fort Wayne, Indiana. From the W.H. Bass Photo Company--Pamela Tranfield Memorial Collection at the We Do History digital collection of the Indiana Historical Society

Cincinnati 1906 - Fort Wayne & Wabash Valley 504 at the Illinois Railway Museum states:

Description: Single-end railroad-roof wood buffet-observation

Equipment Information Fort Wayne & Wabash Valley 504, named the "Talisman," was one of the most opulent interurban cars ever built when constructed in 1906. The single-ended car included a baggage compartment, coach seating, buffet for serving snacks and light meals, a parlor seating area, and huge curved-glass solarium windows at the rear of the car. It operated between Fort Wayne and Lafayette for years, later being converted to all coach seating. It was retired in 1932 and its body made into a house; rescued by IRM in 1993, its exterior has been completely restored to its appearance when new.

FUN FACT: The Fort Wayne & Wabash Valley's parlor cars were all named after poems by Sir Walter Scott. When purchasing the body of car 504, it was at first thought to be the "Woodstock" and was only later found to have been named the "Talisman."

$40,000 grant awarded for Indiana interurban car to operate for first time in more than 80 years Heritage Support Grant provided by the Indiana Historical Society and made possible by Lilly Endowment, Inc. to make Indiana interurban car operable for the first time since 1940 posted July 25, 2022 on Hoosier Heartland Trolley Co. Hoosier Heartland Trolley Co. on Facebook.
Allen County Public Library Digital Collection image

Image on the right is titled: Indiana Service Corporation: remains of streetcars at American Iron and Metal Company, North Calhoun St., Fort Wayne. 17 April 1952.

June 1947 was the last run for Frank Carbaugh as conductor of an Indiana Service Corporation street car started in 1892 from the photo titled: Indiana Service Corporation: Frank Carbaugh, first conductor on streetcar in 1892, prepares for last run of streetcar, June 1947.

Another is titled: Fort Wayne Transit: inside trolley showing Frank Carbaugh, former operator, sitting in driver's seat before symbolic last trolley run, 10 June 1960.

There are at least 15 photos from a search for Frank Carbaugh, 15 images for streetcars, over 180 images for streetcar in the Allen County Public Library Digital Collections at the Allen County Public Library.

One title: Indiana Service Corporation: last streetcar run on West Jefferson, 16 May 1939 1.15 p.m., replaced by bus. Tracks laid for horse drawn carts 1874, converted to electric service 1892. Among those on last streetcar (l-r) David Lewis (Board of Works), Henry F. Modemeyer (operator), A. M. Mardaman (bus operator), Josephone M. Zimmerman (Mayor Baals' secretary), W. Marshal Dale (president of ISC), John R. McKay (street railway manager), Robert G. Beams (Board of Works). shows streetcar with bus parked beside it.

Another image: Indiana Service Corporation: last type of electric streetcar used in Fort Wayne. They were purchased in 1923-25 and ended their service in 1947.

Image below is titled: Staff of electric trolley company, Fort Wayne, at old horse-car barn, Glasgow & Washington, ca. 1890. Man in cap & braces, extreme right top is Frank Carbaugh.


Allen County Public Library Digital Collection image



A January 26, 2017 post by Hofer and Davis, Inc. Land Surveyors on Facebook
For "Throwback Thursday" we share this picture taken last week on Calhoun Street outside of Riegel's Pipe and Tobacco Shop. Who remembers the streetcars that ran on the rails seen in this picture? If you look there is one set on either side of the double yellow line, and the other pair about 5 feet closer!

This was shared January 26, 2023 on True Fort Wayne Indiana History on Facebook.
Safety First
Movement In Fort Wayne Launched and Carried Forward In Interest of Broadened Humanity
New York Central
New York Central Railroad or is it the Lake Shore and Michigan Southern Railroad freight house at Clinton and Fourth streets? See photo NYC Freight Depot III by Daniel Baker on flickr.com. More photos at Fort Wayne, IN: NYC/LS&MS/FWJ&S Freight House published September 25, 2017 on Towns and Nature blog. More photos at New York Central Railroad Freight Depot #1 by Christopher Crawford: Documentary Photography. Preservationists are crying foul, and a top city official admits he's surprised. But the owner of a historic downtown landmark is defending Monday's sudden demolition of a 97-year-old train depot, saying its poor condition had rendered it dangerous and of little economic value. Was in an October 12, 2010 story Owners tearing down historic 4th Street depot; City official 'surprised and unaware' of building's demolition by Kevin Leininger. The Central Freight Association was located at the corner of 4th and North Clinton in the 1919 Fort Wayne City Directory.
Fort Wayne is mentioned several times in a search on the New York Central FanGroup on Facebook.
Fort Wayne Pennsylvania Railroad shop - By the turn of the 20th century, its repair shops and locomotive manufacturing facilities became known as the "Altoona of the West." From Pennsylvania Railroads on Wikipedia, The Free Encyclopedia and page 74 in The Pennsylvania Railroad in Indiana by William J. Watt.
Fort Wayne, Indiana Rail Lines an older website at Fort Wayne Railfan.net.
Historic Baker Street Station was the Pennsylvania station opened in 1914. See their History page.
Fort Wayne Railroad Historical Society is on Facebook with lots of old train photos and has a You Tube channel
CITYSCAPES The Pennsy Shops by KEVIN LEININGER from the archives of The News-Sentinel
ACPL Book: History of the Pennsylvania Railroad's Fort Wayne Shops 1966, by Merle D. Rice.
Old train stations sadly reflect Fort Wayne's past by Michael Hawfield published April 18, 1994 from the Cityscapes archives of The News-Sentinel newspaper .
Rail Ways by Kevin Kilbane posted Friday, December 10th, 2021 on FortWayne.com Fort Wayne Newspapers
Some fear it's too late to save old train depot Despite its potential, it may soon follow other landmarks into oblivion was a column by Kevin Leininger published May 01, 2010 in The News-Sentinel newspaper.
Public slow to heed rail safety by Paul Wyche August 7, 2013 in The Journal Gazette newspaper about recent railroad death of a Fort Wayne 13 year old who fell asleep on the railroad tracks now on the Internet Archive Wayback Machine.
Restorer researches local building's history Building's history unknown, but its future looks bright Rosa Salter Rodriguez published October 17, 2013 on the The Journal Gazette newspaper. Not sure what this article was about?
Back to top
Railroad Records
July 31, 2023 post by US National Archives on Facebook:

While you are in transit through Facebook, put on the air brakes and check out our recent National Archives Catalog Newsletter! In this issue, we get an overview of the Cartographic Branch's railroad records. There are more than 69 record groups and 215 series that include maps, architectural and engineering drawings, and aerial photographs that all relate to railroads in the United States, with widespread coverage of regions all over the world.
Alllllll Aboard! Come along for a fast track overview of the Cartographic Branch's railroad records.

Map of the Washington and Alexandria Railroad and its Connections with the Baltimore and Ohio, Loudon and Hampshire Orange and Alexandria Railroads, 1865.
https://catalog.archives.gov/id/102279492
Pennsylvania Railroad
The Baker Street Station was on the Pennsylvania Railroad.
The railroad line that would become the PFtW&C was built in three sections from Pittsburgh west. The main part in Indiana started life as the Fort Wayne & Chicago, incorporated in 1852. The Fort Wayne and Chicago (FtW&C) was to connect the Ohio & Indiana (O&I) Railroad, connecting Fort Wayne to Crestline, Ohio, to Chicago. The Ohio & Indiana, in turn, connected to the Ohio & Pennsylvania (O&P), which connected Crestline to Allegheny City, Pennsylvania. (Allegheny City is now known as the north side of Pittsburgh.) By 1856, the FtW&C had managed to build to Columbia City, 19 miles west of Fort Wayne. ... The PFtW&C would also make Fort Wayne a major rail hub city. Major yards and shops were built there, earning the city the nickname of "Altoona of the West," after the largest railroad facility in Pennsylvania of the PRR. Copied from the longer article Pittsburgh, Fort Wayne & Chicago Railway Richard M. Simpson, III Uncategorized 19 June 2019 at Indiana Transportation History
Social Media and Blog Posts
The Pittsburgh, Fort Wayne and Chicago Railroad became the Pennsylvania Railroad with a nearly 3 mile long block of Pennsy Shops where the downtown Post Office is located. The Bass Foundry was located across the street. "from the Civil War until just past 1900, Fort Wayne was one of the most important railroad centers in the nation." Read more in The Pennsy Shops by Tom Castaldi posted December 18, 2013 on the History Center Notes & Queries blog.

September 15, 2016 post by Hofer and Davis, Inc. Land Surveyors on Facebook

An old, faded photo for "Throwback Thursday". After a visit to the Hofer and Davis, Inc. Wall of Fame from Jerry Hofer a couple of weeks ago from Terrell, Texas, we dug out this photo from 1975! This is the Hofer brothers, Jerry on left and Hans on right, checking out the Historical Marker sign for the PENNSYLVANIA RAILROAD SHOPS. They were part of the crew surveying for the United States Post Office which was built between Clinton and Lafayette Streets, South of Brackenridge…

The Fort Wayne Railfan - Official message board for the greater Ft Wayne area - lots of discussions since 2000, some old time photos of Fort Wayne such as photos of Old City Light in 1952 before Science Central.
Fort Wayne - Historical Aspects has a short history of local railroads including schematics and photos of interurban railroad tracks down the middle of Broadway and old cars on FWARailfan.net.
At least 10 photos of the Baker Street Station in 1972 on Facebook scroll right to the rest on the original Great Memories and History of Fort Wayne, Indiana page on Facebook
Fort Wayne railroad history and old railroad maps? discussion started December 13, 2012 on Indiana Railroads Bull Session.
The Big Four Railroad In Indiana including the Pittsburg, Fort Wayne and Chicago, and the Pennsylvania Central railroads by Ared Maurice Murphy in Volume 21, Issue 2-3, June 1925 Indiana Magazine of History on scholarworks.iu.edu. See Pittsburgh, Fort Wayne and Chicago Railway on Wikipedia, The Free Encyclopedia
Technical marvel dominated rails in Fort Wayne in early 1940s S1 steam locomotive was the biggest of its kind by Justin Kenny published March 3, 2016 in The News-Sentinel newspaper. This article was based on the December 1941 Popular Mechanics magazine which stated the Chicago to Fort Wayne division was the fastest stretch of rails in the land.
The Rise and Fall of Penn Station on American Experience video on PBS.
April 12, 2022 Facebook post by The History Centerhad photos and information on the history of railroads in Fort Wayne.
September 5, 2022 post with photos asked about the turntable or roundhouse for the Pennsylvania Railroad on True Fort Wayne Indiana History on Facebook.

September 15, 2022 post by The Journal Gazette on Facebook:

HISTORY JOURNAL May 13, 1949: Pennsylvania Railroad's Fort Wayne Division showed of pieces of equipment, which included a replica of the original "John Bull" locomotive, that were being sent to Chicago for the Chicago Railroad Fair. More photos and the 1949 story are in History Journal today: May 13, 1949: Old train equipment on display in Fort Wayne

#fortwayne #history #trains #railroad

May 13, 1949: Old train equipment on display in Fort Wayne by Corey McMaken.

History Journal features and stories of historical interest from the archives of The Journal Gazette. Some old railroad equipment was on display in the city on May 13, 1949, as Pennsylvania Railroad's Fort Wayne Division showed off three locomotives and two passenger cars that had been stored in the city. The pieces, which included a replica of the original "John Bull" locomotive, were being sent to Chicago for the 1949 Chicago Railroad Fair. Before they left Fort Wayne, they were put on display for the local public. The equipment had been repaired and painted under the direction of the railroad's master mechanic, J.E. Brower. Though said to be in excellent condition and able to make the trip to Chicago themselves, the five pieces were loaded on flatcars for the trek. The original 1949 Journal Gazette story is below. "Ancient 'Iron Horses' On Parade Here Before Going To Chicago Railroad Fair," by Ivan M'Kathnie (May 14, 1949) The Pennsylvania Railroad's Fort Wayne Division yesterday rolled out the most ancient railroad equipment it could find and, in a display open to the public, turned back the calendar almost a century. It went back to a replica of the original "John Bull" locomotive – the oldest railroad engine in America preserved in complete form. The railroad gave the Fort Wayne public a peek at three of its most ancient iron horses before they are taken to Chicago where they will have an honored place in the pageant "Wheels a Rolling" at the 1949 Chicago Railroad Fair on the lake front from June 25 to October 2. The "John Bull" locomotive, which shades two other Pennsylvania engines also displayed, originally came from England. There it was built by Robert Stephenson in 1831 and was shipped from Liverpool the following July. Copied from a longer article including the original newspaper article.

Central Air Brakes Shop

May 11, 1949 photo of men at the Pennsylvania Railroad Central Air Brakes Shop posted January 19, 2022 on True Fort Wayne Indiana History on Facebook
A November 3, 2022 post of an August 26, 1949 photo showing dozens of Penn RR Car Shops posted on True Fort Wayne Indiana History on Facebook .

February 22, 2023 post by Northern Indiana Passenger Rail - NIPRA on Facebook:

Excerpt from The Local Fort Wayne.

So what's happening with passenger rail service in Fort Wayne, and how does it relate?

As Savage pointed out: There is currently no passenger rail service between Fort Wayne and Chicago via Amtrak. The closest access is Waterloo.

So why doesn't Amtrak stop here? Our railroad source says: "Amtrak's route was inherited from the Pennsylvania Railroad's Broadway Limited, which changed due to railroad track being abandoned and changes in railroad ownership in the 1970s. When parts of the route through Fort Wayne started to atrophy, it made more sense to re-route the train elsewhere while still keeping other major cities/terminals. For a while, it moved to Garrett, and then finally Waterloo. The only towns being serviced today from the original Fort Wayne route are Chicago, Valpo, Pittsburgh, Philadelphia, and New York, so there are plenty of communities along the original Broadway Limited route that were left out as routes changed.

"Once upon a time, there were four tracks along the route of the Broadway Limited (which stopped at Baker Street), and tracks were designated as freight and passenger tracks to keep the system moving. Now, you have one track. If you re-routed Amtrak to Fort Wayne, but wanted to keep Elkhart, South Bend, Goshen, etc, you'd need twice as many crews, because the railroad districts/territories change, and then you'd add another hour or two to the schedule, making a late train even later."

One potential solution to create passenger rail service between Fort Wayne, Chicago and Columbus, Ohio, is being proposed by the Northern Indiana Passenger Rail Association (NIPRA). See their plans here.

As President of NIPRA, Fred Lanahan notes that, despite challenges in the freight industry, "things are looking good" for passenger rail locally. NIPRA's team is getting ready to apply for a grant under the Bipartisan Infrastructure Law, which is providing "unprecedented federal funding for rail improvement projects in America."

Securing this grant could fund 80-90 percent of the project, making it step one of a three-step process to restoring passenger rail service between Fort Wayne and Chicago. Step two is a detailed analysis and engineering of the plan. Step three is construction.

Lanahan says: "We're deep into the grant application process right now, and we should be putting out a press release in the next month or so once the application is submitted. Then, we'll know if we got the grant sometime mid-2024."

If everything goes smoothly, he estimates passenger rail service between Chicago and Fort Wayne could be restored as early as three or four years from now. And while NIPRA's plan doesn't involve the Amtrak line, it could improve freight transit in Indiana by restoring more train infrastructure, investment, and public interest.

April 13, 2023 post by the City of Fort Wayne Government on Facebook:

The City of Fort Wayne has submitted a grant application to the Federal Railroad Administration to further explore passenger rail service from Pittsburgh to Chicago via Fort Wayne and Columbus.

Read more: MIDWEST CONNECT PASSENGER RAIL GRANT APPLICATION SUBMITTED

April 13, 2023 post by Northern Indiana Passenger Rail - NIPRA on Facebook:

City officials eye return of passenger trains in Fort Wayne by: Clayton McMahan, April 13, 2023 on CBS WANE-TV NewsChannel 15.

April 14, 2023 post by by Northern Indiana Passenger Rail - NIPRA on Facebook:

Fort Wayne seeks federal grant for passenger train through five states

James D. Wolf Jr. | The Journal Gazette [April 14, 2023]

Fort Wayne has taken a step toward having a passenger rail line – one that will go from Chicago to Pittsburgh.

The city applied for a $500,000 corridor identification grant from the Federal Railroad Administration that would benefit multiple cities along a five-state route, city officials announced at a news conference Thursday with representatives from Amtrak and Ohio. The proposed rail line would travel through Ohio and the upper tip of West Virginia before reaching Pittsburgh.

The city should know whether it will receive the grant by late summer or early fall, said Fred Lanahan, president of Northern Indiana Passenger Rail Association. The grant would pay for a study identifying the scope, schedule and cost estimates of the proposed line. That study could lead to funding for planning and engineering of the proposed rail line.

"I hear we have an excellent chance," Lanahan said.

The west end of the proposed route is Chicago's Union Station. In addition to Fort Wayne, other planned stops in Indiana are Gary, Valparaiso, Plymouth and Warsaw. In Ohio, the plan identifies nine potential stops including Columbus, Lima and Steubenville.

Fort Wayne lost passenger train service in 1990 when the line that included Baker Street Station was discontinued. City Councilman Geoff Paddock, D-5th, said the new plan designates the 1914 station, which is where officials shared the announcement Thursday, as a train stop again.

Mayor Tom Henry said people had their hearts broken when the trains left. Applying for the grant shows the stamina of those volunteers working for years to bring back passenger train service despite being told it was a dead issue, he said.

Henry shared a memory of the last time he took a passenger train from Fort Wayne into Chicago. He and other boys in Little League visited Comiskey Park, where the White Sox played.

"That was 60 years ago, and I remember every detail of that trip," he said. "We can bring those kinds of memories back."

Elliot Lewis, senior planner with the Mid-Ohio Regional Planning Commission, said that if the Midwest Connect project receives this initial grant, it will go on to a second phase of additional planning and a third phase of engineering and design. The grant portion is competitive, but the next two phases aren't, he said.

Total cost for the rail line could be about $2.5 billion, Lanahan said.

The Midwest Connect line is competing with other rail projects across the nation for funding, which comes from the Infrastructure and Investment Jobs Act of 2021. Lewis said the chances of the Federal Railroad Administration, a subdivision of the U.S. Department of Transportation, choosing this project are good because of the coalition of cities and states working together.

"We have a very strong case for the interest in – and the need for – this connection," Lewis said.

Lanahan said Fort Wayne's grant application included 100 letters of support, which he called an unusually high number.

Paddock, who is also a board member of the Northern Indiana Passenger Rail Association, said the project has received support from the Indiana Department of Transportation, legislators, businesses and nonprofits along the proposed line.

The second phase would require a 10% local match to receive grant money, and the third phase would require a 20% match. INDOT's support might help with that, he added, but the state's transportation department currently is focusing on improvements to the Indianapolis-to-Chicago train line.

The proposed Midwest Connect train would have a speed of at least 75 mph, Paddock said. The speed depends, however, on stops, overpasses and crossings.

Derrick James, director of government affairs with Amtrak, said the first-phase study would consider whether it could be a high-speed rail line.

Paddock said the tracks that used to connect Fort Wayne to Chicago no longer exist. Everything about the project would be new and developed along existing freight tracks.

Trains stopped traveling to Fort Wayne because of problems with tracks to the west. Indiana refused to improve them, and Amtrak said it didn't have the money, Lanahan said.

The Midwest Connect line wouldn't take away from the rail line that services Waterloo, Paddock said.

"If anything," he said, "we need additional lines, just like you need more than one highway."

April 17, 2023 post by WANE 15 on Facebook:

In December 1990, the city of Fort Wayne saw its last passenger train leave Baker Street Station, heading toward Chicago.
Know Your Records: Railroad Accident Reports by David Pfeiffer, a reference archivist at Archives II in College Park, Maryland, published February 21, 2014 on The National Archivesblog.
Google ebooks
History, organization, and legal proceedings, relative to the Pittsburgh ... by Pittsburgh, Fort Wayne, and Chicago Railway Company
Interurban Railways
Interurbans were intercity electric railways popular 100 years ago - and, believe it or not, the Hoosier state had one of the most extensive systems in the entire country. The first interurban line in Indiana opened in 1898, from Anderson to Alexandria. The first interurban to Indy opened on New Year's Day in 1900 and brought passengers from Franklin and Greenwood to the Hoosier capital. Interurban lines connected small towns with most of Indiana's big cities and the cities with each other. Lines radiated from Indianapolis to Fort Wayne, Louisville, Lafayette, Peru, Terre Haute and Richmond (and six other routes). These interurbans then connected with others, reaching Chicago, Toledo, Columbus, and even farther. A separate hub centered on Evansville. Copied from Interurbans: Their rise and fall across Indiana posted September 28, 2013 on Archives of Hoosier History Live podcast on Saturdays, noon to 1 p.m. ET on WICR 88.7 FM. Includes Craig J. Berndt who has written 3 books on railroads and interurbans and was mentioned as the local expert on interurbans.
More information under Transfer Corner.
The last day of service was February 19, 1952. Indiana & Michigan Co.'s interurban rail service had its last run. The locomotives had provided freight service between I & M and the city filtration plant, the Fort Wayne State School and Centlivre Brewery. The line had been in service since 1906 and was the last remaining interurban rail line in the state. Copied from THIS DAY IN HISTORY: February 19 in photos published February 19, 2018 by The News-Sentinel newspaper.
The Interurban - Its Boom and Bust was presented by Jack F. Stark for the Fort Wayne Quest Club on February 17, 1984, then reprinted in segments in The Waynedale News.com.

Maps

Indiana Interurban Railroad Memories public group on Facebook.
Interurban - Relic of the Interurban bridge on Spy Run Creek shown in a photo posted April 28, 2015 on Facebook by Daniel Baker. Caption says the route was out of service by 1938.
INTERURBAN RAILWAYS IN INDIANA (EXCLUDING CHICAGO/NORTHWEST INDIANA AREA) on chicagorailfan is now on the Internet Archive Wayback Machine.
Interurban Railroads of Indiana by Glen A. Blackburn, pp. 221-279 (59 pages), published: Dec 1, 1924 in Volume 20, Issue 4, December 1924 at Indiana Magazine of History journal in the archives at Indiana University Scholarworks. 
The Interurban: Ahead of It's Time 1 minute YouTube published May 30, 2012 by SofCIH. From May 17, 2016 Facebook post by Indiana Bicentennial Commission on Facebook

Concrete Interurban Bridge over Spy Run Creek in Fort Wayne, IN posted July 3, 2020 on IndustrialHistory.com.
Fort Wayne, IN: Traction (Interurban) Terminal posted July 3, 2020 on Towns and Nature blog.
Ft. Wayne interurban May 25, 2015 at the Trolley Dodger
November 5, 2017 photos of Fort Wayne year book for 1906, put out by the Fort Wayne Commercial Club article titled Street and Interurban Electric Railways by Hon. James M. Barrett on You are positively from Fort Wayne, if you remember... Archived group only visible to existing members on Facebook.
Mass Transit, When it Meant Something story by Eric Olson December 11, 2012 on ABC WPTA21.com TV stationnow on the Internet Archive Wayback Machine.
A map of the old interurban lines in Allen County and a map of the canals to overlay onto current maps was a question posted October 14, 2022 on True Fort Wayne Indiana History on Facebook.
A 1993 Tom Castaldi, local historianmap is on our Wabash & Eric Canal page.
Indiana Electric Railways --11/22/14 - Google My Maps, the IndianaMap The Place for Indiana Geospatial Information at IN.gov and the magazine American Heritage Trusted Writing on History, Travel, and American Culture Since 1949 with an online Archive(1949-Present).
Discussed July 15, 2015 and February 4, 2017 on You know you've lived in Fort Wayne too long when... Private Facebook group.
Steel towers removed Friday formerly with video before posted on the Internet Archive Wayback Machine by Kevin Kilbane published September 1, 2015 on The News-Sentinel newspaper.
Trolley Yard/North Side High School/Centlivre Brewery 1927 photo and article by Randy Harter, Fort Wayne historian and authorpublished March 16, 2018 in Fort Wayne Reader.
Trolley yards were discussed March 18, 2018 with more photos of a trolley March 18, 2018 and found in a general Interurban search on You are positively from Fort Wayne, if you remember... Archived group only visible to existing members on Facebook.
Indiana Railroads and Abandoned Interurban Rails on Google maps.


Indiana Interurban History – A Complete Recap Richard M. Simpson, III Bus Service, 13 January 2021 on Indiana Transportation History.
A December 14, 2022 post by Old Time Monroeville, Indiana on Facebook with an old and newer photo of the old interurban depot stated: This was posted once before, but I thought it would be nice to see again this time of year. This was the old Interurban Depot that was located at 303 West South Street near Washington Street Monroeville, Indiana. It seems as though it snowed like this every year in the 70s and 80s. The tracks ran in front of the building. People would travel to Fort Wayne and various small towns in Ohio during the early 1900s to early 1930s.
A Street View photo from Google maps shows a gravel parking lot at 303 West South Street with a different brick building.

A January 11, 2023 post with a photo by Indiana Album stated: New Haven, circa 1910s - Trolley car at the brick interurban station in New Haven. (Location not yet researched -- where was this located? Does the building still stand?) Indiana had one of the country's most extensive interurban systems, connecting towns large and small in 68 of our 92 counties. The convenient electric railway mass transportation system operated in the Hoosier state from 1898 until the early 1940s. The South Shore, one of the few remaining interurban lines, still runs today between South Bend and Chicago. Source - The Indiana Album: Patrick Walter Collection.
To answer the question does it still stand, no: The stations erected along the line by the original company were nearly all constructed from the same plans. They were one-story brick buildings with red tile roofs. The walls at each end of the buildings were three sided. The stations at Monroeville and Convoy still stand. The one at New Haven was demolished about three years ago. from page 30 in the book Interurban railways of Allen County, Indiana by Bates, Roy M. published in 1958.
The New Haven Facebook discussion indicates the depot had been two doors down from 626 Broadway Street around the current 638 Broadway Street at the corner of Broadway Street and Lincoln Highway East in New Haven shown in Street View photo on Google maps.
The former Monroeville location is discussed in the December 14, 2022 post above this item by Old Time Monroeville, Indiana on Facebook.
March 2, 2023 post with photos on True Fort Wayne Indiana History on Facebook asking: Does anyone know what occupied this corner at one time? Osage and Burgess. Comment include: Used to be a railroad roundhouse if this is the southeast corner and nickel plate west Wayne yard , ft Wayne Jackson, Lake Erie and western and Grand Rapids indiana railroad all crossed and interchanging and before all that was the wabash and Erie Canal passed through and the feeder canal that fed additional water to the canal where Rumsey st stops at the railroad tracks.
A March 10, 2023 post with several photos of the abutments from the interurban rail and bridge that once ran through Monroeville and over three sets of railroad tracks on True Fort Wayne Indiana History on Facebook. Monroeville, Indiana at FWARailfan.net shows this as the Fort Wayne, Van Wert, & Lima Traction Co. stating: Just west of town at the corner of Wyburn and Sampson Rd. there are two concrete bridge abutments on either side of the tracks. They are the remnants of an interurban line, the Ft. Wayne, Van Wert & Lima Traction Co., that once passed through here. It used to cross the Pennsylvania Railroad here on a very long trestle and girder bridge, which was completed in mid-1905. There was a station stop in Monroeville. The interurban line ended service sometime in the 1940's. The following are some old photos taken of the interurban overhead that were published in the Monroeville News. FtWVW&L/PRR Bridge at BridgeHunter.com states it was a Lost Pratt through truss bridge over Pennsylvania Railroad on Ft. Wayne, Van Wert & Lima Traction Co. Built 1905; Removed in the 1940s. An August 27, 2022 post by Hans Hofer on True Fort Wayne Indiana History on Facebook from August 27, 2013 had photos and discussion of surveying the land to split the farm at this location.

August 3, 2023 post by Indiana University Press on Facebook:

Featuring over 90 illustrations and featuring contemporary accounts and newspaper articles from the period, Electric Indiana is a biographical study of the rise and fall of a onetime important transportation technology that achieved its most impressive development within the Hoosier state.

Preorder now! #linkinbio #newrelease #bookrelease
Other Information