Wabash and Erie Canal of Allen County, Indiana
Jump to Additional Information, Aqueduct, Tom Castaldi, eBooks, Gronauer Lock, Markers, Wabash & Erie Canal Park. See the John Brown Stone Canal House - Warehouse 114 East Superior Street.
February 22, 1832 ground was broken for the canal, which would link Lake Erie at Toledo with the Ohio River at Evansville. Jordan Vigus, Canal Commissioner, Charles W. Ewing, Samuel Hanna, Elias Murray participated in the ceremony. It was completed to Huntington County by July 3, 1835 and by July 4, 1843 was completed near Lafayette, Indiana. It was located where the south end Headwaters Park is now located. and was replaced a couple of decades later by the growth of the railroads. The canal froze in winter and was used for skating and sledding. See a sleigh ride story along the towpath from Fort Wayne to Indianapolis by Eliza Taylor Hanna in short bit of history by Tom Castaldi, local historian posted December 17, 2012 on Wabash & Erie Canal Park on Facebook. The last boat was seen on the canal in 1882 from the October 9, 2019 post by The Landing Fort Wayne on Facebook.
The old canal is visible on various maps such as in Adams Township south of the Chicago & St. Louis Railroad in the northern section of Adams Township of the 1898 Standard Atlas of Allen County, Indiana by Geo. A Ogle at Historic Map Worksor Adams Township on page 58 of the Standard atlas of Allen County, Indiana : including a plat book of the villages, cities and townships of the county ... patrons directory, reference business directory ... by Geo. A. Ogle & Co. cn on Archive.org.
A January 20, 2023 post by Wabash & Erie Canal Park on Facebook stated: DID YOU KNOW we're on TikTok? We are excited to use it to drop some Wabash & Erie Canal fun facts each week, so give us a follow and learn something new! Their video is on the right: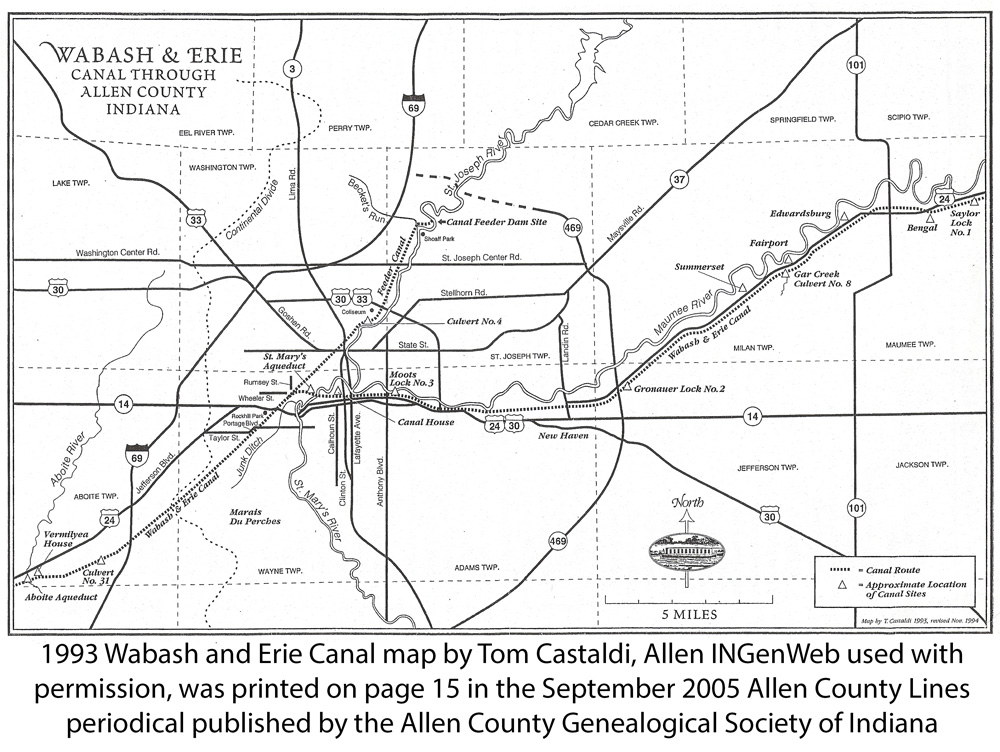 January 27, 2023 post by Wabash & Erie Canal Park on Facebook:

Can you imagine the area around the I-65/IN-25 intersection being underwater? That may have been the reality during the Canal Era! Joining us for a short explainer over on TikTok is Allen County Historian Tom Castaldi.

When the Wabash & Erie Canal crossed a natural waterway, there needed to be a structure to cross safely. At the Wildcat Creek, engineers completed a dam in 1843 that created a large slack water (where water backed up and created a "lake") where towing animals could easily pull canal boats across.

One of the most fascinating things about canal history is that we are still finding new sites and unraveling new mysteries that have been lost to the 150 years since the Wabash & Erie Canal shut down. A big part of our mission is to preserve these stories so future generations can enjoy learning them!
November 9, 2022 post by Wabash & Erie Canal Park on Facebook:
This diagram shows the elevation change in the Wabash & Erie Canal from Toledo, Ohio to Evansville. Fort Wayne is the highest elevation on the route (in line "A") and Terre Haute is the lowest elevation (in line "C").

There are many details too small to read here, but hopefully this provides a visual representation of how canals can overcome natural elevation changes while minimizing pesky currents.

A large board of this chart can be found in our interactive museum, which is open Monday-Saturday afternoons 1-4 PM.

This image is identified as the Profile of the Wabash & Erie Canal, Meeks, Thomas & Julia, Anthony Wayne Printing, 1984. At The University of Chicago Library Catalog. Needs more research.
February 3, 2023 post by Wabash & Erie Canal Park on Facebook discussing Fort Wayne the Summit City:

How did they engineer the Wabash & Erie Canal to make water flow over the summit at Fort Wayne? 🤔 Watch the fast facts from this week for some topography fun!
Wabash & Canal Markers
Aqueduct
Wabash & Erie Canal Aboite Creek Aqueduct No. 2 photos posted January 16, 2023 on True Fort Wayne Indiana History on Facebook.
Aboite Creek Aqueduct by Mike Fromholt July 4, 2022 on YouTube. A short video of the Aboite Creek Aqueduct, which carried the Wabash & Erie Canal over Aboite Creek in western Allen County. As it is a short video, I will explain more at what you're looking at as well as it's history. The Wabash & Erie Canal linked Lake Erie (via the Miami & Erie Canal) with the Ohio River, near Evansville. The major cities along the 460+ mile route were Fort Wayne(located a few miles east of this point), Lafayette and Terre Haute. Construction started in 1832 and was finished in 1853. The railroads came soon after, and abanondonment began shortly there after, with most sections no longer used by 1870. However, from the 1937 aerial, it appears the aqueduct was still in place, although not in use. Sometime before 1957, the aqueduct either fell into the creek or was removed, but the timbers across the bottom of the aqueduct ended up in the creek, and the creek now flows over them. In the video, you can see where the straight edges of these timbers as the water flows over them. I will try to get there during the fall or winter for better views. Along the south tow-path of the canal, ran an interurban railway which connected Fort Wayne to Lafayette. A power line marks it's path for most of it's leangth between here and Fort Wayne. I was told about this location by an employee of Indiana-Michigan Power back in 1981 when I was inspecting the poles on this right-of-way for my job at the time with Osmose. The Interurban railway, sometimes called the Wabash Vally Railway, operated up until about 1936, when it too was abandoned, after only operating for less than 40 years. Redding Road, at this spot, actually crossed Aboite Creek, and was the main route from Fort Wayne to Huntington. This bridge was taken out when the four-lane US 24 was built in the early 1950's. So, at this spot, three forms of transportation, water, rail and road.
NS/NKP Bridge and Wabash & Erie Canal Aqueduct over St. Marys River in Fort Wayne, IN has maps and photos from various sources on Industrial History blog.
Old Cabin-Tavern log home on US 24
Diamond in the Rough...Very Rough originally had a video of a two-story log cabin tavern/home built in the 1830s siting along old US 24 near Woodburn, at the edge of the Wabash and Erie Canal as it has for more than 150 years. It was the only stopping off point for canal travelers between the Ohio state line and Fort Wayne. Passengers would climb off the canal boat and walk fifty yards to this house for refreshment. By Eric Olson, 21Country Featured Reporterpublished January 14, 2014 on 21Country at ABC WPTA21.com TV stationnow on the Internet Archive Wayback Machine. Log cabin is shown in the Daniel Baker photo below:
Gronauer Lock
Rediscovered in June of 1990 by construction workers working on the widening of US 24 just East of I-469.
Canal carried Fort Wayne fortward four page The News-Sentinel newspaper article

July 27, 2017 post by Hofer and Davis, Inc. Land Surveyors on Facebook on Facebook:

: In June of 1990 construction workers stumbled on the Gronauer Lock while working on the widening of US 24 just East of I-469. The News SENTINEL ran a four page pullout by Bob Caylor on February 19, 1992 or February 19, 1991 (dates on pullout are conflicting). This is the opening page about THE WABASH AND ERIE CANAL for "Throwback Thursday"!

Page 2, Locks inched boats through the canals

August 3, 2017post by Hofer and Davis, Inc. Land Surveyors on Facebook on Facebook:

For "Throwback Thursday" we share Part 2 of the 4 part News SENTINEL pullout by Bob Caylor from February 19, 1991.

Page 3, Hardship marked canal travel

August 10, 2017 post by Hofer and Davis, Inc. Land Surveyors on Facebook on Facebook:

For "Throwback Thursday" we share Part 3 of The News Sentinel pullout by Bob Caylor from 1991.

Page 4, Lock holds keys to the past

August 16, 2017 post by Hofer and Davis, Inc. Land Surveyors on Facebook:

The last of the 4 page pullout from the Fort Wayne News Sentinel by Bob Caylor on THE WABASH AND ERIE CANAL dated February 19,1991 for "Throwback Thursday"!

Library of Congress image 3 of 63

63 black & white photos of the lock at the contruction site are found at the Wabash & Erie Canal, Lock No. 2, 8 miles east of Fort Wayne, adjacent to U.S. Route 24, New Haven, Allen County, IN PHOTOS FROM SURVEY HAER IN-74 at The Library of Congress. Notes - Significance: Lock No. 2 is an example of a wood lock, many of which once existed along the original line of the Wabash and Erie Canal. More fragile than those supported by dressed stone, locks which were constructed on either the timber frame or crib plan were subject to greater wear, deterioration and rot. Lock No. 2 provides an example of nineteenth century wooden lock technology. Engineered to provide a seven-foot lift, Lock No. 2 was one of three similar locks between Fort Wayne and the Ohio/Indiana state line. It was originally constructed between 1837-43 as a Timber Frame Lock (according to the engineer's report of 1837) and in 1849 it was rebuilt as a Timber Crib Lock, the latter being a sturdier type of wood lock construction. At least one additional major repair and/or reconstruction occurred. Lock No. 2 is locally known by the name of its former lockkeeper, Joseph Gronauer and his family. Their farm and store were located adjacent to the lock on the north side, throughout the years of its operation. The family farmhouse remained intact at the site until its demolition between 1942 and 1945. The 20-mile section of the canal within which Lock No. 2 is located, once formed a link between the Fort Wayne-Lafayette portion of the Wabash and Erie Canal to the west and the Miami and Erie Canal in Ohio, to the east. When it was finally completed in 1843, travel and commerce to the Great Lakes and the eastern seaboard, via Toledo, Ohio became possible for the citizens of Indiana. - Survey number: HAER IN-74.

Image 34 LOC HAER photo

Is Image 34 the same general location as the Street View photo from Google map? 34. A photograph from the east forebay, toward the west gate, showing all of the opened cribs on the south side. The hoses along the top of the cribs keep the timbers moist. The overpass of the new I-469 is in the background. - Wabash & Erie Canal, Lock No. 2, 8 miles east of Fort Wayne, adjacent to U.S. Route 24, New Haven, Allen County, IN Photos from Survey HAER IN-74. From Prints and Photographs Division Washington, D.C. 20540 USA at The Library of Congress.
Wabash & Erie Canal, Lock No. 2 at Historic American Buildings Survey/Historic American Engineering Record/Historic American Landscapes Survey: Search Results at The Library of Congress. Photo posted October 31, 2022 on True Fort Wayne Indiana History on Facebook.
File:Grovenour Lock location.JPG photo at Wikipedia, The Free Encyclopedia
New Haven, IN: Wabash & Erie Canal Lock #2 (HAER (63 photos) via in0341; HAER photo list; Satellite, evidently the south lanes of US-24 were built over the canal. According to some of the photos, it was located just east of where the ramp now joins US-24.) Starting on Page 8 of the data file [23-page document above] is a general history of the canal. posted March 6, 2019 on Towns and Nature blog.
WABASH & ERIE CANAL, LOCK NO. 2 (Gronauer Lock) 23 page document, original construction between 1837 and 1843, rebuilt in 1849. 8 miles east of Fort Wayne, adjacent to U.S. 24 New Haven vicinity Allen County, Indiana, discovered in 1992 when building an interchange on I-469. HAER No. IN-74, /NO PHOTOGRAPHS, WRITTEN HISTORICAL AND DESCRIPTIVE DATA, HISTORIC AMERICAN ENGINEERING RECORD, Northeast Field Area, Chesapeake/Allegheny System Support Office, National Park Service, U.S. Custom House, 200 Chestnut Street, Philadelphia, PA 19106.
Canal's Gronauer Lock could be reburied 25 years after it was first resurrected by Kevin Leininger published April 5, 2016 in The News-Sentinel newspaper now on the Internet Archive Wayback Machine.
Some of canal's Gronauer Lock timbers previously found a second home by Kevin Kilbane published April 6, 2016 in The News-Sentinel newspaper no longer online.
A short video dated 10-3-1992 of the public visiting the Gronauer Lock was posted March 8, 2023 on True Fort Wayne Indiana History on Facebook
Catagories: Canals -- Indiana, Canals -- Ohio, Wabash and Erie Canal (Ind. and Ohio), United States -- Wabash and Erie Canal
Fort Wayne during the Canal era 1828-1855; a study of a Western community in the middle period of American history by Poinsatte, Charles R, Publication date 1969 on Archive.org. A couple of interesting lines on page 91 is Then in the late 1830s "Dame Fashion" played her role. Just as she had decreed earlier that silk was to replace beaver in the making of hats, now she demanded mink, deer, and, above all, raccoon skins. Since the Maumee Wabash region "produced enormous numbers of raccoons" it became "for a few years the center of interest of the fur business of America." Thus between 1838 and 1842 Fort Wayne became the base from which an extensive war for this fur trade was carried on.

The Canal boat case: who done it?: not us, we were asleep (~1850) - Canal Society of Indiana ebook on Archive.org.


A trip on the Wabash and Erie Canal by Steele, Marilyn, Publication date 1900 on Archive.org

Fort Wayne In Canal Days (1900) ebook on Archive.org.


The 10 Volume book: Newspaper clippings on the Wabash and Erie Canal (Book) at the Allen County Public Library has volumes 2, 3, 4, 6, and 10 online shown below:
Newspaper clippings on the Wabash and Erie Canal, Volume 2, April 1835 - January 1841, Publication date 1903 on Archive.org.
v. 1. March 1814-Jan. 1835 -- v. 2. April 1835-Jan. 1841 -- v. 3. Dec. 1841-July 1844 -- v. 4. March 1845-Aug. 1850 -- v. 5. Feb. 1851-June 1863 -- v. 6. June 1863-Oct. 1872 -- v. 7. Dec. 1872-April 1874 -- v. 8. April 1874- March 1877 -- v. 9. March 1877-Aug. 1880 -- v. 10. Dec. 1880-July 1903

Newspaper clippings on the Wabash and Erie Canal, Volume 3, Dec. 1841-July 1844, Publication date 1903 on Archive.org.
v. 1. March 1814-Jan. 1835 -- v. 2. April 1835-Jan. 1841 -- v. 3. Dec. 1841-July 1844 -- v. 4. March 1845-Aug. 1850 -- v. 5. Feb. 1851-June 1863 -- v. 6. June 1863-Oct. 1872 -- v. 7. Dec. 1872-April 1874 -- v. 8. April 1874- March 1877 -- v. 9. March 1877-Aug. 1880 -- v. 10. Dec. 1880-July 1903

Newspaper clippings on the Wabash and Erie Canal, Volume 4, March 1845 - August 1850, Publication date 1903 on Archive.org.
v. 1. March 1814-Jan. 1835 -- v. 2. April 1835-Jan. 1841 -- v. 3. Dec. 1841-July 1844 -- v. 4. March 1845-Aug. 1850 -- v. 5. Feb. 1851-June 1863 -- v. 6. June 1863-Oct. 1872 -- v. 7. Dec. 1872-April 1874 -- v. 8. April 1874- March 1877 -- v. 9. March 1877-Aug. 1880 -- v. 10. Dec. 1880-July 1903

Newspaper clippings on the Wabash and Erie Canal, Volume 6, June 1863 - October 1872, Publication date 1903 on Archive.org.
v. 1. March 1814-Jan. 1835 -- v. 2. April 1835-Jan. 1841 -- v. 3. Dec. 1841-July 1844 -- v. 4. March 1845-Aug. 1850 -- v. 5. Feb. 1851-June 1863 -- v. 6. June 1863-Oct. 1872 -- v. 7. Dec. 1872-April 1874 -- v. 8. April 1874- March 1877 -- v. 9. March 1877-Aug. 1880 -- v. 10. Dec. 1880-July 1903

Newspaper clippings on the Wabash and Erie Canal, Volume 10, December 1880 - July 1903, Publication date 1903 on Archive.org.
v. 1. March 1814-Jan. 1835 -- v. 2. April 1835-Jan. 1841 -- v. 3. Dec. 1841-July 1844 -- v. 4. March 1845-Aug. 1850 -- v. 5. Feb. 1851-June 1863 -- v. 6. June 1863-Oct. 1872 -- v. 7. Dec. 1872-April 1874 -- v. 8. April 1874- March 1877 -- v. 9. March 1877-Aug. 1880 -- v. 10. Dec. 1880-July 1903

The Wabash trade route in the development of the old Northwest by Benton, Elbert Jay, 1871-1946, Publication date 1903 on Archive.org.

Canal celebrations in old Fort Wayne - 1916, Public Library of Fort Wayne and Allen County. cn, ebook on Archive.org.


The Wabash-Erie Canal : Fort Wayne on the old canal ([1952]) - Public Library of Fort Wayne and Allen County ebook on Archive.org.


As I remember … by Randall, Winifred J. Topics Fort Wayne (Ind.) -- History Publisher [Fort Wayne, Indiana] : Public Library of Fort Wayne and Allen County, 1960 on Archive.org. Another brighter scanned version of As I remember...


The Irish War on page 129 of Pamphlets by the Public Library of Fort Wayne and Allen County, Publication date 1953, on Archive.org.


March 17, 2016 post by The History Center on Facebook:

Happy St. Patrick's Day! Irish immigrants have been a part of Fort Wayne's history from the early days of the frontier. The Irish helped build the Wabash and Erie Canal, laid rail and worked in machine shops for the Pennsylvania Railroad, and are  represented in some of Fort Wayne's most recognizable names such as Hamilton, Hanna, and Swinney.

July 12, 2023 post by the Indiana Historical Bureau on Facebook:

#OTD in 1835, two factions of Irish immigrants—the Corkonians and Fardowns—who had been constructing the Wabash and Erie Canal, skirmished at Lagro. The militia was called in and arrested those laborers who had not already dispersed. According to historian Jay M. Perry, "The Irish War stemmed from real and perceived grievances related to laborers' economic concerns." He expounded that "members had organized themselves into protective associations aimed at securing and defending the economic interests of their membership, namely preserving access to employment on the nation's canals and railroads. Violence and intimidation, their key tools in achieving these goals, periodically resulted in brawls like the one on the Wabash and Erie [Canal]." Learn more: Canals & Conflict: How Irish Immigrants Built and Battled on the Wabash & Erie Canal

The image of canal workers below is courtesy of Indiana Public Media.

Wabash & Erie Canal Park

Wabash & Erie Canal Park Delphi, Indiana, county seat of Carroll County. Their Facebook description states: Visit the only navigable section of the historic Wabash & Erie Canal in Indiana! Enjoy the Museum, Village, Canal Boat Tours, miles of Scenic Trails. Canal Park attractions include an interpretive center, pioneer village, replica canal boat tours, trail & towpath system, canal boat playground, campground, museum and gift shop. Conference Center is available to rent for weddings, receptions, family reunions, special events, business conferences and more. Ask about the Little White Chapel for smaller weddings. The "Delphi" Canal Boat is also available for private charters for up to 30 people. Website: https://wabashanderiecanal.org/. In November 2022 they posted ten days of WABASH & ERIE CANAL FACTS AND FAQ's with photos and maps. We include the first sentence from each below, click the date to read the complete Facebook post.




February 24, 2023 post by Wabash & Erie Canal Park on Facebook:

James S. Hinton was the first African-American Hoosier to be elected to statewide office, but did you know his first trailblazing role was with the Wabash & Erie Canal? Check out this week's video to learn more!

Additional Information

American Canal Society Canal Index for Wabash & Erie Canal.
Annual Report of the Trustees of the Wabash and Erie Canal, to the General Assembly of the State of Indiana: December, 1847 (Classic Reprint) Hardcover – August 24, 2018 on Amazon.com. It is likely there were reports for other years.
Annual Report of the Board of Trustees of the Wabash and Erie Canal By Indiana. Board of Trustees of the Wabash and Erie Canal · 1865 a Google eBook
Two images described as A trip down the canal. Wabash and Erie Canal toll receipt from 1851. Describes a boat named J.Q. Adams hauling 2000 Bushels of corn weighing an incredible 120,000 pounds from Pittsburg Indiana (near Delphi Indiana) to the Ohio state line (120 miles) with a tax charge of $40.32. A wagon was also transported. I am not sure what was transported for 20 cents on the third line. Mentions what appears to be 'Logan' which I believe refers to Logansport. Let me know if you are able to decipher any more of the cursive writing. posted January 2, 2023 on True Fort Wayne Indiana History on Facebook.
May 7, 1900 Fort Wayne News newspaper article posted May 7, 2016 on You know you've lived in Fort Wayne too long when... Private Facebook group.
May 17, 1914 in The Journal Gazette newspaper Barge Canal project article was discussed October 7, 2017 on You know you've lived in Fort Wayne too long when... Private Facebook group.
CANAL HISTORY - 1828-1881* from New Haven Area Heritage Association, Inc.
Canal Mania in Indiana 16 pages with maps, photos, and more from the June 1997 The Indiana Historian magazine at the Indiana Historical Bureau.
Canal Society of Indiana founded in 1982, has biographies and/or genealogies of those who were officially connected to Indiana's canals, worked on them or had businesses related to them on their website: https://indcanal.org, a Historical Archive with past issues of their publication The Hoosier Packet, and 173 page publication Fort Wayne Newspapers 1830-1879 that mention canals. A January 15, 2022 post by the Canal Society of Indiana on Facebook states: Want to know more about Indiana canals? Go to the CSI Website: indcanal.org There you will find all of issues of "The Tumble" to view. Go to Videos & Statistics or to Historical Archives. In the Archives are back issues of "The Hoosier Packet" from 2016 - 2021 and also tour Guides For a guide about Fort Wayne go to "The Beginnings" - 1977. Patience! Let if load up and then just go below the display box of the guide where it says "Click open for a new Tab." Again Patience! This will give you a full screen that you can magnify for an even better view. Try it out and give me a "Like" if you succeed. There are hundreds of pages of canal information on our website. Several posts with photos for Fort Wayne have been on their Facebook page.
Canals: Towpaths West 1963 video by Indiana University Media Collections Online. Canal history plus dramatization of 1840s life along a canal.
A document of the day March 21, 2018 was the 1961 letter explaining the purpose of this video by Indiana U. Archives on Twitter.
Fleeting canal era had impact on Indiana - INDIANA AT 200, A COLUMN BY ANDREA NEAL published July 30, 2014 in The News-Sentinel newspaper.
Fort Wayne during the Canal era 1828-1855; a study of a Western community in the middle period of American history by Poinsatte, Charles R, Publication date 1969, borrow online as on Archive.org.
Fort Wayne, IN: Wabash and Erie Canal has maps and photos from various sources on Towns and Nature blog.
How The Landing and Dock Street Got Their Names (It's for the Same Reason) by Shane G. posted on August 10, 2012 on Visit Fort Wayne blog. See The Landing for more information.
Indiana's canal heritage by Harlow, Alvin F. (Alvin Fay), 1875-1963, Publication date 1954, on Archive.org.
Internal Improvements in Indiana: No. III—The Wabash and Erie Canal a Google eBook. Original source: Cottman, G. S. (1907). Internal Improvements in Indiana: No. III—The Wabash and Erie Canal. Indiana Magazine of History. Retrieved from https://scholarworks.iu.edu/journals/index.php/imh/article/view/5608, Volume 3, Issue 3, September 1907 from the Indiana Magazine of History journal in the archives at Indiana University Scholarworks.
Lost Birds of Canal Days - a new sign in 2013 at Eagle Marsh lists Prairie Chicken, Carolina Parrot and Passenger Pigeon as birds canal riders may have seen. See October 28, 2013 photo from Stockbridge Audubon Society shared on Little River Wetlands Facebook page.
Take a Motor Tour on the Wabash Erie Canal Towpath TrailNovember 18, 2008 on We Canal Corridor Tour.
New Haven Canal Days on Facebook.
New Haven Fun Fact: Canal Landing is a 1/3rd acre pocket park on Broadway between Main and Bell. Its historic plaque tells the importance of the canal in New Haven's development. From Moser Park, the canal traveled northeast along the north side of Main Street and through town to cross Green Street between Bell and Canal. It then followed the route of U.S. 24 East. The canal bed is very apparent on the south side of U.S. 24 driving east. Copied from a September 1, 2022 post by City of New Haven Indiana on Facebook.

The News-Sentinel newspaper had a four page pullout by Bob Caylor published February 19, 1991, or 1992, posted July 27, 2017 by Hofer and Davis, Inc. Land Surveyors on Facebook.
Newspaper Clippings on the Wabash and Erie Canal, Vol. 2: April, 1835 January, 1841 (Classic Reprint) Paperback – February 5, 2018 at Amazon.com.
Old Towpaths, The Story of The American Canal Era by Alvin F. Harlow, Publication date, 1926, on Archive.org.
Remnants Of The Wabash & Erie Canal: Fort Wayne/New Haven, Indiana has photos of area remnants on Facebook such as June 14, 2012 with a photo stating: Travelling along Rose Street out to 469 from New Haven, turn to the right and voila, you will see the old traces of the canal. Here is the remnant of the towpath and dip, behind homes in Tanglewood. — in New Haven, Indiana.
The Remains of the Wabash-Erie Canal through Allen County Photos on an archived April 12, 2002 Geocities site on the Wayback Machine.
The Remains of the St. Joseph Feeder Canal an archived 04/12/2002 Geocities user generated web page with photos mirrored in October 2009 to the archive site oocities.org.
Report of the Commissioners of the Wabash and Erie Canal By Indiana. Board of Canal Commissioners · 1835 a Google eBook. It is likely there were reports for many years.
Sweet Breeze a canal boat replica was launched in June 2017 on the 3 rivers sponsored by Friends of the Rivers, forfw.org, Facebook.
The route to Swift's Park (Robison Park) with photos was discussed July 1, 2016 photos and discussion and Fort Wayne Feeder Canal for the Wabash & Erie Canal discussion with photos August 24, 2015 on You are positively from Fort Wayne, if you remember... Archived group only visible to existing members on Facebook.
Take a Boat Ride on the Wabash and Erie Canal! by Sara published May 24, 2014 on the Home of Purdue blog.
Wabash & Erie Canal on Wikipedia, The Free Encyclopedia.
Wabash and Erie Canal group on Facebook.
Wabash & Erie Canal map and photos from Ed Pope
Wabash & Erie Canal earthlink site links on to other web sites from 19th Century U.S. Canals.
Wabash & Erie Canal Towpath Trail follows along the path of the former canal connecting various area trails. It is 5.5 miles from Rockhill Park to the Lutheran Hospital campus, weaving through beautiful neighborhoods, scenic marshlands and near areas of commerce. The trail is a bike and pedestrian connection between the Aboite Trails and the Rivergreenway, providing more than 60 miles of connected trails within the trail network. Copied from the Fort Wayne Parks Trails page which also has a map.
Wabash & Erie Canal Park on Facebook in Delphi, Indiana and their web site.
Remnants Of The Wabash & Erie Canal: Fort Wayne/New Haven, Indiana Facebook page that shares and posts photos and information.
Wabash and Erie Canal Company Records, 1833–1877 are available from the Manuscripts and Archives Department, William Henry Smith Memorial Library, Indiana Historical Society, 450 West Ohio Street, Indianapolis, IN 46202-3269.
Wabash and Erie Canal in Indiana Rates of Toll for 1850 poster shown in the digital collections at the Indiana Historical Society
Collection # M 0758, OM 0392 WABASH AND ERIE CANAL COMPANY, RECORDS, 1833–1877 (BULK 1833–1862) Collection Information, Historical Sketch, Scope and Content Note, Series Contents, Cataloging Information, Processed by Colby Barkes, 12 June 2001, Revised 23 September 2003, Manuscripts and Archives Department, William Henry Smith Memorial Library, Indiana Historical Society
Wabash & Erie Canal marker State Highway 58 and State Highway 57, Elnora (Daviess County, Indiana), installed in 2007 Indiana Historical Bureau and Elmore Township Community Association, Inc. lists lots of interesting references on the webpage by Indiana Historical Bureau.
St. Patrick Oratory celebrates patron saint by Joshua Schipper published March 22, 2022 in Today's Catholic. It starts out: A good deal of early Catholic history in northeastern Indiana revolves around the building of the iconic Wabash-Erie Canal in the 19th century. Fort Wayne has two streets named for prominent Catholic Francis Comparet, who hosted priests ministering to the area's canal workers during the time that the Diocese of Vincennes had jurisdiction over the city. Comparet even notified the diocese that an estimated 2,000 Catholic canalmen had gone roughly six months without access to the sacraments. The article continues discussing Lagro a town in Lagro Township, Wabash County.
April 8, 2022 Mitch Harper on True Fort Wayne Indiana History on Facebook shared the article Water Over Water: The History of the Fall Creek Aqueduct on the Central Canal in Indianapolis saying it will deepen your appreciation fo the aquaduct over the Saint Marys near West Main Street for the Wabash & Erie Canal.
Irish Immigrants Left Their Mark Building the Wabash-Erie Canal by Joshua Schipper | Oct 4, 2022 | on Fort Wayne Media Collaborative. See our Irish section.
A December 10, 2022 discussion on True Fort Wayne Indiana History on Facebook about a photo of a sign on I-469 near Rose Avenue for the Wabash & Erie Canal. See Remnants Of The Wabash & Erie Canal: Fort Wayne/New Haven, Indianaphoto posted June 14, 2012 stating: Travelling along Rose Street out to 469 from New Haven, turn to the right and voila, you will see the old traces of the canal. Here is the remnant of the towpath and dip, behind homes in Tanglewood. — in New Haven, Indiana.

Back to top