Books About Fort Wayne and Allen County, Indiana
Most of the historical online ebooks on our site are found searching the internet for books at Archive.org as they offer an easy ability to embed flip books on our pages. We are finding some books on HathiTrust.org a partnership of academic and research institutions, offering a collection of millions of titles digitized from libraries around the world. Google eBook are used too although they are often easier to use when found on the other sites. The Online Books Page listing over 3 million free books on the Web at UPENN.edu is a useful site for finding links to ebooks on various topics usually on the previously listed sites. Project Gutenberg with 60,000 older books off copyright can also be useful.
Most of the Fort Wayne, Allen County ebooks are digitized from the collection of The Genealogy Center at the Allen County Public Library in Fort Wayne, Indiana. We have a video on our Library page that shows how they digitize the books. How to find the ebooks on the library online card catalog is shown in their video below:
There are thousands of ebooks online depending on how you search such as City of Fort Wayne, Indiana over 15,000 city documents, Fort Wayne Indiana over 20,000 ordinance documents, Fort Wayne Americana 20,000 more items, and Allen County Indiana over 55,000 items including non-Allen County "stuff" online at Internet Archive. Many were digitized at our local The Genealogy Center at the Allen County Public Library in Fort Wayne, Indiana, some are Google ebooks and from other repositories. Links to some of those books are also organized by publication date or subject on our Timeline, People, and Places pages. You can find over 36,000 titles on various topics and locations many from the National Archives in the Allen County Public Library Genealogy Center-microfilm collection. Read My 5 Favorite Collections on Internet Archive by Gena Philibert-Ortega published November 26, 2018 on the Legacy News Family Tree blog.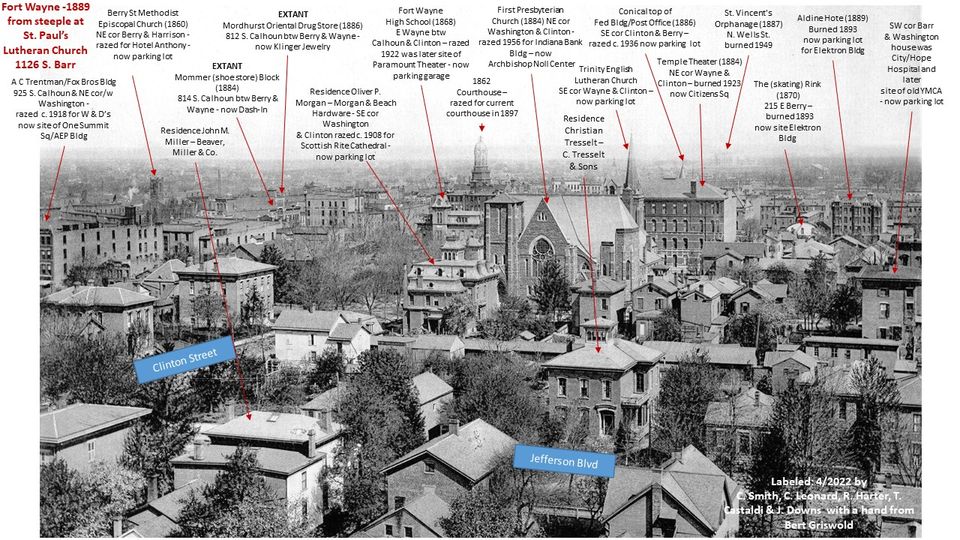 Most ebooks use optical character recognition for keyword searching, but they won't find every instance of every keyword. Be sure to look for an index in the back of the books, and when all else fails, read or scan important sections of the ebooks that might contain the information you are looking for even if a keyword search does or does not find what you are looking for. Some books in the The Genealogy Center at the Allen County Public Library in Fort Wayne, Indianahave added manually indexed versions of these book that will have surnames the OCR does not find.
It can be helpful to consult the The Genealogy Center online card catlog to see if a separarte index has been created since the original publication. One example is the two volume Valley of the upper Maumee River, with historical account of Allen County and the city of Fort Wayne, Indiana which has a couple of different surname indexes.
Many of these books were digitized at the Allen County Public Library while some may only be available in The Genealogy Center. Some of these books may be for sale locally such as at Coney Island Wiener Stand Book Collection, The History CenterShop or Visit Fort WayneStore. Fortunately a lot of the old out of copyright pre-1923 are digitized on the Internet Archive. See video below how to use the Internet Archive.
Some of the many available Fort Wayne ebooks are listed more or less alphabetically below:
Books About Fort Wayne
History of Fort Wayne, from the earliest known accounts of this point, to the present period. Embracing an extended view of the aboriginal tribes of the Northwest, including, more especially, the Miamies ... with a sketch of the life of General Anthony Wyane; including also a lengthy biography of ... pioneer settlers of Fort Wayne. Also an account of the manufacturing, mercantile, and railroad interests of Fort Wayne and vicinity by Brice, Wallace A, 1868 on Archive.org.
Genealogy Center image
Back to top