Superintendent Berchtold and wife Mary Ruf
From a May 21, 2009 email.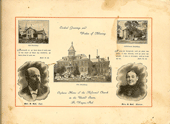 "Although I have no relation from Allen County, I ran across a photo card the other day in my ancestors (HAMILTON) belongings. The couple in the photo were the Superintendent and Matron of an Orphans Home in Fort Wayne; however, the census for years 1900-1910 show this Orphans Home in St. Joseph, Allen, IN. At the top of the 1900 census it says "Orphans Home of the Reformed C______ (Church?). I'm thinking my HAMILTON family evidently knew this couple being Superintendent and Matron of a Home in Wisconsin somehow because I do not recognize the name RUF.
In the 1900 census it shows Berchtold age 43, and Mary A. Ruf age 49. His occupation is shown as Superintendent. Both emigrated from Switzerland in 1882. Berchtold was b. May 1857; Mary was b. 1850, married for 20 years, reside in St. Joseph, Allen, IN. Children: Martha M. dau 18, Frank B. Son 16, Clara V. dau 13, Dora M. dau 9, Ermin P. son 7.
In the 1910 census it shows the Ft. Wayne Orphans Home at the top of the page, Berchthold Ruf age 52, Superintendent, and Maria Ruf age 59, Matron, living in St. Joseph, Allen, IN. Children: Dora dau 20, Ferdinand nephew 22.
In the 1920 census it shows Reverend B. Ruf age 62, and Mary Ann Ruf age 69 living in Toledo Ward 7, Lucas, OH. No children at home. B. Ruf was a Superintendent, Home for Aged.
In the 1930 census it shows Buchthold Ruf age 72 and Marianna A. Ruf age 79, living in Berne, Adams, IN. Evidently retired, no occupation.
Just thought you might like to add this to your website where appropriate....please see attached photo card.
Judy (Dankert) Bos-Parsons in Colorado"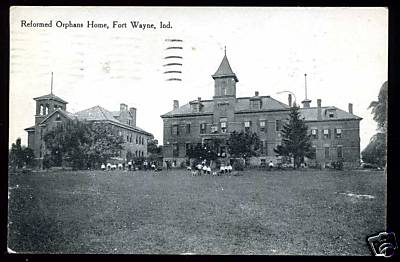 The Indiana State Archives mentions the 1887 Indiana School for Feeble-Minded Youth. The Google book Public Welfare in Indiana 1897-1936 may hold some clues. The 1910 postcard photo on the right was found on eBay for the Reformed Orphans Home, Fort Wayne, Ind. Crossroads in Fort Wayne may be the successor of this school. If anyone knows, please let me know.