T Named Places in Allen County, Indiana
Talking Sidewalks
In 2008, the City of Fort Wayne developed Barr Street from Wayne to Main, adding quotes carved into new brick along the sidewalks and a Ribbon of Community alongside the east wall what would become Citizen's Square, formerly Wolf and Dessauer. Copied from Talking Sidewalks including some photos by Nancy McCammon-Hansen published June 16, 2014 in History Center Notes & Queries blog.
Taverns
The History of Fort Wayne's Bars and Taverns: From the Jesuits to World War II 15 page paper by David B. Lupkep presented October 2, 2015 at the Fort Wayne Quest Club.
Taylor University
Started as The Methodist College on West Wayne Street and College Avenue, moving to Upland, Indiana in 1889. Internet Archive has dozens of publications for Taylor University similar to the one below.
Telephones
Early communication between the citizens of Allen County was labored and conducted primarily through letters and personal interactions. This all changed with the arrival of telephone to Fort Wayne in 1879. Eventually there were multiple telephone companies with in the city and one of the largest was Home Telephone and Telegraph Company. The company was incorporated in October 1886 with local stockholders, with the primary purpose of providing a more extended service at a lower price than its competitors. The chief promoters of this new company were Charles S. Bash, William J. Vesey, Charles McCulloch, Samuel M. Foster, George W. Beers and Christian Hettler. By 1900, Home Telephone had grown and acquired the National Telephone and Telegraph Company. Through this expansion, they now had exchanges in Ohio, Michigan and more in Indiana. The company continued to grow and service the people of Allen County until 1956 when it was taken over by the General Telephone Company of Indiana. Later this company would be taken over by GTE (1984-2000) and Verizon (2000-2009, following the merger of GTE and Bell Atlantic). The vision and foresight of the founders of the Home Telephone and Telegraph Company still lives on in our community through Frontier Communications (2009-present). Copied from an October 6, 2022 post with photos by The History Centeron Facebook.
Telephone Booth
July 8, 2017 Midwest National Parks on Facebook posted a photo in Prairie Grove, Kansas of a National Register of Historic Places phone booth. Reposted on Facebook July 11, 2017 by Allen County Genealogical Society of Indiana on Facebook, one comment pointed out there is at least one phone book in Fort Wayne at the Salvation Army downtown visible on Google maps.
June 4, 2023 post by Wabash County Historian on Facebook:

Some of you may remember these-a TELEPHONE BOOTH. Hadn't seen one in years and then all of a suddenly I've seen two. The pay phone was invented in 1889 by William Gray and shortly afterwards the phone booth for privacy. Phone booths were once found in high traffic areas like, hotels, banks, office buildings and drug stores. Western Electric manufactured thousands of them. They usually had an accordion like doors for entry and privacy, lighting, a place to sit and a shelf to write on. Most were furnished with a phone book. I remember when it cost five cents to make a call in one but if you made a long distance call be prepared to have a lot of change.

By the 1950s this style of phone booth was giving way to glass and aluminum booths. You may remember when phone booth stuffing was all the rage in the 1950s. I think the world record was 25 in one booth. Later generations remember them as where Superman discards his street clothes for his superman outfit or where Bill & Ted went on their most excellent adventure. For me I wax nostalgic when I see one on Perry Mason or in an antique shop remembering phone calls from one to a girlfriend. In 1943, a telephone booth, similar to this one, stood in the lobby of Indiana Hotel (Charley Creek Inn today) just to the right of the dining room entrance where there is an elevator now. That telephone booth was unusual because it did not have a door, and yet noise from the lobby did not interfere with calls made there. In 1943, a picture of the booth made its way into an article in the magazine Performance, which was a trade publication of the mineral wool industry. A headline over the story read, "Wabash, Indiana, shows New York the Way," This was because the phone booth in the hotel was the forerunner of dozens of similar booths soon to be placed on subway platforms in New York City. Mineral wool covered by perforated metal panels covered three sides of the booth and successfully deadened sound from the lobby. The booth was in the hotel until well into the late 1960s.

Gladys Airgood shared that in the North Manchester museum "We have a phone booth in the Manchester Center for History complete with Superman outfit, phone, light and fan. Kids lie to have their picture in it."
Theaters
Movie Theaters in Fort Wayne, IN has links to 31 closed movie theaters on Cinema Treasures. Fort Wayne, Indiana Theaters on Cinema Tour also lists some addresses and photos on Cinemas Around the World. Searching for Theatres and Theater finds several photos and discussions on You know you've lived in Fort Wayne too long when... Private Facebook group. Over 30 photos of several theaters posted August 6, 2017 on You are positively from Fort Wayne, if you remember... Archived group only visible to existing members on Facebook.
See local Theaters such as the Broadway Theatre, Clyde Theatre, Embassy Theatre, Holiday Theater, Jefferson Theatre, Lyric Theatre, Palace Theatre, Paramount Theatre, and Rialto Theatre.
Thieme Drive Overlook
West of downtown Fort Wayne at the north end of Thieme Drive on the east bank of the Saint Mary's River. Read Thieme Drive Overlook by Tom Castaldi published December 29, 2015 in History Center Notes & Queries blog.
Three Rivers Apartments
Three Rivers Apartments with Image:1966 was posted January 20, 2018 in Fort Wayne Readerby Randy Harter, Fort Wayne historian and authorwho gave Allen INGenWeb permission to copy his posts and again January 21, 2018 on You are positively from Fort Wayne, if you remember... Archived group only visible to existing members on Facebook.

This article was written for and is courtesy of Fort Wayne Reader newspaper

While Mayor Harold Zeis (1964-71) gets most of the credit (or blame) for the 1960's downtown redevelopment, it was Mayor Paul Mike Burns (1960-63) who had commissioned the detailed study of the city's urban structures and housing that was completed in 1962 by the Rhode Island urban planning firm of Blair and Stein Associates. When Zeis came to office, he focused significant city government time and energy — in addition to developing new residential housing units in distressed areas — to the leveling and renewal of the area bounded by Main, Superior, Calhoun and the Maumee River.

In 1965, The Fort Wayne Redevelopment Commission sold property for the initiative's first downtown urban renewal project, which covered 5.6 acres at the east end of Superior and Columbia streets to the Three Rivers Development Corp. for $250,000. On this ground was then built Three Rivers Apartments which had the financial backing of Indiana & Michigan Electric Co., several of whose executives were also officers of the newly formed development company.

This kickoff to downtown's redevelopment eliminated the 400 block east of both of those two streets that had been home to the Borden's Ice Cream plant (now Edy's - which relocated to North Wells St.), warehouses for the Grand Leader and W & D's department stores, Pettit Transfer & Storage Co., Hagerman Construction and National Mill Supply, all of whose buildings were subsequently razed.

Designed by the Silver Spring, MD architectural firm Cohen, Haft & Assoc., Ted Hagerman, Hagerman Construction (who took part in the September 1965 groundbreaking), was the general contractor on the twin-14 story, $6M project. In addition to the two luxury apartment buildings and huge above street level heated swimming pool, they constructed an underground parking garage that held 250 cars and then put the complex's surface parking lot on top of it. The image shown was taken in September of 1966, exactly one year after groundbreaking, and shows Hagerman's crews pouring the tenth floor of the east building, with the 1930's filtration plant in the background.

Through the years the buildings have been carefully maintained and continually updated, and the 354 units (covering 17 different floor plans) from 506 sq. ft. to over 3,000 sq. ft. are still considered to be downtown's "Luxury" apartments, and have the amenities and views to prove it. While it's amusing today to read the brochures from the buildings' grand openings in the summer of 1967 where they tout "Appliances are finished in the very newest Avocado color", and that "All TV's get channels 15, 21 and 33", current management assures me that all the avocado appliances disappeared many years ago and you can now have all the TV channels you want.

A tip of the hat to Eric Tripp for sharing this image.

Randy Harter, Fort Wayne historian and author
3Rivers Federal Credit Union
February 14, 2023 post by 3Rivers Federal Credit Union on Facebook:

It's our 88th birthday! On February 14, 1935, 3Rivers opened our doors as International Harvester Company Fort Wayne Works Employees Federal Credit Union. While our name has gotten shorter, we've grown in every other way!

We've expanded our footprint, currently operating 22 branches throughout northeast, central, and east central Indiana, and St. Marys, Ohio. We've gone from $250 in assets to $2.2B and three employees to nearly 500.

Most importantly, though, is the longstanding trust our now 110,000 members have put in us to help them reach their financial goals over the decades. Helping our members and celebrating their achievements is what inspires us to continue growing.

Getting the keys to their first cars and first homes, traveling the world, earning degrees, starting families, opening businesses, living debt free, retiring early… each of our members has their own, unique dreams, and we're here to support all of them!

Thank you to our members, our employees, and our community for allowing us to be a part of your stories. We appreciate you!

[Check out our transformation: Our headquarters at the International Harvester campus in 1935 and our corporate office at Northland Blvd. today!]
Three Rivers Festival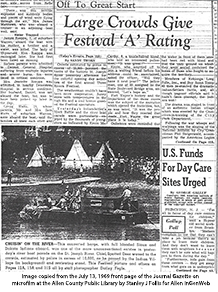 July 13, 1969 front page The Journal Gazette
The Three Rivers Festival is an annual 9-day celebration of our Northeast Indiana community. Events include a televised Parade, a Fine Arts show, Crafters' Market, a unique Bed Race, children's & senior's mini-fests, live entertainment, International Village, tasty concessions, Raft Race, the Waiter-Waitress Contest, Marketplace, and a fabulous Fireworks Finale, which adds up to memory-making fun for the whole family! Website: https://www.threeriversfestival.org, Facebook: https://www.facebook.com/ThreeRiversFestival/. A week long festival in downtown Fort Wayne began July 12, 1969. At the first Three Rivers Festival in 1969, an estimated 100,000 people enjoyed a grand parade, and 60 events on the Columbia Street Landing. Copied from Three Rivers Festival of Fort Wayne originally submitted by: Mark E. Souder, Representative (4th District) at Local Legacies at The Library of Congress. An article was on the front page of the July 13, 1969 The Journal Gazette newspaper. On the banks of the St. Joseph River, 10,000 people gathered to watch a river parade. Copied from TRF through the years by Corey McMaken published July 13, 2018 with photos in The Journal Gazette newspaper. The WLYW raft race in the 1970s was very popular and was the second most highly attended outdoor event behind the Indianapolis 500 race. A 1972 raft race photo shows the large crowds on the banks of the St. Joseph River on the original Great Memories and History of Fort Wayne, Indiana page on Facebook. The raft race ended in 1998 after many successful years. Various reasons given were rowdy crowds, dirty river water, someone drowned, and insurance issues. Due to popular demand the race returned in 2013 when the riverfront development movement began. Website: www.threeriversfestival.org, Facebook page: Three Rivers Festival.
Three Rivers Water Filtration Plant
Three Rivers Water Filtration Plant The Three Rivers Water Filtration Plant was constructed at the confluence of Fort Wayne's three rivers in 1933. When it was built, it had the capacity to produce 24 million gallons of treated water per day (MGD). Since the original construction there have been two major additions: a 24 MGD expansion in 1955 and a 24 MGD addition in 1981. The total capacity of the Plant today is 72 million gallons per day, enough to supply the needs of Fort Wayne for at least the next 10 to 15 years. Copied from Three Rivers Filtration Plant on City of Fort Wayneweb site.
Three Rivers Filtration Plant fact sheet  on the City of Fort Waynewebsite.
Fort Wayne, Indiana Fort Wayne was incorporated as a city in 1840. After a decade-long struggle, the city built a water works that began service on December 14, 1880. The system was designed by Josiah D. Cook with a reservoir 97 feet above the level of the court house that would be filled by two steam engines, an efficient one of 3 MGD and a less-efficient back-up engine of 2 MGD. Cook felt this was less expensive than a system of direct pumping, which would have required to complete sets of pumping apparatus. Holly engines were selected and the reservoir was only partially completed for several years, so the system functioned mostly as a regular Holly water works system, with a Holly triple-expansion engine added in 1891. Copied from Documentary History of American Water-works which lists dozens of online sources from 1870 thru 1981.
In 1933, engineer R.L. McNamee wrote, "The architectural finish of the new Three Rivers station has afforded the architect an unusual opportunity to use the nationally known product of our state: Indiana limestone. City officials gave much thought to the selection of an artistic yet durable color and texture of stone, and the wisdom of their choice is well expressed in the pleasing ensemble of the structure as a whole." Water Filtration Plant by Tom Castaldi, local historian at Heritage Trail by ARCH ( Architecture and Community Heritage).
The Story of Fort Wayne's water system Date Issued 1933. Abstract: Dedication souvenir booklet honoring the completion of a waterworks improvement plan, the Three Rivers Project at Hagley Digital Archvies. Found in one of the links above by the Documentary History of American Water-works.
Water Filtration Plant Audio: "Filtration Plant" featuring Tom Castaldi. Courtesy of 89.1 WBOI in the Landmark series by ARCH ( Architecture and Community Heritage).
Mayor Hosey's Three Rivers Water Plant by Tom Castaldi published July 10, 2014 in the History Center Notes & Queries blog.

Three Rivers Filtration Plant - 1933

Randy Harter, Fort Wayne historian and author

July 5, 2018

In the mid-1800's, Fort Wayne's water supply for both drinking and firefighting came from being pumped from the Wabash & Erie Canal (1843-1874), ponds, creeks, cisterns or wells. By the mid-1870's it had been determined that a single reliable water source was needed for the growing city, and so our first major water works project was planned.

This resulted in the construction of the 5 million-gallon, brick-lined hill at Reservoir Park (now Ivan Lebamoff Reservoir Park) that was built in 1880 at a cost of $250,000. Sitting on a 13.1 acre parcel of land, the wood capped reservoir had water pumped to it from 37 wells located throughout various sections of Fort Wayne.

By the 1920's the well-fed reservoir was reaching the point where it would soon be unable to supply our burgeoning city's needs. In 1930, during the administration of Mayor William Hosey, plans were developed for the new modern Three Rivers Filtration Plant. Groundbreaking took place in 1931, and the completed "water factory" shown in this image taken from the top of Lincoln Tower was dedicated in December of 1933. Construction of the Collegiate Gothic style limestone building had come at a good time for Fort Wayne as we, along with the rest of the county, were in the throes of the Depression. However, this was not a WPA project, but rather locally funded with $2.5 million in bonds.

In conjunction with the filtration plant, the St. Joe River Dam was built near today's Coliseum Blvd. Located adjacent to the dam is the pumping station that feeds water through two 42" pipes that run alongside Parnell Avenue and the St. Joe River to a submerged crossover and then to the filtration plant. The plant today has a 20 million gallon underground reservoir, which is backed up by the water stored behind the St. Joe River Dam (1933), the Cedarville Dam (1979), and the 1.8 billion gallon Hurshtown Reservoir that was built near Grabill in 1969. (Image courtesy Craig Leonard)

A tip of the hat for the use of research by Mary Jane Slaton, Don Orban and Creager Smith, City of Fort Wayne.

Randy Harter is a Fort Wayne historian, author of three books on local history, and the history/architecture guide for FortWayneFoodTours.com

August 1, 2018 post by The History Center on Facebook:

It's National Water Quality Month! Fort Wayne has improved the quality of its potable water throughout its history. Water was initially drawn from local bodies and wells, which became undersized and contaminated due to urban expansion. No water works existed in the city until 1880. The Feeder Canal was initially considered as a source for this works, but the City ultimately chose Spy Run Creek. The creek's inadequate size forced the City to dig water table wells shortly after. In the 1920s, Mayor Hosey sought to capitalize on new water treatment methods and commissioned a filtration plant. The new Three Rivers Water Filtration Plant was finished in 1933. The striking gothic-style civic landmark features Indiana limestone and has expanded multiple times. It still draws and treats the waters of the St. Joseph River at the Hosey Dam, utilizing both chemical and physical processes. #sociallyhistory

October 13, 2018 post by Riverfront Fort Wayne on Facebook:

The Three Rivers Water Filtration Plant was constructed at the confluence of Fort Wayne's three rivers in 1933. When it was built, it had the capacity to produce 24 million gallons of treated water per day (MGD). Since the original construction there have been two major additions: a 24 MGD expansion in 1955 and a 24 MGD addition in 1981. The total capacity of the Plant today is 72 million gallons per day, enough to supply the needs of Fort Wayne for at least the next 10 to 15 years.

KEVIN LEININGER: Fort Wayne's history is linked to water, and it's worth preserving posted Jun 27, 2019 in The News-Sentinel newspaper.
MamaJo
MamaJo is a tunnel system built to help clean the city's rivers. Derived from taking the first two letters from Fort Wayne's three rivers, the Ma from Marys, Ma from Maumee and Jo from Joseph, MamaJo seems only fitting for a project that's had an engineer's working title of the Three Rivers Protection and Overflow Reduction Tunnel (3RPORT). And so MamaJo becomes the protector of our rivers.
Mining lore says that as far back as the 1500s, workers prayed to Saint Barbara for protection while working in the dark underground. Since then it's been tradition to name the tunnel boring machine. More at MamaJo at the City of Fort Wayne.
See our Three Rivers page. The City of Fort Wayne Tunnel Program FAQS states: Fort Wayne is under a federal court order to greatly reduce the amount of combined sewage going into our rivers each year, to reduce sewage that backs up into homes during wet weather events, to eliminate discharges from sanitary sewers and to enhance the sewer system's reliability through ongoing operation and maintenance, repair, rehabilitation and replacement. Fort Wayne negotiated with the US Environmental Protection Agency (US EPA), the Indiana Department of Environmental Management (IDEM) and the United States Department of Justice for more than ten years before an agreement was reached in late 2007 that governs how City Utilities will reduce discharges from the combined sewer system into our rivers during wet weather. The agreement – incorporated into a federal Consent Decree that is enforced by a federal court – is a result of the Clean Water Act. See the Fort Wayne City Utilities MamaJo page: https://utilities.cityoffortwayne.org/mamajoupdate/.
It's part of an 18-year, $240 million effort to reduce the number of combined sewer overflows into Fort Wayne's three rivers – the St. Joseph, St. Marys and the Maumee – from an average of 76 overflows per year to four. The St. Joseph is the first watershed that will reach compliance with the consent decree, Wirtz [Matthew Wirtz, City Utilities deputy director] said. Overflows occur when high water volumes, such as what might occur during heavy rainfall, back up the city's combined sewer system, causing it to alleviate the pressure by discharging into the rivers. The St. Joseph River typically overflows 12 to 15 times a year, causing sewers to dump 9 million gallons of wastewater into the river. Through some earlier sewer separation projects, City Utilities has been able to decrease that amount to about 5 million gallons per year. "All those overflows (on the St. Joseph River) will be reduced to one or less in a typical year," Wirtz said. He said this portion of the project will be completed four years ahead of schedule and is expected to come in significantly under budget. Once the project is complete, it's expected to discharge only about half a million gallons into the river in a typical year – a 97 percent decrease from the current overflow levels. Copied from Watershed year for St. Joe River Will achieve compliance with 2008 decree next year by Dave Gong published December 25, 2014 in The Journal Gazette newspaper.
Fort Wayne sewer overflow project nearing its end 89.1 WBOI | By Tony Sandleben, Published November 15, 2022
The city water filtration plant video City Utilities Today created by Patrick Stelte published October 28, 2017 on Access Fort Wayne.
Threshing and Steam Machines
Several articles over the years mentioning Fort Wayne can be found online in various issues of Farm Collector Newsletter.
Time Corners
Often confused as "Times Corner" or "Times Corners" at the intersection of 3 roads, Getz Road, Covington Road, and Jefferson Blvd. It refers to a former Standard gas station with one clock. The area now has several shopping centers including Time Corner shopping center. Over the years, various newspaper articles discussed the name origin, but none are currently online. There was a December 28, 2014 discussion on the original Great Memories and History of Fort Wayne, Indiana page on Facebook. The original clock was located in 2016 in Columbia City and discussed in a June 26, 2016 on You know you've lived in Fort Wayne too long when... Private Facebook group. Several Time Corner discussions often with photos are on True Fort Wayne Indiana History on Facebook including a October 19, 2022 discussion with a newspaper clipping showing an advertisement by the owner at the time Ray Mutton. Time Corners search on Facebook produces some results.
Tin Village
Discussed on our World War II page.
Fred Toenges Shoes & Pedorthics
Was on 2415 Hobson Road after originally founded on Maumee Avenue. Family putting feet first for 125 years by Vivian Sade published October 23, 2016 on The Journal Gazette newspaper. Fred Toenges celebrates 125th anniversary Individual service and pedorthics specialty sustain business as it faces much larger competitors. by Jonathan Robison published October 25, 2016 in The News-Sentinel newspaper.
Toidey Company
Started as Juvenile Wood Products Inc. on Taylor Street, by Gertrude Muller in the 1920s when she saw the need for folding toilet seats for children.
Tokheim Manufacturing Company
Founded in 1901 in Cedar Rapids, Iowa, Tokheim moved to Fort Wayne in 1918. The Gas Pump Showcase by Scott Anderson - The History of John J. Tokheim and the Tokheim Manufacturing Company in the November 2002 issue on Petroleum Collectibles Monthly covers the pre-Fort Wayne history. Was at one time the world's largest producer of gasoline pumps. Tokheim lost its listing on the New York Stock Exchange in 2000, when it first filed for bankruptcy. On August 6, 2003, Tokheim Corporation went out of business as per its Chapter 11 liquidation filing under bankruptcy when it had 3,700 employees according to Company Overview of Tokheim Corporation on Bloomberg.com. The Fort Wayne plant closed February 28, 2006 Tokheim to close in Fort Wayne today published February 28, 2006 on KPCNews.com. See condensed timeline history in An Illustrated Guide To Gas Pumps: Identification And Price Guide by Jack Sim. Tokheim on Wikipedia, The Free Encyclopedia. Tokheim Oil Tank and Pump Company in World War Two posted February 5, 2022 on USAutoIndustryWorldWarTwo.com posted October 23, 2022 on True Fort Wayne Indiana History on Facebook.
Transfer Corner
Intersection of Main and Calhoun streets was the busiest corner in Fort Wayne from the 1890s to the 1960s, here all the trolleys (and later buses) converged from their various routes.
Trees
Street trees affect the look and character of neighborhoods. Allen County was once a virgin primeval forest, trees were cut down for wood products, farmland and cities, then replanted with often different non-native species of trees as more homes and businesses were built. See our Timelines page for more information about historical trees. Street Trees at City of Fort Wayne Parks & Recreation.
Hardwoods is the No. 1 agricultural industry in the state in terms of jobs, wages and economic impact," ... Indiana hardwood firms create more than $10 billion in annual revenues and support over 70,000 jobs, with a total annual economic impact of more than $15 billion. ... Indiana is ranked first in the U.S. in wood office furniture and hardwood veneer production. Depending on the year, Indiana leads or is in the top five states for wood kitchen cabinets and countertops, engineered wood products, prefabricated wooden buildings and homes, upholstered wooden furniture, and wooden coffins and caskets, for which black walnut is highly prized. Copied from Indiana Hardwoods Industry Is State's Leading Ag Sector posted November 20, 2022 by Matthew Ernst on Farm Flavor.com.
March 15, 2023 post by Fort Wayne Parks and Recreation on Facebook:

The benefits of trees which can easily be measured have been known for decades, but did you know that some benefits are less easy to measure yet significant to our well-being? Learn more in the latest Parks Podcast with Fort Wayne Parks and Recreation Superintendent of Urban Forestry Derek Veit and Park Director Steve McDaniel. https://soundcloud.com/.../parks-podcast-the-benefits-of...
Indiana Hardwood Lumberman's Association https://www.ihla.org/.
Chestnut blight in the early 1900s, Dutch elm disease in the 1950s, and emerald ash borer in the early 2000s have decimated those species of trees. News reports continue to discuss new discoveries of alien species that could become future problems.
American Ash trees
The July 5, 2012 video with Chad Tinkel Fort Wayne Manager of Forestry stated 23% of city street trees were ash trees prior to the arrival of the emerald ash borer.
American Chestnut tree
American Elm tree
American Elm one of 100 trees on the Native Trees of Indiana River Walk at Purdue University Fort Wayne. Description: Once used extensively as a street tree, in its best form American Elm is vase-shaped and strongly arched above with drooping branches. Dutch Elm Disease, a wilt fungus introduced from Europe in the 1930's and spread by Elm Bark Beetles, caused the devastation of most trees, and continues to cause losses among remaining trees.
is caused from a fungus carried on the bodies of beetles. It has wiped out the elms in many large cities in the East. Only one case was noted here in 1949; two in 1950; four each in 1951 and 1952; and three in 1953. In 1954 the department discovered 23 dead elms and in 1955, some 334 were removed! Yesterday [August 9, 1956] it was reported than 198 trees have had to be removed thus far this season. There were an estimated 14,000 elms in the city. Copied from a longer article Aug. 10, 1956: Taking down an elm tree by Corey McMaken with a photo showing an elm tree being cut down, published Feb 4, 2021 updated Jun 6, 2022 in The Journal Gazette newspaper.
In 1959 alone, 1,328 elms were removed, including 1,081 along streets, according to a 1960 Journal Gazette story. In 1959, staff was added and new mechanical equipment was bought to help in the fight, such as a mobile aerial tower for the removal of tree limbs. The first three years of the battle cost the city about $120,000, according to the 1960 JG story. Copied from a longer article Elm disease consumed decades Corey McMaken published Aug 26, 2021 updated Jun 6, 2022 in The Journal Gazette newspaper.
Trier Amusement Park
Moved their dance house after Robison Park closed, bought the Blue Streak roller coaster from Robison Park in 1919 and was popular until the entire park burned down in early 1950s. See August 24, 2015 discussion on You know you've lived in Fort Wayne too long when... Private Facebook group. A March 21, 2017 and June 2, 2017 discussion and postcard posted March 27, 2017 and June 19, 2017 discussion on You are positively from Fort Wayne, if you remember... Archived group only visible to existing members on Facebook.
Trelleborg Sealing Solutions
Founded in 1952. headquarters is located in Fort Wayne, Indiana, with an on-site, industry-leading Research and Development Center and Materials Test Lab. Also based in Fort Wayne is the Supply Chain Management Americas, a 90,000 square-foot facility using the latest warehouse management technology, incorporating bar coding and RF scanning to boost productivity and expedite customer orders. From their Company Americas Facts page.
Trolley Yard
Trolley Yard/North Side High School/Centlivre Brewery 1927 by Randy Harter, Fort Wayne historian and authorpublished March 16, 2018 in Fort Wayne Reader. See Interurban on our Railroad page.
Troy Laundry Building
1717 S Calhoun Street. Photo of terra cotta decorations posted September 24, 2017 on You are positively from Fort Wayne, if you remember... Archived group only visible to existing members on Facebook.