Luther Institute of Allen County, Indiana
In 1916 the Luther Institute opened with a two-year, basically business school program. The courses offered included typing, shorthand, bookkeeping, domestic science, office machines, office procedures, literature, grammar, spelling, penmanship, composition, correspondence, history, civics, business law and Bible study. Evening classes were held three evenings per week for those who worked during the day. The Lutheran School Society operated the Luther Institute with membership primarily from the Lutheran congregations of Fort Wayne. Nominal membership dues, tuition and gifts supported the school. The initial annual tuition was $114.00. The Luther Institute was located next to St. Paul's Lutheran Church on Barr Street in Fort Wayne. The Luther Institute was the predecessor of Concordia Lutheran High School. The Luther Institute closed in approximately 1935.
The Concordia Lutheran High School The Golden Years 1935-1985 25 page pdf has photos and history of the Luther Academy from the History page of Concordia Lutheran High School.
Brenda Blackburn has this picture of the teachers and students in 1926 and is willing to scan the picture for anyone interested in a certain person. Below is a list of the students and teachers in the picture. You can email her at blackburn@ccj.com.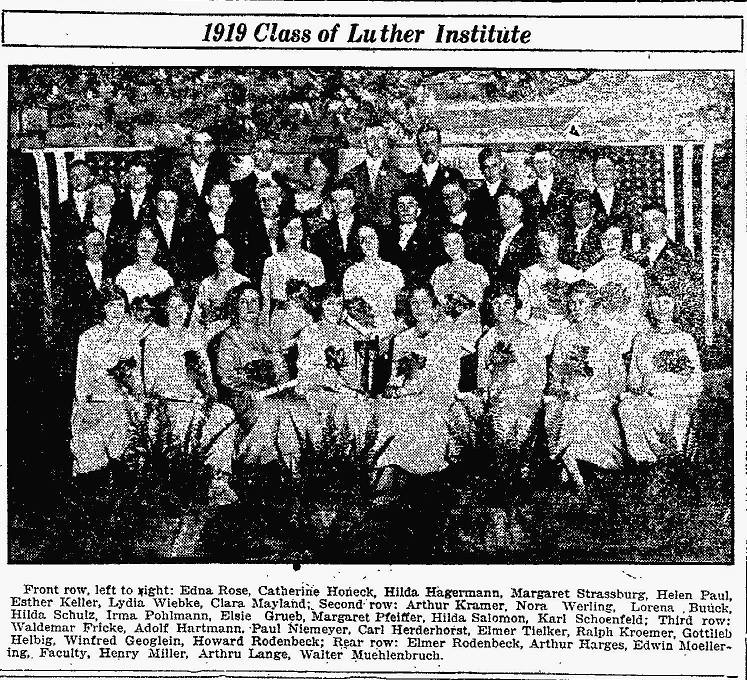 This June 24, 1919 photo in The News-Sentinel newspaper was posted in a discussion January 19, 2017 on the original Great Memories and History of Fort Wayne, Indiana page on Facebook.
Was discussed December 13, 2022 on True Fort Wayne Indiana History on Facebook. One comment with a photo stated: The Luther Institute was located on the north side of St. Paul Lutheran Church at 1126 So. Barr St. It was constructed in 1924. It was the predecessor of Concordia Lutheran High School. It was both a high school and college to Lutheran youth. It closed in 1935.
2009 addendum:
Martin H. Bertram was born September 21, 1887 in Upper Montere, New Zealand (d. 5 May 1983) from LutheranHistory.com. He graduated from Concordia Seminary (Saint Louis) in 1911 and served as a pastor at Didsbury and Bismarck, Alberta, Canada. He was an assistant professor at Concordia College (Saint Paul, Minnesota) from 1914 to 1916, principal of Luther Institute (Fort Wayne, Indiana) from 1916 to 1921 and professor at Concordia College (Fort Wayne) beginning in 1921.
Indiana University moved classes from evening classes at Central High School to the building in 1937, and purchased the building in 1940.
| | | | |
| --- | --- | --- | --- |
| Affolder, Louise | Arney, Donald | Berning, Dorathea | Bertram, Irene |
| Bobay, Raymond | Boester, Alfred | Bullerman, Ruth | Carlson, Theodore |
| DeHefsen, Paula | Dickmeyer, Ruth | Doehla, Herbert | Doehrman, Ruth |
| Dole, Gordon | Floering, K.H. (teacher) | Foester, Margaret | Foelber, H.J. (teacher) |
| Fogwell, Florence | Fogwell, Mable | Foltz, Norma | Fratz, George |
| Franke, Enno | Fuchshuber, Alvin | Fuhrmann, Pauline | Gerke, Norma |
| Gernand, W.J. (teacher) | Girrad, Raymond | Hanefeld, Amanda | Hartman, Edward |
| Heemsoth, Mildred | Heilman, Emma | Hertwig, Oswald | Hockemeyer, Alvina |
| Hoffman, Esther | Hoffman, Frieda | Hoffman, Selma | Huge, Edna |
| Katt, Miriam | Kayser, Dorothy | Kestner, Paul | Koch, Herbert |
| Koehlinger, Winston | Kohlmeyer, Margaret | Korte, Norma | Kruse, Carlton |
| Lahrman, Wilbert | Leitz, Helen | Linnemeier, Albert | Linse, Helene |
| Meyer, Paul | Moore, Mildred | Oelfke, Raymond | Oelschlaeger, Robert |
| Rodenbeck, Harold | Rodenbeck, Pauline | Roeder, Alma | Roeder, Beata |
| Rose, Walter | Rossman, Edward | Schaefer, Edna | Schmidt, Margaret |
| Schroeder, Wayne | Schweizer, Paul | Schweppe, Carl | Seiler, Alma |
| Stahlhut, Evelyn | Steward, Dorothy | Stoll, Edgar | Trier, Myrtle |
| Vonderau, Ruth | Wambaganss, Elfrieda | Weber, Margaret | Wehr, Velma |
| Werling, Arnold | Werling, Helen Ann | Widenhoefer, Elsie | Wiefeldt, Lucile |
| Witte, G.W. (teacher) | Wonderly, Hazel | Ziegler, Frieda | |