D Named Places in Allen County, Indiana
Dahm Brothers Roofing
Dahm Brothers Roofing 85th anniversary on January 1, 2013
Dairies of Fort Wayne
Over 150 comments on a July 12, 2017 post on You are positively from Fort Wayne, if you remember... Archived group only visible to existing members on Facebook started with the dairy on North Clinton just before Coldwater split. In August 2022 the location was Praire Farms originally Allen Dairy. They eventually discussed 3651 Clinton Street before North Clinton splits south of Target and Glenbrook Mall into Coldwater Road that became Hanchar Industrial Waste Management and I. Jones Recycling. Dairies in Fort Wayne included Allen, Eskay became Meadow Gold, Prairie Farms https://www.prairiefarms.com/, Sealtest, Schenkel, Walmart (2017) and Wayne Cooperative Milk Products.
January 13, 2020 a photo posted by Foellinger Foundation on Facebook stated: This photo was taken on January 13, 1955, before the demolition of Isaly's Creamery. Soon after, construction began on the existing Fort Wayne Newspaper building, where Helene R. Foellinger was owner and publisher from 1936 to 1980. Berry Cafe and Deluxe Glass are now Henry's Restaurant. #downtownfortwayne #history
From the diary of a dairywoman: The history of Allen Dairy Midge Chambers, Retired General Manager / Prairie Farms, October 29, 2018, on ProgressiveDairy. See photos and more at Story of Allen Dairy: Diary of a Dairy December 1938-December 31, 1993 by Midge Chambers, Retired General Manager Prairie Farms at the The Genealogy Center at the Allen County Public Library in Fort Wayne, Indiana.
Dalman House
Today, we begin our list of the top endangered properties of the Historic 07 District - Fort Wayne. The list will not be in any specific order but hopefully will raise awareness of these incredible properties. 2732 Fairfield Avenue might be one of the oldest homes in the Historic 07 District - Fort Wayne. The house was either moved or built here around 1888 by the Dalman family. John Dalman was a leader in Pleasant Township and later became the County Treasurer. He made inroads with some of the significant leaders of the day, including the Bond family (Packard Piano). John passed away in 1905. John's wife, Louisa, maintained the home for the next 23 years until she passed away in 1928. Recently, their great-granddaughter (who is now 100 years old!) stated this about the home and the Dalmans: "I do remember the house on Fairfield Avenue. I remember a large porch, which ran along the side and front of the house. I even remember the inside a little bit. I do remember that my great grandmother took care of me there occasionally when I was little when my mother and grandmother went shopping downtown. I remember that she wore high-button shoes and long dark dresses. She died of stomach cancer when I was eight years old. I remember her as a very nice person." After 1928, the home was vacant for a portion of the 1930s and has changed hands over the last decades; it is currently vacant and owned by a company. How wonderful would it be to see this home brought back to life? Copied from July 27, 2020 post with photos byHistoric 07 District - Fort Wayne on Facebook.
Davis Pontiac
Discussed April 2, 2017 on You are positively from Fort Wayne, if you remember... Archived group only visible to existing members on Facebook.
Davisson House
Homer Davisson dean of Indiana artists, died in 1957, had a studio at 331 W. Pontiac Street. See photos on Homer Davisson House blog. History vs. bureaucracy: Which will prevail? Studio of 'dean of Indiana artists' struggles for survival by Kevin Leininger published April 2, 2014 in the The News-Sentinel newspaper.
Dawson's Hot Dog Stand
A small round stand outside the Southern Heights Baptist Church at the corner of south Anthony and Rudisill boulevards for nearly half a century is one of those almost mythical Fort Wayne foods. It closed for good in the early 2000s and since then fans of the dogs have chased the sauce wherever it has popped up. Many people have claimed to have the recipe. None of the several owners actually owned the building. The building and the property it sat on was owned by the church. The late James Dawson Jr. and his wife, Virginia, bought the business in 1951, but they, and the three owners who followed, never had a lease or rent to pay. They just had to donate some of their profits – 7 to 10 percent, depending on who you ask – to the church. Tim Replogle family took over from the Dawsons in 1977. Copied from a longer article with more details called Dawsons giving sauce to city Brothers hope to clear air on recipe variations by Ryan Duvall published October 26, 2018 in The Journal Gazette newspaper. Let's be frank: Memories can be savored even after iconic stand's demise by Kevin Leininger published June 10, 2017 in The News-Sentinel newspaper. Photo and discussion August 18, 2017, several more photos August 25, 2017, Dawson search, and August 15, 2019 a similar Archer Root Beer stand was discussed with a copy of a 1990s Yesterdays column by Nancy Venderly published in the The News-Sentinel newspaperon You are positively from Fort Wayne, if you remember... Archived group only visible to existing members on Facebook.
Deister Machine Company
Founded in 1912, makes vibrating screens – equipment used to separate different sizes of gravel, sand, stone and coal. Deister co-owner marks 50 years Sherry Slater of The Journal Gazette newspaper October 23, 2012.
Devil's Hollow
See Lillian Lynn. The Story of Devil's Hollow (Vandola Road); Back in the early 50's, a couple in their teens were out on a date and about midnight they were on their way home and decided to take a shortcut down Vandola Rd. As they were driving down the road they heard a big pop sound. Flat tire. He pulled off the road and shaking his head he told her that he did not have a spare. He told her to lock the doors for he had to go for some help and he would be back shortly. An hour went by and he still hadn't come back. The wind was picking up and she kept hearing scratches on the top of the car from the branches. Another hour went by and he still hadn't returned. She opened the door...stepped out and ..he was hanging by his feet from the tree above the car. It was his fingernails scratching the top of the car. Two different conversations with comments July 7, 2012 and March 15, 2013 onthe original Great Memories and History of Fort Wayne, Indiana page on Facebook. The Legend of Devils Hollow Fort Wayne, IN. Authored by The Hollows Tattoo & Art Festival discussion March 13, 2017 and general discussion July 4, 2017 on You are positively from Fort Wayne, if you remember... Archived group only visible to existing members on Facebook.
Didier Meats
Tim Didier Meats About Us
Diehm Museum
Closed in 2007 was one of The Seven Wonders of Fort Wayne by Michael Summers on Fort Wayne Reader. Legendary Locals of Fort Wayne, by Randolph L. Harter, Craig S. Leonard discussion August 2, 2015 on You know you've lived in Fort Wayne too long when... Private Facebook group. January 17, 2017 discussion with photos on You are positively from Fort Wayne, if you remember... Archived group only visible to existing members on Facebook.
Diffendarfer House
The Diffenderfer House located on DeWald Street near Saint Patrick's Church was built in 1886. The Queen Anne-style home was designed and built by prominent Fort Wayne architects John F. Wing and Marshall S. Mahurin. Copied from 135-year-old south Fort Wayne home hoping for historic designation from City Council Tuesday published July 5, 2021 on CBS WANE-TV NewsChannel 15. Other buildings in Fort Wayne designed by the firm include John H. Bass Mansion, aka "Brookside," on the Spring Street campus of the University of Saint Francis and St. Paul's Evangelical Lutheran Church, 1126 S. Barr St. Because of its architectural significance, it meets one of the criteria under the Fort Wayne Historic Preservation and Protection ordinance. William Alcorn Diffenderfer bought the lot in Williams Addition in 1884, but it appears that Benjamin O. and Isabella Diffenderfer were owners of a home on the property in 1887 city directory. The widowed Isabella left the home to her son and he and his family lived there until around 1918. Christian and Ida Schwarze owned the home from around 1919 to 1971, and Steve Black brought the house in 1976 before marrying Yolande. Copied from July 7 - Fort Wayne City Council OKs historic status for house published July 6, 2021 by Greater Fort Wayne Business Weekly.
Dix-Kelly Electric Shop
In April of 1918 Frank J. Dix, Superintendent of the City Light Plant, and Robert E. Kelly, Chairman of the Board of Public Works, formed the company Dix-Kelly Electric Shop, Inc. and made their store and offices at 216 East Berry Street. Newspaper advertisements of the time show their store sold all things electric including vacuum cleaners, washing machines, irons, toasters, light fixtures, sewing machines, and fans. More importantly Dix-Kelly became one of the largest local electric wiring contractors of the era and had photographs taken of over 50 of the larger houses and buildings that they completed during the period of 1919 – 1930. This rare collection of images is courtesy of ARCH, Inc. [ ARCH ( Architecture and Community Heritage)] which has worked to celebrate, protect, and preserve architecture and community heritage in Allen County and Northeast Indiana since 1975. Image research by Randolph L. Harter. Copied from the description of The Dix-Kelly Collection at the Allen County Public Library Digital Collections at the Allen County Public Library.
Doswell & Kover
We'll be the last to let you down 103rd anniversary on January 1, 2013
Drive-in Movie Theaters
During their 1950s peak, there were more than 5,000 drive-in theaters across the country, but according to DriveInMovie.com there are fewer than 230 remaining. Indiana had 128 in 1955 but now has 19 [in 2020]. Allen County's first, the Fort Wayne Drive-in on Bluffton Road, opened in 1947 and was followed by the Lincolndale, the Hillcrest, the East 30 and the Sunset by 1954. The Hillcrest on Tillman Road (1987) and the East 30 (1991) were the last to close. The only area drive-ins remaining are the Auburn-Garrett Drive-In (it opened in 1951), the Huntington Twin Drive-In (1950) and Wabash's 13-24 Drive-In (1951). Copied from Drive-in theaters are facing tough season by Blake Sebring published April 23, 2020 in The Journal Gazette newspaper. Discussion about a 1939 The Drive-in Theater, believed to have been located "somewhere close" to the old Fortmeyer's, near the intersection of 33 & W. Washington Road, by Randy Harter, Fort Wayne historian and authorposted July 26, 2018 on You are positively from Fort Wayne, if you remember... Archived group only visible to existing members on Facebook. Drive-ins were discussed December 14, 2022 on True Fort Wayne Indiana History on Facebook.
Driving Park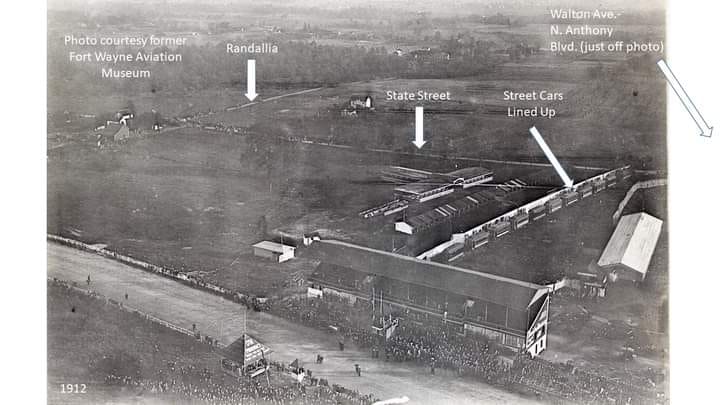 Fort Wayne Aviation Museum image
In November of 1892 Frederick J. Hayden sold a portion of his property on the northern outskirts of Fort Wayne to a newly formed organization known as The Fort Wayne Driving Association. The 100 acres involved in the sale were originally a portion of the vast land holdings amassed by pioneer entrepreneur Samuel Hanna. The Driving Association included the wealthiest of Fort Wayne residents. On Thursday, October 9, 1902 more than 16,000 were on hand for the festivities which included Fort Wayne's first auto race. Saturday, October 23, 1910 flying in the air above Driving Park, Miss Blanche Stuart Scott  became the first woman in America to make a solo public flight by airplane. Paraphrased from Fort Wayne Driving Park February 11, 2013 History Center Notes & Queries blog by Mark Meyer and The amazing flying Miss Blanche Scott by RICHARD BATTIN October 19, 1994 in the SUMMIT CITY HISTORY NOTES in Cityscapes - People & Places series of articles from the archives of The News-Sentinel newspaper.
Duck Alley
An interesting look back in time in an article titled The Inhabited Alleys of Fort Wayne--Duck Alley Is a Disgrace to City also on Fold3 on page 9 in the January 25, 1913 Fort Wayne Daily News newspaper is now the Headwaters Park area. It was posted and discussed January 1, 2020 byHistoric 07 District - Fort Wayne on Facebook. It is shown as Duck Street between Clinton Street and South Barr Street on the south side of Headwaters Park on current Google map. Recently Duck Street land strip transferred to Redevelopment Commission by Rosa Salter Rodriguez published August 14, 2019 in The Journal Gazette newspaper. Was also mentioned in a comment May 22, 2022 on True Fort Wayne Indiana History on Facebook
Duck Creek
Now Duck Street - A large City Mill was built in 1842 near what is now between Clinton and Barr streets engulfed by the south end of Headwaters Park. Ole Duck Creek by Tom Castaldi published December 1, 2015 History Center Notes & Queries blog.
Duck Race
Weigand Construction Duck Race Raises money for SCAN (Stop Child Abuse & Neglect) formed in 1974. The Duck Race started in 1988 when plastic ducks sponsored by financial donations to raise money are released in June to float down the St. Joseph River with cash prizes for winners crossing the finish line. SCAN's programs and services, directly affected more than 28,500 children and adults in 2011, reach 19 counties in northeast and north-central Indiana. WANE-TV and WMEE-FM 97.3 were media sponsors for the 2012 year's race.
Dudlo Company
History of the Dudlo Manufacturing Company - Bates, Roy M 1965 Archive.org. "made Fort Wayne the magnet capital of the world". George A. Jacobs, its owner, was a native of Dudley, Mass. and, in 1906, a "promising figure at Sherwin Williams". As the market for the automobile was growing, existing wire was not capable of performing the job needed to help spark and fire engine components. The wire was too thick and the veneer cracked and peeled too easily. Jacobs worked for three years and finally came up with a "liquid mixture which made obsolete the tedious process of winding fine wire with cotton fabric…..The Old Fort News article "Wire Wizards" in the 1970 Vol. 33 No. 1 edition gives a more detailed description of the origins of magnet wire for those who are interested. From the Model T to Spacecraft from The History Center Blog Posted by Nancy McCammon-Hansen August 7, 2012. Discussed January 26, 2018 on You are positively from Fort Wayne, if you remember... Archived group only visible to existing members on Facebook
Dulin, Ward & DeWald, Inc.
(DWD) 74th anniversary on January 1, 2013
Dumps
Discussed March 17, 2015 on You know you've lived in Fort Wayne too long when... Private Facebook group.
Dygert Pawn Brokers
A January 22, 2023 post by Indiana Album on Facebook stated:

Fort Wayne, circa 1910 - Owner William W. Dygert (1872-1940), center, poses with employees in front of his Dygert Pawn Brokers at 227 E. Main Street. He moved into the brick building in early 1908 and occupied the space until his death in 1940. Items for sale include jewelry, a trunk, suitcases, a bicycle, rocking chair, and a coat. He also advertised as an optician. To the right is Gust. Schubert's Dyeing and Dry Cleaning establishment. This whole block between Clinton and Barr was razed and is now the site of Freimann Square, a four-acre park.